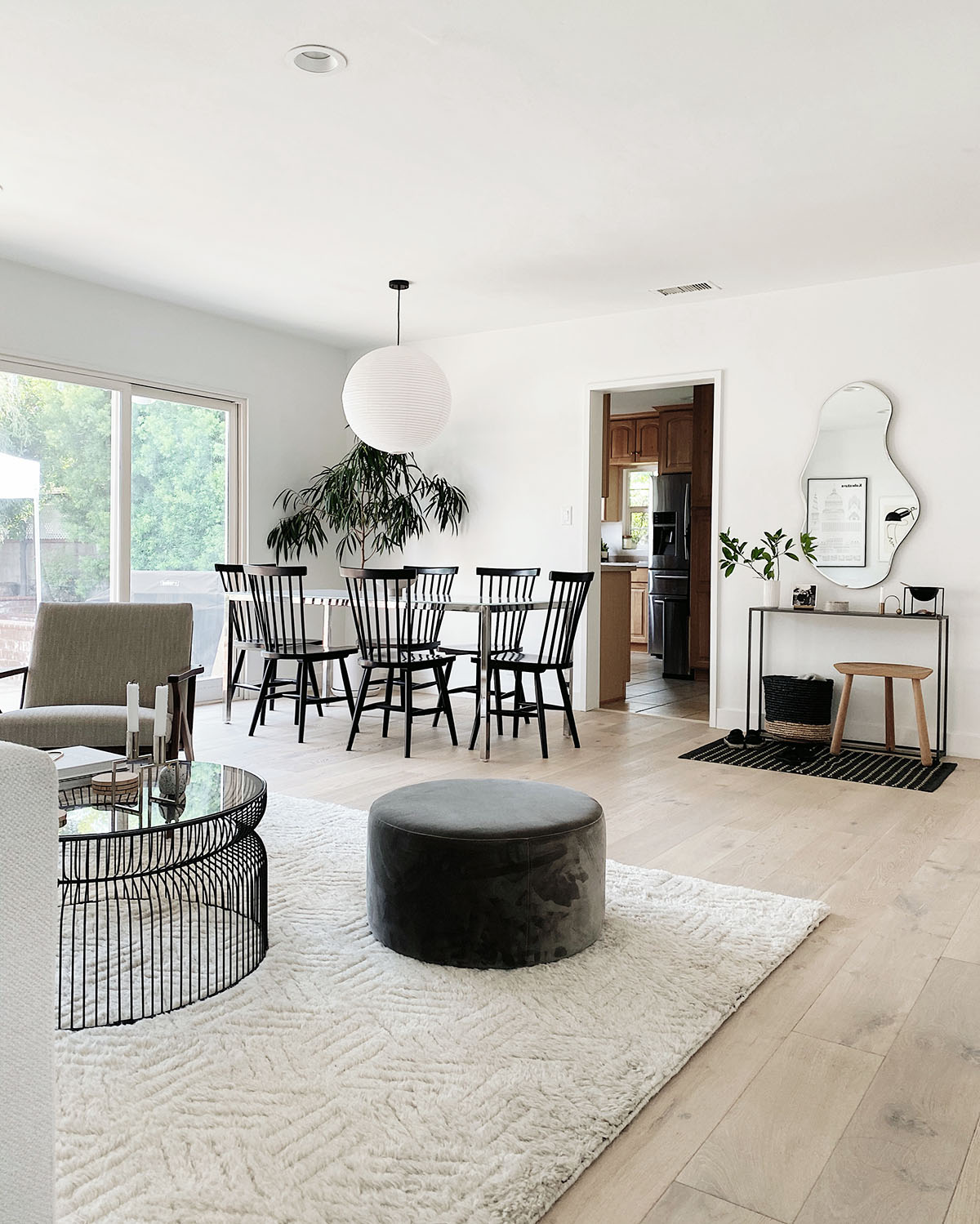 When we were house hunting, we'd talk about all the changes we wanted to make during our first walk-through of a house not only to be on the same page about the potential we saw, but to get a sense of what kind of room we'd need to make in our budget to fulfill those ideas. A lot of the time I'd be spewing off an exhausting list that would make it clear the house wasn't the one, but with this house I confidently declared that if we only did one, big project here, it would be updating the floors because that would do everything to completely transform it. While there is still a list of things we want to update about this house, the new floors delivered on that transformation and already make this place feel brand new- this is it, we're done with all the work on the house (no not really, but feels like it!!)
Our search for the right floor was narrowed down to light, neutral/leaning warm wood floors that would go with any decor and furniture decisions we'd ever make. A thousand samples later, we landed on these wide plank white oak engineered hardwood floors in the Lago Como style from Monarch Plank, who I reached out to for partnering on this project along with Finishing Touch Floors since I was drawn to many of the options in their modern selection of floors. I loved the plank size at 7″ wide, the quality and thickness from the samples, and that they had a low-gloss finish. It also really helped that their Instagram has a lot of client photos showing what the floors look like installed in real spaces.
Originally I had planned to document and show you the process,, but instead I've formatted this post to answer the most asked questions I received in my DMs while I shared the install in stories. This is what you wanted to know:
Why did you put in new floors?
Let me say, I think the original floors in here were beautiful and had great potential, but more than not being my style, there were issues with the condition and other factors that prompted us to consider putting in new floors. Refinishing them was a very viable option in the beginning, but a few things deterred us.
One, our timeline for all the initial pre-move-in work we wanted to do ended up extending from 3 weeks to 3 months. We moved in at the end of the 3 weeks and then lived in a storm of drywall dust the following couple months. It was brutal, and another dust storm from refinishing the floors while we and all our stuff was in the house is something we don't ever want to live through.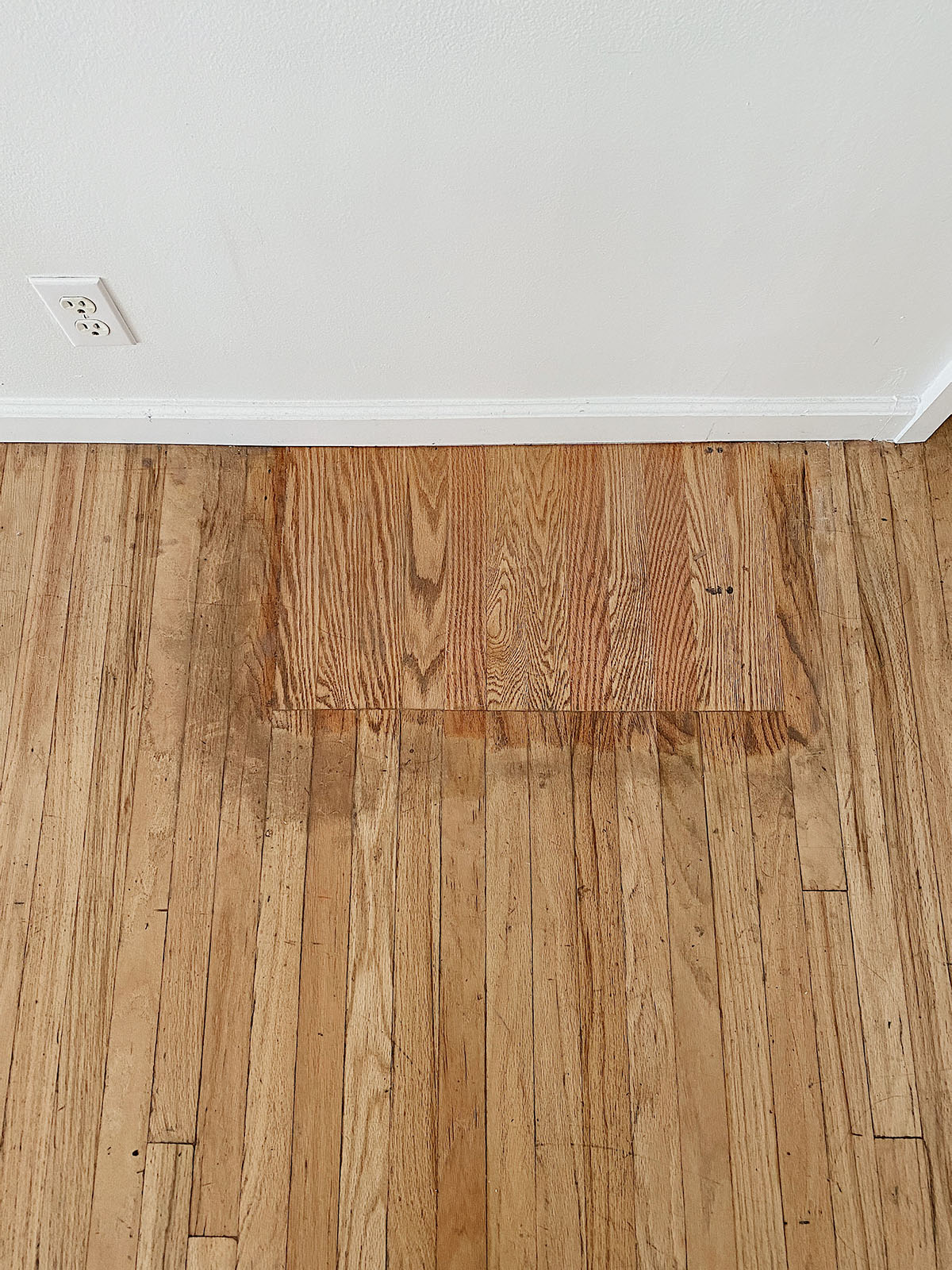 Two, there were imperfections in the original hardwood that refinishing wouldn't have hidden, the kind that age the house in a way that doesn't build character but in a way that makes you wonder was the installer held at gunpoint during the job? What happened?? Sloppy patches like the one above, noticeable dips in the floor, some holes and gaps, and other signs of bad condition were going to bother me eternally.
There were also three types of floors in the house outside of the kitchen and bathrooms: hardwood, laminate, and carpet (we also found vinyl underneath the carpet and laminate). Ideally we wanted one consistent flooring throughout the house so if we were going to do that…
…then let's fulfill the dream of wide plank white oak floors. Three, it's what we wanted and what I envisioned for our home since forever. We're following our hearts!
How did you pick the floors?
We went with engineered hardwood for its look, durability, lower price and simple installation relative to solid hardwood, and potential to be refinished in the future. The last point was mostly in consideration of the next owner having the option of refinishing and/or changing the color of the floors to what they want, which I know you should love the home you're in and do what you want without always prioritizing resale, but I still want to be mindful of that future with our renovation decisions.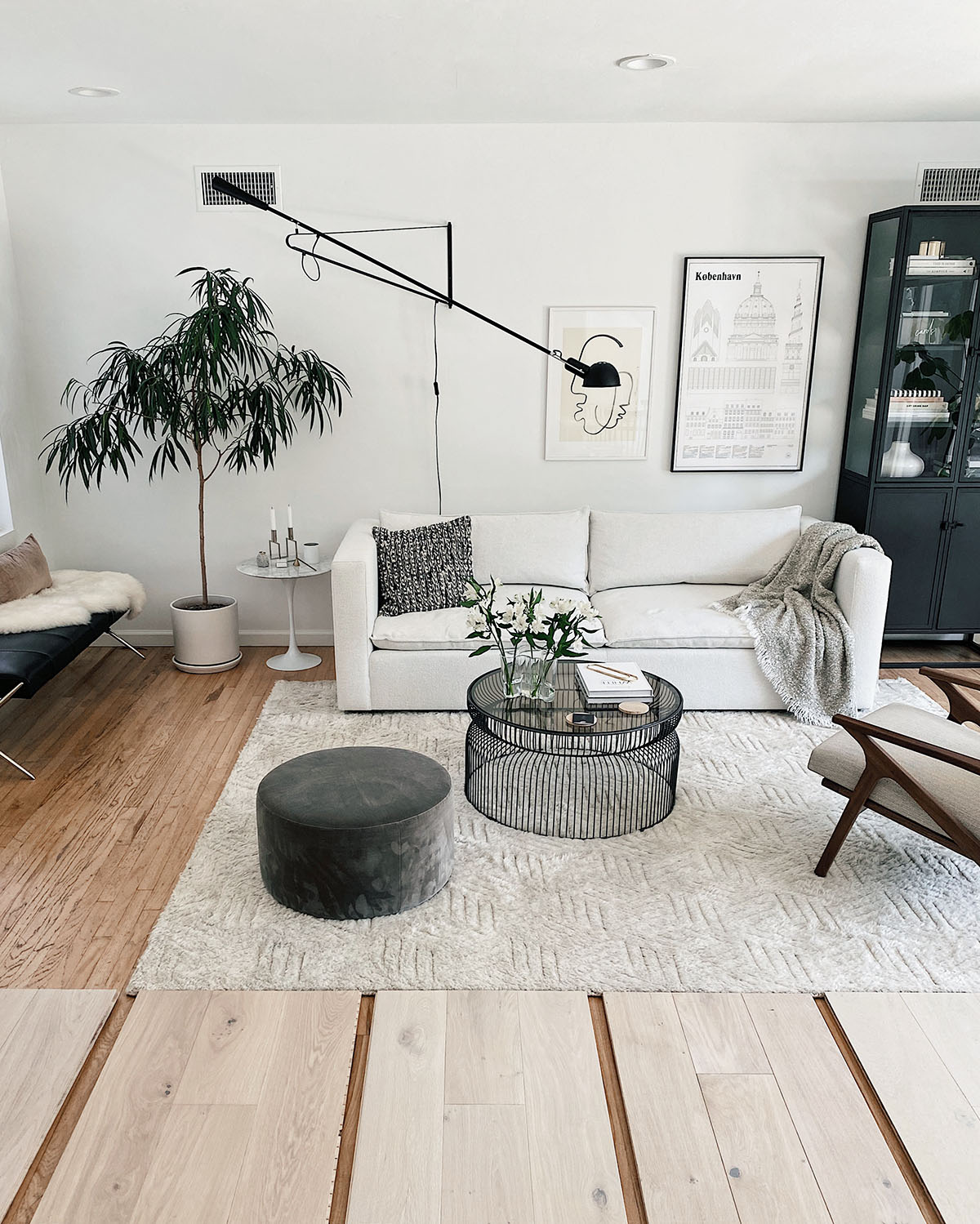 In terms of picking the color, I looked at a lot of large samples from a local flooring dealer. Much like looking at paint samples, it's best to compare at different times of the day under different lighting situations in all the rooms that it's going to be in. Some of you commented that you thought our floors looked different across the photos and videos I shared in stories and that is true! The floors look like they change color depending on the time of day and lighting, including the angle the light hits, and the color we ended up picking was the one we consistently liked in all the variables we tested.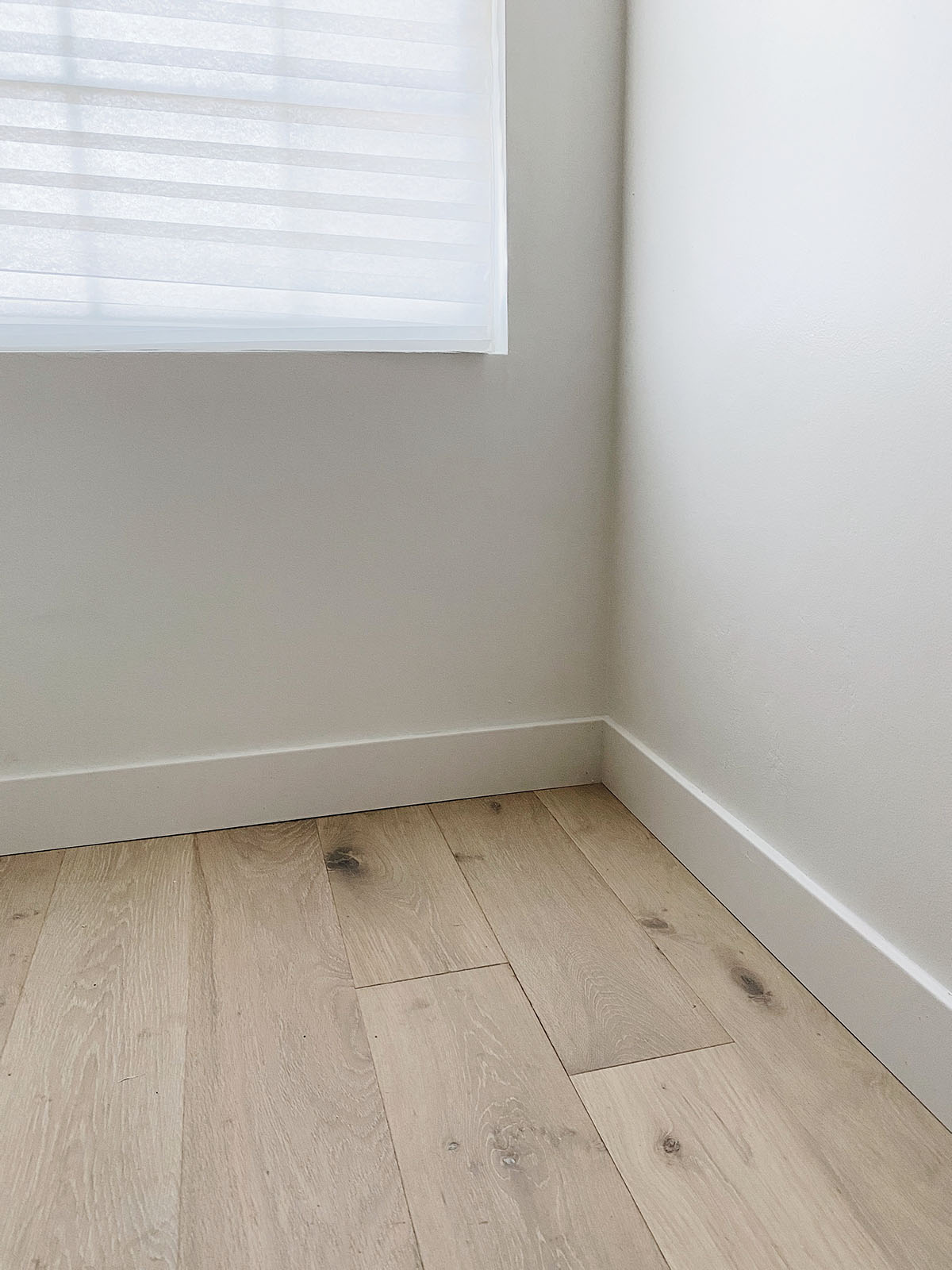 Example: This is a corner of our bedroom in the early morning with filtered light. The floors look darker and more brown, which I love seeing how much depth in color these floors have. By the way, those baseboards are 5″ high and many of you were interested in that detail. Updating baseboards makes a big difference!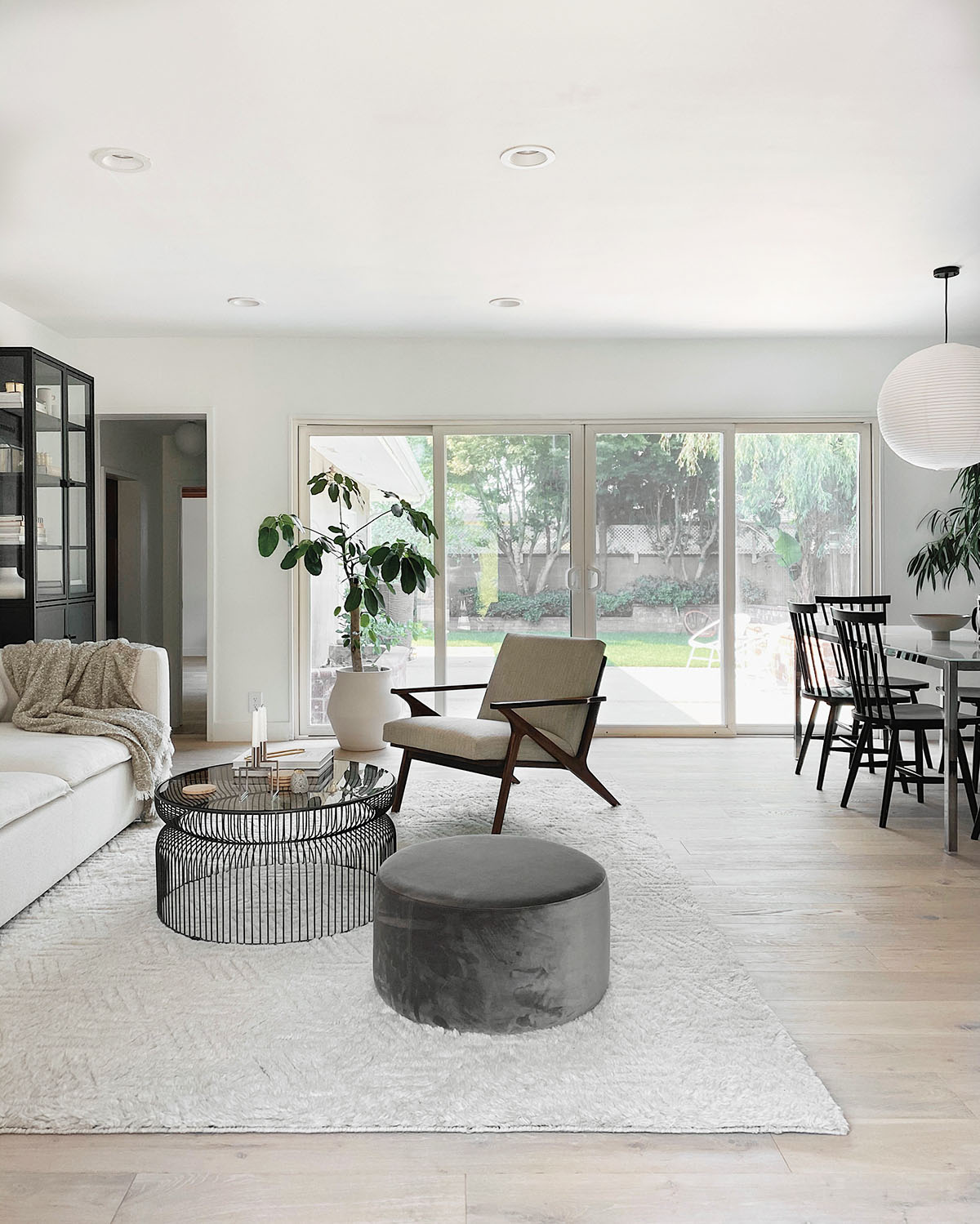 Same floors but in our living room mid morning with a lot of light shining in through the sliding doors and the open front door which is where I'm standing. The floors almost look white here, which I also love. In this same room they can also look brown or grey depending on the time of day. Test the floor sample in all your rooms in different lighting conditions and make sure you love it all.
How much do these floors cost?
All of the samples I looked at including the one we picked ranged from $6.50-$7.50/sq ft. Exact pricing will differ depending on the flooring dealer, but that should give you a good idea of what to expect for this style and quality.
Installation method will also affect cost. Glue is more costly and labor intensive than stapling or floating, and which method is best depends on the sub flooring. Everyone we consulted recommended glue for our house so we went that route. Side note: happy to report our floors aren't making loud creaking noises anymore!
How's the dust during floor installation? Is the process messy?
Dust didn't seem to be an issue during install. The installer told me they did a job where they pulled up carpet that was so dirty it filled the house with a permeating cloud of dust, so I'd say if your house was relatively clean before you shouldn't have that kind of problem.
With any construction, there will be some kind of mess with multiple bodies coming in and out of the house, shoes tracking dirt or glue, scuffs on walls, doors, and doorways, fingerprints and stains, it's all just a part of it. So while I showed in stories that the install was pretty quick and seemed hassle-free, the house was still completely upended to move all our things and there was a lot of cleaning to do afterwards. With glue installation especially, I was not expecting for glue spots to have been tracked all over the floors. Luckily they come off with the right cleaner, but with a good amount of wiping.
We intentionally didn't completely unpack after the move because we knew we'd be installing floors early on. Luckily we were able to move most of our belongings to the garage, and the larger items we left out for the installers to move, most of which they put in our backyard. Had it not been for the large pop-up tent we set out in the backyard for our furniture to go under and being prepared with drop cloths and flat sheets to cover them with, I would've been a lot more stressed about potential sun damage and weathering of our stuff during the couple days they lived out there.
All of this is to say it's not a pain-free process. It's a pretty major disturbance and your home will be in disarray for a bit. For sure the most ideal time to install floors is before you move in, but it won't ruin your life like drywall dust would if you're already all moved in.
Aren't these floors hight maintenance?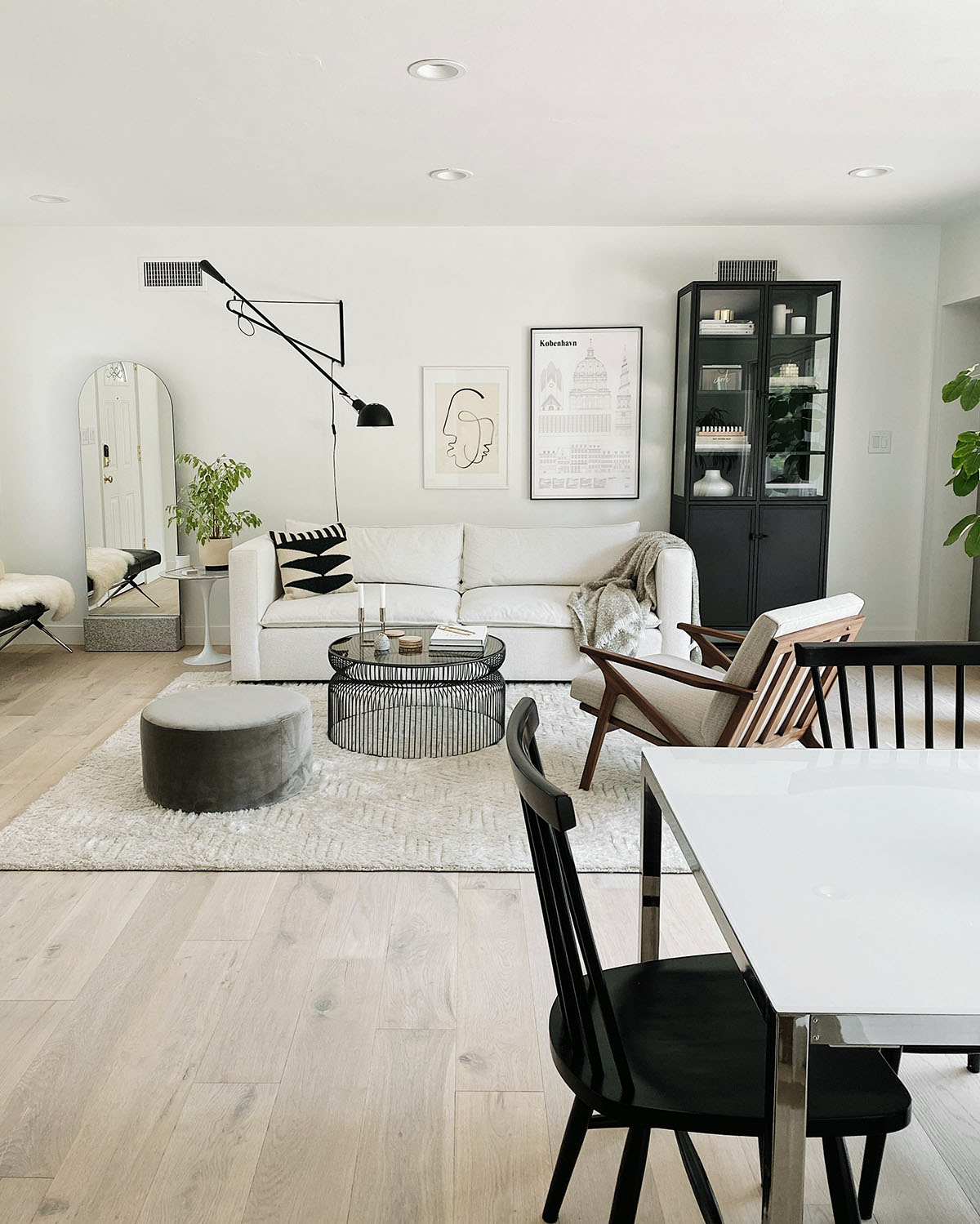 More than dark colored floors, absolutely. Something I couldn't tell from just the large floor sample was how much variation these planks had in terms of color, knots, and other natural imperfections. Seeing it now in our home, I'm glad these imperfections are there because besides the character they add, I can already tell they will disguise the normal wear on these floors over time well. I'd say that character in the wood is a feature to consider for light colors if you want to feel less uptight about marks and scratches showing. These floors also have a very low gloss finish, which makes scuffs much less visible than on floors with a glossier finish.
Spills and water should be cleaned up immediately, and the cleaner recommended for these floors is Bona. My long black hairs are very visible on this floor (long haired ladies, you know our hair gets everywhere) and I will be diligent about picking them up as I go but also, I'm not gonna stress about that. We're using our Dyson v11 Torque drive as part of dry cleaning the floors which is confirmed to be safe and gentle to use on wood floors. All our furniture now has felt floor protectors on them and, as always, no shoes in the house.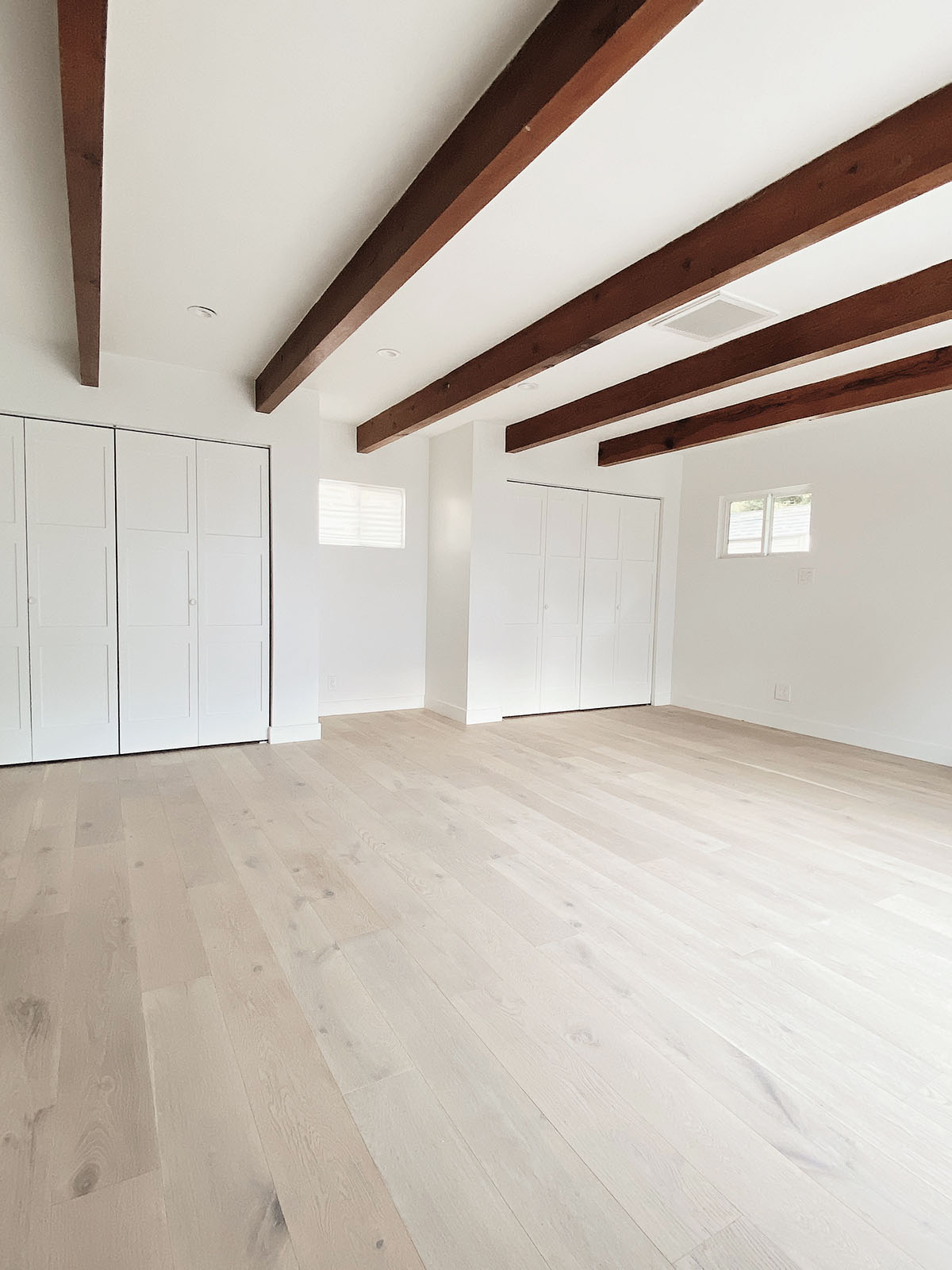 Oh yea remember the main bedroom suite turned family room? We can finally move forward with that! We enjoyed how comfortable the carpet in here was but besides it looking a bit shaggy and worn in addition to the stains from the previous owner, I'm just not a fan of the stuff. I much prefer the wood floors in here and think they go well with the ceiling beams that were already here (and that I decided not to change the color of after going back and forth on that decision for a while). Time for a big comfy rug and sectional to put in here, a sideboard for extra storage on that back wall, and a table/desk for that nook between the closets. The closet doors are 3 panel shaker bifold doors that have been sitting in our garage since we moved in and were maybe what I was most excited for so that we can hide all the stuff that had piled up in those closets.
Nursery is in progress too now that the floors are in! It's been both a hectic and exciting season of nesting and we've been cramming in house projects before we soon become unfamiliar with sleep because of the baby, but these floors were our biggest item and I'm so relieved to be done with that. Baby's room will be shared on the blog soon!