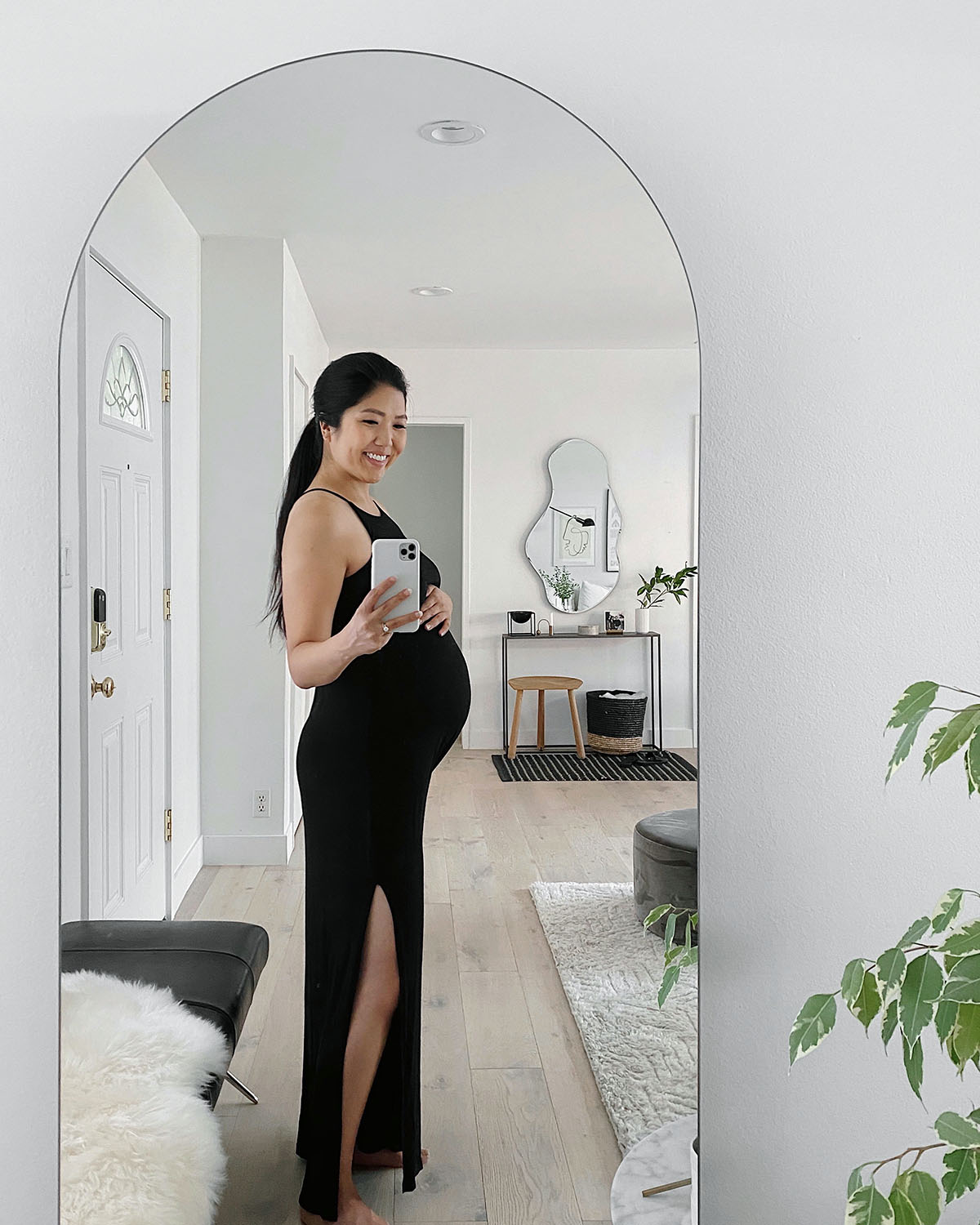 Now that I'm in my third trimester, I thought I'd look back and share a few things I've been using during pregnancy that I love or have found really helpful with the hopes that this can be a good resource for any of you who are expecting, or know someone who is (SO nice of you to think of them).
Nature Made Prenatal Vitamin + DHA
The only prenatal vitamin guidance my doctor gave me was to take something that has DHA, and in my research I saw that many liked this one, didn't experience any fishy smells or after taste like with some other vitamins, and it would be easy to find at all drugstores. What I particularly like about the specific one I'm taking is that the pill is smaller, which doesn't seem to have an online source and is different from the one I linked. I discovered it at the drugstore after finishing a bottle of the regular sized ones and when I saw the label that said "more complete nutrition" and "smaller size pill" it was an instant replacement. It's still not that small, but prenatal vitamins are like horse pills so anything smaller is more enjoyable. Been taking these everyday with no issues. If you're interested in trying the smaller pill version see if your Walgreens or CVS has it.

What to Expect App
This is where I've been getting the majority of my info about all things pregnancy and labor. Every week the app updates you on baby's development (baby is currently the size of a cantaloupe), and everyday the app refreshes with articles relevant to the stage of pregnancy you're in and beyond. Ton of info and almost every question I've had I was able to search the app and find articles or forum discussions to answer them. Of course it's not a replacement for your doctor or a sufficient alternative to breastfeeding and sleep courses, but I've learned a lot from checking in daily with this app and it has prompted me to bring up important questions with my doctor.


Burt's Bees Mama Bee Belly Butter
I got this pretty early on after reading that many found relief with this cream when their belly skin became irritated as they grew. I haven't experienced that issue with my belly skin, but the skin on my breasts… SO. ITCHY. This stuff has provided a lot of relief for that, so I not only butter up my belly for good measure, I include my breasts too. Can't say anything about it preventing stretch marks and the science out there anyway is that you can't do much about that because it's mostly genetics, but I enjoy lathering myself with this after showers. Plus, again, immediate itchy nipple relief. Fragrance-free, not greasy, and a little goes a long way. One jar should last the entire pregnancy.


Pregnancy Pillow
I'm very good at sleeping. Somehow, since using this pregnancy pillow, it seems I sleep even harder and deeper because of it. I got it to help keep me sleeping on my side since I'm a back sleeper and it's recommended that pregnant women sleep on their (preferably left) side, but it also happens to be very comfortable and giving me what feels like the best sleep of my life. The cover is very soft and washes well. I do think it slightly traps me in a cocoon of my own body heat at night and I've counteracted this by not sleeping with a blanket sometimes since I've been running hotter during pregnancy.


Bra
I wouldn't call this a pregnancy bra but rather a great bra I discovered through pregnancy because I needed to get a bigger size and landed on this one. Since wearing this bra, I learned that the bras I've been wearing all my life are actually not comfortable and this bra is what comfortable should be. I love that it gives shape, lift, and support but is wireless and doesn't pinch, make me lumpy, or feel constricting in any way. It's on the more padded side so I consider it my "going outside" bra. I feel smooth and put together in it. I've forgotten to take it off and worn it to bed a few times- you KNOW that means it's comfortable.


Shortie Thigh Saver 4″
Maybe my favorite thing I got for myself during this pregnancy and I'll continue to wear them after. Comfortable underwear is the best luxury you can give yourself, especially during pregnancy and ESPECIALLY during pregnancy through the armpit of summer.
I've never understood thongs and now no longer the bikini style undies. Boy shorts make much more sense to me- no panty lines, no wedgies, and no looking like you have four butt cheeks. They're not going to add fire to the romance with your partner, but comfort and utility is romance with yourself and a very worthy cause. These feel like I'm wearing nothing. They come up high enough to sit above my belly button, have been stretching well with my growing body, and don't show when I'm wearing fitted dresses, which have been my favorite thing to wear lately. I also just wear these alone around the house like regular biker shorts I feel so freeeeeeeeee.
Another thing this helps with that became a bigger concern for my summer pregnancy is thigh chafing. These come down low enough to cover the areas between my thighs that rub together. The built-in gusset also absorbs excess moisture and fluids down there (sorry) which seems to further helps with the anti-chafing and overall comfort/ventilation down there (sorry). As much as the price pains me, they're worth it and I'm getting more.


Bralette
I rarely wear a bra at home and because I've never been blessed in size in the chest I haven't felt any discomfort with this. Now that they've been getting a little bigger through pregnancy they are flopping around more ha so I wanted an "at-home" bra to help contain them a bit but also be 1000% comfortable. This does not give active support and lift, I for sure wouldn't workout in it, but it does keep the girls behaved while feeling like I'm wearing nothing. Paired with loungewear, it's basically like I'm floating.


Storq Tank Dress
A perk of quarantine is that I haven't cared much about what I'm wearing during pregnancy since I'm mostly hanging out at home, which lined up nicely with my desire to not buy much maternity clothing, if at all. Still, I will say that even with nowhere to go, looking your best certainly can make you feel the best and I think it's very worth it to get some maternity outfits that help you feel even more beautiful in your growing body. It worked out pretty well that I already had a handful of stretchy dresses that accommodated my belly, but one thing I wanted that was missing from my closet was a form fitting dress that would show off my belly even more. This tank dress is the perfect casual but could be dressed up a bit body-con that has great stretch, but you can also tell it won't get too stretched out or look like it has extra fabric around the waste when worn postpartum. That was important to me for any potential "maternity" clothing, that it wasn't specifically tailored for pregnant bodies (ie ruching on the sides) and could be worn postpartum and beyond.
I would link the other dresses I've been wearing but they've been in my wardrobe for a while and aren't available anymore. One of them however is very similar to this t-shirt dress which has been my most worn item. Storq in general has simple modern styles similar to the sentiment of a capsule wardrobe that are pregnancy friendly but also can be worn when not pregnant. I'm a fan.


The Expectant Father
He's still reading this book, but I check in here and there out of curiosity to ask how it's going, what he's learning, and it seems a lot of it fills him in on what's going on with me which is nice! There's also a lot more catered to men and how they can feel left out of the pregnancy, giving insights on what to expect and how to actively participate. One of the points Oleg shared with me is that men largely think that bringing home a paycheck counts as their total contribution to a household vs. women who consider sharing household duties as active participation. It sparked some good conversation about our expectations when baby comes, how we're going to share responsibilities, and in what ways he can be there for us during times like when his useless nipples can't breastfeed.
Another great point the book brought up was the importance of making time for each other as individuals outside of our identities as parents. An activity the book suggested after baby arrives is dedicating at least 15 minutes a day to catch up and talk about anything other than the baby. We liked the idea so much that we started that now, hoping it's a well ingrained habit by the time it all hits the fan and life feels upside down.
We were lent this book from a friend and I'm so grateful they shared it with us. It would make a great gift for any expecting couple.

Workouts + Stretching
*Always consult your doctor about what activity is safe for you and don't do things just because I or someone else on the internet is doing it* Quarantine hasn't made it easy to workout. Previously I was doing heavy barbell training which I really wanted to continue during pregnancy and did until gyms were shut down, returned when they opened up again, then stopped when gyms shut down again due to Covid. We were going on 30-40 minute walks around the neighborhood which recently ended when we could no longer tolerate the current 85-90 degree weather, so I've relied a lot on prenatal strength workouts on YouTube for exercise at home the past few months. These are the two that I've liked the most:
30 Minute Prenatal Strength Workout– All you need is a pair of dumbbells, which took 3 months to get here after I ordered them and in the meantime I used two sets of heavy ankle weights that I tied together into two makeshift dumbbells. This is one of those workouts that looks like it'll be easy but I've found as I get bigger and more tired from pregnancy it's gotten more challenging, but not TOO challenging because we don't want to overdo it.

30 Minute Advanced Pregnancy Strength Workout– Same equipment, a pair of dumbbells. The "advanced" part of this seems to be that there's more of a cardio component mixed with the strength exercises. I get sweatier and more out of breath with this one but again, it's challenging enough without feeling dead, and as always you can adjust to what's comfortable.
Lower Back Exercises for Pregnancy– Lower back tightness has been a general on and off issue for me and as I've gotten bigger I've noticed that area needing some attention. It's only an 8 minute video but I feel a lot of relief after I go through these easy stretches. I end every workout with this video. Small peeve- the instructor goes through all the exercises on both sides except with the last one where she only does it on one side and then tells you to do the other side on your own while the video ends and then the next suggested YouTube video starts playing ads as you anxiously try to finish up the other side of stretching when you'd rather just hear her relaxing voice and guidance through what would've only taken her 20 more seconds to do like why didn't she just do that?
Other Posts You Might Like