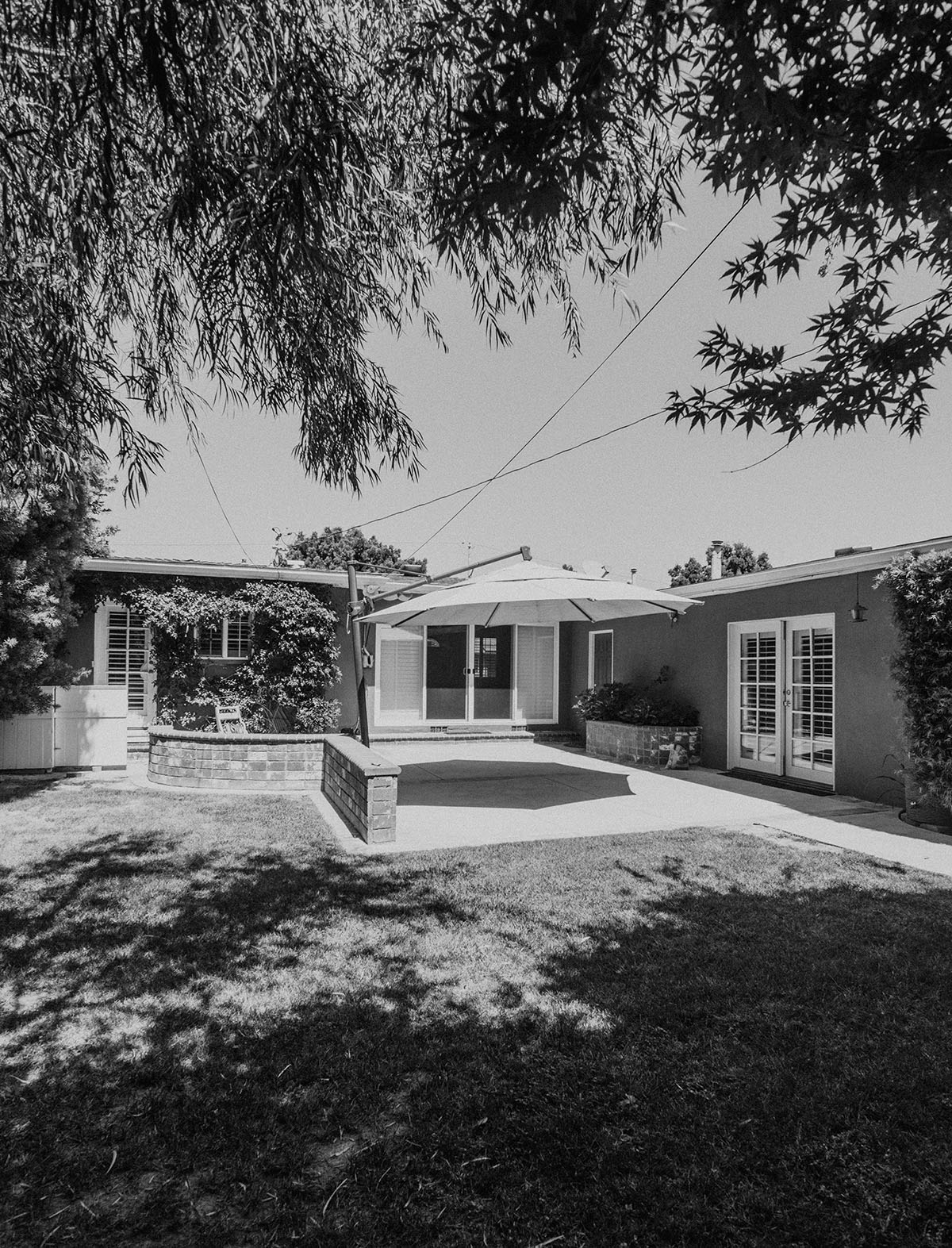 We've already started working on the house with some minor pre-move changes that are still going on and have become post-move changes, but I took photos before all of that to show you what we're working with, what it was we saw about this house that made us want it, the plans we have for it both near and far, and to kick-off this journey we're taking you with us on to discover the potential of our home.
A lot of you expressed curiosity about what we compromised on our wishlist because you felt the same frustrations we did with the nightmare of a housing market LA and cities like it are. I'm sharing this info as encouragement from a fellow human being that has wants and feels disappointed when not getting those wants especially in light of putting their life savings towards it, that compromises on your wishlist don't mean it's a bad house and that the right house is still something you can love despite it not being everything you initially thought you wanted. I think a lot of us see later that maybe the things we thought we wanted end up not being what we needed after all, and things we didn't know we wanted end up being what we appreciate more than we ever considered!
The major things I gave up from my wishlist were a big open kitchen with an island, larger square footage of the house in general, and character in the form of things like vaulted ceilings and arches that everyone is also so hot over these days. Design is my passion and living and I can't help pining for those architectural details. I truly wish those details didn't mean so much to me so that I would've had one less thing to be upset over during this exhausting hunt! In repeatedly reviewing our wishlist as a whole however, we decided that these items were less important compared to other things like a great neighborhood, street location, and condition of the house. When we would come across houses that did have that big kitchen or beautiful character, they almost always had nothing else on our list. To go with a house that had it all would blow our budget, so we made compromises.
Our house is a one level home with 3 bedrooms and 2 full baths. It's "done" but not in our style. Even so, we liked that it still felt like a blank slate that could easily adapt our vision and that it would be very livable while we take our time updating it (the first house I fell in love with during our hunt wasn't livable, like I considered living in a tent in the backyard while we fixed it, and I don't think that would've been as fun as I tried to convince Oleg it would be). There weren't any strange wall treatments or acutely stylized add-ons or anything much we felt like we'd have to spend a lot of resources to "undo". There also weren't any large, pressing issues we'd feel rushed to change. We noticed things like the more recently updated windows, recessed lighting in the common areas, the great layout, and the general condition of the house seemed good which the inspection report during escrow would later confirm, woohoo!
This view is from standing by the front door. I pretty much knew from here that I wanted this house because of how open this living/dining room felt and the sliding doors connecting the living space to the backyard. That indoor-outdoor California living made simply possible by a glass partition has tugged at our hearts since the beginning and is one of our most favorite details about this house.
The next thing I noticed then was those sliding plantation shutters covering the glass panels on each side of the sliding doors blocking so much of that beautiful sunlight even when the shutters were open. Every window in the house had plantation shutters and it was apparent that they were contributing to how dark the house felt. We very quickly decided that we would remove all of them. I know plantation shutters are convenient and can be highly desirable, but I cannot support how much they hinder the amount of light that enters this house. Light is everything!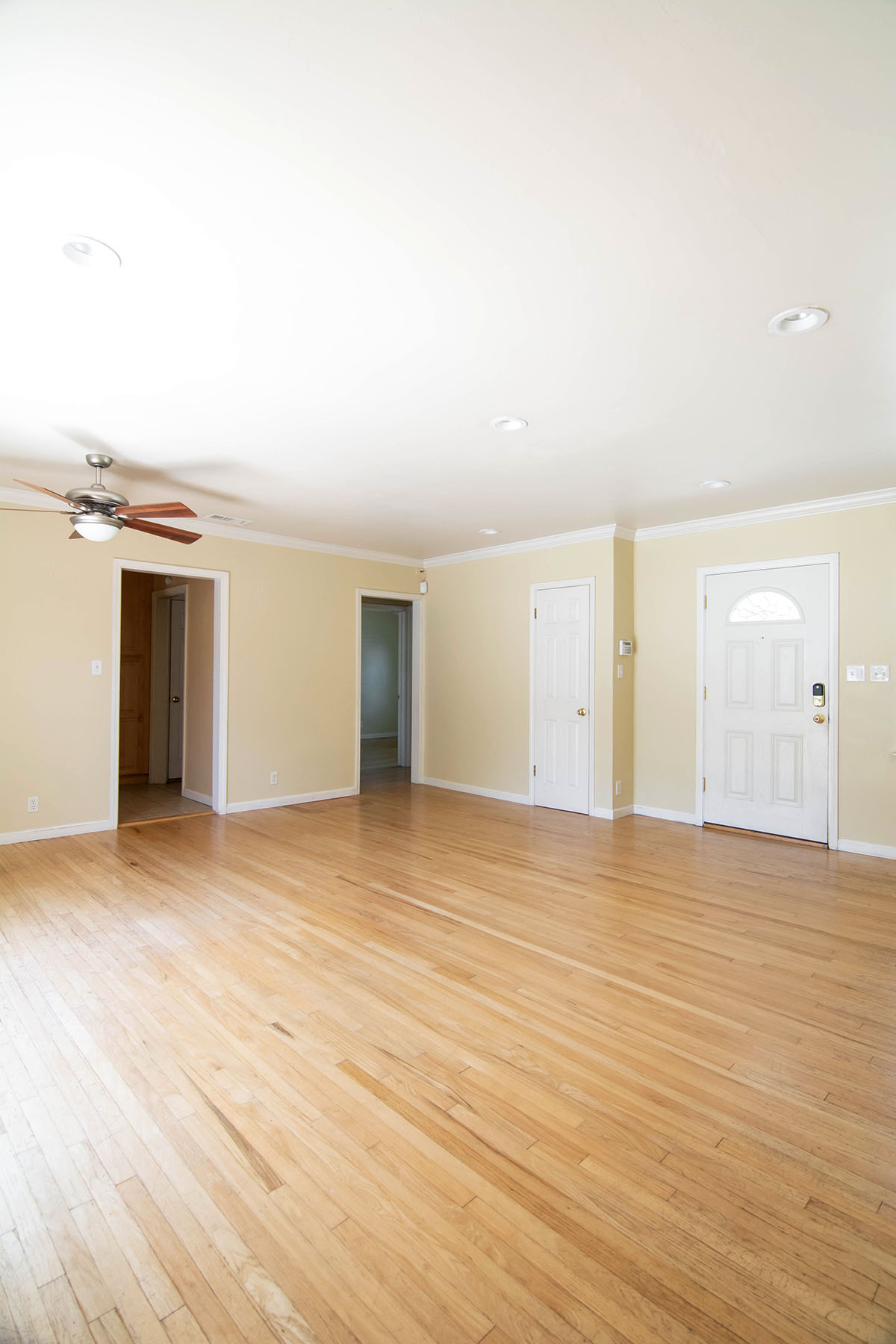 The house is about 70 years old, which means the floors are about 70 years old since they are the original hardwood floors. They look much better in photos than they do in person. It's hard to miss how banged up and very very creaky they are, that was another immediate thing I noticed when I entered the house for the first time. All things considered, they're still in pretty good condition and would look great if we refinished them, but ultimately we've decided to go for putting in new floors. I've known for a long time the type of wood floors I love, Oleg is down for them, and it's going to be one of our biggest investments in this house that will do the most for transforming it.
SUMMARY OF HOUSE PLANS FOR THIS SECTION:
-remove all plantation shutters
-install curtains and blinds
-install new wood floors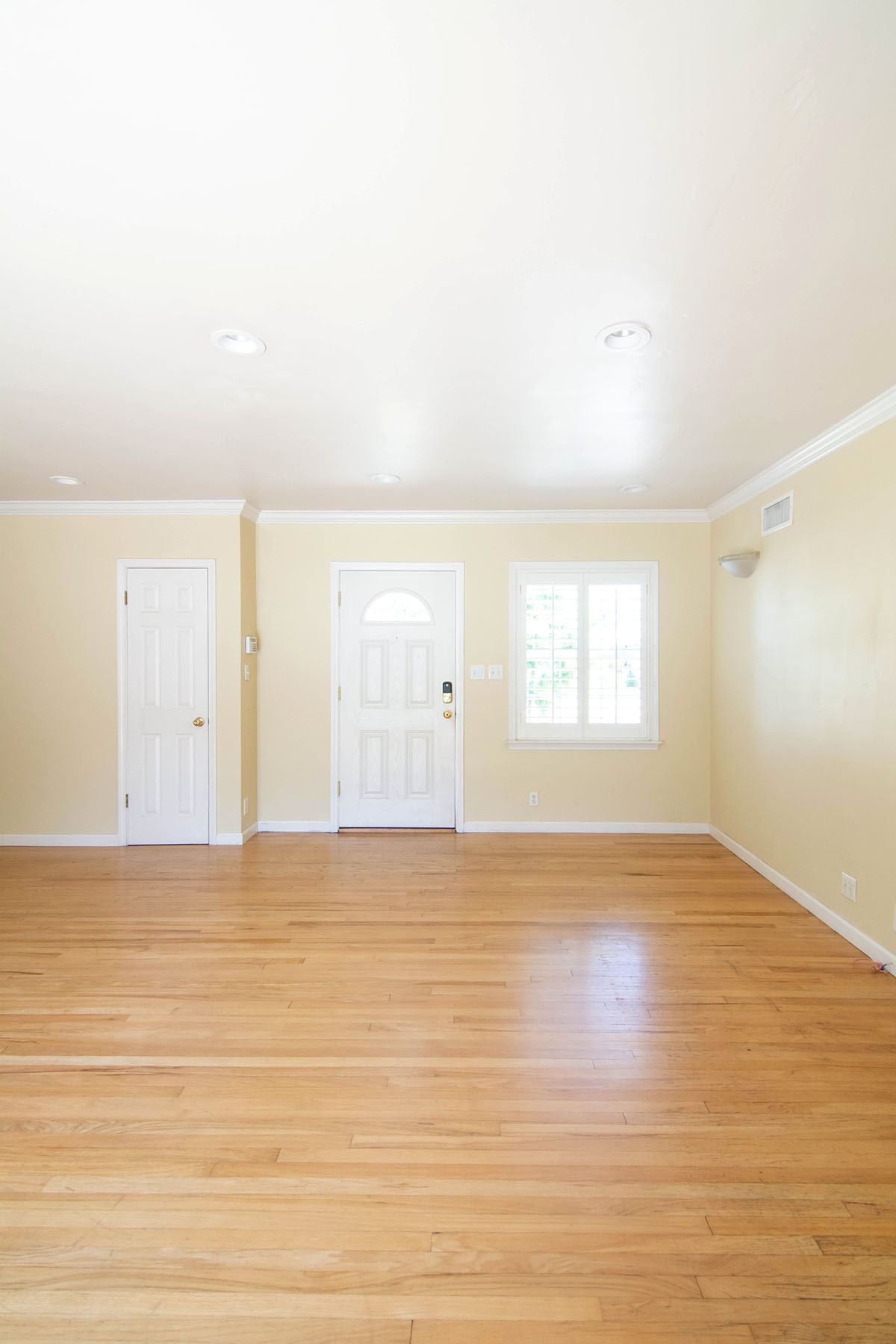 This is a view of the front door and coat closet. Something lower but not lowest on my wishlist was to have an entryway or mudroom since it's so useful and can bring a lot of order to daily life. Because the door opens up right into the living room, we'd be using too much of the precious living room space if we dedicated that front area to being the functional entryway of our dreams. SO, something we're thinking of doing in the future is adding on to the front of the house by essentially pushing that wall where the door is back about 5 feet to line up with the rest of the front of the house. We consulted a contractor about it and I laughed in agreement at his response of, "That's going to look soooooooo much better." Bonus if we can figure out along with that how to enlarge that coat closet so that we can keep more shoes in there.
SUMMARY OF HOUSE PLANS FOR THIS SECTION:
-entryway add-on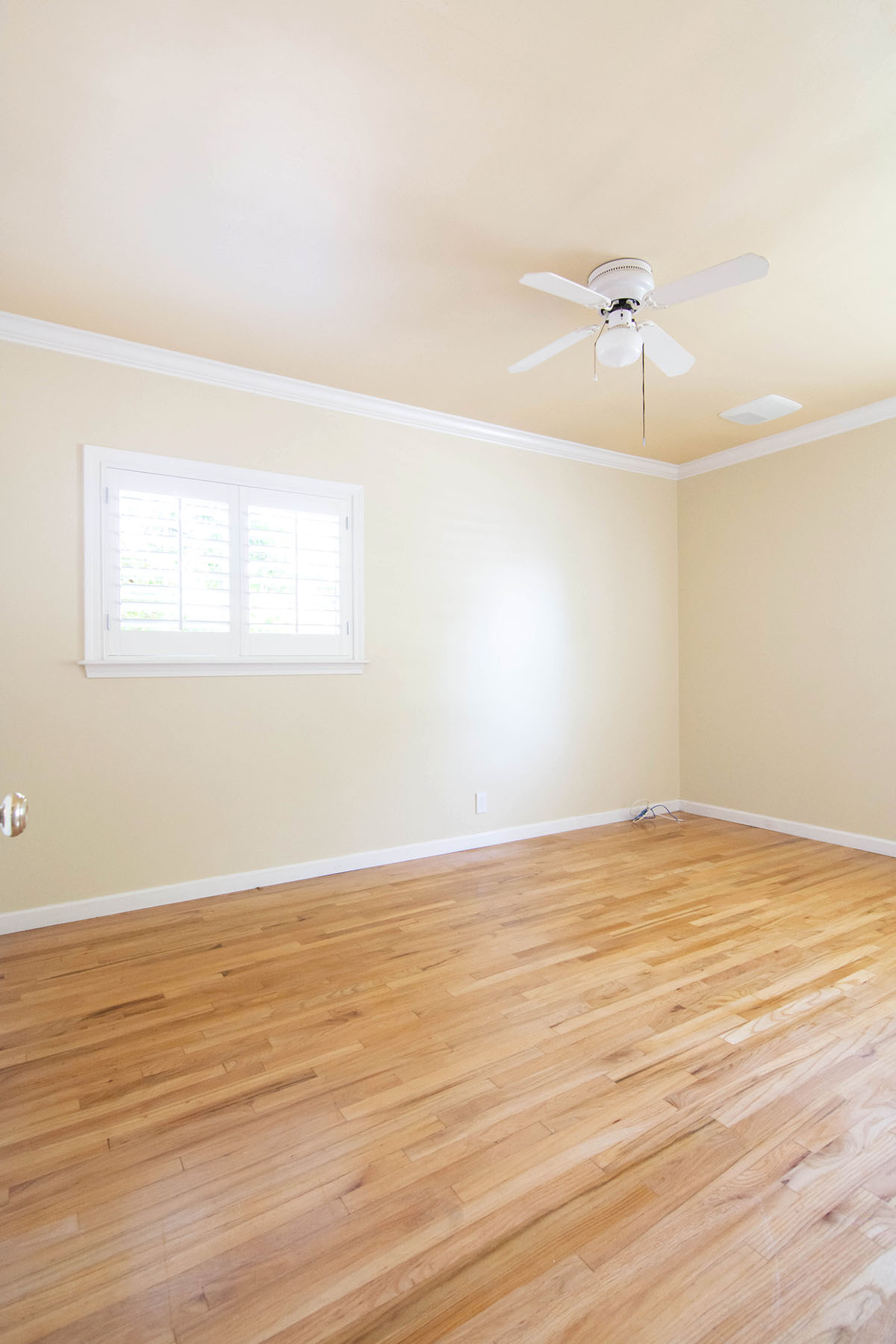 Every room was painted a different color, so naturally we refer to each room by their paint color. We still do that now even though we've since painted over them, ha! We'll always know this room as the yellow room. We're making this our bedroom I think. I'll get more into that unsureness later in this post, it's a doozy.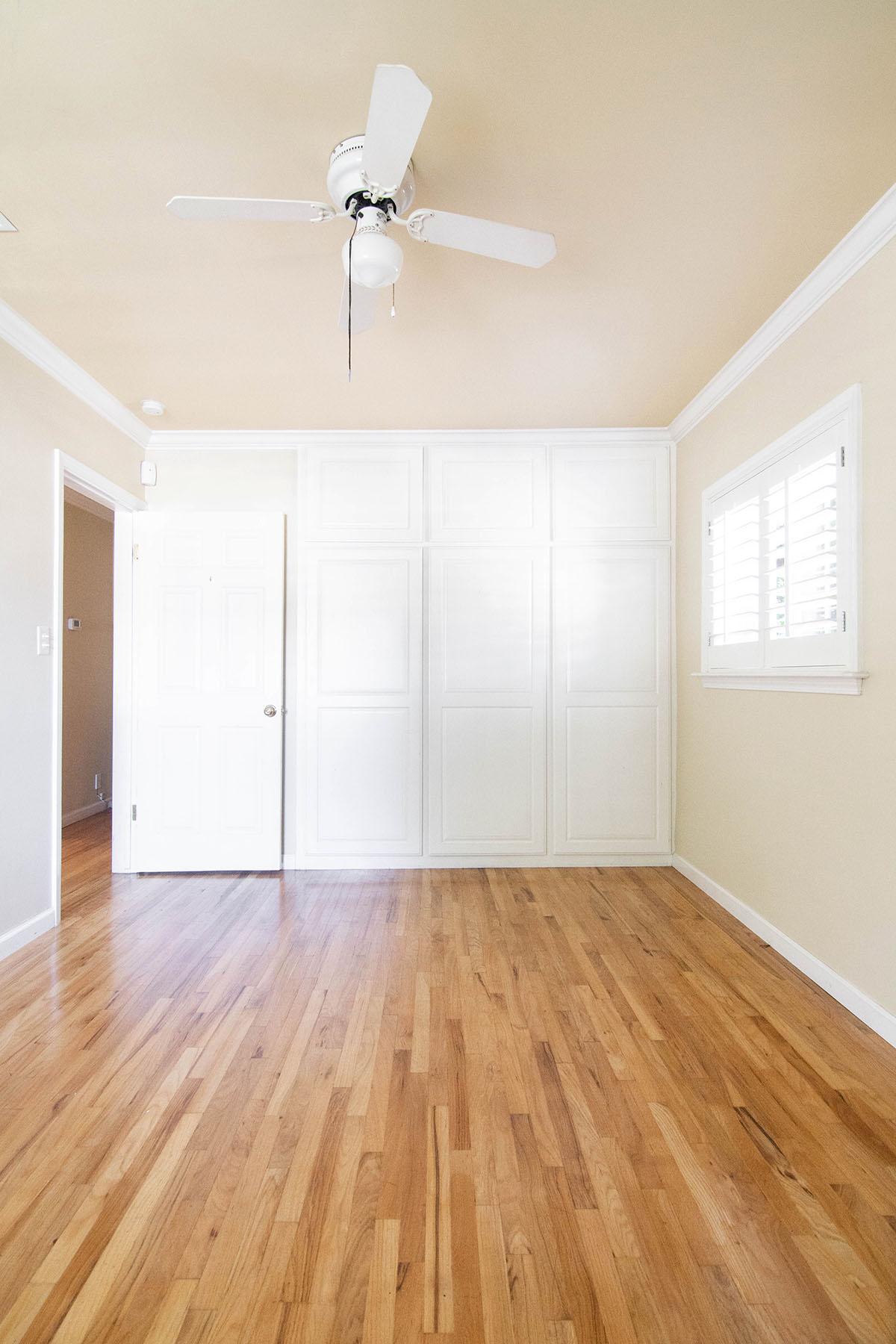 It's the bigger of the two smaller bedrooms in the house and from playing around with the layout this past week, we were able to see that we could fit a queen bed with nightstands and a dresser in here which is all we really need for our bedroom. The biggest thing that will improve this space is customizing those built-in closets that are original to the house. Behind those closet doors is a big open space and one long rod to hang clothes from and there is so so much potential for what we can do with it. There is plenty of space in there to hold all our clothes, we just need the right construction of shelves and drawers and a little bit of demo to maximize it.
SUMMARY OF HOUSE PLANS FOR THIS SECTION:
-demo and customize bedroom 2 closet with drawers, shelves, and new doors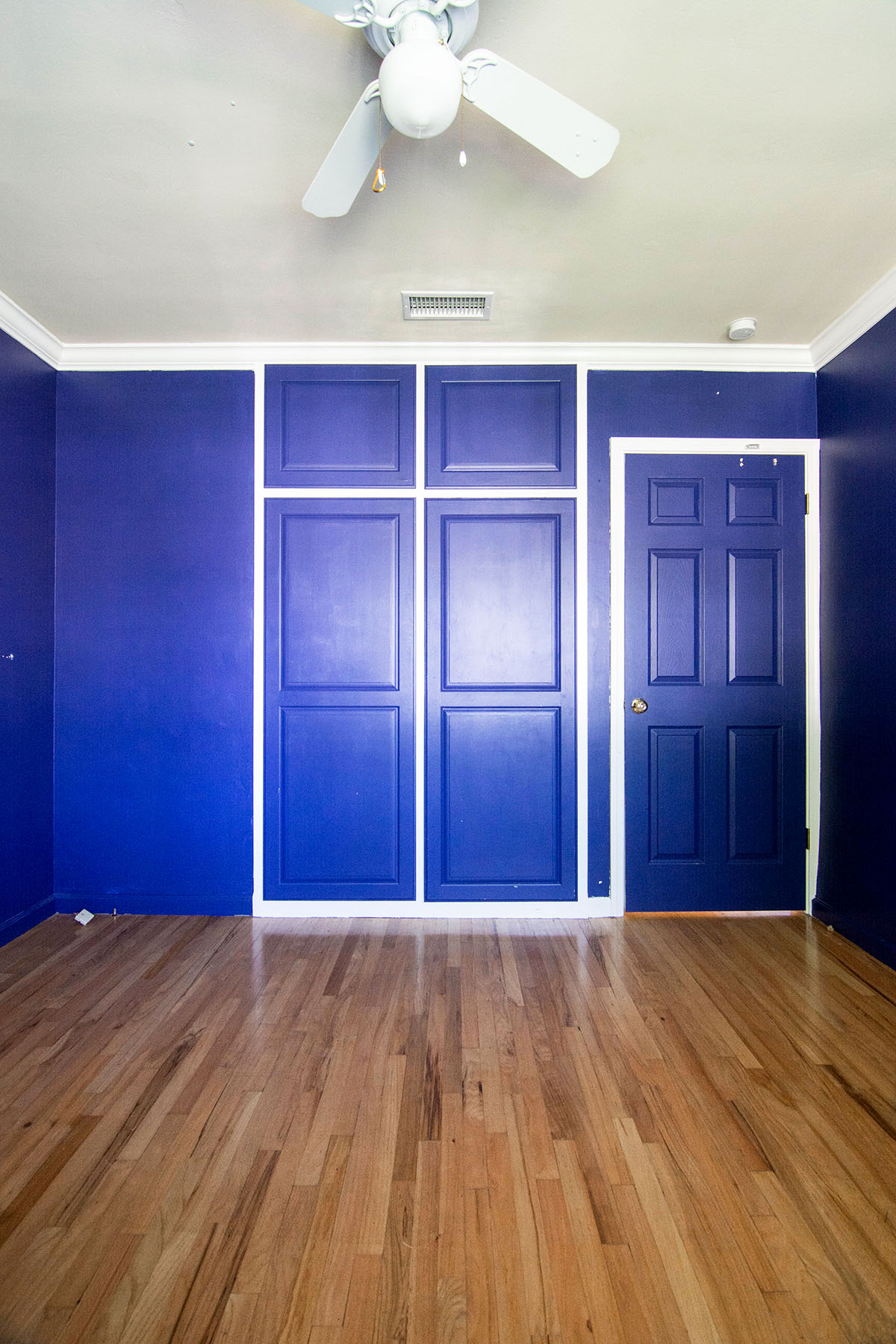 The blue room is the smallest room in the house, and the dark blue color makes it feel even smaller and closed in. I know this now for sure because we've painted over it and it feels so much bigger and brighter. It has the same original closet with nothing but a rod inside like the yellow room closet. Customizing this closet will immensely maximize the functionality of this room too. I'm thinking this room could be my office for now. I'll briefly get to it later why I'm saying for now.
SUMMARY OF HOUSE PLANS FOR THIS SECTION:
-demo and customize bedroom 3 closet with drawers, shelves, and new doors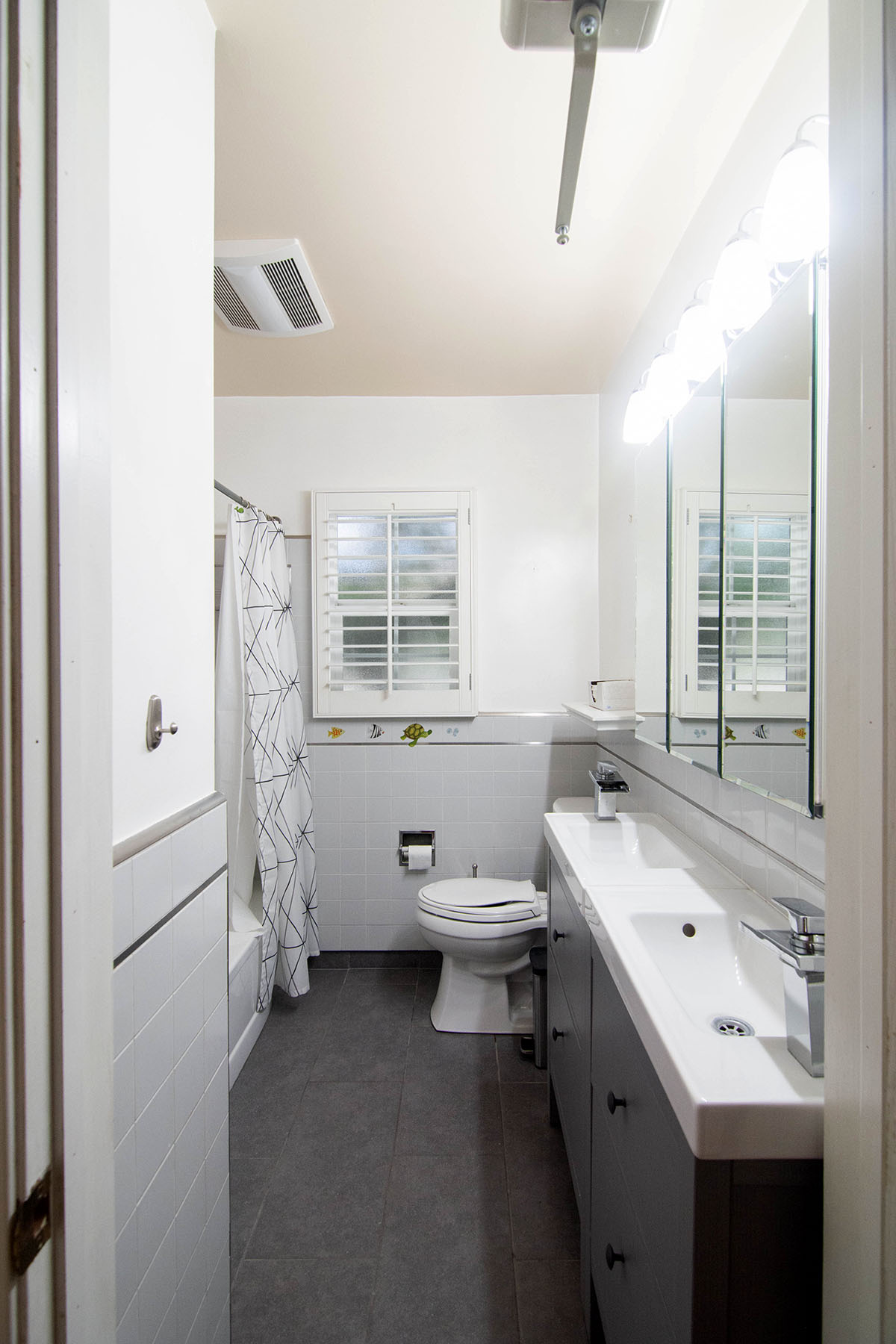 Traditionally called the guest bathroom, but we've been calling this the kids bathroom because there were obvious clues that the previous owner's kids dominated this bathroom. There were Finding Nemo stickers all over the tile next to the bathtub and I thought it was strange that those weren't removed, then I understood why when I removed them. The ones you see in the back near the toilet were covering holes in the tile! Ultimately I don't mind because the plan is to redesign this bathroom anyway, but what if I had wanted to keep that tile?? And what other things were being hidden by all the random things they left behind (they left behind a bunch of little stuff, including another large sticker that was covering a fist sized hole in one of the bedroom doors)? Ok well there wasn't anything else other than that, but we missed these damages for the negotiation during escrow, so I guess this is a little tip that if you see stickers or objects left behind in a house you're looking at, check if there might be something they're hiding. In conclusion, I like that they fit two skinny sinks in here, that's very cute.
SUMMARY OF HOUSE PLANS FOR THIS SECTION:
-guest bathroom redesign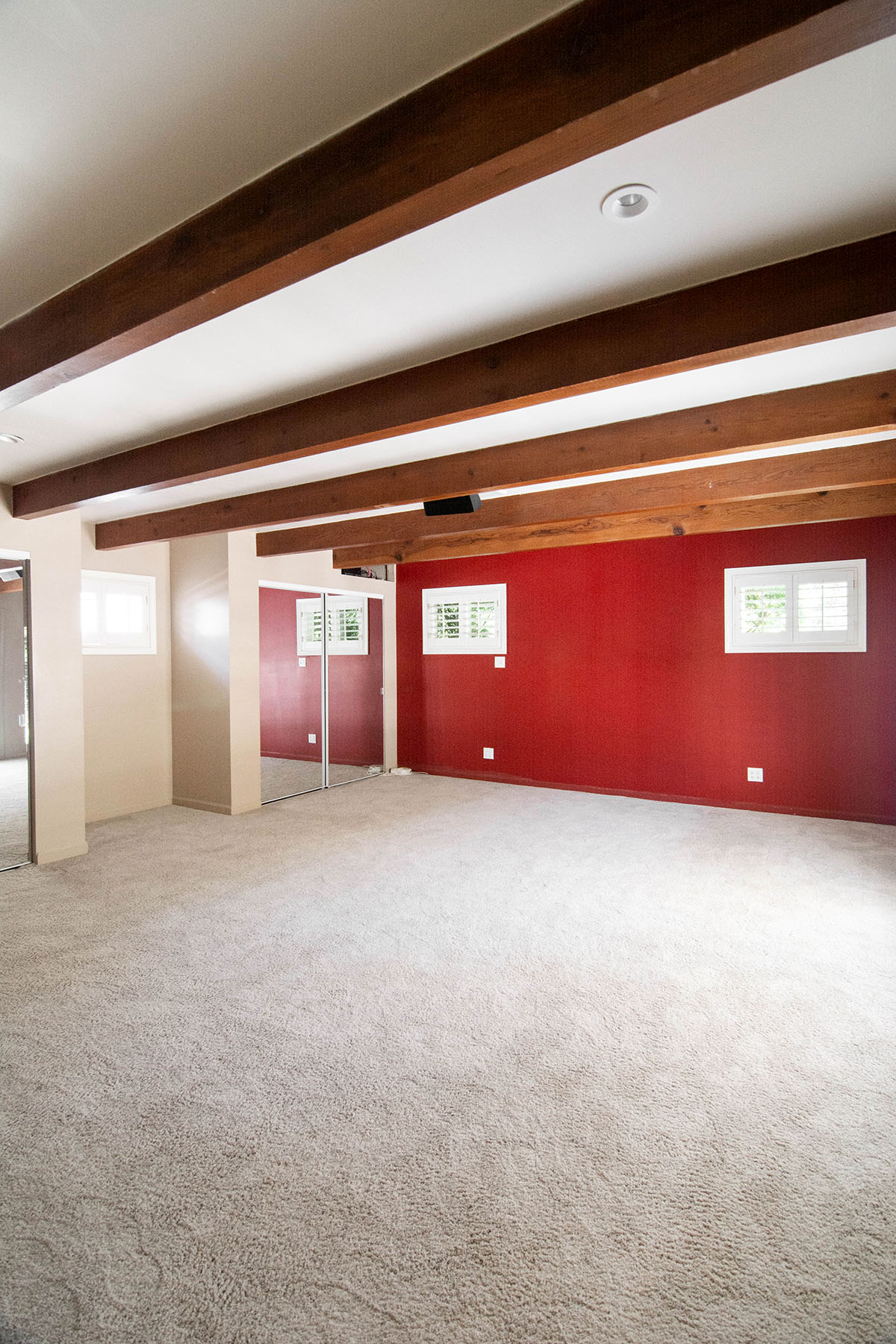 The red room. The biggest room in the house, and the source of most of my anguish lately because I keep going back and forth on what to do with it. This is a master suite add-on but my first thought when I saw it was that it would be a very dope family room. I love the exposed beams on the ceiling, the two closets, and that little nook between them where we can put a built-in shelf to use as either a desk if we make it a family room or vanity if we keep it as the master suite.
The wood floors I mentioned that we're planning on installing would also replace the carpet in here. Wall-to-wall carpet will probably never be my first choice, but I don't think it should get nearly as much hate as it does. It is so practical and comfortable especially for bedrooms and family rooms. I also really appreciate the light neutral color of this one and that it's not very old green shag carpet with many questionable stains- I've seen enough of that during our hunt. I'll be enjoying rolling around and folding our laundry while sitting on this very comfy carpet until we install new floors.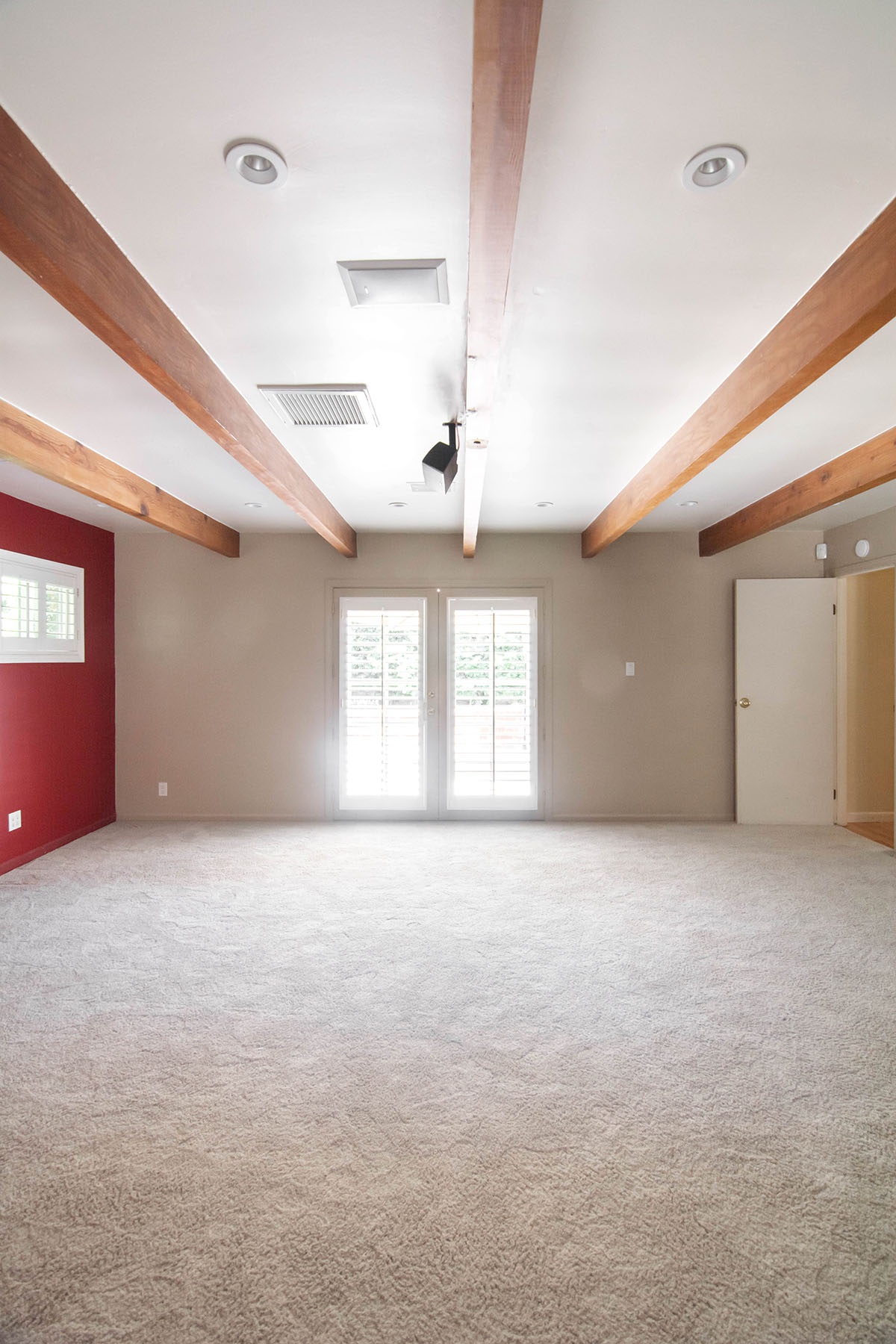 This room also has French doors, which is a dream of mine for having in a family room. My doubts for making this a family room are simply because this is an amazing master suite and would make it possible for us to upgrade to a king size bed, which we had hoped to do with our first house. On the other hand, the size of this room feels like overkill to be used mostly for sleeping in. If the rest of the house was proportional to the size of this room I'd want to keep it as a master suite, but again it's the biggest room in the house. You see why I'm going back on forth on this? I need to organize my thoughts. Here are pros and cons for each plan.
PROS AND CONS OF MASTER SUITE
Pros:
-We can upgrade from a queen to a king size bed.
-We each get our own closet for our clothes and personal belongings, plus I can use the nook in between them as a vanity.
-The master bathroom is in here and is easily accessible for our daily use.
-A few friends and family have mentioned that when we have kids, the extra space in this room will be really nice to have for the period of time when the newborn needs to sleep in the same room as us. Definitely jumping the gun there as I'm not pregnant right now, but in general we've been advised that it'll be a sanctuary for us to enjoy during times other than sleeping.

Cons:
-Bothers us and feels like a waste of space that we're using the biggest room in the house for mostly sleeping.
-There is still a lot of extra space in here with a king size bed and we don't like the idea of our bedroom being used for additional purposes like an office or TV room (we don't want a TV in our bedroom!)
PROS AND CONS OF FAMILY ROOM
Pros:
-Will get more variety of use as a communal space
-We can fit a comfy sectional for lounging and watching TV in here, which there isn't enough room (without feeling cramped) for in the living room.
-Closets and extra space can be used for general storage, which we need more of than what we need for clothing and personal items.
-Allows us to keep a bigger dining table since the dining area is shared with the current living room and that living room can be a more "formal" sitting area with a sofa placed up against the wall (unsure if that makes sense but all you need to know is that the dining table can be bigger with this option).

Cons:
-Essentially eliminates a bedroom and if we're still here when the time comes that we need a third bedroom, we'll have to convert this back to a master bedroom.
-The master bathroom is in here and it's far from where our bedroom is currently set up in the yellow room.
If you have any insights or want to vote on what to do with this room, can you leave them in the comments section at the end of this post? Appreciate it!
SUMMARY OF HOUSE PLANS FOR THIS SECTION:
-Use this room as a master suite or family room??
-Customize these closets like we're doing for the other bedrooms
-Put in taller windows to replace the two small ones currently on the red wall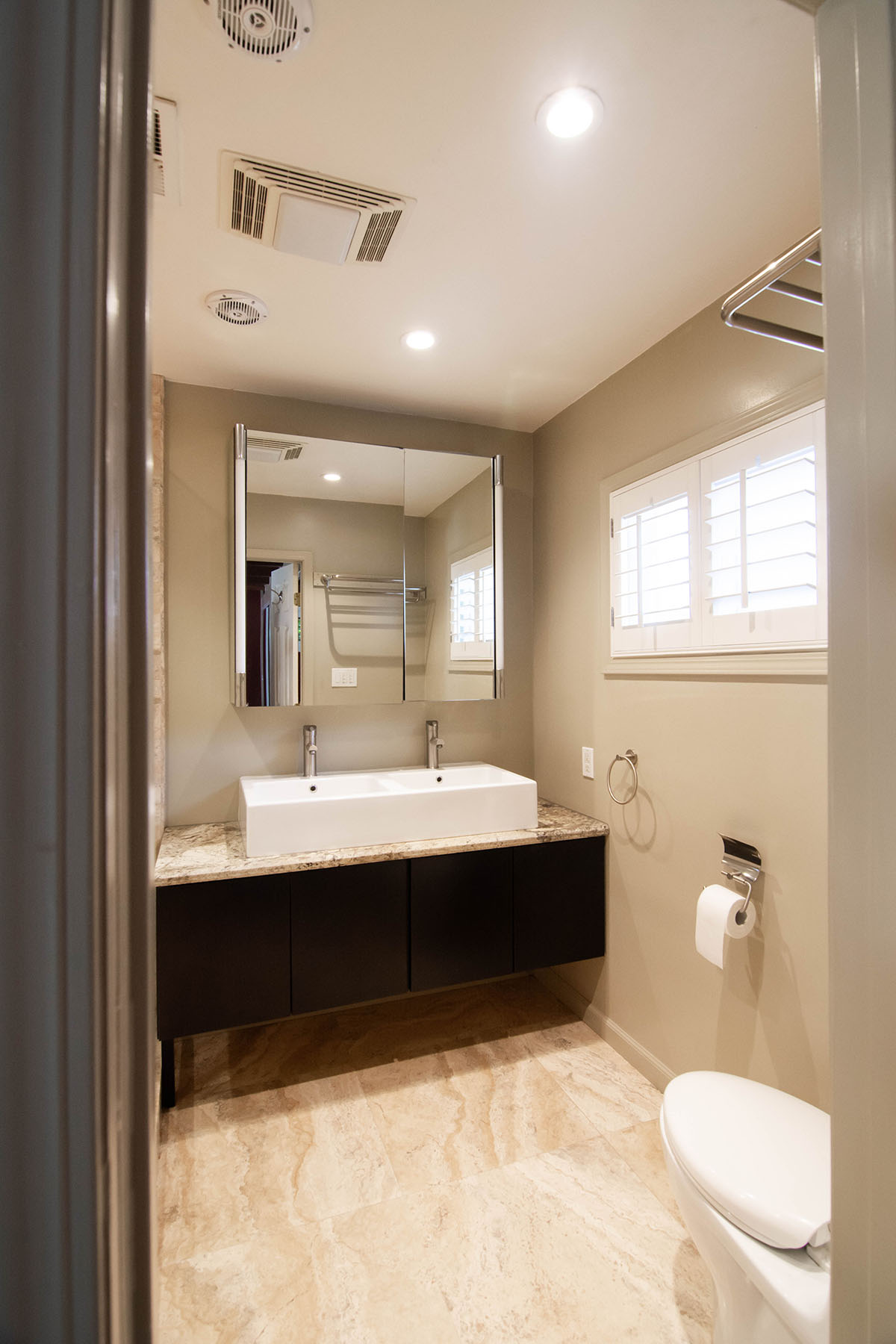 The master bathroom is to the right of where I was standing in the previous photo of the French doors. The size of this bathroom is awesome, I love that we can have two sinks in here (although the current sinks are spaced too close together that we are bumping elbows if we're using them at the same time so we'll have to improve that), and it has the foundation for becoming our dream master bathroom.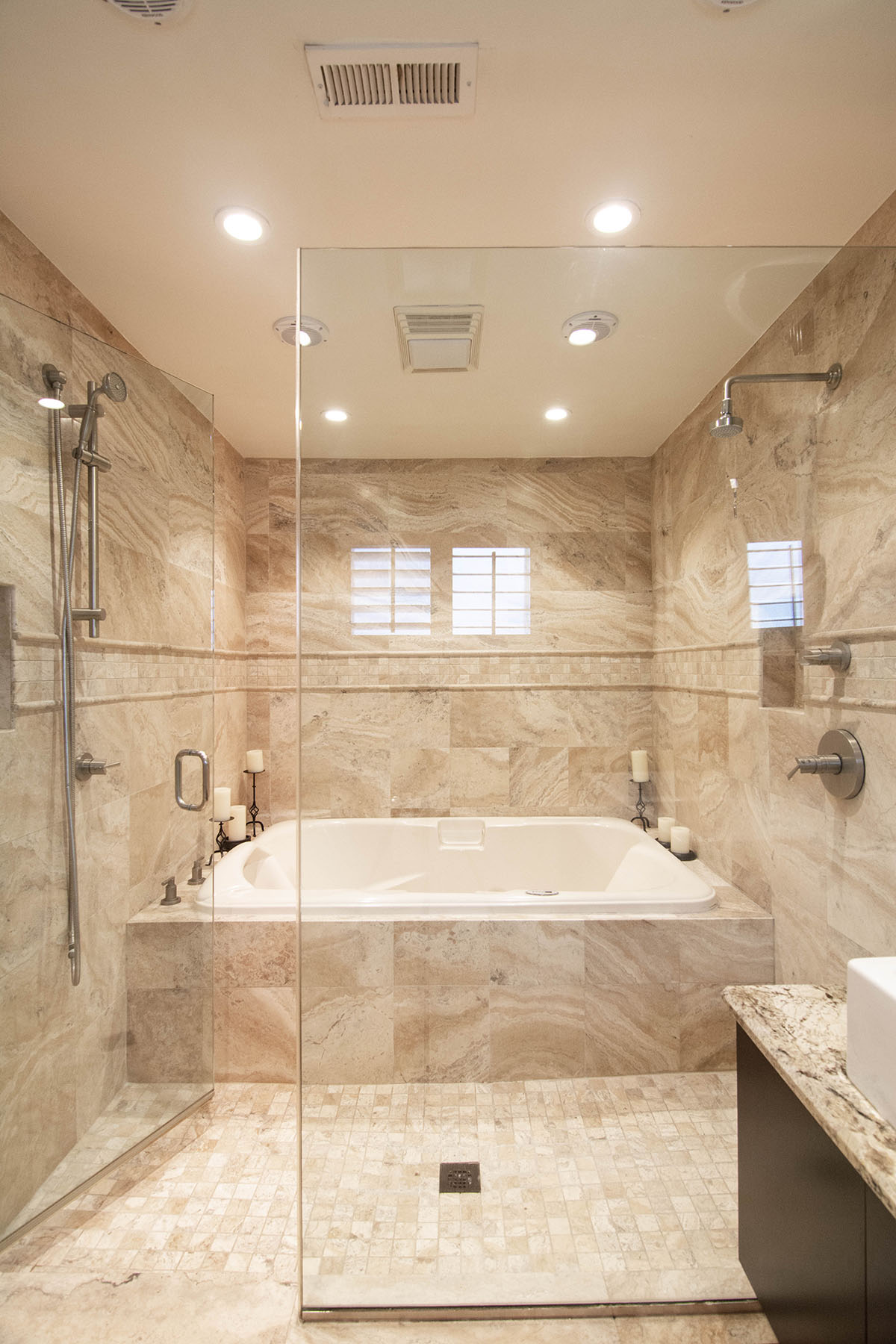 I really like what they did with the layout of this space. I would've gone for more cool-toned stone and tiles, and I think we could do with a smaller one person bath tub, but I love that the shower and bathtub are separate in the same enclosed area. We haven't tried using this tub yet but maybe when I do the water jets will change my mind. For now I'm set on going for something more modern. I also think a skylight right above this bath/shower area would be perfect to bring some more much needed light in.
They left those candles behind and luckily they weren't hiding any damages. They also left behind a squeegee that reminded me that I now have the extra chore of squeegeeing the glass to avoid hard water stains every time I shower. So far that hasn't been so bad, I actually find it satisfying.
SUMMARY OF HOUSE PLANS FOR THIS SECTION:
-master bathroom redesign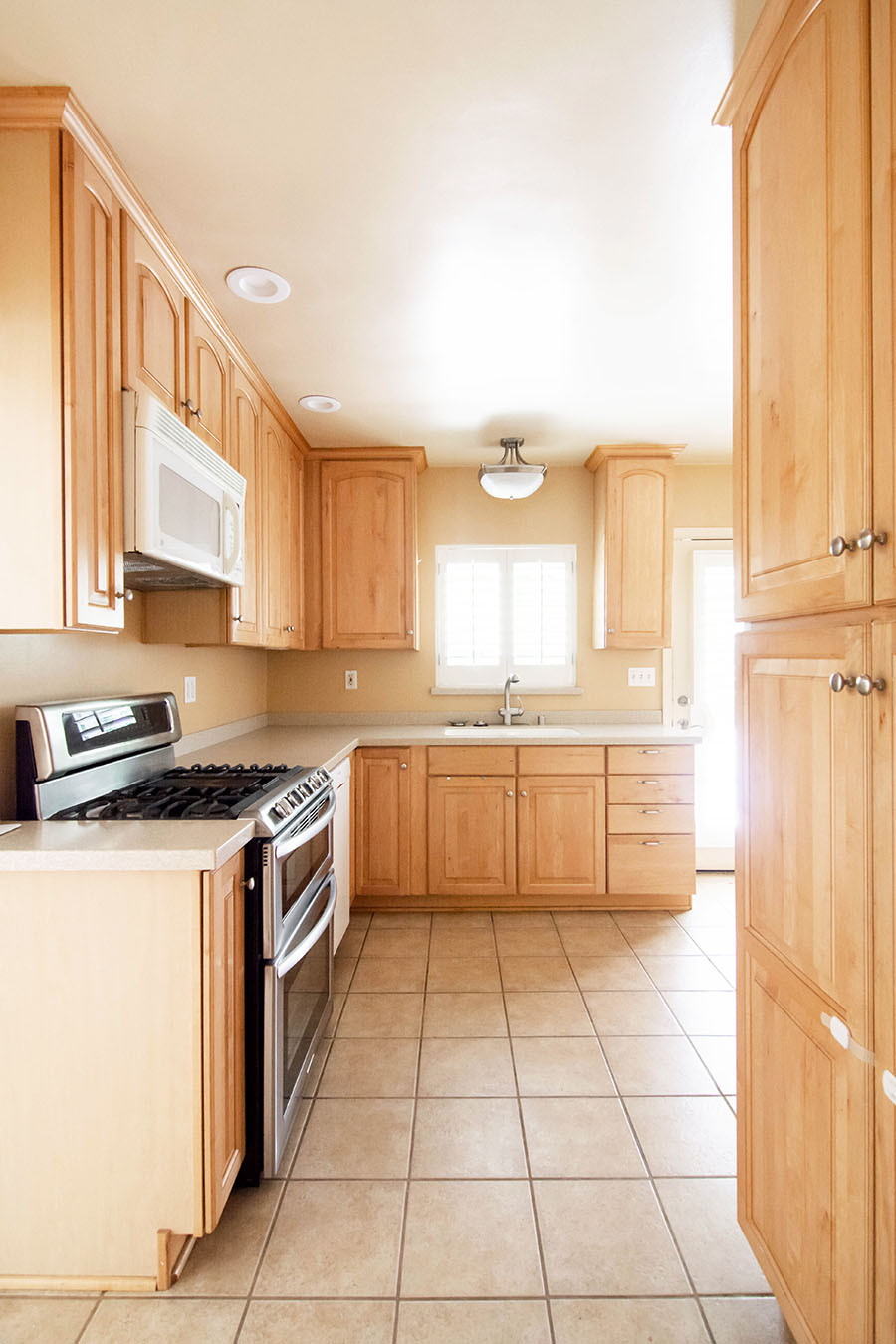 When I first saw the kitchen in the listing photos, it hurt that it wasn't the open kitchen with a large island that I've wanted for almost all my life. When I saw it in person however, I thought it was pretty cute and certainly enough, and I could quickly envision how beautiful it's going to be when we redesign it. We did consider how there's room in the backyard to expand it but the rough quote we got from a contractor was astronomical because of how the electrical box and AC unit would need to move, like we might as well buy a new house, so that plan is very unlikely.
Right now the kitchen looks a lot like the kitchen in our apartment but already it's much more functional. In our few short weeks of using it, I've quickly grown to appreciate the custom cabinetry, shelves, and drawers the previous owner had installed, and I anticipate we'll keep a lot of the same functional features when we redesign it.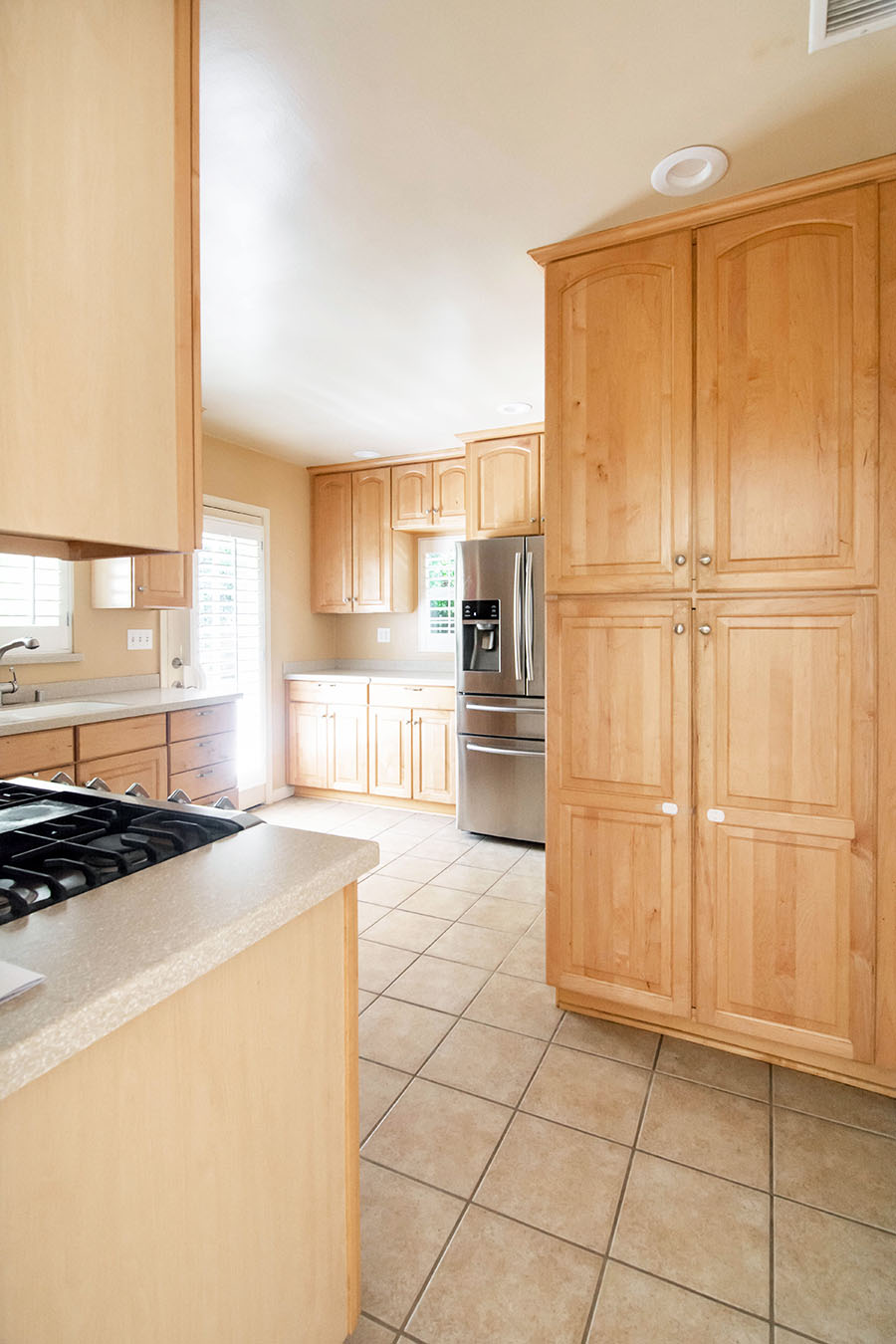 There are a couple short hours during the day where the light in the kitchen looks great, but pretty much at all other times it's really dark in here. It's the darkest room in the house and I think it would make a world of a difference to put skylights in the center of the ceiling. Can you tell I'm really into skylights?
SUMMARY OF HOUSE PLANS FOR THIS SECTION:
-kitchen redesign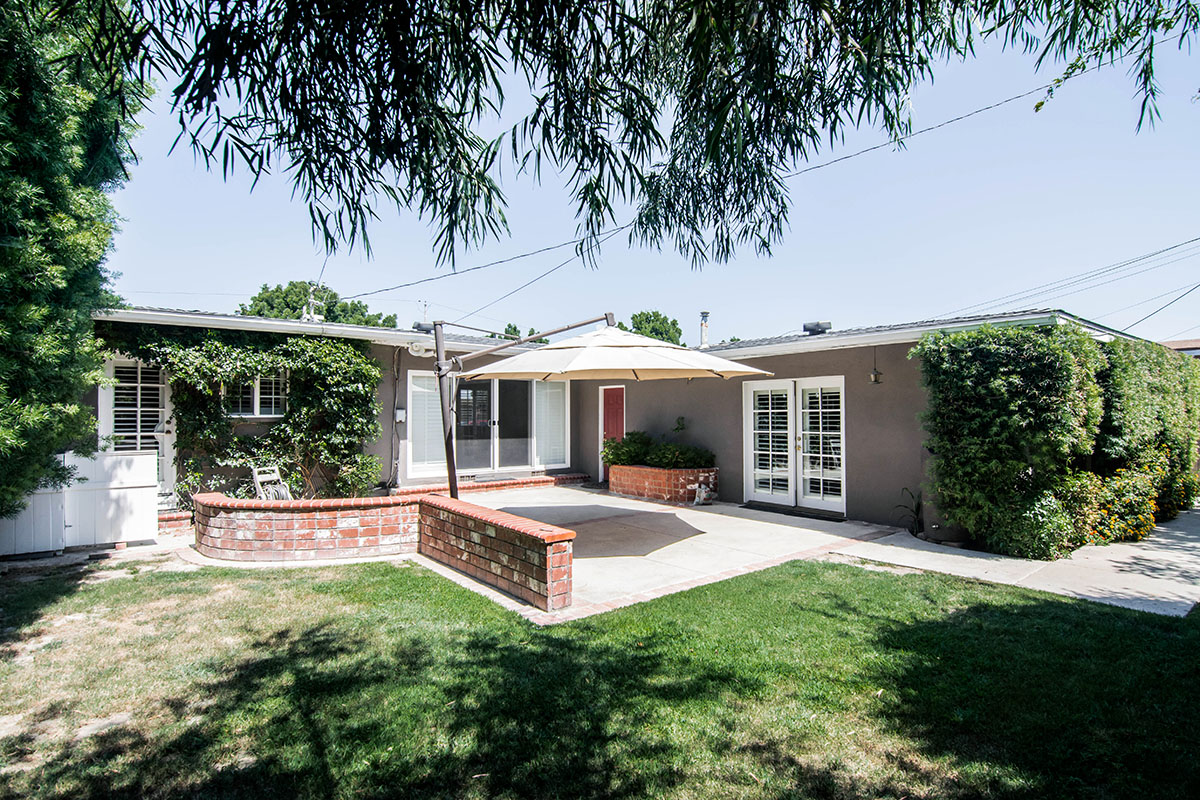 The reason I wanted a big kitchen with a large island is because I wanted the kitchen to be the heart of our home, for the main gathering place to be centered around the thing that I live for and express my love through (food).  What we found here however is that the heart of this house is the backyard, and that was another dream we wanted so much that ultimately won us over. The kitchen, living room, and master bedroom all have doors that open up to the backyard. There's also that extra door in red that has a dog door in it, cute. It's already nicely landscaped with a perimeter of tall beautiful trees that make it feel really private and secluded, which is what we love most about the backyard.
I adored those romantic vines growing on the outside of the kitchen door and window seen above on the left side of the house, but the inspector told us that they were growing into the electrical box and could set on fire, will damage the stucco on the house over time because of the moisture they retain, and needed to be removed immediately. I was very upset about this, but there was no way they could stay. We have already removed them and plan to remove all other vegetation that's growing on the house so that the stucco can stay in good condition. I've made peace with it.
Another thing we learned: landscaping and maintenance ain't cheap! Especially with taller trees and real grass. That's an extra monthly expense we forgot to consider, and we're not going to get on tall ladders to trim everything ourselves, so it must be done. Another idea we're considering is replacing the grass with something that isn't going to increase our water bill so much. Haven't gone down that spiral of research yet, but I think that would be ideal.
SUMMARY OF HOUSE PLANS FOR THIS SECTION:
-paint the outside of the house and surrounding brick a different color
-remove anything that's growing on the house
-remove umbrella and build a pergola
-potentially replace grass with a no water alternative
The garage was converted into an extra living space/laundry room that's already hooked up with AC and heat so immediately I thought this is definitely going to be my workspace. We for sure need to put a window in here as we're probably rarely going to open the garage door since it opens up out to the street and would feel too exposed. The floor is currently covered in a wood pattern foam flooring that connects together like puzzle pieces and is easily removable, I forget what they're called. Underneath that is concrete which I'm hoping doesn't have terrible stains and will look good after power washing. If so, we'll seal it after, and if not, we might look into epoxy or whatever can maintain the option of parking a car in here.
The cabinetry looks pretty good and I'd like to paint them and change the hardware. I might want to remove or move some of the upper cabinetry down to put countertops on top of, and some other functional customizations will probably need to be made but I won't know that for sure until I start using the space. In general I want to make changes to make this look less like a storage space and more like a creative space. That might be a while, which is why I mentioned using the blue room as my office for now.
SUMMARY OF HOUSE PLANS FOR THIS SECTION
-update flooring
-put in a large window or two
-rearrange and paint cabinetry
-increase countertop space
What was it we got with this house that I'm discovering new found appreciation for? Without a doubt it's the smaller square footage. There was a period of time during our hunt where we were trying to go for the bigger houses that needed to be completely gutted and I'm so glad in hindsight that we didn't go in that direction. From seeing how expensive the quotes we've been getting on our smaller good condition house are, and how hard it already has been to get people to come do the work much less complete it in the agreed upon timeline, I can easily imagine the fortune and headaches it would've cost to make these same changes plus more in a bigger and extremely dated home in this city. As fulfilling as that may be to accomplish, it frankly wouldn't have worked out for us, and it makes me even more grateful we're in a house that's already totally fine as is. Bonus: less space to clean.
All the changes are certainly not happening immediately, but over time we'll get through our plans. As we tackle each space I'll get into more details about what we're doing with the design. For the short term there will be mostly furnishing and decorating projects to help us settle in. We still have most of our stuff in boxes as we're waiting for the minor initial work to finish and it's keeping me frustrated, but by the end of this month that should all be done.
It's now insane to me that I ever had negative feelings towards this house. Understandably that was because it's so different from what I had previously imagined it to be. Even though we ended up with a house that is far from what I pictured in my head, it is still really, really cute and I love it more with each day I spend here. I feel happy, safe, and proud to call this our home. Ideas are swarming around in my head and I can't wait for all the memories and traditions we're going to make here.
Other Posts You Might Like