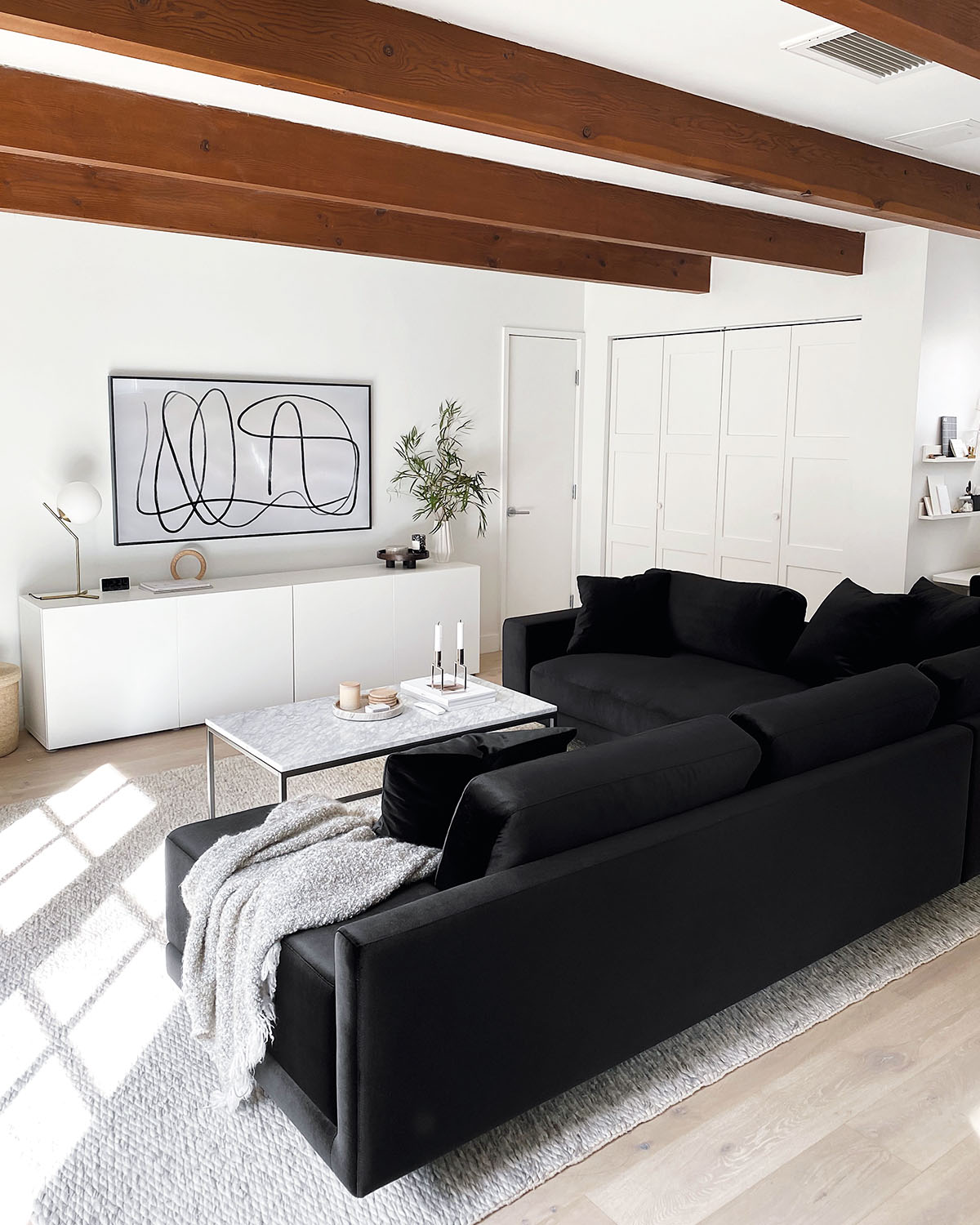 I get way too in my head about "revealing" spaces, ultimately contradicting how I believe our spaces are never truly finished or done- they should change and evolve as we and our needs do, plus this stuff takes time!! While I kept a running list in my head of what I still want to do with this space, I asked myself what's wrong or unlivable about it right now and the answer is nothing at all, so let's no longer delay sharing a quick look at the evolution of this space so far.
First, the before: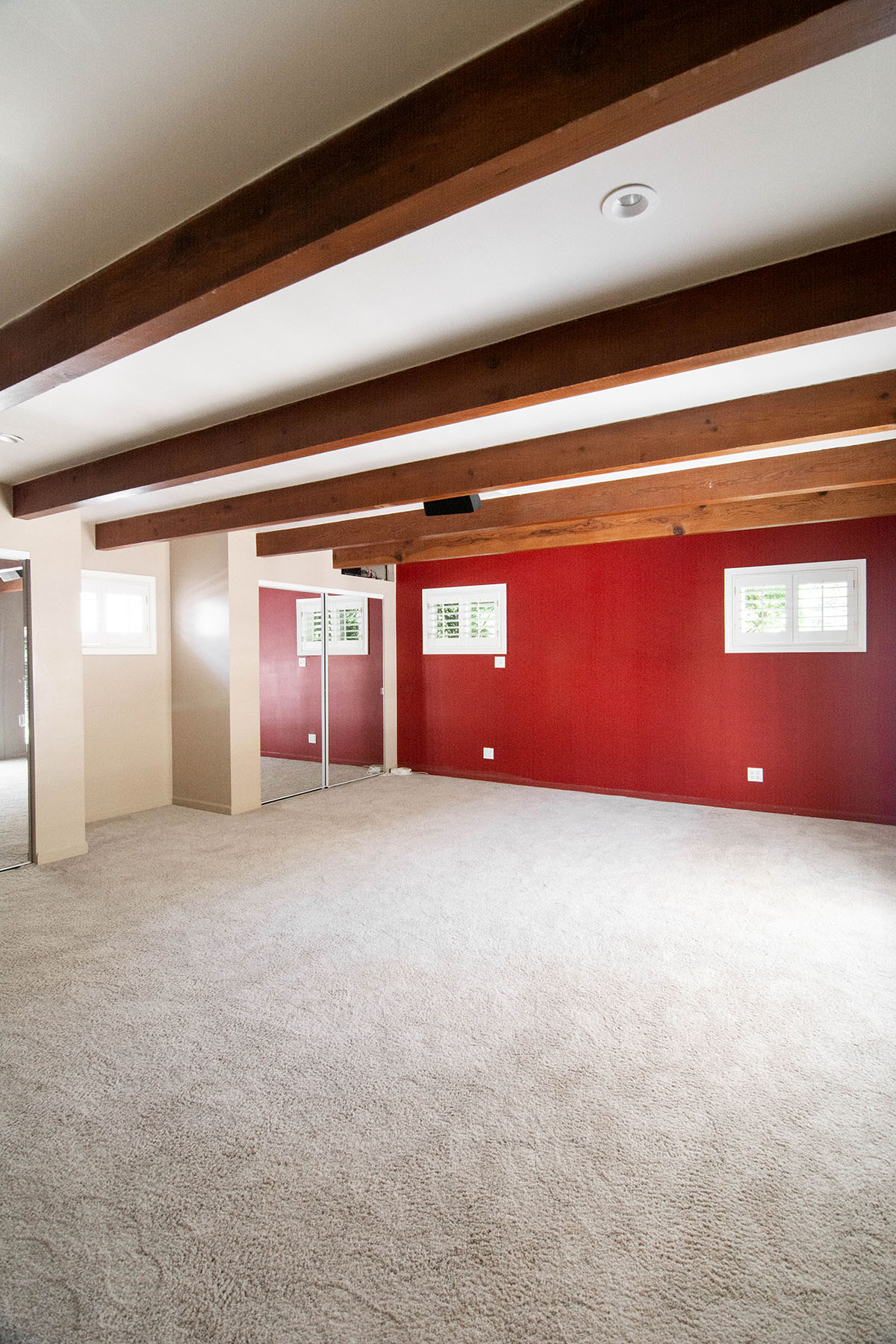 The family room is actually the main bedroom of this house. Back when I shared the empty house tour, I talked about how this room is the biggest in the house and it felt like a waste to use it just for sleeping in, however if we use it as a family room then we would take one of the smaller bedrooms for now knowing that sometime in the future we'll probably have to turn this room back into a bedroom and that could simply be cumbersome and annoying to do. So what do we think now that we've gone forward with that decision?
It's awesome, and considering the pandemic and staying at home all the time for the past year, using this space as a multi-purpose family room has served us far beyond what a huge bedroom would have. It's where we watch TV, eat while watching TV, workout, work, generally hang out, and now it's becoming a bit of a play room for our baby boy, Orion :)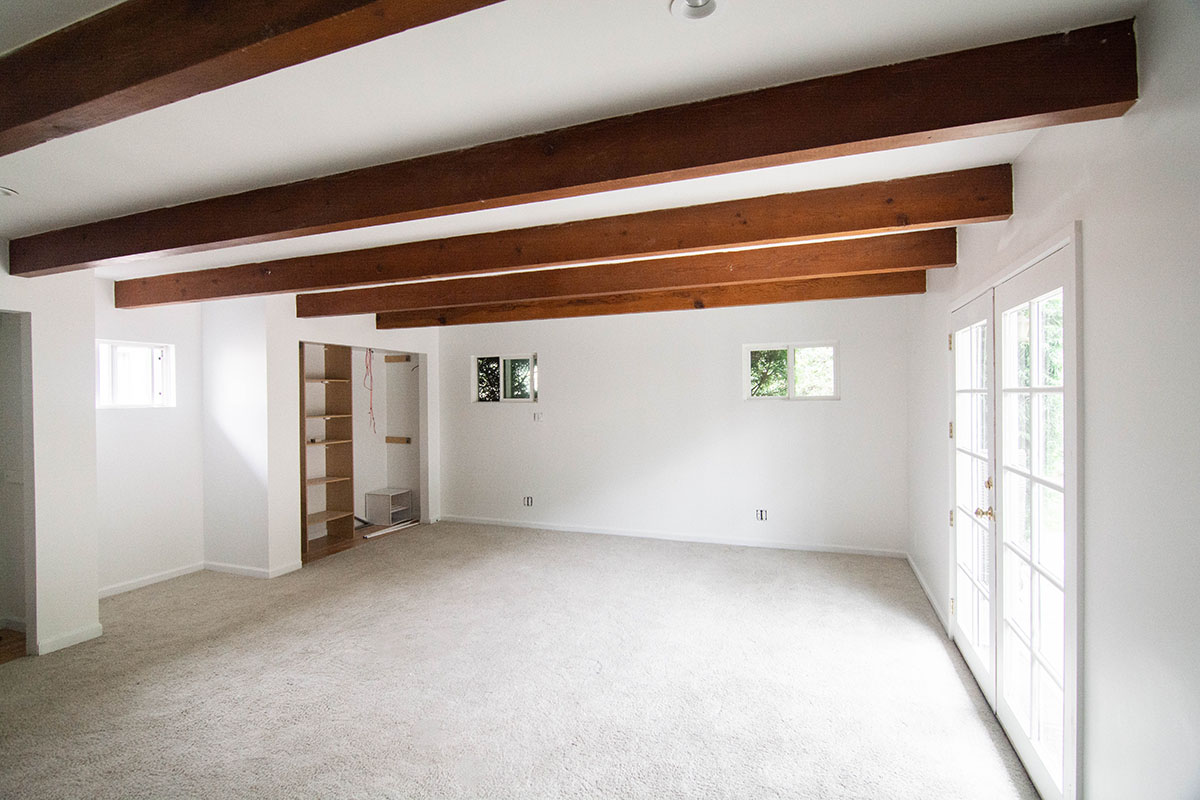 We started with removing the plantation shutters, changing out the door casings, paint (SW Pure White) and took out the mirrored closet doors, which really didn't need to happen until months later when we put in wood flooring so we lived with these naked gaping closets filled with our junk for a while.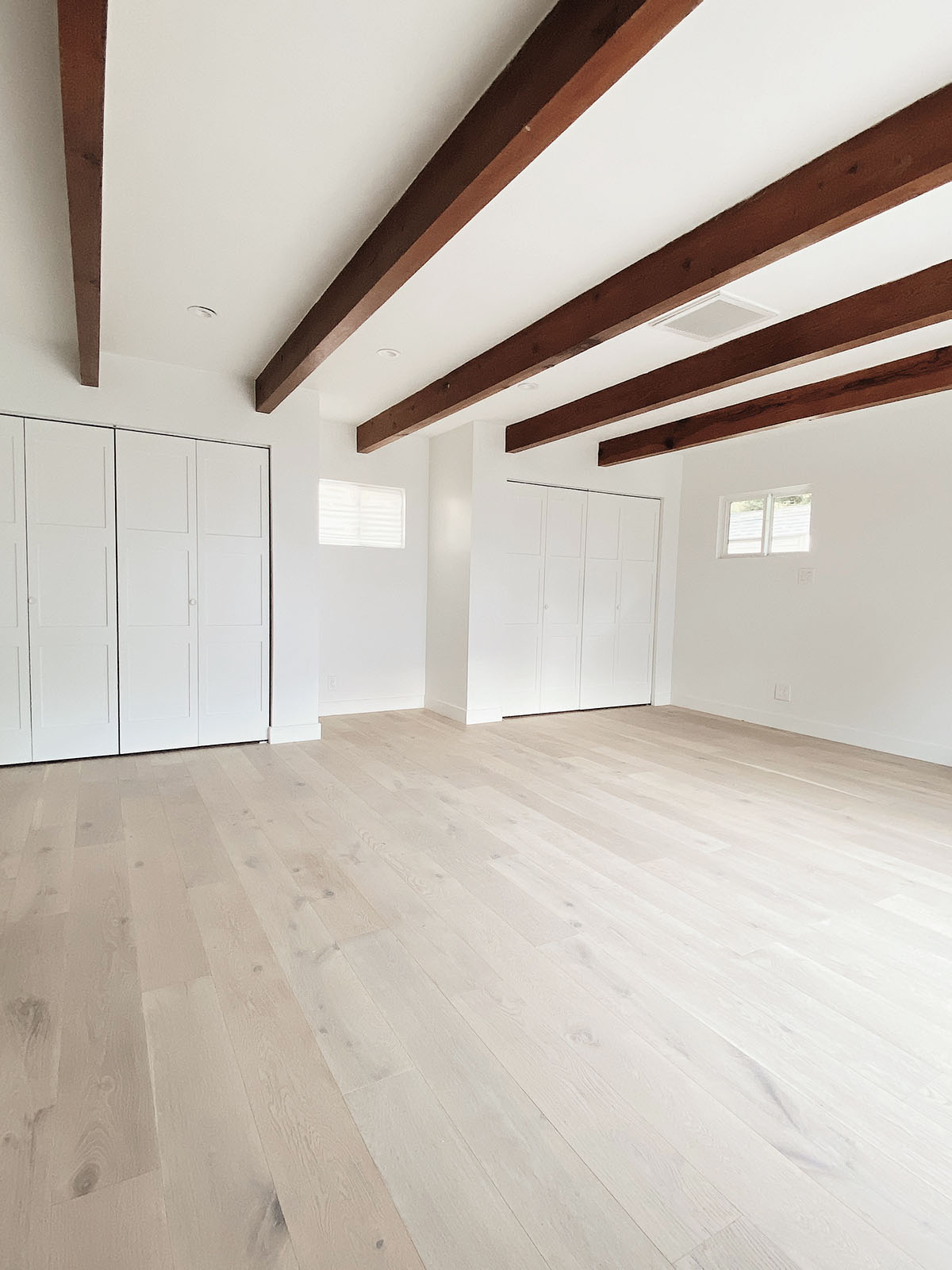 Almost 10 months later, the wood floors were installed (wrote about them here), the closet doors went in, and we continued the awkward phase of figuring out if what we already had would work in this room. Again, knowing that this family room situation could be temporary, I considered sourcing items that could potentially find places in other parts of our home.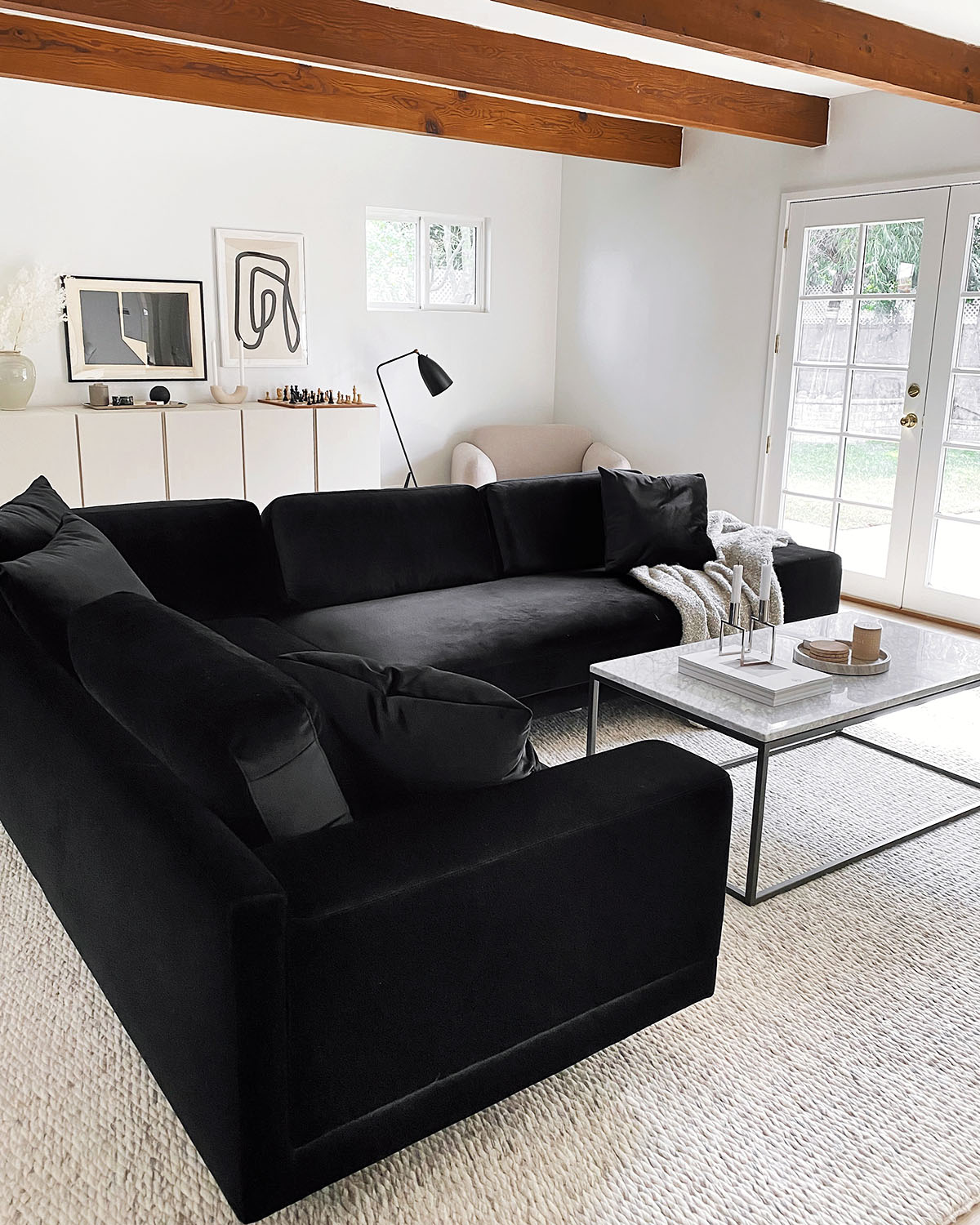 Our previous sectional was a smidge too large, impeding with the opening of the french doors that we never open anyway, and in my hunt for a different one I found that the Dresden Left Arm Sofa and the Dresden Armless Sofa with Armrest (provided by Rove Concepts) together fit perfectly in this space. It's sleek, firm seating with cushions I don't have to fluff nearly as often as our old sectional. Went with a black velvet which I'm in love with for being bold but not loud, grounding the light space and complementing the wood ceiling beams- happy we ended up keeping the beams their original color btw!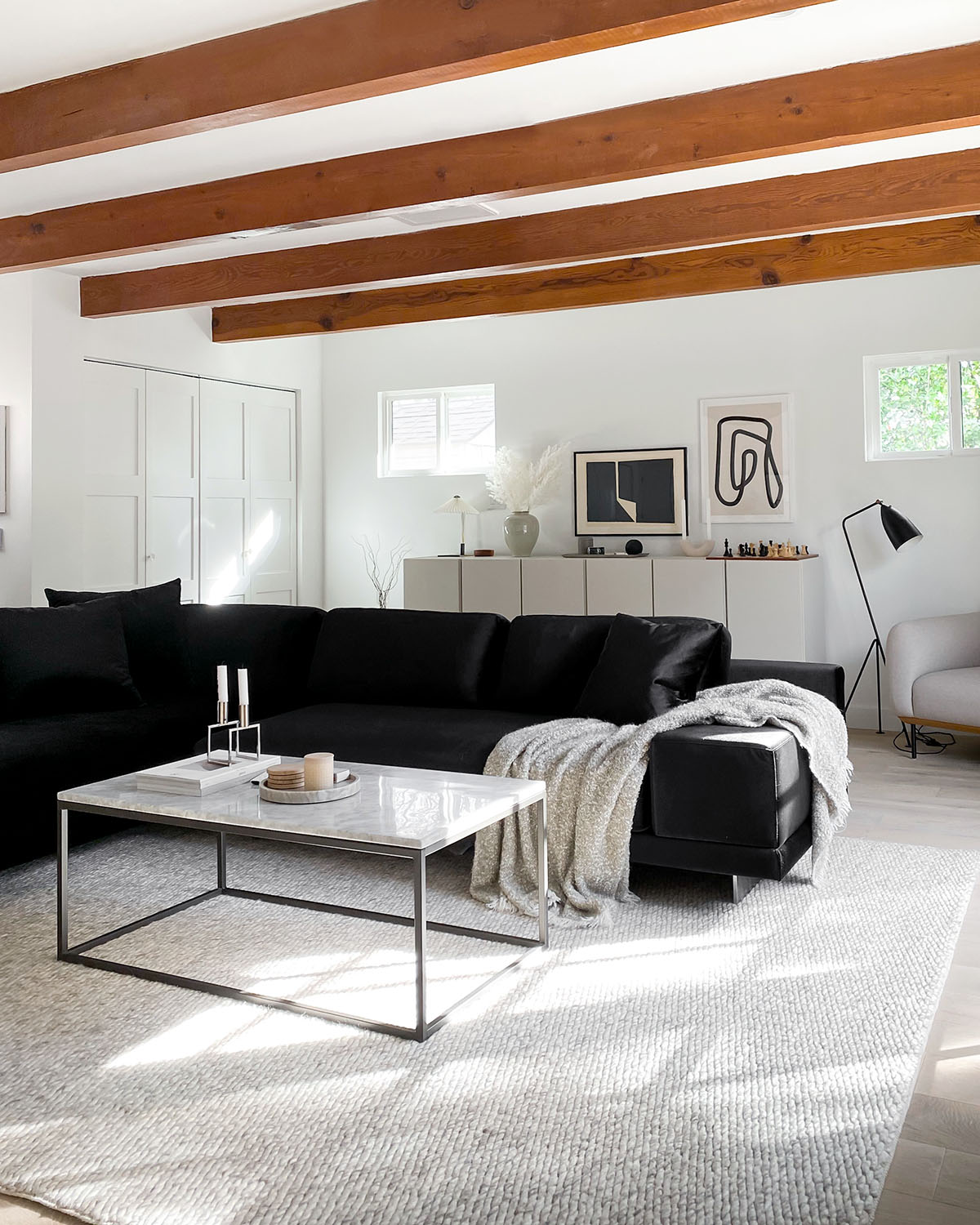 The next most important thing to put in here was a large comfy rug. The Dunes rug in Melange (9×12, provided by Nordic Knots) plays the essential part of adding interesting texture to a muted and neutral space, which I also love how it mixes with the velvet texture of the sectional. The marbled shades of cream and gray are not only beautiful but make the rug much more forgiving, certainly more than something like an all white rug.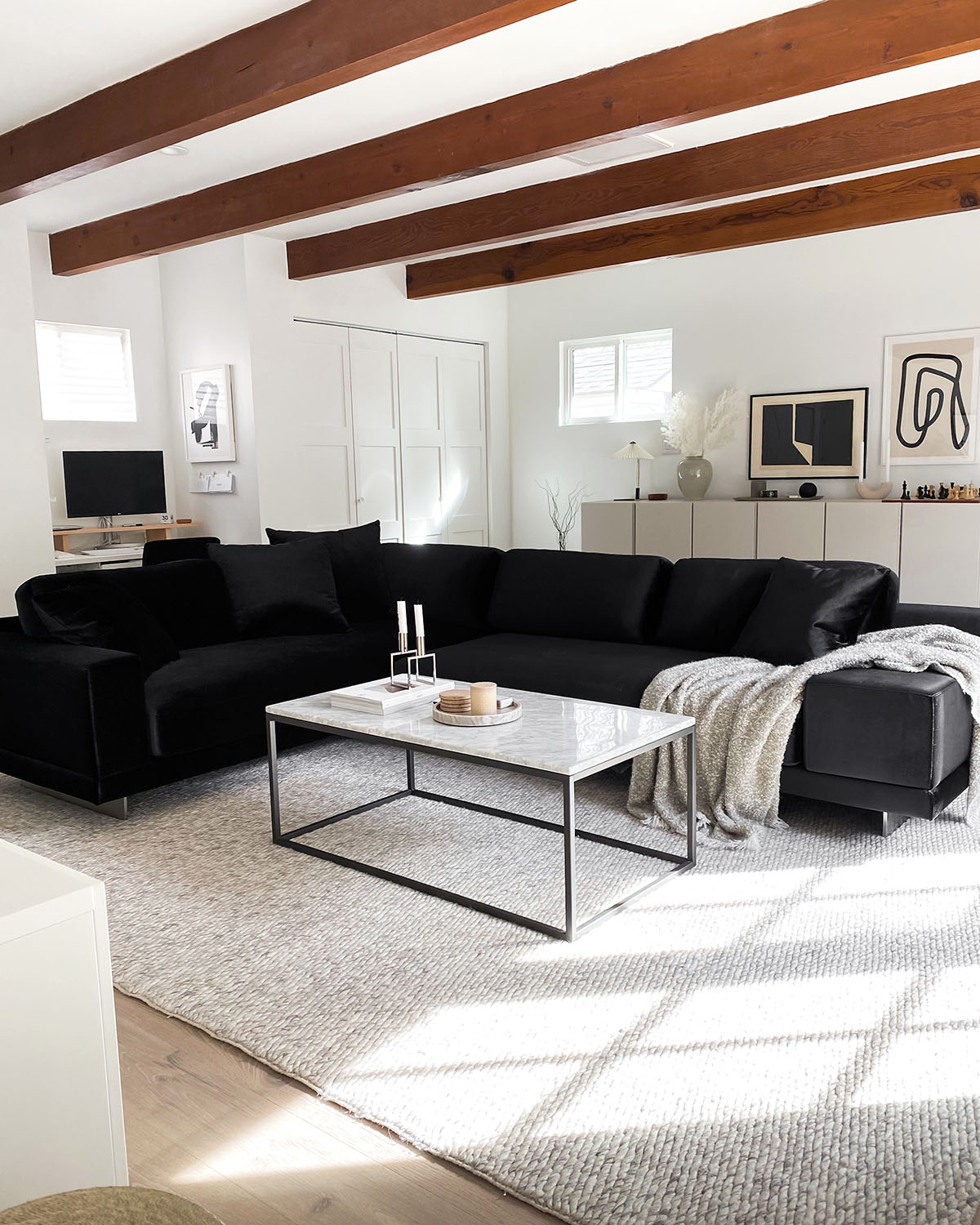 The little workspace nook on the left (shared a closer look at it here) would've definitely been my vanity if this were our bedroom, but the desk has been far more useful. I had hoped we could do some sort of custom shelving or cabinetry there that could lend itself to serving like a secret vanity as well, but the workspace is much more needed right now as we both work from home.
Sandwiching the nook, the two closets with 3 panel shaker style bifold doors provide a good amount of built-in storage but need some work on the insides to maximize the organization- a future project we must do and will probably hold off on until we have a better idea of the long term usage of this room.
Along the back wall is 3 IKEA IVAR cabinets that we customized into a sideboard which ended up being so much more work than I thought it would be with all the hiccups we encountered and will have to be its own blog post coming soon. The storage it provides is awesome, holding all our books, random supplies, and certainly soon more of Orion's things.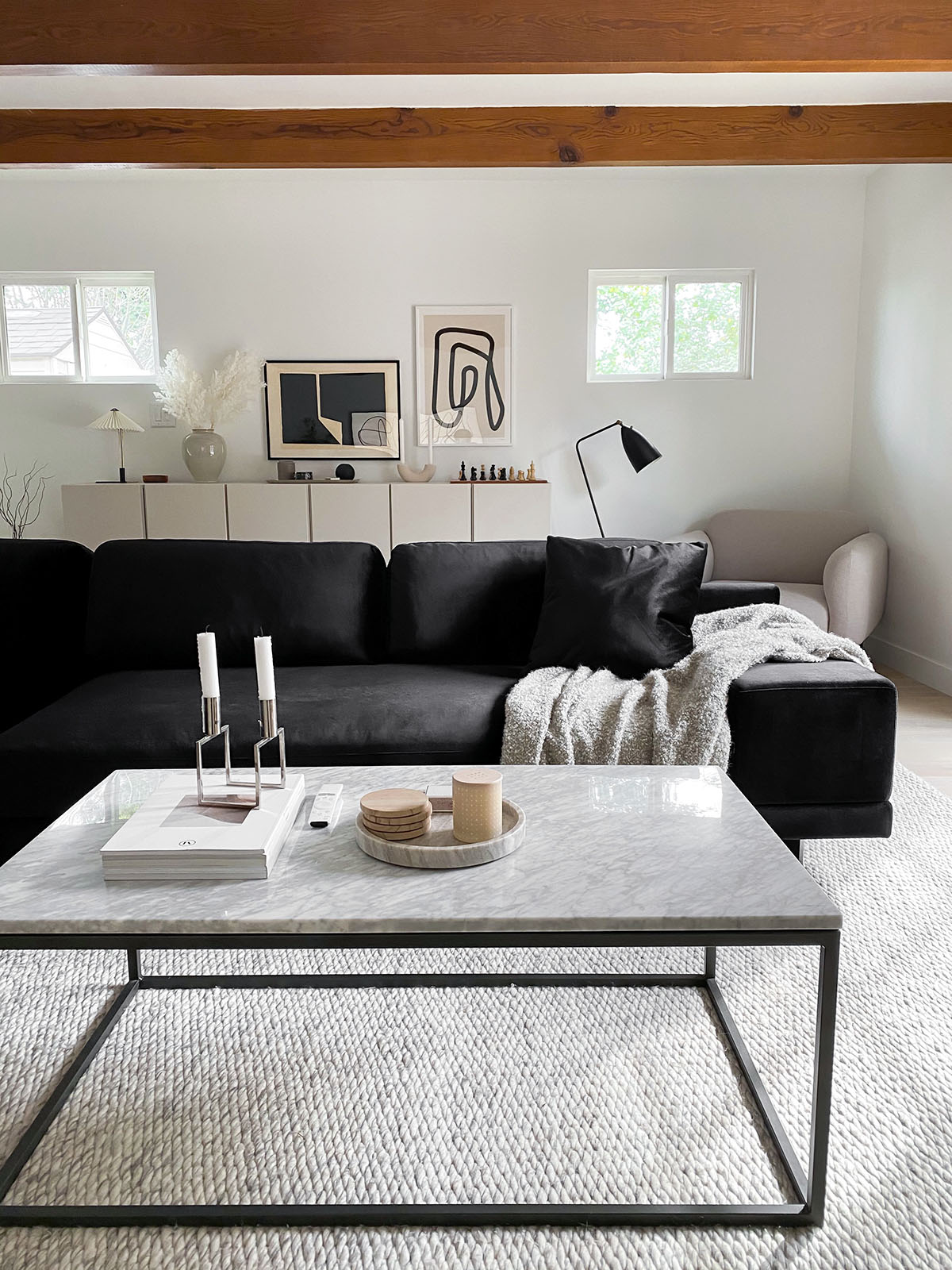 You might remember this marble coffee table from our apartment! I think it works really well here and the only reason I'm looking to replace it is because of baby. Something round (no sharp corners) that's easy to move to clear out the floor for play would serve us better, ideally an ottoman that we can more comfortably rest our feet on and not high maintenance like marble. For now, I'm holding on to how gorgeous this coffee table looks here.
The lounge chair and floor lamp in the back are also from our apartment. Honestly, the lamp doesn't really need to be there and I just like the way it looks, so it's really acting as a place holder for a side table which will be much more functional there. A full length mirror is on its way to lean against the wall on the right of the chair, but I keep toying with the idea of putting floating shelves there instead. We'll see.
Our beloved IKEA BESTA cabinets used as our media console ended up being the exact size we needed and have really proven their versatility and timelessness in our home. It was the first thing we set up in this room, followed by the Frame TV which indicates our biggest priority of watching TV in here and was such an EVENT to mount that it's never coming down and will remain there forever. Come to think of it, it's the only thing I can say for sure will stay in this room if and when we change it back to being a bedroom.
We left some room behind the sectional to set up things like a yoga mat to workout or a play mat for Orion, and while I'm still thinking about whether it'll be too much in the way of that stuff I'm contemplating putting a runner here. Summary of other things left to do: closet makeover, round coffee table/ottoman, floor mirror or floating shelves, and window treatments!! We've been without proper window treatments for over a year now and it is time. Moving that one to the top of the list.
Despite having spent the majority of our time at home in this room, it only now feels like it's begun to come together, which might be why I was feeling like some grand reveal of it is too soon. We've been living in here but it's still not quite lived in yet- another way of saying making home takes time. It was relatively recent that we faced all the purposes this room needs to fulfill, so now we move forward with that vision and see how this space will hold up, change, and expand with our growing needs and family. Future updates surely to be shared!
SOURCES:
Sectional: Dresden Left Arm Sofa, Dresden Armless Sofa with Armrest | throw pillows | rug | marble coffee table | candleholder | coasters
media cabinet | TV | TV art | glass ball lamp | basket
sideboard (DIY, painted SW Accessible Beige) | table lamp | art 1 | art 2 | floor lamp | lounge chair