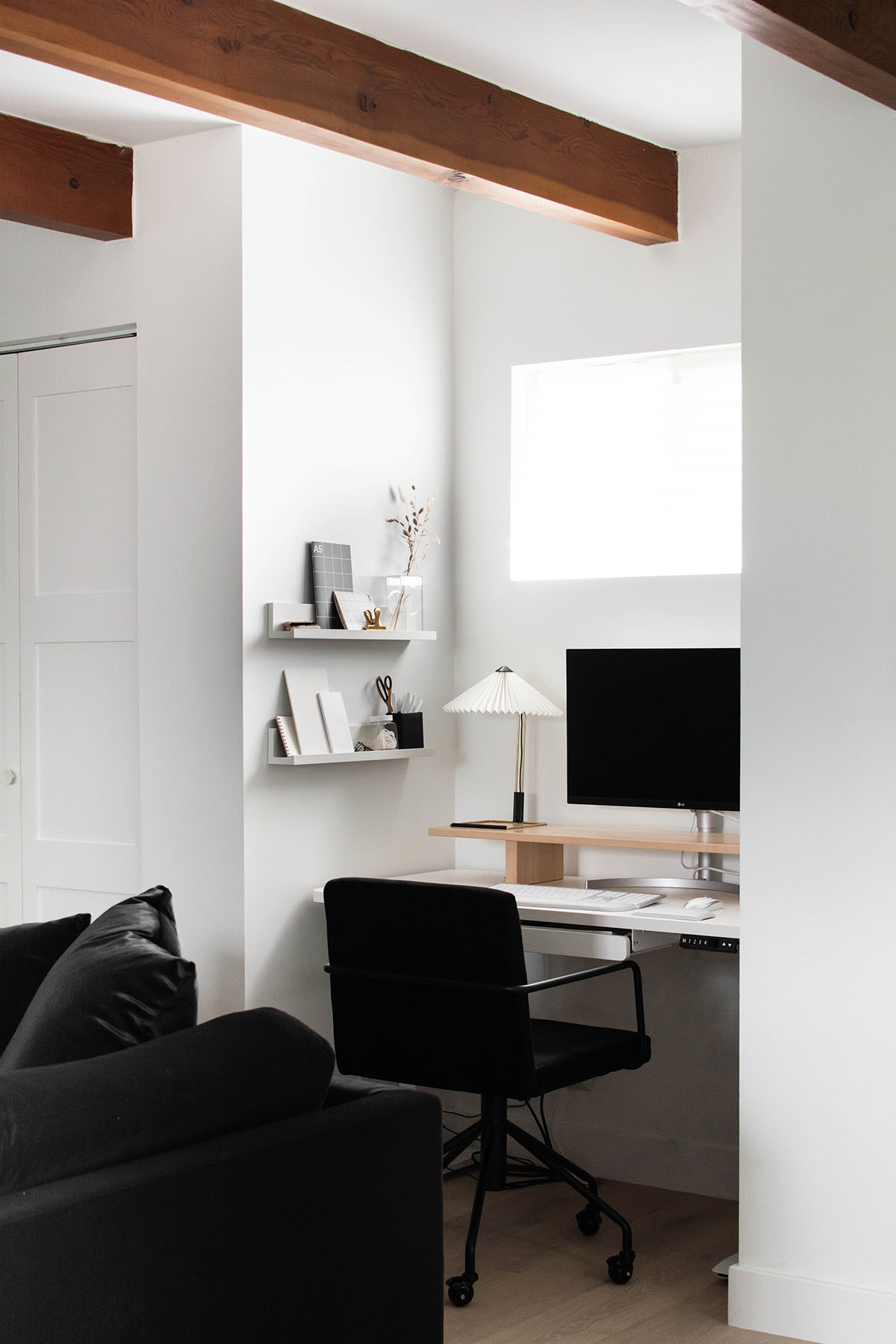 This post is sponsored by Command™ Brand. All opinions are my own.
While working from home has been my situation for a while, this year it became Oleg's situation too. When we bought this house last year we surely didn't anticipate needing workspaces for both of us, so we've been faced with the dilemma of how to make room for that. The plan from the beginning was to make the garage my workspace, but when it was immediately clear that it would take a while to set it up the way I envisioned, we made the extra bedroom my office. That then became Oleg's office and I set myself up at the dining table, then we turned the office into the nursery and moved Oleg to the garage with all the boxes we still haven't unpacked yet from the move, then I declared that the dining table was not sustainable for me. Now we're here with the next phase of our work from home plan: this little nook in our family room that I had several other ideas for will now be my workspace! We still want to make the garage a workspace/studio with the updated plan for it to fit both of us in there, but until we figure that out I'll be working from here, and I partnered with Command Brand quickly make this temporary workspace more functional and beautiful with some of their very easy to apply damage-free products.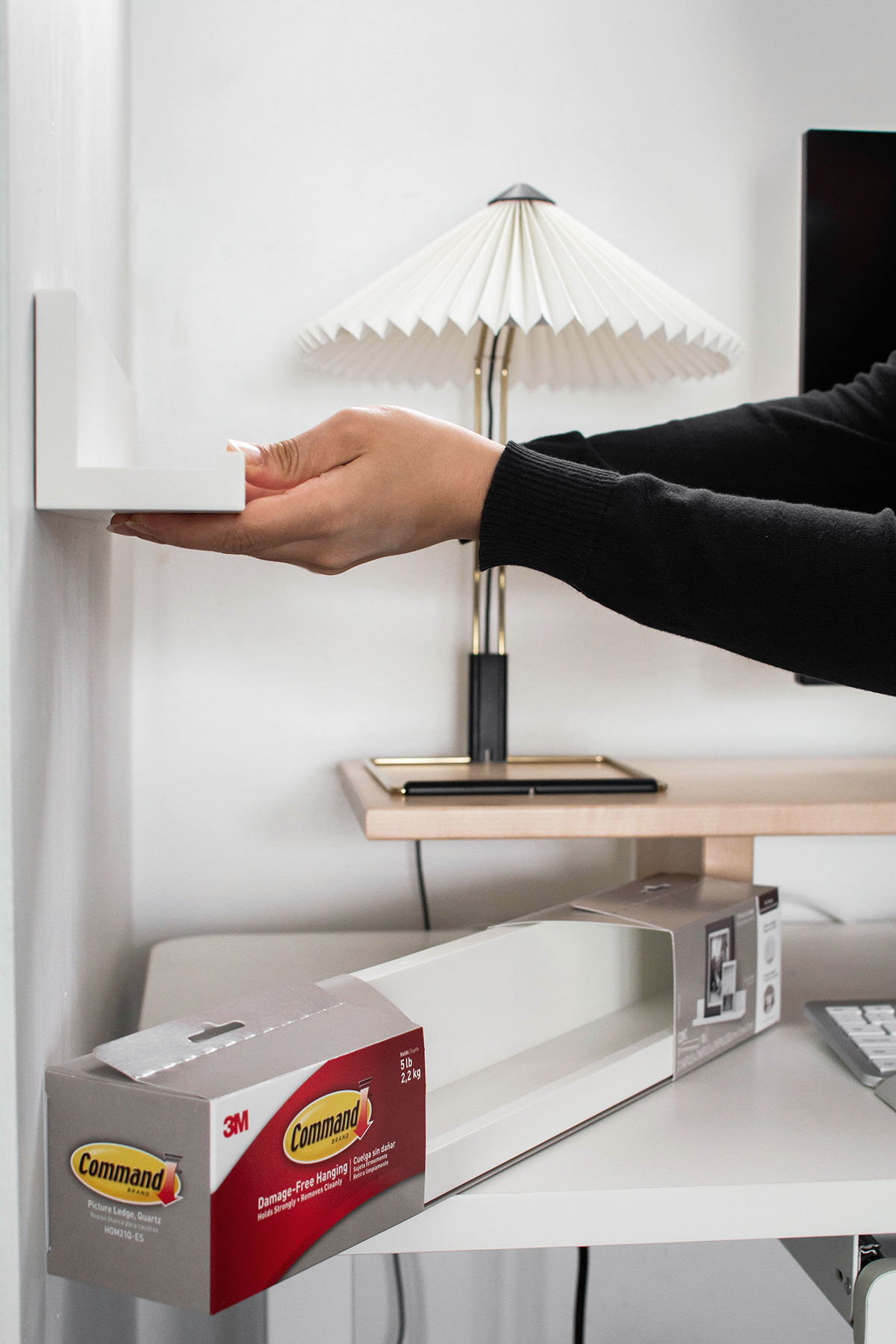 Despite this nook being pretty small, I ended up finding a desk that fits pretty perfectly within it to maximize the amount of tabletop space. The advantage of it being in an enclosed space like this is that I can utilize the wall space to add some organizational elements (small space tip: use vertical space!), like these Command Quartz Picture Ledges to display office supplies and decor. I'm impressed with how chic these look, how sturdy they feel, and how simple they were to install without the hassle of extra tools. Plus, they came with refill strips so I could easily readjust or move these elsewhere if needed without leaving any holes or residue behind.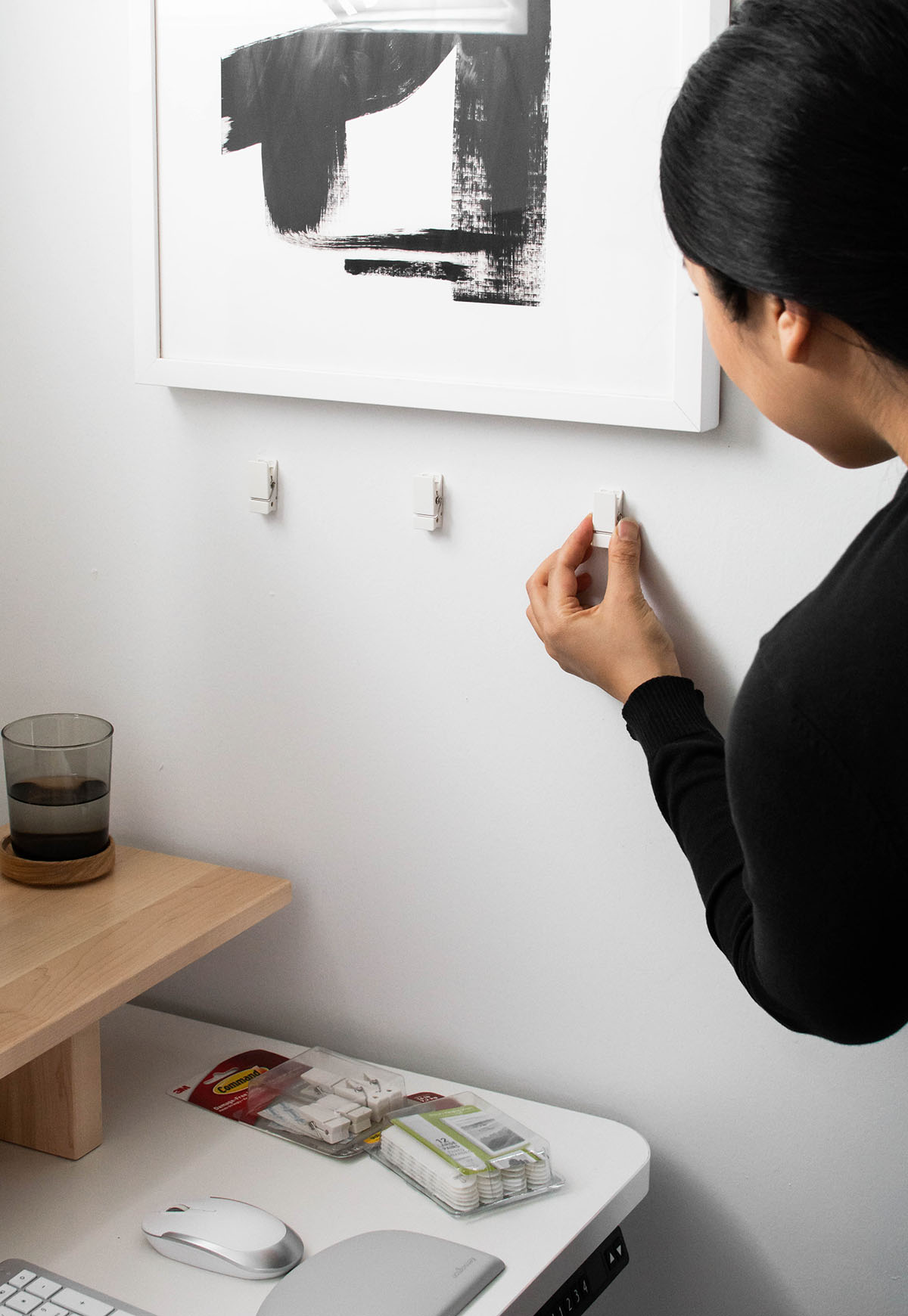 On the opposite enclosing wall I applied these Command Quartz Spring Clips to hang notes, memos, photos, and whatever paper items that might clutter and take up precious desktop space. I love how clean and streamlined they look, and they simply stick on to the wall and come off cleanly without causing any damage.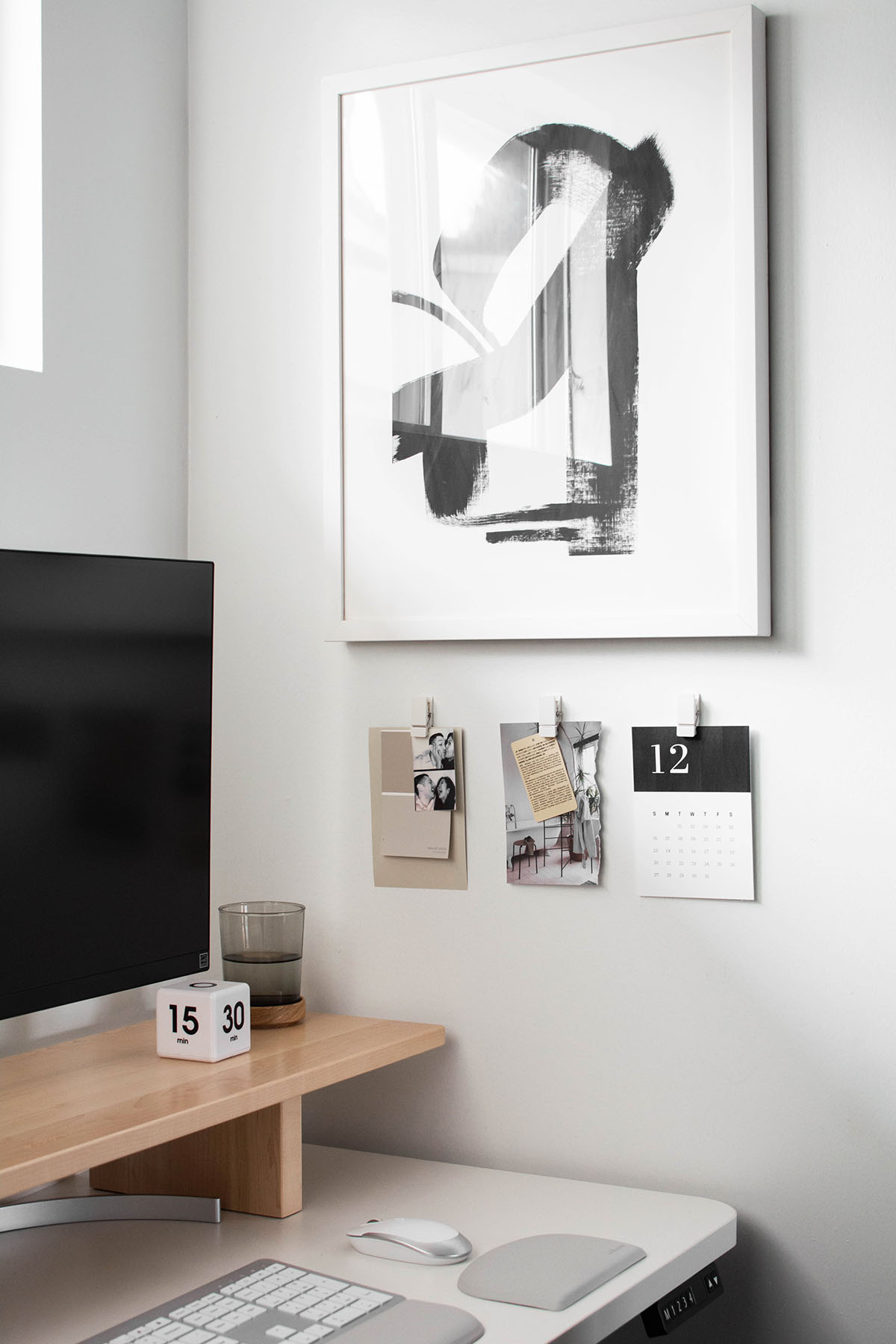 Above the clips I hung the art with Command Picture Hanging Strips which are used very often in this house. Hanging art can feel like a huge commitment, one that has left me frozen with indecision many times, so knowing that I can easily switch out and adjust as often as my mood changes without pounding holes in the wall helps take a lot of the edge off of that indecision. That ease plus the elimination of having to measure where the frame will hang from easily makes these my favorite Command Product.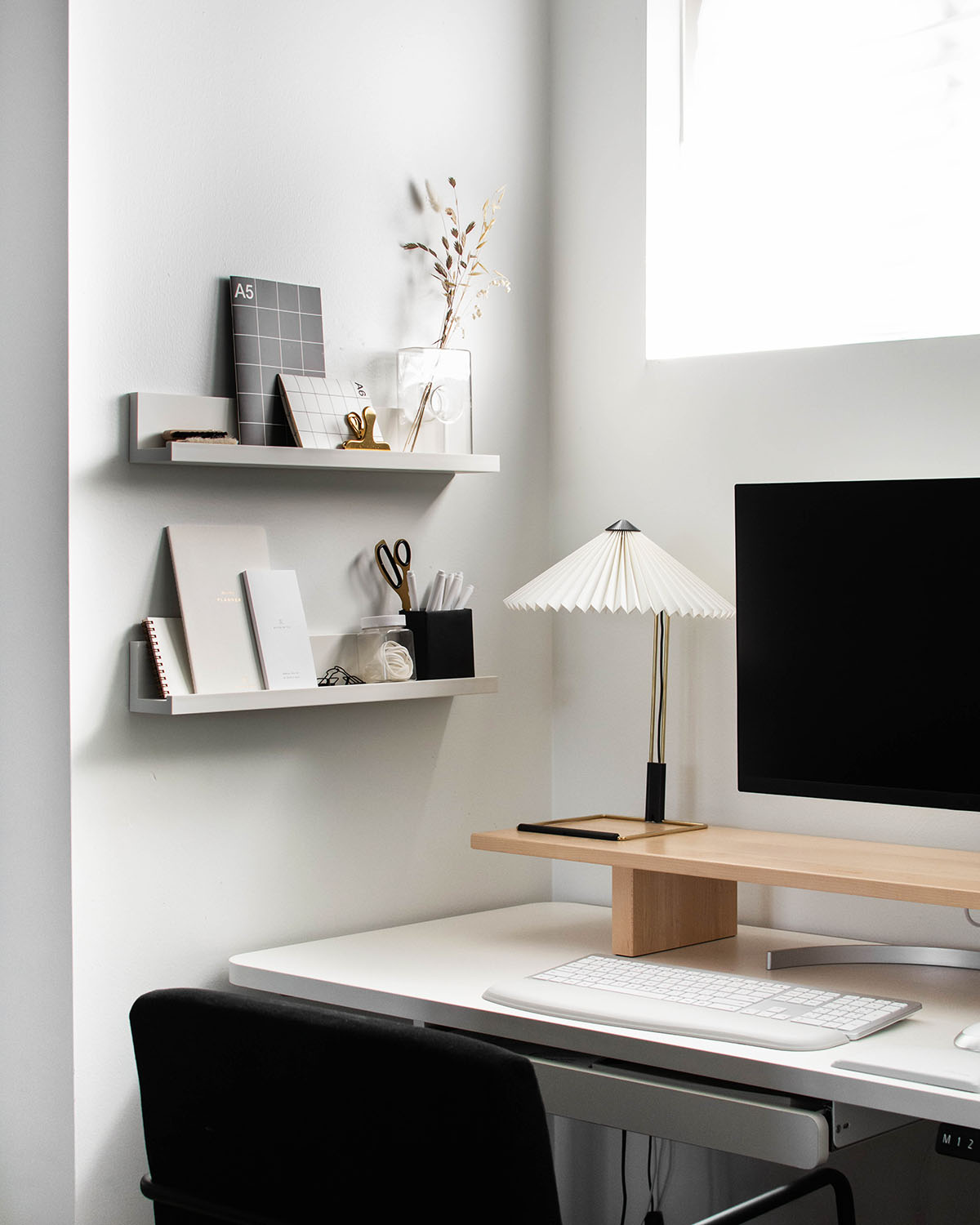 In one quick afternoon with a few organizational items, this space is transformed in function and beautified with some of my favorite objects that I frankly missed when I had to pack them up during the office to nursery transition. While this workspace is meant to be temporary, I love that it doesn't look temporary at all. It'll be really easy to switch things up as our needs change and evolve, but there's no rush to get there now that it's far more inspiring and enjoyable working here than working at the dining table was!
Other Posts You Might Like