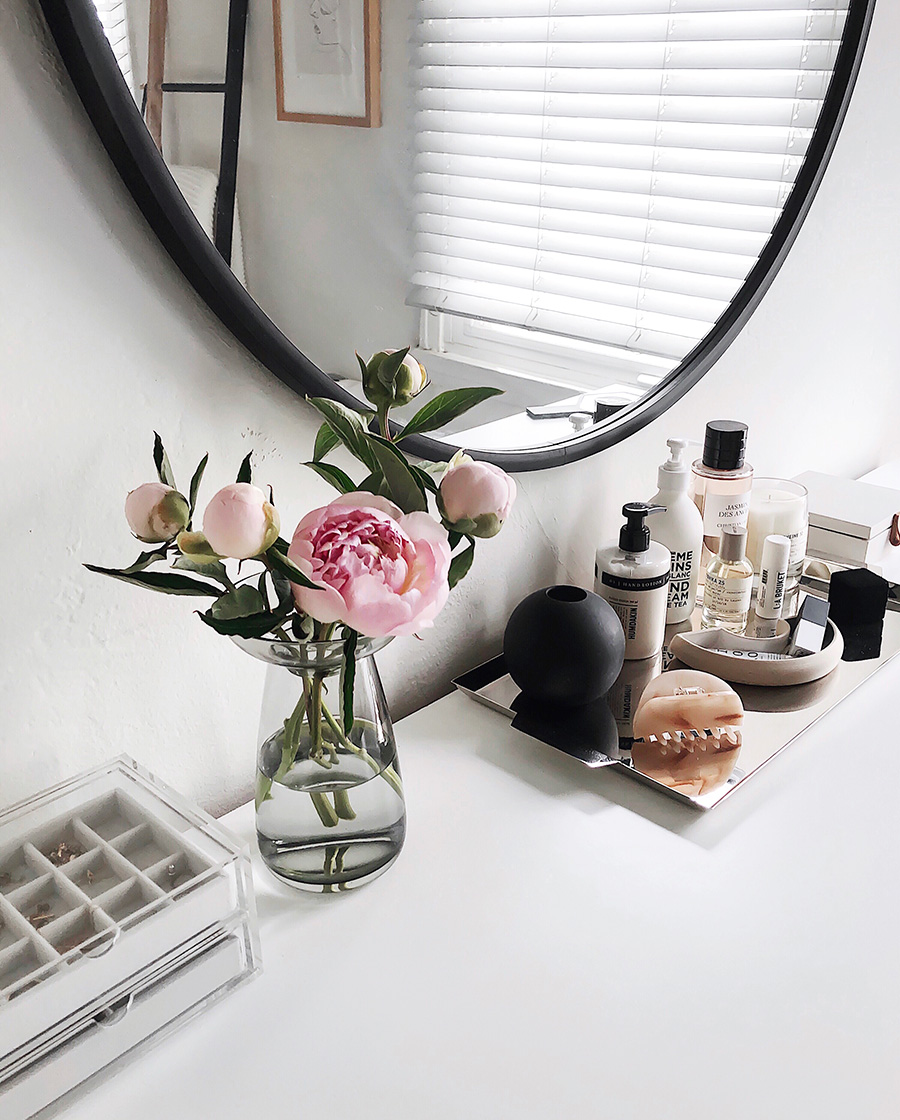 Some of my favorite things from the month of May and I threw in a little house hunt update.
HOW TO GET PEONIES TO OPEN UP
Peony season is rampant and it's near impossible for me to not pick up a bunch every time I go to Trader Joe's, spending most of my time there going through almost every bunch and picking the one where I predict every stem is going to open up. I learned a tip that to help your peonies open up, place a couple ice cubes in the vase and they should pop open within a few hours. This absolutely worked, my peonies exploded, although I will say that I prefer the slow anticipation of letting them open on their own since I also love when they're in their closed ball form, plus I feel they naturally last longer going the slow way. In situations where you want them to open up quicker however, maybe you want to photograph them or use them for an event, the ice cube trick works.

THE BEST SOCKS EVER- Bombas
Months ago I asked via stories where you get your socks and a few responses said Bombas were the best socks ever, the bonus being they donate a pair for every pair sold. One response warned that they're expensive but still worth it. After I got over the sticker shock, I ordered a few different pairs, have been wearing them for almost 5 months, and can confirm these are the best socks I've ever tried. All my other socks have either thinned out or gotten holes in this same period of time, but these have remained intact. The quality is clear and I'm now another person convinced that they're worth the price. I love these no-show ones the most since I most often wear sneakers and these don't show, just like they say. Other cool things are they don't have that annoying seam bump near the pinky toe that can sometimes hurt and they have grips on the inner edge of the heel so they don't slip down and force you to awkwardly pull your socks up while you're running around. If you're interested in trying them make sure to look up a first time discount code (I think mine was 25% off), they're around and easy to find last I checked.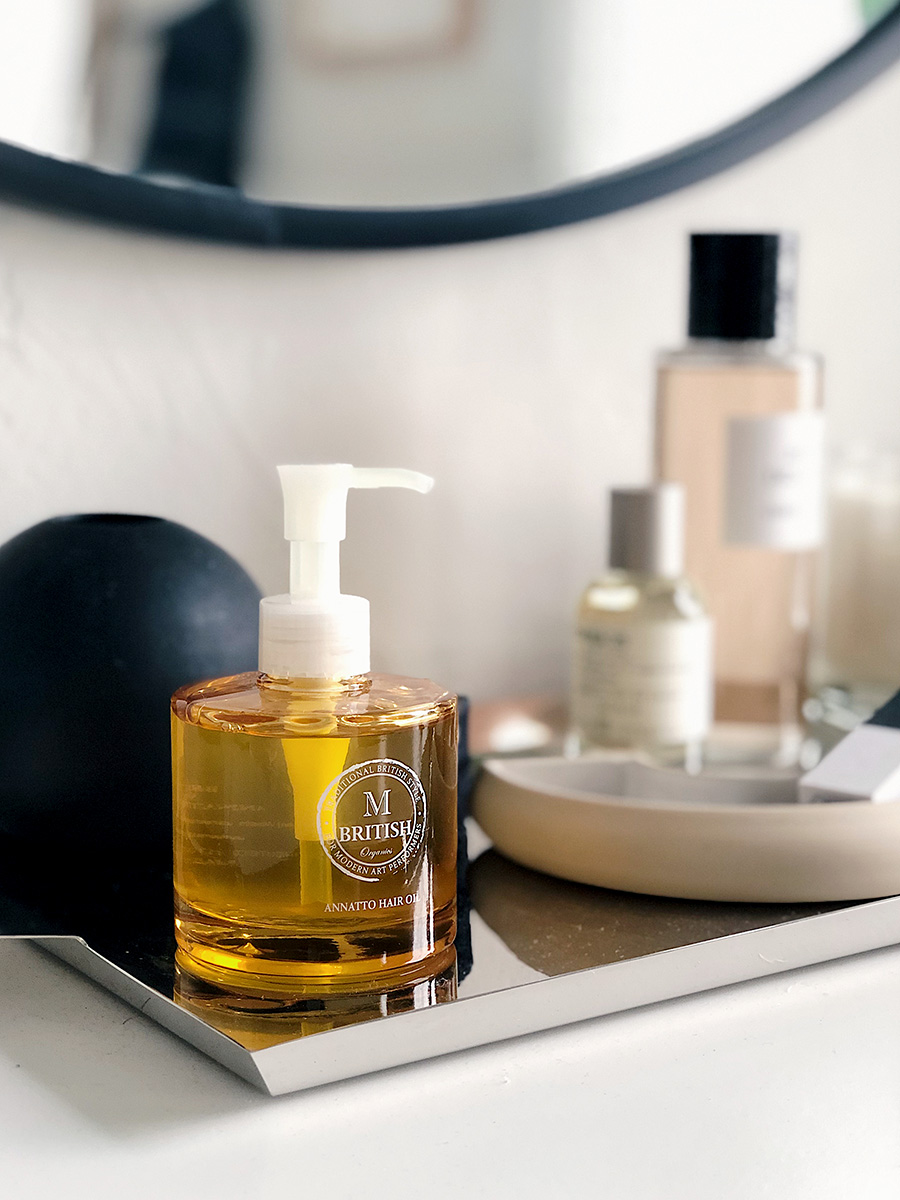 HAIR OIL- British M Organics Annato Hair Oil
I've tried a few hair oils I like to help achieve that second day hair, but this one is easily the best, the one that makes the biggest difference immediately. I have thick and frizzy hair that gets extra poofy after washing. This oil tames it down and makes it feel moisturized instead of coated or weighed down. I apply a pump and a half (I have a lot of hair) to the lower half of my hair when it's damp, either air dry or blow dry depending on if I'm going somewhere, and my hair just looks better and more tamed. Plus, it smells beautiful, both a clean and luxurious scent. It works well on dry hair too but I find it works better applied on my damp hair. It has single handedly helped my hair become much more manageable after washing. I especially can't imagine going without it on days when I don't have time to sleep on my hair to flatten out the frizz.

SETTING POWDER- Charlotte Tilbury Airbrush Flawless Finish Powder
I wasn't going to include this one because the shade range is horrendously limited but it is my most favorite powder I've tried so far so it needed to be mentioned. Sounds like this is a post full of "best ever" stuff but it just so happens that this month I've reached full appreciation for some things I've been using for a while. I love this powder for doing what it says it will. It makes my face look airbrushed, but the powder remains breathable, not chalky, and helps with my oil but still lets my skin look like skin. A little goes a long way which is always nice when you don't have to apply as much stuff on your face. I don't notice it adding too much color, but the color is there and I hate that there are only 3 shades to choose from even if it's meant to be more translucent (noticing various "translucent" powders are coming out in only light, medium, and dark., maybe it's a trend). Still can't deny that I love and have been wearing it a lot over the past couple months- I've hit pan!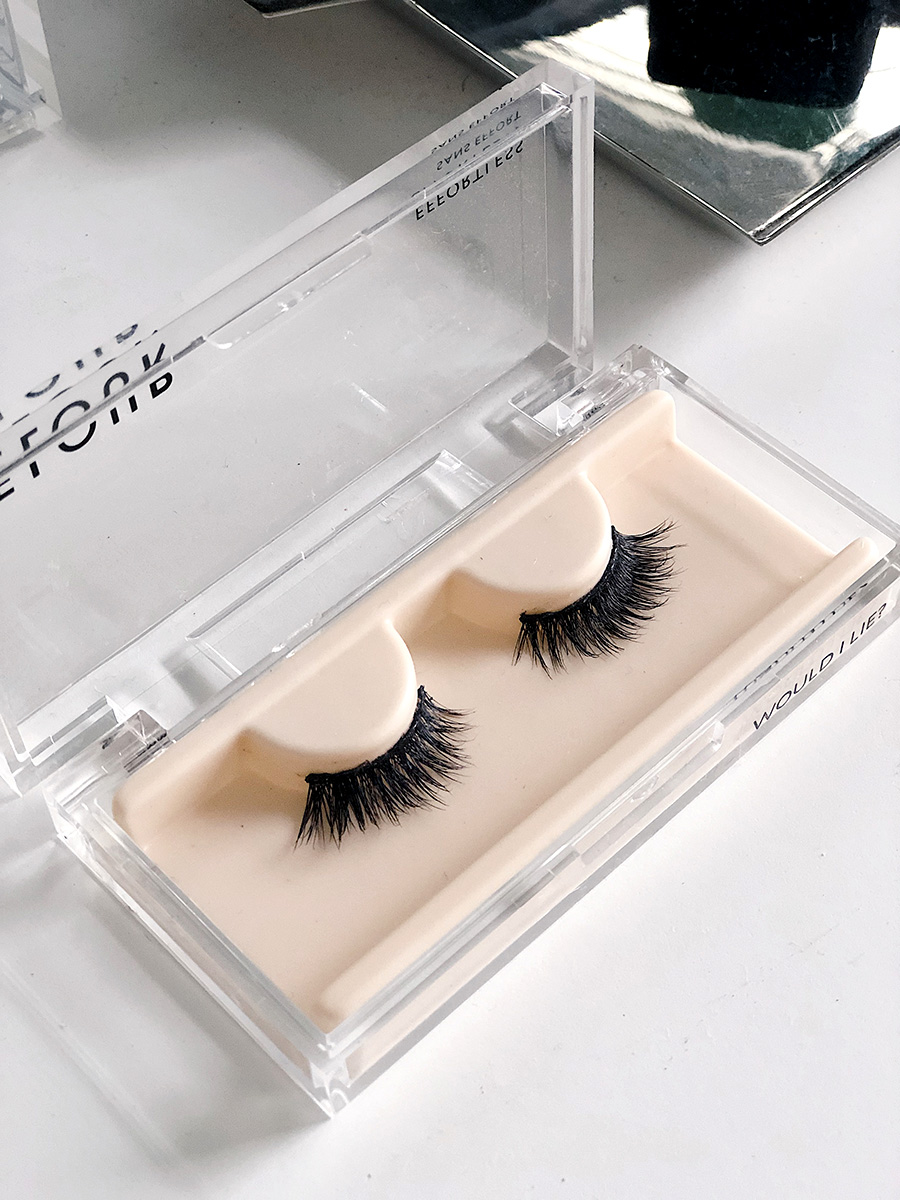 LASHES- Velour "Would I Lie?"
Another best ever beauty product. I've been in a season of simplifying and narrowing down choices in what beauty products I use and have finally come to the one and only lashes I like to wear for both special and casual occasions when I want something a little extra but not too extra. These lashes achieve that perfect, not too long, not too thick, not flashy but also not barely there balance. The volume is there but it's nowhere near being caterpillars on your eyes. It's as much volume as you can get while still looking pretty natural. Best part is that the band is already at the perfect shorter length so you don't have to cut them. The band is also flexible but still provides the support that I personally like for my monolids and for general longevity through multiple reuses. I'm stocked UP on these.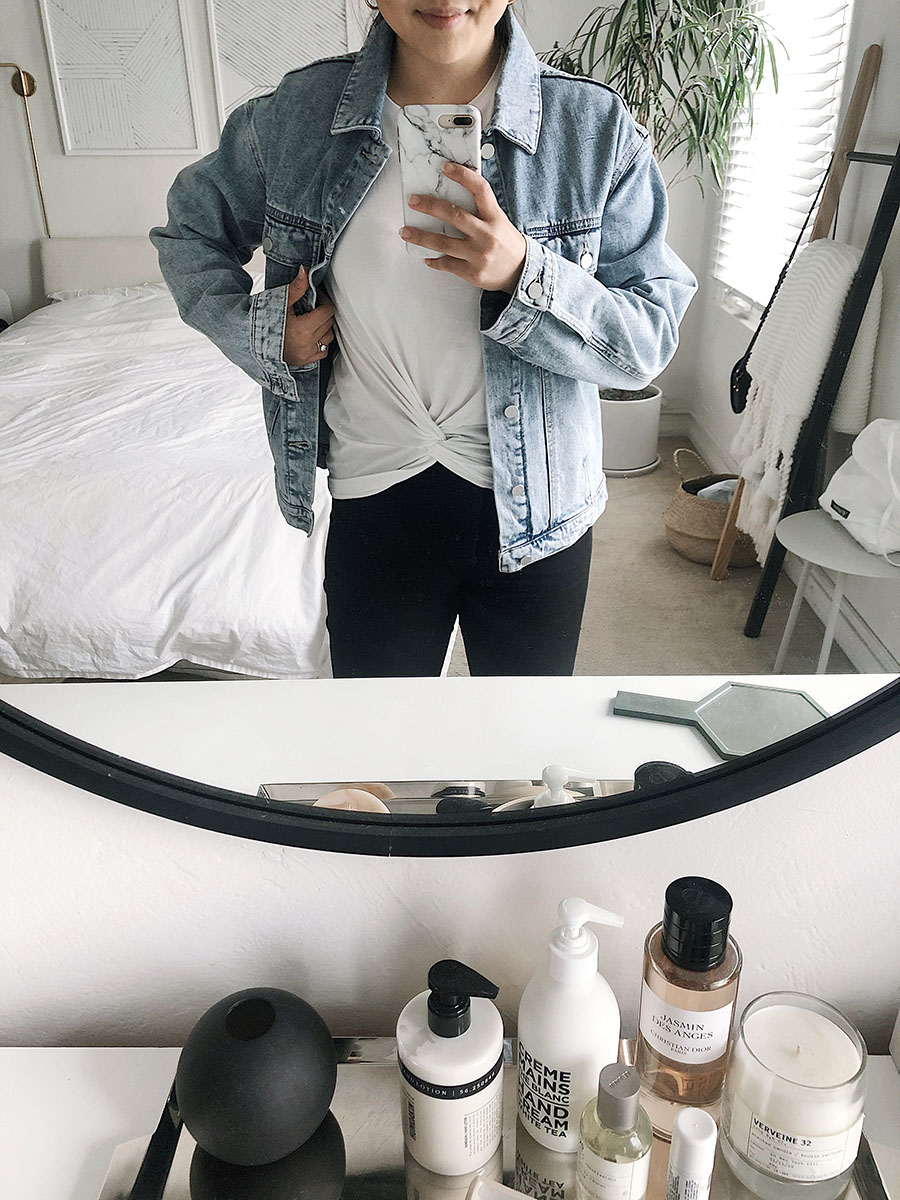 WHITE TEE- Aritzia Foundation Knot Tee
Isn't it hard to find a good tee? Especially one you might want to have some sort of simple detail to make it a little more special when you wear it alone. I love the knot detail on this tee for that reason in addition to the cute way it looks layered underneath jackets/cardigans and for how it crops the shirt at a length that works really well with high-waisted pants. I like that it isn't too cropped but I could see someone thinking it's shorter than desired. I tried on a size bigger and liked the extended length but not the baggier fit, so I personally prefer sticking to "true" size on this one. I also got it in gray because I love the fit so much.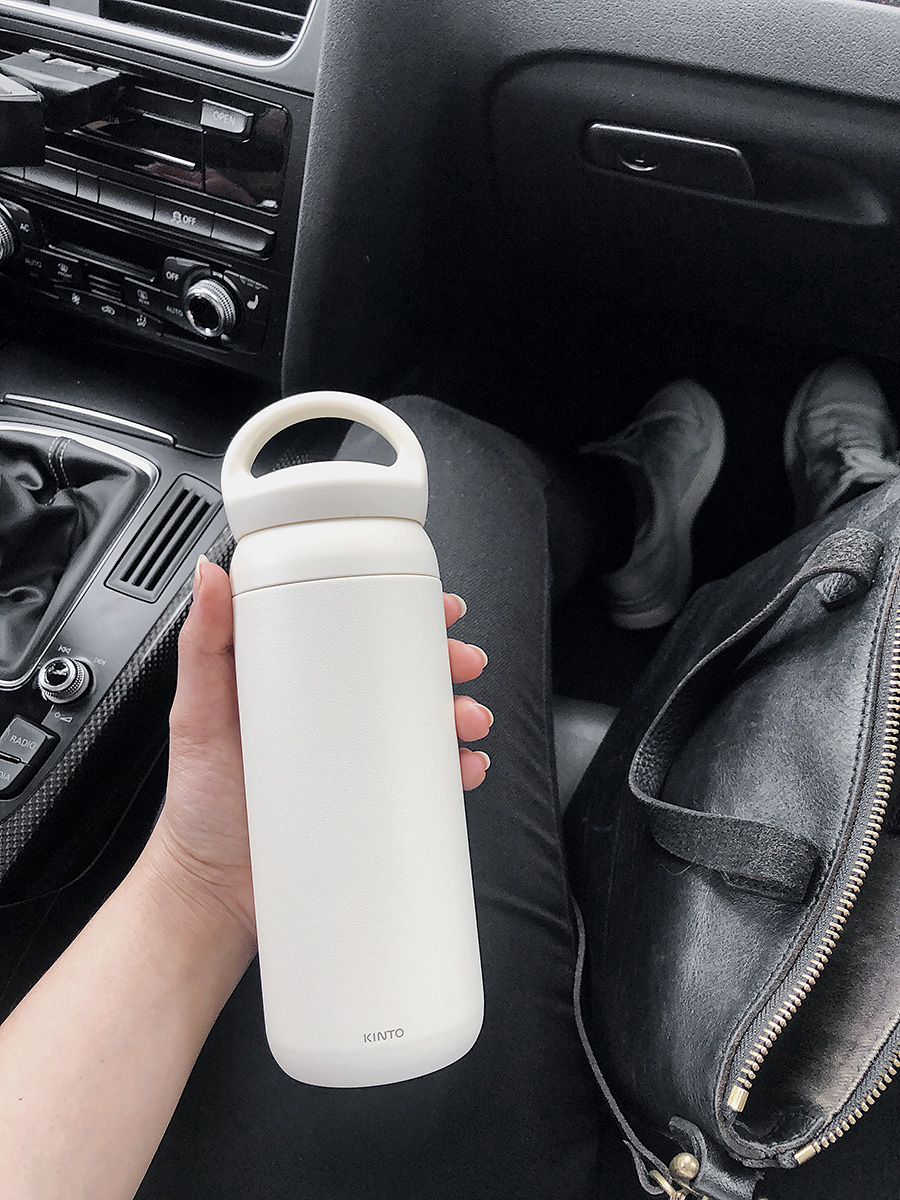 TUMBLER- Kinto Day Off Tumbler
This was gifted during an event at the Kinto store in Row DTLA and it's one of those things I wish had entered my life sooner because it instantly made life better. First, it's the most beautiful tumbler I've ever seen, sleek and simple. Second, it works, it keeps my drinks at the same temperature for hours. Lastly, the handle at the top of the cap is even more convenient than it appears. That little detail makes it so much easier to carry around and keep the cap from getting dropped/lost when it's screwed off. It's inspired me to bring it along when I get coffee to have it poured directly into the tumbler instead of a cup. We'll also make coffee at home and bring it with us to wherever we're headed, doesn't matter where, fresh coffee is desired everywhere.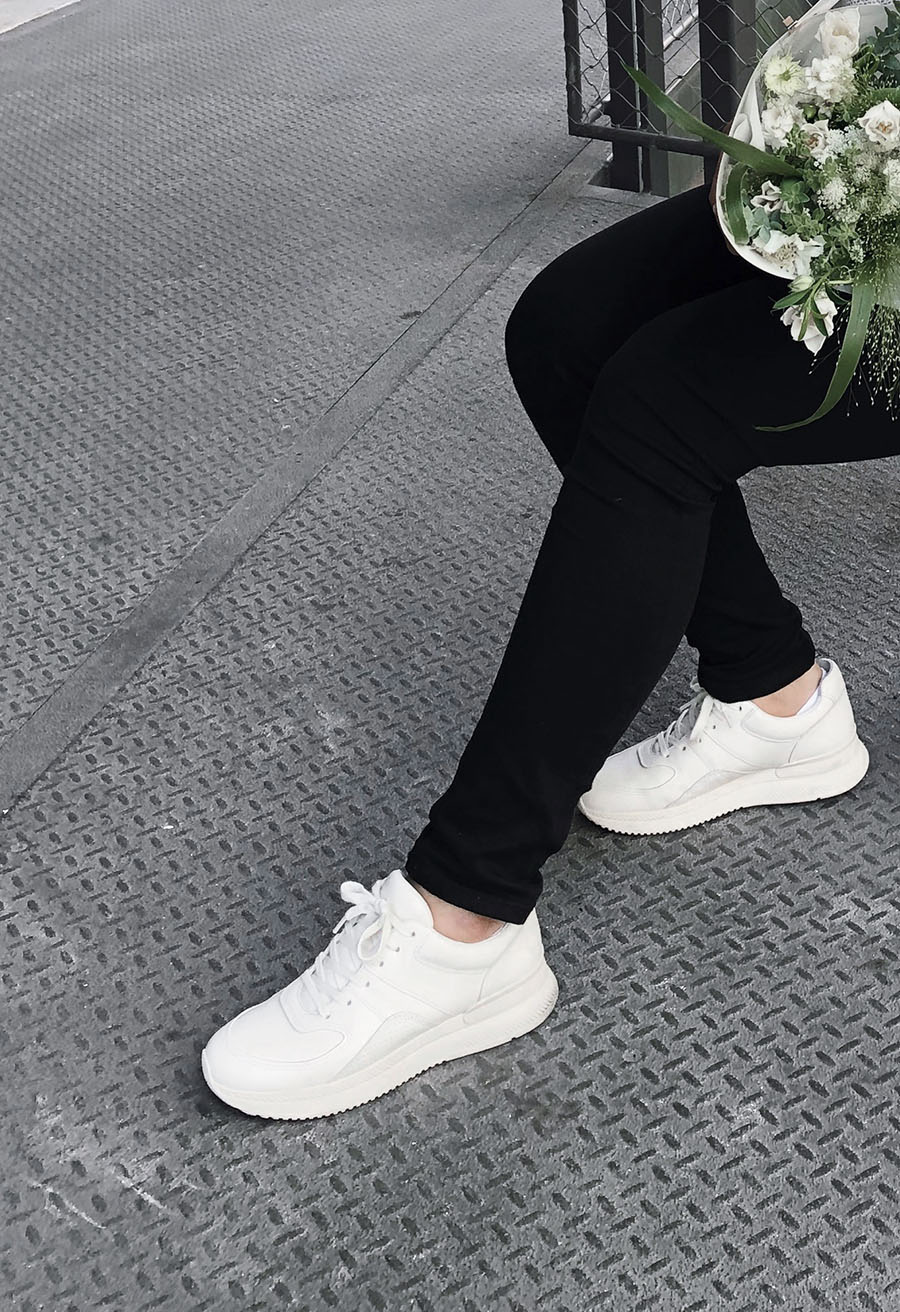 SNEAKERS- Everlane Tread
I have worn these sneakers pretty much everyday since the day I got them shortly after their release. In fact, this photo was taken for something else but I happened to be wearing the sneakers (because I'm always wearing them) so I cropped the photo to show a closer look, win win. I'm a sneakers girl through and through for the comfort and it will always be my top choice of shoe for everyday. I was particularly excited for the Tread line because it's setting out to be the most sustainable leather sneakers created. Aside from feeling kin with the modern minimal style of everything Everlane creates, I love their overall mission for low environmental impact fashion. These are the most comfortable sneakers I've ever worn while also feeling like they're sturdy and will last a long time. One thing I'd prefer is a pure white color over cream which is their only "white" option, but I'm still down for cream.

BOOK- The Daily Stoic
I've mentioned this book before and I'm mentioning it again because last time it was about the specific passage but this time I'm mentioning it to say that the whole thing should be read. The format of The Daily Stoic is to read roughly a page a day, each one dated for every day of the year, which is a very low commitment in exchange for getting hit with knowledge bombs that motivate and help you to live better. I shared the below page on stories and got a bunch of responses asking what book it was from so here it is-

SONGS ON REPEAT WHILE I WORK

Mark Ronson, Lykke Li- Late Night Feelings
No Suits- Ten Out of Nine
Late Night Alumni- Low
Chinsaku- Voyage


LINKS

Studio living never looked this good! Maximized small spaces are the most inspiring to me.
We've been letting bananas get old around here lately and have been experimenting with banana bread. This banana bread recipe is our fav so far.
Are you familiar with TRNK NYC? They offer a perfectly curated collection of modern home furniture and goods full of Scandi favorites. I love checking in on their site once in a while for inspiration.


HOUSE HUNT UPDATE
Not really a favorite but thought I'd throw this in here since it's felt like an all-consuming thing in my life. We put an offer on a house about a week ago and got beat out by a much bigger offer we couldn't touch. It was one of the nicest houses we've looked at in our 2 years of looking so we were not surprised by the competition and expected the loss, but man did it still suck. I mentioned in my last house hunt update about the factors that are making this hunt difficult, mainly the expensive LA market and our pickiness, so when a really good one comes along it's rare and bigger dogs want it. Luckily this all happened quickly and we hadn't kept our hopes high, but I still feel deflated about missing out on that house even though I ultimately feel the outcome was right, I think.
I'm tired while also filled with gratitude from so many of your encouraging comments providing hope that we will find the one, even if it takes 10 more offers to get there as evidenced by a lot of your stories. Feels so close but so never, but we've been too patient to give up now. Pretty much every free weekend is auto-booked for checking out homes and we're getting better about what we want to go see. The truth we're seeing so far is that listings end up being pretty much what we expected or worse in person, never better, so the unexciting ones where we're like "eh let's at least just go see" are nothing more than draining at this point, though at first were helpful in figuring out what our necessities vs compromises are. We're zero'd in on what we want, it just needs to exist please, and we'll know to act fast!
Other Posts You Might Like