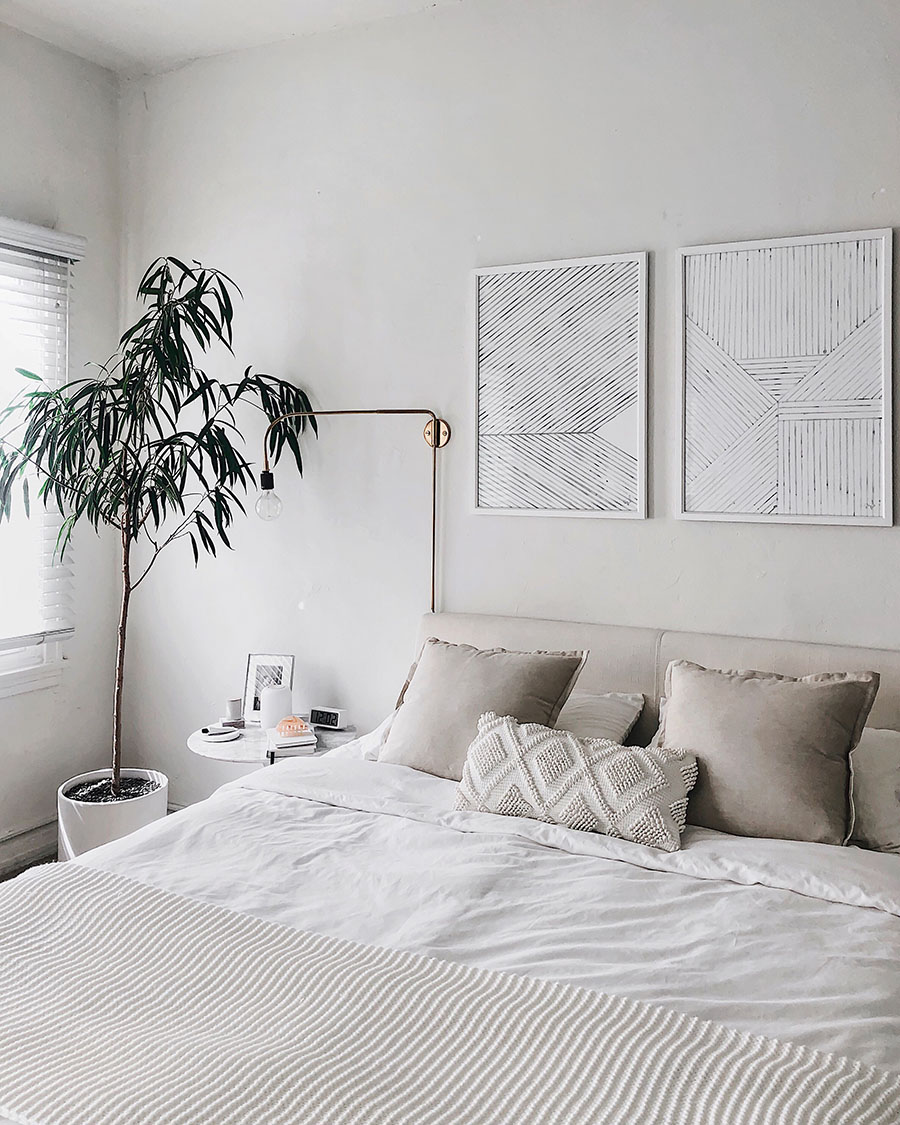 Some of my favorite things from the month of March.
PILLOWS (find square ones here | find lumbar one here)
Went to Target to get face wash and came back with pillows, you know how it is- truly their great return policy encourages this. The square ones I love because they're white on one side and beige on the other which is great for someone like me who can't decide which neutral they like best. The flanged trim is also a nice special detail that still keeps the pillows simple. The lumbar pillow has great texture which is extra key for any neutral/monochromatic space and could fit in with most pillow combinations. It's intended to be an outdoor pillow which is good to know it will weather well, but this one will live on our bed for now.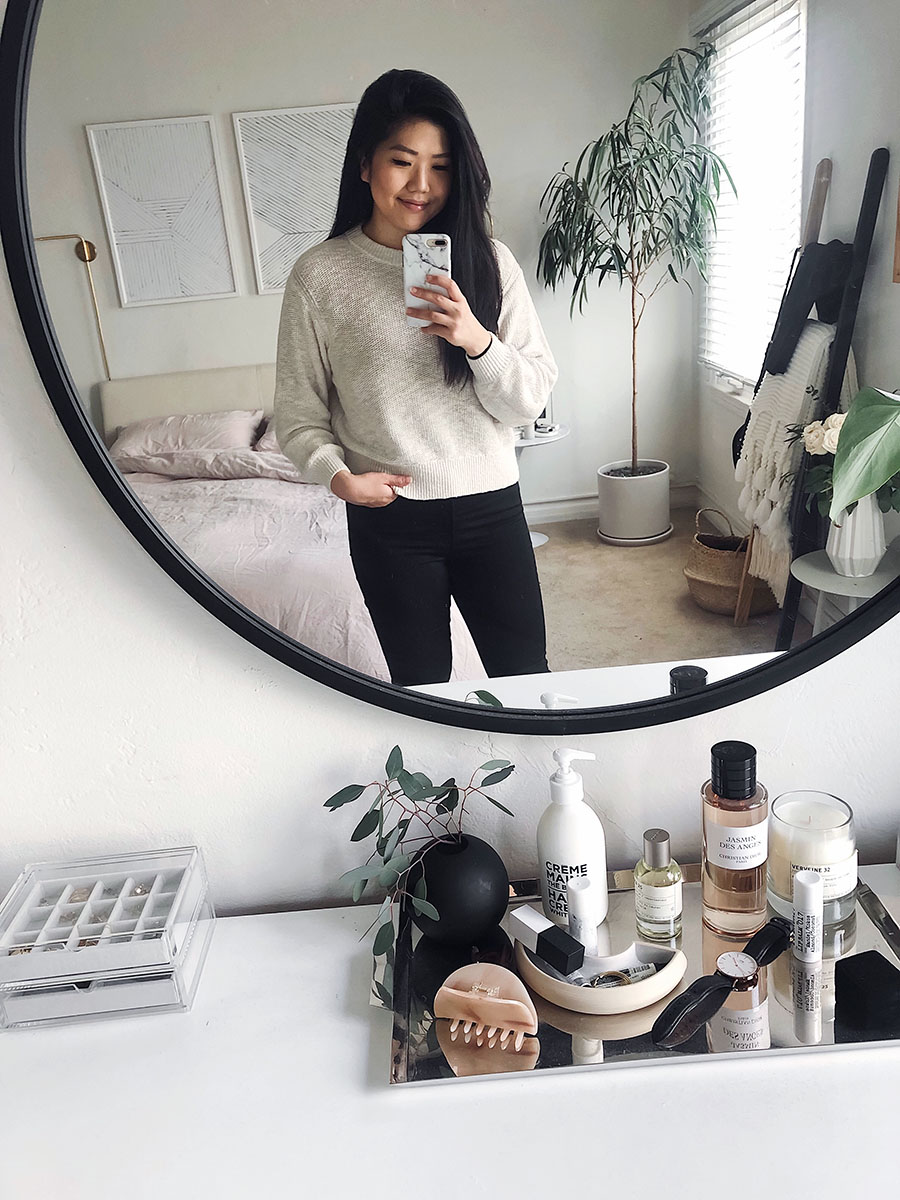 LIGHTWEIGHT SWEATER (find it here)
I linked this sweater in my previous spring wardrobe refresh blog post and it was the item I wore constantly last month. It's a cotton linen blend that's very breathable and appropriate for that cooler spring weather when you want to be casual and comfortable. It has a boxier cropped fit that's generally not a flattering look on me, but this one hits at just the right cropped length aka isn't so short that I feel uncomfortable about lifting my arms and flashing belly button.

For the extra belly button insurance though, I like wearing it with these high-wasted skinny black jeans that are now my new favorite black jeans ever. Previously it was the Madewell 10″ jeans but I think they're discontinued?? I like that extra high waist to cover my belly button, which I find comfortable and great for keeping me tucked in and shapely you know what I mean.
Other things I wore a lot last month: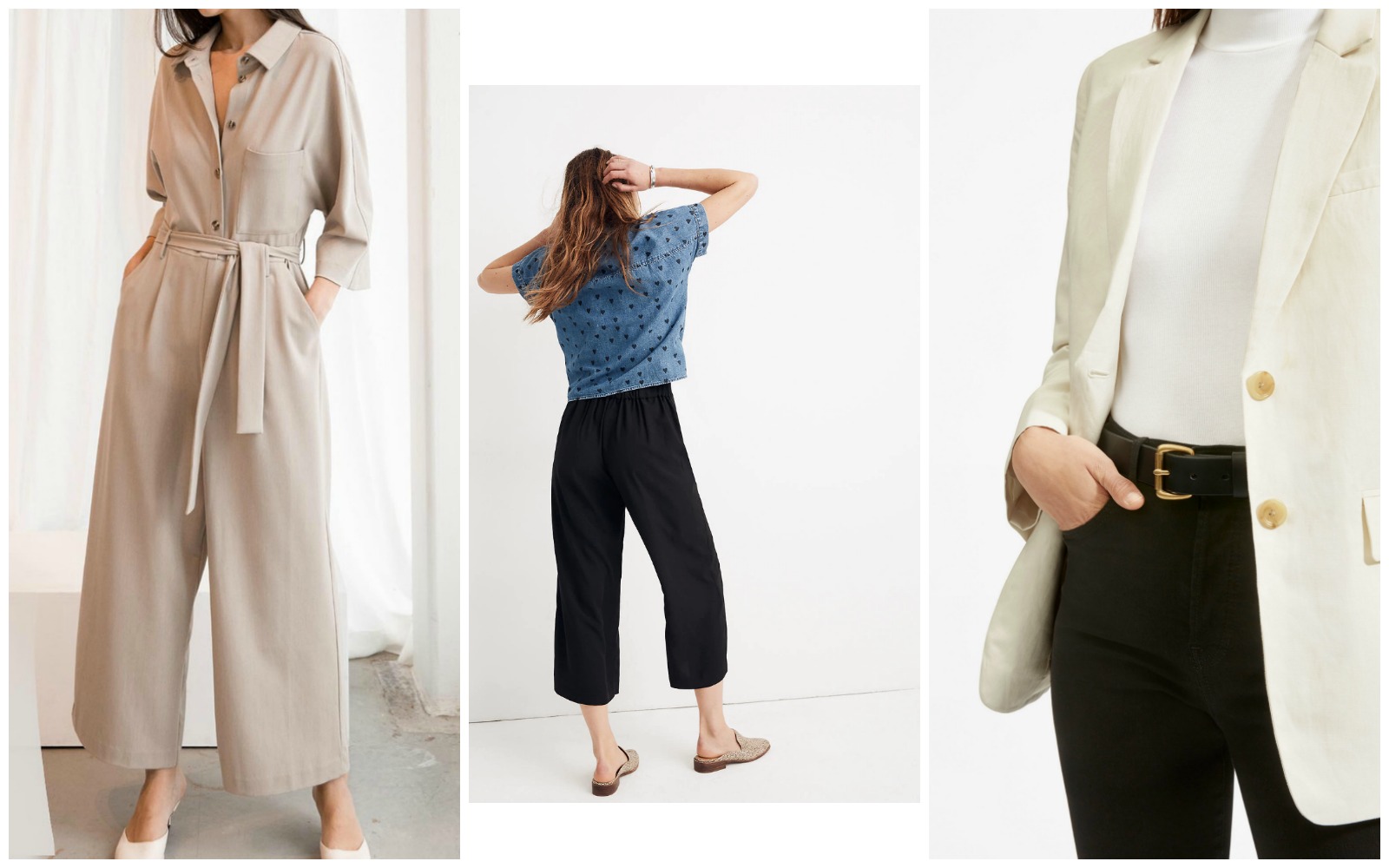 JUMPSUIT– Most flattering jumpsuit I've ever tried on. Best for cooler weather but love the color for spring.
WIDE LEG CROPPED PANTS– So comfortable, basically nice looking pajama pants that you can wear out and dress up. Especially love the elasticized waist in the back to ensure a good fit.
WHITE BLAZER– Effortless. Still casual with that cotton linen blend and oversized fit. I throw this on top of a plain T and it makes me feel SHARP while comfortable. Comfortable is my jam, you might have noticed.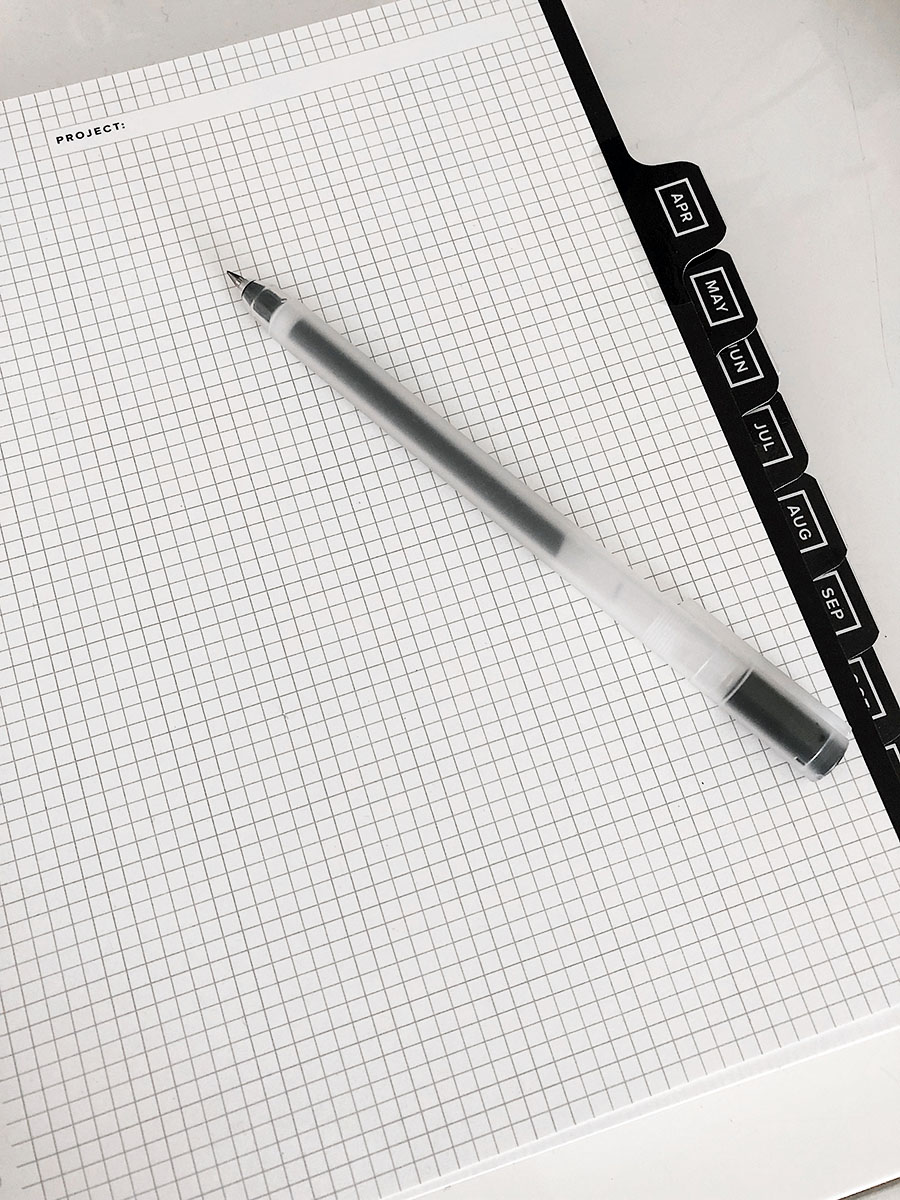 THE PERFECT PEN (find it here)
Nothing like the satisfaction of finding the perfect pen. I've been using these Muji ones for a while but didn't crown them the best until after I realized that another pen that I thought was the best actually is not. Normally I find gel ink ball point pens too leaky or wet but these are not like that at all. The ink always comes out consistently and strong unlike my other pen that I was noticing would skip sometimes or not come out as sharp on different types of paper, therefore causing me to push harder when I write. This pen has a thinner tip of 0.38mm and has a scratchier but still smooth feel when writing, both things I learned I ultimately prefer in my writing tool. It gives the right amount of resistance to aid in writing cleanly, especially in smaller areas like my planner which is pretty much exclusively where I utilize handwriting. Try them out at a Muji store if you can and nerd out about pens with me.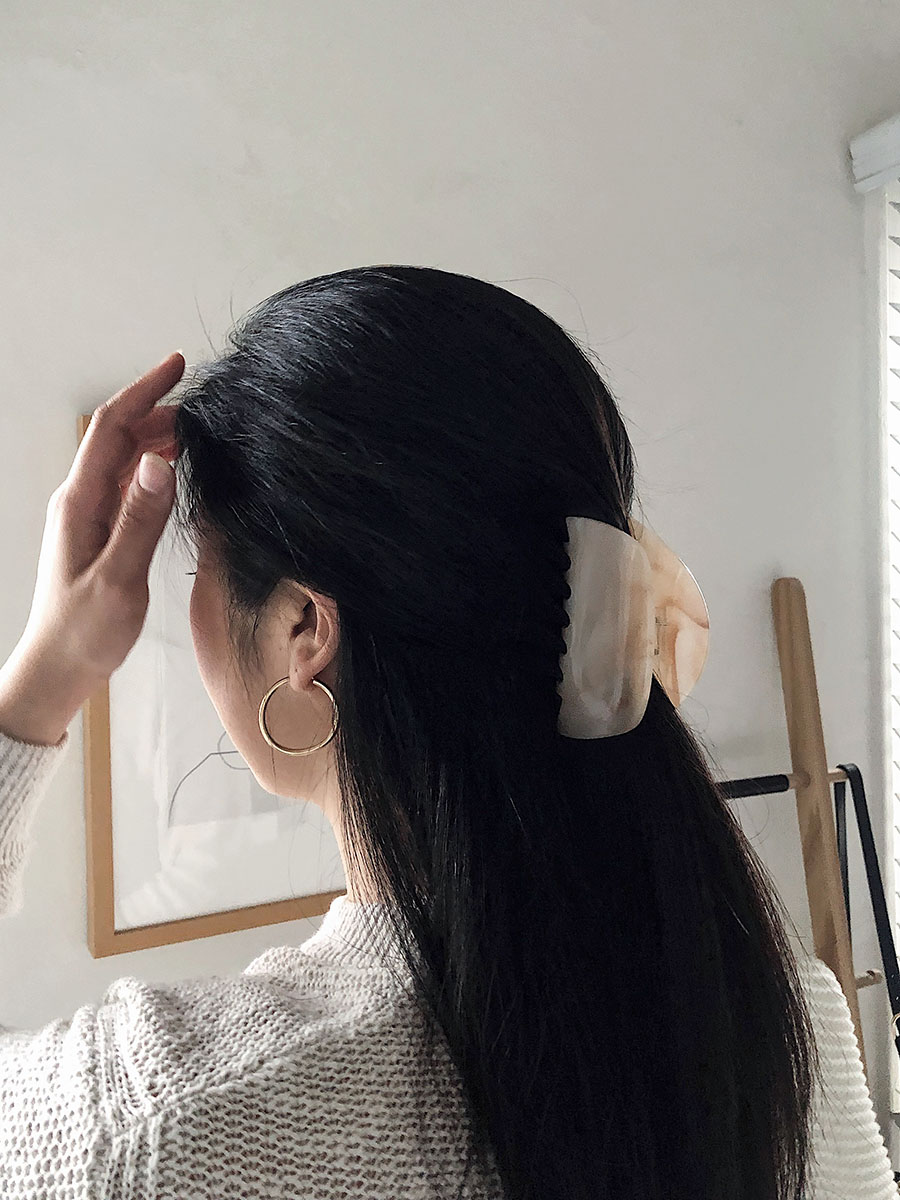 HAIR CLAW (find it here)
A hair claw I wear mostly at home though wouldn't mind at all wearing out, it's just that I keep it at home for when I want to quickly clip my hair back when I'm putting on makeup, doing chores, or just chilling without wanting my hair in my face. I love the half moon shape from the side and the very pretty marbled peach color. Most of all it doesn't dent my hair and keeps me from having to wear a hair elastic around my wrist while I'm at home, that thing gets worn enough!


TOOTHBRUSH (find it here)
I had an Oral B toothbrush that worked fine but I was always curious about Sonicare toothbrushes because I kept hearing they were better, so I decided that once my Oral B tapped out I would get a Sonicare. That opportunity came now, 10 years later, wow. Grateful it lasted me a decade, but it's true- this Sonicare toothbrush is transformative. It's like an entire mouth massage with its intense vibrations that naturally keep me from applying too much pressure, and while I can't scientifically prove that my teeth are cleaner, they feel that way. If nothing else, the design of the brush wins- sleek, feels good in the hand, and doesn't have any ridges or crevices where gunk could potentially build up like it would with the Oral B. It has several settings, the main difference being varied time cues, but I just stick to the regular "clean" mode. I didn't know it was possible to be in love with a toothbrush, but here I am.


TRADER JOE'S FIND
These have been all the rage lately, so much so that like with any popular Trader Joe's item they go out of stock for a while. Recently tried to get another box and their spot in the freezer was replaced with its lesser and not as good strawberry version. I know frozen chocolate covered bananas have been a thing for a long time but it was one of those things I was never going to make for myself. You can also easily guess exactly how they'd taste, yet they taste even better than expected. The simplicity, pre-made ease, and bite-sized fruit form that encourages me to think these are entirely healthy and good for me, makes these crazy addicting. If you see them, grab a box before TJ's does something ridiculous like discontinue them forever.


YOUTUBE CHANNEL– DouTube
I'm very into ASMR which apparently is an interest people hide because it's easily misunderstood but whatever you should like what you like, and I often watch those types of videos on YouTube, but I'm also a fan of JennaMarbles and through her I found DouTube, a plant expert who shared his reaction to her recent plant tour video. He's new and doesn't have very many videos, but I binged them all and want to be friends with him. He's straight to the point, funny, and his edits are hilarious, plus he has an adorable dog that makes regular appearances. Hoping he uploads more often so I can continue getting my plant education from him. Already I love his house plant tour (over 300 plants in his home!), the plant ASMR video of course, and his video on how to propagate monstera plants. Fellow plant lovers, check him out and potentially start yourself down the rabbit hole of the YouTube plant community.


LINKS

A very timely read after my recent update on the house hunt, in light of my general struggle to cherish rather than yearn for more: The Disease of More by Mark Manson.
I mentioned in my 30 things I learned in 30 years blog post how I think following your passion is not the end all be all, and the caption in this post from Emily McDowell perfectly sums up why: Monetize Your Joy with Caution.
Did you know you could greatly reduce the amount of junk mail you get for credit or insurance offers by opting out? I put in the request at the beginning of the year and am now noticing I don't get nearly as much in the mail as I used to. You can put in an electronic request here.
Other Posts You Might Like