Something a little different for this month's monthly favorites post!  Had a bunch of skincare and beauty products I've been loving over the past few months that I really wanted to share so decided to make that the focus this time, and we'll resume with the random hodgepodge of discoveries next month :)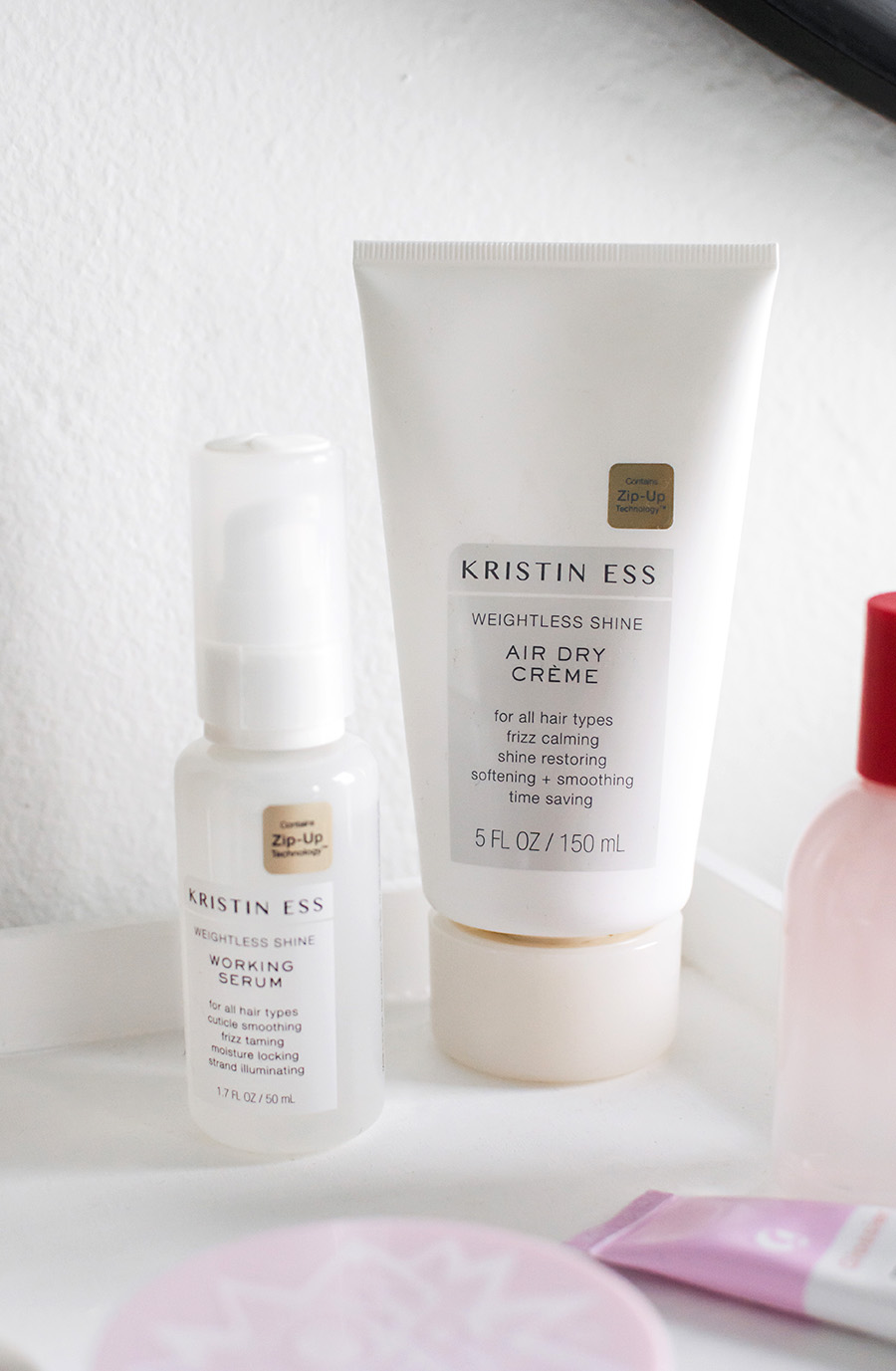 Kristin Ess Air Dry Creme– I wandered across this during a Target run for a completely unrelated item (you know how it is).  The description on the back started with "I've always dreamed of that wash and go life…" and I threw it into my basket.  I've never been the wash and go type.  I'm more of the wash, blow dry, sleep on it, and style in the morning or else I look like Hagrid type.  I've needed a product like this my entire life for my freshly washed poofy hair.  After air-drying half way, I work this cream into my hair and let it finish air drying.  It tames the frizz so well without feeling like my hair is coated in product and supports the infrequent blow drying lifestyle I want to live.  This is a forever staple.
Kristin Ess Weightless Shine Work Serum– Also got this on that same Target trip.  I like using this serum on wet hair before I blow dry or on dry hair, but mostly on dry hair.  You know when you come back from the salon and your hair is shiny and smooth and feels like it's been born again?  This serum does that.  Works infinitely better than moroccan/argan oil ever did for me since that stuff always felt greasy.  This feels light and helps you get closer to that second day hair texture without building up.  Another forever staple.  Kristin Ess is doing it!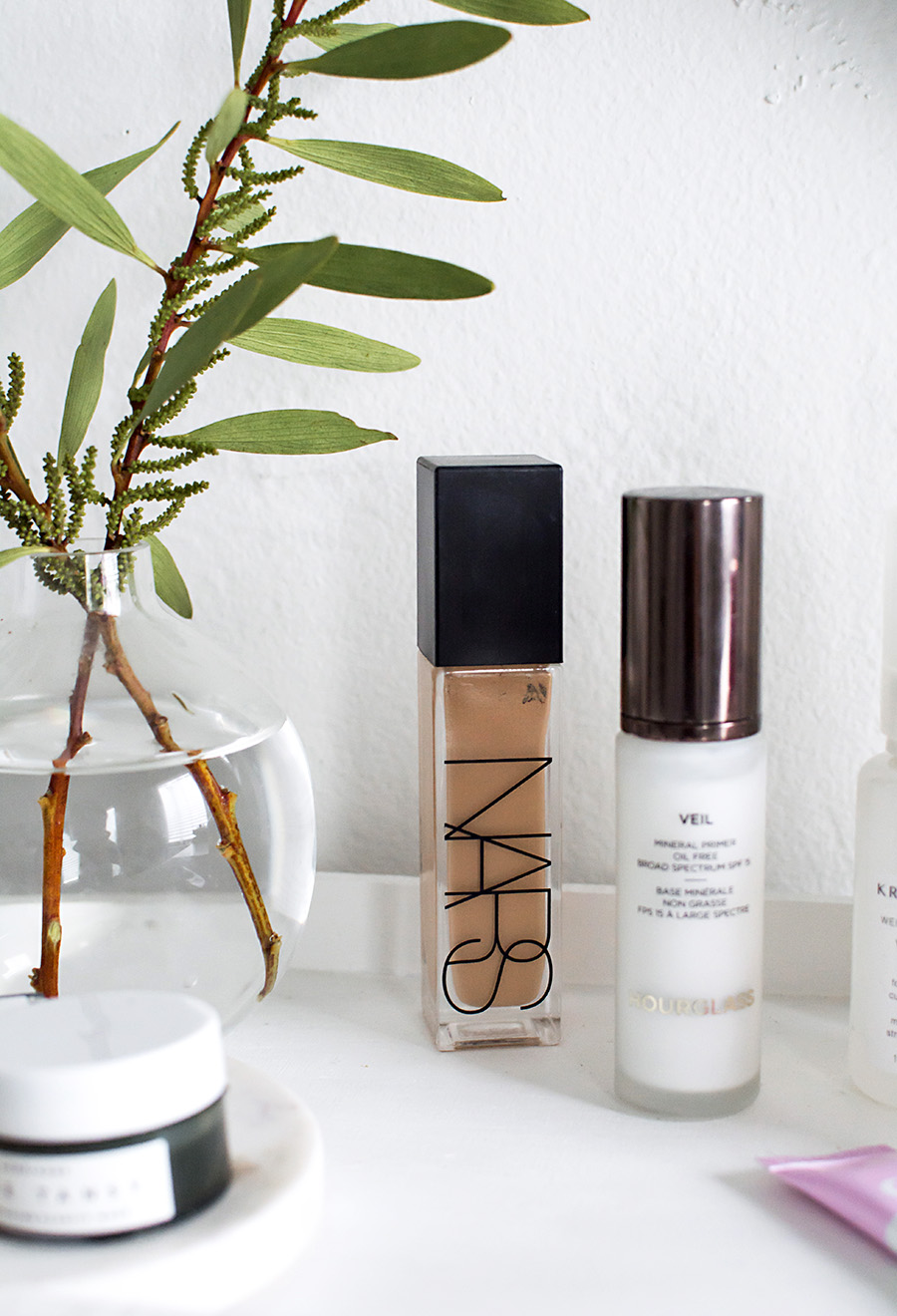 NARS Radiant Longwear Foundation– The biggest reason I'm venturing into NARS foundation is because their color "Punjab" is the closest color match to my skin I've ever found.  Sadly I had a horrible experience with a different NARS foundation, but this one is phenomenal and my new favorite.  It makes my skin look velvety, has pretty good coverage (most days I use one pump for my whole face), and lasts all day.  I wore it on an extra sweaty day of biking outside in 86 degree weather and it held up pretty damn good.  Unsure why this foundation is called radiant as I find it goes on pretty matte, but that works best for me since my oily skin automatically turns anything I put onto my face dewy ha.  It doesn't feel heavy and my skin still looks like skin when I'm wearing.  It checks off all my boxes, love it.
Hourglass Veil Mineral Primer– I was beginning to think that face primer is useless and doesn't do anything until I took this recommendation from a Sephora employee when I asked for a primer that would help control my oil.  This is it!!!!  I only need half a pump for my whole face and I concentrate it on my nose and t-zone.  It does wonders controlling my oil and keeping foundation from breaking around the corners of my nose- nothing else has been able to do this for me.  Makes my pores less noticeable, helps my foundation last longer, and I finally get what it means to have a base that blurs the skin.  It's my all time and only favorite primer.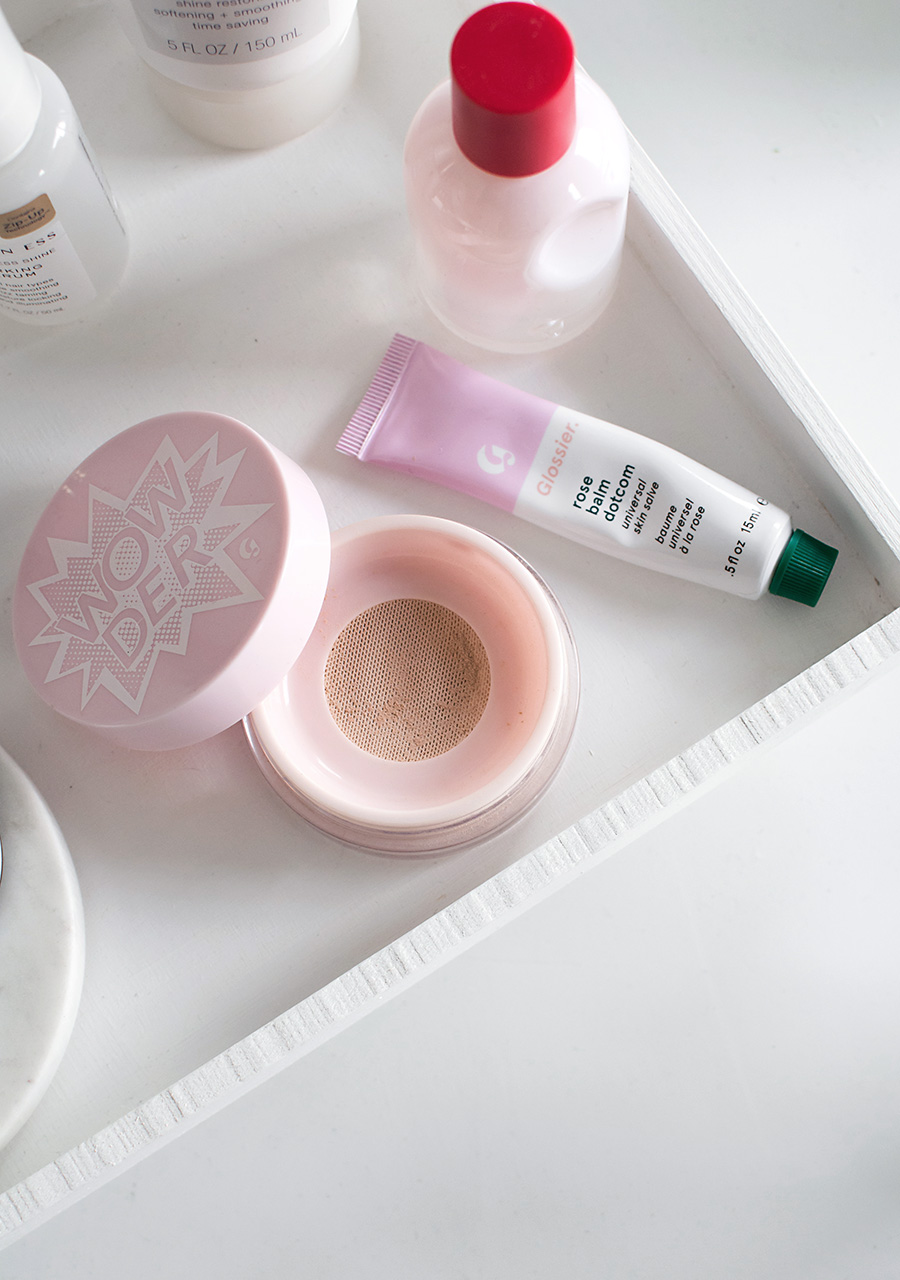 Glossier Wowder– A mattifying setting powder that reminds me a lot of the Laura Mercier Translucent Loose Setting powder that I also love but I love this one more.  Wowder does a better job of keeping me matte without looking dry, and it gives more of that airbrushed look.  It also helps immensely with keeping my foundation put all day.  This, the Hourglass Primer, and the Nars foundation are my current dream team combo.  I must mention the mesh opening and how it keeps things neat.  I tap it on top of a flat top brush to dispense the powder directly onto the brush and it's much more convenient than loose powder everywhere.  The very limited shade selection is confusing, but it goes on pretty sheer and acts more like a translucent powder so I see how it's pretty adaptable.  Still, the three shades they have most definitely do not cover everyone.
Glossier Rose Balm Dot Com– I love this a lot more than I thought I would.  My addiction is lip balms, I keep them everywhere, and this is the one I've been taking with me wherever I go.  The texture is somewhere between silicone and vaseline, mixed with beeswax.  It feels so nourishing,  lasts long on the lips, and while I thought the suggested multi-purpose use felt gimmicky, I ended up loving it also for wiping off excess product on my cuticles and applying it on the backs of my hands when they're feeling dry.  It can be a little effortful to squeeze out product but I like that about the packaging because it makes it better for travel.  Have you ever carried around those crinkly tube lip balms and have it squirt out everywhere when you twist open the cap because of the pressure built up from it having gotten squished in your bag?  This doesn't do that.  I've only tried the rose scent and it's gorgeous.  It has a slight pink tint but I don't really notice it, it's basically irrelevant.
Glossier You Fragrance– I'm not huge into perfumes and rarely come across scents I love enough to buy.  You see where this is going.  This perfume was love at first whiff.  The first time I wore it around my husband he said that I smelled sexy.  He is not big on perfumes as well and if he ever comments on it, it's to say that he doesn't like it, so this is a breakthrough.  It's hard to describe why it smells so good.  It's sweet, warm, earthy, delicious, subtly musky, clean, layered, dreamy, airy and deep at the same time, don't know if I'm making sense and we're probably best leaving it at just sexy.
I tried a few other Glossier products that I shared in IG stories and I got a lot of responses interested in how they worked, which is a lot of what encouraged me to write this post, so if you came over here from IG, thanks!  Still unsure about some of the other items I tried because I need more time with them, but so far I totally see why Glossier is so popular and am curious to try more.  Let me know if you have favorites from the brand.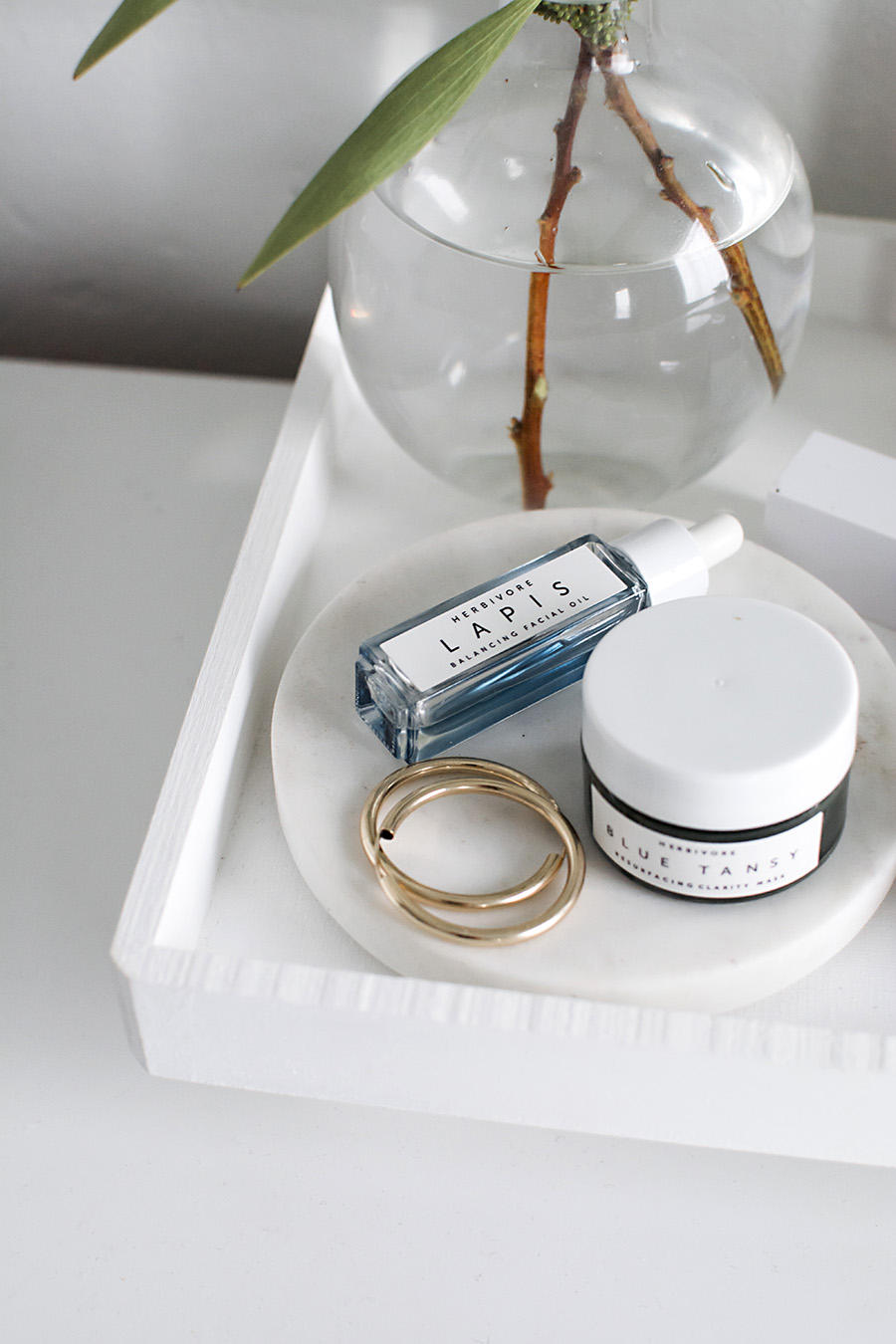 Herbivore Blue Tansy Mask– I mentioned this in a previous monthly favorites post and am mentioning it again because I recently experienced its full amazingness.  I get monthly hormonal breakouts, and while most of the time they're not that bad at all, last month ended up being pretty bad.  I applied this face mask for 20 minutes and saw a significant reduction in redness after washing it off.  It did so much to calm my skin and simply made me feel a lot better about my face quick- don't we need this sometimes!!  I'm so impressed with how effective it is and am going to try using it more regularly as maintenance as opposed to using it as just treatment.
Herbivore Lapis Oil– This, in combination with the mask, has made a noticeable difference in reducing my skin redness and blemishes from breakouts.  I originally wanted to try it out of curiosity for how my face would do with oil as opposed to cream or gel moisturizers since I already know I prefer body oils over lotions.  So far this is my favorite face "moisturizer" I've ever tried.  It can be a little perplexing to find moisturizers that help control oily skin but will still be hydrating enough, and this one is perfect.  My skin feels continuously hydrated and plump, and though it looks greasy right after application, the oil absorbs quickly and doesn't mess with my makeup.   The smell reminds me of grape jelly but in more of a beautiful way and less of an edible way, it's addicting.
Other Posts You Might Like