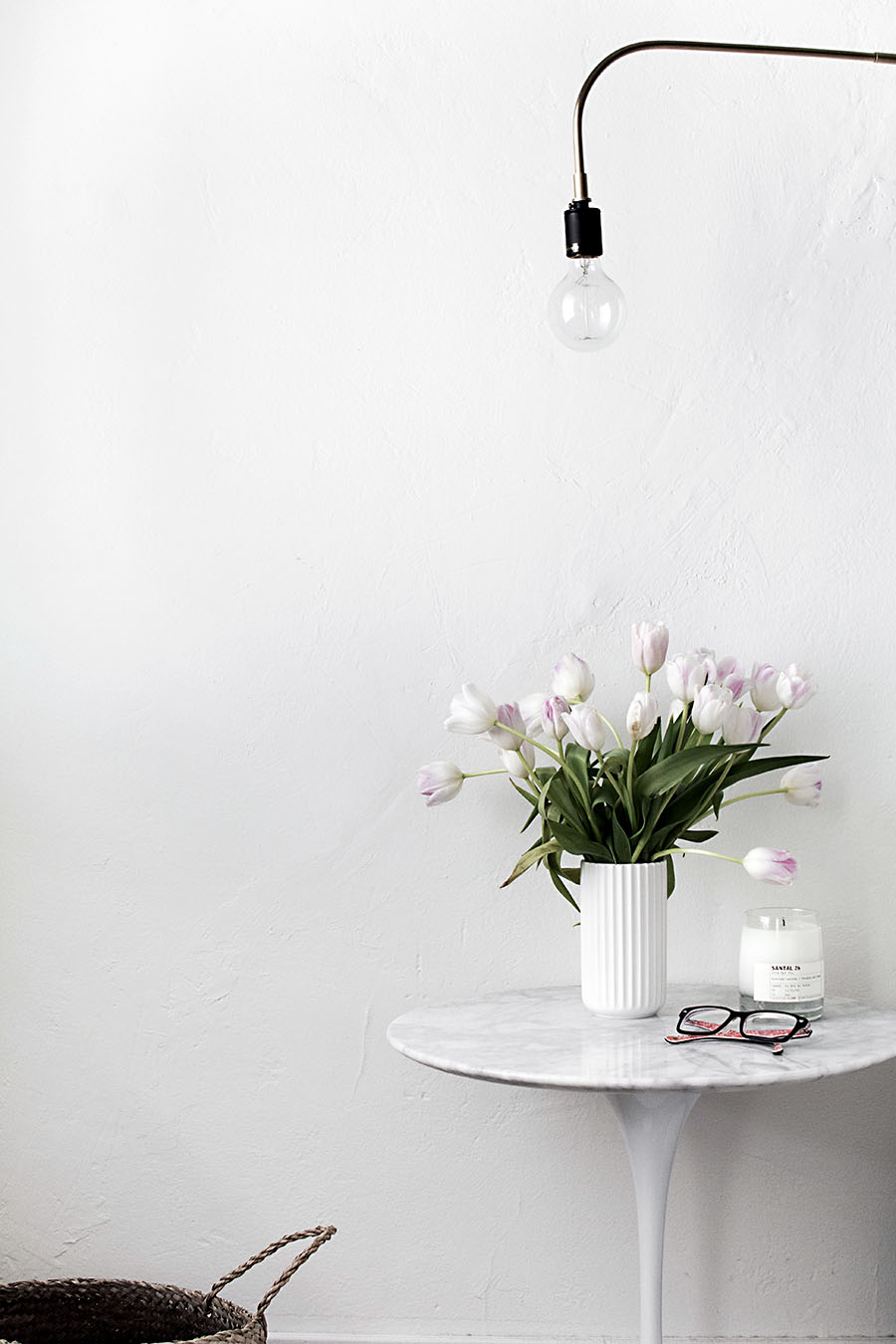 HOME- Lyngby vase
I prepared a shopping list for our Copenhagen trip last month (travel guide coming soon!) of things that I wanted to bring back if I could get a good deal on them, and one of them was this Lyngby Vase.  FINALLY OMG, one of those items that's been on my wish list the longest!  In the past I've gotten a look alike, made a DIY inspired by it, and still wasn't satiated.  That's a pretty good sign that you gotta get it.  I held off because it's pricey and I was staying patient for a sale anywhere which never came, but in Copenhagen I found it on sale at a department store and didn't think twice about it.  It's such a beautifully minimal vase and this is the perfect size for most of the arrangements I put together at home.
HOME- By Lassen candleholder
Same story with this one.  You've probably seen this candleholder in every Scandinavian home on Pinterest.  By Lassen is one of my favorite brands and is a little rare to come by in the US.  The price was slightly better in Copenhagen, and considering I saved on shipping and tax, I couldn't pass the chance to get it.  I've mostly kept it on our dining table but I like it here in the living room too.  The design actually inspired one of my past DIYs- remember the mini wood plant stands I did??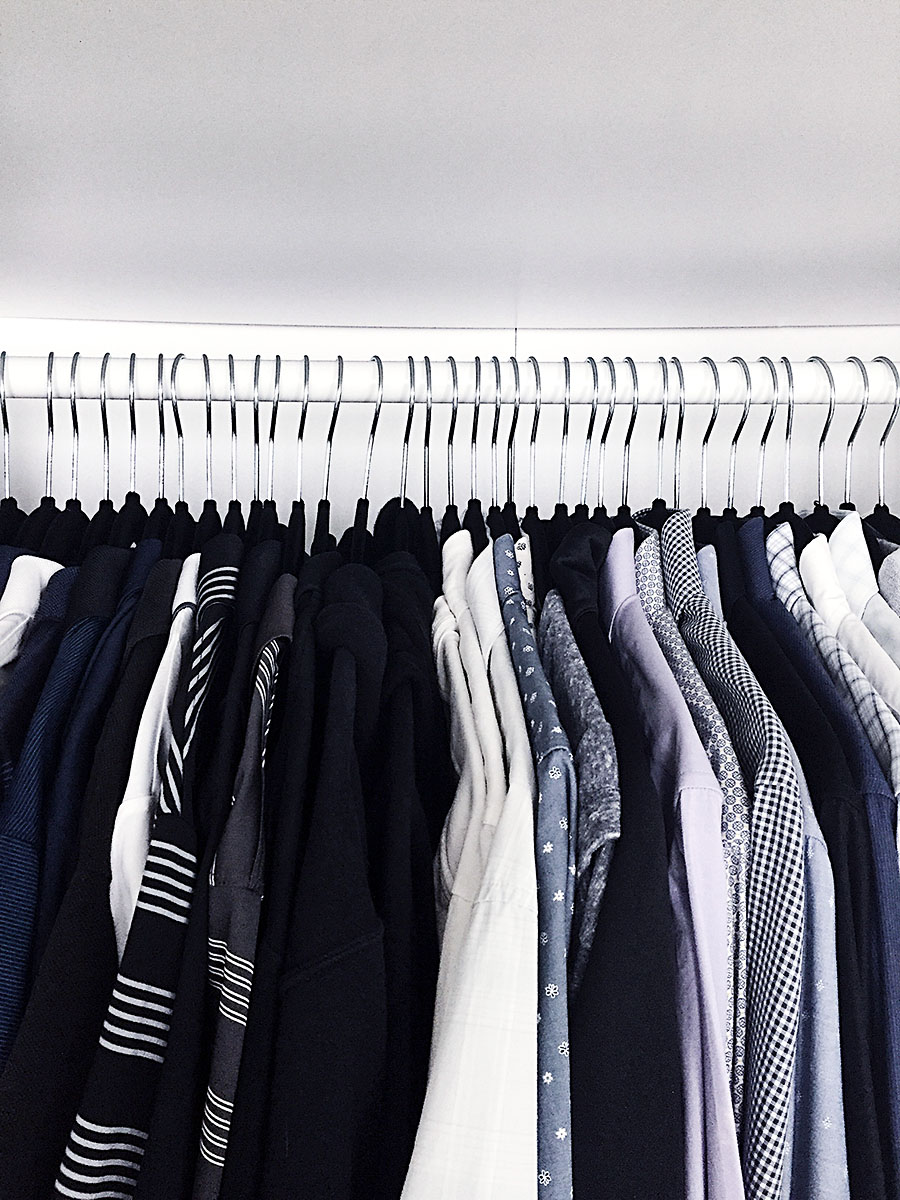 ORGANIZATION- velvet hangers
His wardrobe isn't as pretty as mine ha, but I wish I had a before photo to show you how much it has improved since simply changing out the hangers to these slim black velvet ones.  They are $10 for 35 at Costco which is insanely good.  Against his will, I got them and switched out all his hangers because previously they were all mismatched and mostly those wire ones from the dry cleaners with the paper wrapping over them and it drove me nuts.  I told him this would change his life and he now agrees.  SO CLEAN.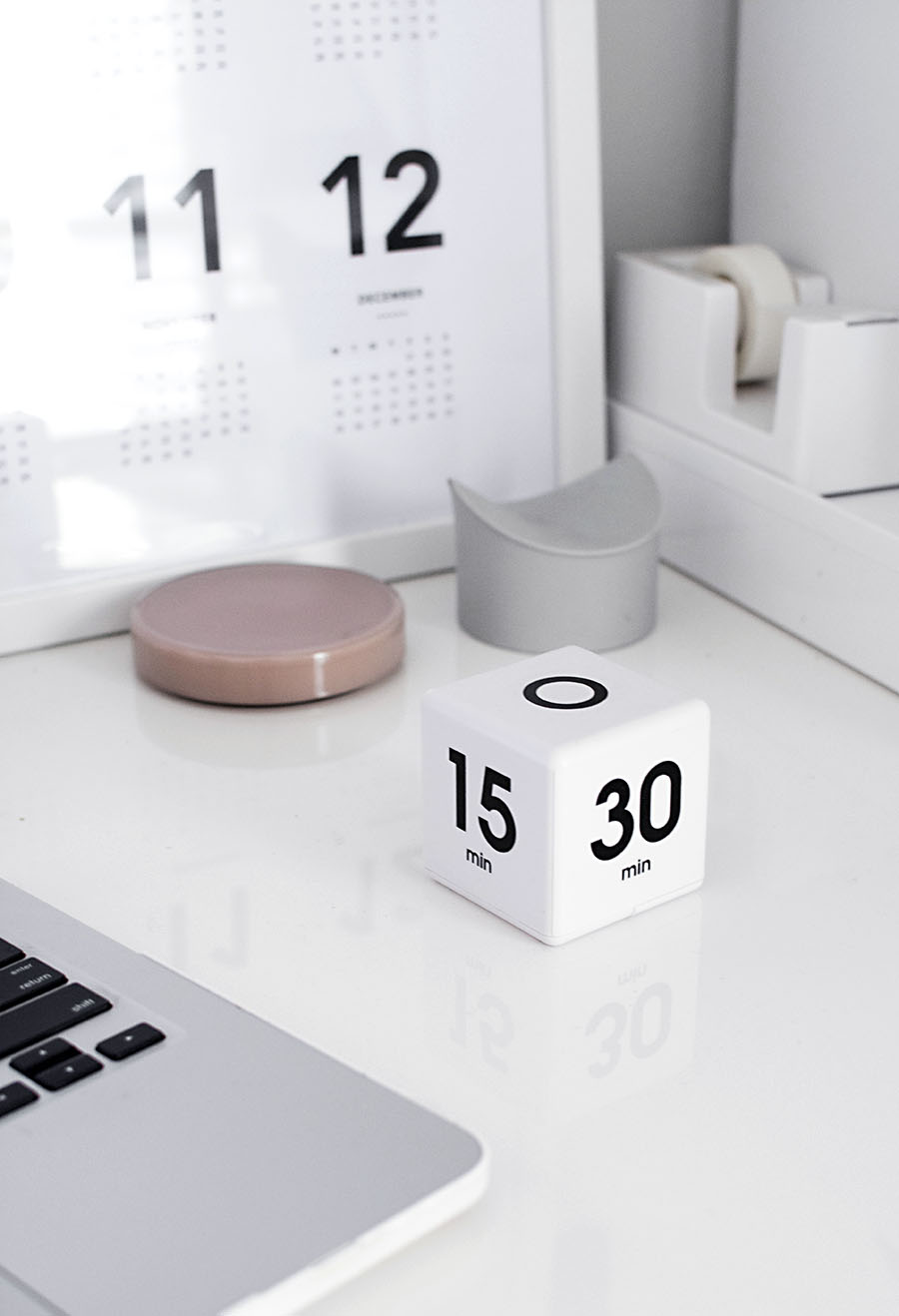 OFFICE- cube timer
I was mostly using our Google Home as a timer to work in 20-30 minute blocks, but I found this nifty little cube to be more convenient.  Each side of the cube has a different amount of time on it and all you have to do to set it is place the cube with the desired time facing up.  The time automatically starts and when it beeps, you flip the cube so that the "0" is on top to shut it off.  It's so so easy AND cute.  I've mentioned this before, but I like using the Pomodoro Technique which breaks down work into 25 minute intervals with a short break in between (something like 5 minutes).  I use it to train myself to be ultra focused and productive for those 25 minutes, and the short break is a really, really great way to remember to stand up and move around which is so important for any sitting desk job.
MAKEUP- Tarte blush
Of course I stopped into Sephora last month to get my birthday gift.  One of the items was this Tarte Blush in Paaarty and I think I'm going to wear it forever.  It is the most perfect, matte, neutral pink blush and goes with everything.  I've always loved the Amazonian Clay blushes for the color pay off and longevity, and this one is for sure my favorite color I've tried.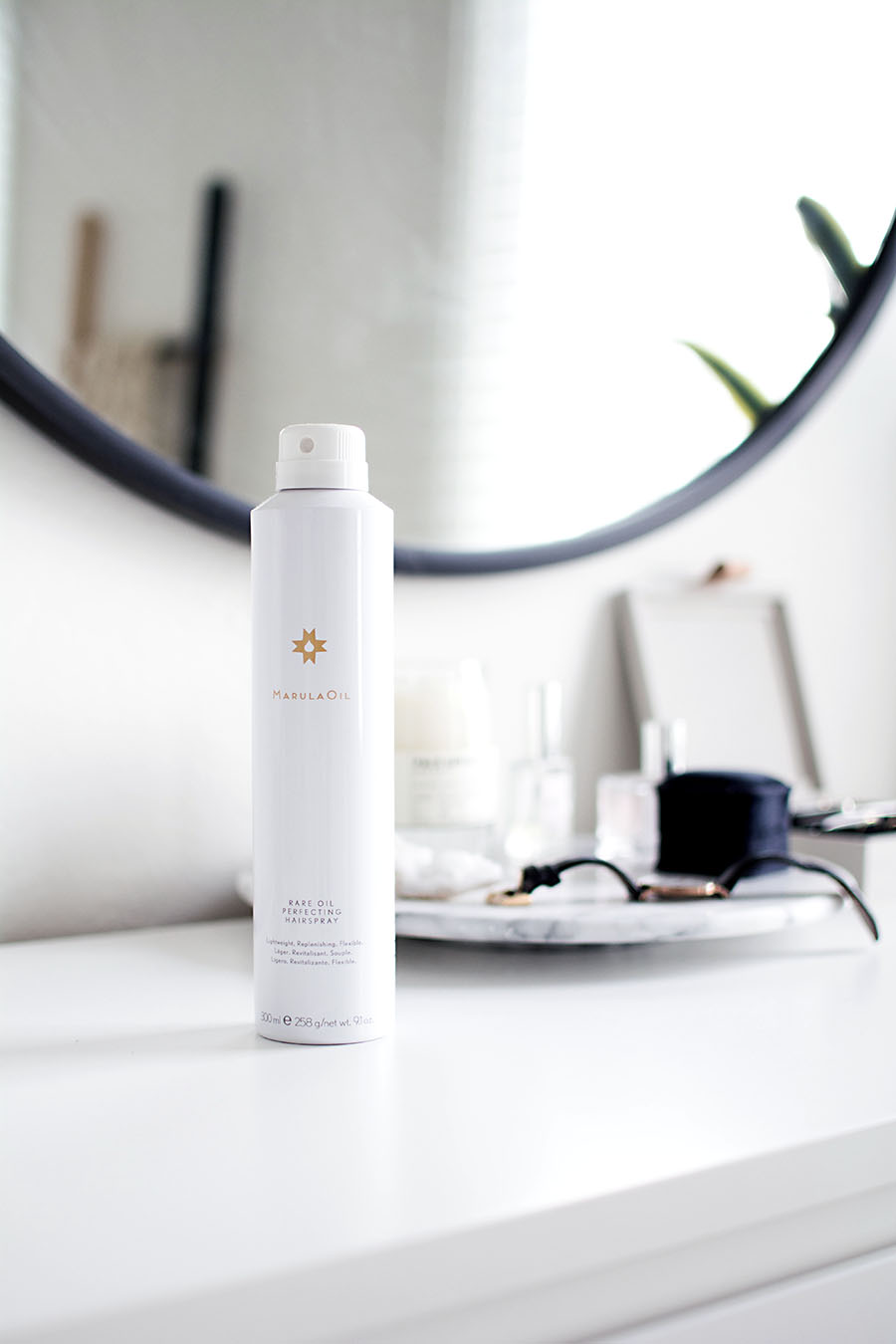 HAIR- Marula Oil hairspray
I tried this for the first time last month when I did my hair for our engagement shoot and was so impressed with how it held up.  It's super lightweight,  flexible, smells pretty, and there was no buildup, which was amazing for how well it kept my hair in place and mostly frizz-free.  We were running around for hours on a particularly windy day and my hair still looked great at the end of it.  This is my only hairspray from now on.
SKINCARE- Plant Apothecary Ground Control
I think I'm converting from lotion to body oil… once I use up all the lotion around here.  My shower routine involves slathering my entire body in lotion right when I get out, but last month I tried body oil and immediately noticed that it was way more moisturizing.  O even noticed and commented on how my arms felt extra soft and looked extra moisturized.  The other benefit, which I've been meaning to get into more, is the aromatherapy factor.  This one has an herby citrus scent that I love and it just makes the ritual that much more enjoyable.  One tip is that it's best to apply while you're still slightly wet from the shower, otherwise it's a little difficult to smooth into the skin.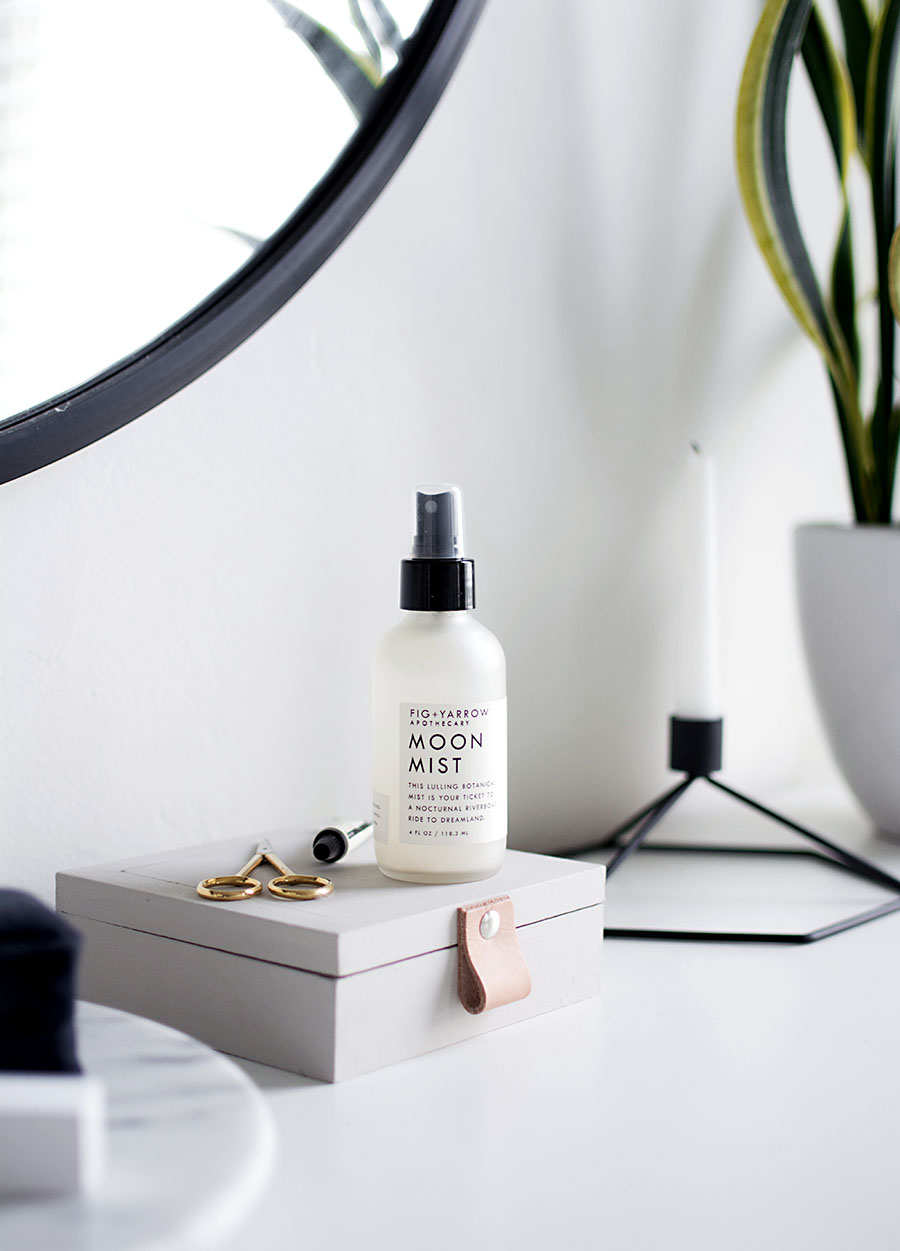 AROMATHERAPY- FIG + YARROW Moon Mist
More on aromatherapy.  With "aromatherapy" I'm not seeking scientific research or cures, but rather feeling good when something smells good, that's all!  This Moon Mist is one of the prettiest scents I've smelled.  It's a mix of essential oils and the ones I sense most are the jasmine and lavender, my favorites.  I like spraying this near my bedside when I wind down for bed to read or just chill, which I hope to establish a healthy and more relaxing night time routine instead of the night owl sessions that stress me out too often.  Something as small as an essential oil spray makes me look forward to bed even more.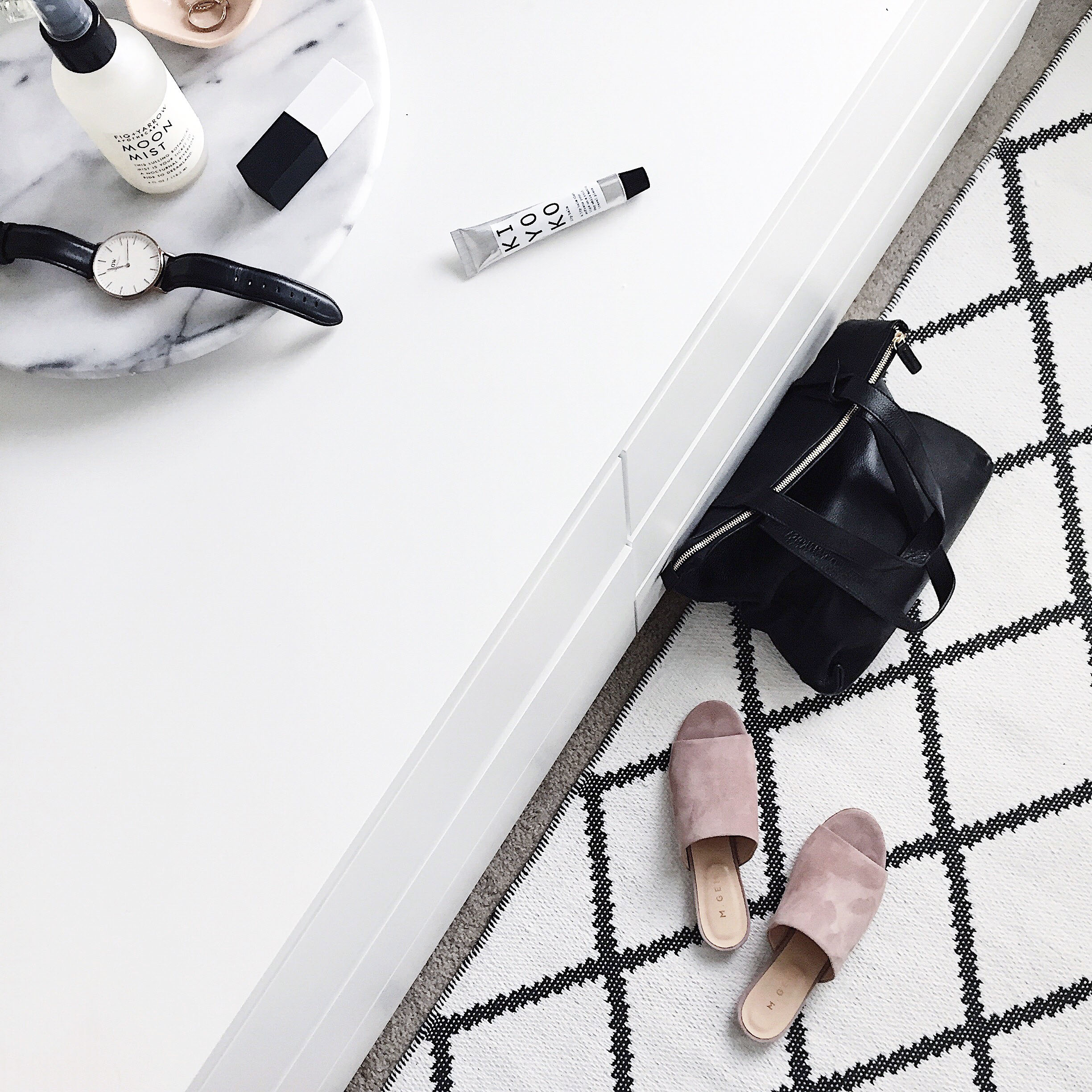 SHOES- M.Gemi Nuvola Slides
For something that can be either casual or dressed up, I've been loving these blushy rose velvet slides. The color!!  Anything without a heel is what I prefer most when it comes to shoes, and it isn't as easy to find cute flats as it is to find cute heels, but these are extremely cute.  What I noticed with these is how much the coverage of the foot contributes to comfort.  These cover more of my foot than my other slides and consequently, these are the most comfortable.  You know when it feels like your slides might fall off your foot if you aren't curling your toes to keep them on?  I don't get that with these.
SHOES- Chuck II's
I hope white sneakers never go out of style and if they do, I'm still going to wear them.  These are my everyday shoe of choice.  I've always loved Chuck Taylors but what's special about these Chuck II's is the extra cushioning in the sole which makes them waaayyy more comfortable.  I could walk around in these all day straight out of the box, where as with other chucks I've had to break them in before they got more comfortable.  Both the best and worst part is that they're white.  They look SO clean and cool but will get dirty immediately.  I'd still pick white over anything else, though.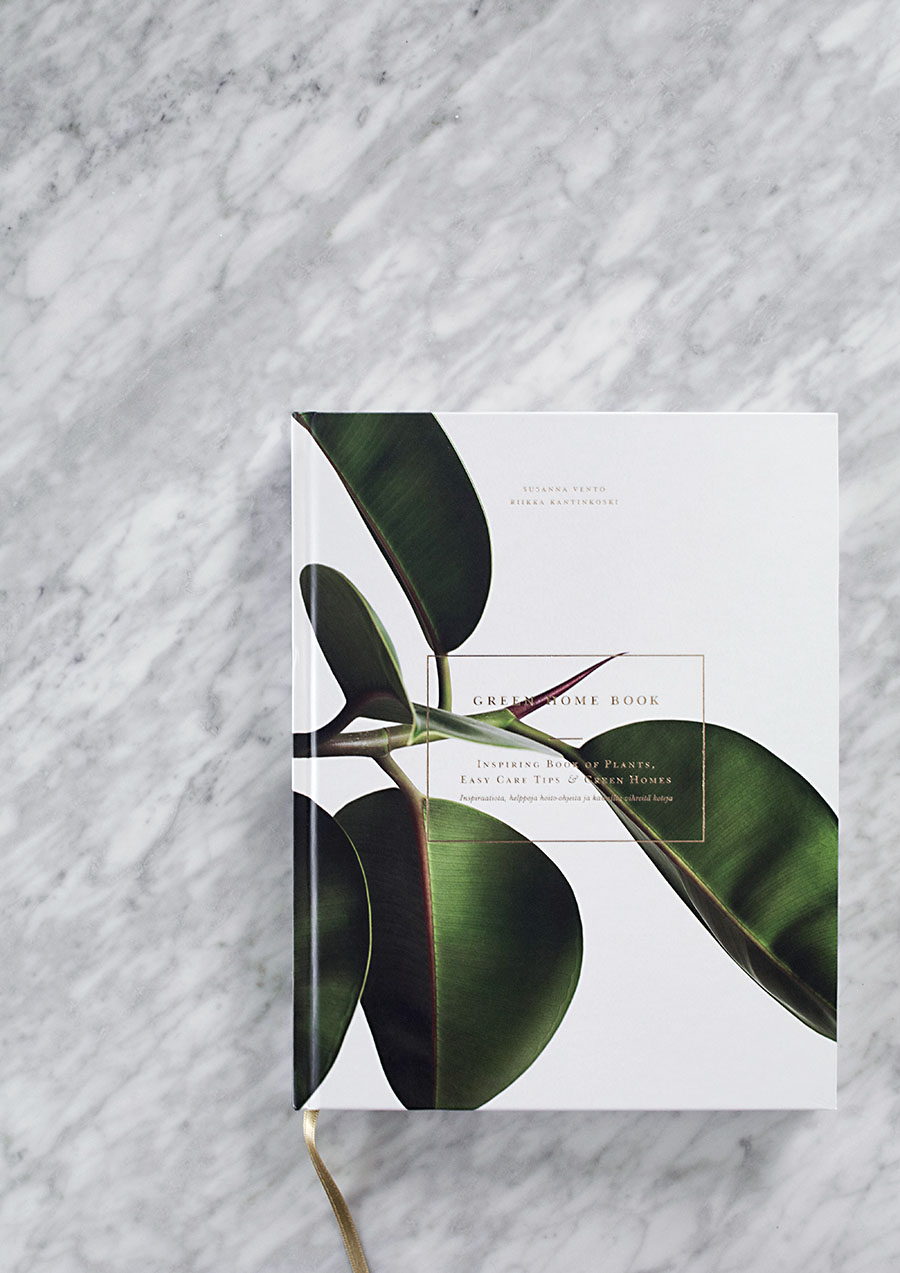 BOOK- Green Home Book
I've been slacking on my reading list and this one is a coffee table book I haven't fully read yet, but it's more about being a treasure I got in Copenhagen.  This book details different types of plants and how to take care of them.  I love it for the photos of gorgeous interiors and also that it's written in both Danish and English.  It feels like a really special keepsake from our tip.  There doesn't seem to be a source for it online and I don't think it's available in the US?  Makes me even more grateful that I got my hands on it.  It's a seriously beautiful and inspiring book.
Other Posts You Might Like