One of the things I look forward to when I become a mom is getting treated to Mother's Day brunch.  A strangely specific aspiration, yes, but everyone agrees it's an awesome occasion, yes?  I also love the idea of moms celebrating each other together, or putting on an event to show appreciation to all the moms you know.  On that note, nothing makes a celebration extra special like a pretty table setting, and it's fairly simple to put together, too.  Inspired by Spring and honoring moms with brunch, I've partnered with Parachute to feature their new linen tabletop collection and share some tips on styling it all together.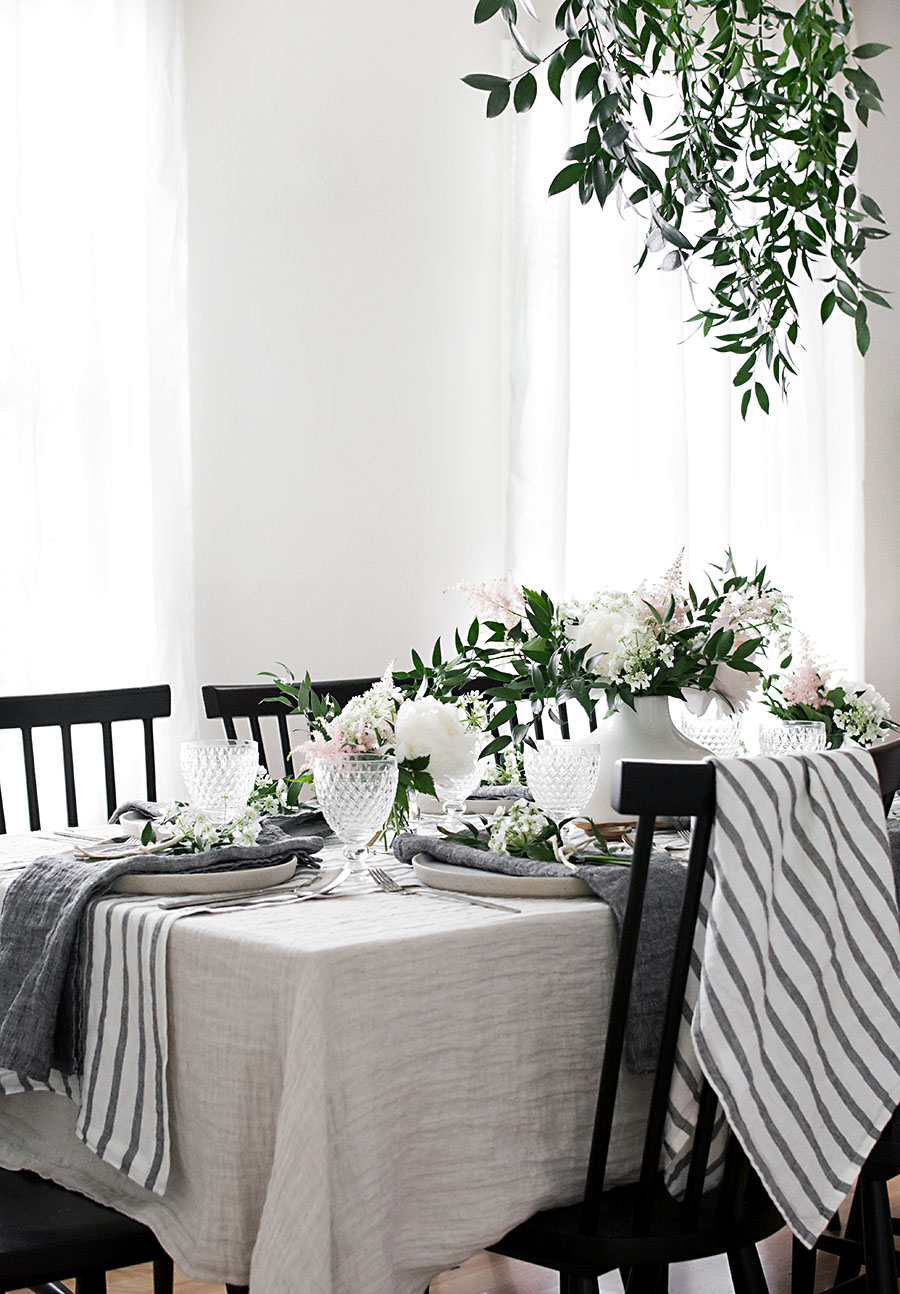 Let's talk about linen.  I adore it for how its natural texture makes it effortless to style.  It's not supposed to be perfect, yet it works for both casual and special occasions, amazing.  Much like how I only want to sleep in linen (my bedsheets are also from Parachute, the BEST), I only want to dine with linen.  The linen tablecloth and tea towels will easily incorporate into my daily life, plus I discovered on the Parachute site what feels like a life hack so simple that I wouldn't have thought of it: you can use the tablecloth as a picnic blanket!  Mother's Day picnic sounds like a good idea, too.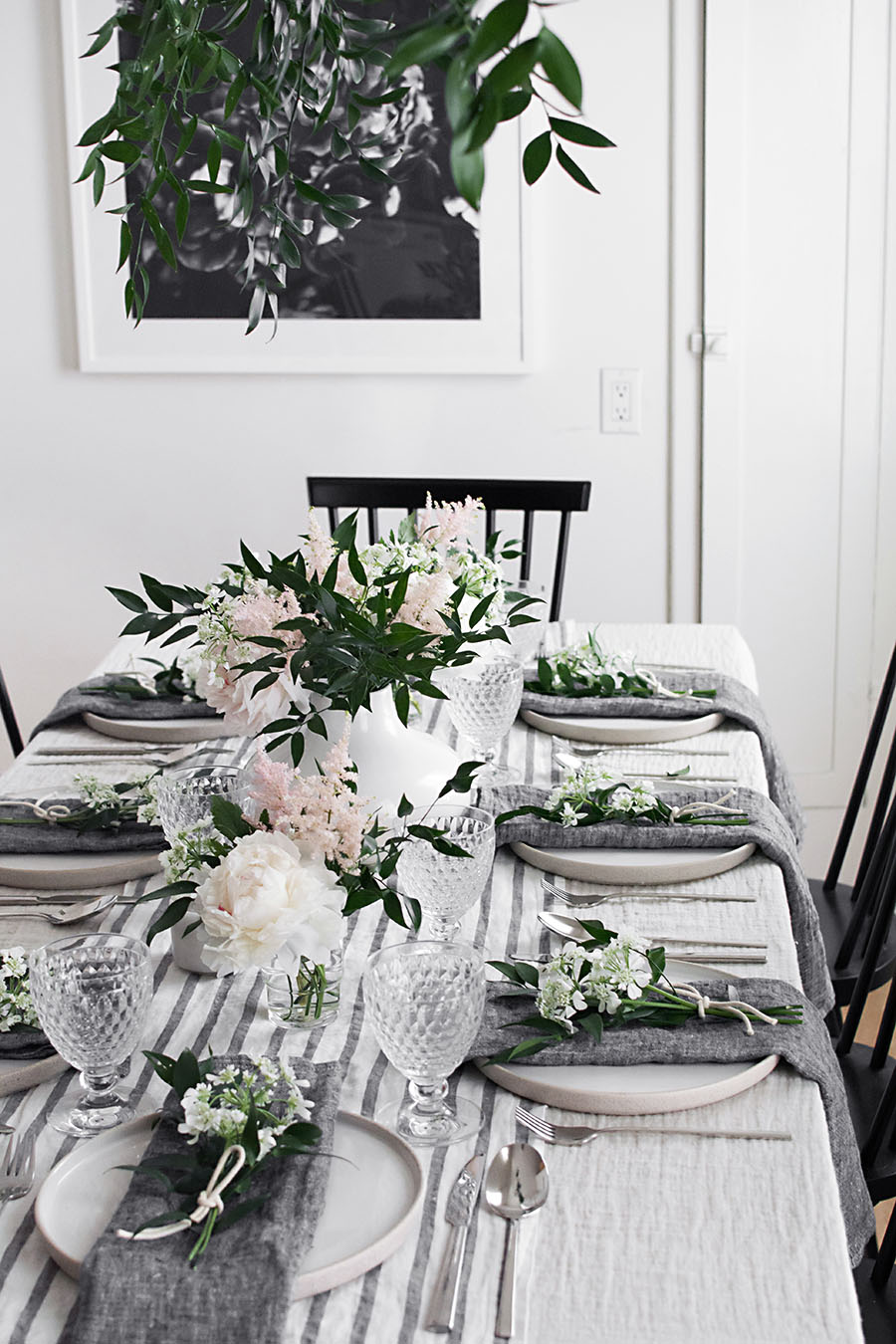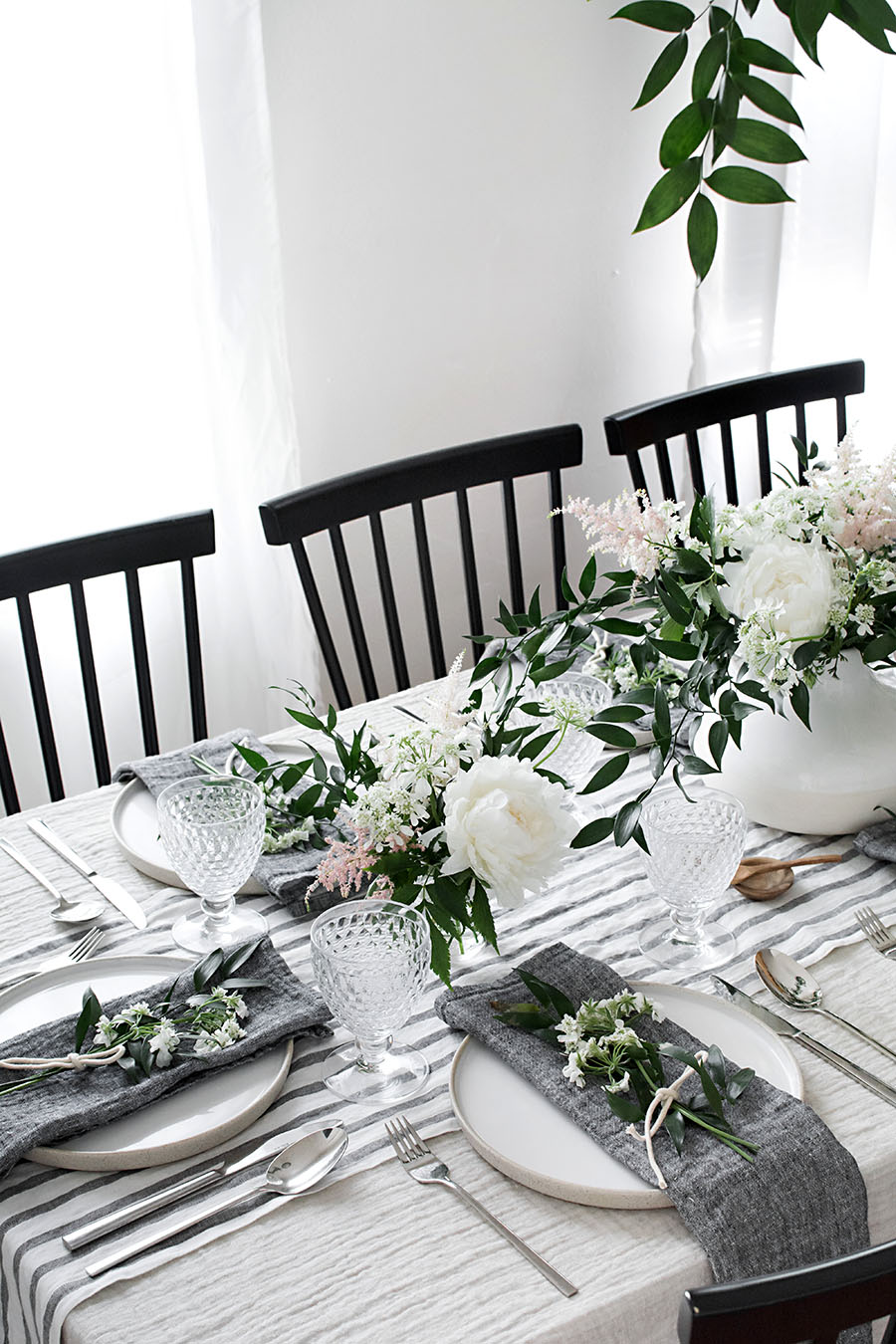 In short, these linens are stunning and so versatile.  They feel luxurious but still suitable for everyday.  Keeping to a neutral color palette, all the colors and designs go with everything and make for fail-proof mixing and matching.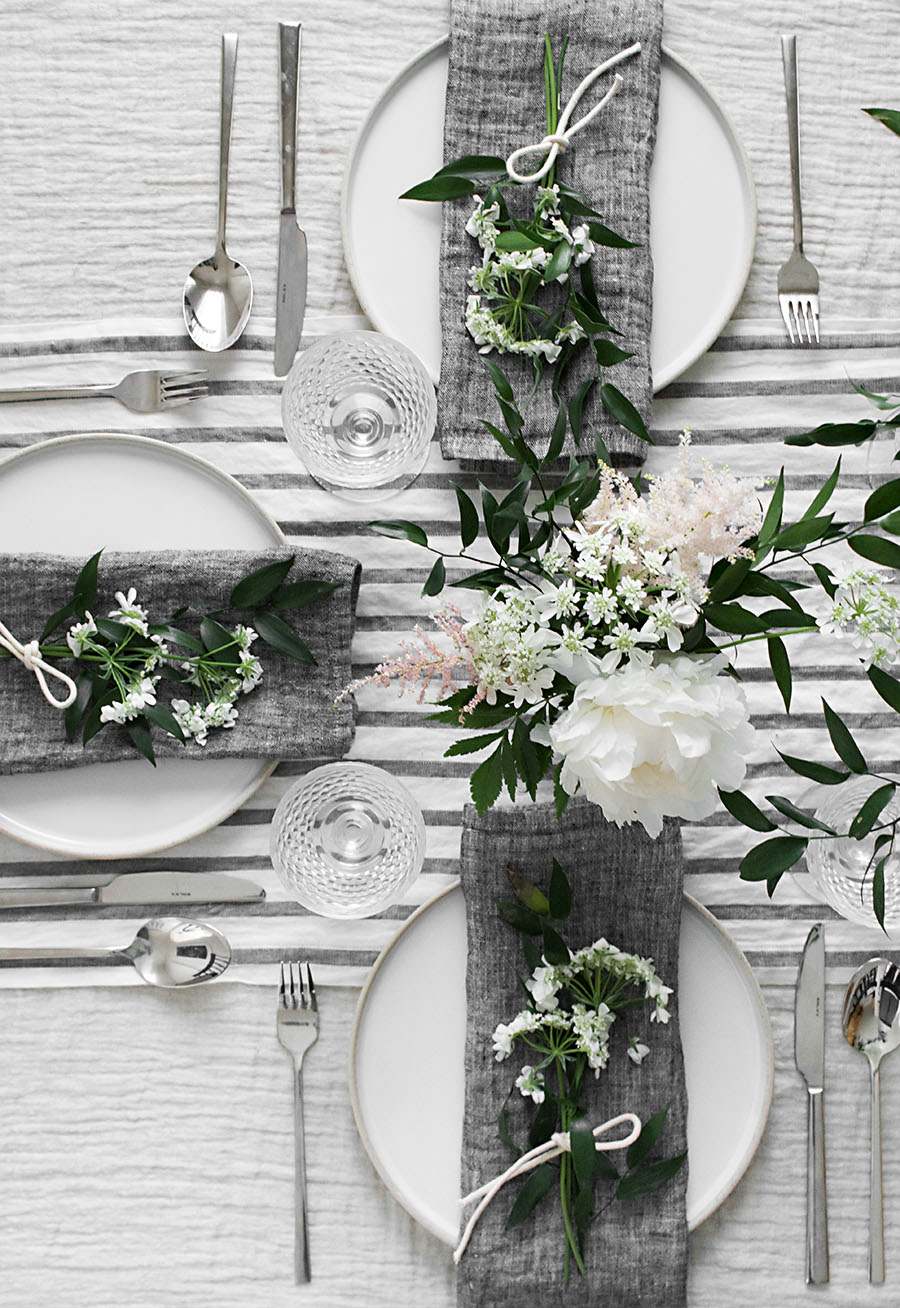 Since it's all the same texture, vary the color and patterns of the linens to make it all more interesting.  The table runner being the only pattern on the table anchors it all together, and the dark color of the linen napkins brings in a nice contrast.  It appeals to the "looks like there's more going on than there really is" sentiment, which is a great for keeping things easy and simple.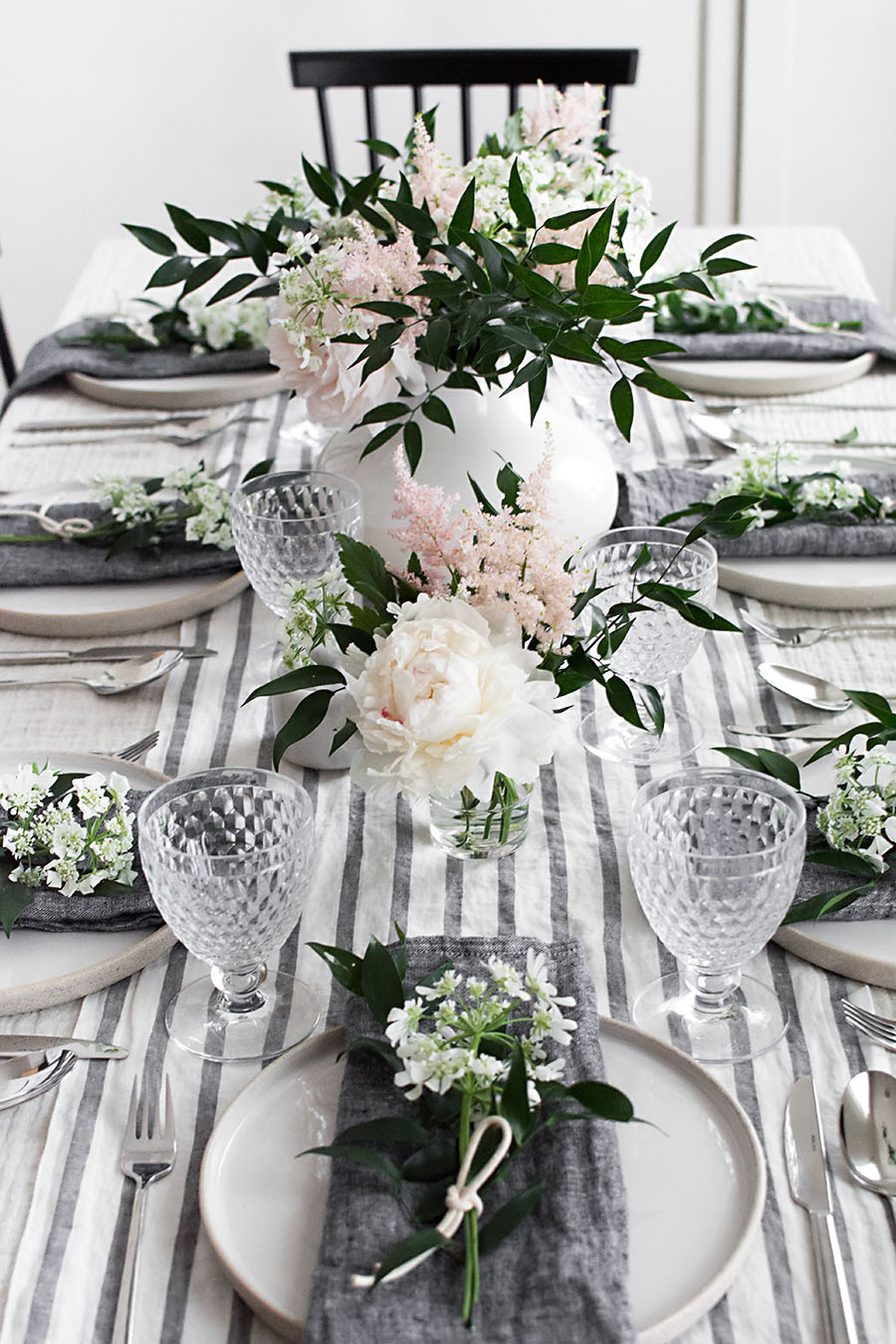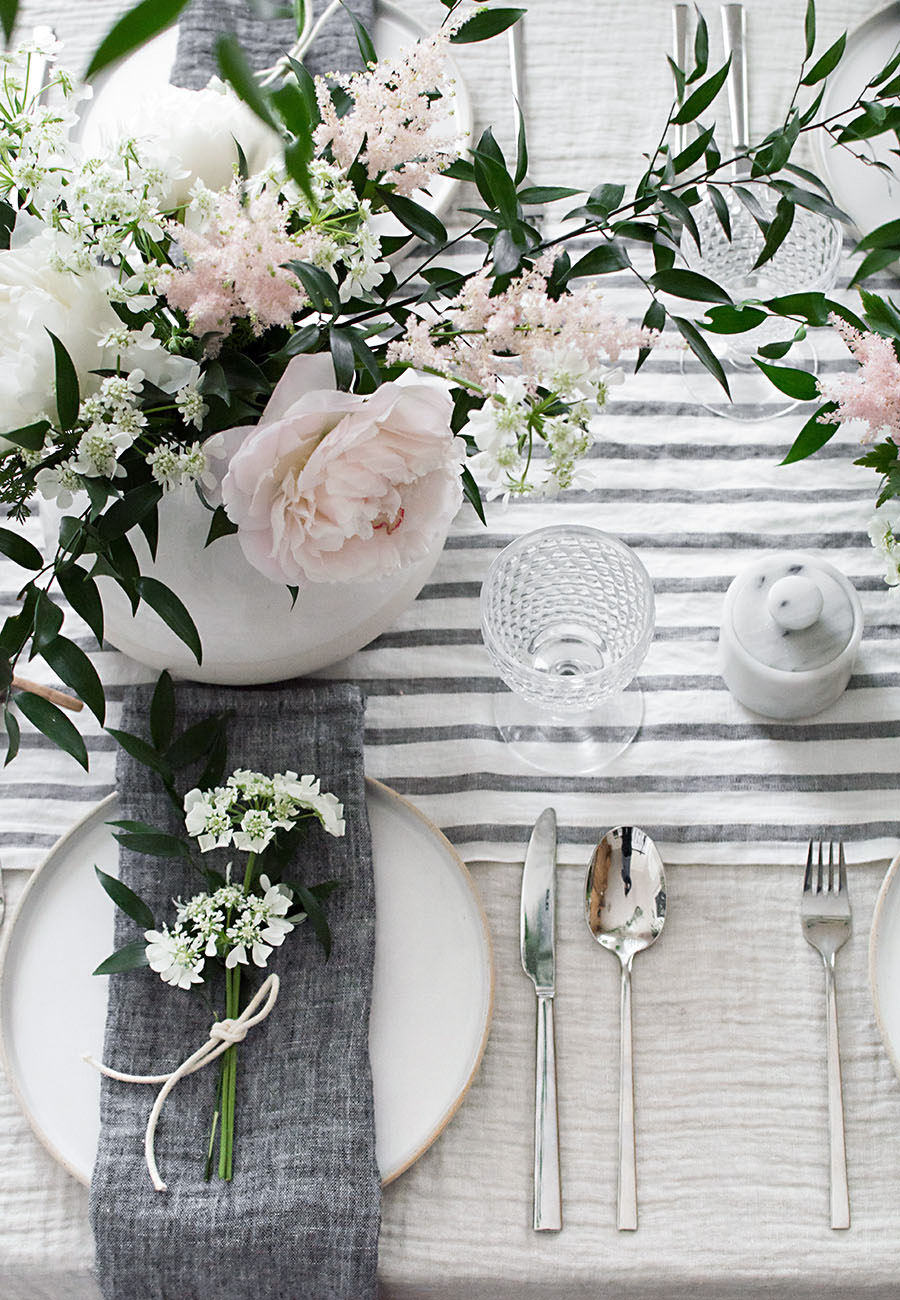 For each place setting, I love the idea of placing a mini bouquet on top of the napkin.  This is especially cute to gift for a table full of mothers, though still cute regardless of who is at the table.  I tied the bouquets with macrame cord, which is different in texture from linen but similar in the sense that it has an organic vibe that matches well.  Instead of tying it into a bow, try tying it with only one loop for a stylishly effortless feel.  It's easier, too!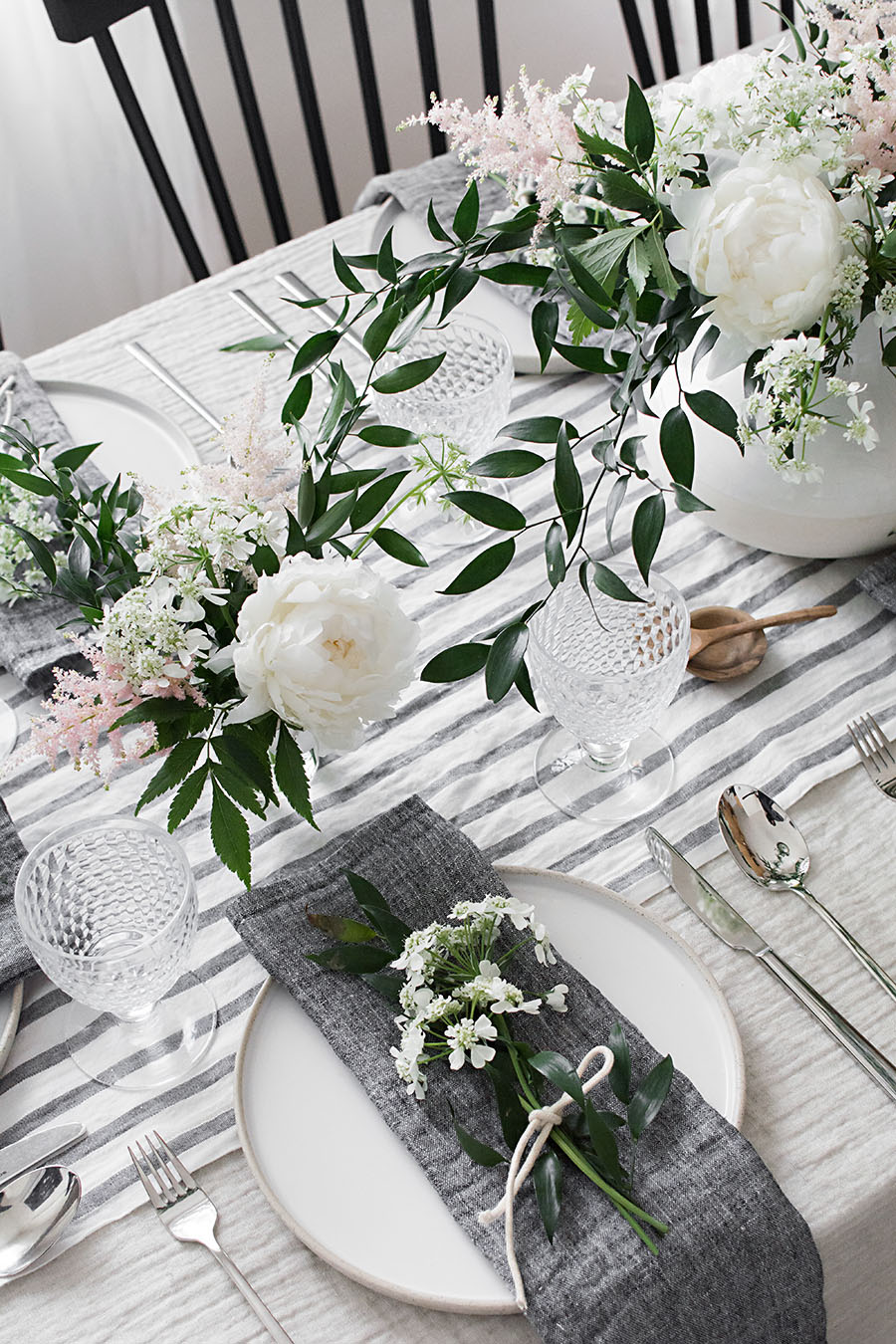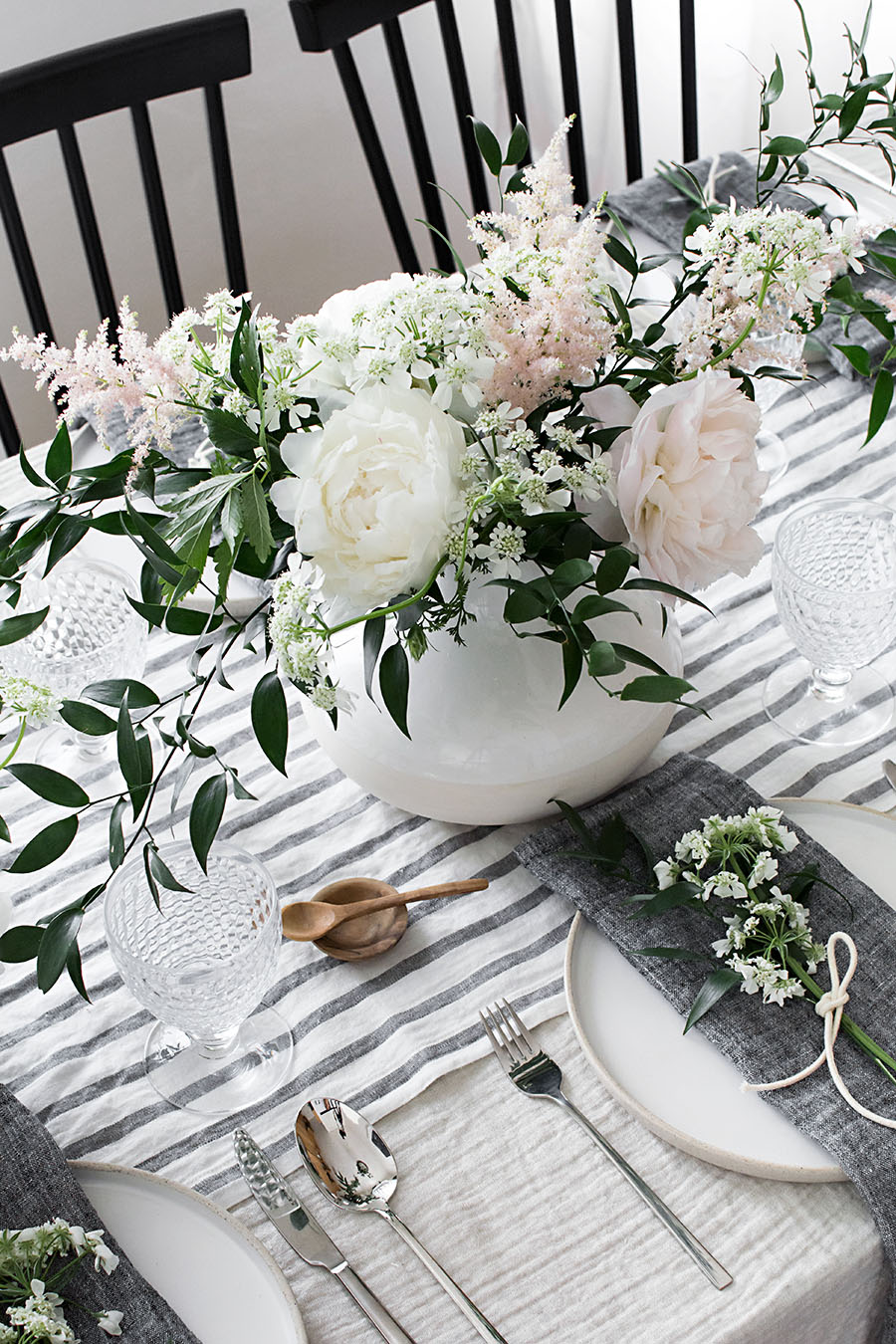 For flowers, an easy way to make arrangements look more sculptural and like you spent a lot more time on them than you actually did is to incorporate long and flexible branches of greens.  Continuing on with our theme of effortless style, long leafy greens take little to no styling to look like they're artfully arranged.  Keep to one centerpiece or add in a couple smaller ones on each side if you don't need the extra room (in our case, we always do buffet style with the food platters on a separate counter so that we can fit more people at the table).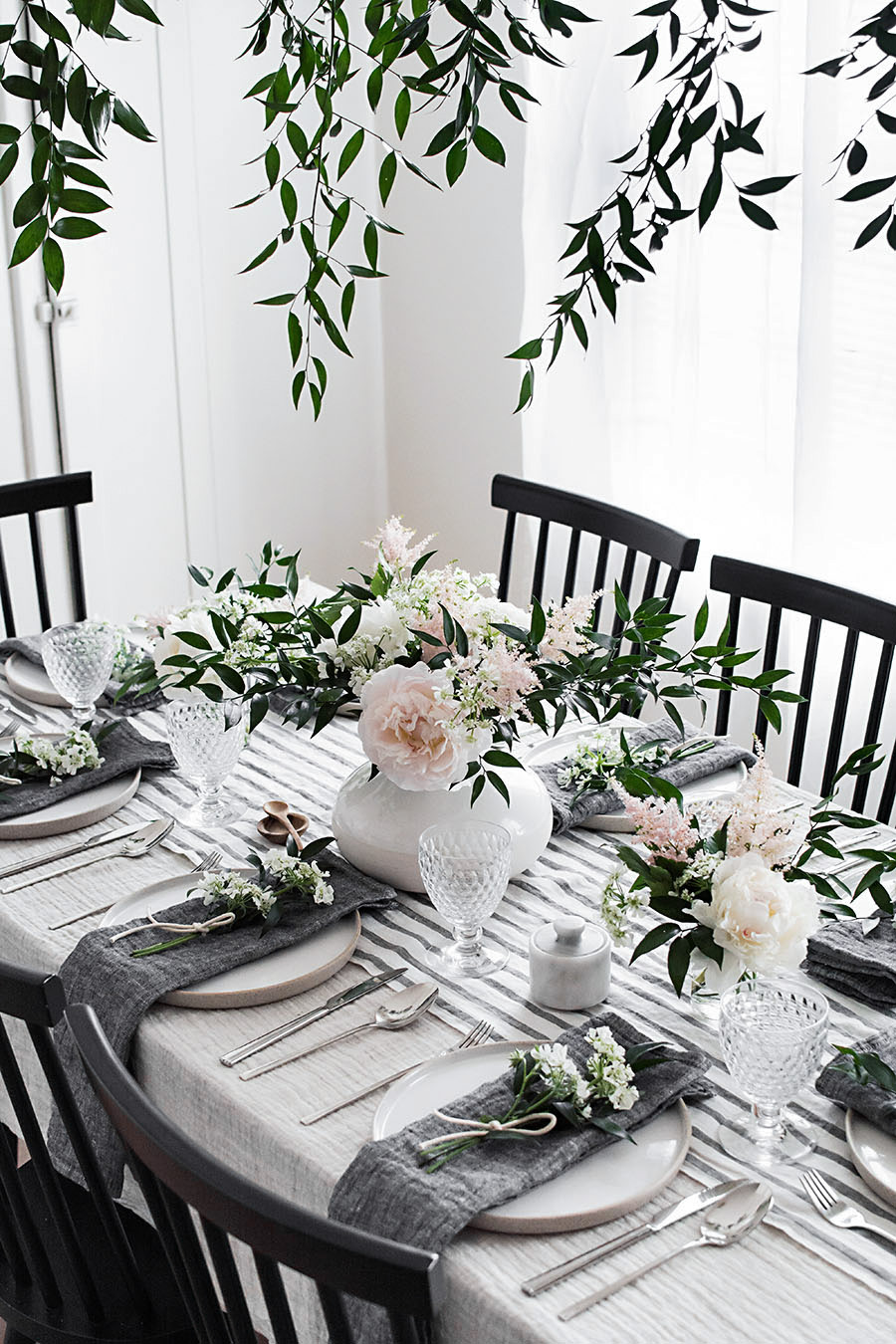 Get a few extra greens to hang above the table as well.  I have mine tied to a suspended string and it's my favorite thing to do take make our dining room feel more outdoors-y and cosy.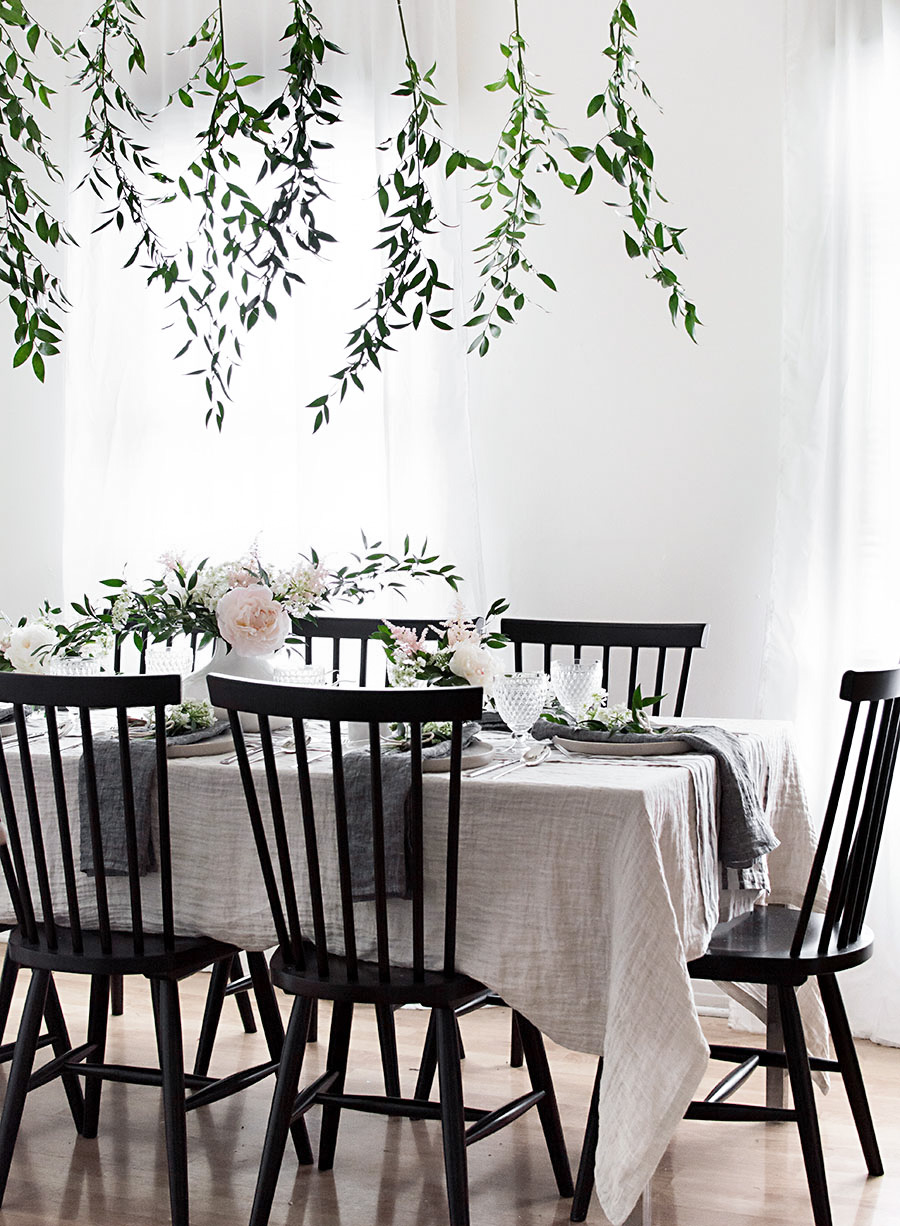 Is Mother's Day brunch in your plans this weekend?  Let me know how you'll be celebrating, and Happy Mother's Day to all you amazing moms!
Sources: Linen Napkins | Tea Towels | Linen Tablecloth | Table Runner
This post is sponsored by Parachute.
Other Posts You Might Like