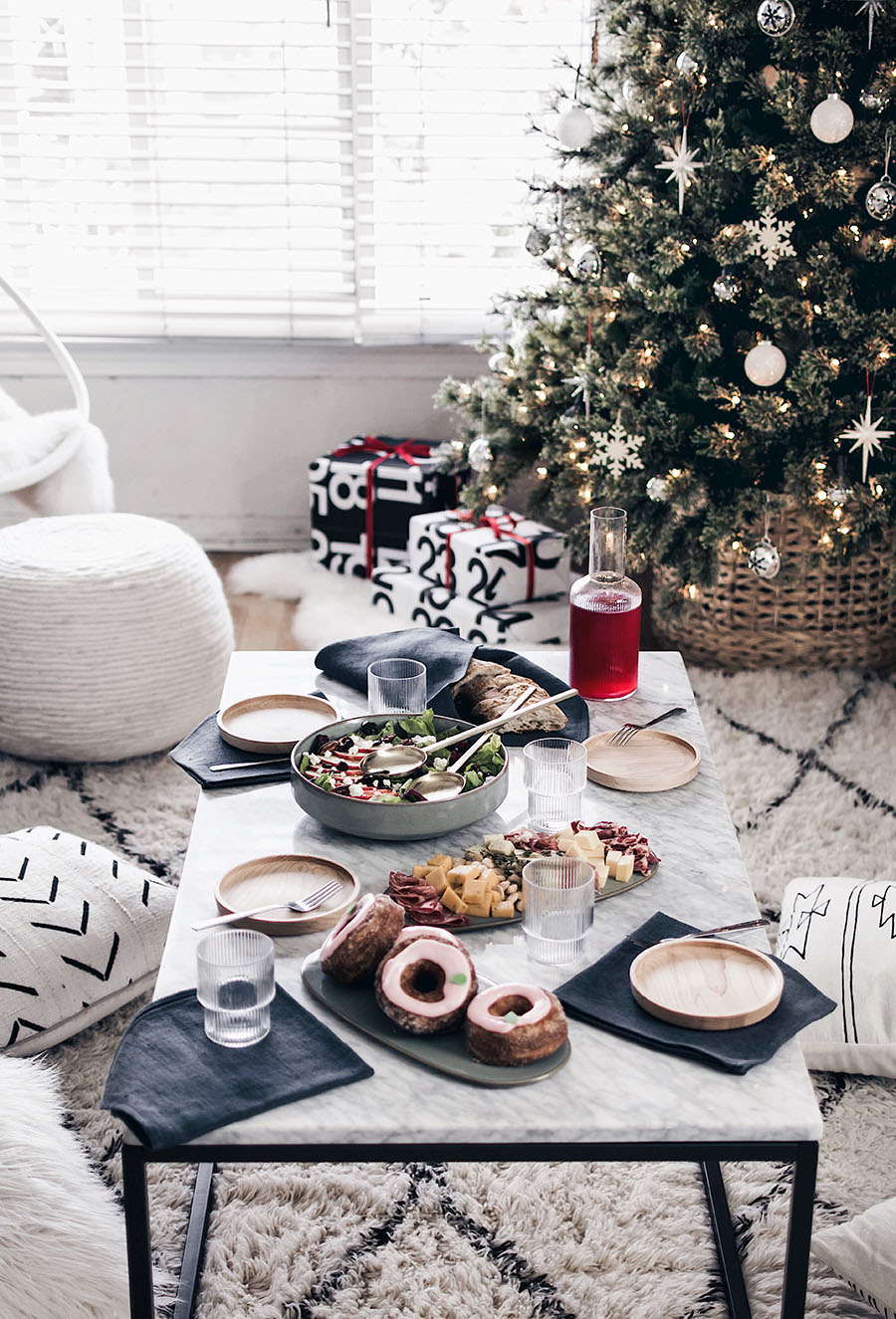 I regularly say I want to entertain and invite people over more and the biggest reason I don't is because I'll forget that it doesn't have to be a time consuming and laborious ordeal to prep for it.  The holidays especially are a time that benefits from simplicity and being that it's already a magical season, we really don't need to do much to throw a great party!  I invited a few girlfriends over for an intimate winter cocktail party and proved to myself once again that keeping it simple works.  In partnership with Four Blocks South, a modern home goods store that provided all the gorgeous items for this table, here are a few simple tips to make your holiday entertaining easier and still awesome.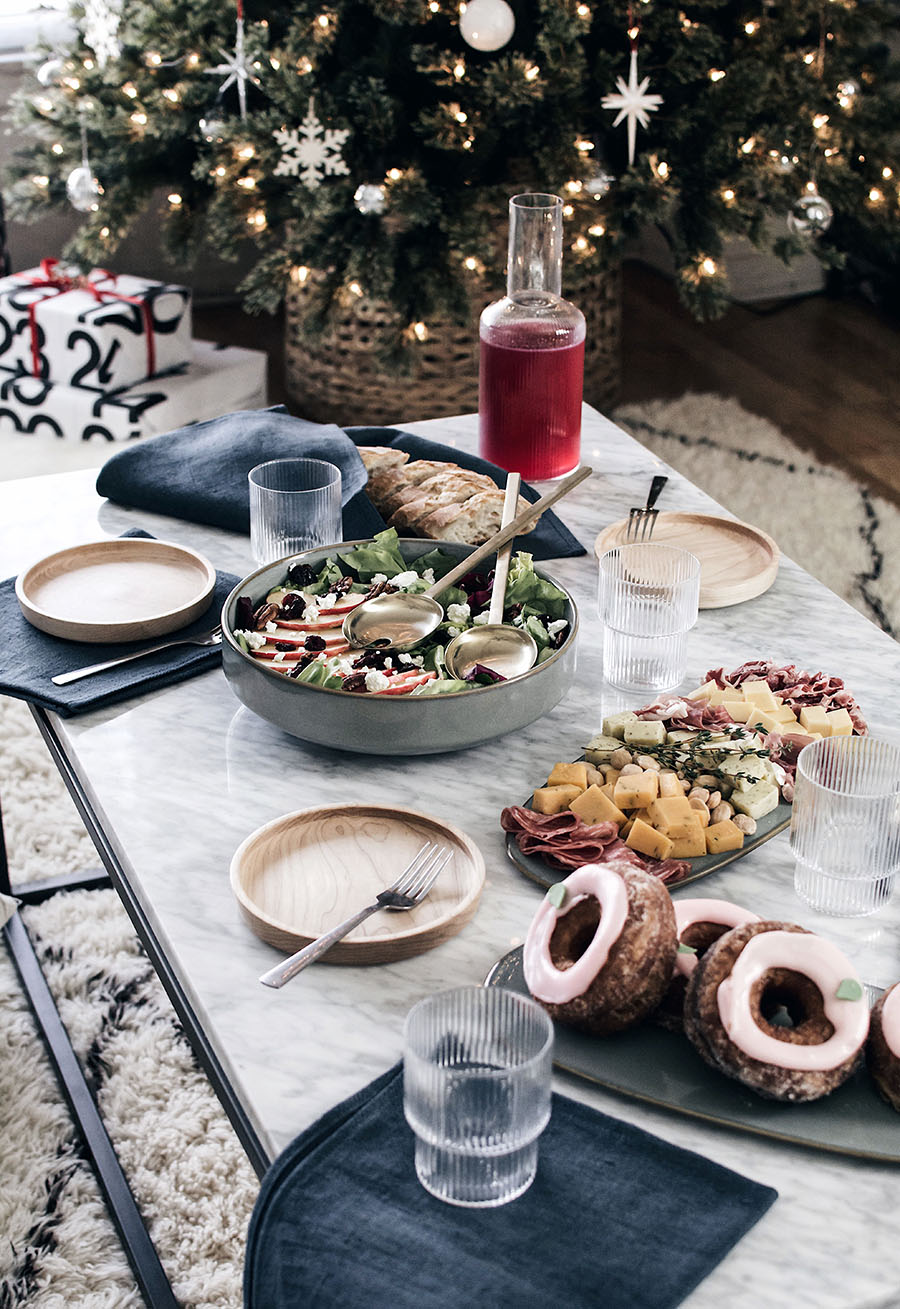 Try floor seating
Switch things up and have your party on the coffee table.  It makes a more intimate and cozy environment and it automatically makes everything more fun.  Simply scatter some floor pillows and gather around the table.  Bonus if your tree is set up nearby and you can all sit near its magic.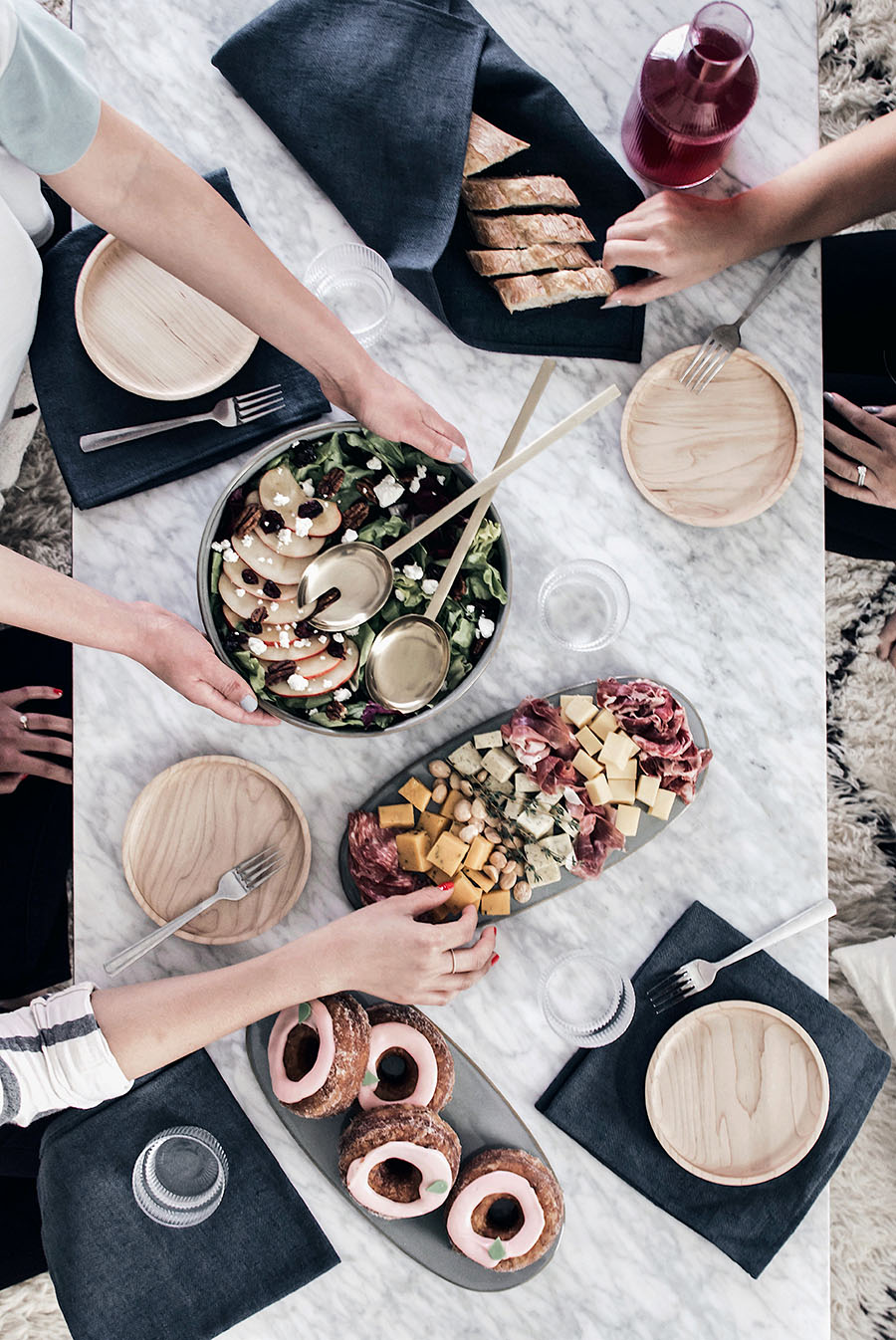 SERVE finger foods and items you don't have to cook
The charcuterie board is the forever winner of this category.  It's crowd-pleasing, plentiful, and beautiful to look at.  You don't even need to style it all that much for it to look great.  Tip: Pre-cut the cheeses into bite size pieces so that there's less fuss for your guests.  In general, whatever can be pre-cut or pre-portioned, do that.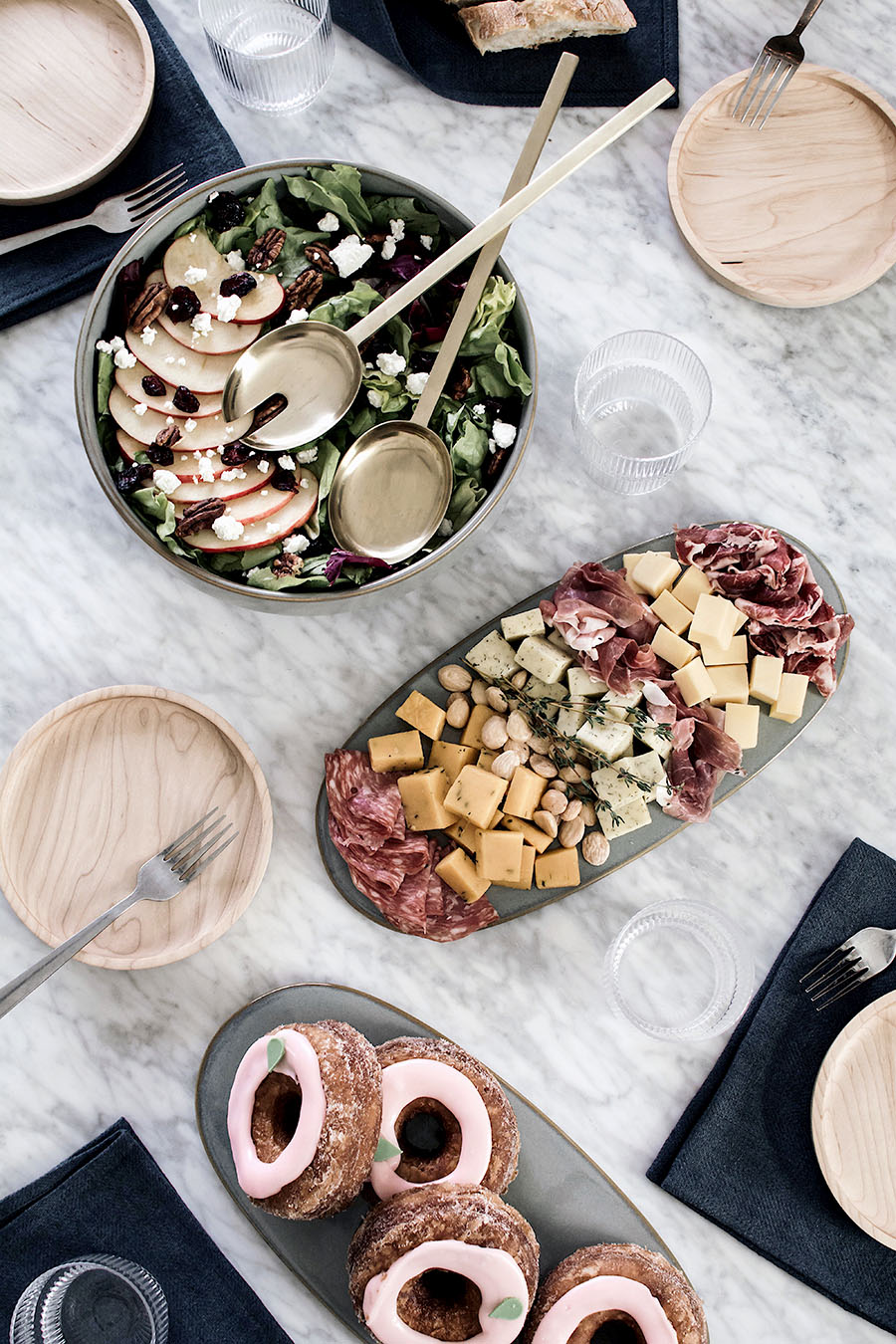 A salad goes great with charcuterie and is easy to throw together with very little prep.  Here's the recipe for this winter honeycrisp apple salad + apple cider dressing:
Salad (serves 4)
12 oz. salad greens (I used a butter lettuce and radicchio mix)
1 honeycrisp apple thinly sliced
1/2 c. dried cranberries
3/4 c. candied pecans or walnuts
1/4 c. crumbled goat cheese
Dressing (make ahead of time and refrigerate)
1/4 c. olive oil
1 tsp salt
1/2 tsp black pepper
2 tbsp brown sugar
1/2 c. mayo
1/4 c. honey
1/3 c. apple cider vinegar
Throw it all in a food processor or blender and blend until smooth.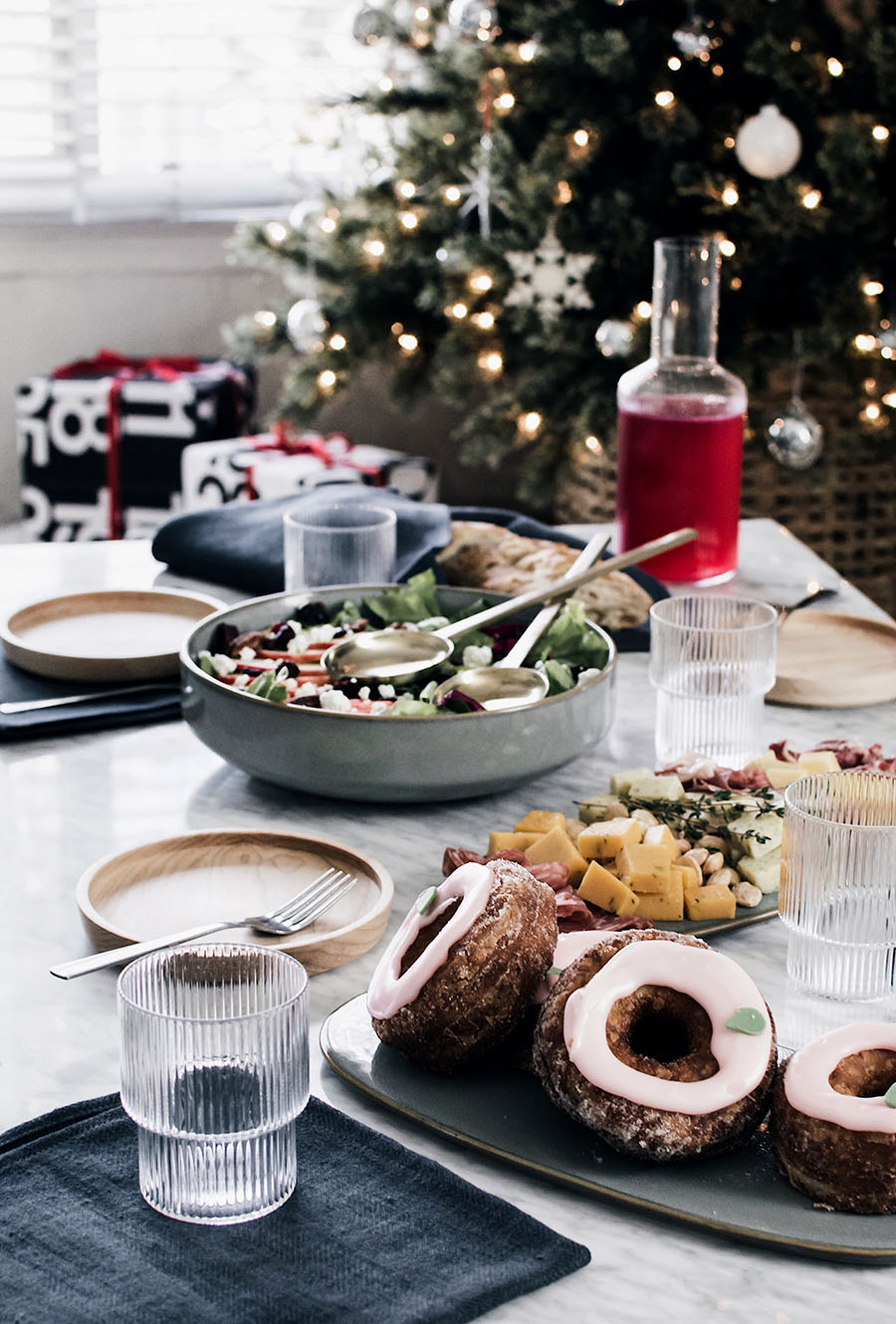 Use beautiful serveware and tabletop accessories
It not only makes your guests feel special, but it completely eliminates the need to add any decor to the table (read: that's less work for you).  Four Blocks South carries a beautiful selection of modern serveware, barware, and linens to complete a full table for a cocktail party like this one- everything here is from Four Blocks South!  This shop is so thoughtfully curated and aligns perfectly with the minimal simplicity I'm always striving for at home.  Here's everything you see on this table:
Ripple Carafe | Ripple Glasses Set | Linen Napkins | Neu Platter | Neu Bowl | Fein Brass Salad Servers | Maple Plates
Use code OhMy15 for 15% off your order till 12-31-17!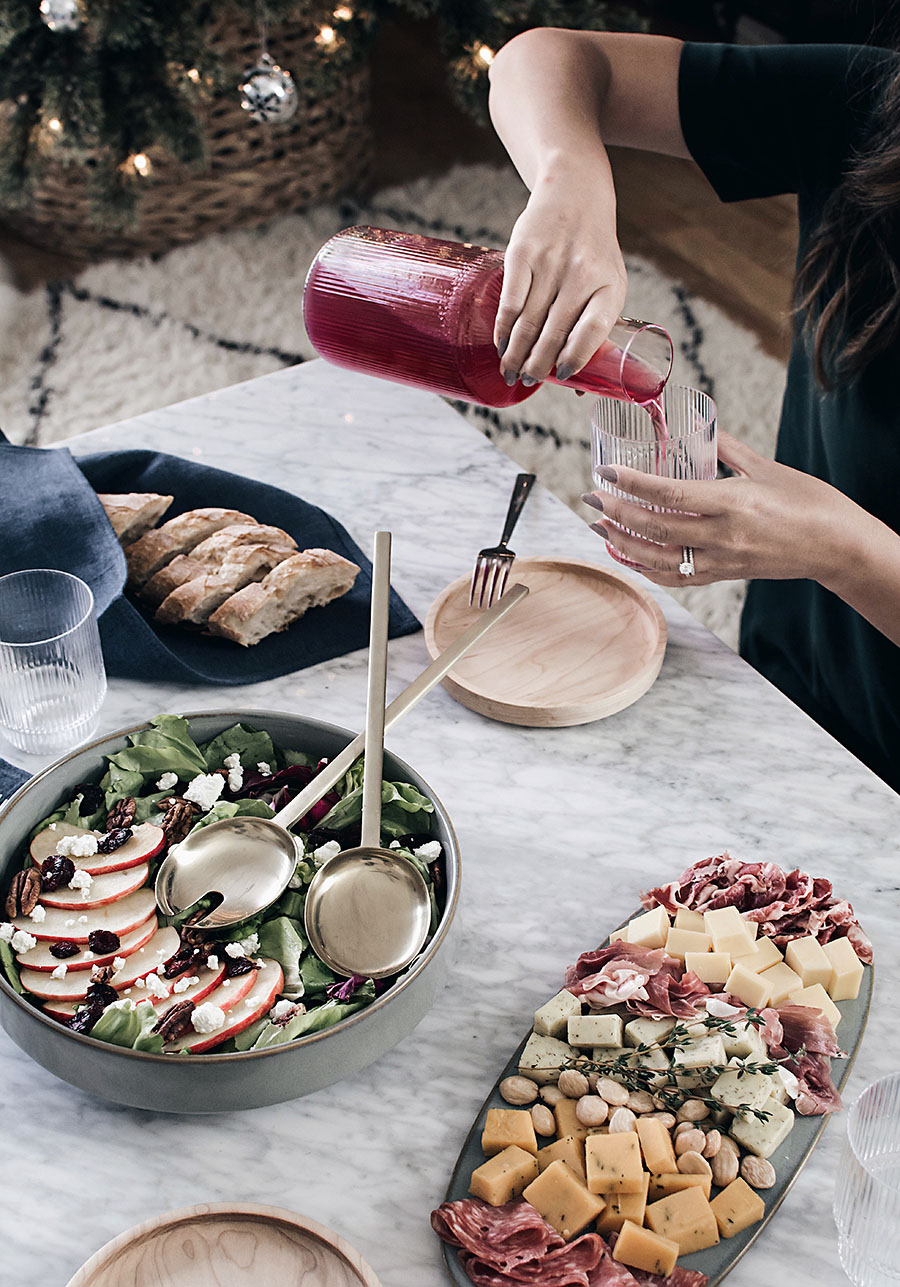 Premix the cocktails
Make a large batch ahead of time and have it sitting on the table for guests to pour themselves.  The alternative would be getting up every time to mix each individual cocktail and no one has time for that.  Try this recipe for a winter cosmo- you'll like this if you like your drinks strong!:
Serves 4
1/4 c. orange liquer
1 and 1/4 c. pomegranate-cranberry juice
1 c. vodka
3 tbsp lime juice
Optional- a splash of club soda per drink for a little fizz
Hope this inspires your next at-home gathering, and be sure to check out all the offerings from Four Blocks South with the discount code they're offering: 15% off your first order with code "OhMy15" valid through 12-31-17.  A particularly cool detail is that they're located in Toronto (Canadian friends, I've heard your woes, this is for you).  Four Blocks South ships goods across North America and welcomes international orders as well.  See if they might have the pieces you need for your holiday entertaining this season right here.
This post is sponsored by Four Blocks South.
Other Posts You Might Like