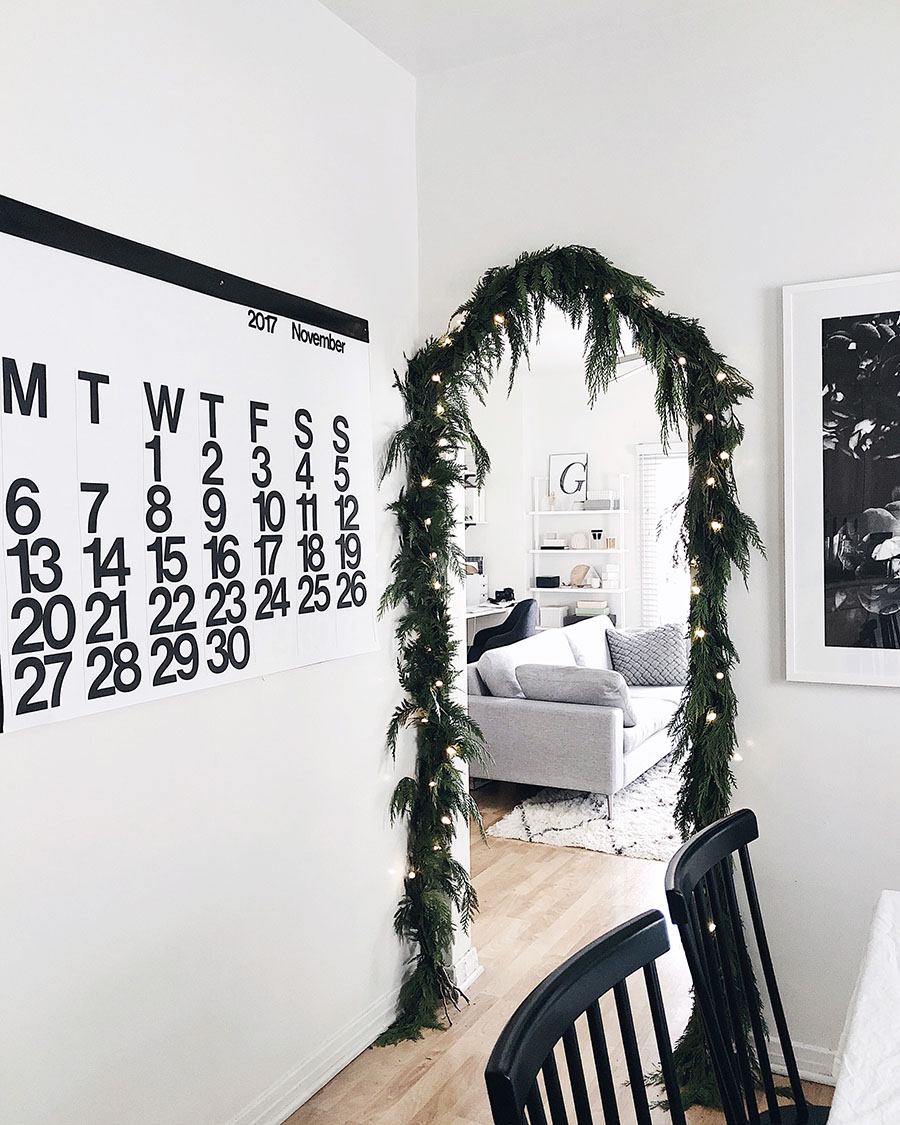 A few of my favorite things from the month of November, and October too!  Missed that month with all the wedding craziness, but bringing this back in time to maybe help with your holiday shopping/gifting, and to talk about some cool and fun stuff.
CEDAR GARLAND
That 15′ garland around my dining room doorway above is my most favorite detail of this season.  I got it for $20 at Home Depot.  Do you know how much time and how many broken fingers that $20 pre-made garland saves?  I hammered three 2″ nails into the wall about halfway in, one at each corner of our doorway (it's house shaped and I adore it more than ever because of this garland), then hung the garland on top of the nails.  I wrapped the garland with 2 strands of battery powered lights from Michaels so that I wouldn't have to deal with messy cords to plug in.  And now, I might say I love this more than our tree.  This is happening every year from now on!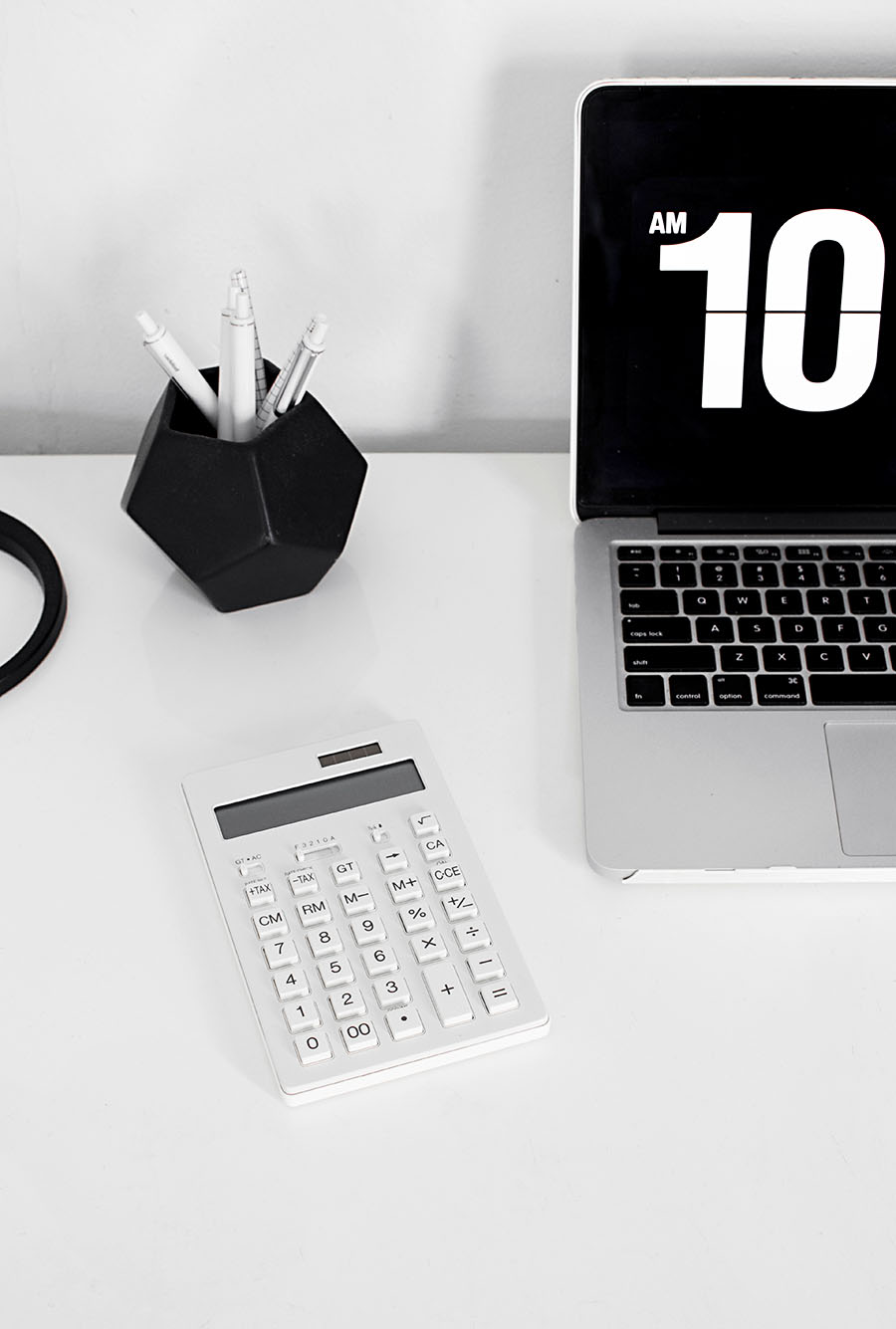 CALCULATOR
I do my own accounting and have general curiosity in trivial information that might require a quick calculation and like having a physical calculator nearby since it's faster than using my phone, and going to my phone for anything tends to open up a rabbit hole of doing other distracting things on my phone- I try to avoid it when possible.  The previous one I had had buttons that would sometimes jam or not even take.  This one is bigger, has a small fold out stand in the back, is easy to use, and gorgeous.  As my husband described it, "It's dope."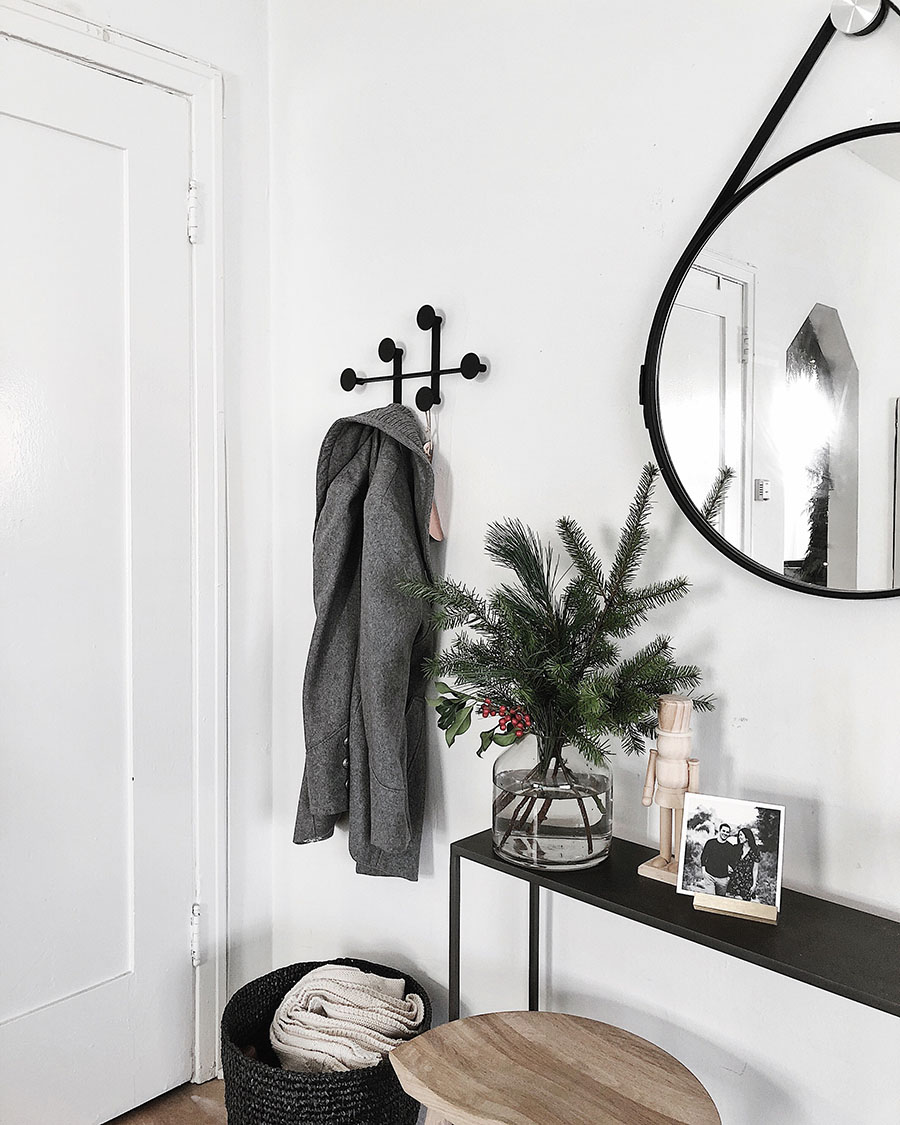 HEARTH & HAND COLLECTION
This is the first Target collection that I loved every single item from and made it difficult not to get it all.  Pretty much everything I got for holiday decor this season is Hearth & Hand.  Above is the small smoke glass jug vase, which is PERFECT for arranging trimmings like this, and the wood nutcracker which makes my minimalism loving heart happy.  Husband also called it "dope."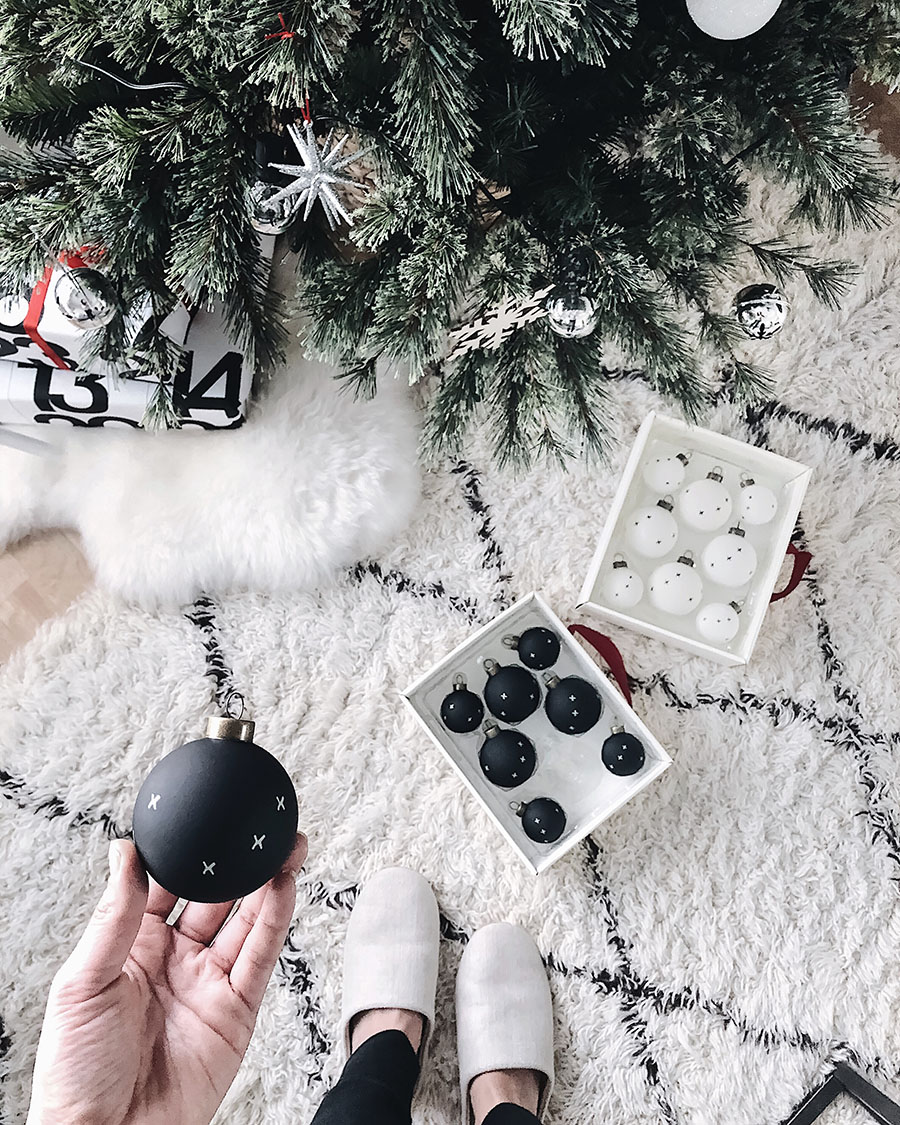 Also got these ornaments in black and white for the mini tree in our bedroom (coming soon ;)) and they are everything I've wanted ornaments to be.  Love that they come in two sizes in one pack.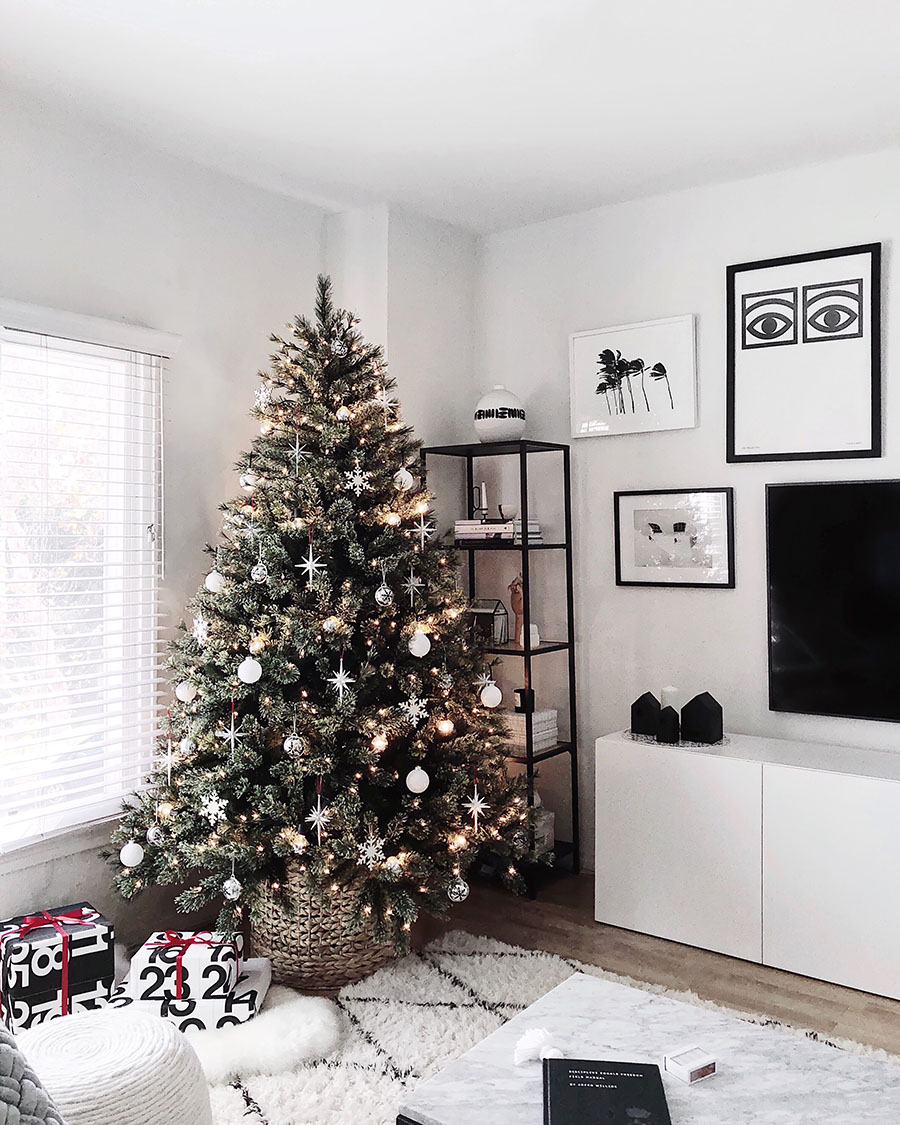 Also got the black nesting houses set which I feel like were made for our home, but really they'd look good in any home.
Ok I'm going to shout-out a few more items because they're SO good.
Stoneware Oval Serving Tray | Stoneware Salad Plates (been using the black ones almost daily) | Serving Spoon, Serving Fork, and Pie Server (used these for Thanksgiving they were perfect!) | Colander | Measuring Cup Set | Measuring Spoon Set | Striped Napkins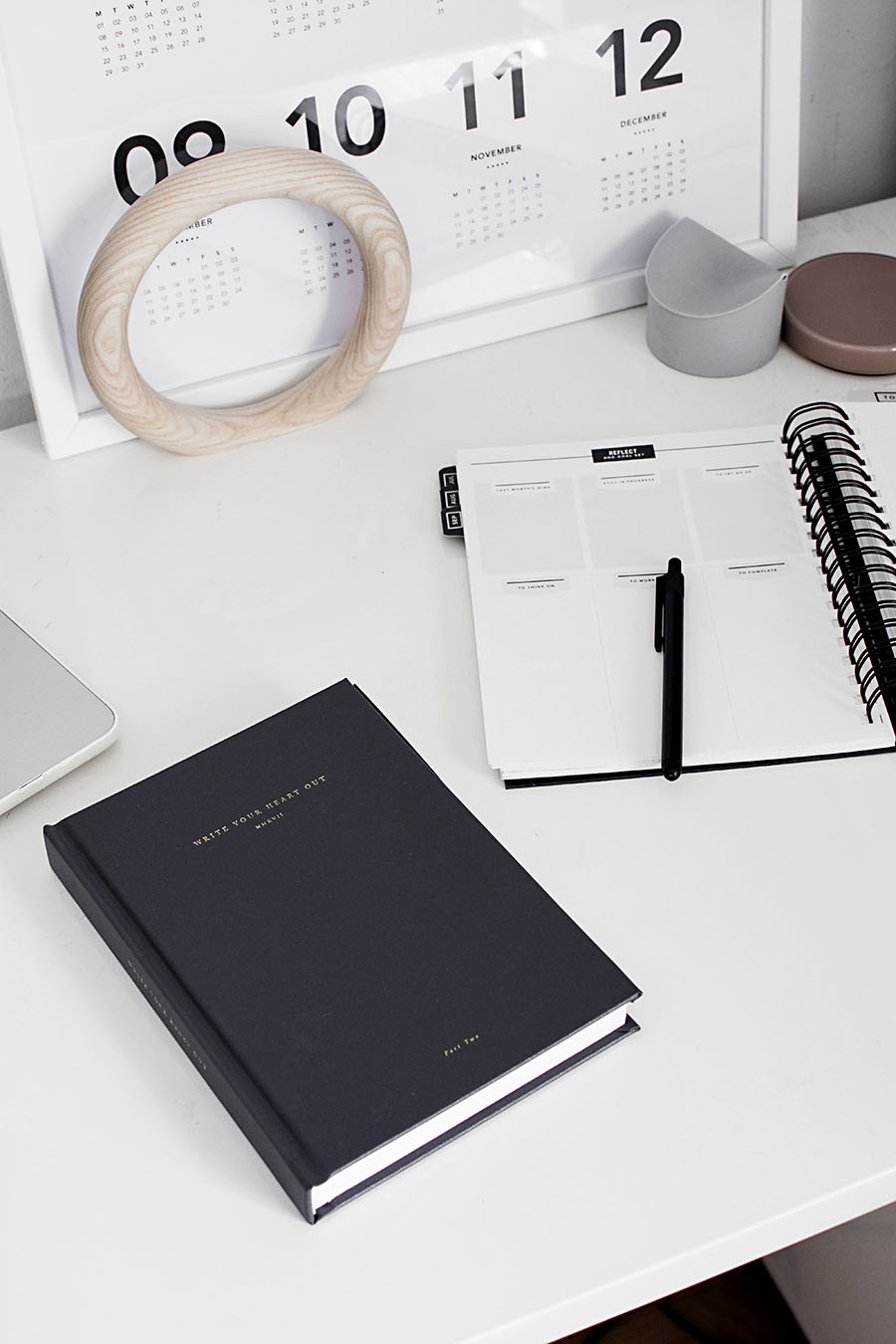 WRITE YOUR HEART OUT JOURNAL
Soult Journals sent me their flagship "Write Your Heart Out" journal and it's become one of my favorite daily activities.  Each page has a simple writing prompt and plenty of space for you to write and reflect.  It's undated so you can write in it whenever you want.  For me it aligns really well with my goal to practice daily gratitude, and to exercise my writing more in ways that I wouldn't do on my own.  I've loved it for challenging my writing and being a cathartic way to take time for myself.
It's not cheap, but it's incredibly well made and would make an amazingly unique gift, something to treasure and hold on to for years and even pass down.  I imagine one day having my kids read this, maybe laughing at me ha, but perhaps giving them a good and interesting idea of where I've been and who I am.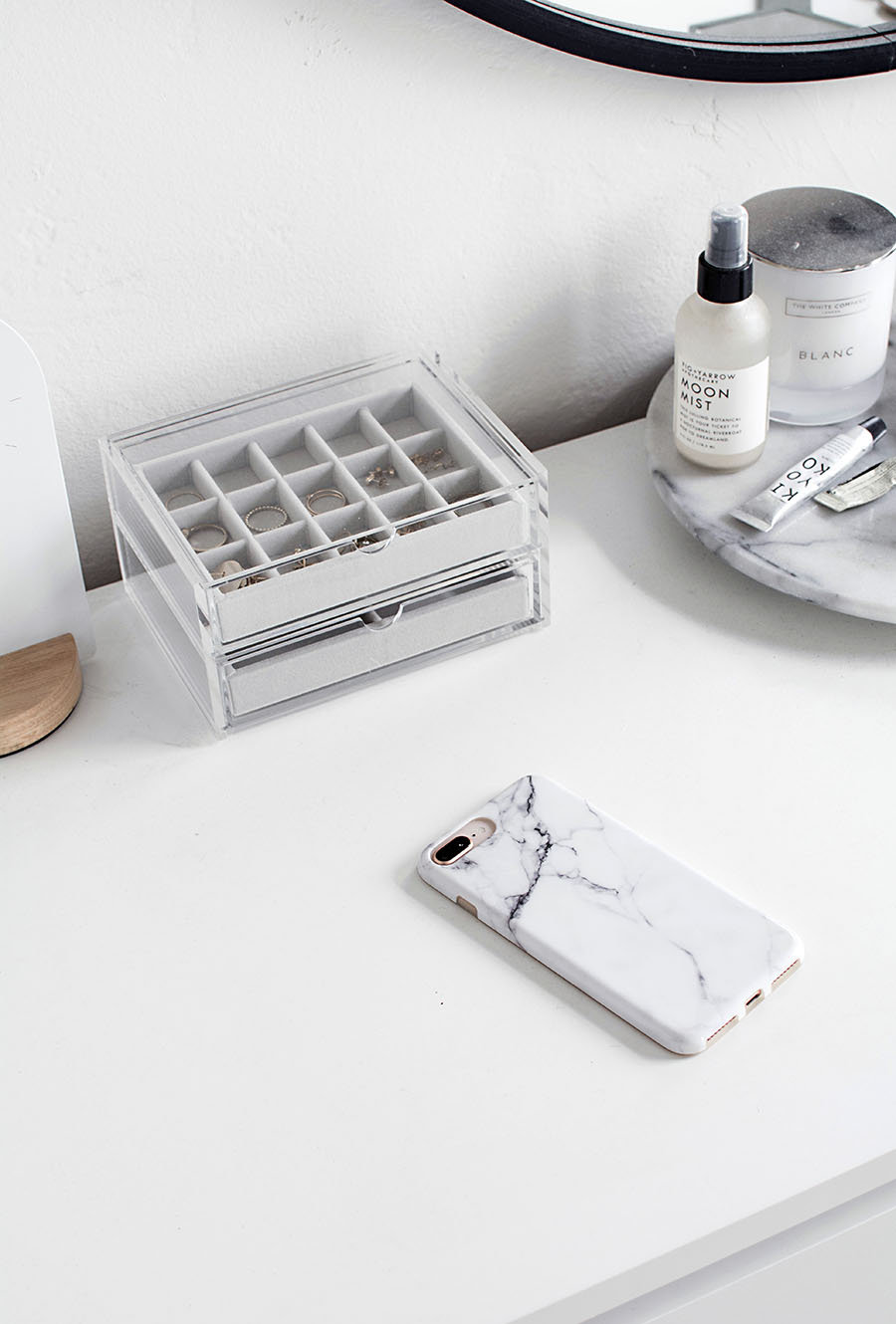 MARBLE PHONE CASE
Needed a new case for my bigger iPhone and wanted to do marble again since I loved my last marble case so much.  This one protects the phone really, really well.  The side buttons are covered but still easy to press, and there's a lip around the edge on the front to protect the screen if it's dropped on a flat surface (VERY important and necessary feature!)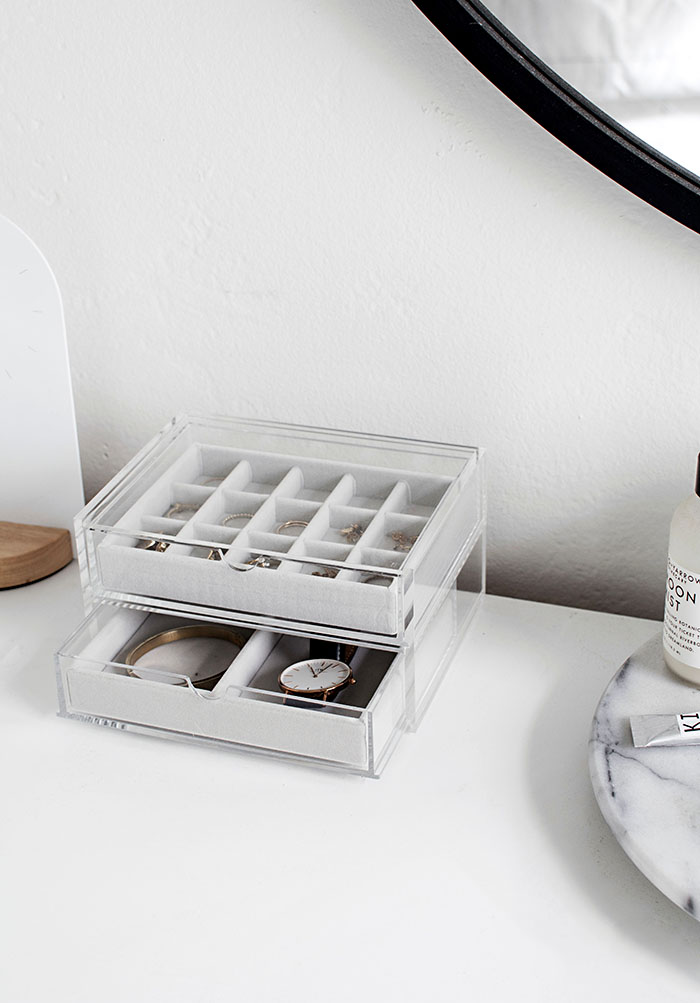 JEWELRY BOX
I've stored my everyday jewelry in little dishes and trays on my dresser and nightstand but craved something with a little more organization.  Found this acrylic box and added in the velour grid tray and accessories tray.  I love that I can see everything on top from the outside, and for how beautiful it looks on our dresser.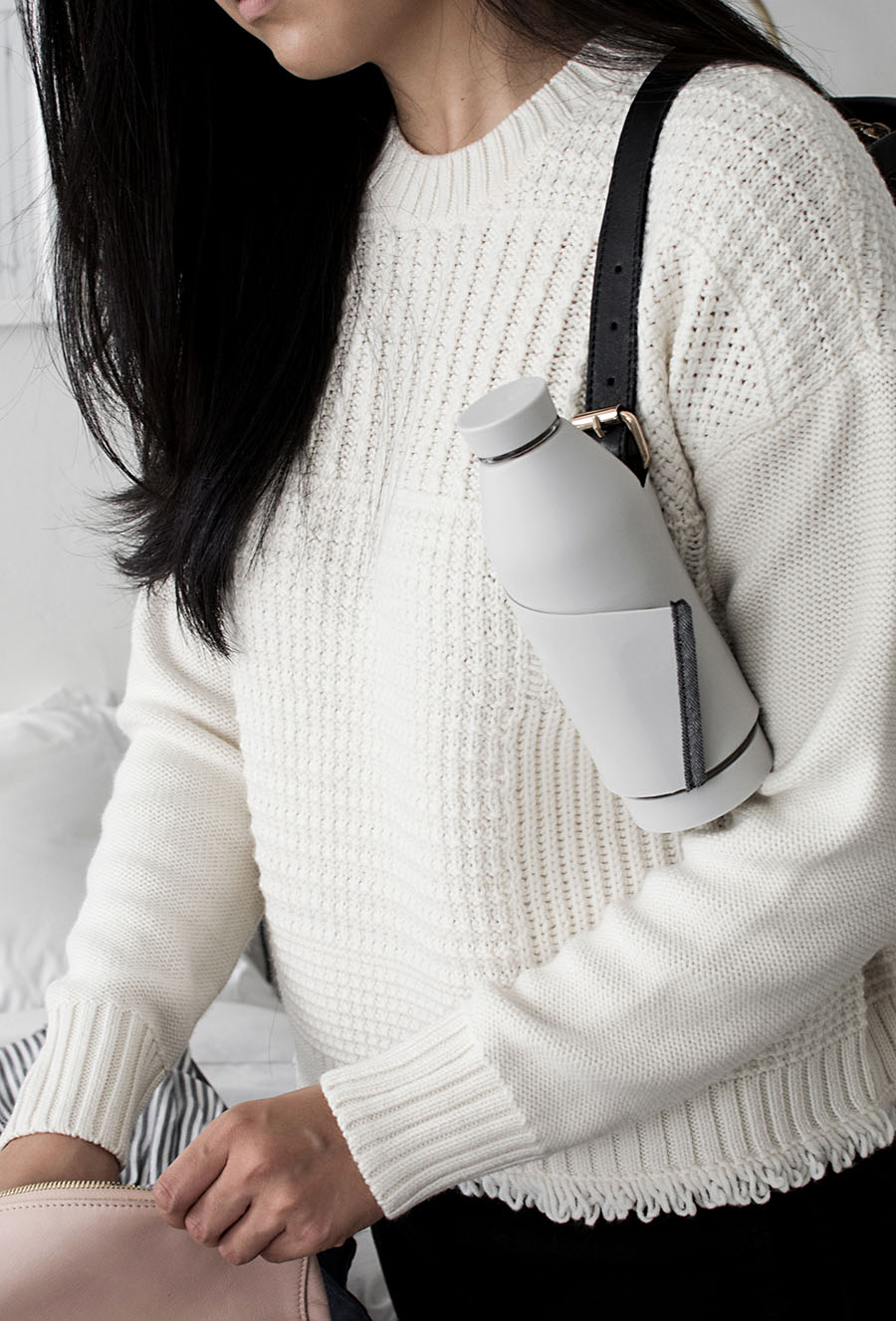 SWEATER
I've been living in this sweater.   The patchwork detail is so unique as is the fringe trim at the bottom. It's warm, comfortable, and one of the more flattering "bulky" sweaters I've ever had.  I brought it with me on last month's very cold Euro trip and was sweating in it, granted I was briskly walking everywhere but the point is, it works.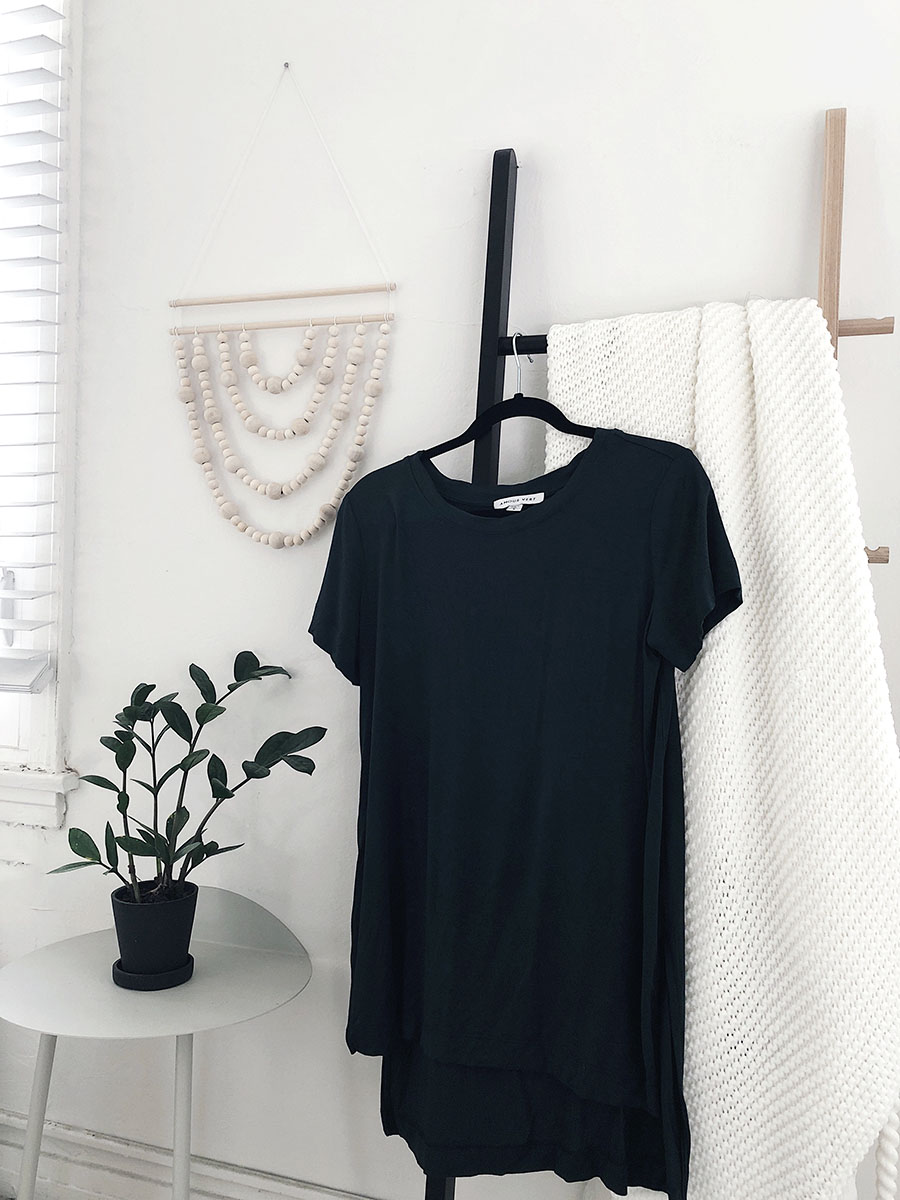 THE PERFECT T-SHIRT
It took me a long time to see that if you invest in anything in your wardrobe, it should be the basics, the things you wear and love the most.  I've been living in this T as well and love it for the comfortable and heavier weight fabric, the high-low bottom, and amazing deep green color that I can't get enough of lately.  I can't get enough of this brand in general.  I love the simple elegance of their designs and it's currently my favorite place to shop.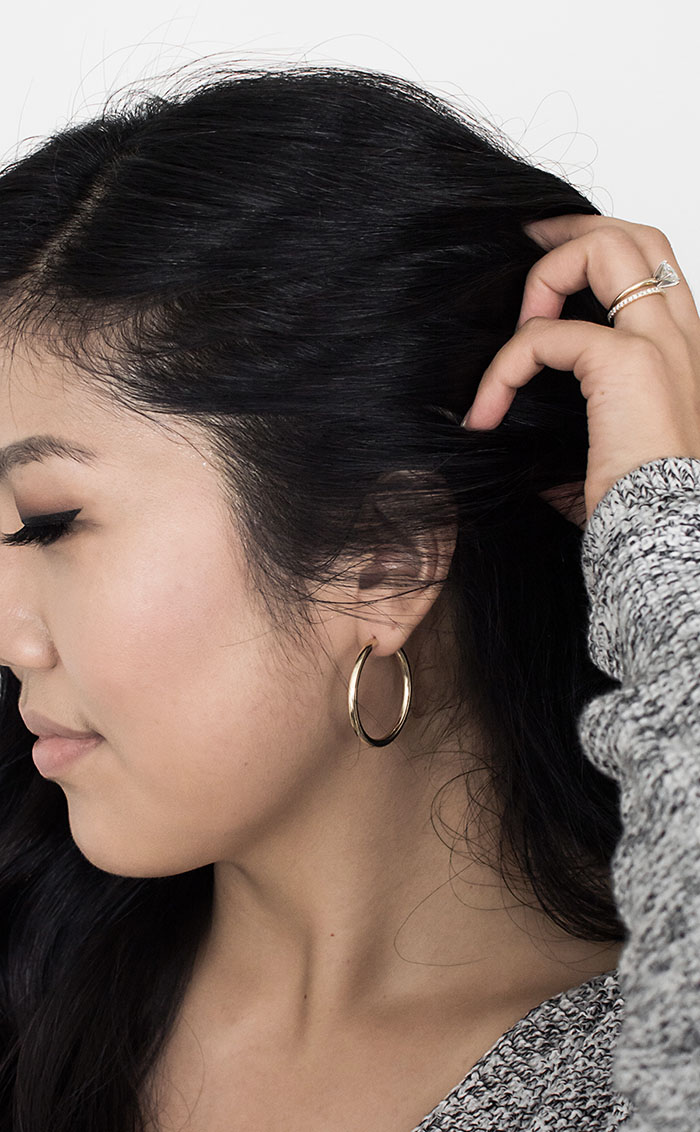 CHUNKY GOLD HOOPS
I love costume jewelry, but I'm finding that it has less and less use and space in my life.  It is more worth it to me to get daily wear items that can be dressed up or down, in real metals and timeless styles that will last.  These gold hoops are what I've been wearing everyday and have the perfect amount of chunk to be a bit unique but small enough in diameter to still be dainty.  I will love these FOREVER.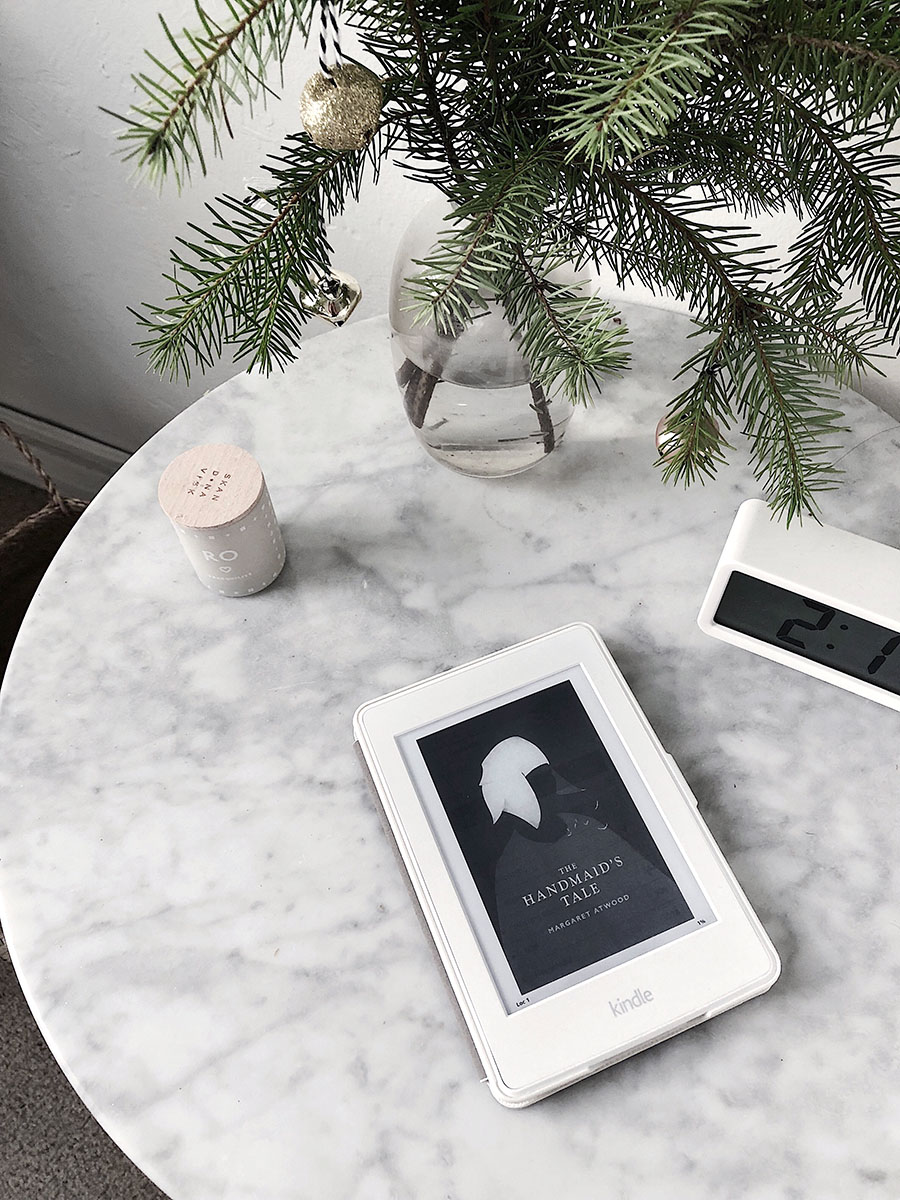 KINDLE
I once preached that real paper books are way better than e-readers and I will never get one.  Well I caved, and here's why.  1) We're running out of room in our book cabinet and don't have space to support the reading habit we want to keep growing.  2) I was reading a book that was over a thousand pages long, brought it with me when I was traveling, and concluded how it was so not worth carrying around that weight nor giving up the amount of space that it took.  3) The feature that allows me to tap on words I don't know and get the definition of them instantly is really, really nice.  This Kindle is both encouraging my reading habit and helping out with our small space issues at home.  10/10.
THE HANDMAID'S TALE
My latest read, and a good one, which I cannot say for the previous two books that I attempted and couldn't get into after 100 pages in (is the 100 page benchmark pretty reliable?  I think a book should grab me sooner than 100 pages in…).  It's a dystopian novel about a totalitarian society combatting low birth rates by assigning handmaids to bear children for elite couples who are unable to themselves.  I found it interesting, loved the writing, and crushed right through it.  I was motivated to read it not only because O recommended it, but also because I wanted to read before I watch the TV show.  That's next.
INSTAGRAM ACCOUNT
The funnest account I've come across in a long time is neontalk.  The account posts images and videos of products, ads, music, and fashion from the 80's/early 90's and it's so entertaining to see how far we've come in technology and what was once pop culture.  My particular favorites have been the ones teaching about how to use computers or the internet, and Costanza's McDonald's commercial, and really any of the videos posted.
Other Posts You Might Like