Disclaimer: we actually can live without these things, but the title makes it all sound funner.  This is dedicated to the unsung heroes in our home, the little things that make the day-to-day easier and aren't regularly talked about or get any time in the spotlight, until today.  I easily could have shared more, but here are the first five functionally important items that came to mind.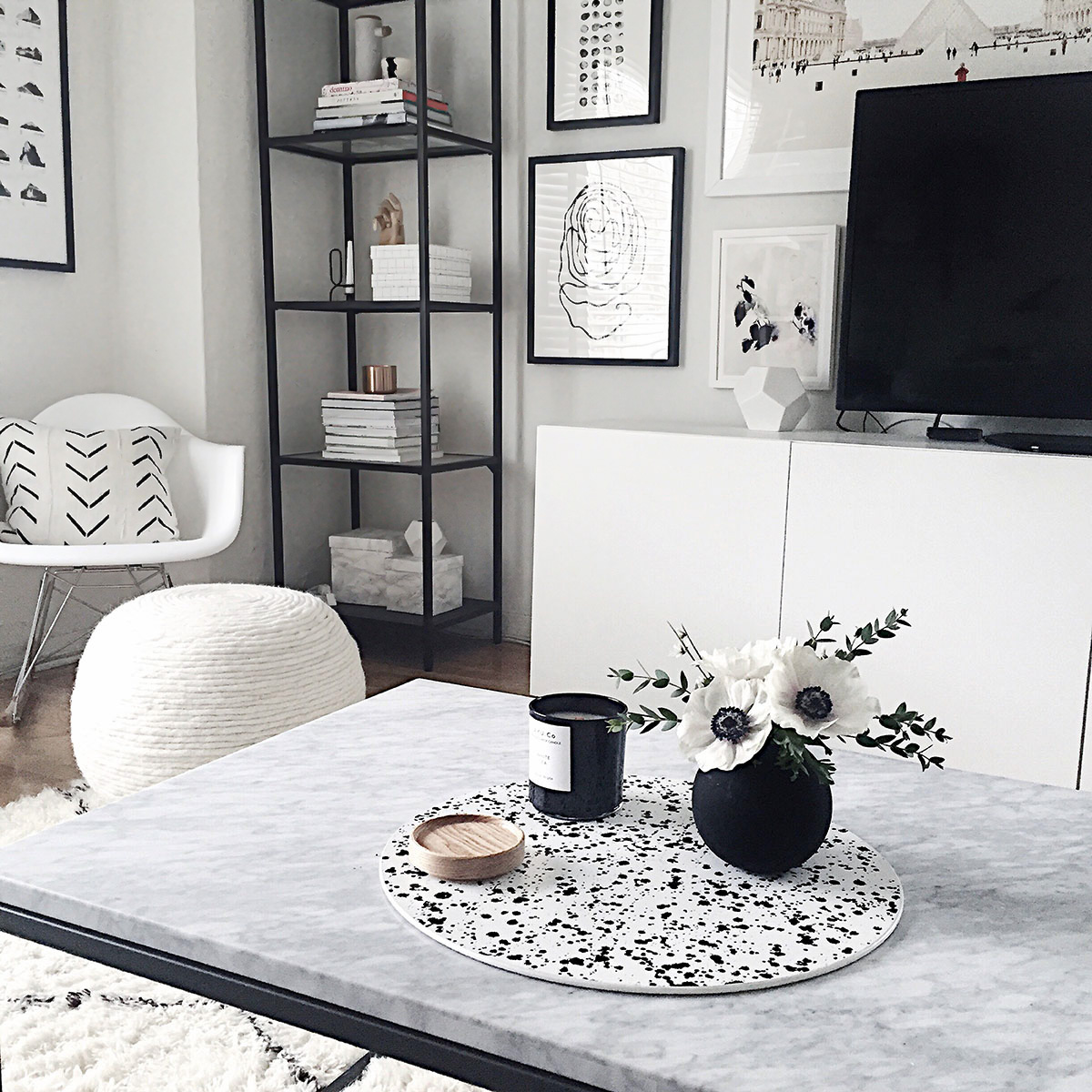 TABLE COASTER
It's technically called a placemat, but I came across it at a local shop and dubbed it a table coaster at first sight because that's just what I needed it for.  While I love our marble coffee table, it's a bit stressful to maintain because any spill or moisture will stain it.  I still should clean it and get it sealed (or care less that this is just what happens with marble) but so far this table coaster has been a really convenient addition.  I'll either use it as a communal landing pad for cups instead of spreading out individual coasters or use it to corral other objects on the table.  We also eat here frequently as we shouldn't and use the coaster all the time for bowls and glasses when we're not holding them in our laps.  It's only a matter of time before we have a big spill ha, but cheers to a table coaster encouraging us to enjoy our intimate comfy dinners here while we can.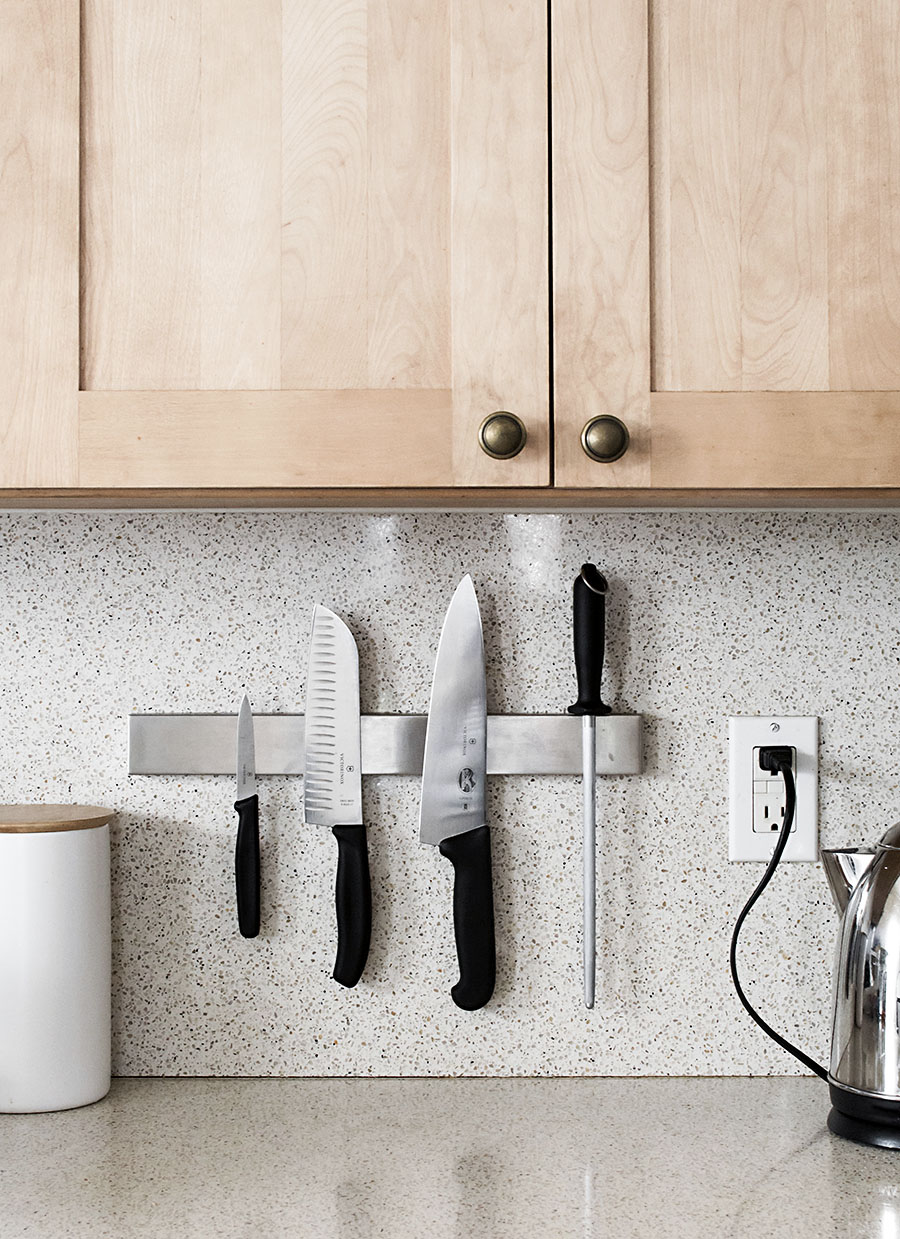 MAGNETIC KNIFE BAR + KNIVES (let's consider this all as one item)
We moved into this apartment together with each of our own poor quality sets of knives in knife blocks that we inherited from old roommates.  These posed two main issues: 1) they were completely dull and at the point of no return, rusted over with the handles falling apart and 2) the knife blocks took up a lot of our very limited counter space.  We tossed them, invested in a few good knives to last us for years to come, and keep them hanging up on this magnetic knife bar.  I'm not being dramatic- it was life changing.  Cutting tomatoes or chicken was no longer an ordeal, and the freed up counter space + ease of putting knives away helped everything in the kitchen run more smoothly.  MAJOR.  The plus with this knife bar is that we could attach it to the backsplash with non-damaging adhesives, which is our only option as renters since we can't drill holes through that stone.
We discovered that we only really need three knives- a paring knife, santoku knife, and chef's knife. We got this sharpening steel for regular knife honing, but we also take the knives to our knife guy for sharpening when needed.  The first knife we took in was the chef's knife and he raved so much on the quality/value of it that O is convinced on being loyal to Victorinox knives forever.  I don't know much about all the different knives out there, but so far these have been awesome.  Thinking if we do add another one, it'll be a boning knife.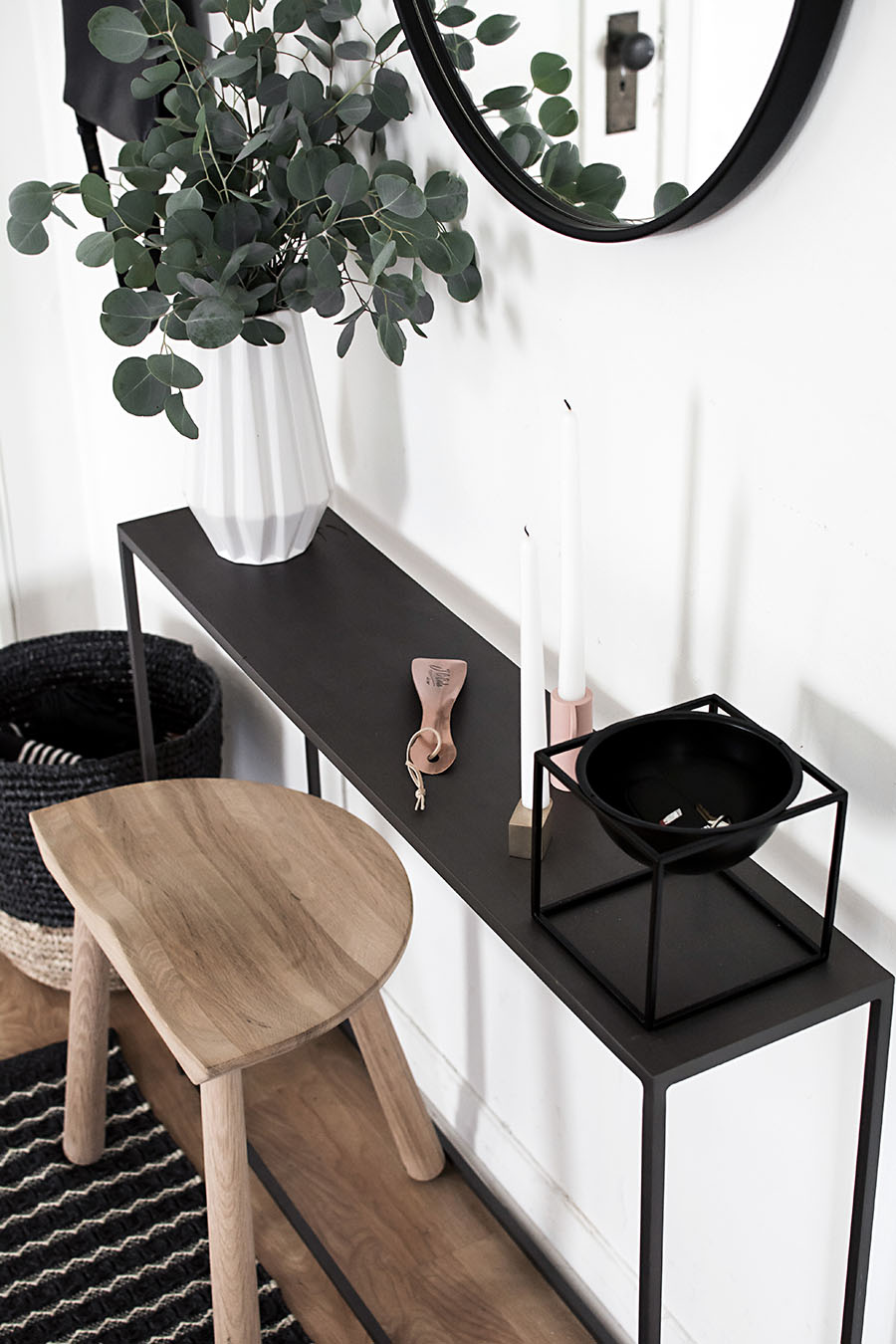 SHOE HORN
Do you use a shoe horn??  It's the smallest detail that makes a big impact on getting the day started on the right foot, sort of literally too.  Never again will I smash my fingers while trying to keep the backs of my shoes from getting squashed down by my heels as I try to put them on in frustration.  And now that we have a stool at our entryway, it's all one functional flow as I sit down, reach for the shoe horn and slide my shoes on in complete comfort.  I'm considering getting a second one because O takes this one with him when he travels for work and it is sorely missed every time.  PS. I tied suede lace around the end so that we can hang it from the coat rack, too.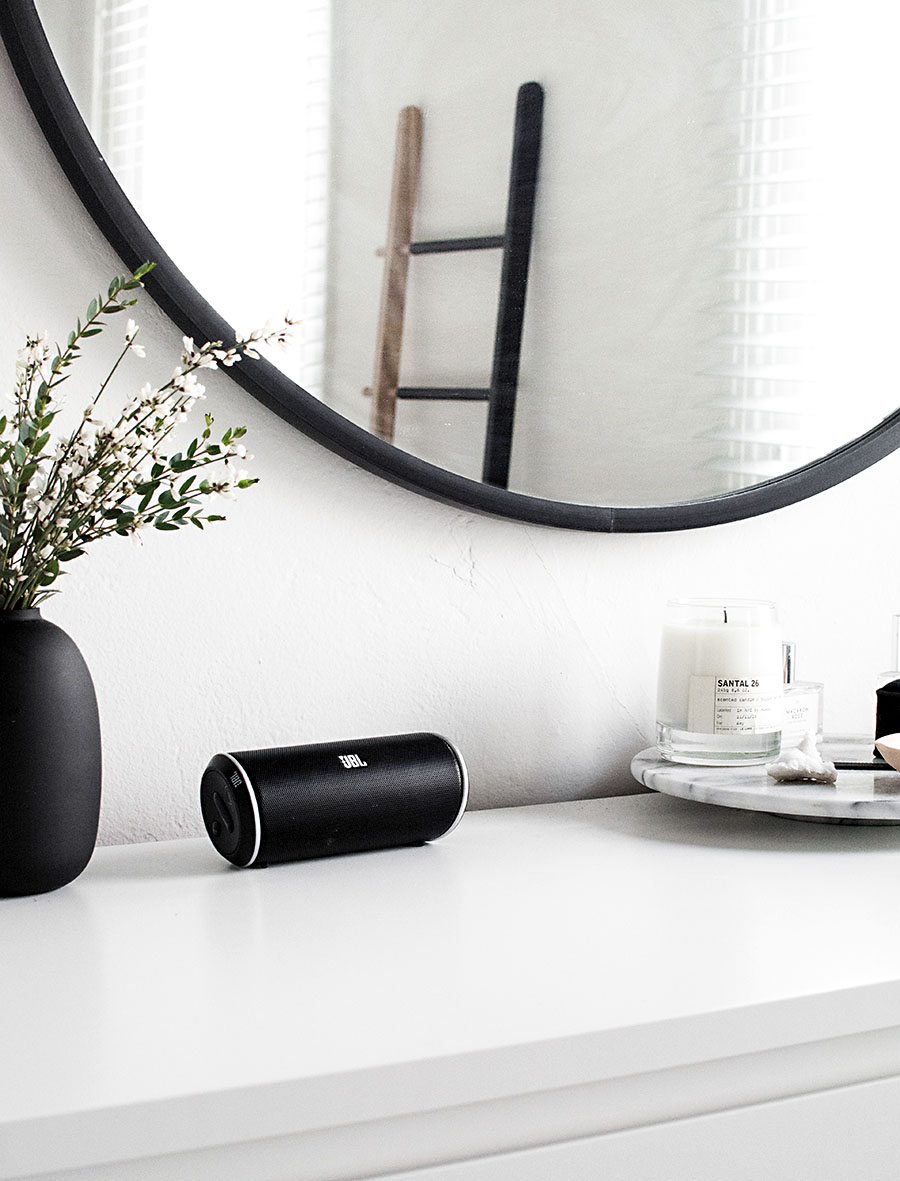 WIRELESS BLUETOOTH SPEAKER
We use this compact and very convenient speaker EVERY day we're at home, syncing our phones or laptops to play music and podcasts on it mainly in the kitchen while we cook dinner.  A lot of times we'll take it into the bedroom when we're folding laundry for days or if I'm doing work in there.  Being able to move it around cord-free and get really good sound out of it simply makes home more enjoyable, especially while we're doing chores.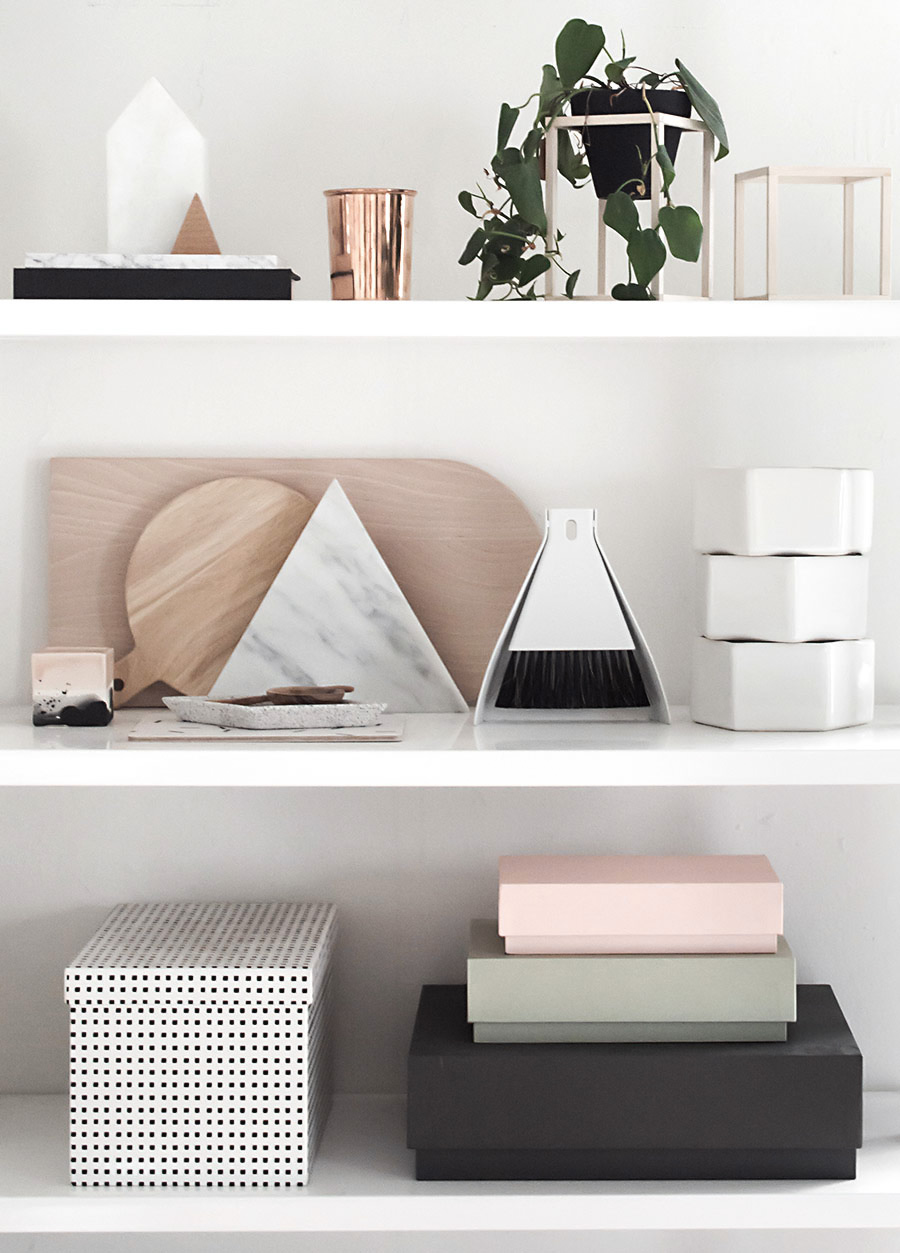 MINI DUSTPAN
Tiny messes happen more on a daily basis than big ones, where lugging over a broom or larger dustpan feels like overkill and simply makes me feel lazy about it.  I reach for this mini dustpan so often for the crumbs, fall-out from flowers, dust bunnies, small craft scraps, dropped pine needles from our mini Christmas tree back in December, all those kinds of small jobs.  It's the perfect size and I appreciate that it can stand upright on its own or has the option of being hung up.  Another important detail is that the dustpan is thinner at the front edge which makes it much easier to sweep things in- not all cute dustpans do this!
Got any of the same favs?  Care to share what you can't (though actually can) live without in your home?
Other Posts You Might Like