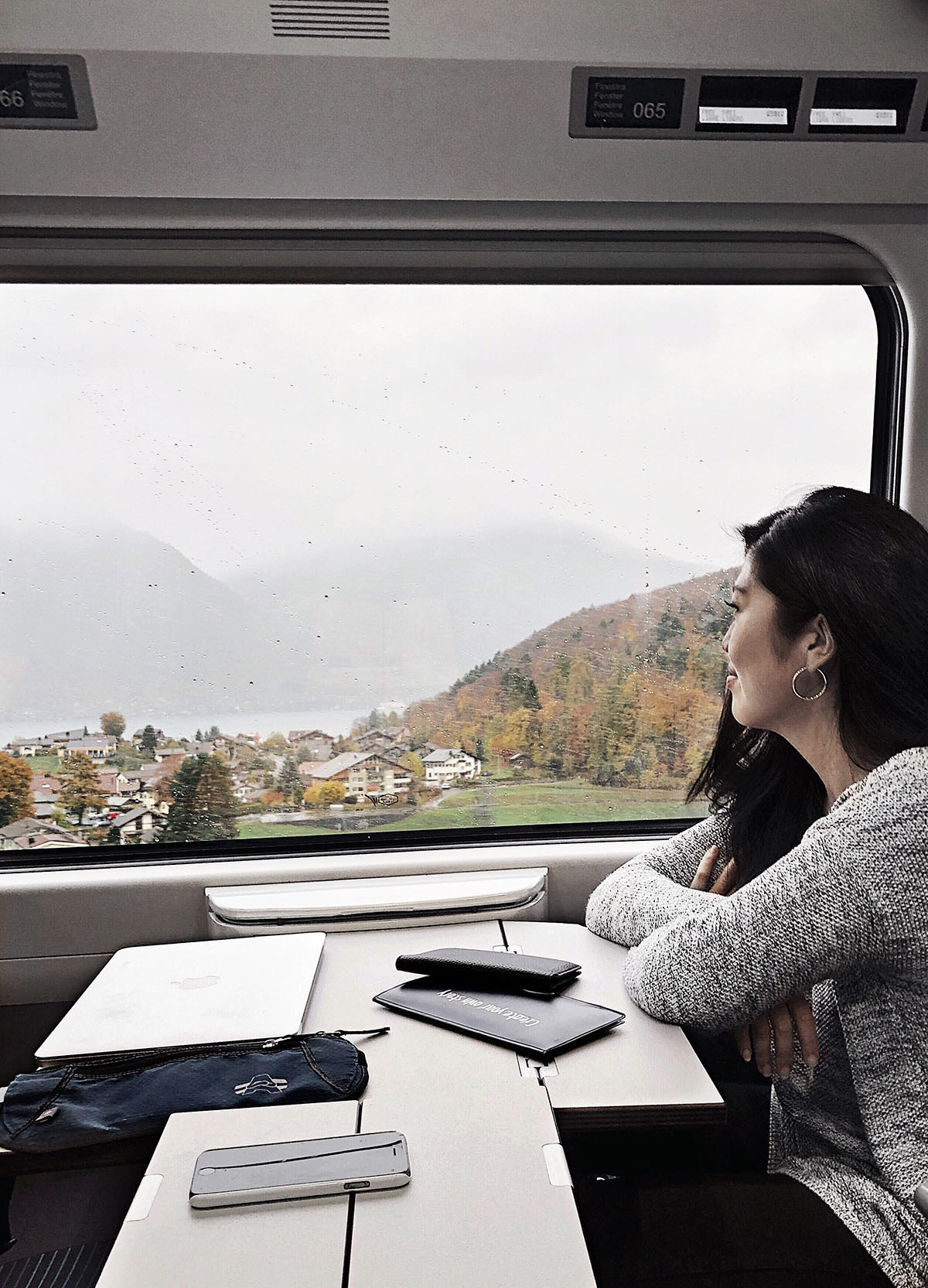 I've never seriously considered traveling by train.  Life in LA has practically made good public transit a foreign concept to me and the thought of using it gives me anxiety simply because I don't know much about it.  I have however, heard from friends singing praises about taking the train to visit multiple cities in Europe, to make the most of those plane tickets and cross off several bucket list destinations in one airfare.  Sounds very enticing, but I'd stop there thinking that taking the train is probably confusing and not worth the hassle.
Had it not been for Eurail partnering with me to explore Europe by train, I wouldn't have found that it's not only simple and convenient, but very beautiful to take in the scenery along the way and I'm convinced it's the best way to discover Europe and cover the most ground while you're there.  Here's how I used the Eurail Pass to visit Rome, Milan, Bern, and Paris, plus the itinerary I followed to inspire your own European travels.
Eurail Passes are train tickets you can use to go to a certain amount of countries during a specified time frame.  There are different types of passes depending on these factors.  I had a Select Pass that allowed me to visit three countries: Italy, Switzerland, and France, and I did it in only 6 days!  With the pass is a Travel Calendar and Travel Diary that must be filled out to keep track of travel days (days you ride the train), and as long as you stick within using the allotted travel days within the time period, you can plan and go on an adventure like this one.
First STOP: Rome
We flew into FCO airport and after taking the train to Roma Termini, a transit stop near the city center to drop off our stuff at a nearby hotel, we spent about a day on foot squeezing in as many of Rome's attractions as we could.  The architecture here is breathtaking and even though we ran into a lot of rain, we were able to visit most of the spots we wanted to see.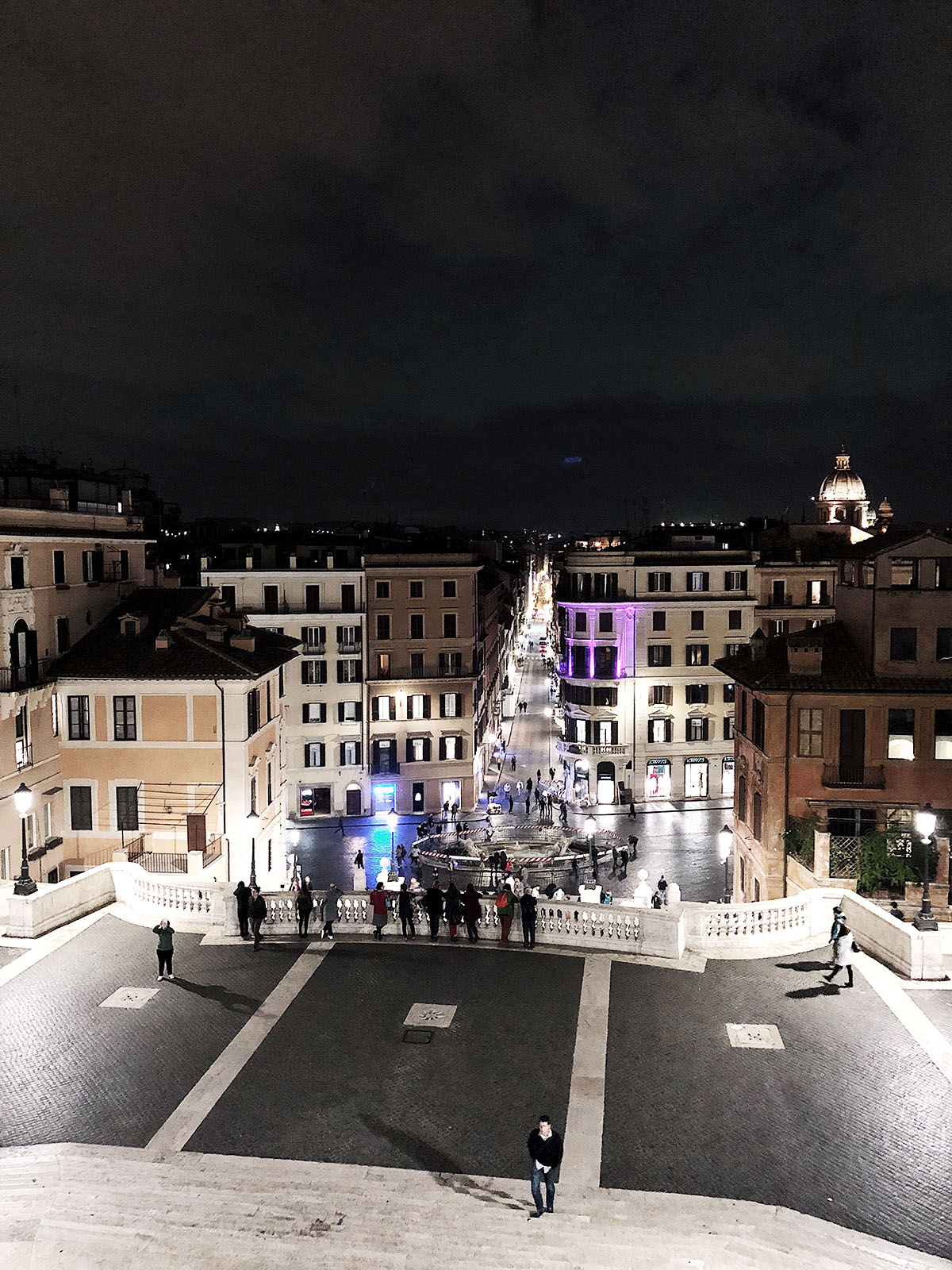 FAVORITE SPOTS IN ROME:
Trastevere– A very cute and lively neighborhood with lots of restaurants and shops.
Grazia & Graziella– Located in Trastevere, our first and best meal in Rome.  Delicious pizza and pasta, the fried artichoke was amazing, and free prosecco while you wait in line (only had to wait 10 min.)
Gelateria del Teatro- Loved the almond gelato here.
Spanish Steps– A set of steps leading up to the Trinità dei Monti church at the top.  Beautiful hangout spot at night to people watch.
Colosseum–  Friends warned that it's too touristy and maybe not worth the visit, but it was my most favorite stop and I'm so glad I didn't miss it.  We went early in the morning when the light was beautiful and hardly anyone else was there.  It was stunning, much larger than I had imagined, and should not be missed!
Trevi Fountain– The most gorgeous fountain.  Learned too late after we left that all the coins in and around it are from a ritual legend that throwing a coin into the water ensures a return visit to Rome.
From Rome, we used our Eurail Passes to ride the train from Roma Termini to Milano Centrale Railway Station.  A great thing about traveling by train is that it can drop you off at stations near city centers, which makes the rest of getting around the city that much easier.  We did all of our sightseeing by foot, bus, or rideshare.
SECOND STOP: MILAN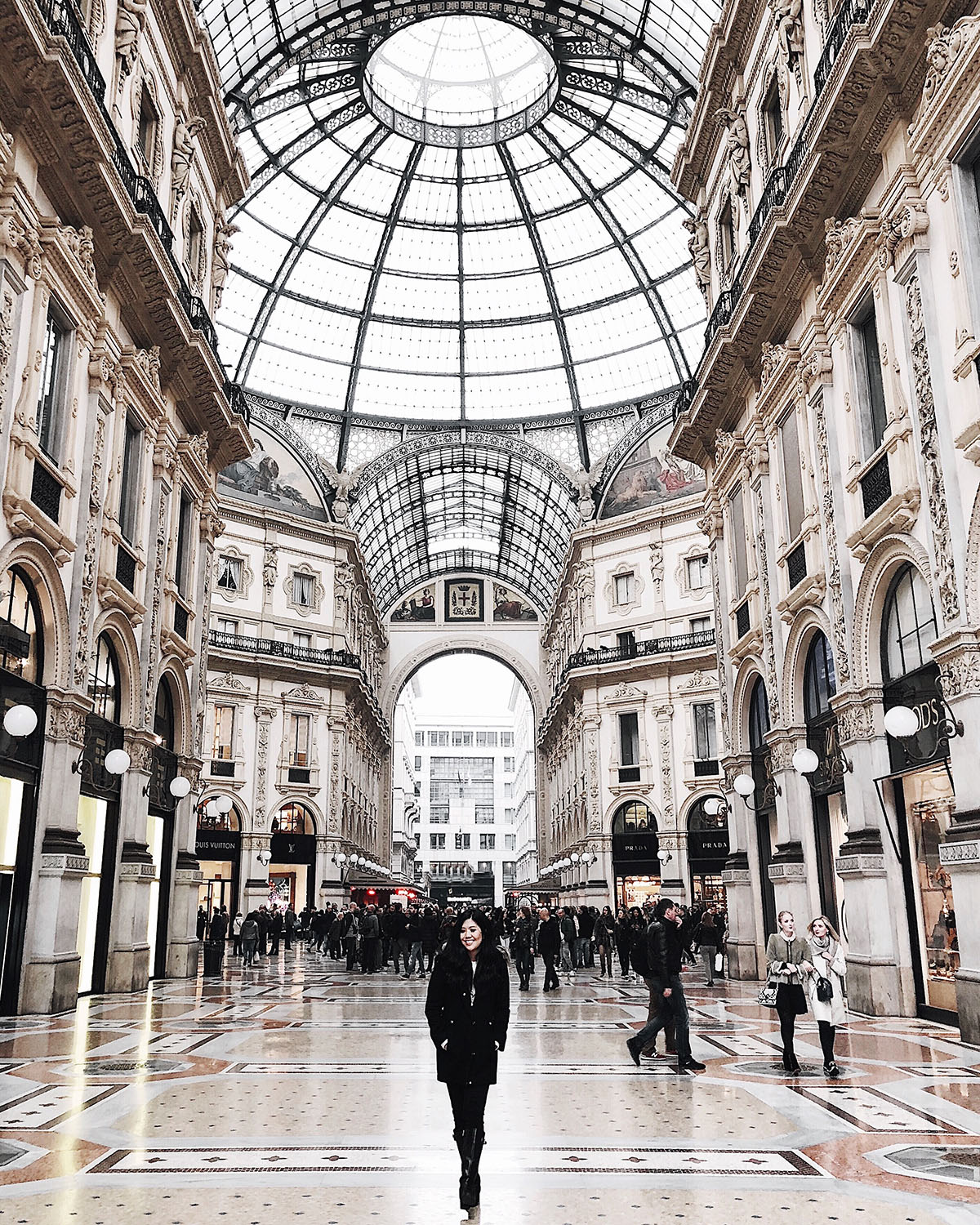 Milan was my favorite city in this adventure.  I sensed it the moment I got there that everything is beautiful, stylish, and the city is alive.  I also learned the way of having an aperitif (alcoholic drink served before a meal to stimulate appetite), a common one being Spritz which would become a regular drink order of mine for the rest of the trip.  The food was amazing, the people were friendly, and once again the architecture was remarkable.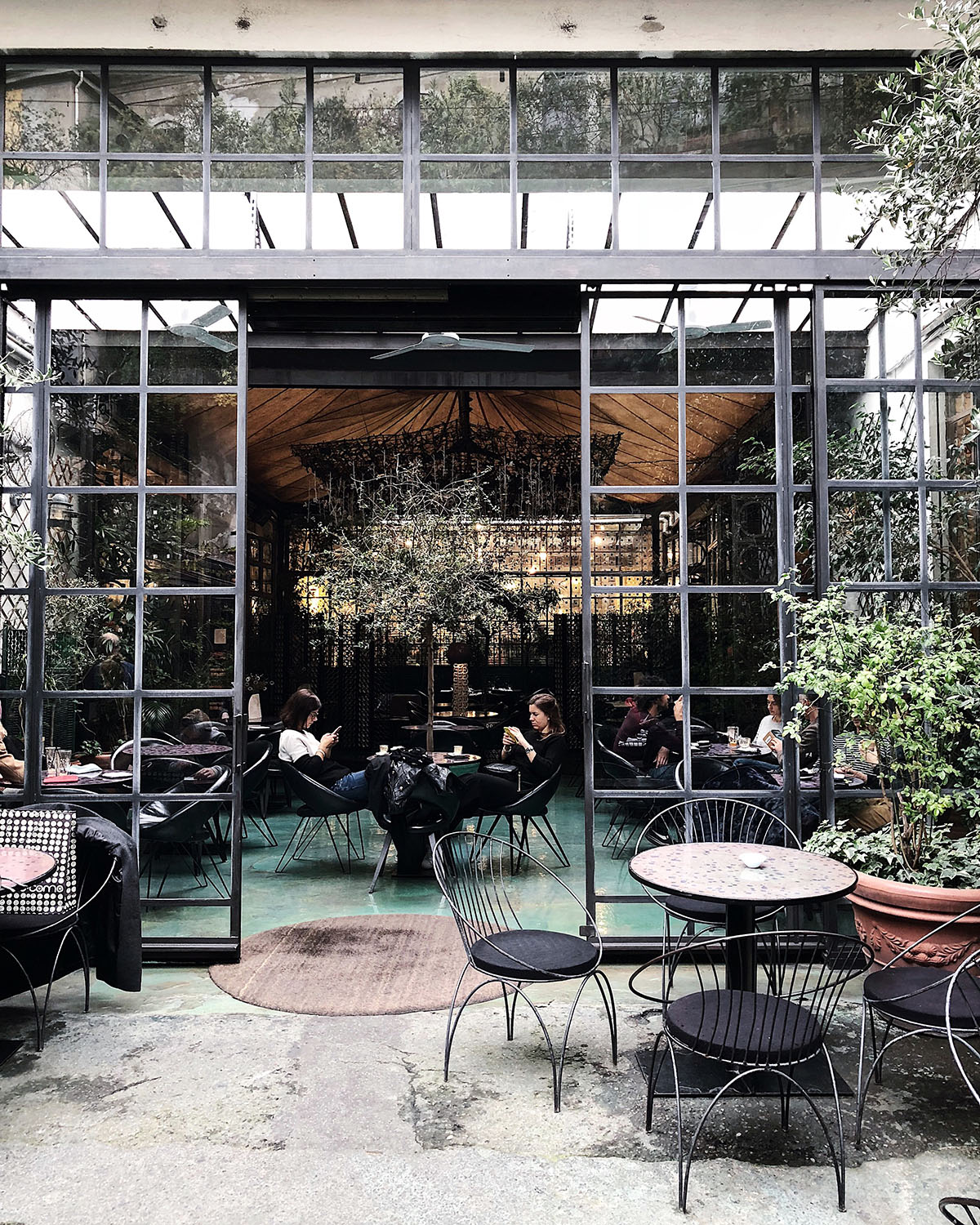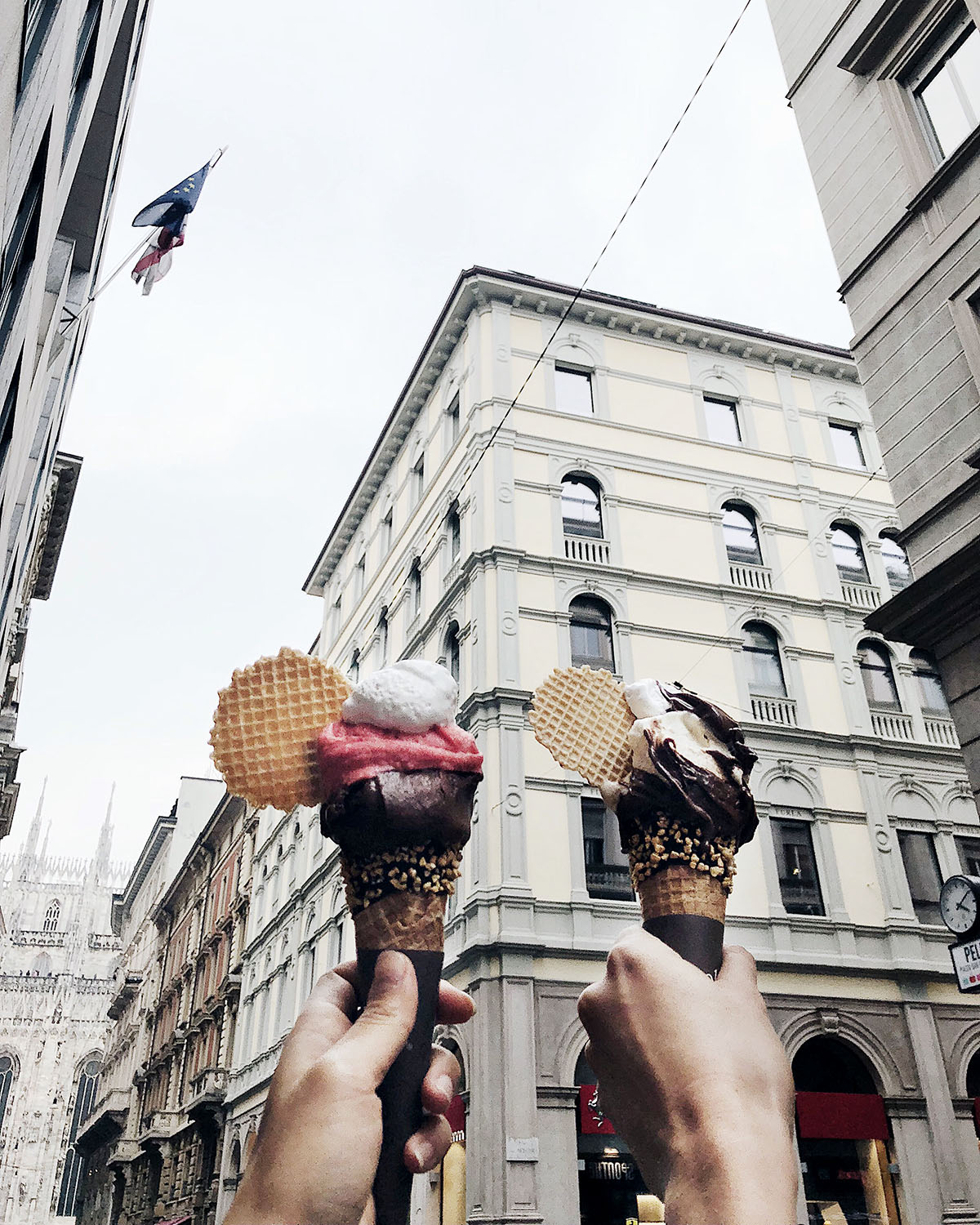 FAVORITE SPOTS IN MILAN:
Navigli– Cute neighborhood with shops and restaurants along a canal.  Loved it so much that we came here twice.
Posto di Conversazion– Italian restaurant located in Navigli.  The pumpkin ravioli had grapes and biscotti on it which I never would've guessed would be good and it was one of the best things we ate on this trip.
10 Corso Como– Great place to get coffee that's so pretty and quiet that it feels like an escape.
Galleria Vittorio Emanuele II– The world's oldest shopping mall and probably the most beautiful.  I gasped so loud at first sight when we pulled up that our driver laughed at me and asked if it was my first time here.  I shouted YES.
Duomo di Milano– The architecture of this gothic cathedral gave me chills.  Cannot miss this one.
Cioccolatitaliani– The best gelato I've ever had.  The meringue on top takes it to another level.
Mag Cafe– A bar serving very creative and beautiful cocktails.  They also bring you complimentary plates of meat, cheese, and crackers for as long as you stay there.  I loved this spot the most.
Next on our Eurail adventure was Bern and we arrived at Bern Train Station.  This train ride was the most beautiful.  I had kept my laptop on me with plans to work while I was on the train, but that didn't happen because everything outside of the window was grabbing my attention.  Looking out the window on the train and seeing all that was in between our destinations ended being a big and wonderful part of this trip.
THIRD STOP: BERN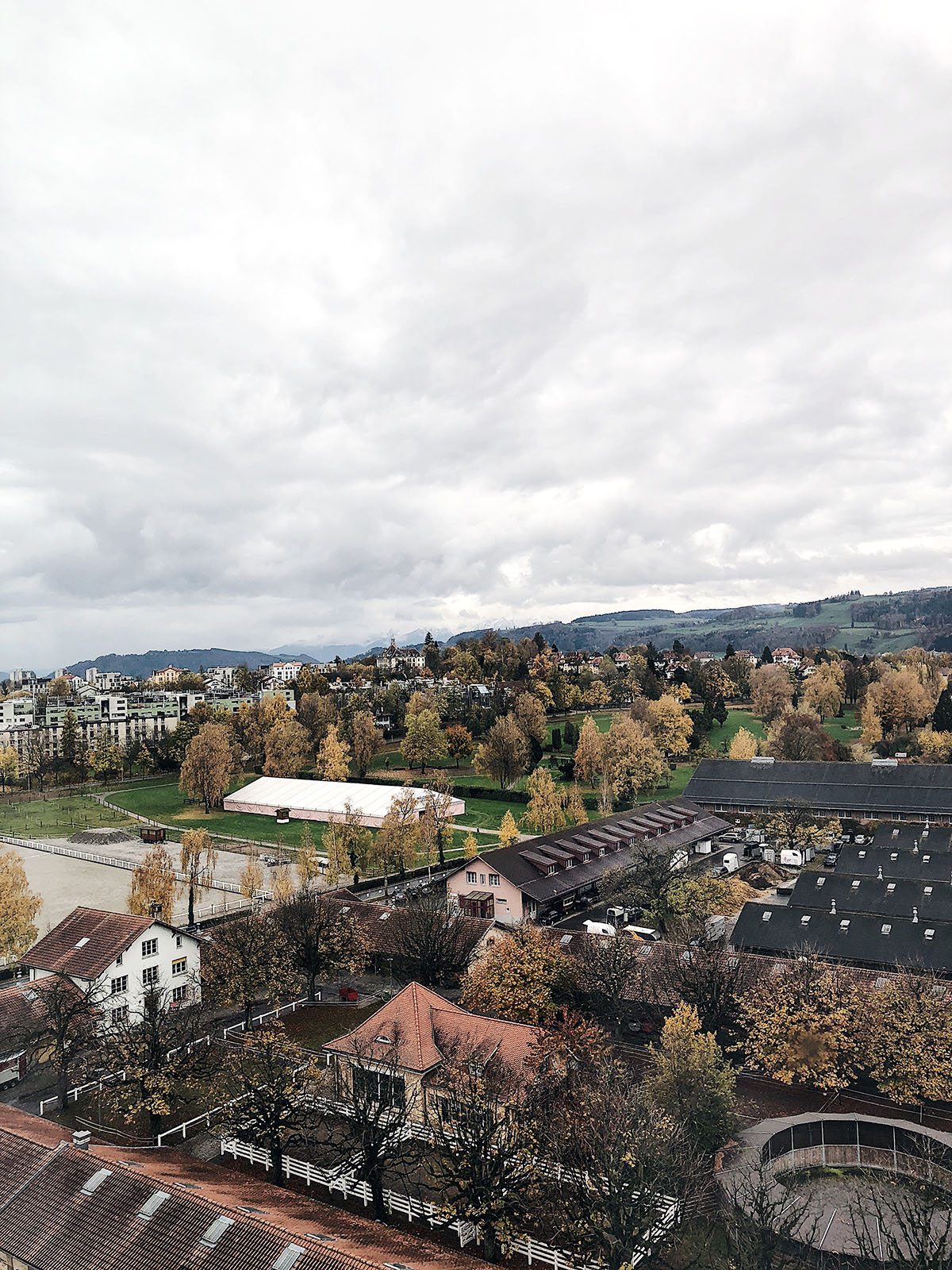 Even though I've only been here once, I'm pretty sure fall is the best time to visit Switzerland.  The colors here made everything feel like a painting and it was undoubtedly one of the most beautiful places I've ever visited.  Bern is quiet, immaculate, and the public transit is flawless.  If you have hotel reservations, you get to ride public transport for free, though we were mostly able to get around by foot since the city is small and very walkable.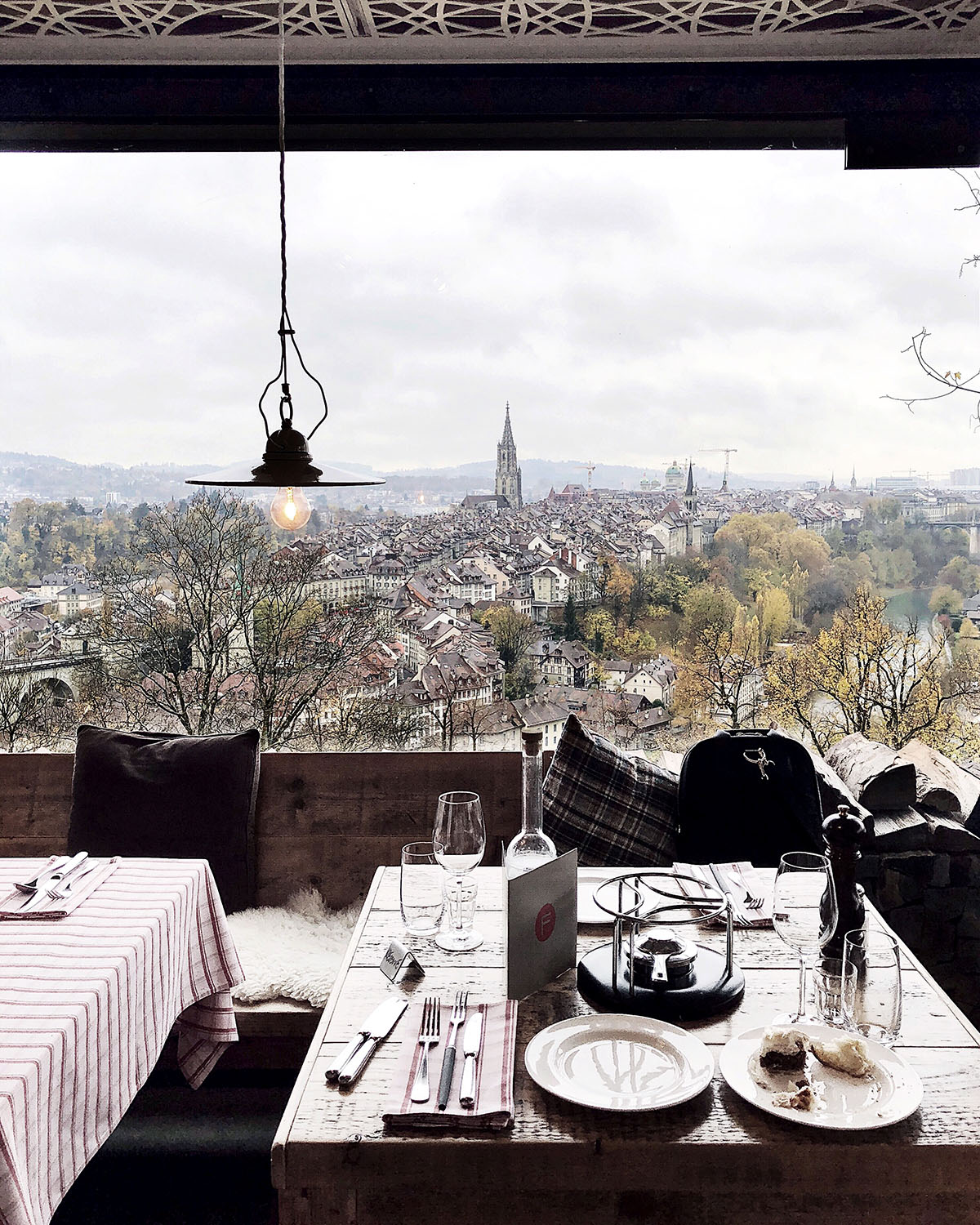 FAVORITE SPOTS IN BERN:
Brasserie Barengraben– Great Swiss food.  Loved the veal sausage, and the potatoes that the waiter urged me to get were the best part.
Nydeggbrucke– Pretty views from this bridge and a good spot to look at the bears in the bear pit (there's a bear pit!)
Bundeshaus– Every night at 7PM and 8:30PM a free light and sound show plays on the outside of this national parliament building.  We happened to walk by and notice the crowd.  It's captivating!
Restaurant Rosengarten– The restaurant at the Rose Garden was the highlight of our stay in Bern.  It had the best pastries, delicious fondue, and a view so amazing it's almost all you need to feel like you've taken in all of Bern.  Because of all the rain we ended up taking refuge here for hours and it was the best thing that could've happened.
Berner Munster– There's a tower in this cathedral that you can pay 5 euros to climb the stairs to the top of and see a 360 view of Bern.  It's beautiful and also a bit scary if you're afraid of heights (that's me).
Cafe des Pyrenees– Gastropub with a casual atmosphere we liked so much that we came here twice.
Ringgenberg– Loved the pasta and moules frites at this restaurant.  Can't recall the name of the pasta but it had cabbage and was one of the best pastas we had on this trip.
From Bern Train Station, we made our final stop with our Eurail Passes at Paris Gare de Lyon.
FOURTH STOP: PARIS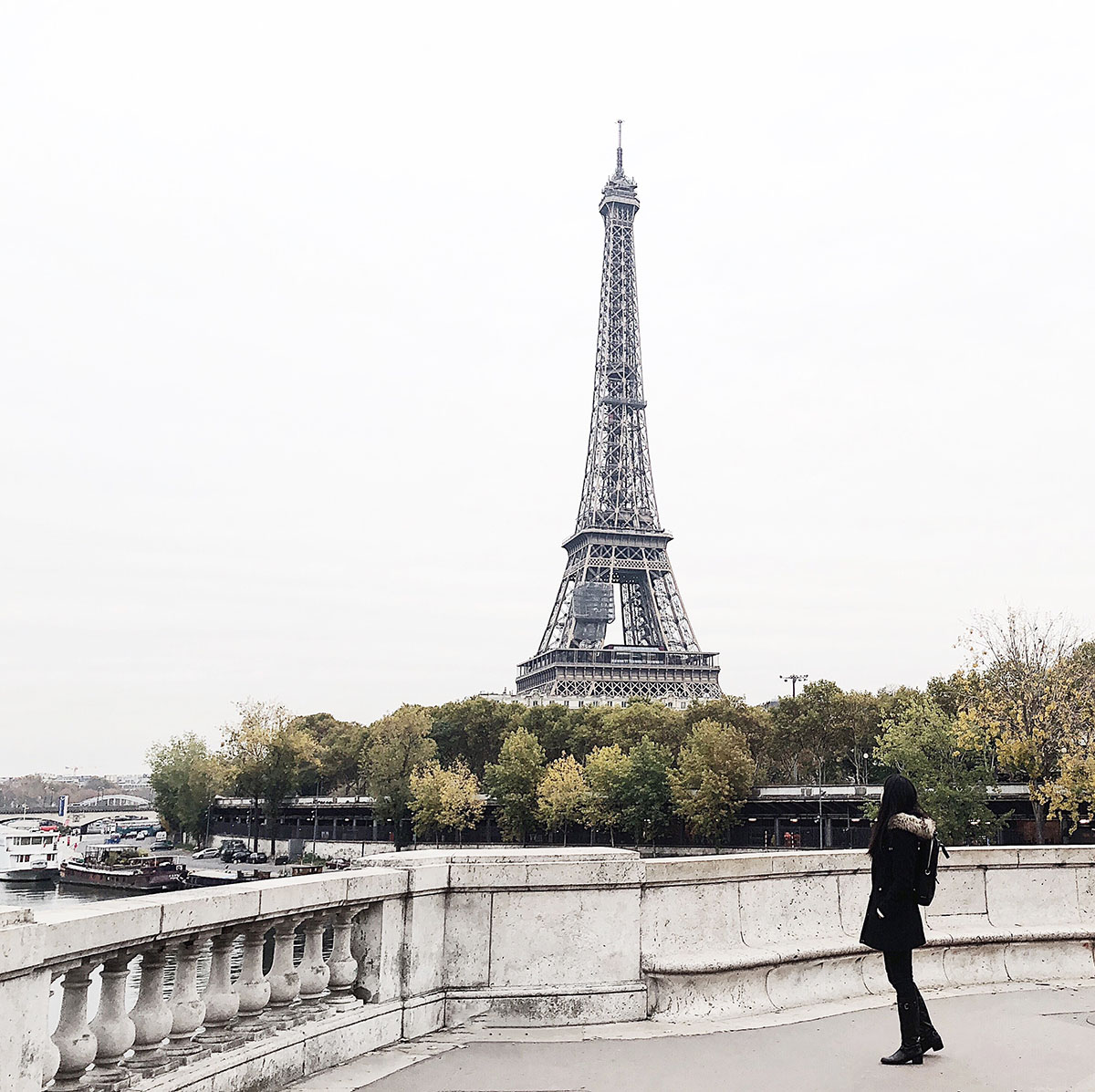 Paris left me wanting more out of all the cities we visited.  In the short amount of time we had here, I kept saying there was an energy about the city that I didn't know how to describe though I felt it, and all the charm was very apparent just from walking the streets.  It's undeniably beautiful here and I will definitely make another trip back here because so much was left unseen, but we did get a few major things checked off the list.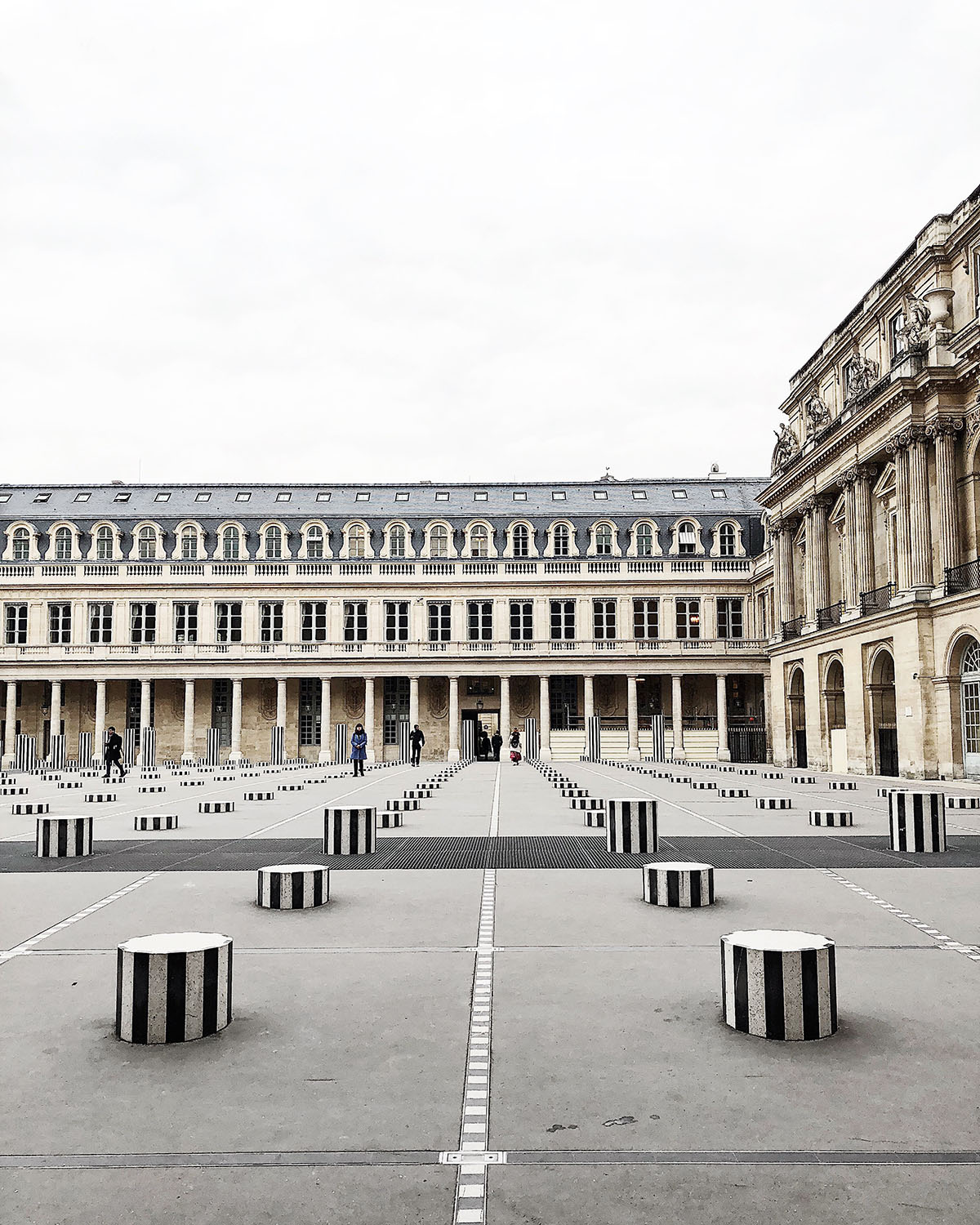 FAVORITE SPOTS IN PAIRS:
Sacré-Cœur– Visited this church in Montmartre for the amazing view.  It sits on top of a hill and is a good workout having to walk up all those stairs.
Le Palais Royale– Gorgeous palace and gardens offering good photo ops and people watching.  You've likely seen the black and white columns somewhere on Instagram!
Aki Boulangerie– A Japanese/French bakery I would've visited twice if we had time.  The melon pan was ridiculous.
We did a lot of night-time sightseeing by foot and passed by many of the major attractions, which I think seeing at night was really beautiful and different from what I had already seen in photos.  We walked through the Tuileries Garden, Arc De Triomphe du Carrousel, and past the Louvre, all lit up and beautiful at night
Rue-Saint Dominique– On our quest to see multiple views of the Eiffel Tower, we ended up walking this street and noted that we liked it a lot and would want to hang out here again.  Cute shops, restaurants, and a far off but still good view of the tower.
Eiffel Tower– I couldn't get enough of this, especially when it would sparkle at night every hour on the hour.  My favorite view of it was from Pont de Bir-Hakeim.
Little Red Door– My favorite stop in Paris.  Amazing cocktail bar with very friendly staff.  The drinks are imaginative and unlike anything I've ever had.
Visiting four different cities in three different European countries in just six days was an unforgettably exciting way too see it all in one go.   Especially when thinking of travel in terms of how many of us have limited time and have so much we want to see, I don't see how anything can be better or more convenient for that than traveling by train.  It wasn't nearly as intimidating as I thought it would be and there was always someone around to help if I ever got confused.  Ultimately though, I feel like I'm a pro at this and can whiz through Europe by train now, ha!
If you're visiting Europe and want to see more of it, see if Eurail has the right train pass for you to help make your plans possible.   Note: Passes must be ordered at least a week before travel since they're physical passes that need to be mailed to you.
If you have any questions for me or want to share about your own European travels (and of course, recommendations to add on to future itineraries), leave them in the comments below!
This post is sponsored by Eurail.
Other Posts You Might Like