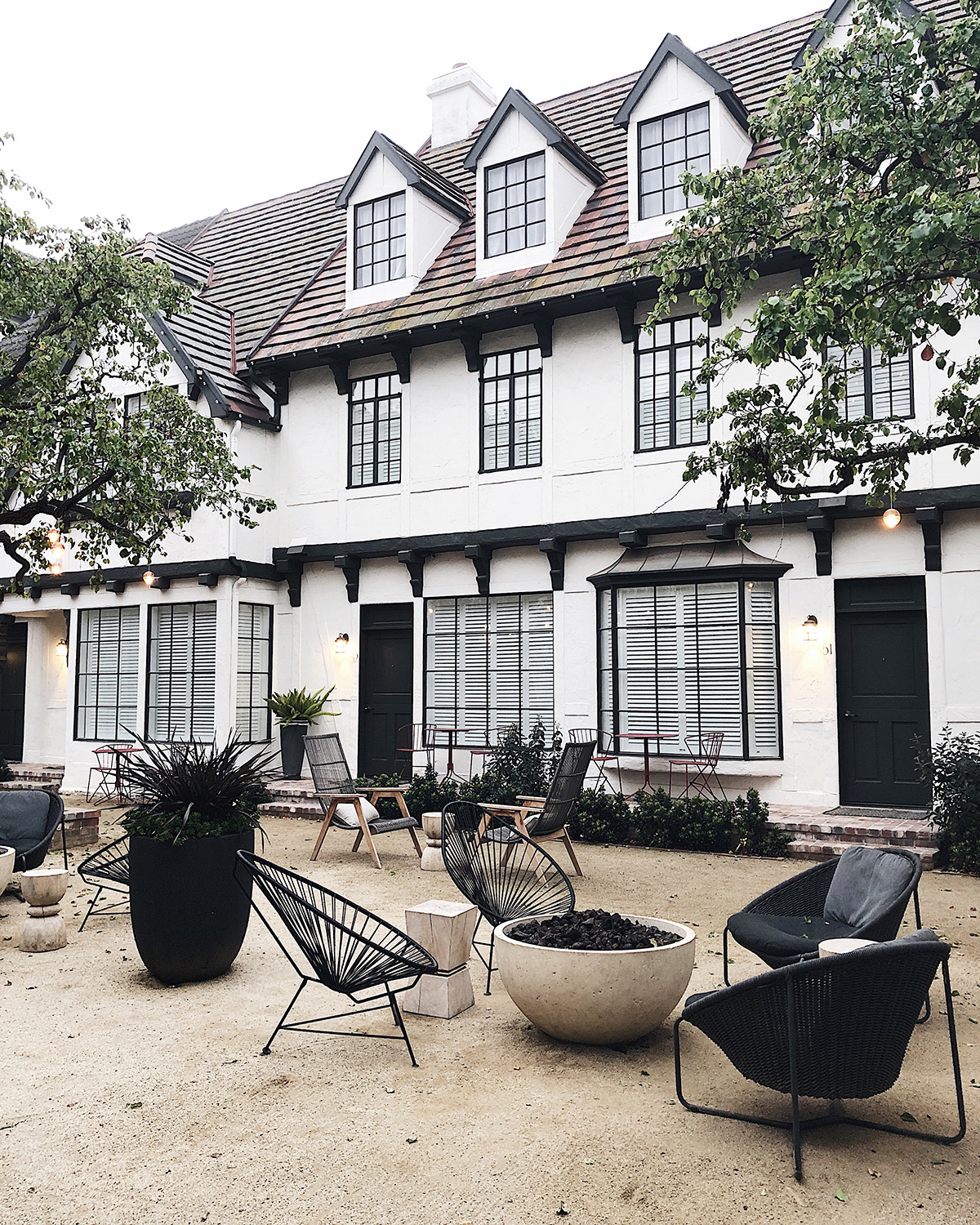 This post is sponsored by HotelTonight.
There's endless home design inspiration to be had behind a computer screen, but to experience and live in a beautiful space if only for a few short days lends the most inspiration of all and is one of the many reasons why I LOVE staying at hotels.  I partnered with HotelTonight to share interior design elements I adored from a stay at The Landsby in Solvang that you and I might want to incorporate into our own homes too.  In all its modern and rustic Scandinavian aesthetics, this hotel is a prime example of achieving the perfect combo of style and comfort that we can all go for.
The Landsby is a boutique hotel in Solvang, a small and very cute Danish town located near Santa Barbara wine country that makes it a relaxing weekend getaway destination from LA.  We booked our stay via HotelTonight, which I not only love using the app for getting good deals on rooms but also for how it provides a curated list of stylish hotels ranging across different budgets.  I practically cheered when I discovered that HotelTonight offers deals on rooms at The Landsby since I've had it on my list for a long time to stay there (it was one of the first venue contenders for our wedding!)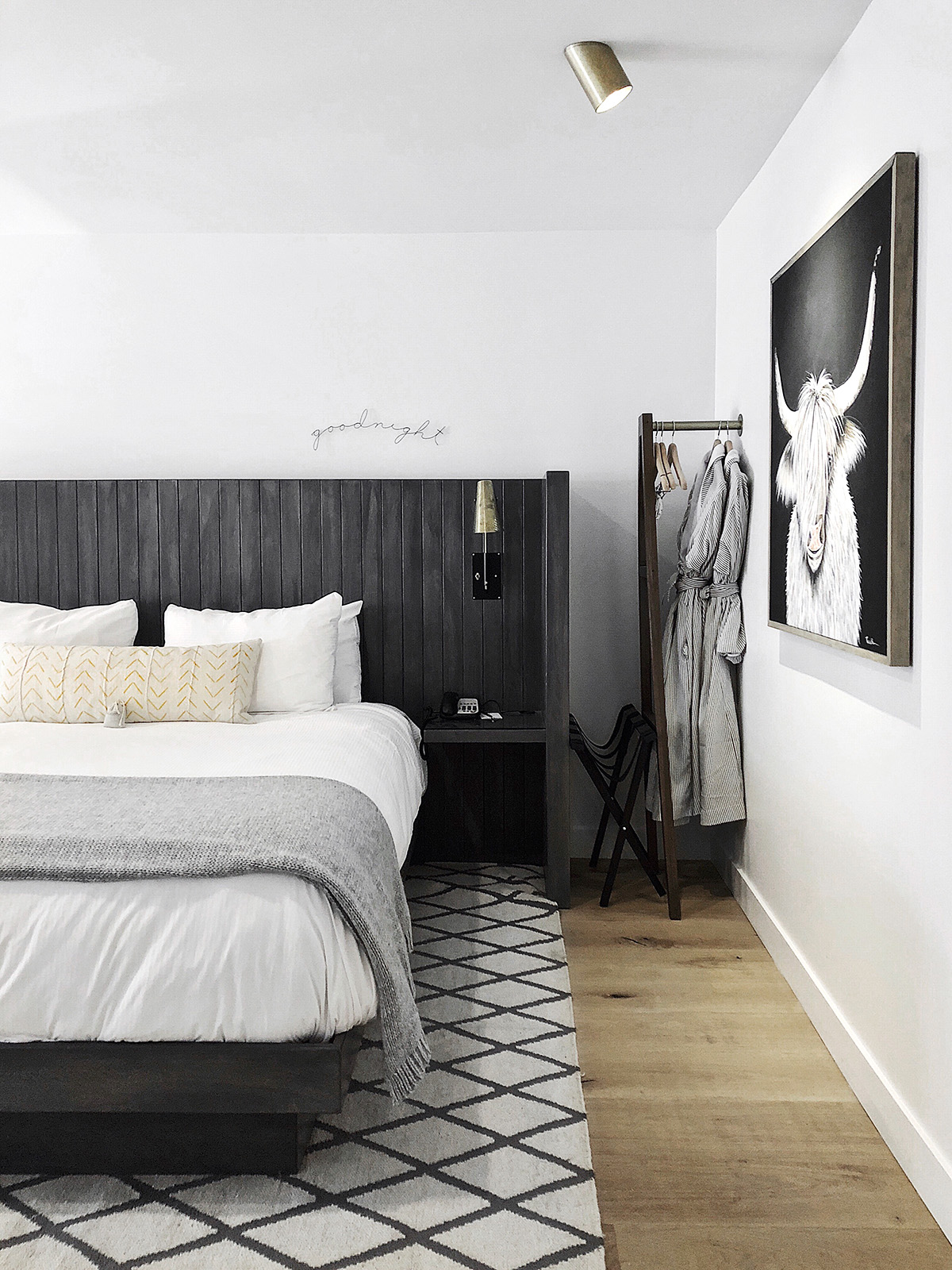 Danish hygge definitely lives here, with every corner creating an inviting atmosphere that makes you want to stay a while and not do anything, the dream.  There are so many details to admire, like that little wire "goodnight" sign above the bed that charmed my socks off.  It's an instant smile maker and I don't see why I wouldn't want to have something like that at home.  It's a unique alternative to wall art and could easily be your next DIY project.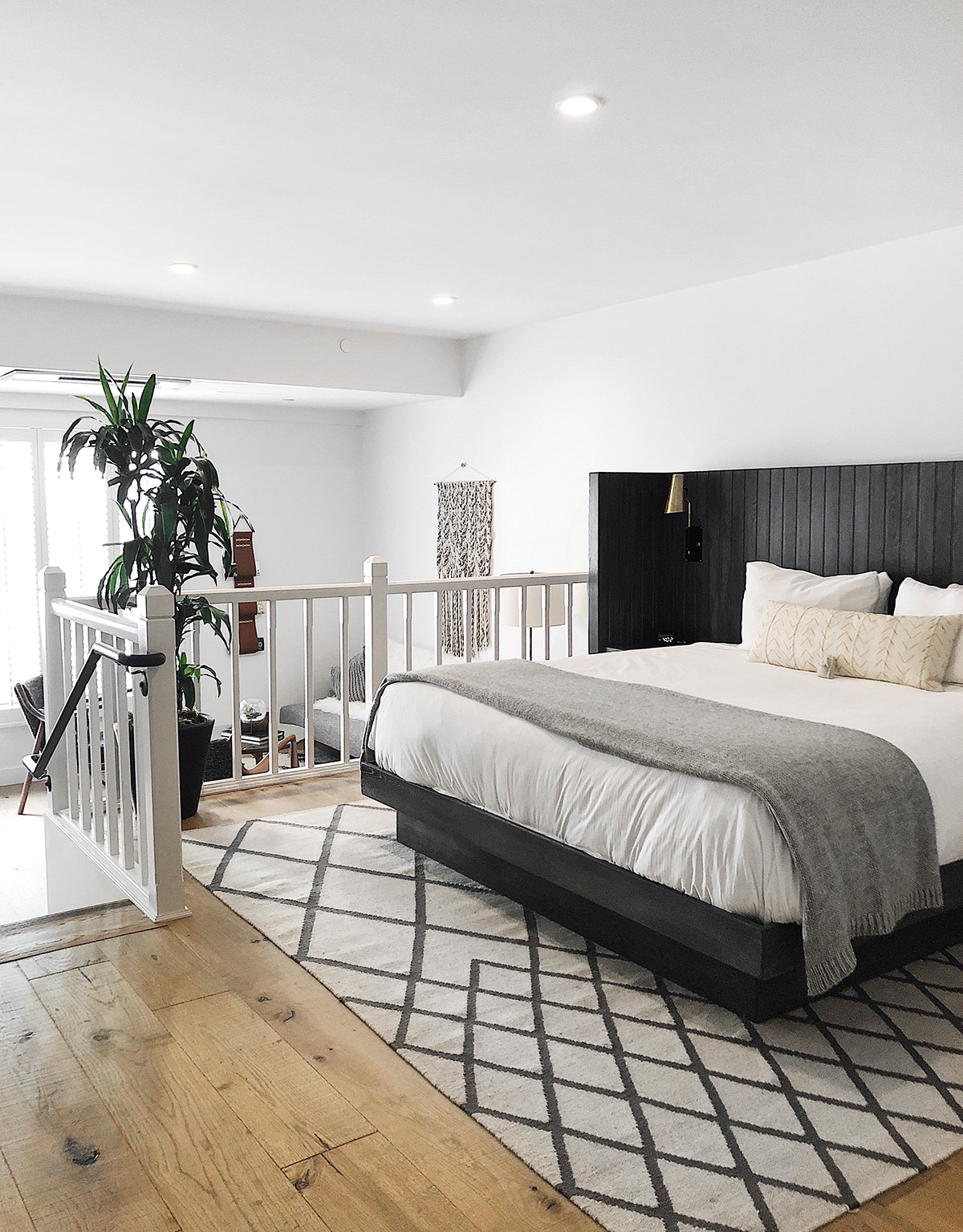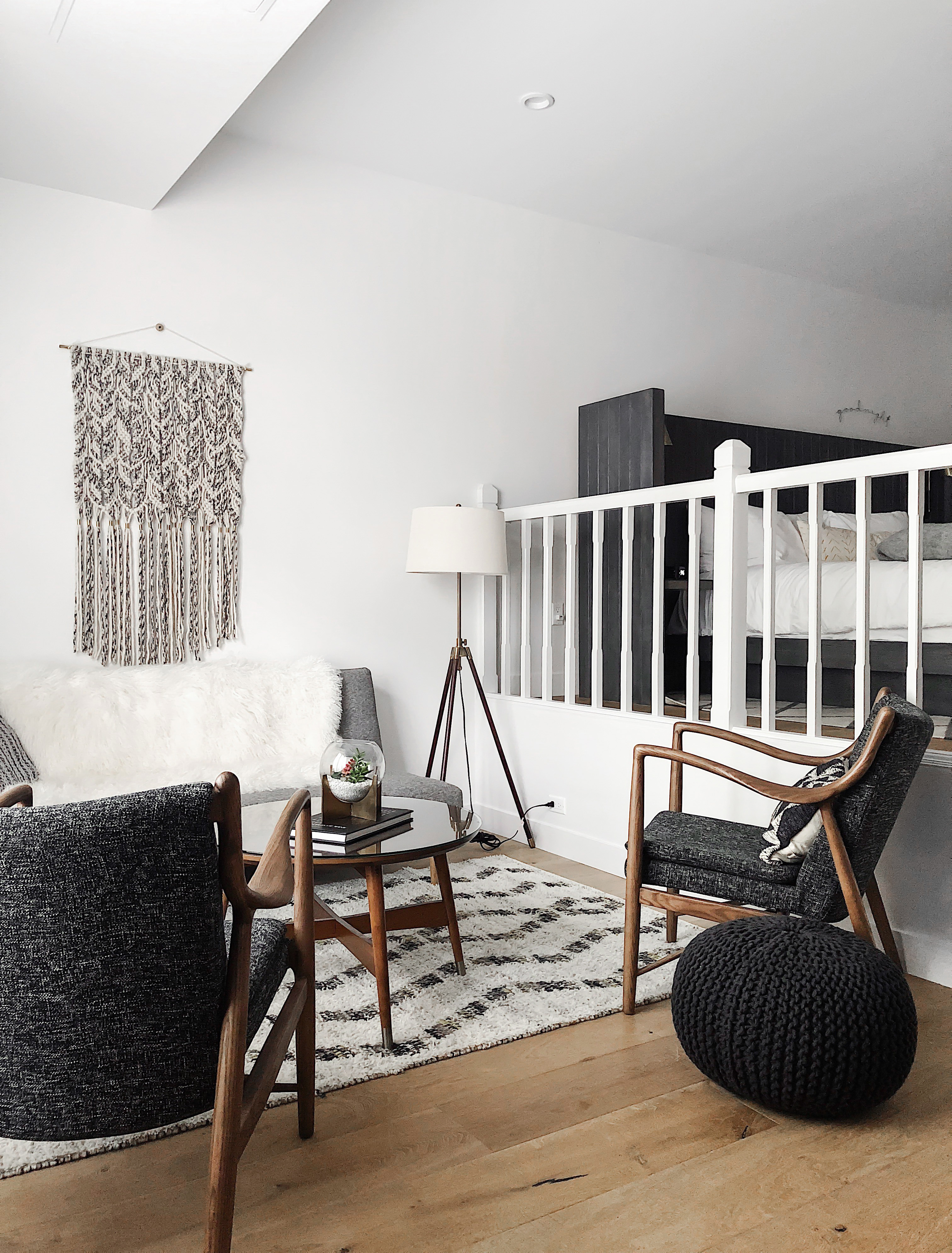 Natural and organic textures are everywhere- mudcloth, tweed, wool, fiber art, natural and dark woods, leather, knitted patterns, these are the elements that add rustic warmth and make up the response to anyone who feels like modern minimal Scandinavian style can feel stiff and cold, a comment I see a lot for why some can't get into the style.  It's clear here that it doesn't take much to create a comfortable space that's beautiful, which briefly sums up why I love this style so much.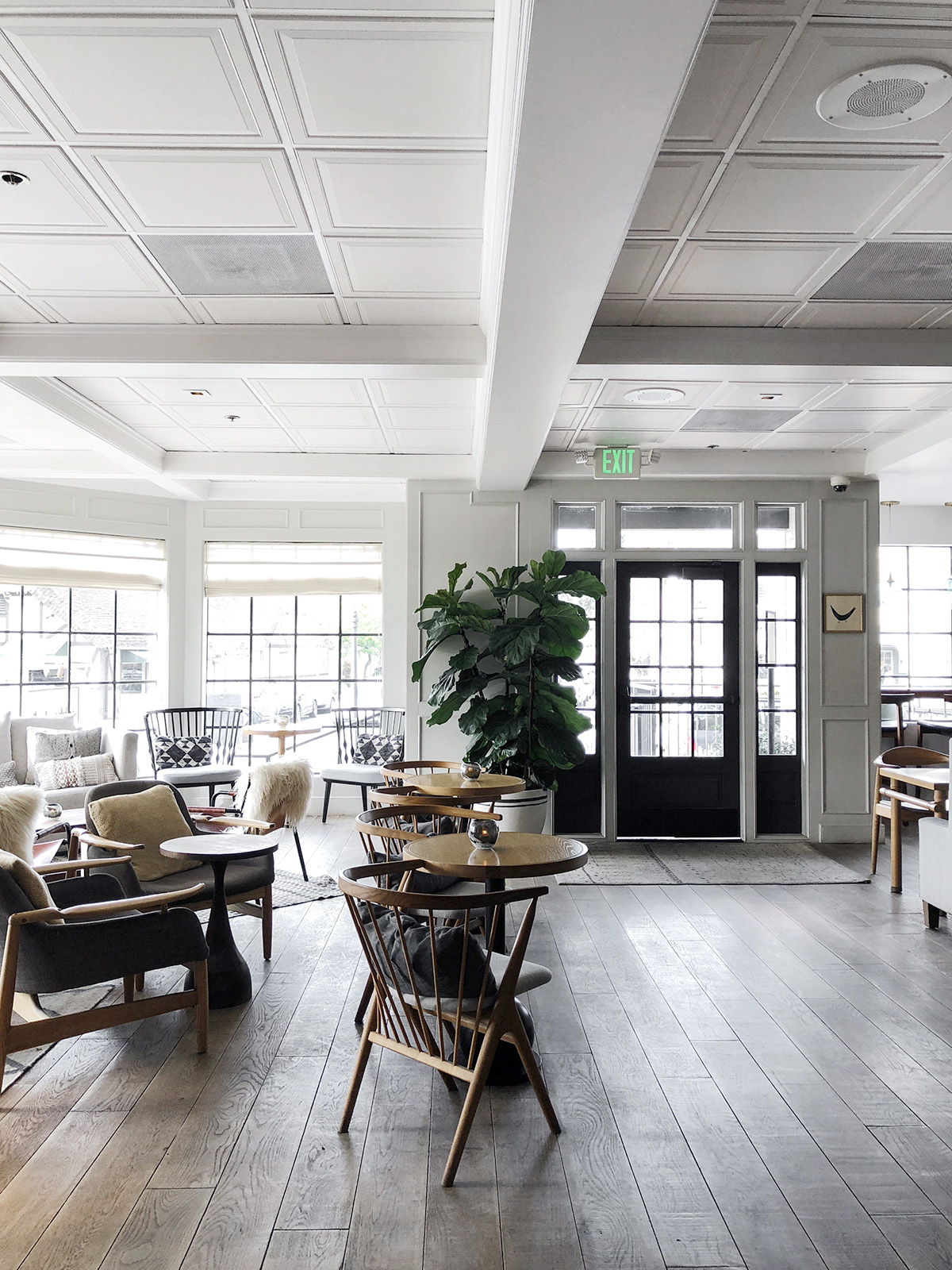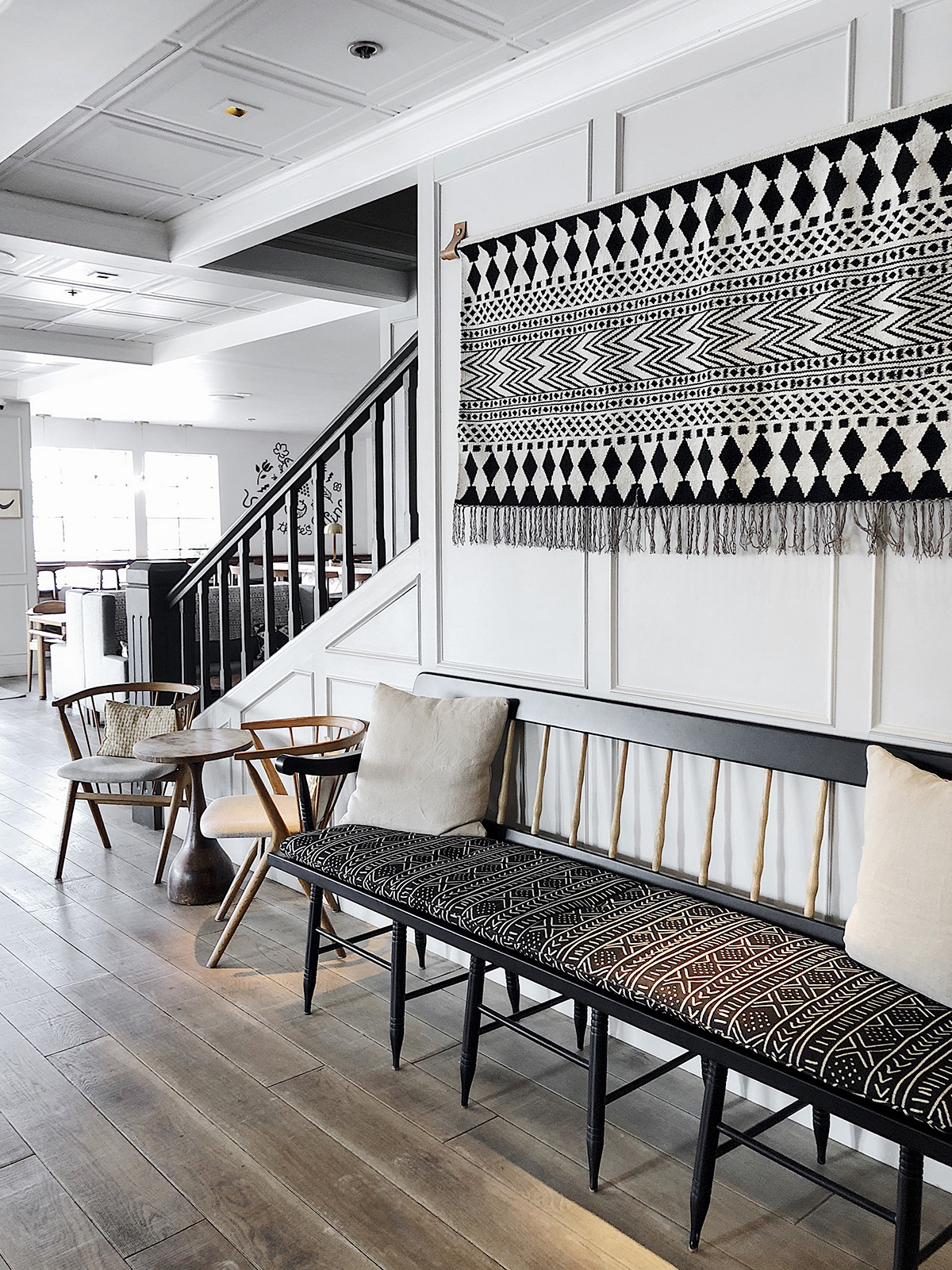 The lobby warranted a prolonged visit and called out to me to spend time sitting on every chair and bench.  Every seat was adorned with pillows, wool throws, or upholstery like this dreamy mudcloth bench, the universal invitations to sit down and relax.  I also love the idea of hanging up textiles like a rug as art to add to the coziness.  Looks like this one is wrapped around a wood dowel hanging from leather loop handles, another DIY you can easily try at home.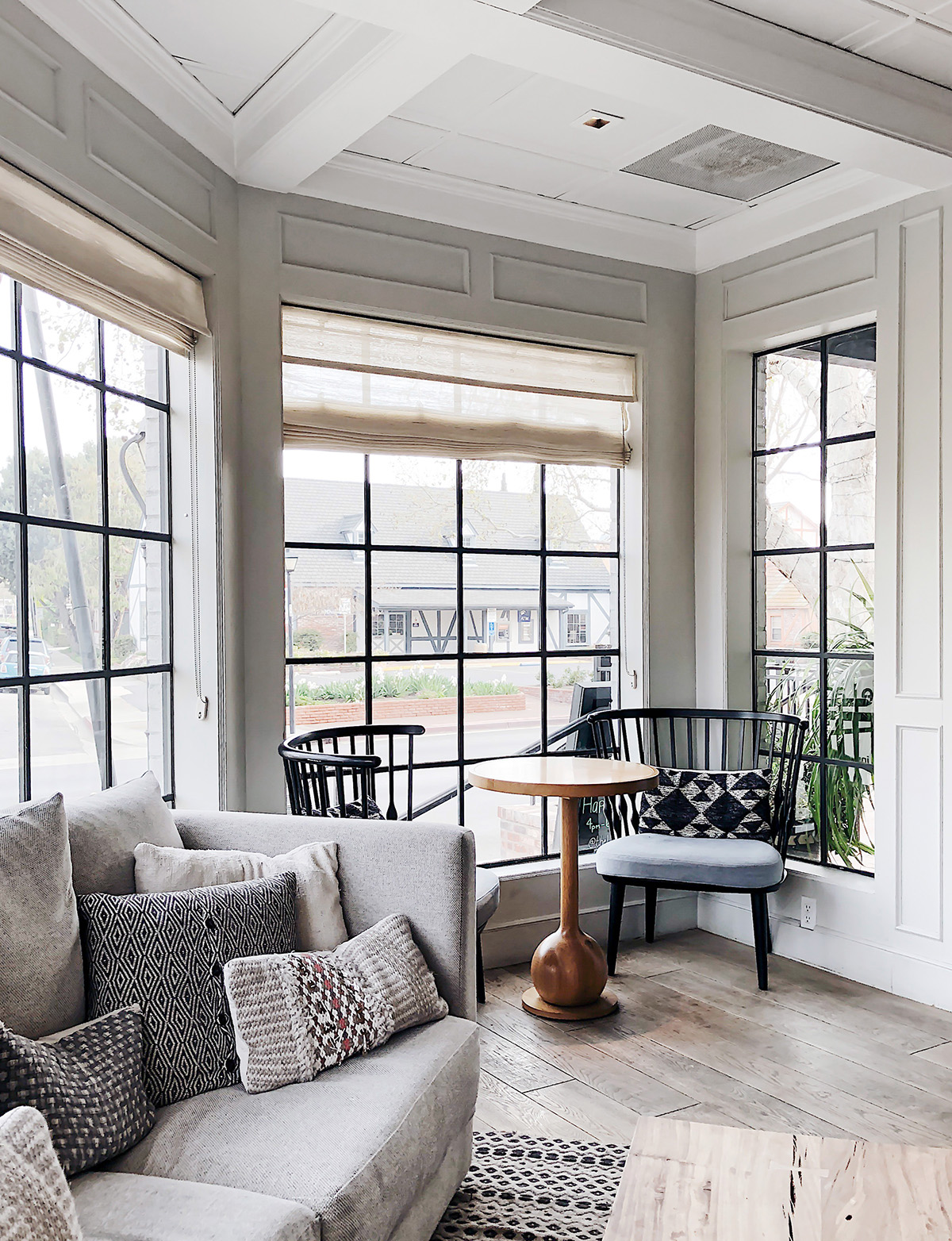 Neutrals tend to be a big theme in Scandinavian style because they're calming and have a really good reputation of being timeless and adaptable.  It's the patterns and textures that keeps it interesting, which I'm digging this collection of pillows for.  This definitely does not mean color is off limits, but I personally find muted and small sprinkles of color fit in better with creating relaxing vibes as opposed to bright and punchy colors.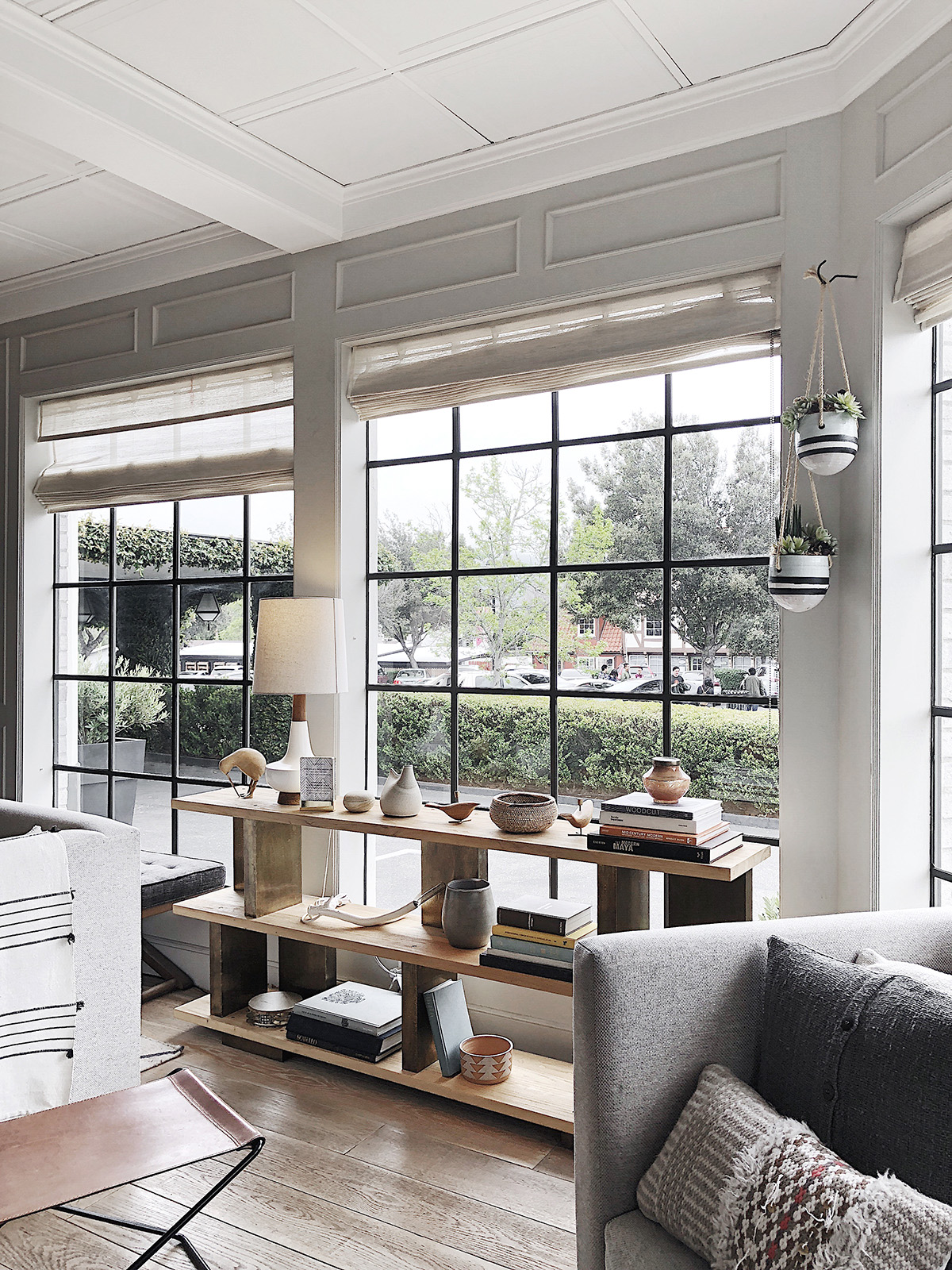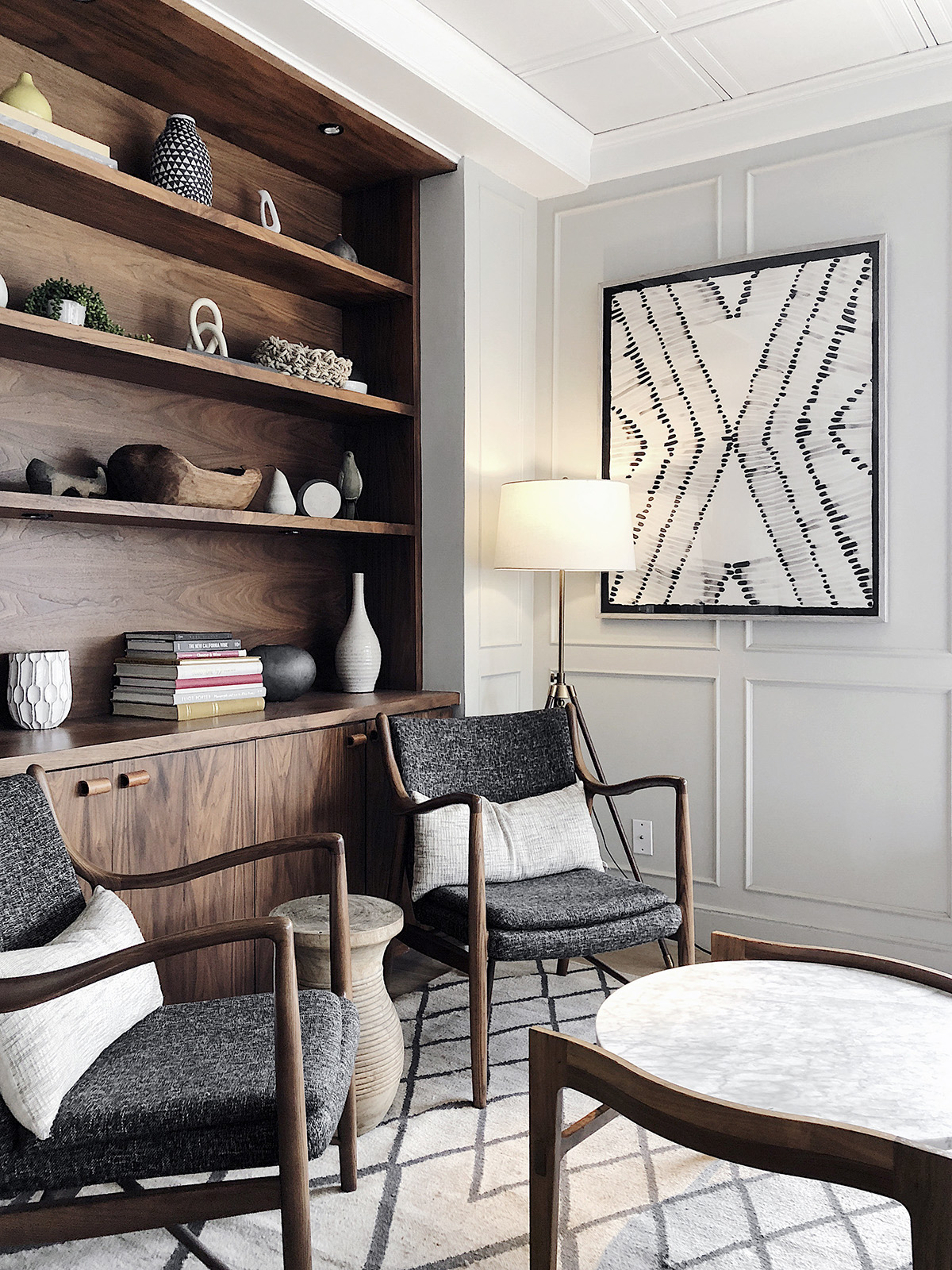 Little tchotchkes, baubles, and books are my favorite things to peruse through in any space.  Putting collections on display in shelves creates a lived in feeling that is again, very inviting.  It gives life and personality to a space beyond what pillows and blankets can do!  Felt really inspired to rearrange our shelves at home, and to continue experimenting with displaying our books in a way that's organized and uncluttered.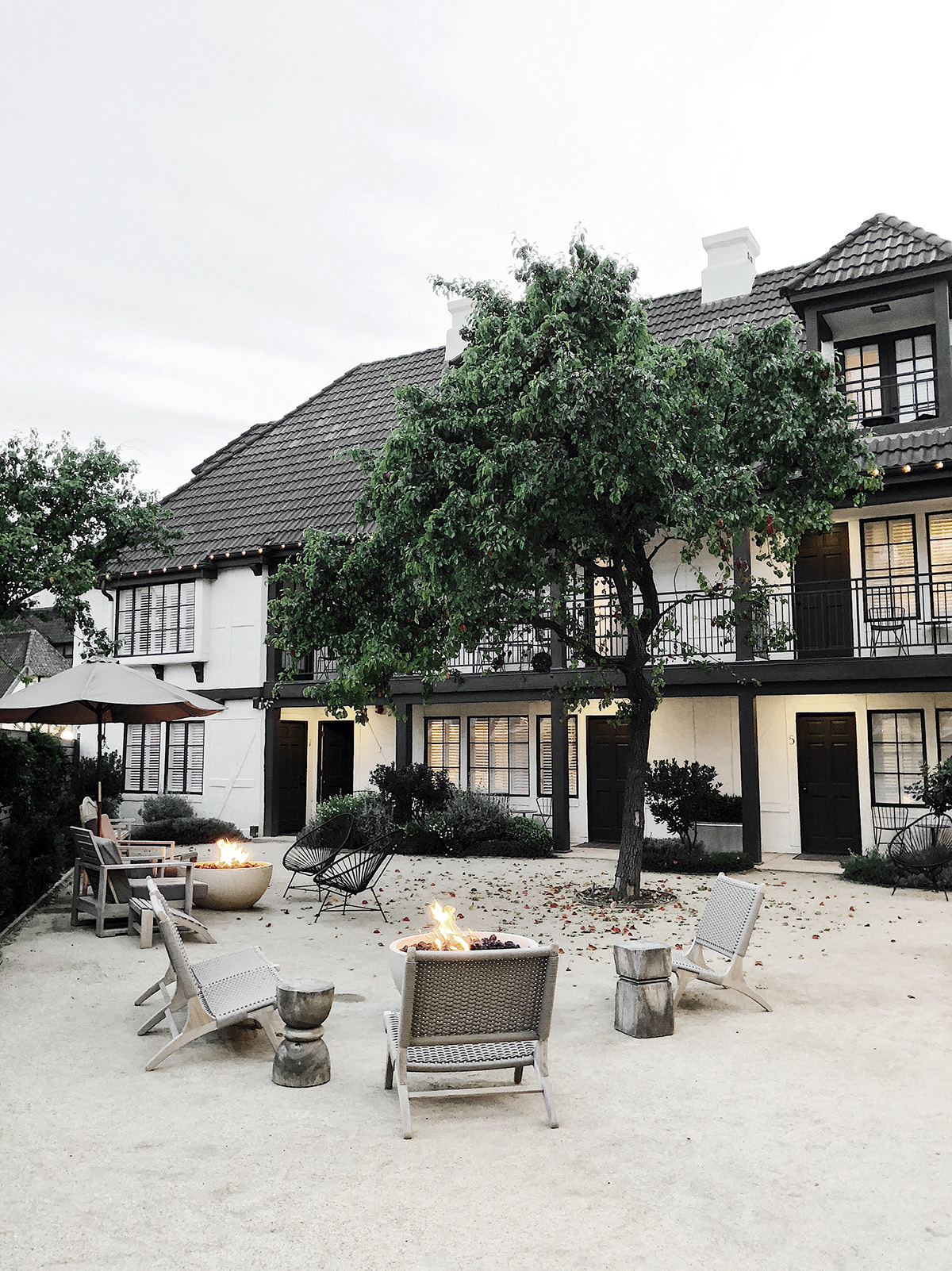 The outdoor spaces were my favorite part, largely having to do with how we don't have an outdoor space at home but if we did we'd want it to be just like it is here.  That same inviting coziness is carried throughout the outdoors, with plenty of comfortable seating and fire pits that scream please don't leave.  Lounging here each night gave us a really good look into the lifestyle we want to have at home, spending it relaxing outdoors with plenty of space to share with friends.
Our room had this small outdoor patio which was another favorite feature and something we're inspired to have for casual nights with just us two.  We brought back food and ate it here, relearning how big of a simple joy it is to enjoy a quiet meal with someone outside.  Bistro seating now feels like a must at home!
Another simple joy- that Dutch door.  Lets in air like a window and makes me fantasize about sticking my head out through it and calling out to the kids that dinner is ready.  Paired with the black paint, it's both stunning and charming and makes me rethink painting our future house black and instead just painting the door black.  Could that be??
Mad & Vin, the restaurant at The Landsby, was even more interior design candy.  Still taking notes on how much furry wool and tassel throws, comfortable seating and lighting can do to a space- those lamp shade pendants!  Love the idea of pairing an upholstered high back bench with chairs at a table, and seeing how incorporating wood can alone bring so much warmth.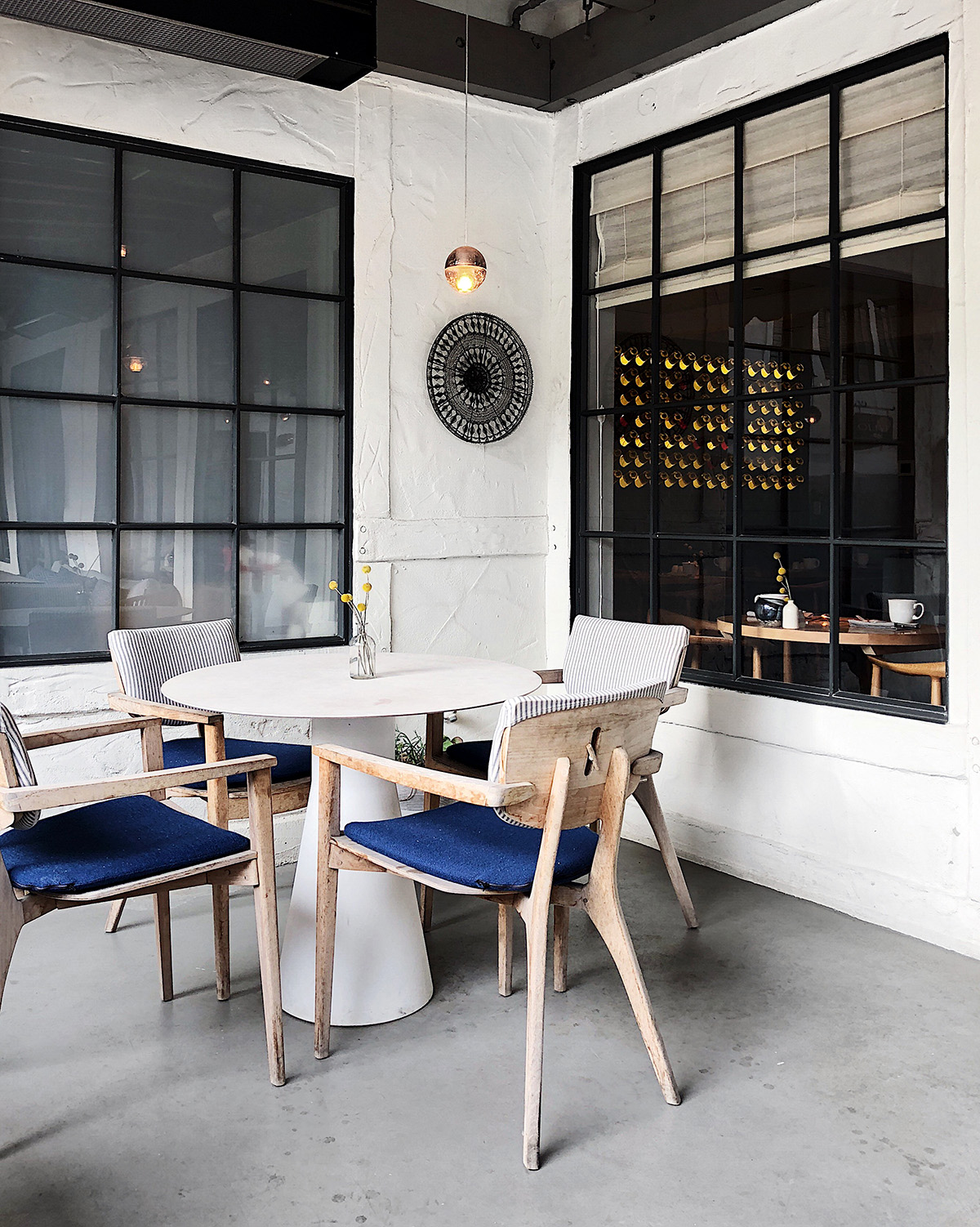 Would love to know what you think of this design style.  Could you see yourself incorporating any of these elements into your home, or have you already?  Do you also get a lot of design inspiration from your hotel stays?  If you're headed anywhere soon, see what hotels are offered via HotelTonight and if you might be able to double up on it being design inspiration too!
Other Posts You Might Like