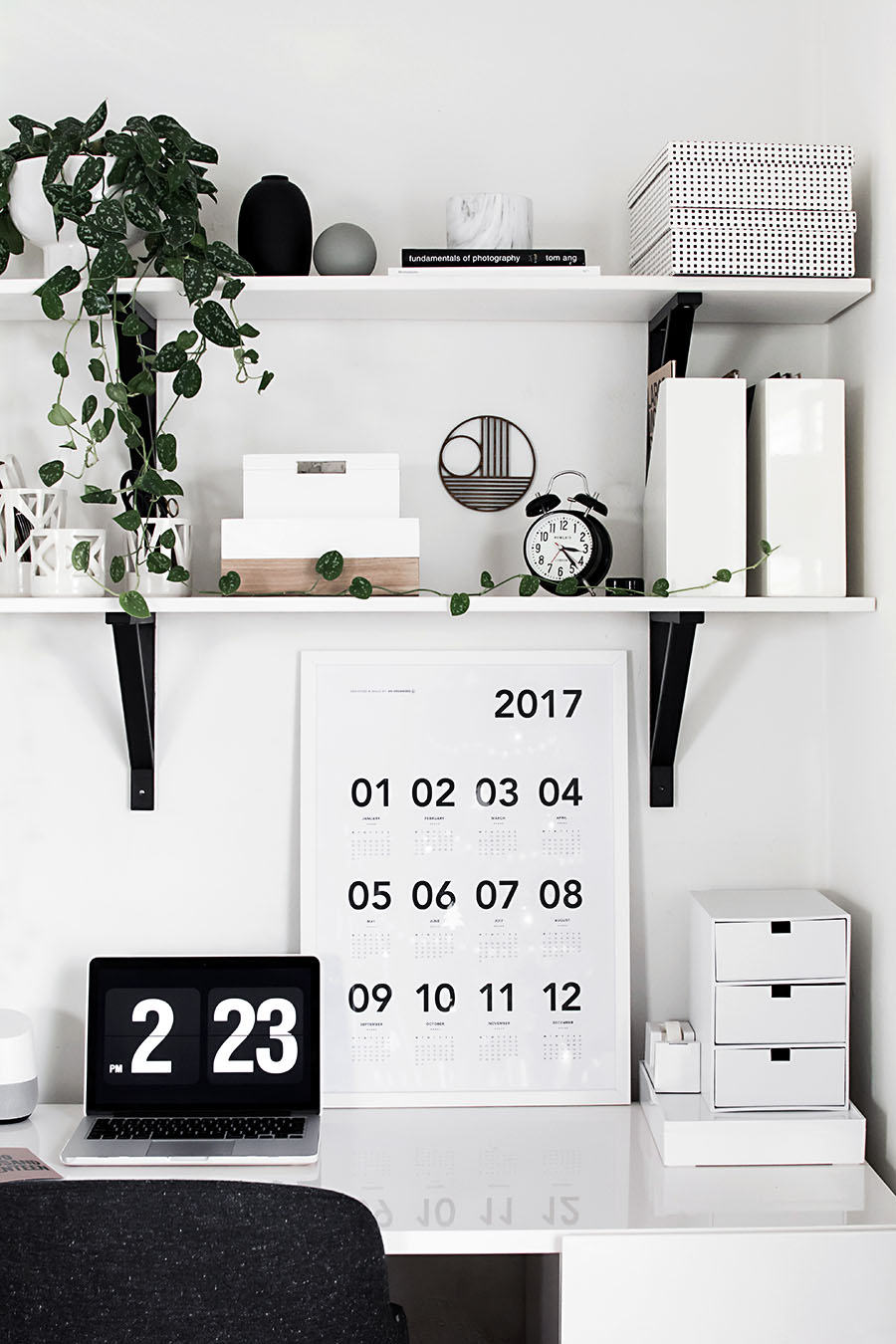 This corner regularly changes and though they're mostly small ones, it all has to do with this being the place where I spend 83% of my time.  It takes a lot of attention to maintain tidiness and organization exactly because my being here so much means it gets messy often.  I stay very aware of when I've outgrown a system or when I'm in need of updating storage solutions, staying in line with the best advice I've come across for keeping things straight which is to make sure every single thing has a proper place to live.  Sounds like a no brainer, but there was a time when I'd just toss things on counters and maybe roughly group them in piles, usually because I had to for making dusting easier.  Not ideal for keeping track of things!
And sure, organizing is especially at the top of the mind in the new year after the holiday season of excess and chaos.  I definitely get deeper into it this time of year, and I've partnered with Michaels to show you some of the pieces I've added from their Cre8ed Spaces line to further improve the organization at my desk.  The best part is I'm SO pleased with how well they fit in with my style- we already know that's non-negotiable criteria.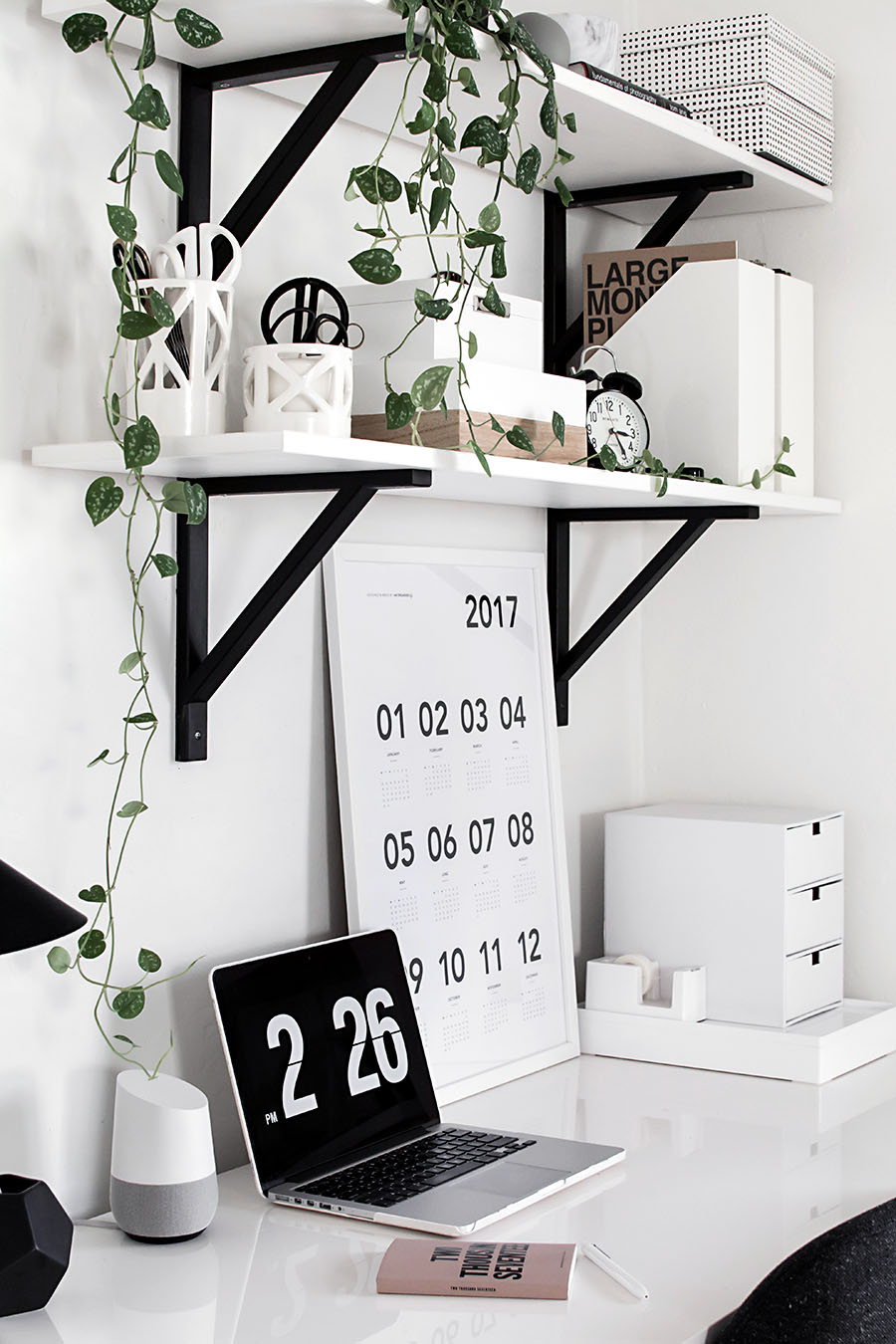 The items in the line come in a few colors and I stuck with all white, boom.  All three items are boxes, and past blog posts I've done already prove that I have a deep affection for boxes in general.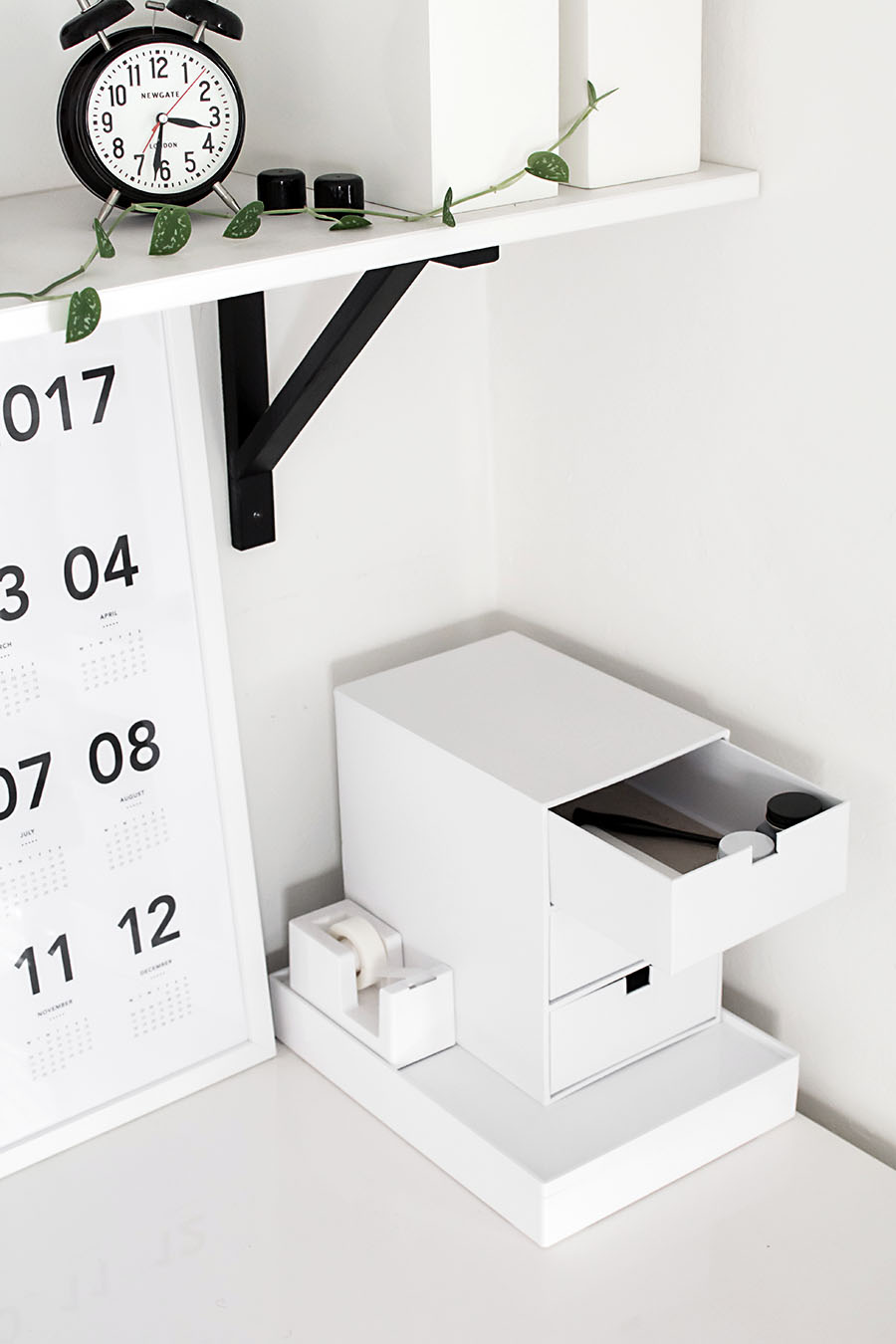 This one is a drawer organizer I keep on top of my desk and establishes a system I like to use anywhere I keep a larger grouping of items.  The system is that I keep items I access or want to access more regularly in a spot that's right at-hand, and then everything else is more tucked away.  In this case, "more tucked away" refers to the drawers in my desk.
While I love clean surfaces and prefer to have everything tucked away always, I've learned that this can encourage me to forget about things I don't want to forget about.  Much like how I'll keep things at the top of mind by putting them at the top of the to-do list, I like using an organizer like this to keep things I want to focus on more easily accessible.  I love that the little drawers of this organizer provide that tucked away feeling but still make it quick to get to what's inside.  Right now I have my calligraphy gear in the top drawer, which I moved there from the bottom of the filing cabinet in my desk because I kept forgetting about it and I want to get back to practicing!  This brings another point that the contents of these drawers will likely change regularly as my list of priorities change, though maybe not by much.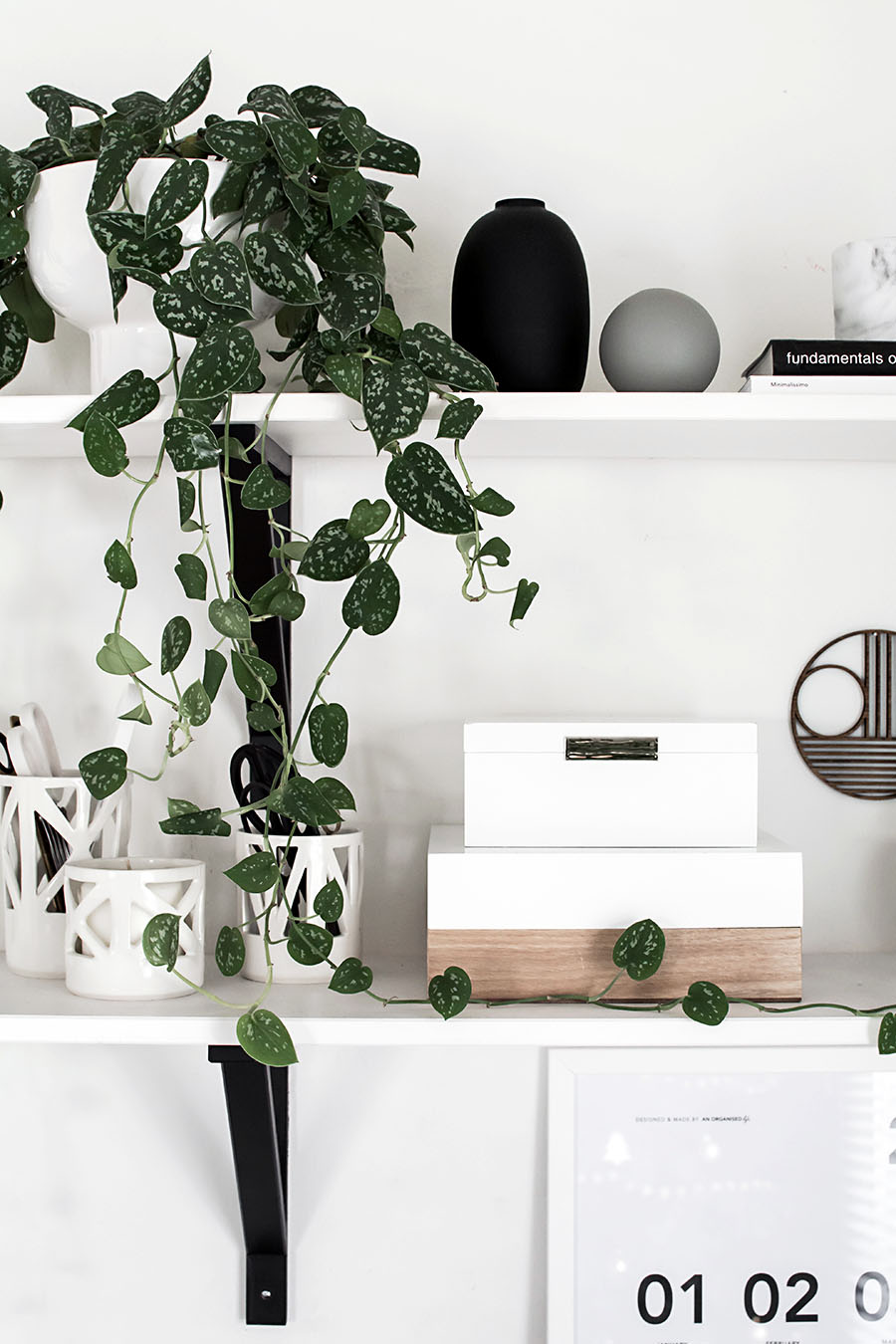 I keep the other two boxes here on this shelf, the top one currently being used as what I call a dump bin.  Sometimes you just need a spot to dump things that you haven't figured out yet where to put, which might sound contradictory to what I said before about everything having a proper place to live, but I'd prefer this limbo to happen in a box then out in the open.  I'm also aware that's probably denying how this will just be the permanent spot for all the random knick-knacks I may never find true designated places for.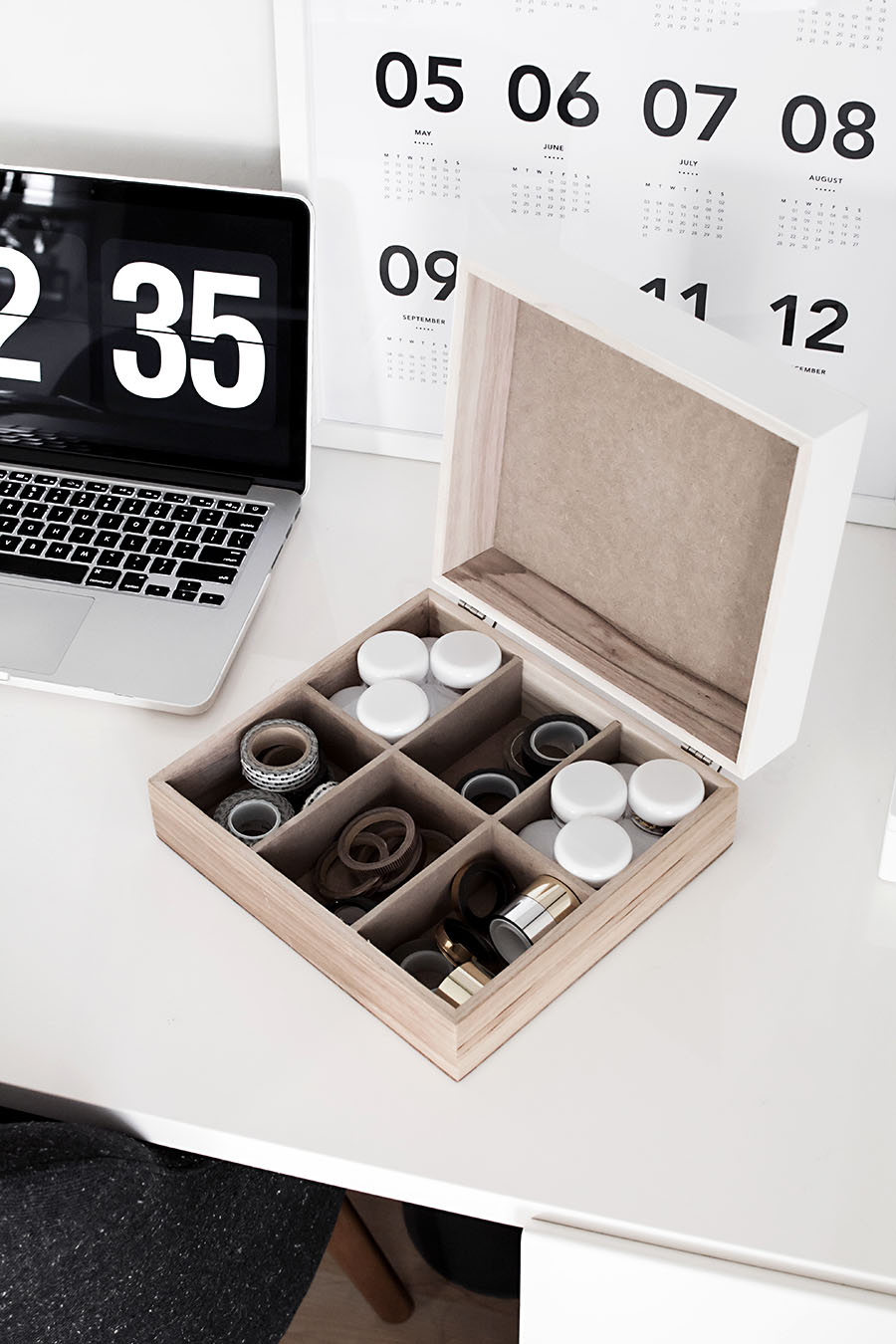 The box on the bottom I love for being beautifully two-toned with wood and having dividers inside.  I've moved the majority of my washi tape in here, which used to hang on the pegs in my hanging storage unit that I found to be really annoying and better for holding rolls of string, hence the move.  Before, because of the way the tape was stacked, I'd have to take all the rolls off the pegs or shuffle them around if I was looking for a specific one.  For me it makes more sense to have them sprawled out in a box like this, plus I appreciate the dividers that help organize them by color/pattern.
The little white round containers are also from Michaels and they hold small items like the leftover confetti stars from a project I did over this past holiday season and leftover beads from jewelry projects that failed (will maybe re-attempt those).
Small updates like these can make some really good changes, and even these updates can be changed easily when I've once again discovered another need or organizing system improvement.  Plus I'm just really, really into exploring storage options, especially when boxes are involved.
Have you started or are you planning on any organization projects this month??
PS.  Check out the Michaels blog here for more organization inspiration from the other Michaels Makers.
Other Posts You Might Like