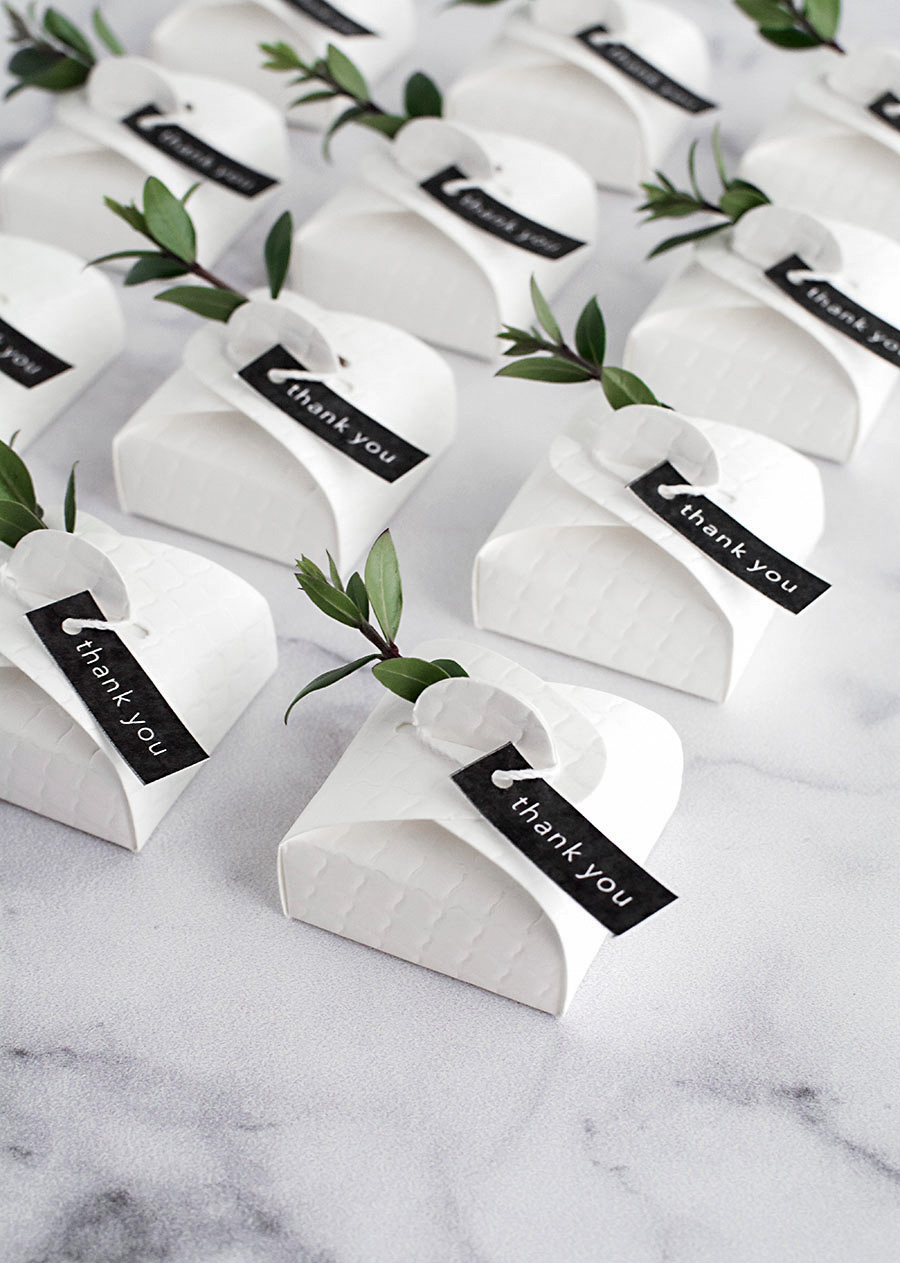 As an experienced wedding guest, I'd say the thing I care least about is the wedding favor.  This sounds like a pretty bad way to start this post, but let me explain!  It's not that I don't appreciate the effort, rather it's that I won't notice whether or not a favor is provided.  After all, the newlyweds just threw a huge party, fed you, and you had a great time.  What more could you want?
The extra detail is nice though and I agree that it's a cute thing to do.  I thought about what kind of favor would be useful and not turn into a tchotchke that people might toss later with guilt and concluded the edible variety is the way to go, something for guests to snack on and enjoy on the way home or next day.  These three wedding favor ideas are super easy, customizable, and best of all can be eaten, and I've partnered with Paper Mart to add a DIY touch to their packaging to make it all even cuter.  
Paper Mart has a really large variety of packaging products sold in bulk which makes it an excellent and affordable source for large events, like weddings. With a few of my favs from their stock, I put together these simple ways to package wedding favors.
Candy Favor Boxes
---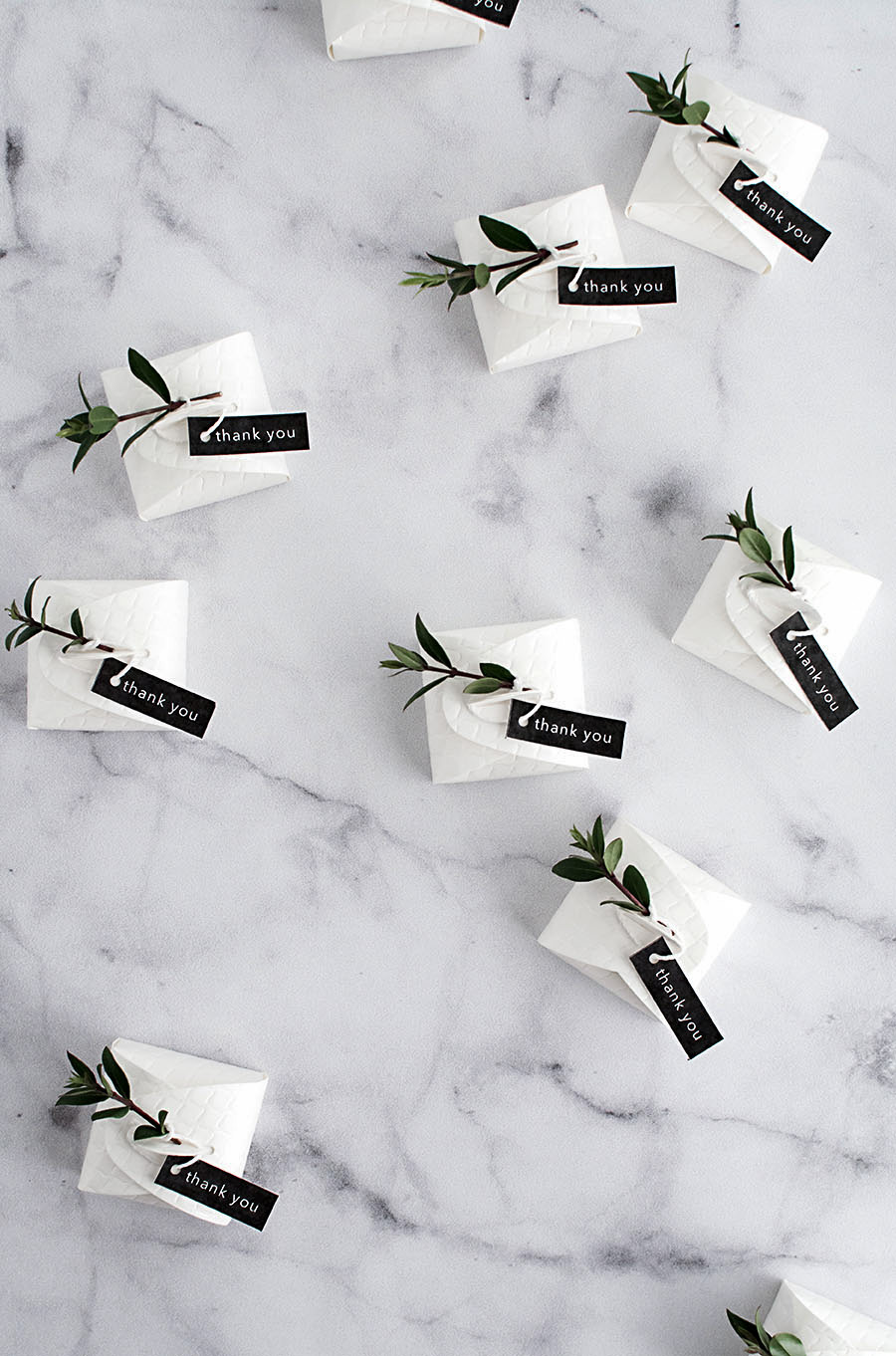 I love that this favor can incorporate some personality by filling these small square favor boxes with your favorite candy or chocolates.  You can share that tidbit with guests about what they are and why you love them, or trust they'll like eating them on the car ride home.
I filled the boxes with these milk chocolate praline balls filled with vanilla cream.  They're from a local Swedish candy shop and yes, they're one of my favs!
To add a pretty and personal touch, tie a 'thank you' tag to the top and with the same string, tie in a small stem of greens.  It's always the little details that make things more special.
TAKE HOME DESSERT BOXES
---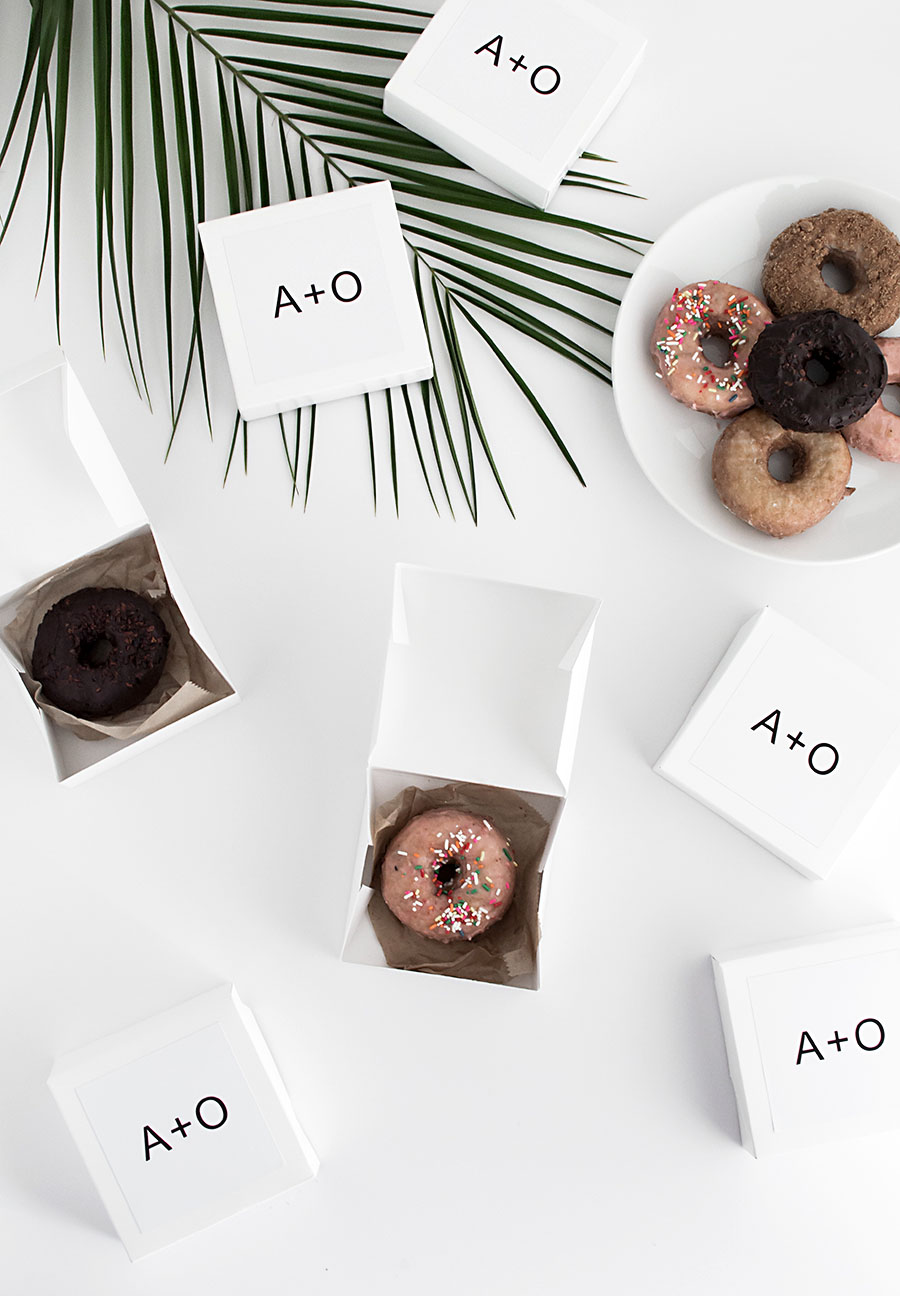 If you're going to have a dessert table, consider getting a little extra for guests to take home after, or just save it till the end for carry-out.  I picked these bakery boxes for how perfectly sized they are for donuts or cookies or other small treats and also because the lid is attached to the box- one less thing for guests to grab as they pack their desserts!
I printed our initials on sticker paper and stuck them on the lid of each box.  It's a simple detail to customize the boxes in a modern style.  It's also a nice alternative to something punny in case you can't or don't want to think of one (I couldn't think of something new for donuts… got any?)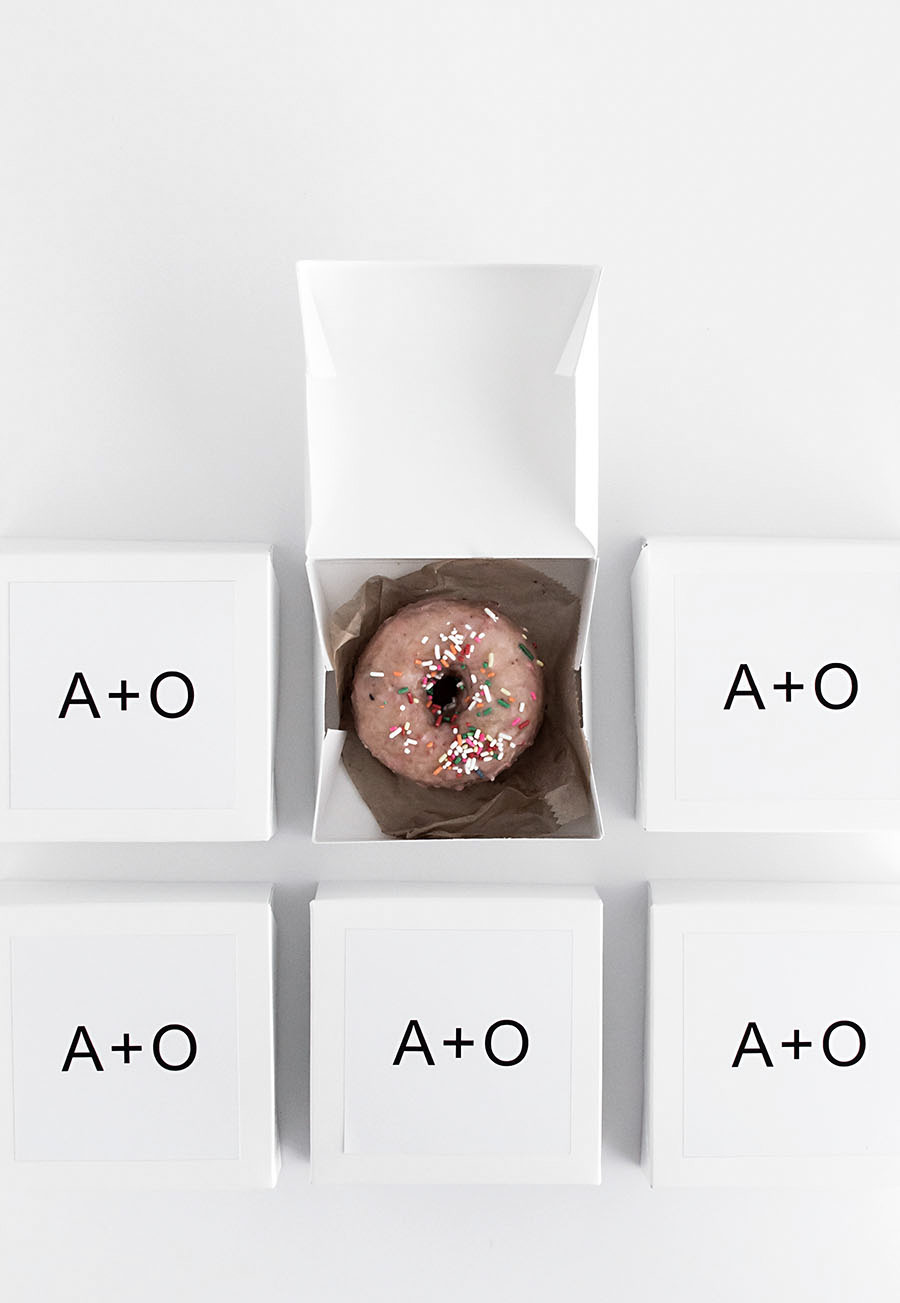 MINT TINS
---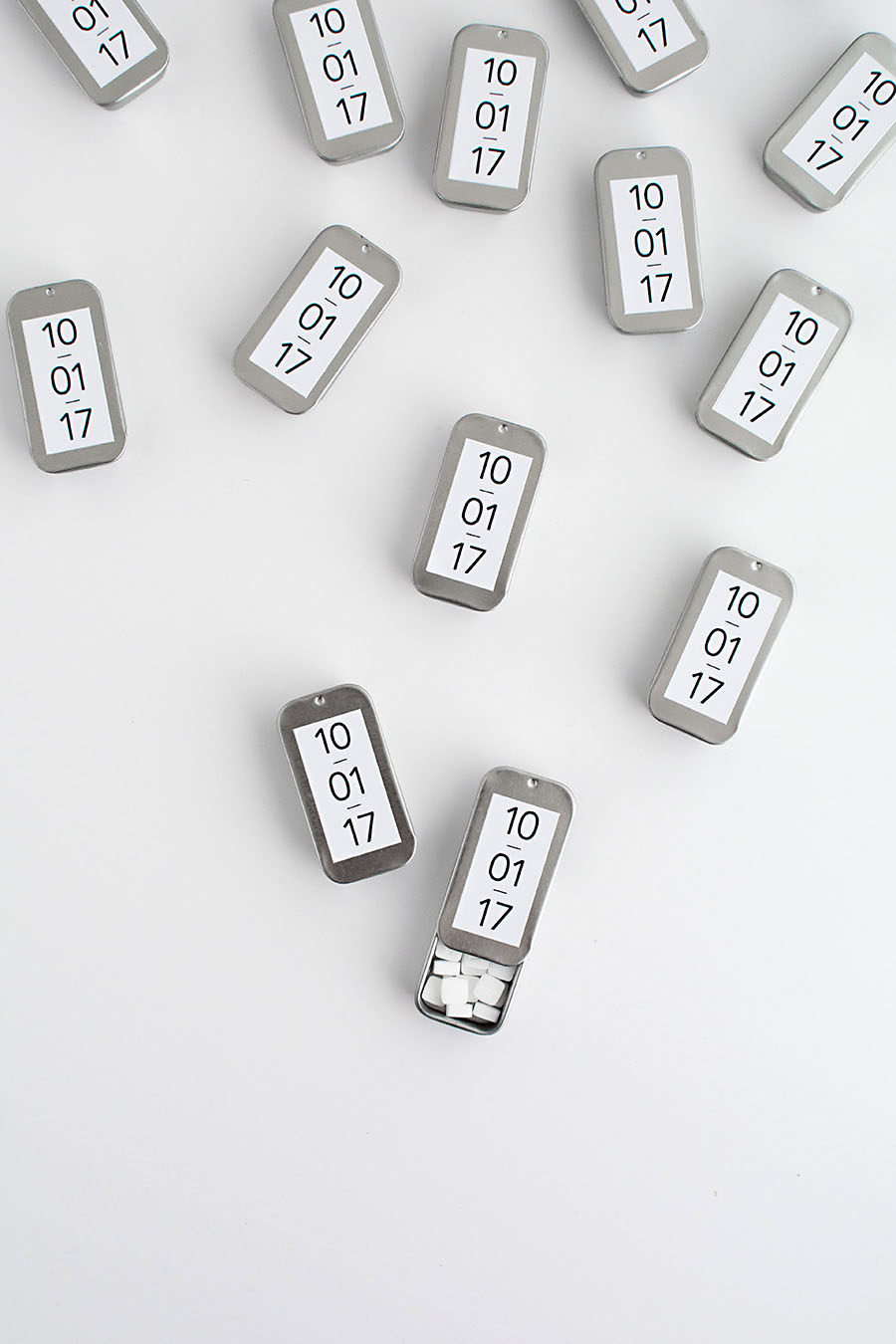 This one is SO me and O.  We're chronic mint-eaters and always have them on us.  If we're hanging out and you need a mint, I got you.  What do you want, spearmint, wintergreen, or peppermint?
After all that eating and drinking, guests might like to have after-party mints to take with them.  These mini sliding tin containers are adorable for the job and make this favor pretty useful since they're small and easy to carry for continued on-hand mint supply (until they're all eaten).
I printed our wedding date ontsticker paper and stuck them onto the lids of the containers.  I'm way too much in love with our wedding date and wanted to incorporate it into at least one of these DIY's.   It's a subtle detail that will almost feel like an inside joke with your guests, though not a joke it's just the date you were all together and had an amazing time.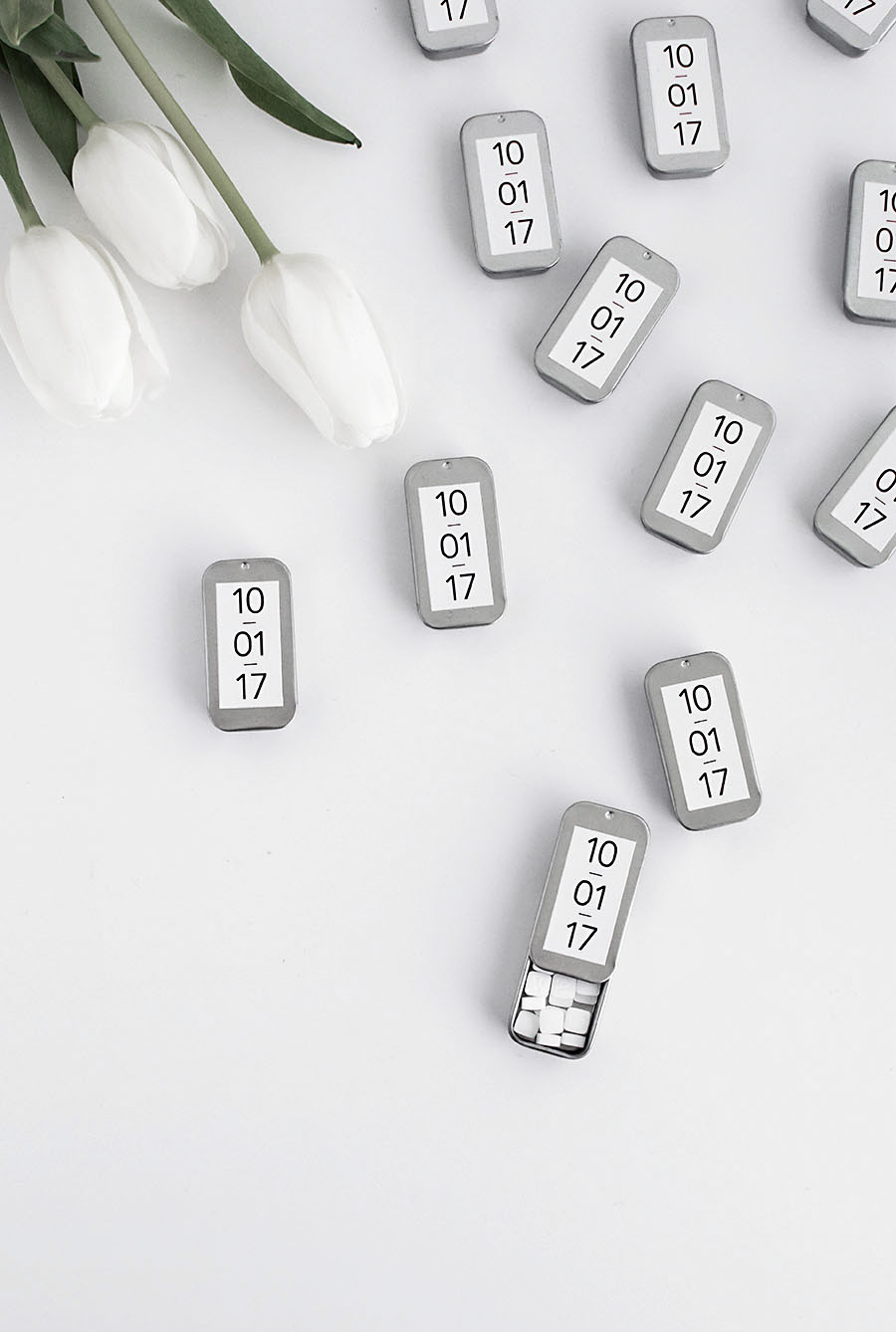 This one is definitely my favorite idea since again, this is true to a personal habit me and O share.  I also love the simplicity of it and how it isn't loud about being a wedding favor.  It's useful and definitely reusable, I always like that.
How do you feel about wedding favors?  Fellow brides-to-be, are you having them?
This post is sponsored by Paper Mart.  Thank you for supporting brands that help bring you fun and new ideas to try!
Other Posts You Might Like