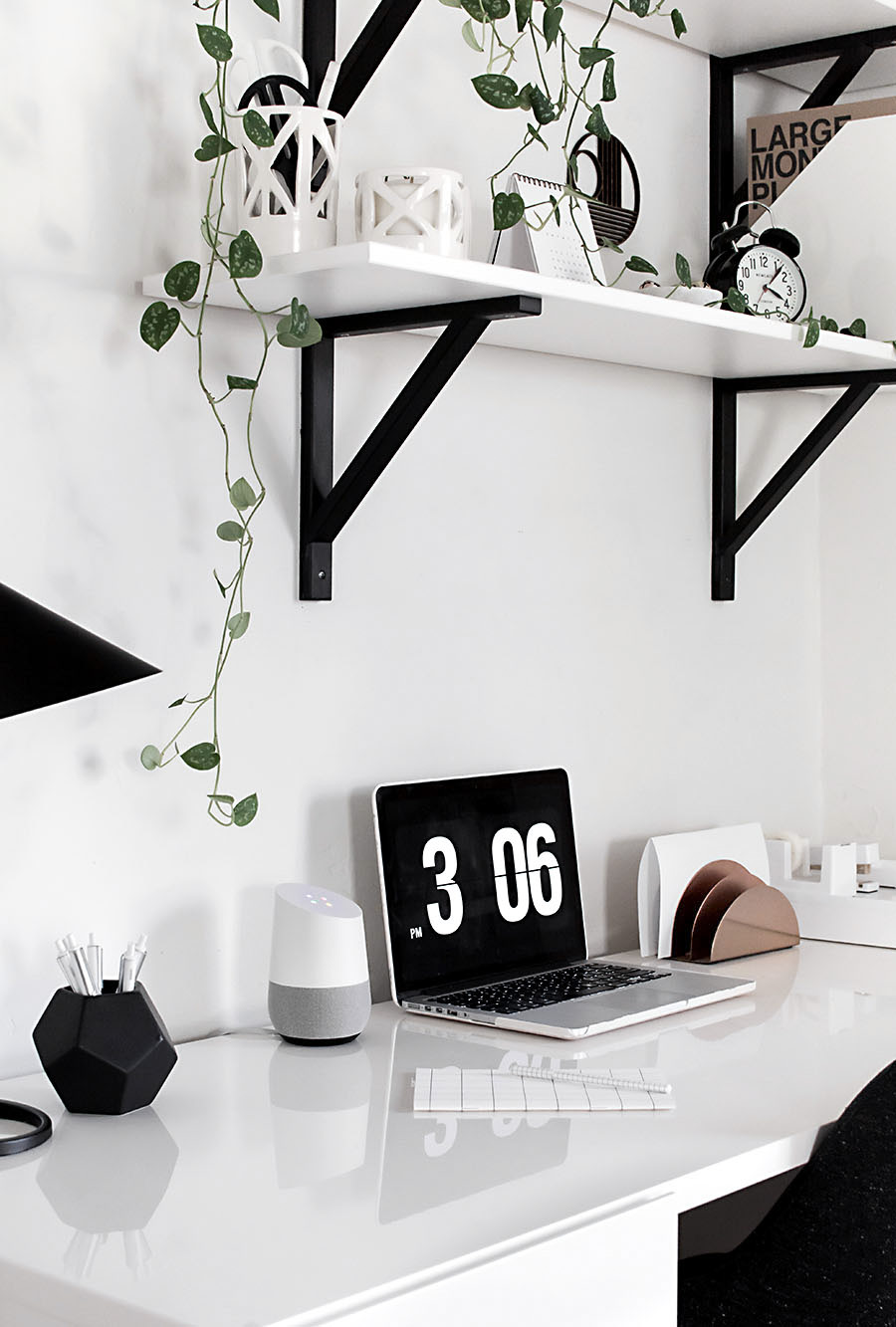 This post is sponsored by Google.
This is the coolest update to our home this year, all without lifting a single tool or drilling a hole in the wall, one that has changed both the way I work and live here while also fulfilling my design-loving heart.  A new piece of technology that's helpful and fits in with my decor?  That's what I've always affectionately referred to as "the sweet spot", when function and design combine perfectly.
Aside from being a proud homebody, working from home already means I spend the majority of my time here.  I enjoy it very much, but it brings a lot of challenges that constantly have me looking for ways to be more productive and inspired.  I've found this in Google Home, a voice activated speaker capable of things from telling me about what's planned for my day to playing good tunes while I work, and I've partnered with Google to share a little glimpse into how it helps me get more out of working from home.
I think of Google Home as my assistant, the start to my day when I ask it what's scheduled in my Google calendar or to set a timer to help me keep on track with how long a project takes.  At most moments throughout the day, my hands are full or dirty and I'm finding it's way more convenient to ask Google Home than to pick up my phone or laptop and get everything grimy.  Also, a lot of the time I'll be working somewhere on the floor and rarely have the foresight to keep my devices nearby, so it's way easier to shout out "Ok Google" to ask for what I need (every command starts with "Ok Google.")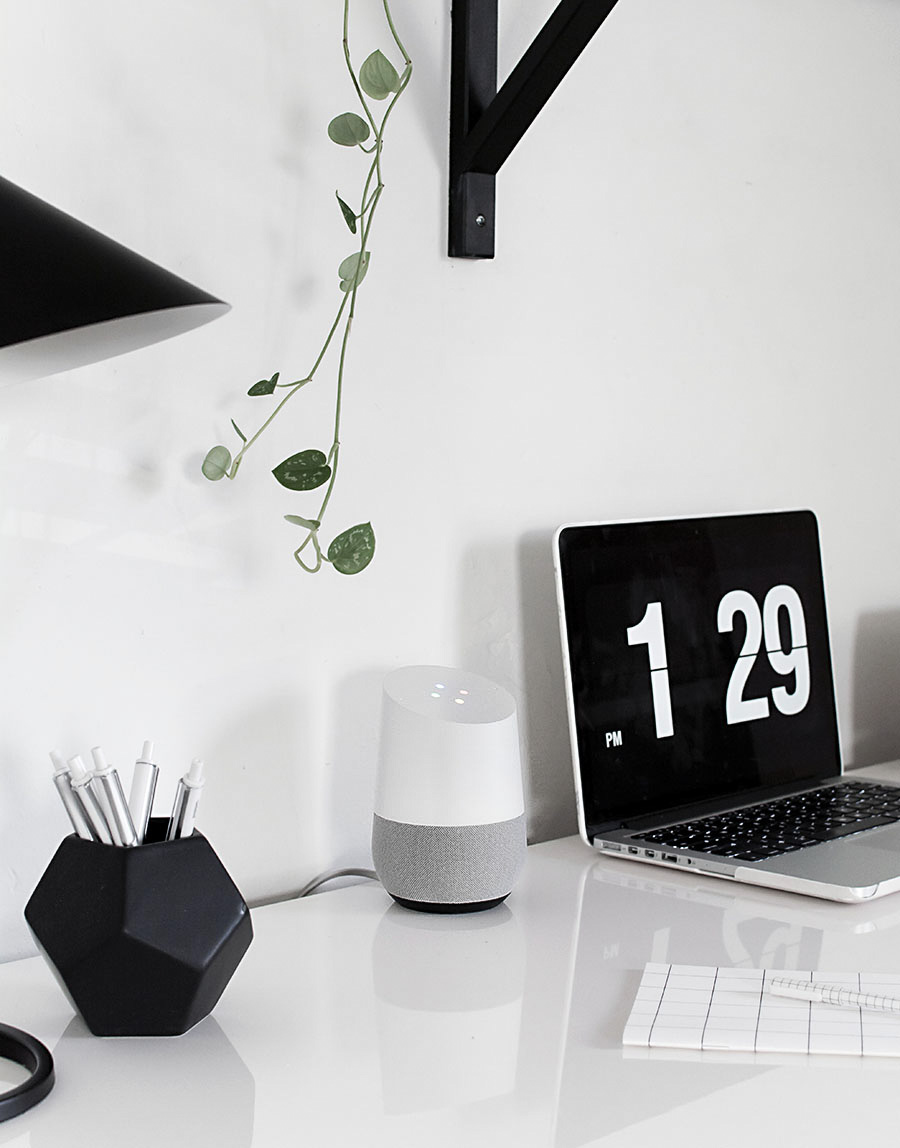 By far the function I most often use with Google Home is to set timers.  I like to work in 25 minute intervals with 5 minute breaks in between, so I need to set a good amount of timers throughout the day.  I find it keeps me focused while also giving a much better sense of how long different tasks take, which is so helpful for planning ahead for future projects.  I just say "Ok Google, set a timer for 25 minutes."  When the alarm sounds, I can turn it off by saying "Ok Google, stop" or by tapping the top of the device, then I'll set another timer from there and so on.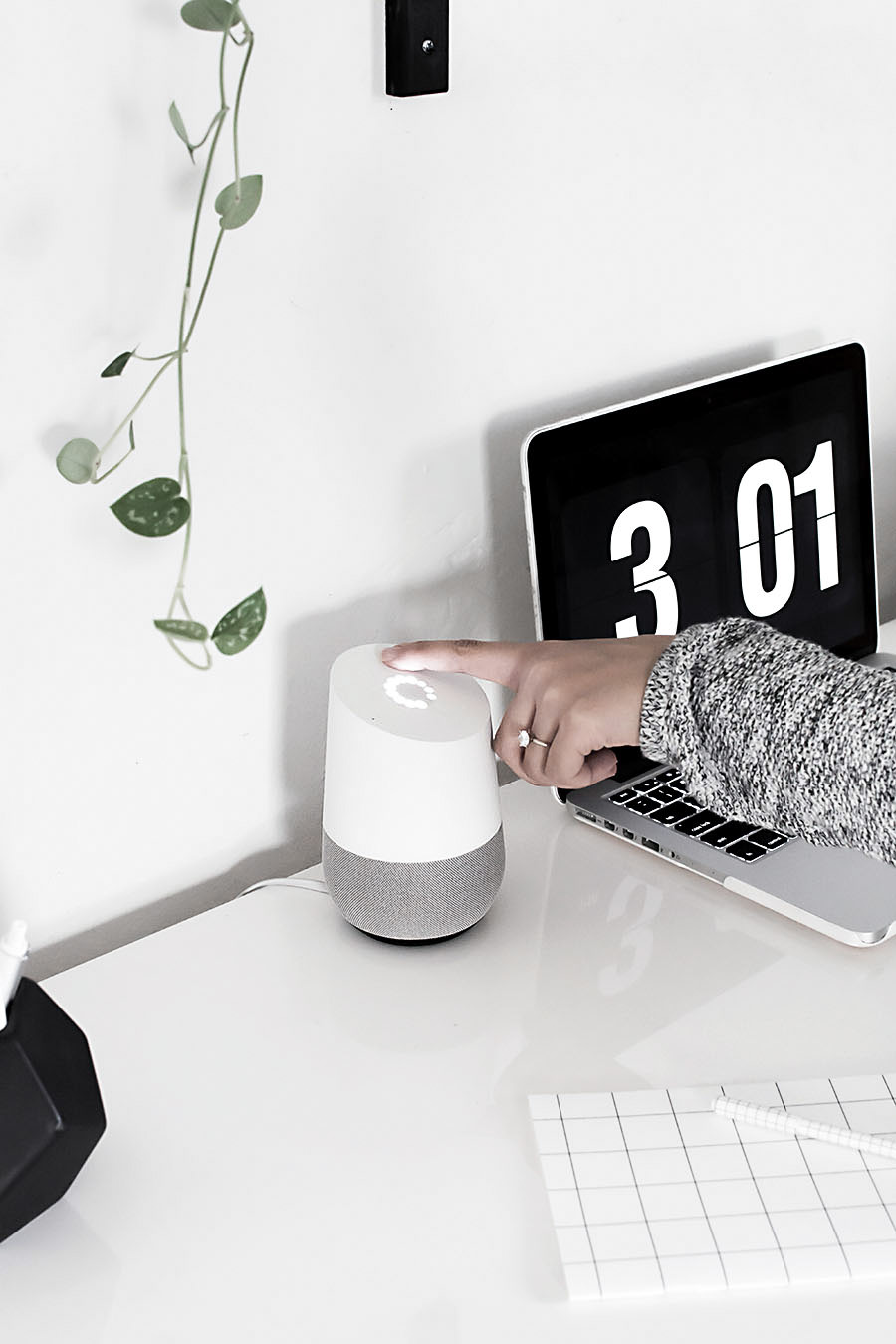 I loooove using Google Home for music.  I have music playing all day while I work and you already know that there's only so much music you can have day after day before your library gets stale.  I have my Google Home connected to Google Play and Pandora and can either ask for a specific artist, genre, or "some music" to get a random mix.  I just say "Ok Google, next song" if I'm not feeling whatever plays, or I'll change the station completely.  Volume can be controlled verbally or by swiping the top of the device clockwise or counter-clockwise like I'm doing in the photo above.  I also need to mention that this is for sure the best speaker we have- the sound quality is dope.  The most interesting playlist I've come across  is "hipster cocktail party" I recommend you check it it out if you're feeling mellow, HA.
Another function I love using is adding items to my shopping list.  Usually I realize I need something when I'm in the middle of a project so I'll say "Ok Google, add floral wire to my shopping list" and it'll be there in my Google App shopping list for easy reference on my phone when I go out to get materials.  Much better than before when I'd just think I'll put it in my phone or write it down somewhere later and instead end up forgetting.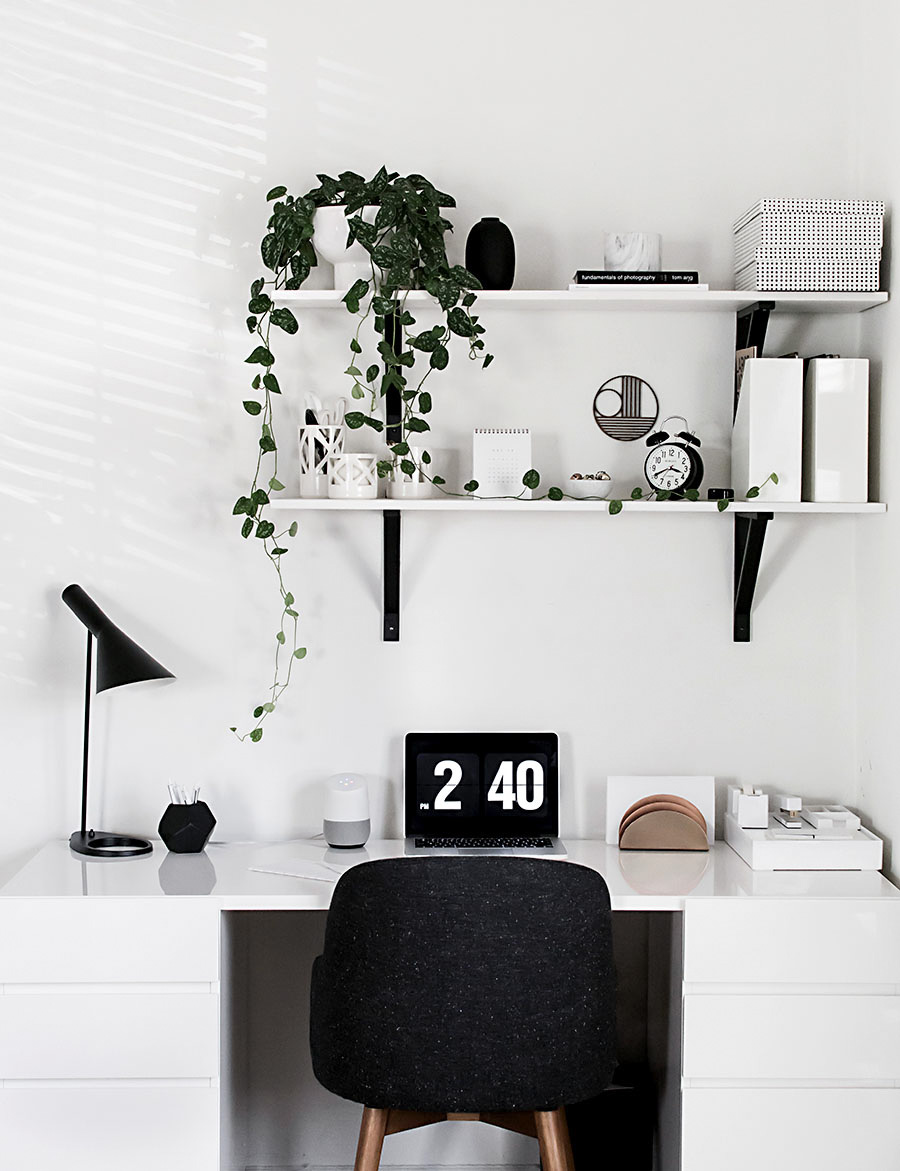 I SO appreciate how beautifully minimal and modern Google Home is.  I get that function is very important, but so is design and I hate that a lot of times it feels like you have to choose one or the other.  It can be hard to adopt changing home improvements in technology if it means creating an eye sore, but Google Home really feels like it's meant to be in our home.
Aside from all the worker tasks I depend on Google Home for, it's just fun for me and O to play with.  Some of our random favorite things to do are to ask the age of a celebrity we see on TV (this happens a lot, I never knew we were so curious) or to play the trivia game- just say "Ok Google, let's play trivia."   According to the few times we've played, trivia is not my strength!
Hopefully this sounds like something that can be beneficial to your home, or this would absolutely make a very cool gift this holiday for the design-conscious worker at home/homebody that you know.  Bonus- every Google Home purchase comes with 6 months of free YouTube Red!  You can check out more of what Google Home can do HERE.
This post is sponsored by Google, a brand I've been a long time fan of.  All opinions are always my own.
Other Posts You Might Like