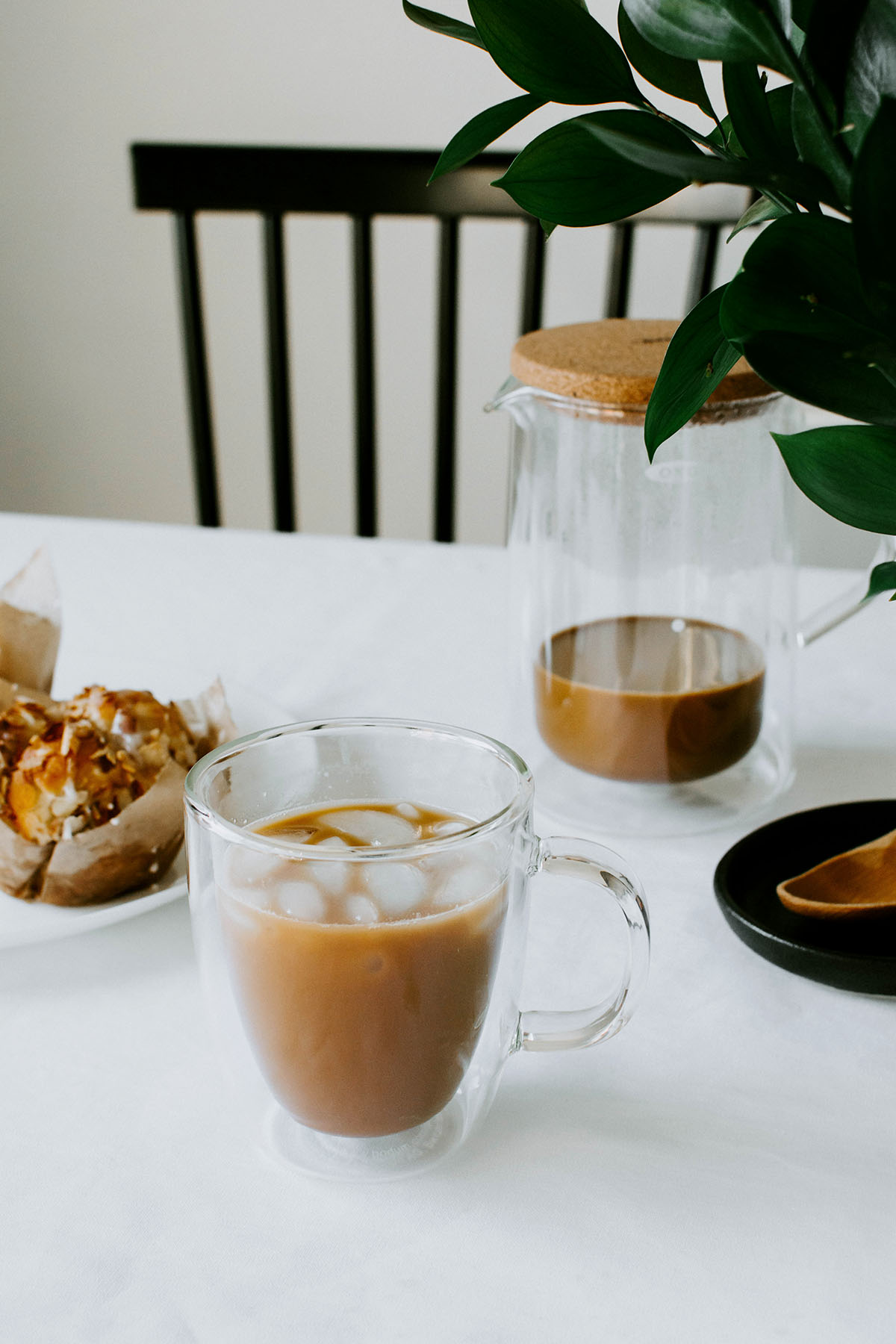 This post is sponsored by OXO.
The first time I tried Vietnamese coffee was a sip from a friend's cup and I remember asking her with wide open eyes, "WHAT IS THIS?!" It's like drinking coffee candy. The coffee is strong and rich in flavor and perfectly balanced with sweetened condensed milk. I would've guessed there was more to it, but it's that simple and hits different than your regular coffee with milk and sugar. It's very easy to make at home and I'm partnering with OXO to show you how!
I've basically already told you how to make it, but there are a few more details to consider. For the coffee itself, you want to use a dark roast coffee. Traditionally Robusta beans are used for Vietnamese coffee, but it's a matter of preference to go with a Robusta and Arabica mix for something less bitter. Frequently used brands for Vietnamese coffee are Trung Nguyen which has a more chocolatey flavor and Cafe Du Monde which is special for its chicory flavor.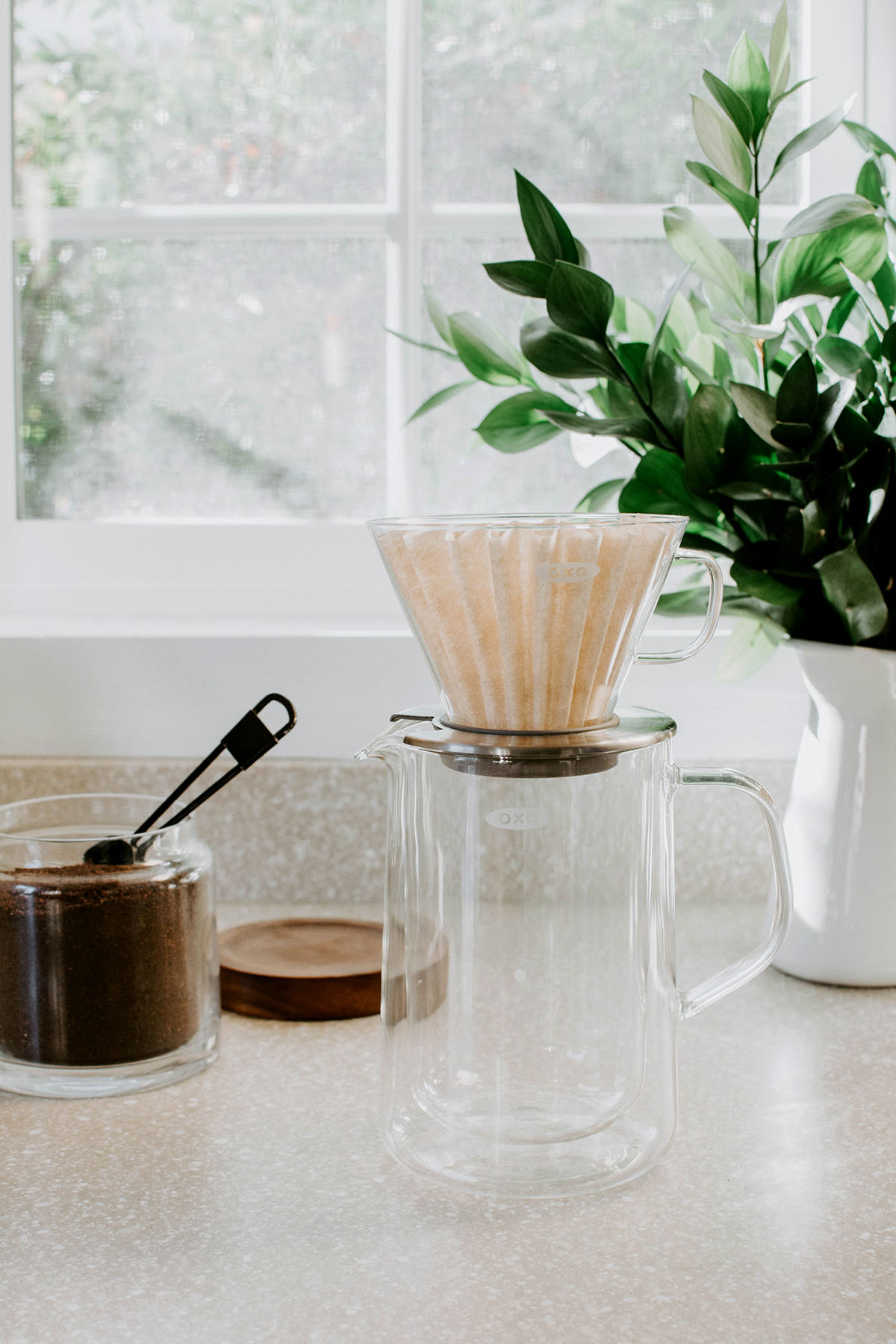 Vietnamese coffee is typically brewed with a phin, an aluminum filter that sits on top of a cup and drips the coffee directly into that cup. It's similar to a pour over method (though pour over is more involved with the pouring) which is why I thought of making the coffee with this OXO Pour-Over Coffee Set. I like that the size of the dripper and glass pitcher allow for brewing a larger batch at once which is great when you want to brew for a group of people, or when you just need more coffee for yourself. The pitcher is made of a double-wall borosilicate glass which helps keep the coffee hot or cold, whatever it is you're up to.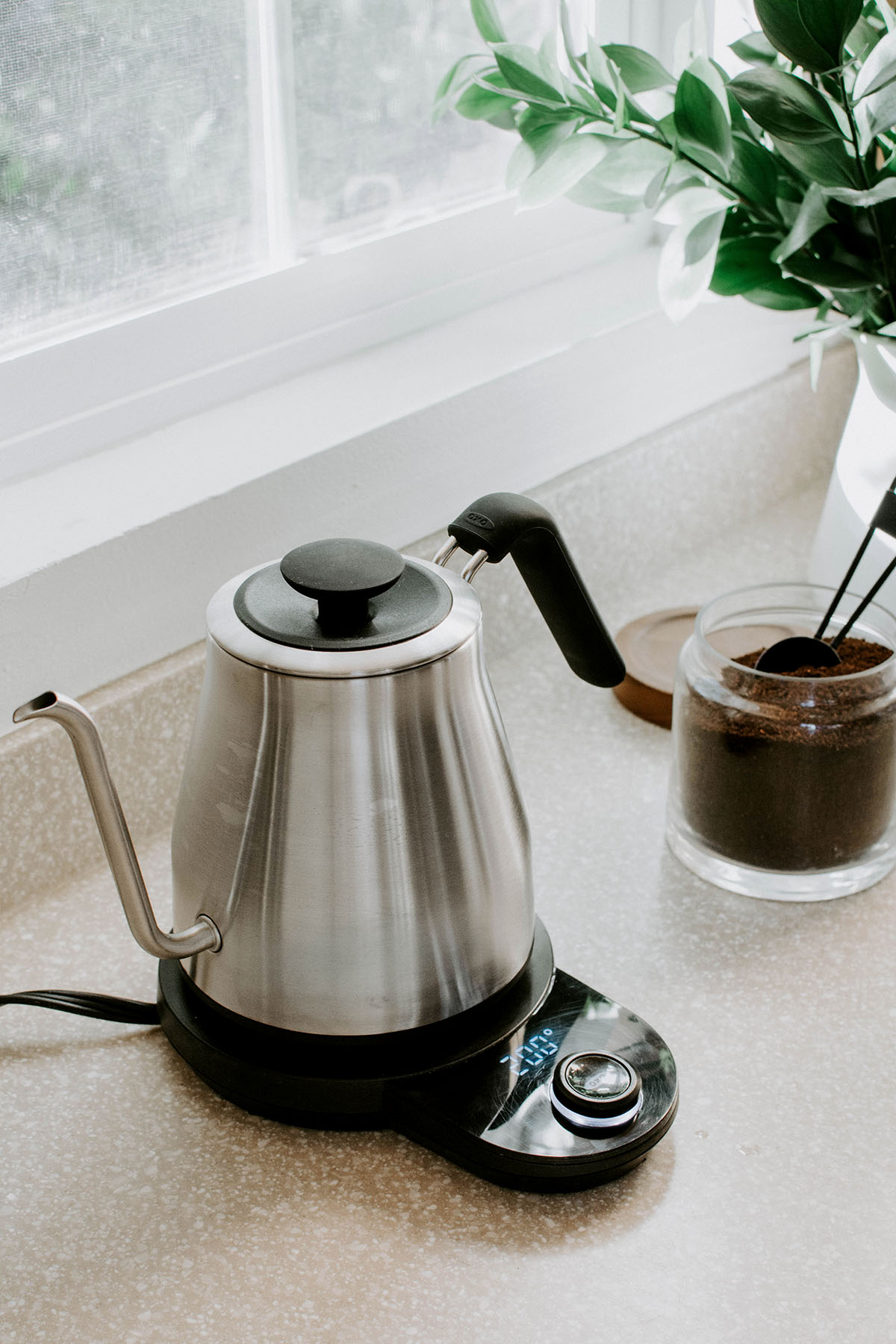 Another useful tool for this brew is the Adjustable Temperature Pour Over Kettle which makes a balanced, steady pour easier. I pre-measure and pour in the water, set it to the temperature I need, and the kettle heats up the water quickly to that temperature and keeps it there. There's also a built-in timer to help you keep track of your brew time.

We can go down a rabbit hole about the science of the perfect pour over and truthfully, I'm not a master on the topic and trying to perfect the nitty gritty details of making coffee ruins the experience for me. My approach is that I'll adjust things here and there as I learn about different aspects of brewing and get to know my preferences about coffee, which takes time and practice. I think of it as a meditative experience to enjoy as much as the coffee itself, which is really what I love most about doing the pour over method at home. Focusing on the steady pour, watching the water swirl as it drains through the slurry, hearing the coffee drip down and land in a pool of dark nectar, no need to stress over being perfect about it!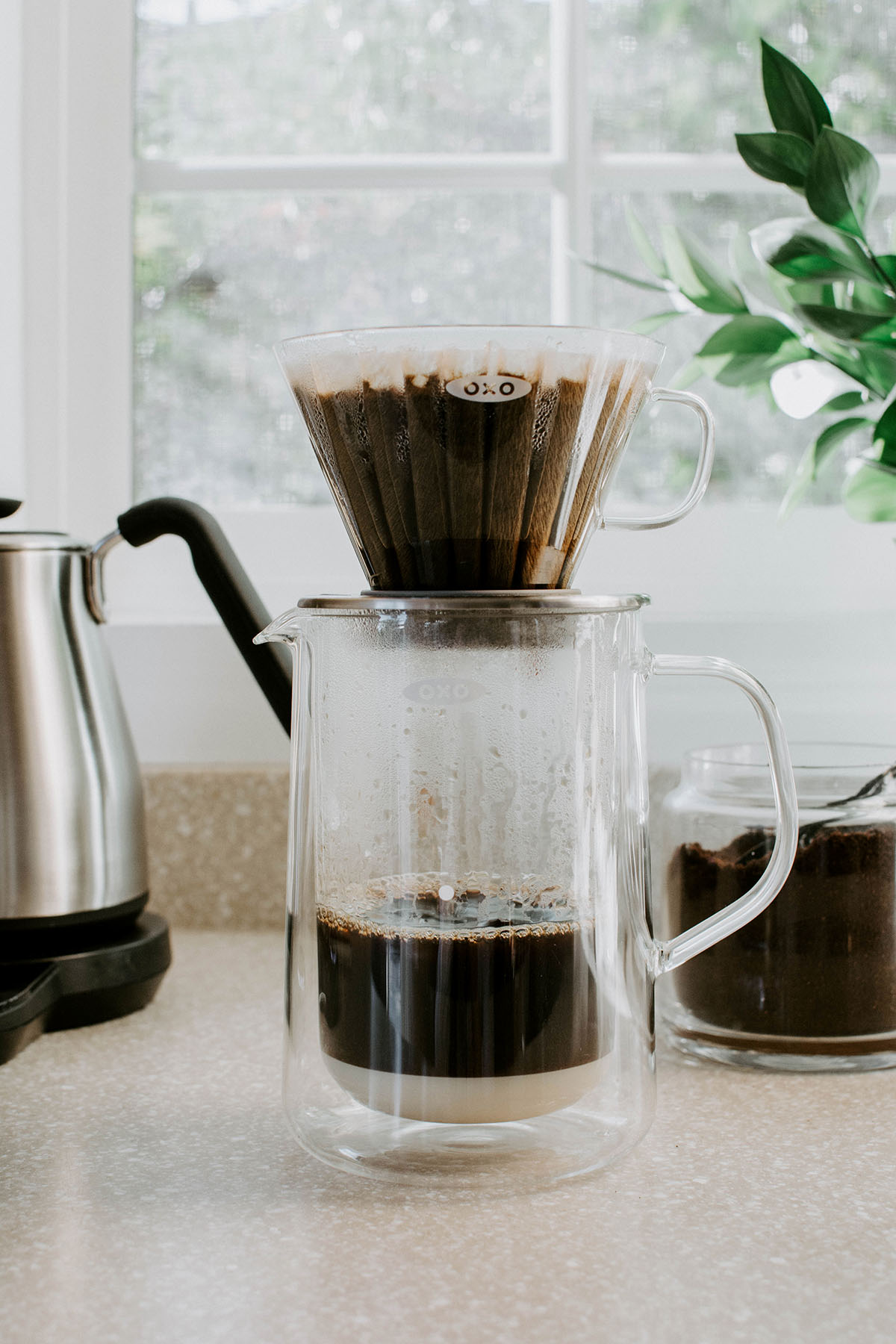 The best part is that layer of sweetened condensed milk. The coffee drips down and collects on top of it, and then at the end you mix it all together. It's such a perfect combination, I can't really explain why it tastes so much better than milk and sugar. It's definitely an option to put the sweetened condensed milk in your individual cups and pour the coffee on top of that later if you want to leave the option of customizing sweetness for each person. Compared to most Vietnamese coffees I've tried, this recipe is on the less sweet side though I personally think it's still pretty sweet and I could probably go for less of the sweetened condensed milk. As always, adjust to your taste. Enjoy!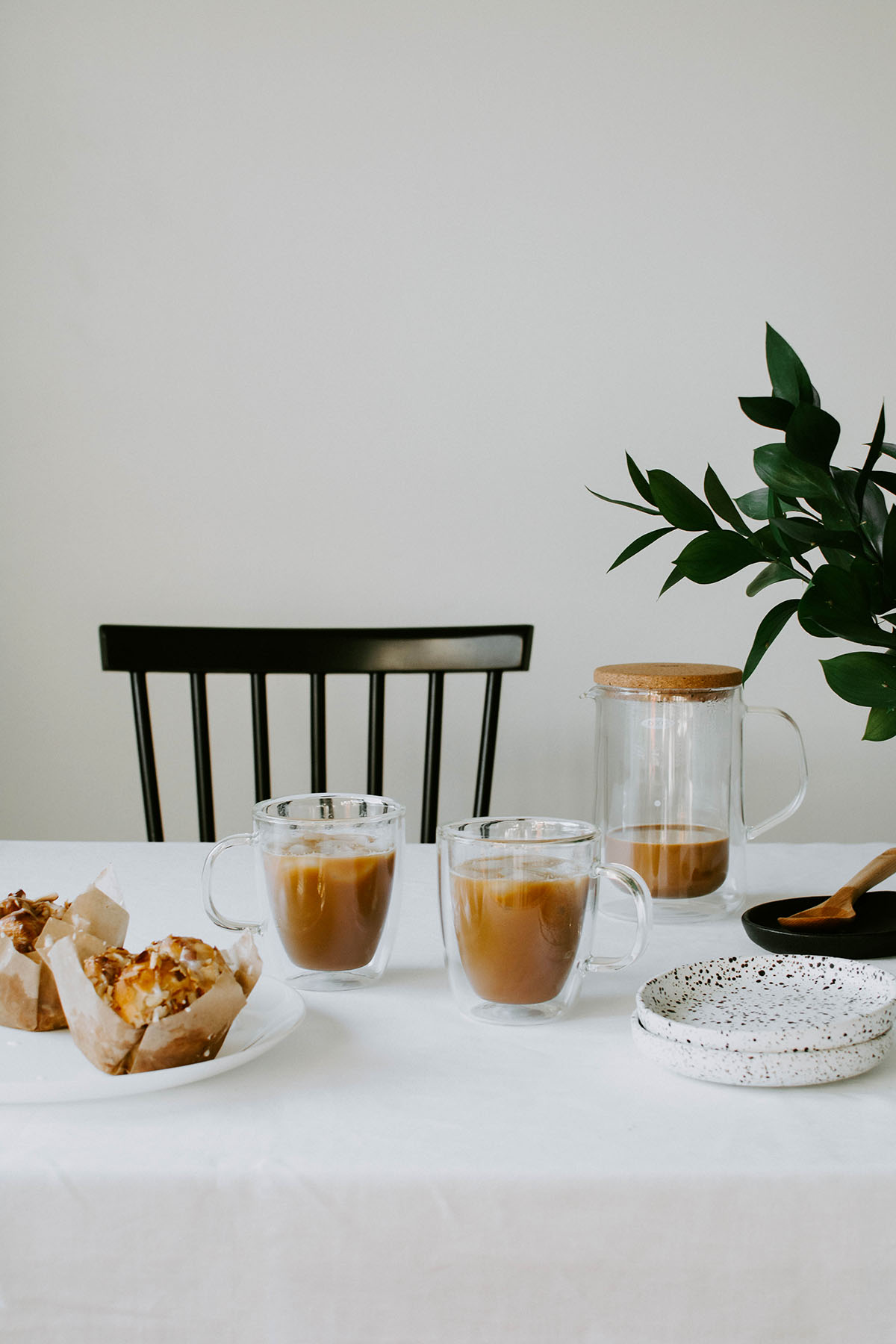 Print Recipe
Vietnamese Iced Coffee with a Pour Over Method (4 Serving Batch)
Ingredients
8

tbsp

medium ground coffee

(Robusta or a blend with Arabica)

5

tbsp

sweetened condensed milk

18

oz

hot water

(200 degrees)
Instructions
Assemble the dripper on top of the pitcher. Place a paper filter in the dripper and wet it with hot water. Swirl the water to ensure filter is thoroughly wet and dump the excess water and any of it that dripped down into the pitcher.

Pour sweetened condensed milk into the pitcher.

Place dripper with wet paper filter on top of the pitcher. Add coffee grounds into the paper filter.

Pour just enough hot water from your kettle in a circular motion to saturate the grounds. Wait for about 1 minute to let the grounds bloom.

Slowly and evenly pour the rest of the water from your kettle over the grounds in a circular motion, keeping the water level fairly constant in the dripper as the coffee drips down. Total brew time takes about 8 minutes.

Mix the coffee and sweetened condensed milk together. Pour over ice and serve immediately.
Notes
Adjust amounts of water and sweetened condensed milk to your taste and whether you want to account for the ice melting.
Coffee can be served hot, it's delicious that way too!
Other Posts You Might Like