This post is sponsored by Annie Selke.
Our bedroom is set up! No more fishing our clothes out from boxes or walking into those boxes when we get out of bed in the middle of the night to go to the bathroom! Calling it a refresh because you'll recognize a lot of the things in here that were from our previous bedroom, and overall we've maintained the minimal design that we already loved . All we needed were a few changes to make it work for this room layout, and I've partnered with Annie Selke for some simple updates from their wide range of rugs and bedding that made it all cozier.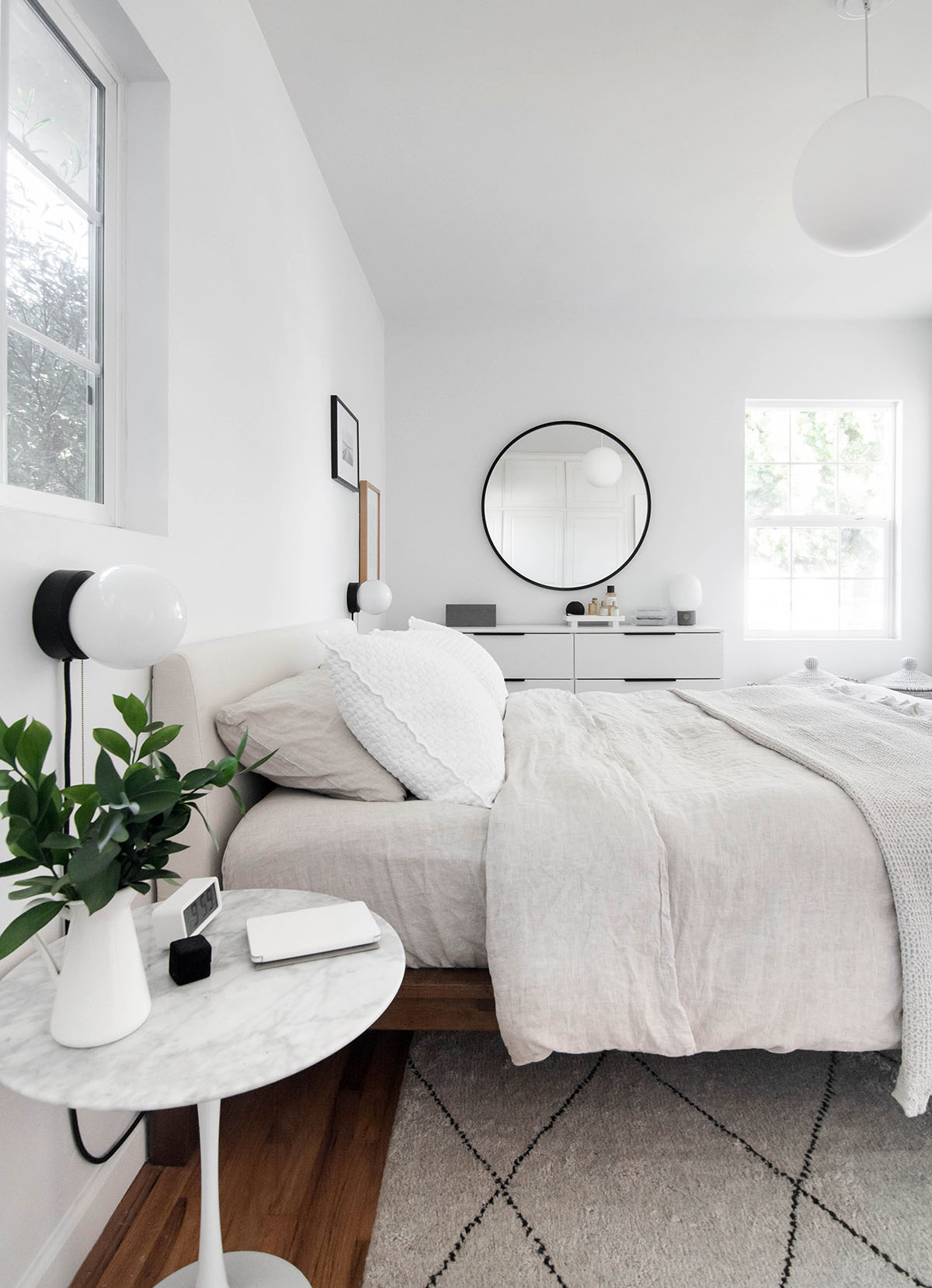 Easily my most favorite addition to the room is the Numa Charcoal Hand Knotted Rug (8×10). There was an extended period of time after we moved in where the floor was like hot lava. We had to fumble around with putting our shoes on every time we'd get out of bed to avoid getting our feet covered in dust from all the work that was going on in the house. It was the most unsettling thing after the move and I never felt comfortable in our bedroom for the first couple of months. Even after the dust had cleared, the bedroom felt cold and unwelcoming and I figured it just needed a bunch of decorative touches but really, a rug was the single-handed answer. I knew this plushy wool rug would be so comfortable under our feet, and the Moroccan-inspired design is a long time favorite of mine. I purposefully wanted it to be the only pattern in the room so that it could stand special on its own.
The natural colored bedding is a rare departure from my usual white bedding sets, but I felt it calling me saying it'll look really good in here to break up all the white while still staying neutral. It's the Lush Linen Natural Duvet Cover with the Lush Linen Natural Sheet Set and as expected of linen, the texture is beautiful. I've enjoyed linen bedding for a long time for how it's more breathable to sleep in alongside looking relaxed and casual.
To add to the texture party, I layered on the Wruffle Grey Matelassé Throw that I love for the waffle texture and how soft the cotton is and the Lodi White Matelassé Shams which echo that texture. I'm not as much into patterns as I am into textures, and especially for a bed the most inviting thing to my eyes is texture. At most I could go for one more decorative pillow in the center, but I think the shams are so beautiful in their simplicity and interesting enough on their own. This also means there's one less pillow to toss on the ground before getting into bed every night.
One of the biggest things we had to consider about this room was the window on my side of the bed. I would've liked to have kept our previous swing arm sconces but the arm would have been positioned directly in front of the window, which is not the end of the world but would certainly be in the way every time I want to open this window. This turned out to be a good dilemma because through it I discovered these globe sconces that are a much better fit all around. The simple black cord and brass hardware do so much in adding decorative details, and the diffused light through the glass shade is much preferred over the exposed bulbs we had before in our previous sconces.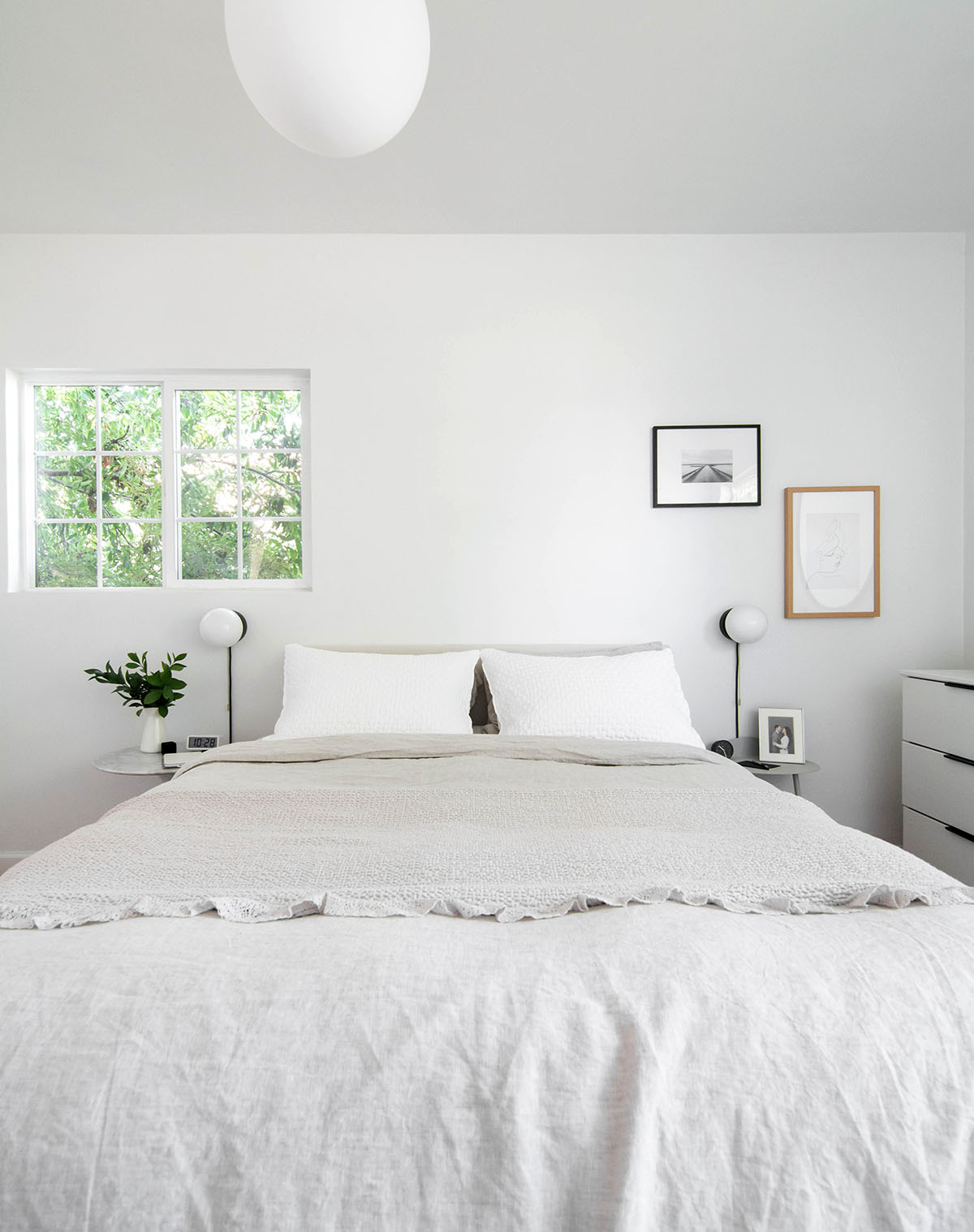 The window also posed a challenge about what to do with the rest of the wall. Originally I thought to just ignore it and hung up one piece of art centered above the headboard, but because the bed is positioned slightly under the window on the left side the art looked really imbalanced and out of place. To offset the window, the next idea was to hang up a couple framed prints only on Oleg's side, which I'm SO satisfied with how unique and uncluttered this looks and he's into it for how there's nothing directly above the bed that we'd have to worry about in an earthquake.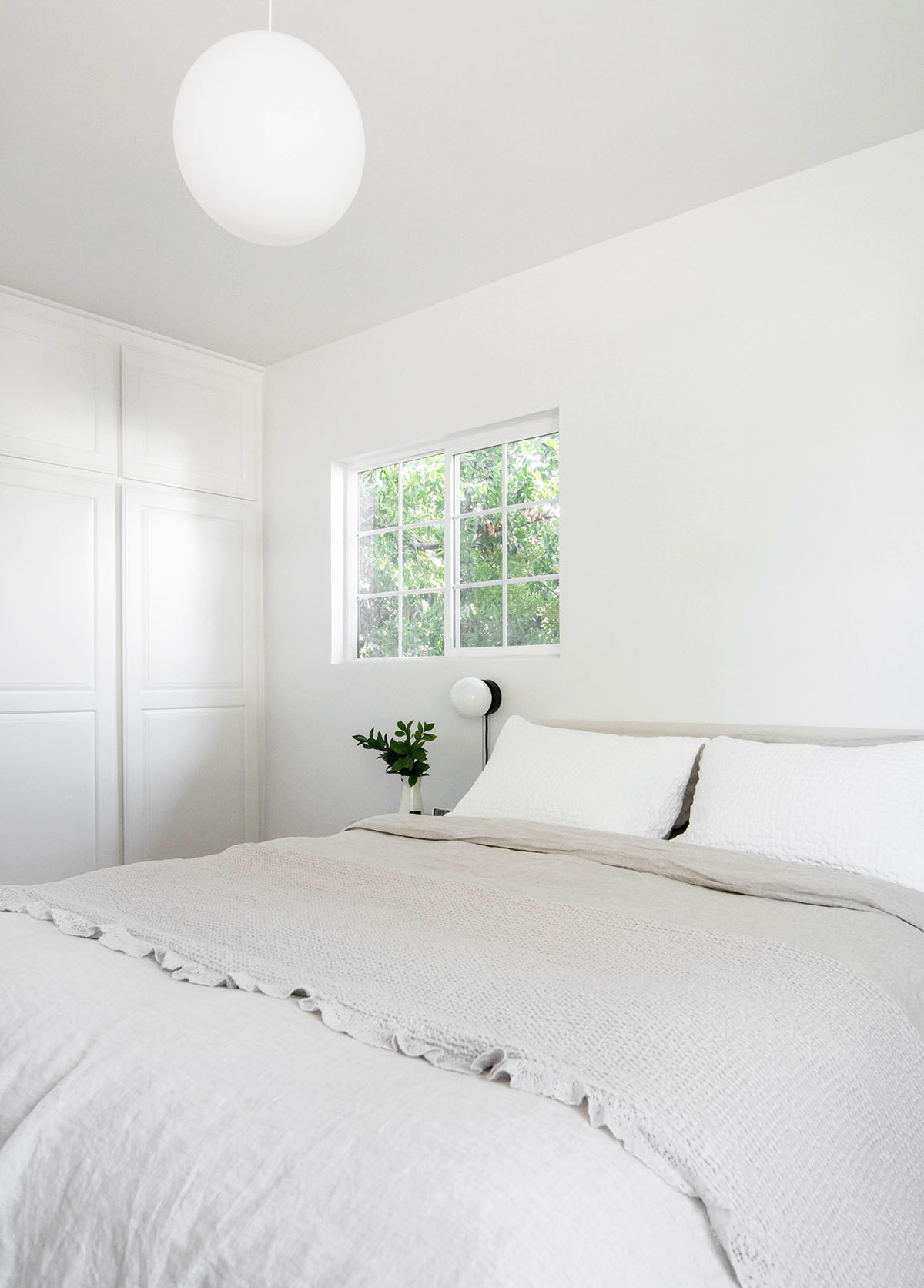 Another thing I love about what we decided with this wall is how clean and minimal the space looks particularly from this angle. I contemplated not putting anything on this wall at all but might save that idea for later if I continue to warm up to the idea of eventually doing some sort of treatment to it. Painting the walls a different color is also definitely being considered for the future, but for now I'm really enjoying the all white per usual. Along that whole wall at the end with the doors is the closet the house came with. Would be great to do something fun with that too!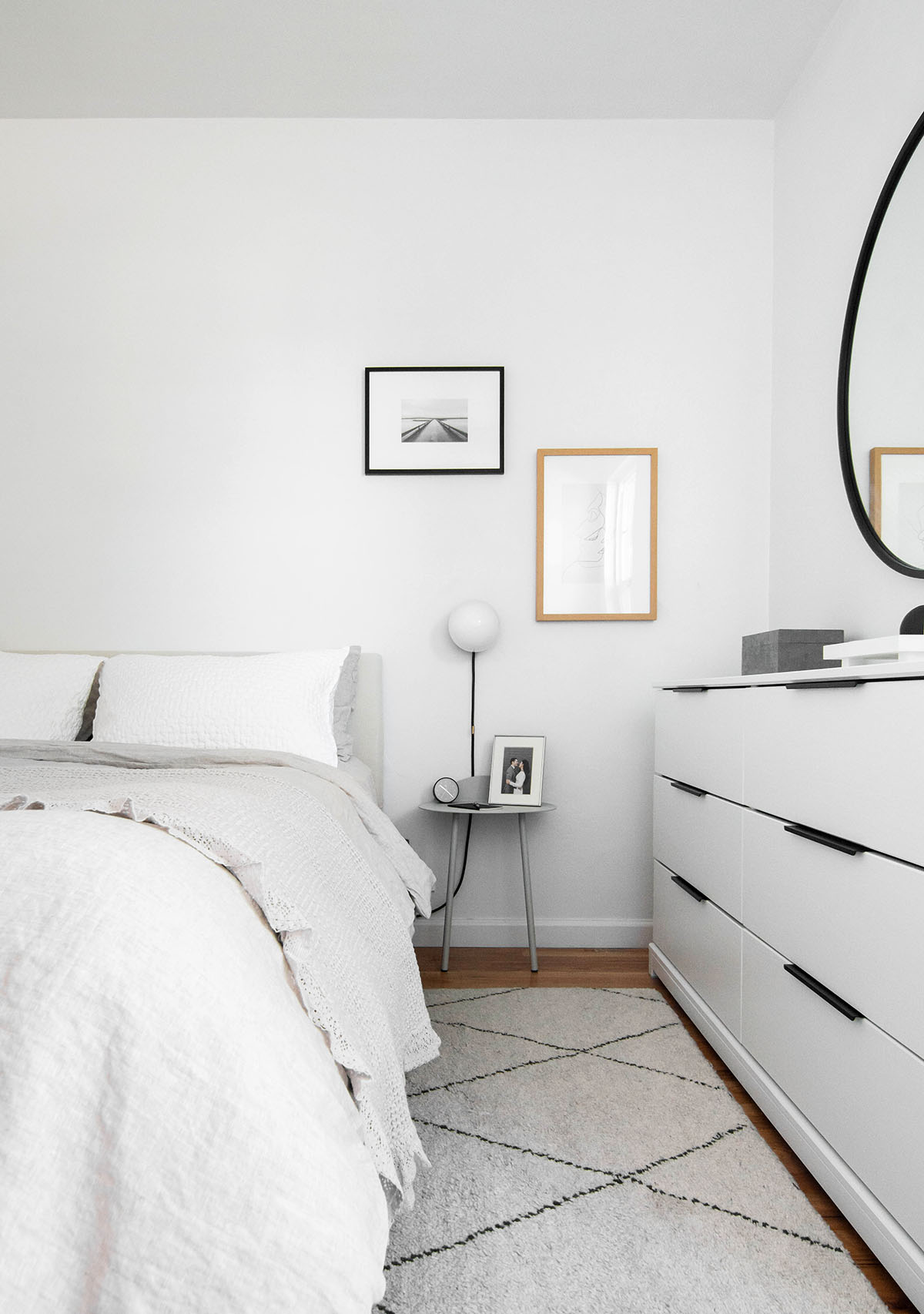 To make room for the dresser drawers (dresser is a DIY coming soon), his side now has a smaller nightstand which maybe you recognize was in our apartment bedroom next to the blanket ladder. I searched far and wide to find the right nightstand that was both small and functional enough and the answer was under my nose with this adorable leaning table we already had. Ideally he wanted it to have a drawer, but more ideally he didn't want me to buy yet another thing for the house. You are right to not believe for a second that he's the one who put that framed photo from our wedding there. Tangent: look at how perfectly the rug fits in size with everything! You bet I painstakingly measured it all out first before deciding on anything.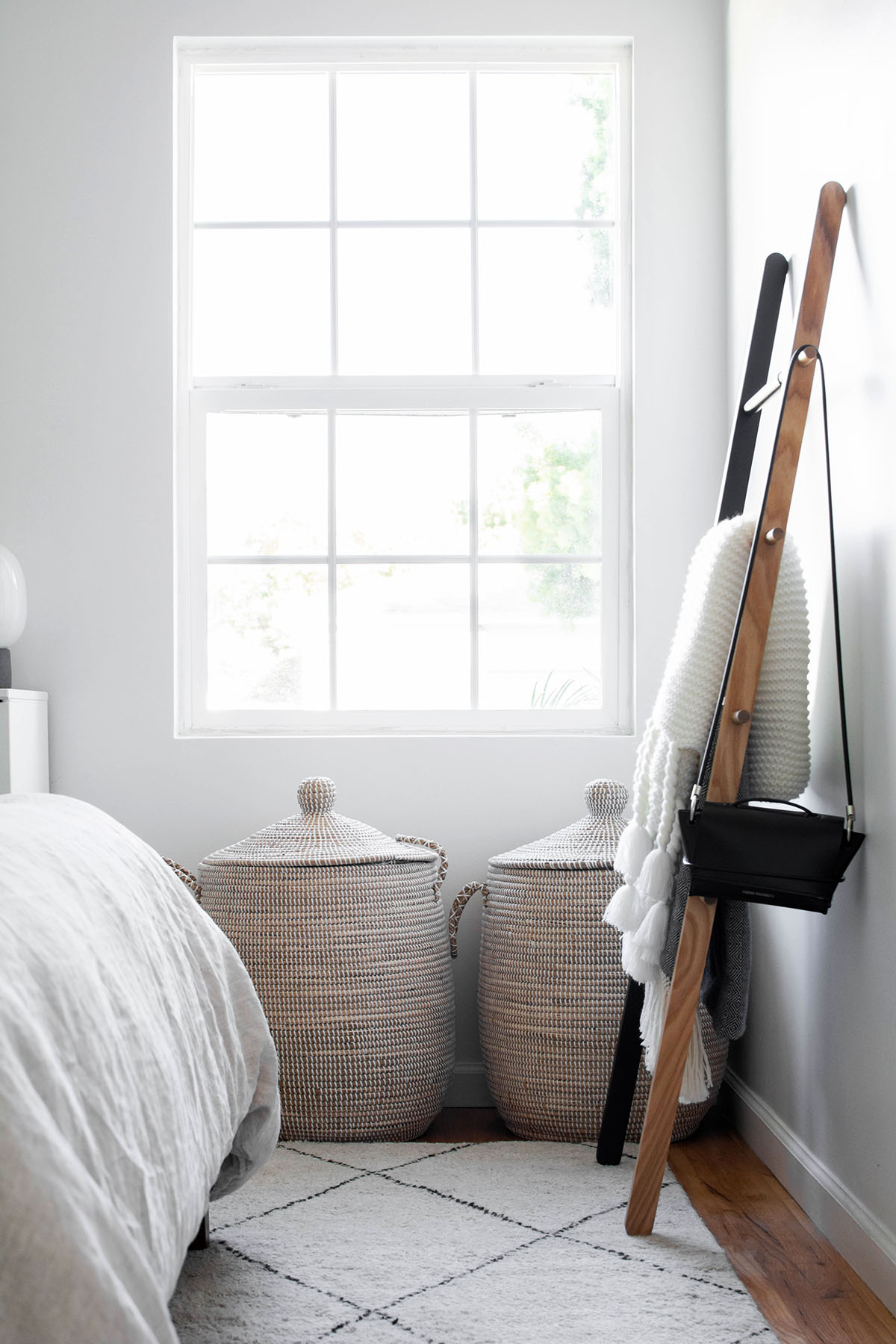 Our blanket ladder has stayed with us, and the laundry baskets have also survived the move and made the cut (I don't think I've ever shared these before because they were in a corner of our old bedroom that I never shot). Seeing it all fit into this corner makes me feel so good about how efficient and functional this space turned out to be. I was truthfully bummed at first that this bedroom is downsized from our previous one, but now having set everything up it is truly the perfect size. Prioritizing the design to feel open and airy truly makes the room seem much bigger than it did only a few short months ago. I remember reading advice that the fastest way to feel settled into a new home is to set up the bedroom first, and that really makes a lot of sense since it's the space that will always be your sanctuary of sleep and relaxation. I'm for sure feeling settled in now that this room isn't a disaster zone anymore.

Be sure to check out Annie Selke for their catalogue of home goods across all styles in bedding, bath, rugs, accessories and more for whatever room you're looking to refresh next. I particularly love their selection of rugs in the "neutral" category- so many textural beauties, hard to choose from!


SOURCES:

Numa Charcoal Hand Knotted Rug (8×10) c/o Annie Selke
Lush Linen Natural Duvet Cover c/o Annie Selke
Lush Linen Natural Sheet Set c/o Annie Selke
Wruffle Grey Matelassé Throw c/o Annie Selke
Lodi White Matelassé Shams c/o Annie Selke


bed | marble side table | sconces | digital alarm clock | analogue alarm clock
pendant light | black and white art | line art | gray nightstand table
dresser (DIY tutorial coming soon) | mirror | jewelry box
velour jewelry tray | lamp | ladder | baskets
Other Posts You Might Like