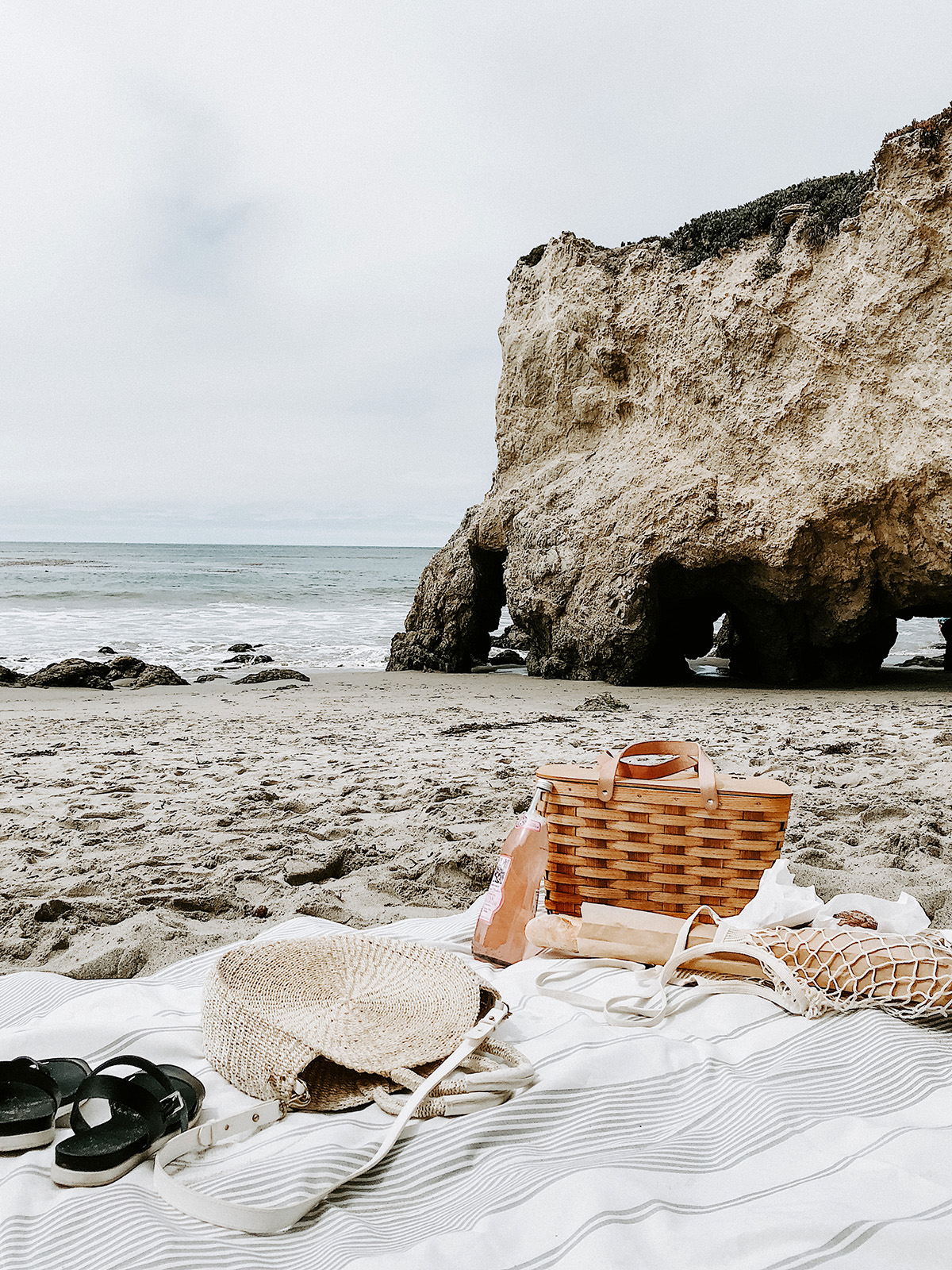 We've been talking since winter about going on a picnic at the beach the first chance we get this summer, so I've been bursting with much anticipation for what might be my favorite summer tradition of them all.  I love a beach day on its own, but bring your favorite foods and people and it becomes a breezy celebration at one of the most beautiful free venues there is.  The beach takes care of the scenery, and all we need to do is pack the right things and keep it simple for the best time possible.  Partnering with my friends at Uber to share my tips for throwing a beach picnic, using Uber to enjoy the ride and have peace of mind utilizing their new safety features.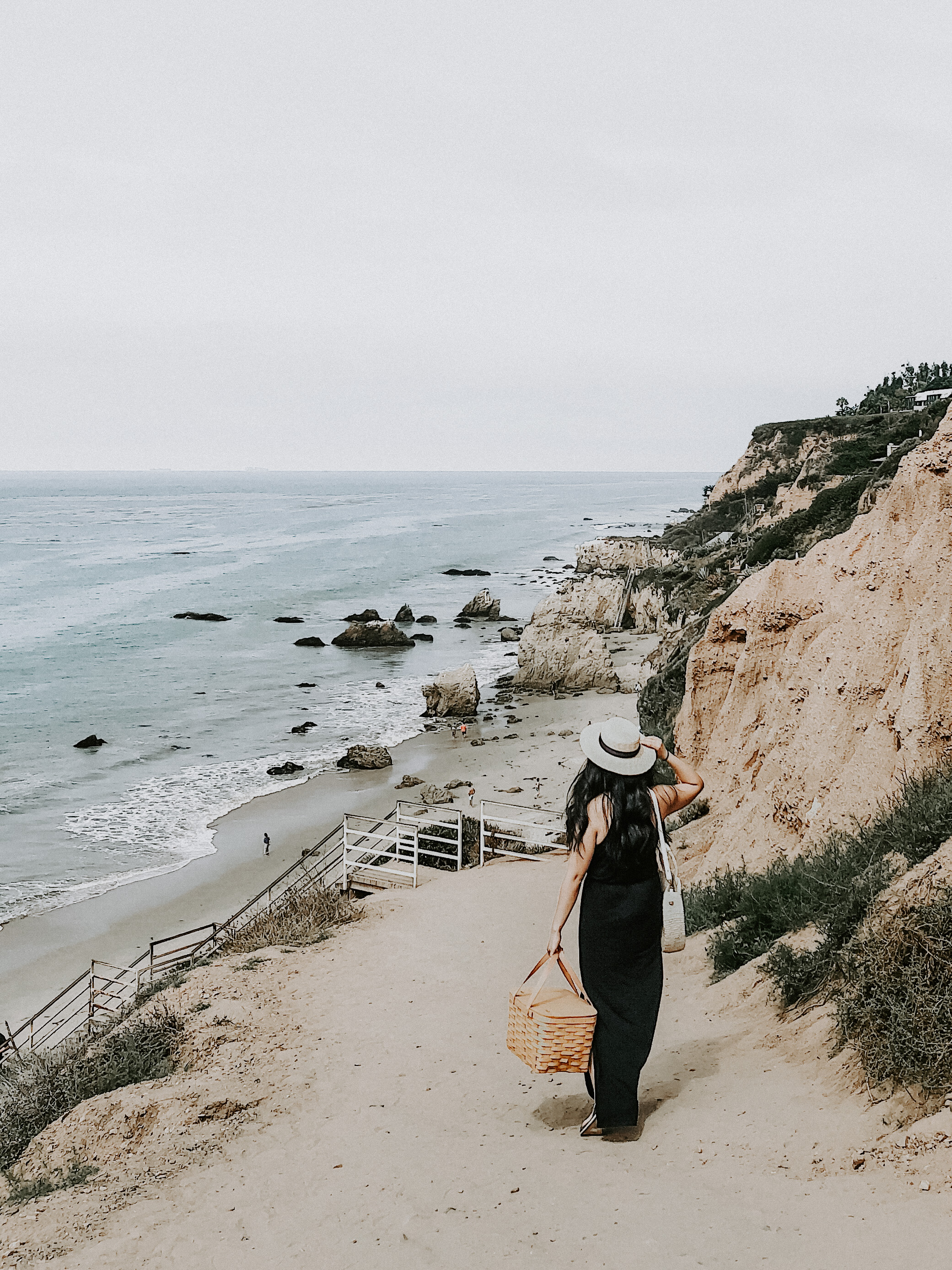 Tip 1: Get a ride
Finding parking is by far my biggest deterrent for going to the beach, especially when considering the prospect of having to park really far and lug all our stuff for long distances, so eliminating that stress does so much to keep the day easygoing.  Relaxing on the way there is a big, enjoyable part of the experience I love to take advantage of when I can.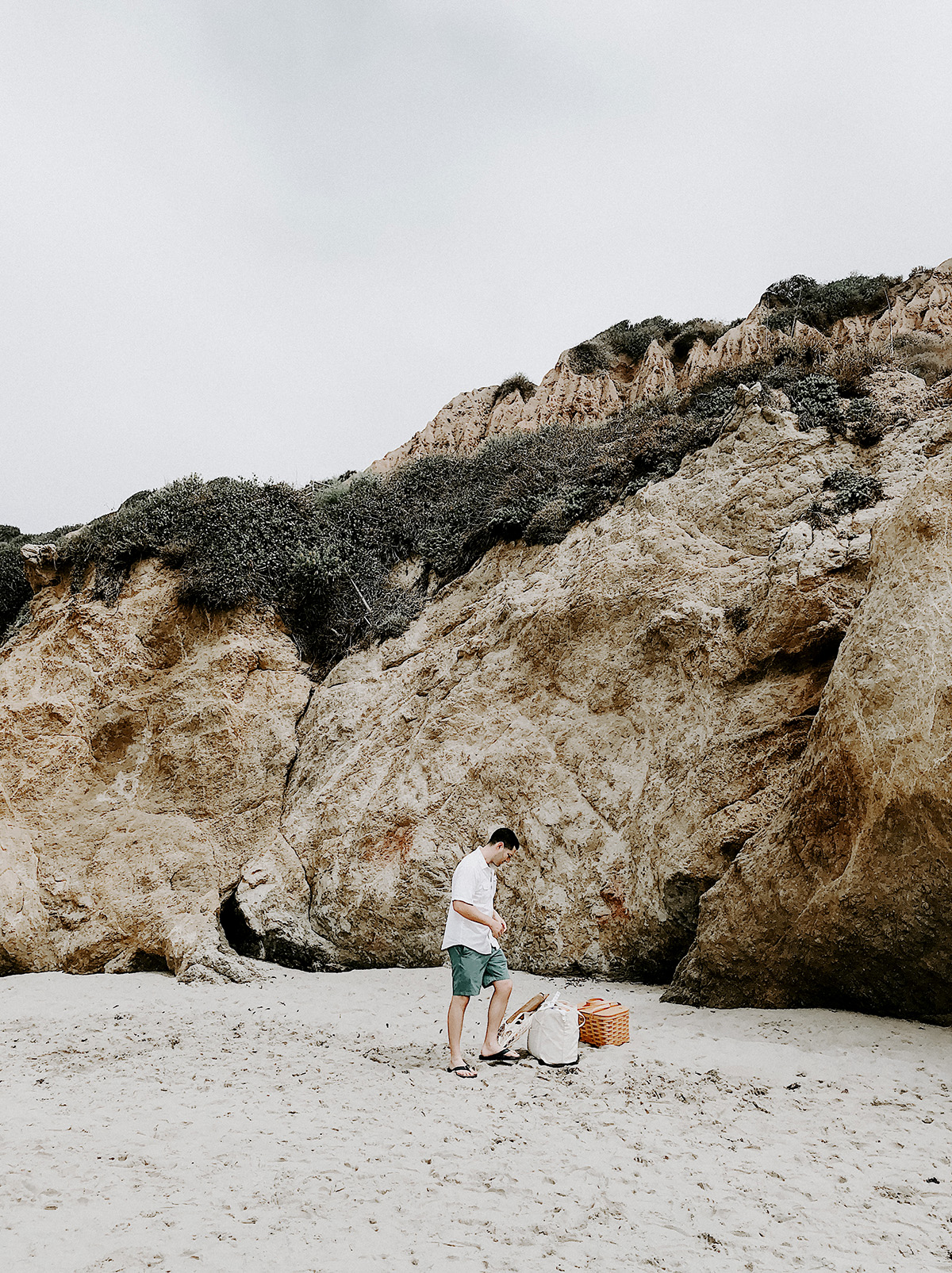 I always take an uberX, and recently Uber added new features to make the ride safer for everyone.  One of these is the Trusted Contacts feature, where you can add up to five family members or friends and set up reminders to share your trip details with them so they can follow along on a map.  My husband and I ended up having to meet at the beach from separate locations and designating him as my Trusted Contact allowed me to update him on my location as I got closer to the beach, knowing exactly when I've arrived safely.  Ensuring everyone's safe arrival is the first step to a carefree and enjoyable experience and is always worth the effort!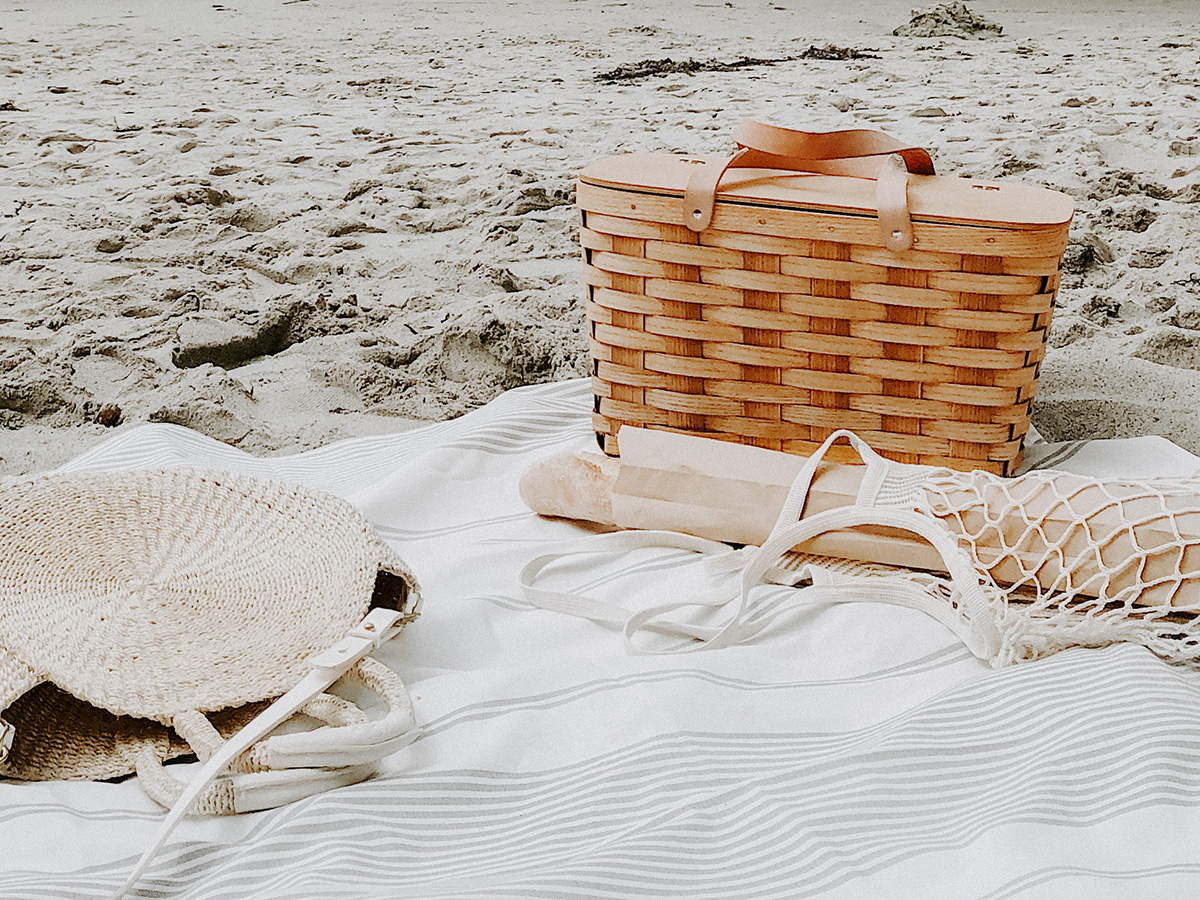 Tip 2: Use the right basket
Your specific food items might affect what carrying mechanism you need, but in general it's most versatile to use a simple large basket without any compartments and a flat lid that you can use like a table if needed.  What I particularly love about our basket is that it's lined with vinyl on the inside in case anything spills or to collect condensation.  You can add vinyl yourself to any basket too or simply lay down a small towel if you'd like the protection.
Tip 3: Keep it cool
I like to do this a couple of ways if we're bringing food items that need to stay cool.  The first is to freeze your water/freezable beverage in a freeze-safe container, which not only will keep the surrounding food cool but will ensure you have a cool beverage during the picnic as it melts.  The second is to bring a leak-proof bag full of ice, then once you dump the melted ice you can use the bag to collect scraps and any garbage from the picnic.  For beverages we want to keep at a more controlled cool temperature, like cold brew coffee, we'll pack it in our thermos.
Tip 4: Bring a picnic blanket
This is obvious but too important not to mention.  It'll do the most for keeping sand out of your food and off of your bum.  Rattan mats work great as well as beach towels, or what I've used here- a table cloth!  I for sure wouldn't use your nice cloths, but if you have an extra one that's lying around, give it new life and take it with you on your next picnic.
Tip 5: Stick to finger foods- prep and consolidate
Sticking to finger foods will reduce the amount of prep and extra serve ware, plates, or utensils needed.  The simplest of all finger foods and my favorite meal is a charcuterie and cheese board.   Cut the cheeses and unpack all the meats ahead of time so that there is zero fuss to eat them at the beach.  Add in fruits that don't need to be prepped or cut as well, like strawberries and cherries, and you can either slice up a baguette ahead of time or employ my favorite method of ripping off pieces while you eat (I highly recommend this way, it's very satisfying).
I like using these bento boxes to pack and consolidate it all (they also very conveniently hold slim utensils in the lid though we didn't need them this time), which can be served straight out of or you can easily move things out onto serving boards if you want to be extra.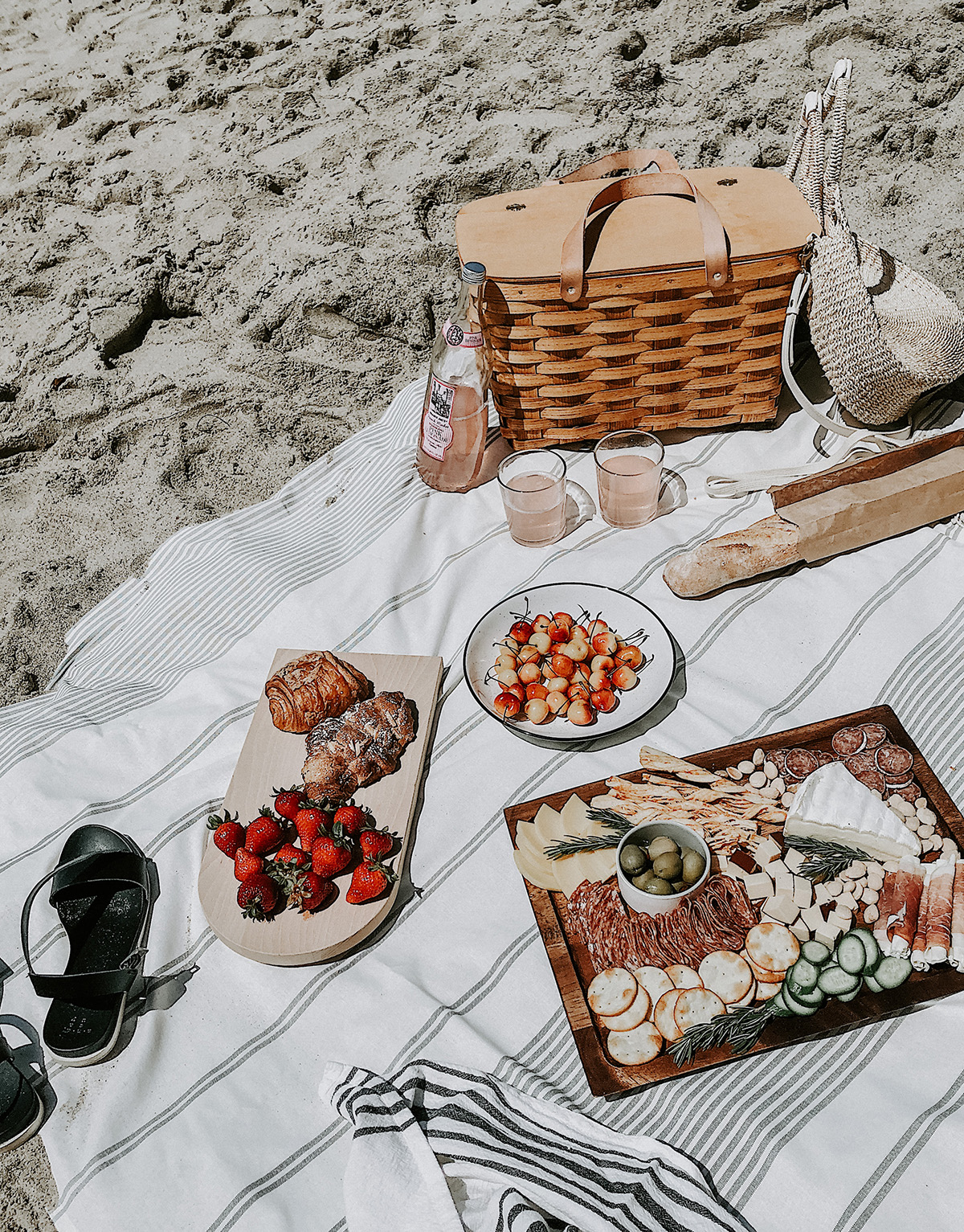 Tip 6: Bring a few serving boards if you want to be extra
This is not at all necessary, especially if you don't want to carry more than you have to, but it does so much for making the food more shareable, beautiful, and thus entertaining.  These can also provide flat surfaces for drinks or anything that could use a surface more reliable than the sand.
Tip 7: Use glass tumblers for your beverages
They're harder to knock over and won't blow away from strong winds like plastic ones will, and is general good effort in reducing plastic use.
Tip 8: Pack a dish towel
This will not only act as a napkin, it can also be used to soak up any condensation in your picnic basket, wipe down your boards and glasses when you've finished, and cover your food to help protect it from sand while you take any breaks from eating.
Tip 9: Don't forget the umbrella
The day will be infinitely better with shade and it will greatly prolong the time you can spend at your picnic because of the sun protection.  This is the number one thing I cannot go to the beach without since I want to maximize the amount of time I stay there.  I also think it helps deter birds from swooping in from above to steal the food, no?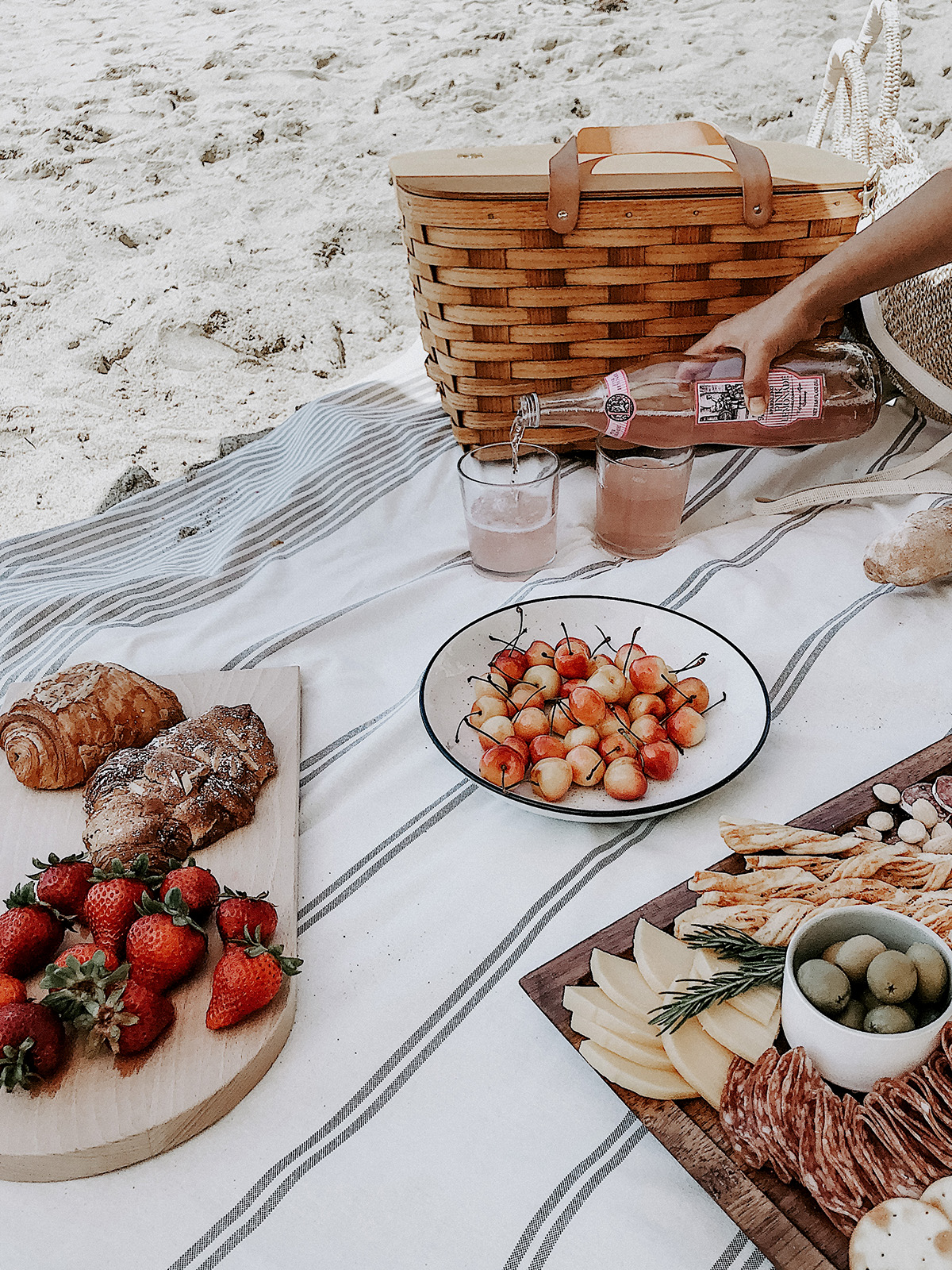 Tip 10: Leave no mess behind
I already mentioned under tip 3 that the bag used for ice can later be used for garbage but even if you don't do this, still bring some sort of garbage bag to collect your scraps.  Don't leave food for animals to eat, and keep our beaches clean!
Hope this equips you to plan your own beach picnic with confidence to make it fun, relaxing, and safe.  Safety is important to consider on any adventure and letting your trusted contacts know where you are is another layer of peace of mind that we all can appreciate.  Click here to learn more about Uber's Trusted Contacts and new safety features.
sourceS:

This post is sponsored by Uber.  Thank you for supporting partners that help HOM continually bring you original content.
Other Posts You Might Like