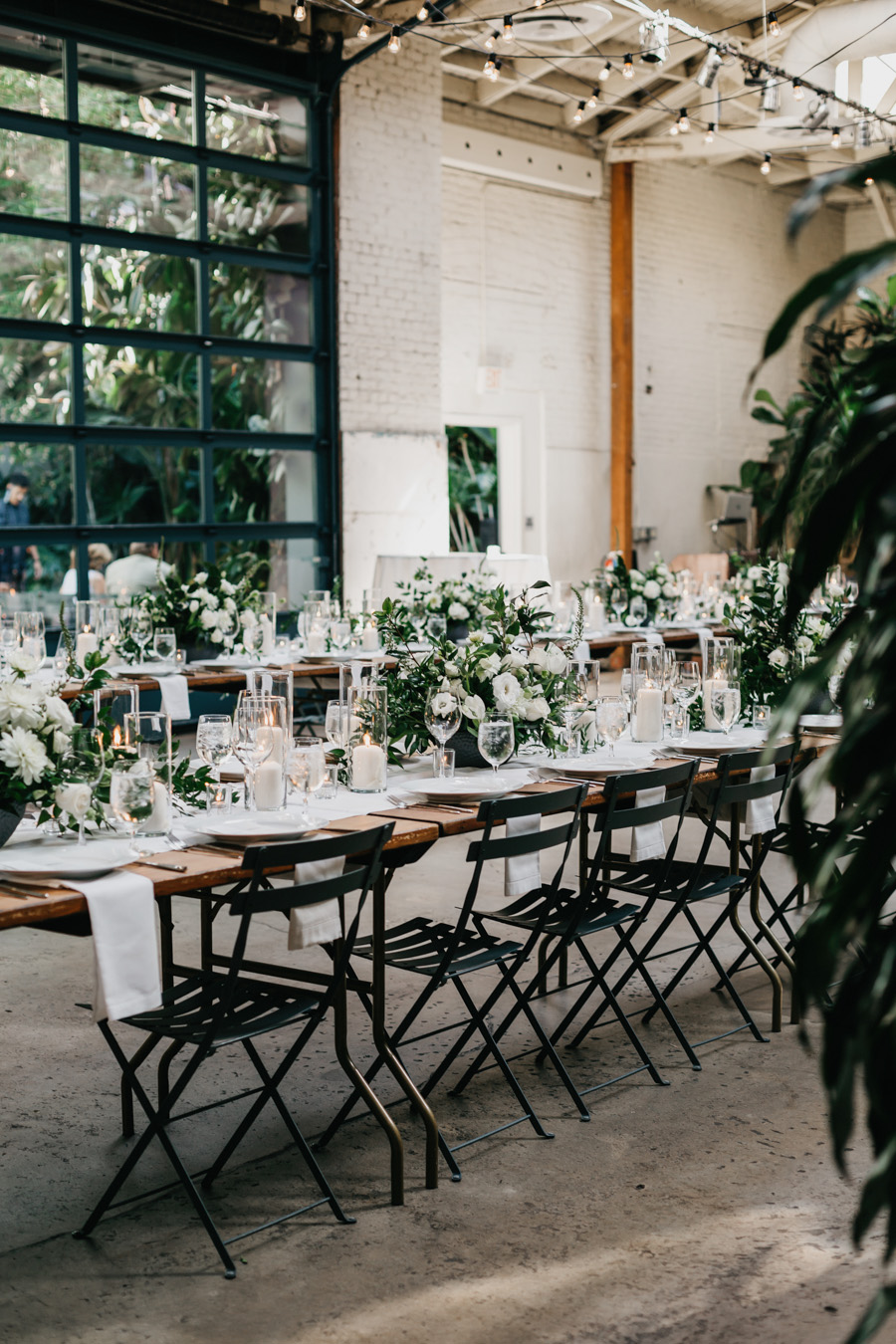 I hadn't planned on putting this post together since I didn't document the step by steps of our wedding DIYs at all, plus I got a lot of help from a friend who has skills and materials that I don't have, but I figure I can at least talk about the stuff I did and answer your questions!  As I mentioned in our wedding post, the welcome sign, seating chart, card box lettering, table numbers, place cards, and menus were DIYs.  In addition to these how-to's, I'll share sources to the materials and other items you guys asked about, let's go.
Starting with my favorite of the bunch, our welcome sign was probably the most satisfying project.  It was made with two 20×30″ pieces of plywood (they will cut it for you at Home Depot) and two door hinges attaching the pieces of wood together at the top (they recommended the best ones to use for this at Home Depot, they're so helpful).  I painted on multiple coats of white acrylic paint until opaque before applying the lettering with black adhesive vinyl.  This is the part I wish I could tell you didn't involve using a Silhouette cutting machine, given that I don't have one myself nor know how to use it, but I was lucky my friend Sarah does, who both designed the sign and applied the lettering for me.
The fonts!  I used two fonts throughout our wedding.  You can find the hand written font here and the other font is called Proxima Nova.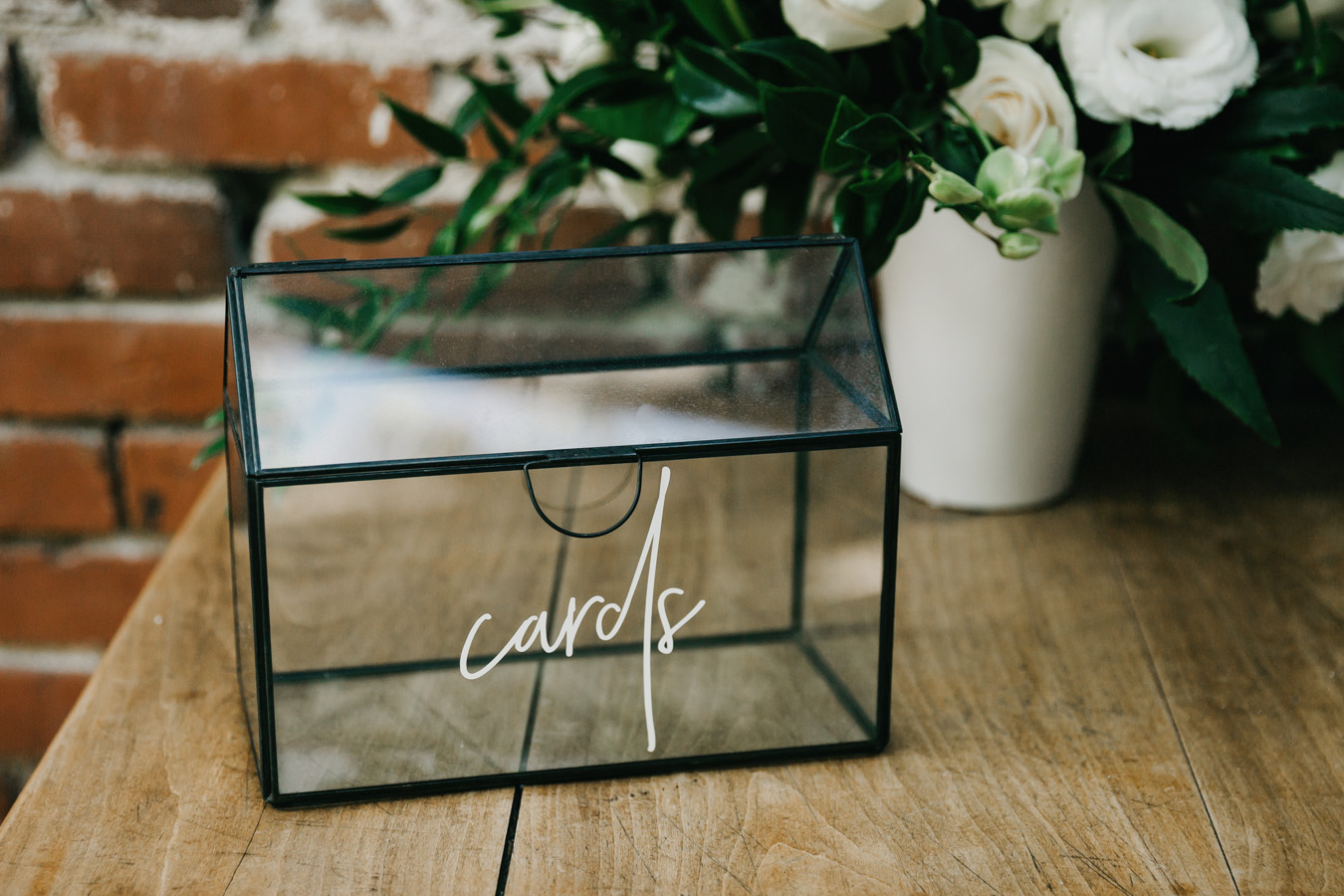 Our card box was also lettered with adhesive vinyl, this time in a white color.  The card box is a house shaped terrarium that I got from Target which is unfortunately no longer available, but there's a similar one here.  The cards we received fit perfectly inside, and we now keep the box with all the cards displayed on a shelf in our living room and it's the most perfect keepsake from our wedding.  I'm a big fan of when wedding decor can become something to be treasured at home.
Same concept with the table numbers.  I used white adhesive vinyl on these 4×6 acrylic photo frames that I got from Michaels, which is not on their site but should be available in stores and they were waaay more affordable than most other acrylic options I came across.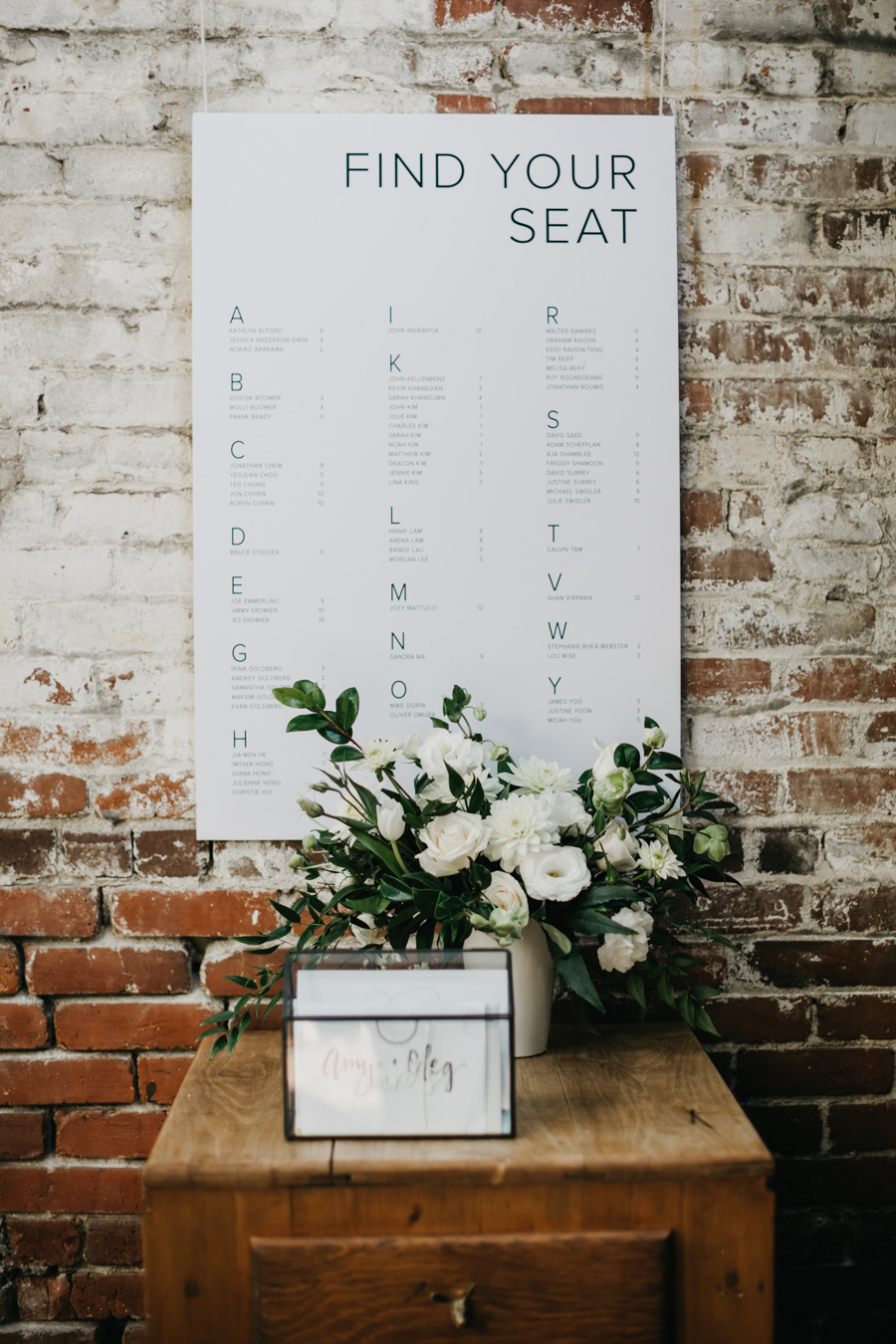 Our seating chart was mostly born out of the desire to not want to make escort cards.  This felt like a much more efficient and less time-consuming option and I loved hearing from some of our guests that they found it fun to look through all the names listed.  Again I had Sarah design the chart for me and then I got it printed at Staples as an engineering print with foam board backing.  This was a lot pricier than expected, but I loved the result more than enough to say it was worth it.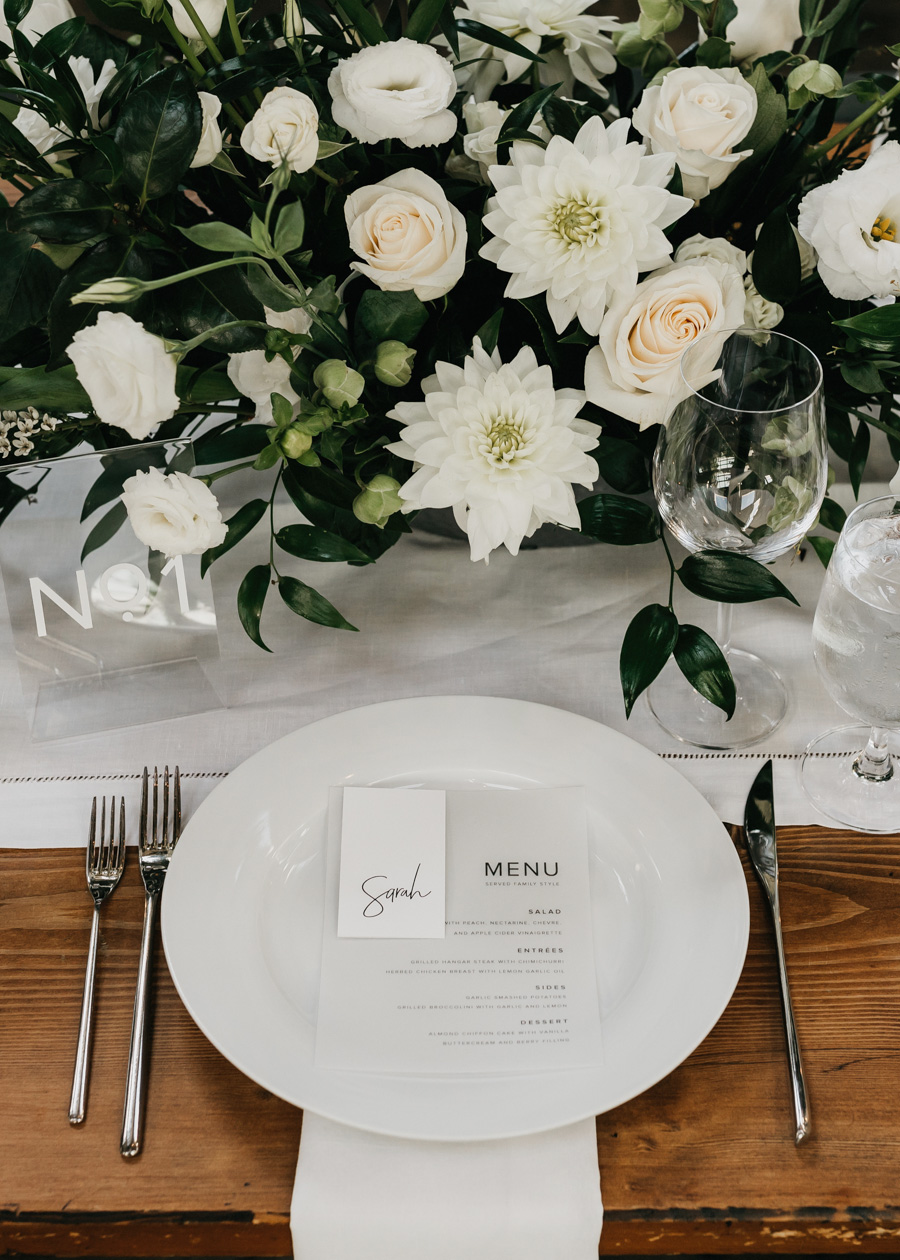 I printed the menus on this heavyweight vellum and the place cards on heavyweight white card stock that I got from Michaels, all with my Canon TS8020 printer I love that thing!!!  I designed both in Photoshop and cut each one out with this paper trimmer and it took so much more time than I anticipated.  I remember meeting a wedding planner at an event and asking her what she'd recommend NOT DIY'ing for your wedding and she said stationary because it's a lot more work than people think it will be and it's so worth hiring someone else to do it and I kind of agree.  I only say kind of because this is the type of project I have experience with and it made sense for me to do it myself, but considering how long it took I also would've thoroughly enjoyed if someone else did it for me.  Still, I'm so so happy with how these turned out and saved mine and Oleg's for the scrapbook I haven't started yet nor know when I ever will.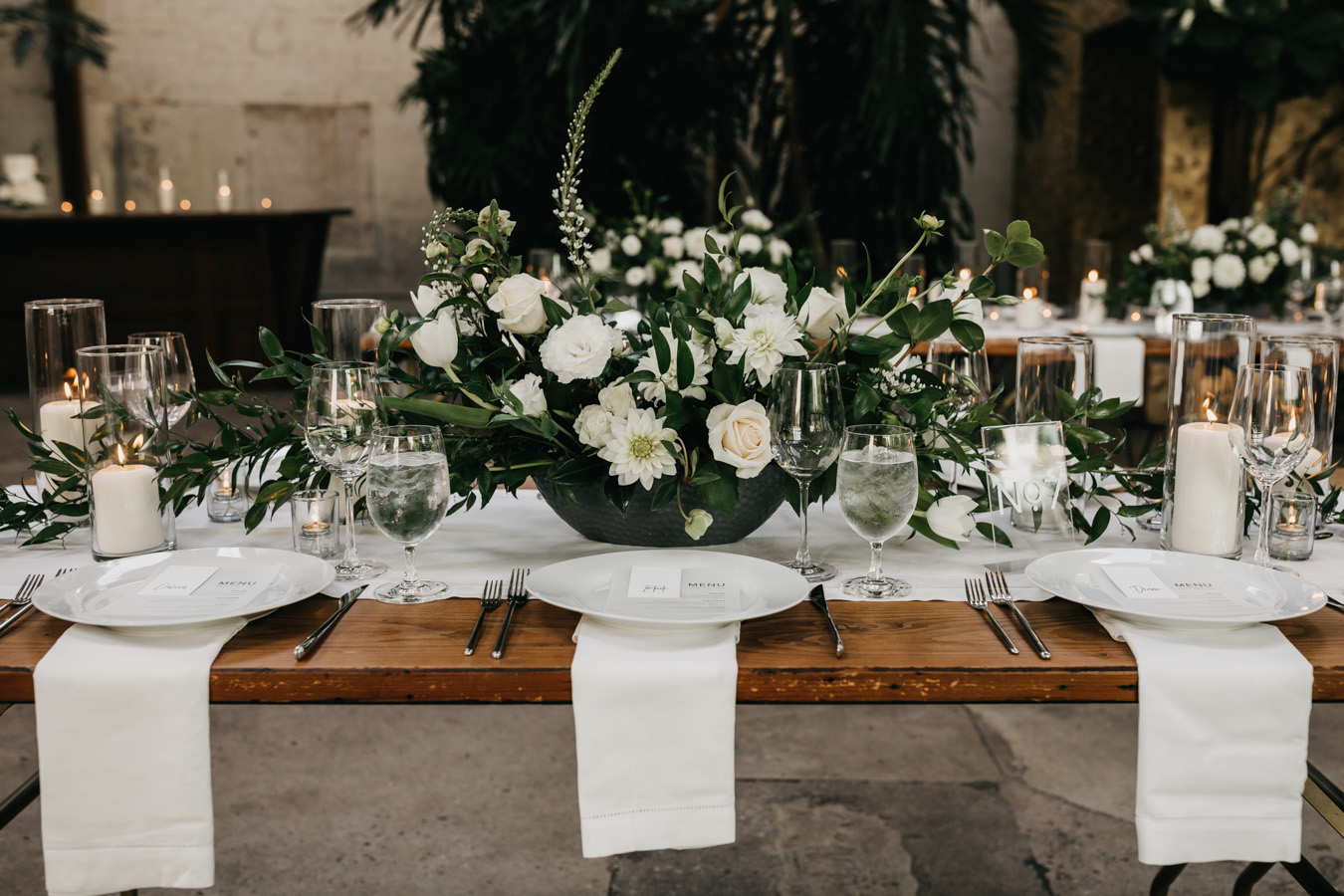 Fun fact, my mom is a retired florist and she did our flowers with the floral designer she used to work with.  They knocked it out of the park and I'm incredibly grateful that she took care of that for me.  All flowers were sourced from the LA Flower Mart, which I visited many many times to finalize flower selections and is also where I got the containers from.  They were originally a peachy nude color but I spray painted them a dark gray with this spray paint.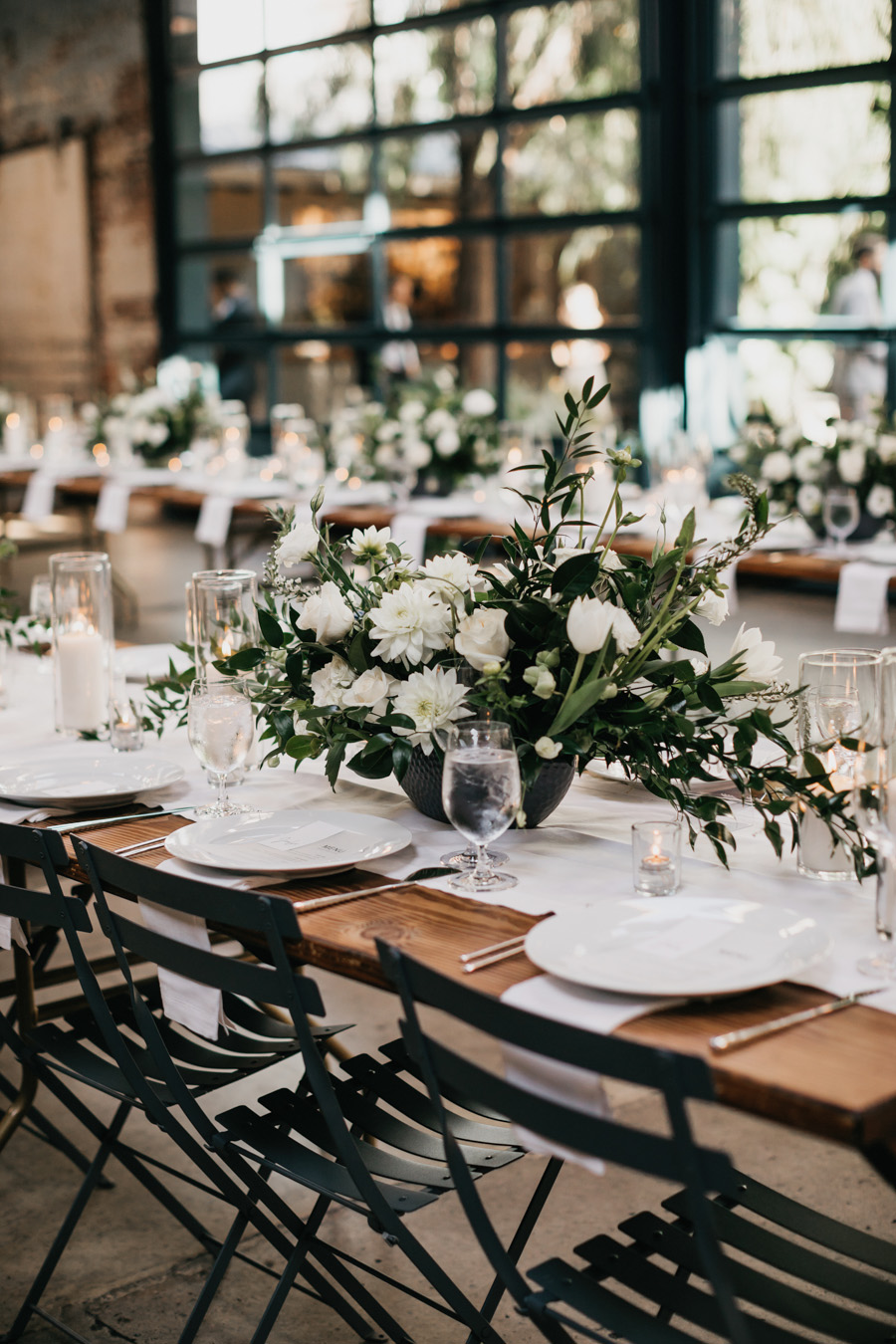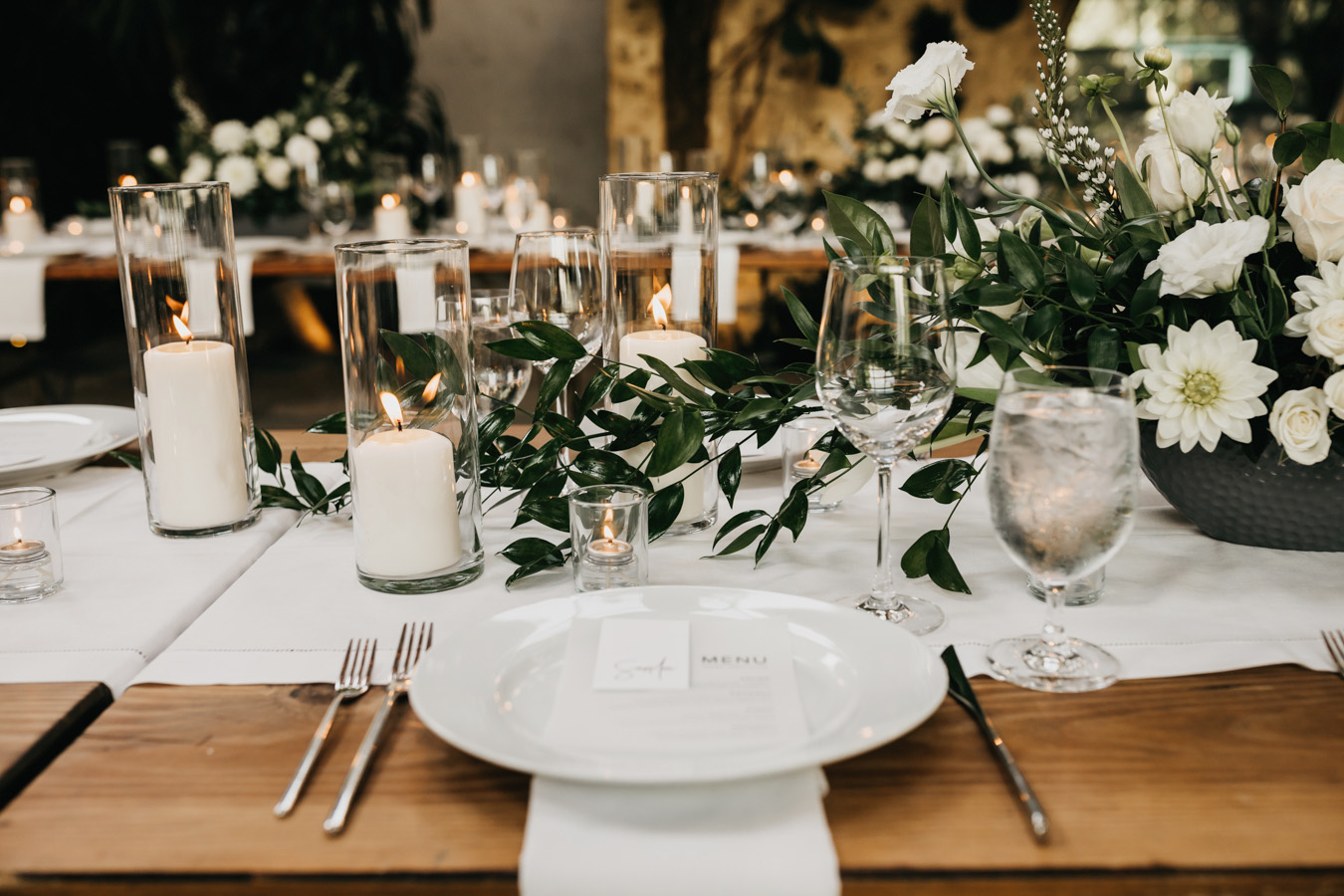 Our venue had strict candle rules specifying that candle holders needed to be a minimum of 5″ taller than the height of wax candles, and non-wax candles could be in any sized container.  I got the wax candles from IKEA which seemed to be the best deal, and I got the the tall glass cylinders from the dollar store.  In order to have tea light sized candles but still comply with the venue rules, I used these oil cartridge candles in tea light holders from Michaels that come in packs of 25 and are a pretty good deal when they have their 40% off coupons.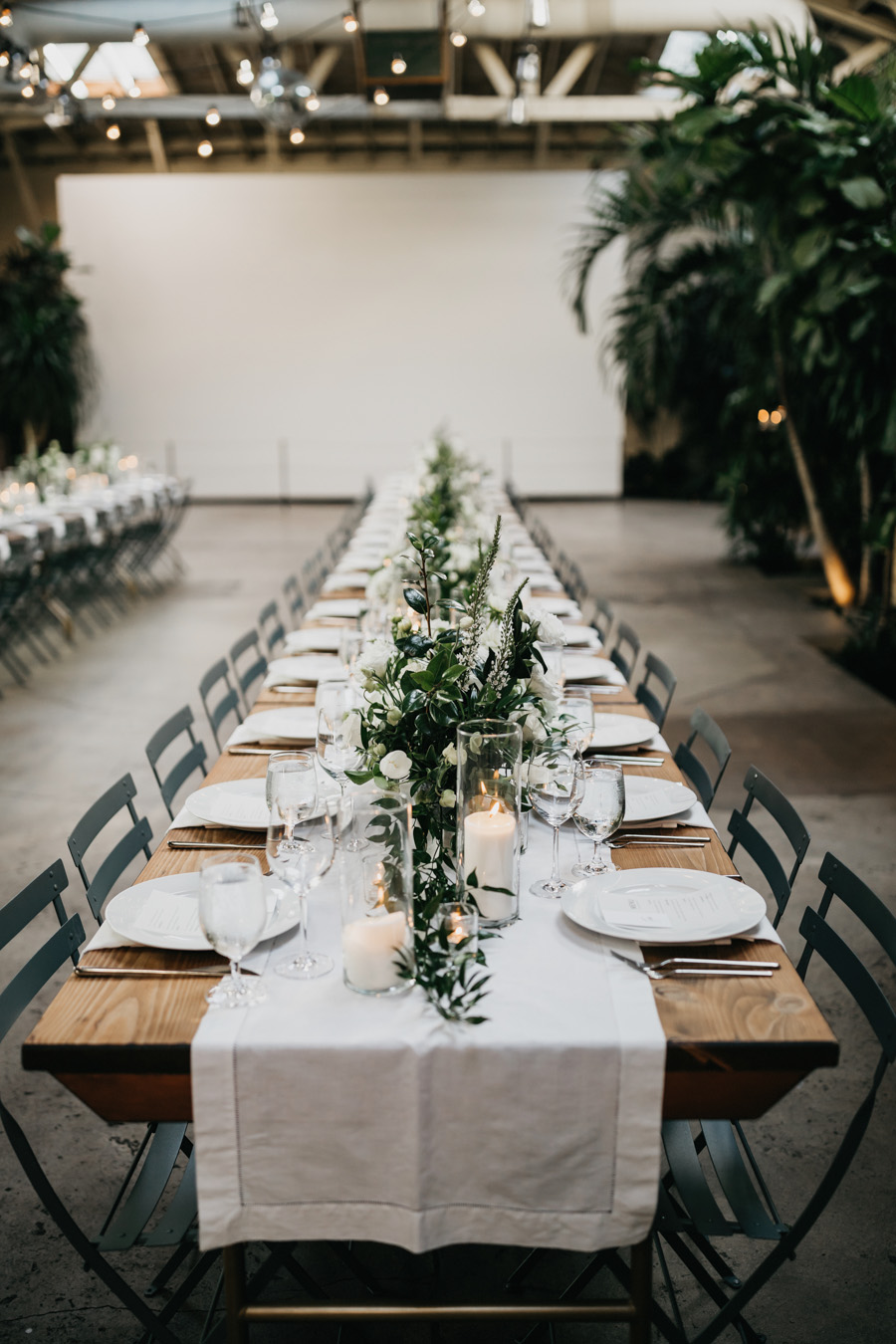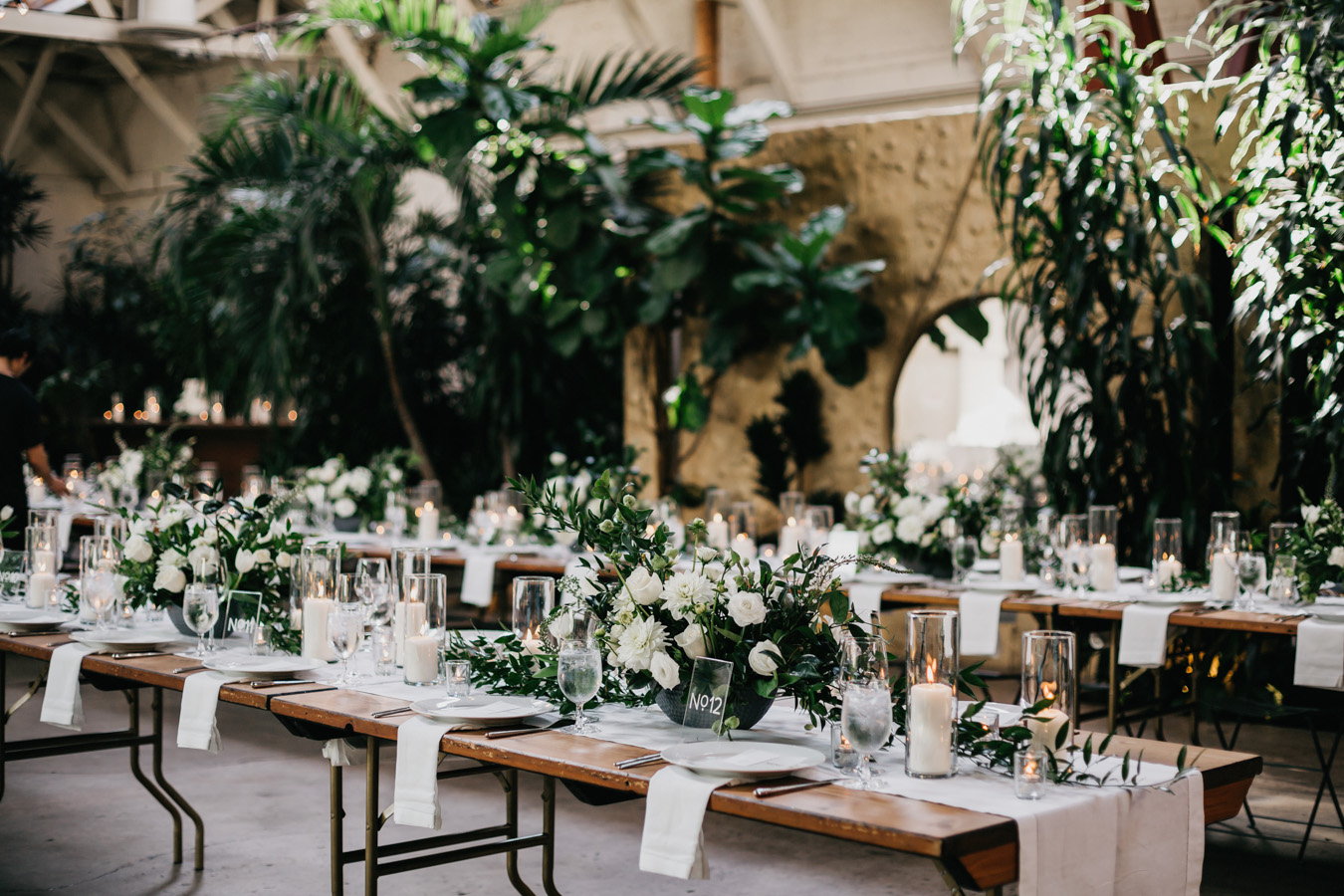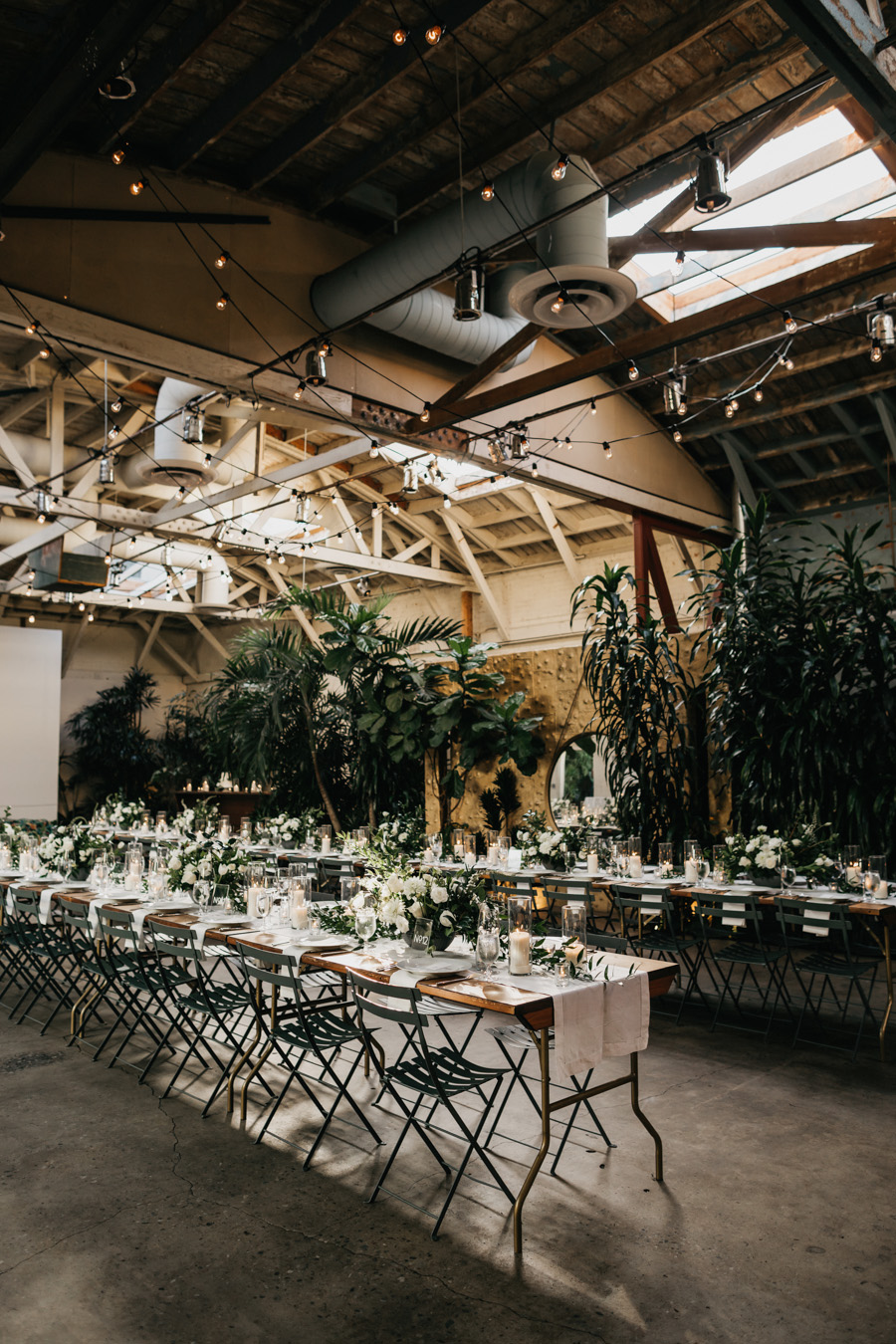 That should be everything!  If you have more questions, let me know.
More on our wedding here and if you haven't already entered, I'm hosting a giveaway for a photo album OR wedding guest book with Artifact Uprising.  Enter that giveaway here!