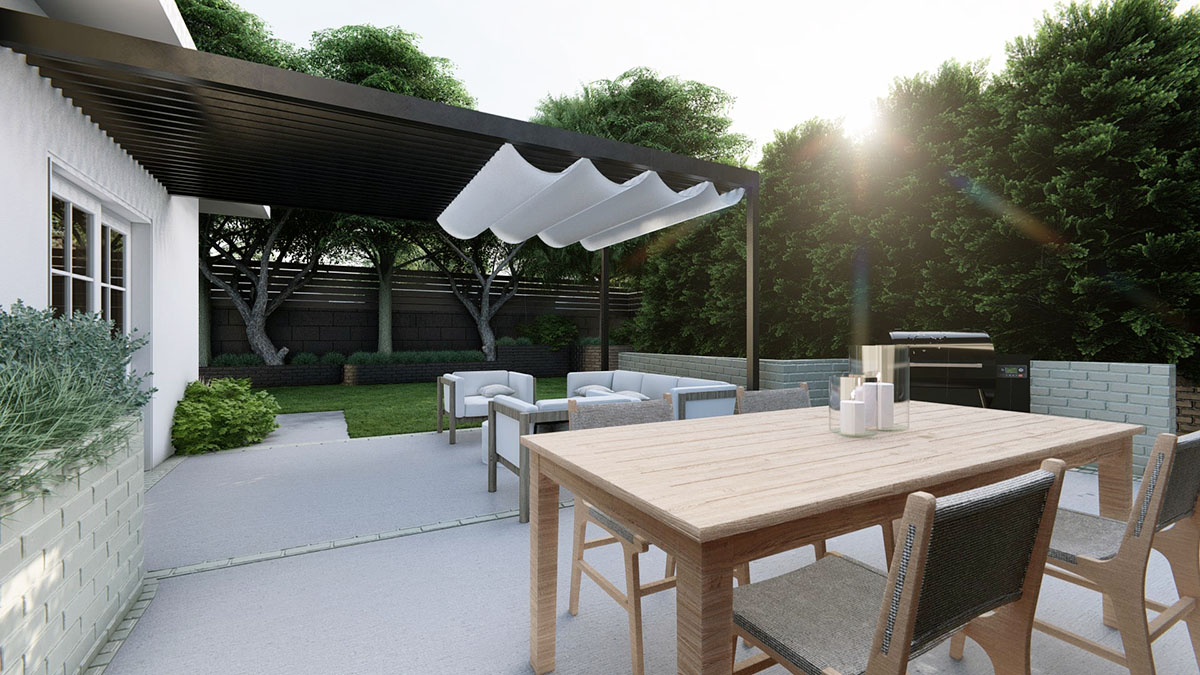 We're finally starting to make some progress on our backyard updates so it's about time I shared the plans! We had some renderings done by Yardzen to get a general idea of how the changes will look and for the most part this is what we're doing, however some details have changed now that we have an even better idea of what our needs are in the year that has passed since.
First, the before. There's nothing wrong or "bad" with the way it was before. This is about making our home more our style, and the biggest thing that's going to do that is paint.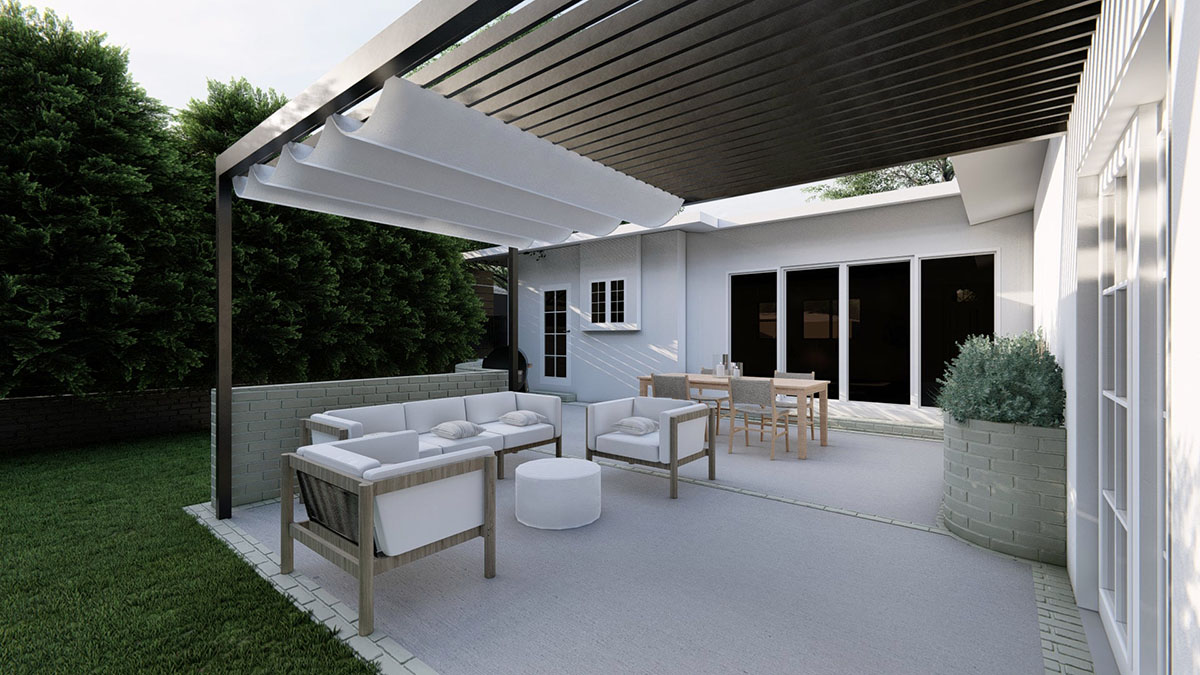 I would have wanted to paint the house black if our windows could be painted black too (the windows are vinyl and so are the french doors) but instead we're going with a soft, warm white and I'm feeling really good about it after seeing these renderings. We are painting all the brick planters on the house and back patio a medium beige color with a mineral masonry paint, which is a long lasting and breathable option that's healthier for the brick. While it would be ideal to replace the brick with a stone we love, mineral masonry paint fits our budget better, plus I love the look of painted brick!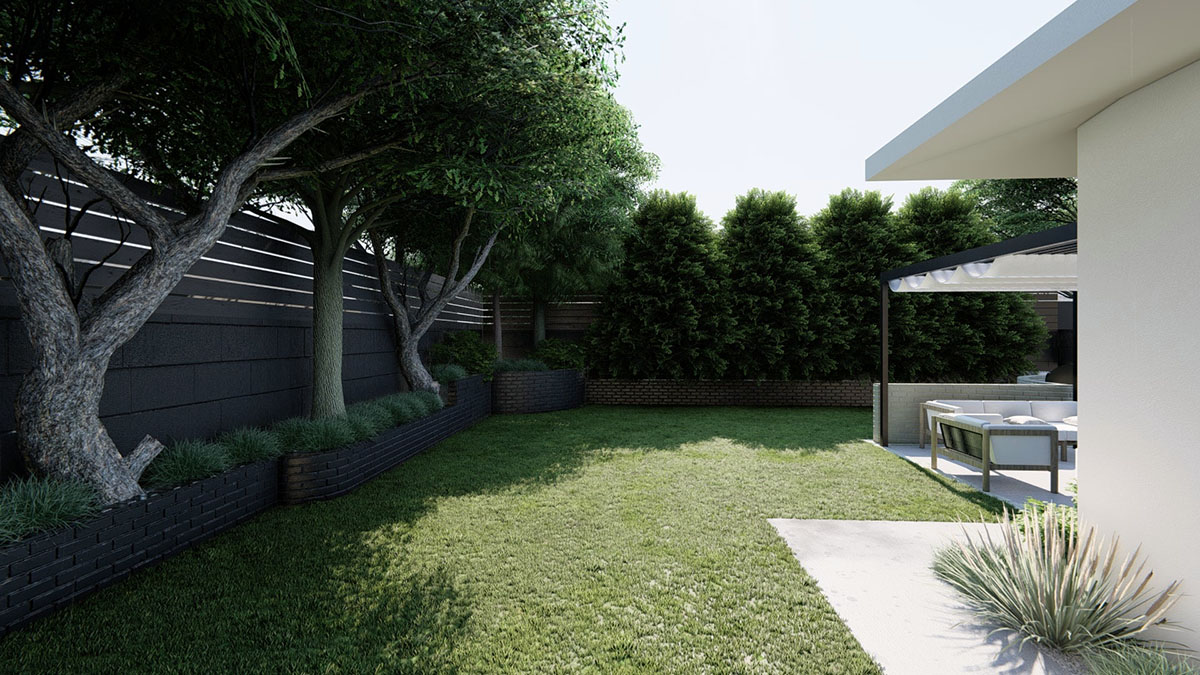 We'll be using that same mineral masonry to paint the perimeter block wall and adjacent brick planters black. Since we have a lot of shade and tall trees, I love the way the black is going to disappear into those shadows, and I simply love the way green plants look against black.
That fence on top of the block wall was going to happen until we got some quotes, ha. We are still considering it, but lumber is still very expensive and we're not completely convinced that fence will be worth it since we are hopeful about planting screening plants along that back wall to provide privacy as they grow. Some spots however, due to what's currently planted, won't have that screening potential. At the time we had these designs done, we didn't know we'd be getting rid of the big tree that was providing most of the privacy, due to how it was breaking the block wall and brick planters, so that's a new dilemma. I'll have to get back to you on this one.
The area I'm most excited about planting is this walkway which is currently a weed garden. Fun seeing the potential of variety shown here, and I love that ornamental grass. My original vision was to have a row of just ornamental grass, so we may still go with that. This is pending what we finalize for plants in the front, in which case the shrubs we use up there would replace the light green plants seen here.
We initially had no plans do anything with our grass, but with California entering a super drought and our county limiting waterings, grass is not a viable option anymore. We were certain about installing synthetic turf, however after further research about its negative ecological impact I'm now uneasy about that option. It feels like a pick your poison situation, and we're further limited by needing kid friendly, high traffic tolerant, shade tolerant, and low maintenance options. Is that so much to ask?? Apparently it is! I'd love to hear from anyone knowledgeable about drought tolerant landscaping about lawn alternatives or can share what you've done with your backyard to be kid friendly but drought and shade tolerant.
The outdoor furniture in the renderings are placeholders and seeing this confirmed for us that we want to get rid of that brick planter against the house. We want a big dining table and turning that area where the planter is into breathing room will allow for us to put in a bigger table. Instead I'll maybe put a couple plants in pots near the french doors which shouldn't affect our use of that space as a walk way or a spot to put an extra table when we need it.
And that pergola… I love it, but when Oleg saw the renderings he said it was too visually bulky and interrupted the open feel of the backyard that we love so much. I see what he's saying, but now we both agree after years of hanging out here that shade is critical for enjoying the backyard. Now we're thinking a structure that extends all the way to cover the dining area with retractable shades so we have the option to open it up later in the day when this area is shaded by the trees. This is the only thing we haven't started on, but since a bunch of our initial plans changed we'll have to see how all that pans out first.
We've had to remove a couple big trees that were damaging the house, repair some brick planters because of it, and next we are good to do some hardscaping (we're redoing our front steps and replacing that planter in the back to match the existing concrete), painting, planting, and lawn replacement, in that order. Furniture is backordered for months! So this "reveal" will all happen in phases :)
Other Posts You Might Like