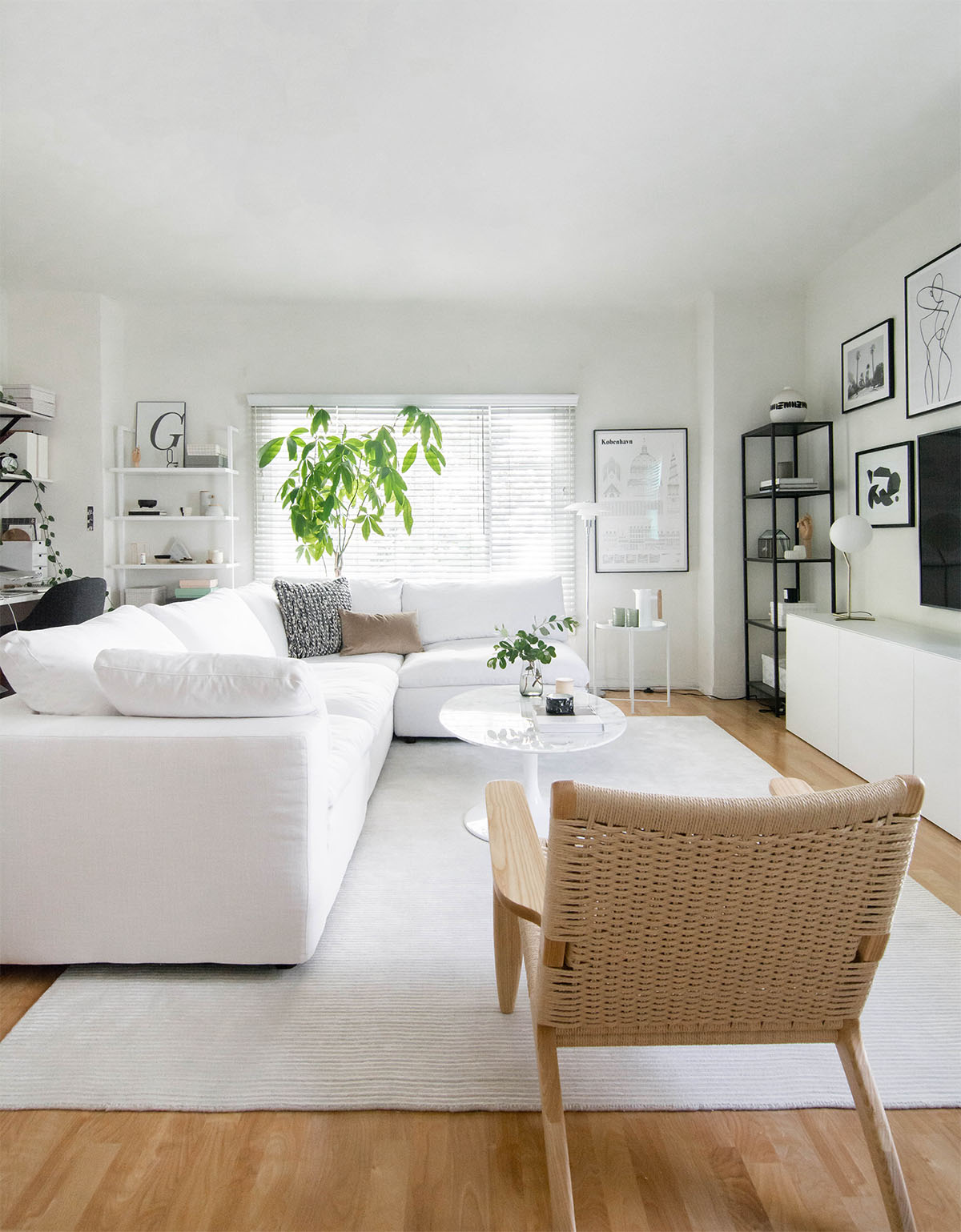 This post is sponsored by Amazon Home.
It has always been my dream to create an entirely white living room, something that would feel like I'm floating in a cloud, but with all of my favorite stuff in it. I have a great fascination with monochrome spaces and it's a design style that comes with challenges, but it creates what I consider the most visually calming space that has the power to put me at ease under any circumstance, which is the way I want to feel at all times when I'm at home. Thankfully Amazon Home was the perfect partner to make this redesign happen with their wide array of home decor across all styles, certainly including mine!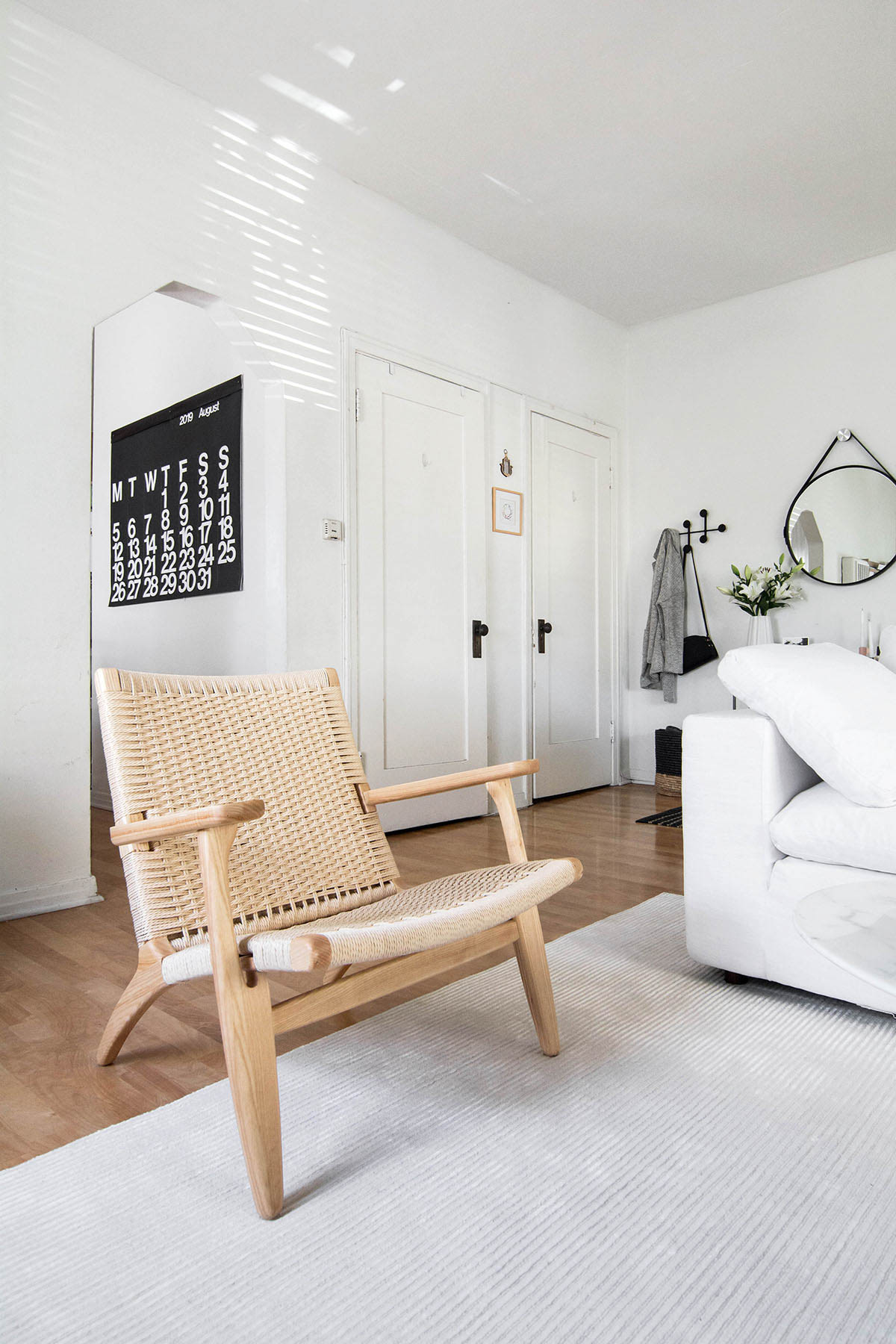 One detail of our living room that helped me make the decision of going white was the warm color of our floors. I echoed that warmth with this woven wood chair to help ground the space and keep it from leaning too cold. Another great detail about this chair is the texture, an especially important detail for a monochrome space- texture is everything for keeping things from falling too flat.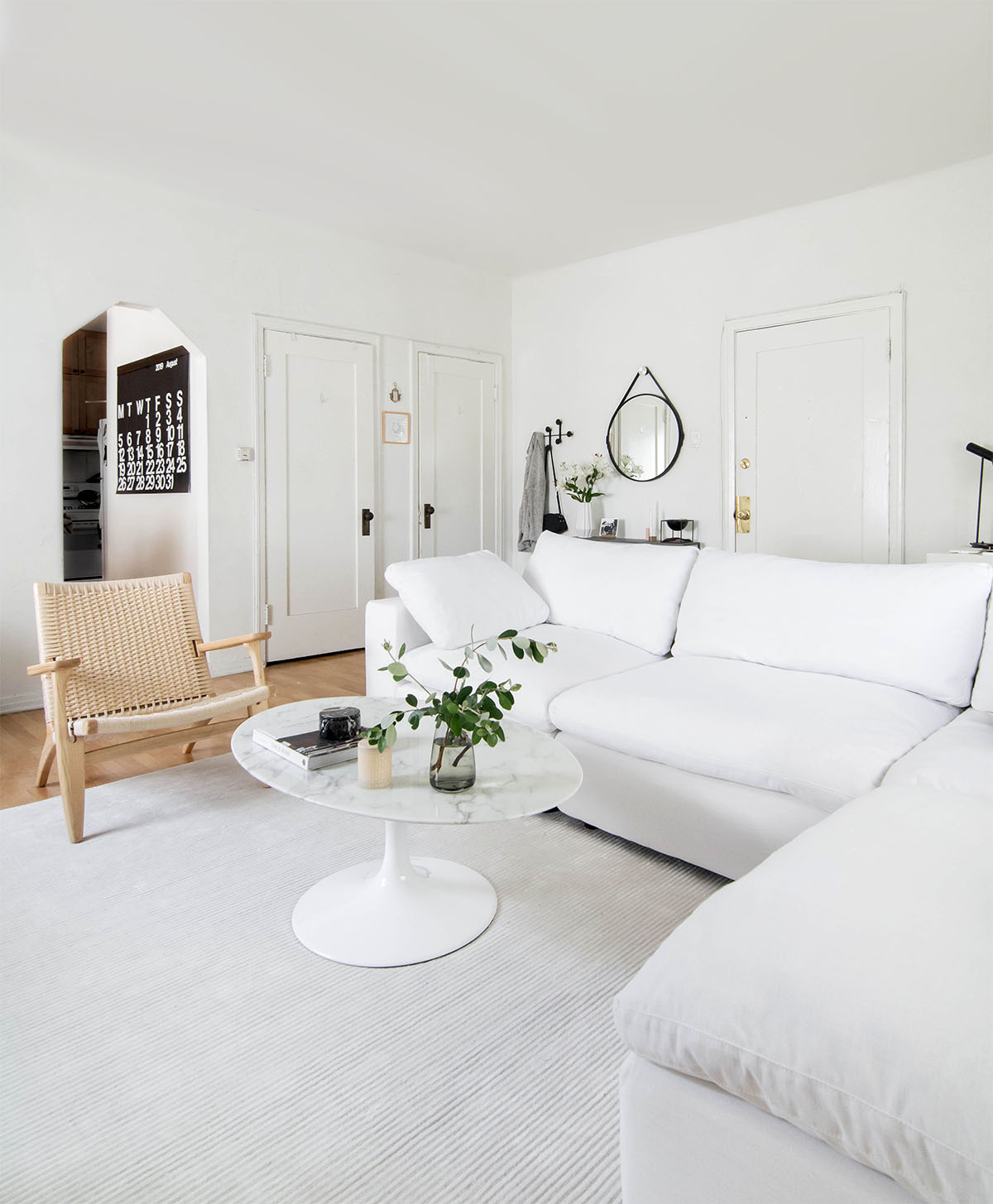 A patterned rug would have provided beautiful contrast, but contrast wasn't what I was going for. Instead, texture is here again to keep things interesting. This textured ivory rug has a velvety sheen that changes at different angles and adds another dimension on top of its striped texture. It's also really soft and comfortable, feels great underfoot.
Continuing on our theme of adding textures, pillows are the easiest way to add texture (and color!) to a space while being a pretty low commitment decision that you can switch out as often as your mood changes. The chunky texture of the square cushion cover and the velvet texture of the lumbar cushion cover add nice points of interest in the room in addition to their colors. Amazon Home also has square pillow inserts and lumbar pillow inserts that fit these covers perfectly.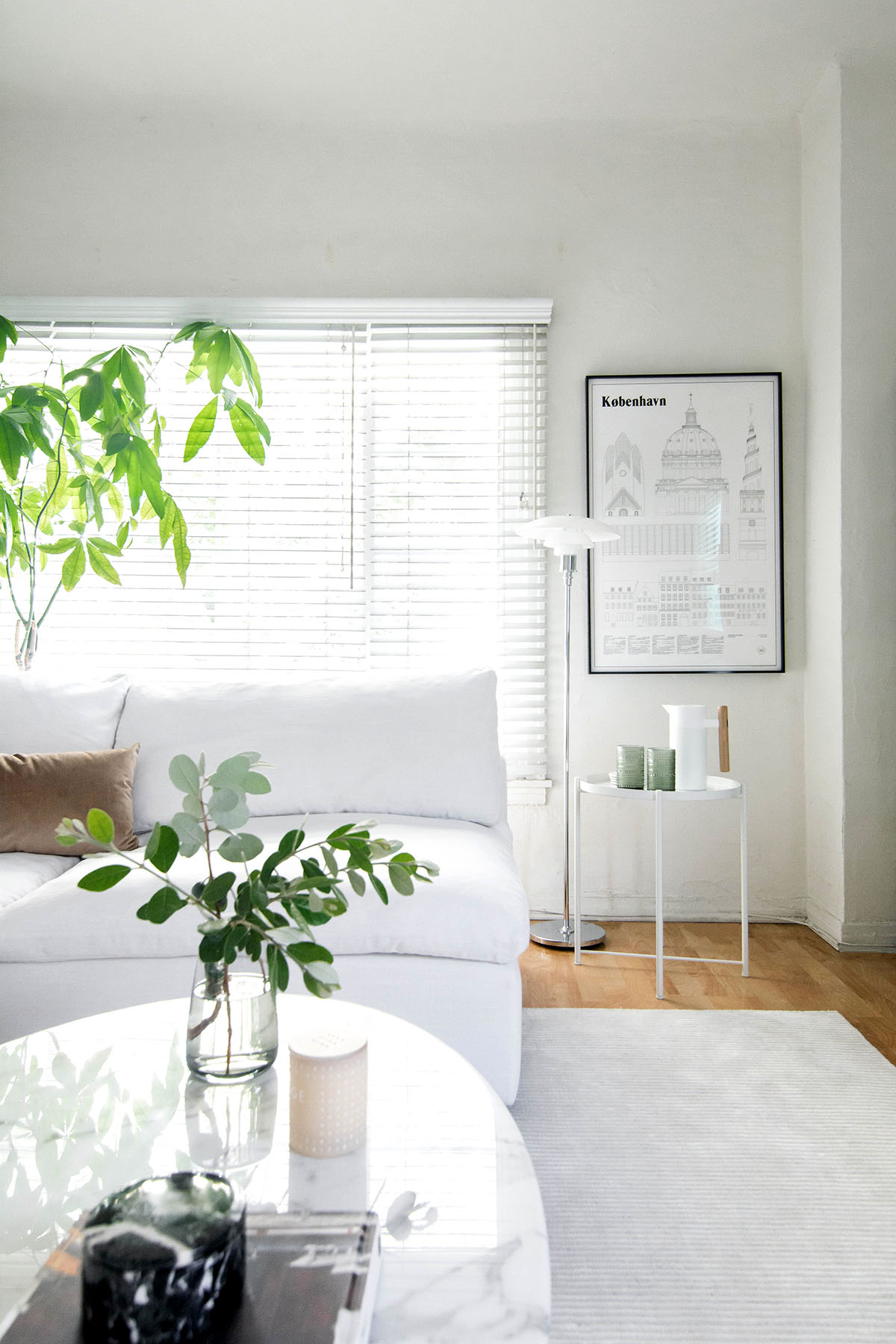 Similar to texture, finishes are another detail that can add a point of interest. I love this floor lamp for the chrome finish of the stand that brings shine but isn't loud. The glass shades also diffuse the light beautifully which is appropriately better than the task lamp I previously had in this corner that only shined focused light downward.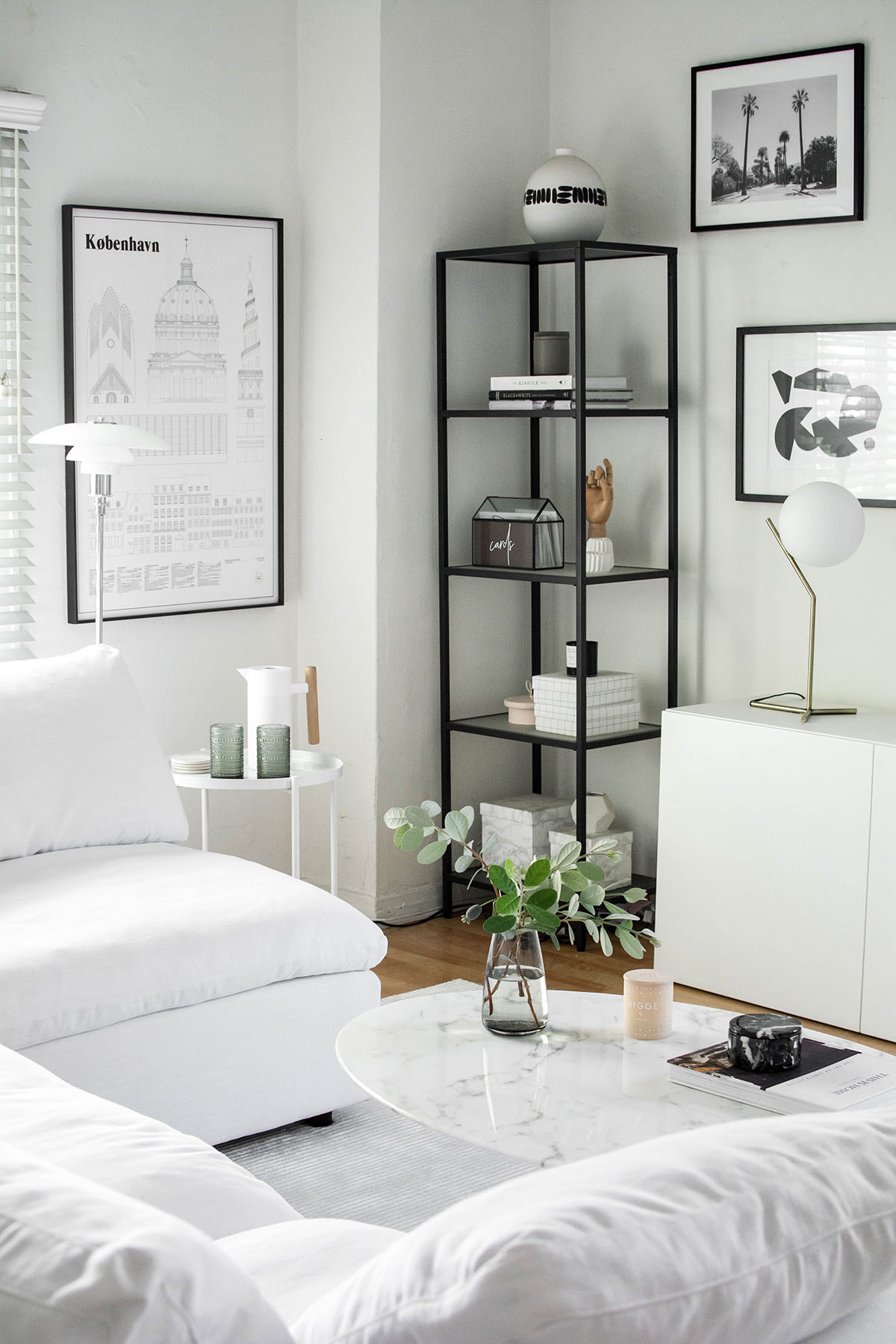 Wanted to mention as well that on the other adjacent side of this corner is a Rivet table lamp I've had for a while and love for the same reasons being the metallic finish and the frosted globe shade that diffuses the light. Rivet is Amazon Home's exclusive brand of home decor that I came across in search of affordable modern designs. You'll want to check out this collection if you're into mid-century modern and industrial styles.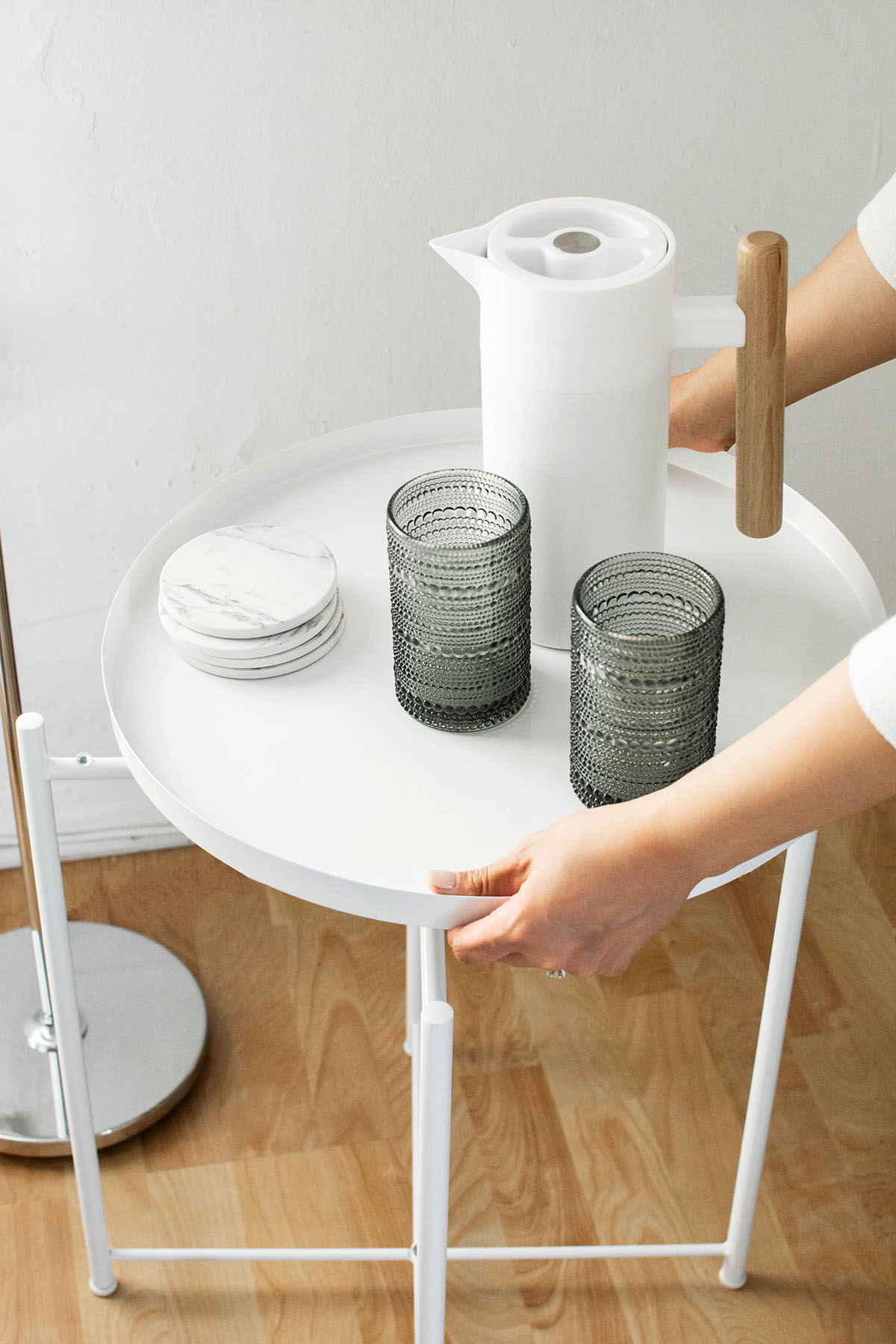 I also added this white side table to the corner that's not only perfect in its simplicity but the top is a removable tray! When not using it as a tray, you have the option of flipping the top upside down on the stand to create a smooth flat surface. I styled it here with textured gray tumblers, the most beautiful thermal carafe I've ever seen, and ceramic coasters. What I love about these pretty coasters is that they're made of an absorbent stone material that catches all the condensation that drips down glasses from cold drinks. I've been using this brand of coasters for a long time and will continue to as long as I need coasters because they work so well.
I ended up loving this marble tulip coffee table even more than I anticipated for a couple reasons. First, the oval top and curvy tulip silhouette keep it both simple and sculptural and adds a unique shape to the space. Second, the faux marble top means there is no need for babying the surface from stains, spills, or water marks. I adore the look of marble since it's like adding a pattern that's soft and organic, but it can be a pain to maintain, and my new carefree life with a faux marble surface is a jarring improvement from the previous real marble surface we had that I stressed over constantly. This is a new me.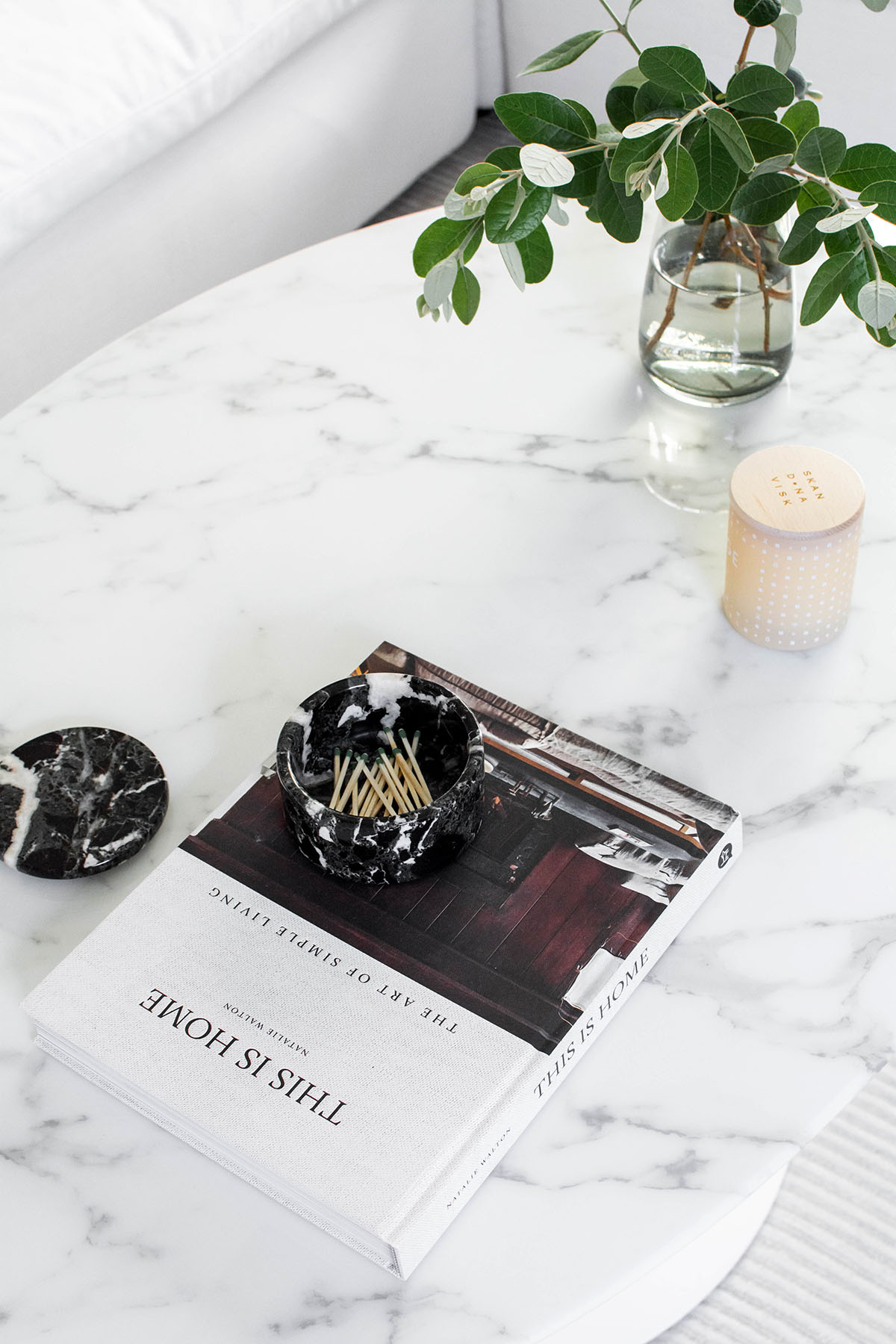 I like keeping coffee table styling simple and generally clutter free. Because we spend a lot of time in here and do things like eat and play board games, keeping the tabletop mostly clear is a functional decision, but I still like to add decorative pieces with the bonus that they are also functional. This Skandinavisk candle in the Hygge scent is beautiful with its peach color and wood lid, smells amazing, and sets a cozy atmosphere when lit. To go along with it, I turned this black marble circular box into a match holder, filling it with matches and taping match strike paper to the inside of the lid. It's sitting on top of the coffee table book This is Home which is not only a decorative detail that adds levels and texture, it's also a wonderful read that beautifully describes the approach I strive to achieve with applying simplicity and authenticity to home design.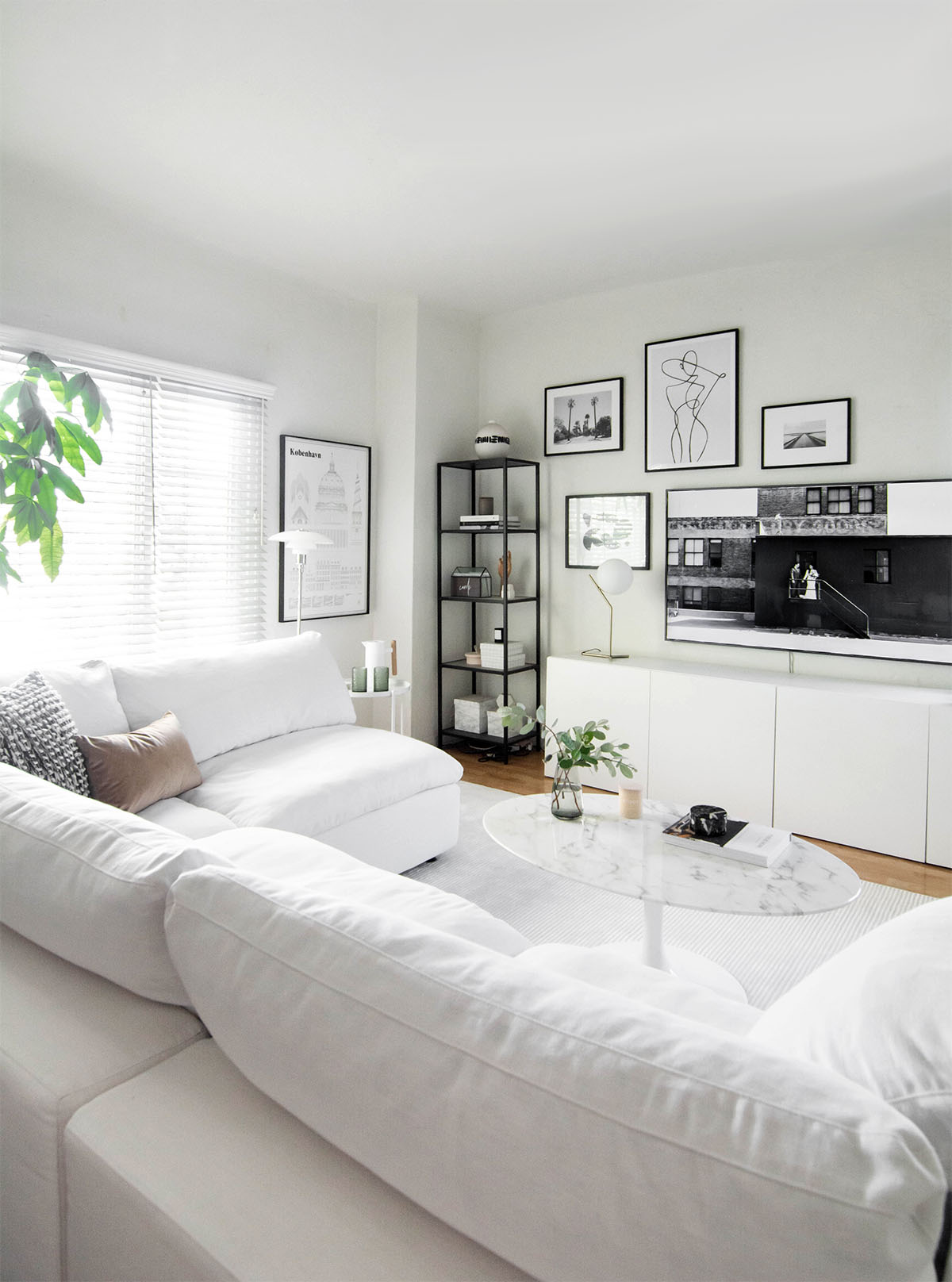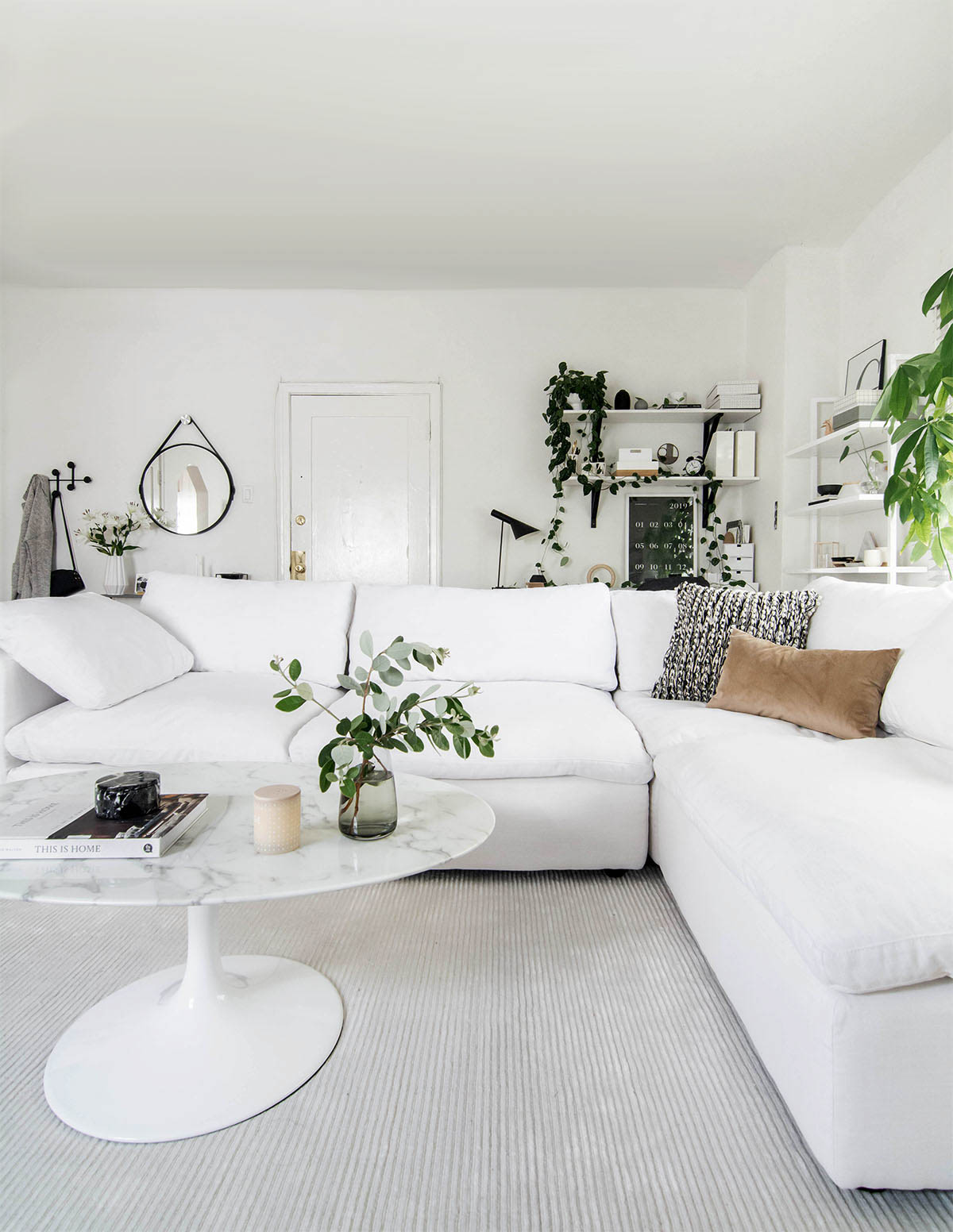 About this sectional! It's a 5 piece down sectional that I removed one of the corner sections off of to better fit our space. Here it's comprised of two armless sections and two corner sections that can be purchased separately so you can mix and match to create your own custom configuration like the way I have it here. The sectional is deep seated and has that sink-in feel (definitely not for anyone who likes firm seating). It's exactly the look I was going for- clean, pillowy, and inviting. The corner sections came with an extra white pillow each but I removed them to keep it less cluttered, although I'll show you one of those pillows in the next photo.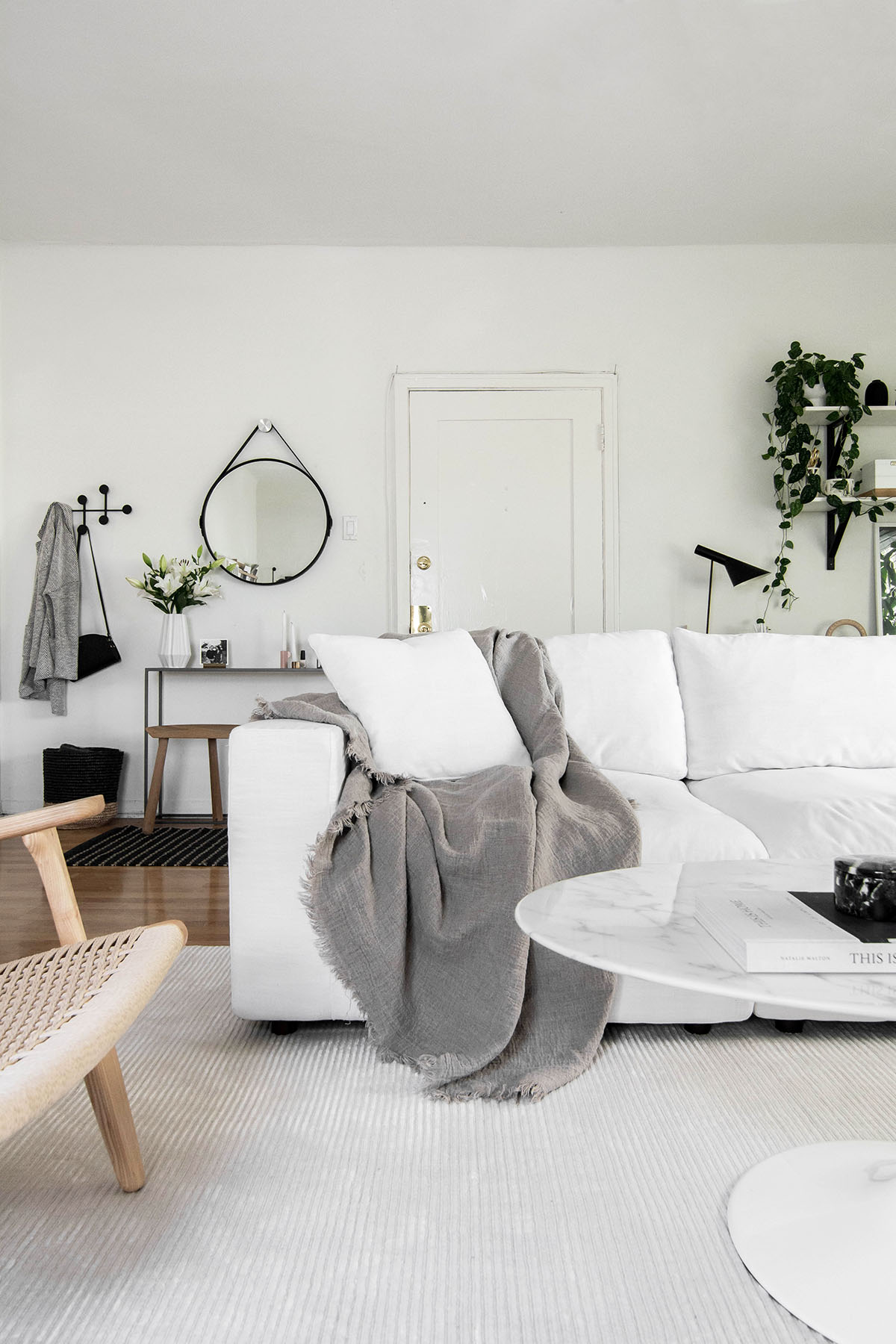 I added in this double heavy linen throw blanket, which is a favorite way of mine to play with layering and yup, texture. Those frayed edges are my favorite detail. The blanket is really soft, thick, and the flax color is gorgeous. Most of all, I love how large it is. At 79×99″, we can both comfortably get under it without worrying about whether any of our toes will be left sticking out.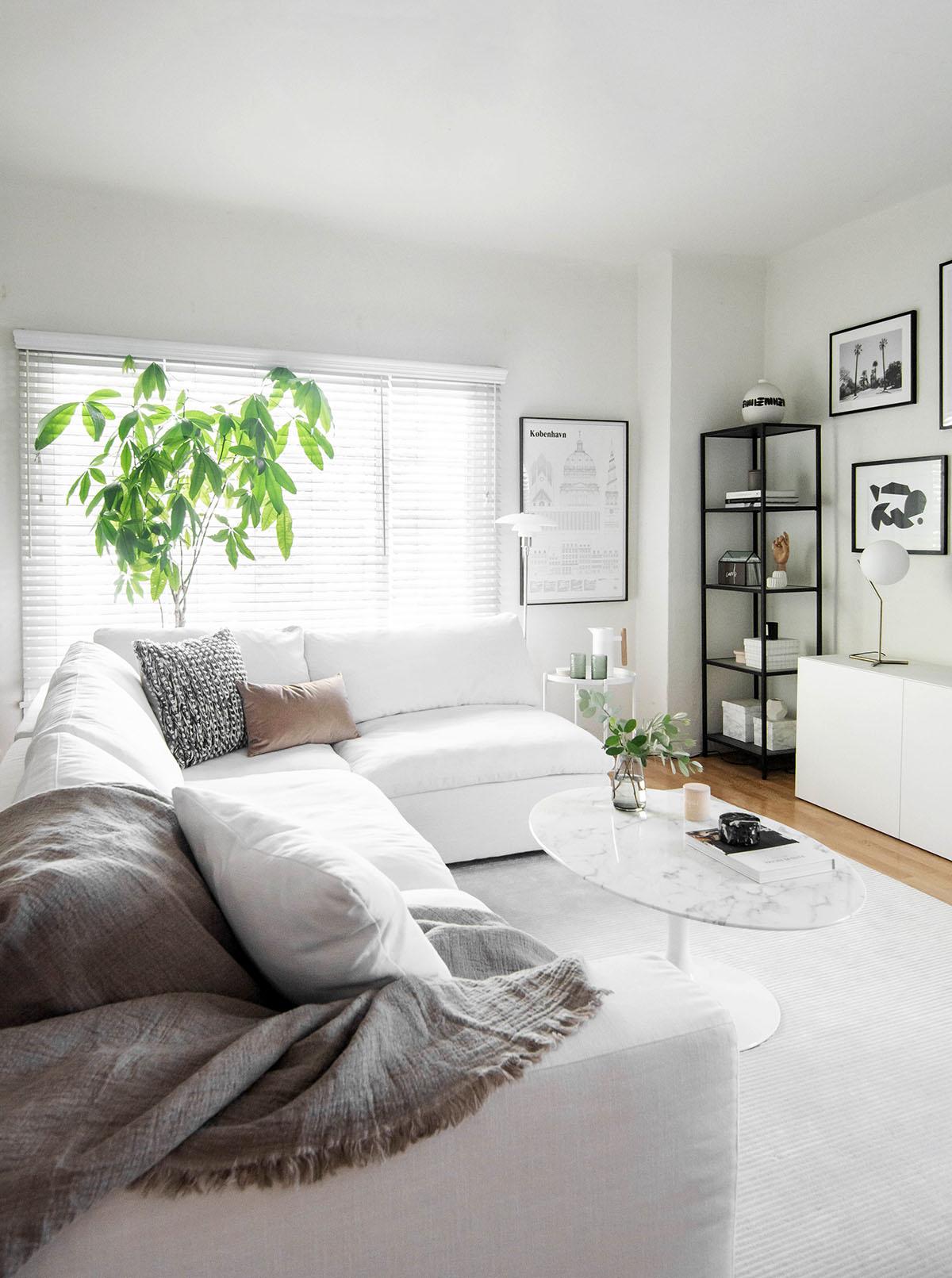 Comfort, simplicity, and function, my three pillars that guide my home design choices and what I'm so happy to have accomplished for this room. It's brighter and somehow feels more spacious than it did before, and most of all we're loving not having to fight over who gets to lay down on the couch because there's enough room now for both of us to sprawl out at the same time.
You can find all of the items in our living room refresh along with all my other favorite Amazon Home finds in my Amazon storefront. Another great thing about shopping Amazon Home is that a lot of the items qualify for fast, free shipping, even on bigger things like furniture. To further help your shopping experience, Amazon Home has a Shop by Style page curated with items from different style categories- it really helped me when I first started browsing because they truly have an endless selection of items!