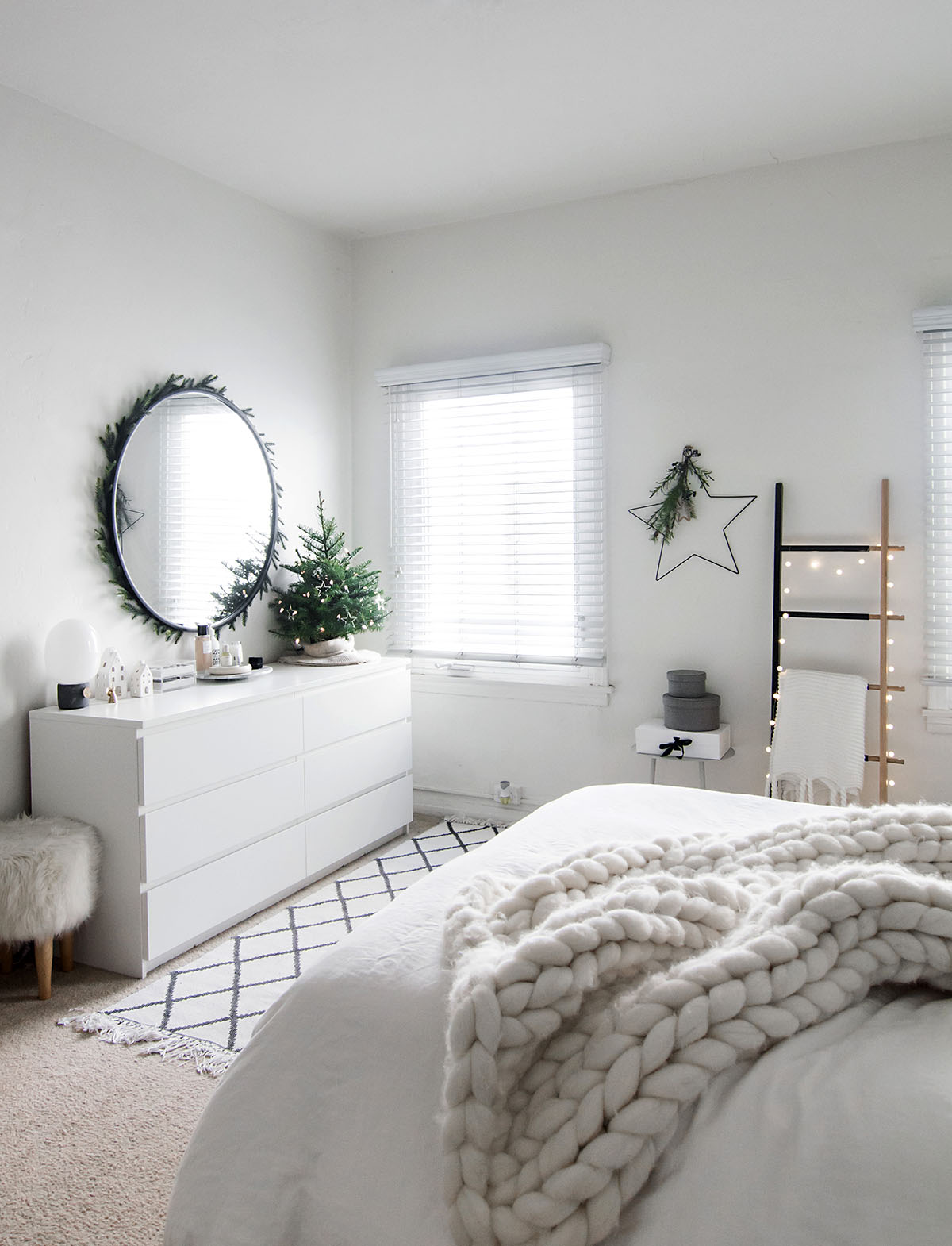 Decorating the bedroom for Christmas is a small but favorite tradition of mine because it simply makes life better.  It's a way to have the season's cheer surround us at the end of the day and greet us first thing when we wake up.  We could also say it's a way to put to use all the extra decor that didn't fit anywhere else in the home (this is me, too).   Like always, I kept it simple and understated to match the calm vibes of our bedroom, and I've partnered with Air Wick® to help set the mood even better with their new holiday scents collection.  Read on for a little tour of the room!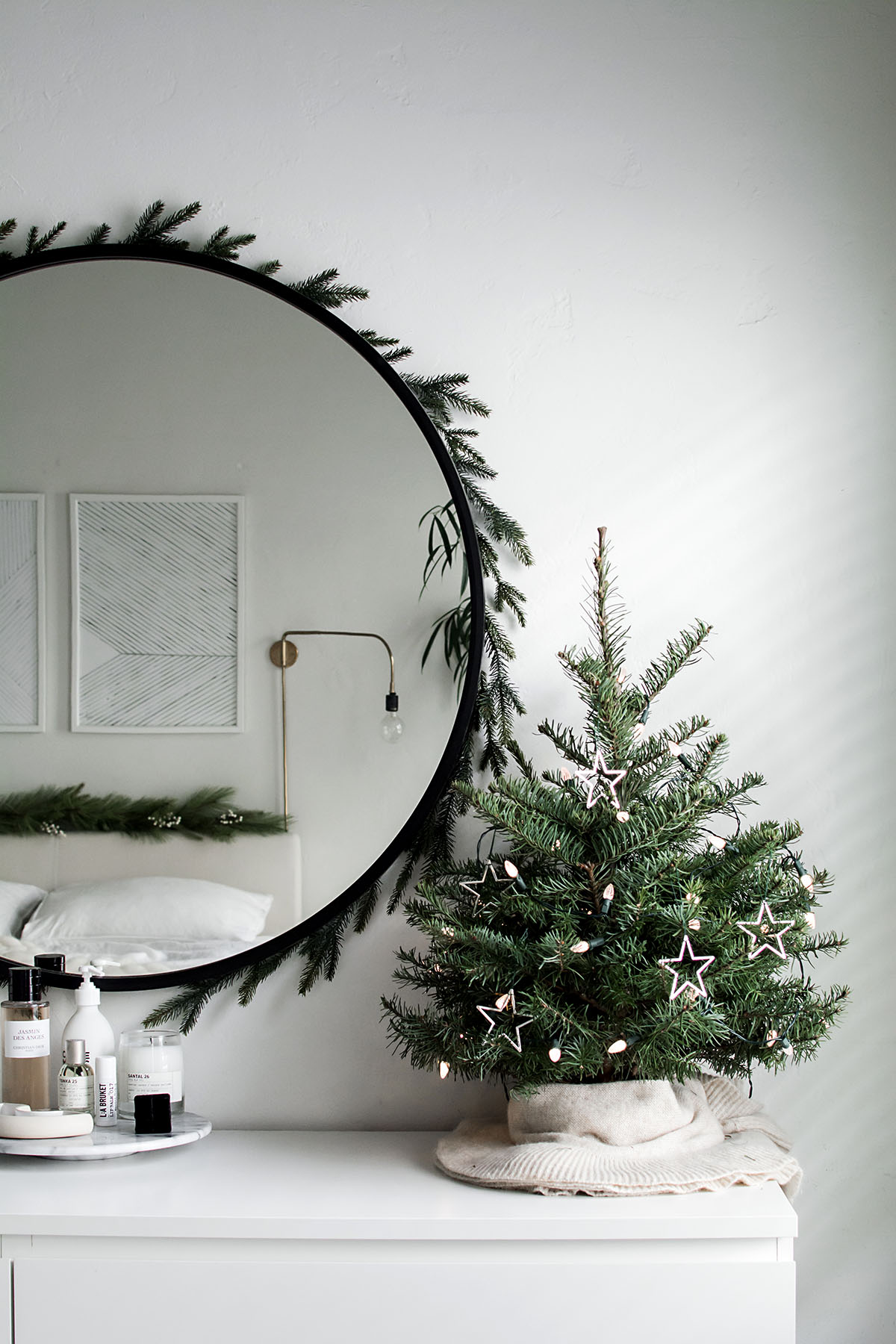 This all started with wanting an excuse to get a real mini tree. The maintenance required for a big tree is something I'm not willing to commit to, but a small one like this is enough to satisfy the craving and is just plain adorable. The biggest benefit of all is the smell, though I was finding this time that because I went faux with the rest of the greenery in this room, I wasn't getting the wintry forest scents that we were getting last year when I covered the room in fresh greens. I would have repeated that idea if it weren't for the terrible mess it all made when I had to clear it all out, so this year I went with faux greens (except for the tree) supplemented with essential oil scents.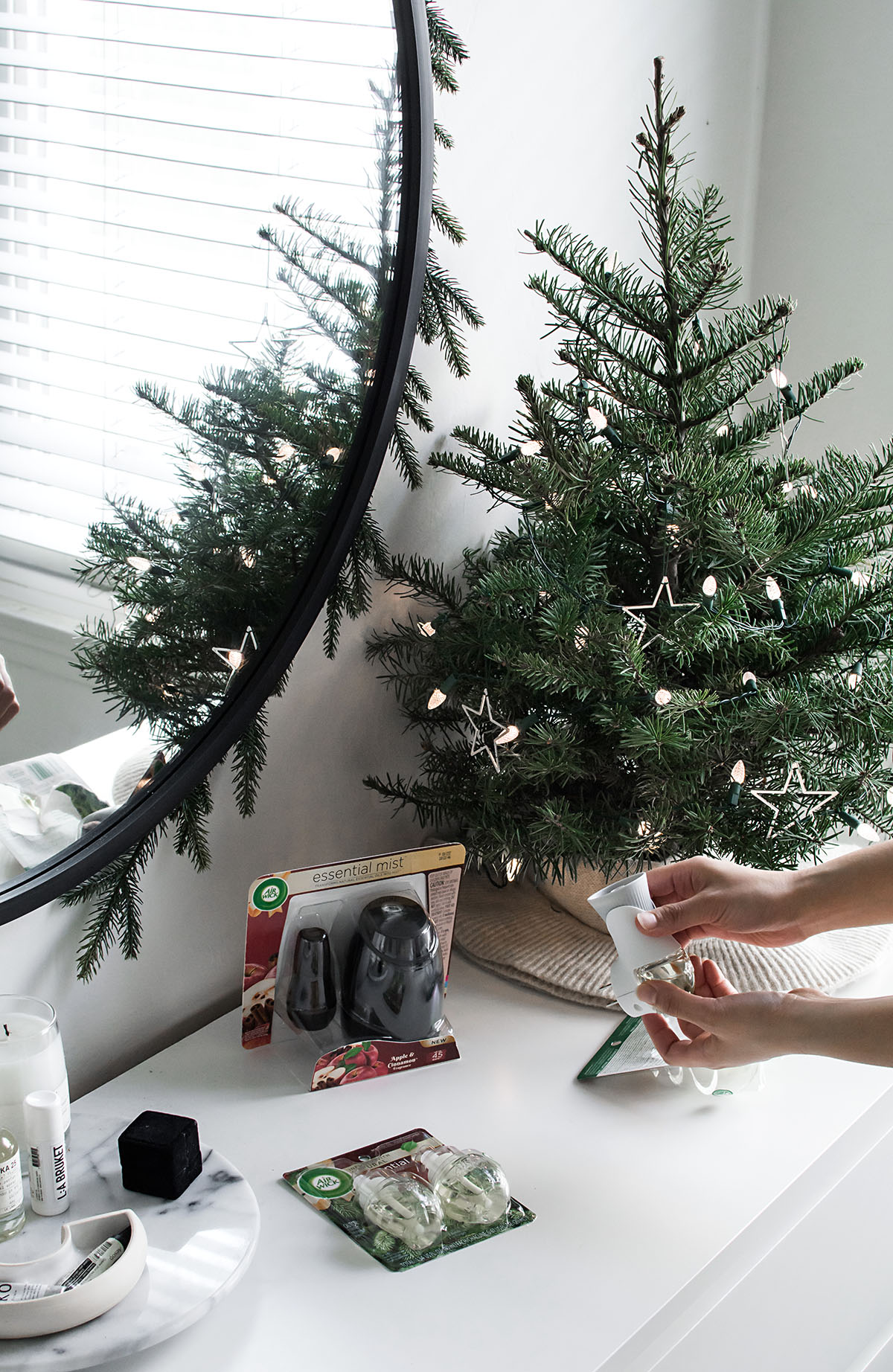 Right by the tree I used this plug-in Air Wick® Scented Oil Warmer® with the Woodland Pine scented oil which fills the room with the perfect winter aroma I was craving for this room.  It has 5 different fragrance intensity settings you can adjust to your preference and simply needs to be plugged into an outlet to dispense the fragrance.  It's a great affordable home scenting option and, just as importantly, looks very discrete.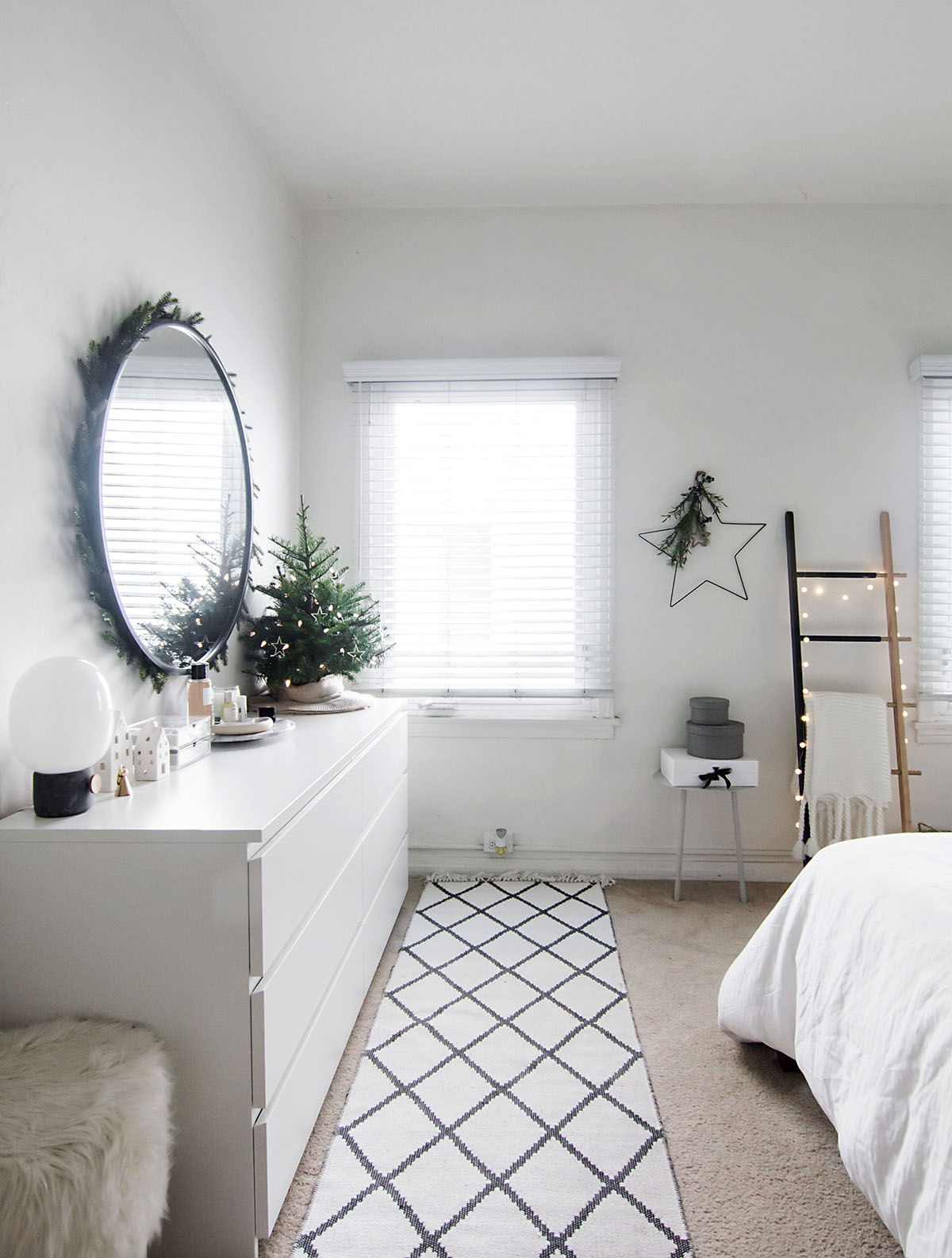 See that little plug-in at the base of the wall? It's hardly noticeable, especially in contrast with how it fills up the entire room with fragrance. Relieved to be getting cozy winter scenting this way without having to constantly sweep up pine needles and dried up cedar leaves, then continue to sweep those things almost months later because I missed them during previous rounds of cleaning. They're like nature's glitter, they get everywhere.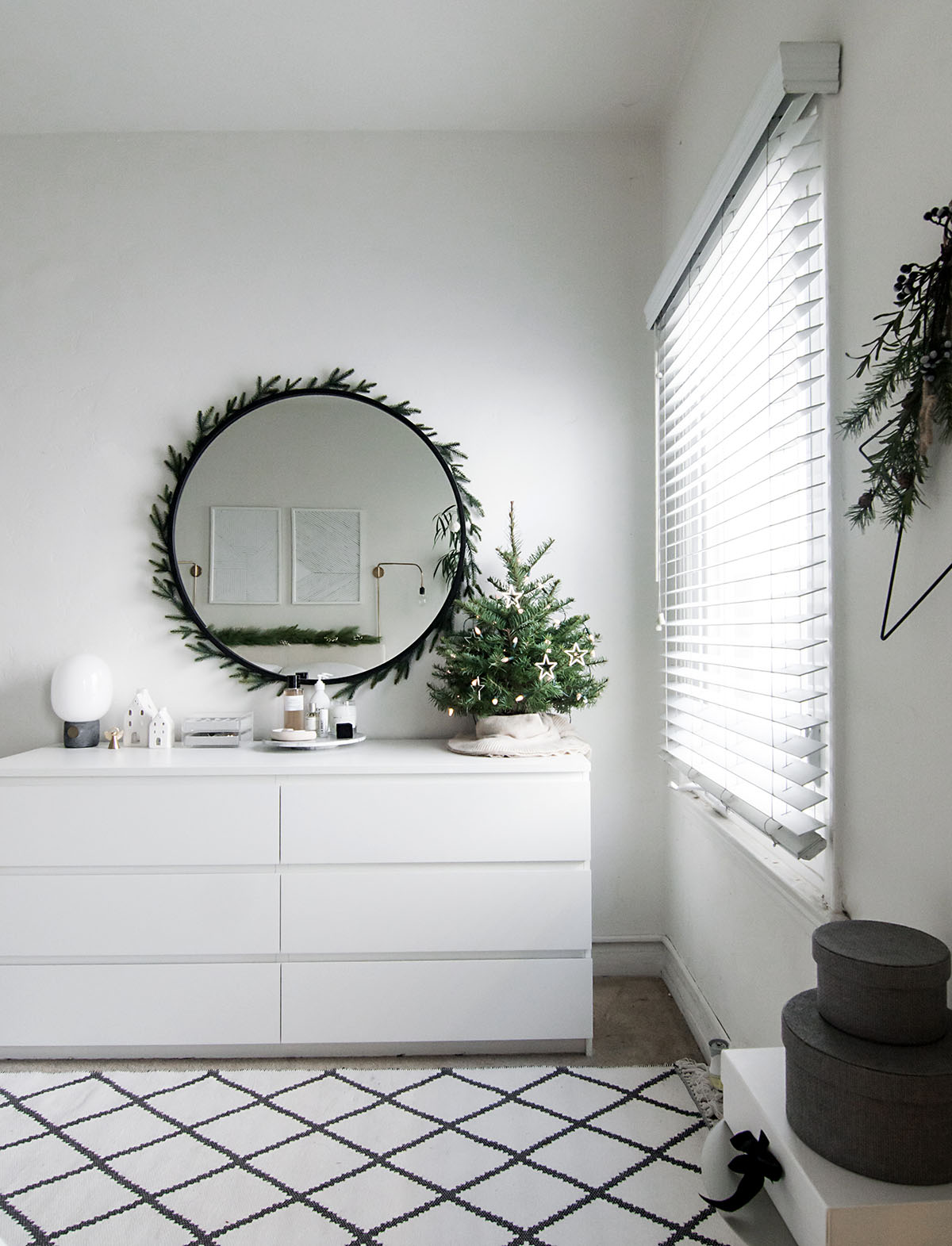 I decorated the tree very simply with basic string lights and silver star ornaments that I got during my recent trip to Stockholm. I've always been a fan of the idea of collecting ornaments from travels or having a memory or meaning attached with each one, so I hope this is the start of that tradition for us. A mini tree seems to be a good place to start, too. At the base of the tree is the same old scarf I repurpose every year as a mini tree skirt. It's wrapped around to cover the base and stand.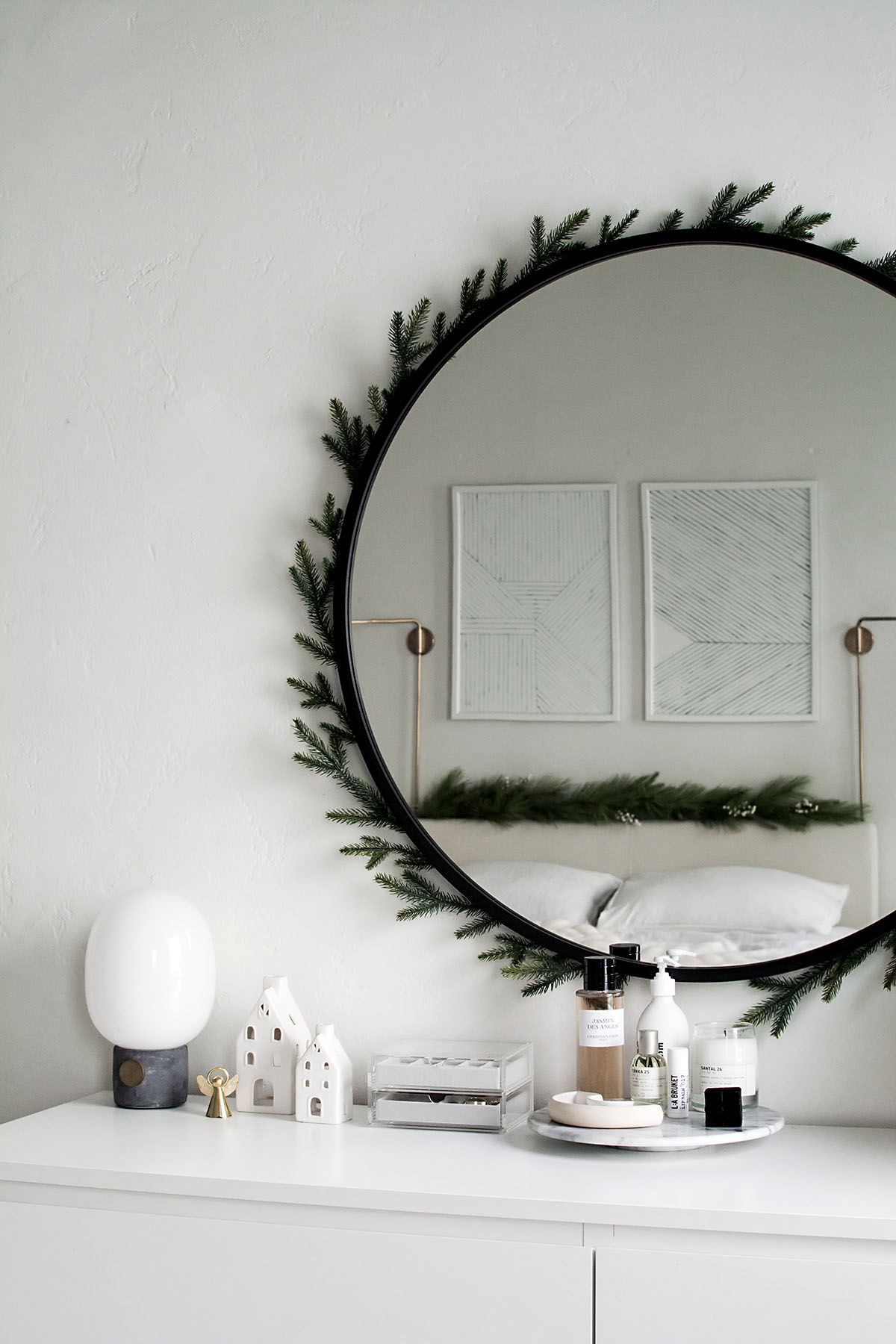 Around the mirror is this faux pine needle garland that I only needed to tuck behind the mirror to secure it in place. So many dried greens from winters past have fallen behind that dresser and I'm very satisfied I won't be creating another greenery cemetery back there this year.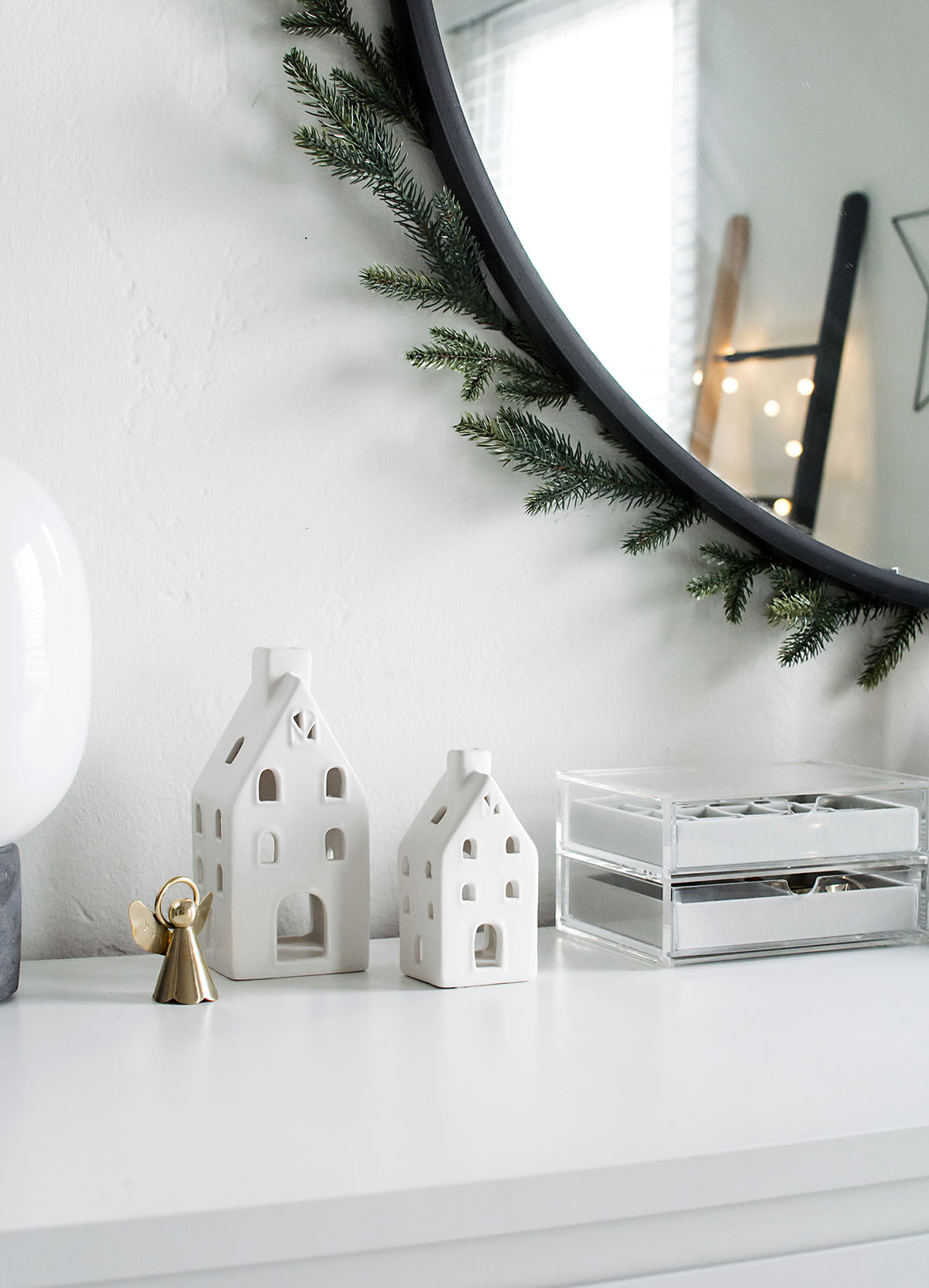 It was last year when I found out that I'm infatuated with small ceramic houses as Christmas decor. Irresistibly whimsical and what I dream of decorating our future Christmas fireplace mantel with, but for now they sit here on our dresser. I got so many questions about these when I shared them on Instagram and I regret to say they sold out immediately and are no longer available, but you can get sort of similar ones that are bud vases (that I also have and love) here. Initially I had put led tea light candles inside each one since they're intended to be luminaries but decided I prefer them plain like this.
The gold angel bell is another item I picked up in Stockholm, gifted from the wonderful people at Svenskt Tenn. I had first placed it here temporarily with plans to hang it from a string and use as an ornament, then never did because I ended up liking how it looked here instead.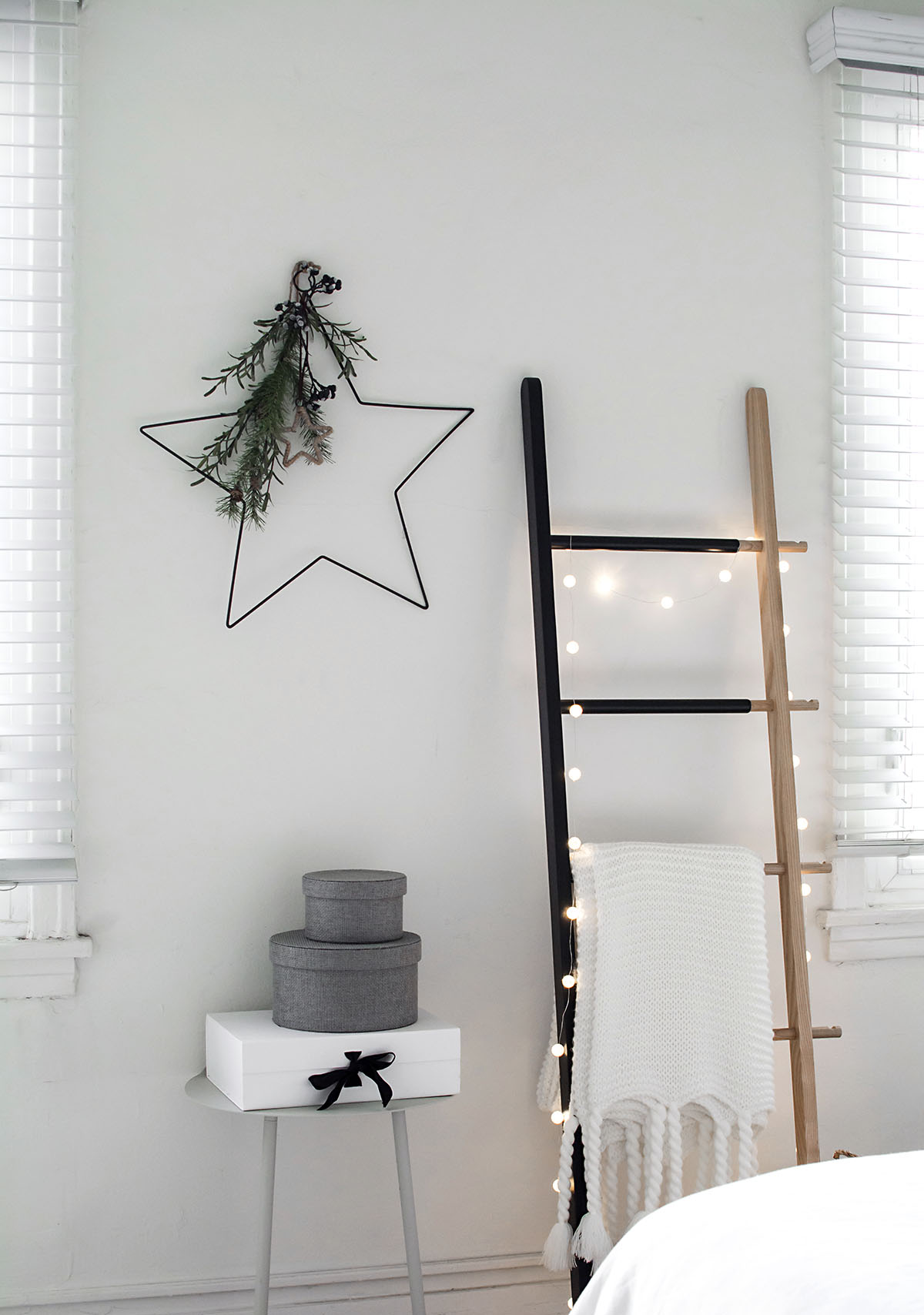 It has become part of the tradition to put a wreath on this wall because I can't fight the urge to hang them up wherever I can. Strange to think I once didn't like wreaths at all! This star wreath came with the faux greens already attached (it also sold out really quickly and is no longer available) and I adore how delicate and unique it looks. It can absolutely be DIY'ed fairly simply with wire and round nose pliers.
Along the blanket ladder I draped a string of round shimmer lights and while it does limit my use of the ladder, it's maybe my favorite little detail in this room and worth it for these few short weeks that fly by. I mostly use the ladder for hanging throw blankets anyway which rarely take up all the rungs.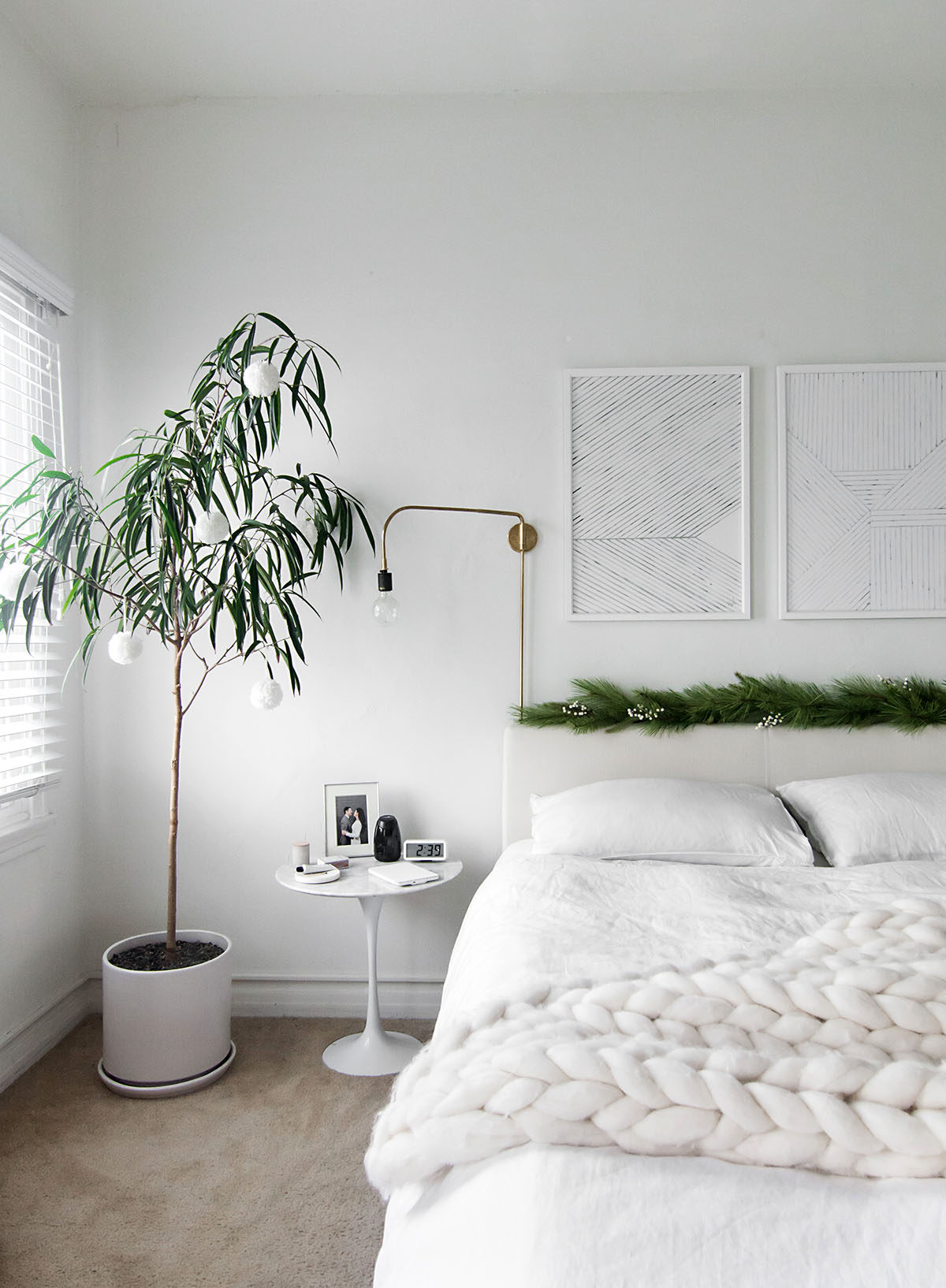 I had briefly thought to myself that it would be cool if our ficus was a Christmas tree, then I hung large white yarn pom pom ornaments from it as if it were (similar ones here). So pleased with our Christmas ficus that is cuter than I thought possible.
Now that we have a headboard, I took advantage and laid this garland on top of it that I've been saving for the right moment. I've seen this done a lot in other homes and love the look. I only needed to bend some of the branches to tuck behind the headboard to secure it in place- another BIG advantage of going faux.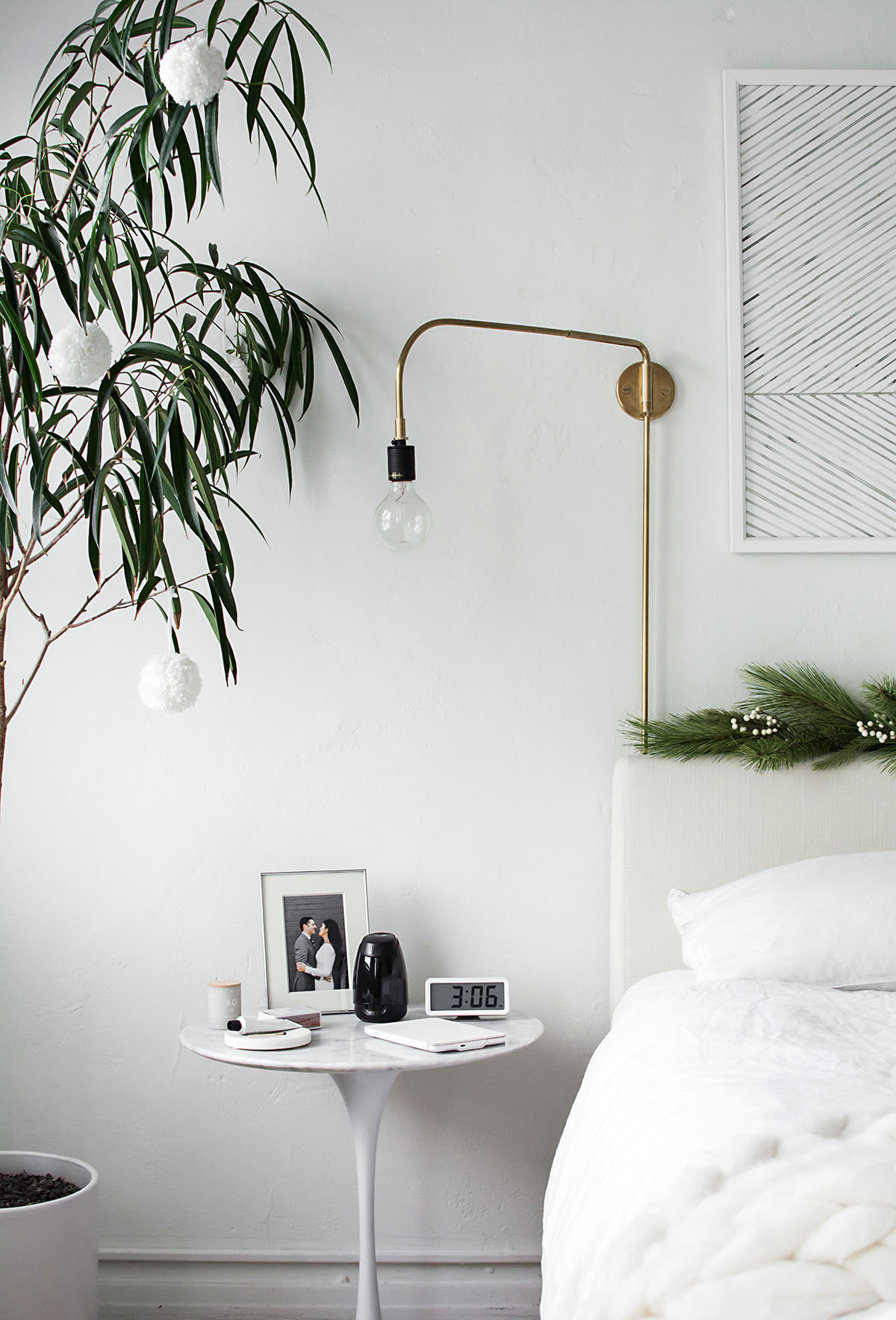 Within this scene is another affordable scenting option that's battery-powered and an especially great alternative to a plug in if an outlet isn't readily available.  The Air Wick® Essential Mist® transforms essential oils into mist, released in regular intervals at the intensity setting of your choice.  It runs for 8 hours before going on standby for the next day, which is useful if you forget to turn it off or don't want to think about turning it off and instead let it run on its automatic cycle.  
Like the plug-in, it's sleek and blends in with any surroundings. I most appreciate that it doesn't take up a lot of space and that it's portable, which also means no visually distracting cords. For me, that additionally means no tripping hazard. I am that person who needs to have this concern.
With just a few small changes, this space has become much cozier and merrier to match the excitement that I so love about this season. Keeping it simple is not only a stylistic choice, but also a necessity to not add any more stress to what is usually a pretty stressful and busy time of year. Hope this shows that it doesn't take much to create your own festive sanctuary at home, and that the effort is worth it!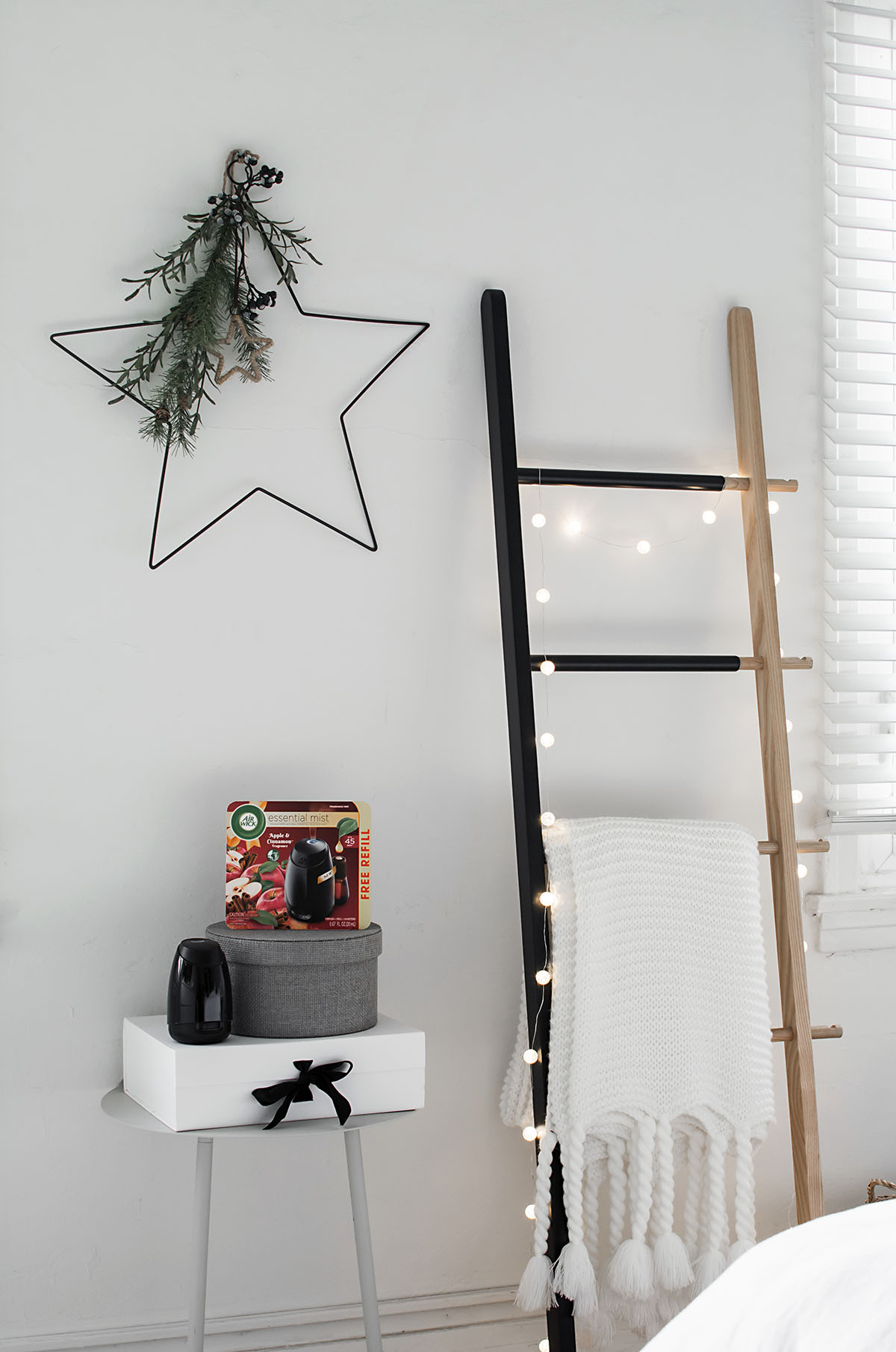 Of all the details, scent is the easiest and most impactful finishing touch on a space and I've said it a lot before: it shouldn't be overlooked. The holidays especially are when memories and emotions are so closely associated with scent, making it the time I most pay attention to the ones we're surrounded with. Click here for more on Air Wick's scenting devices and to find your favorite scent from their limited-time holiday collection.
This Post is sponsored by Air Wick. Thank you for supporting partners that make it possible for HOM to continually bring you original content.
Other Posts You Might Like