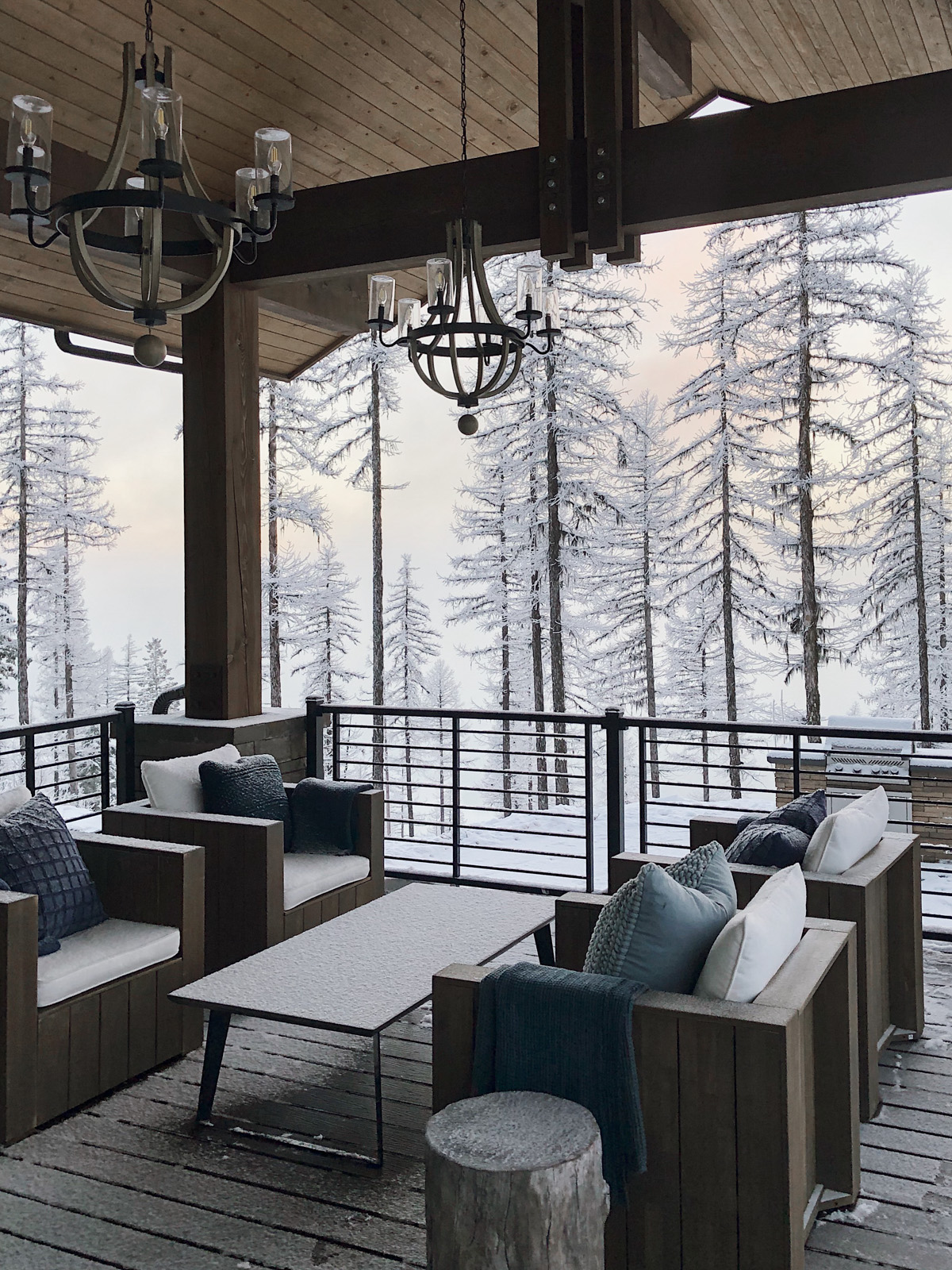 Something a little different and fun today! A couple weeks ago the Delta faucet brand invited me to tour the 2019 HGTV Dream Home in Whitefish, Montana for what ended up being the experience I never knew I needed. I left not only recharged from stretching beyond my interior design inspiration bubble, I also fell in love with Montana pretty much the moment I saw the mountains from the plane. It's the epitome of winter wonderland this time of year and is simply unreal.
The mountain-modern lodge style home was designed by Brian Patrick Flynn (from here on referring to him as BPF) who was luckily there for us to meet and talk to about the Dream Home. In his intro of the home, he mentioned a couple interesting things to keep in mind about the design. Because the home is going to be given away in a sweepstakes, it needs to appeal to the masses instead of for example being designed the way BPF would personally want it for himself. You'll see across the home that there's something for everyone's style. Also, the home was designed and styled with priority on editorial content, recognizing that it would be highly photographed by press and thus needs to lend itself to looking good in photos- let's take a look at those now.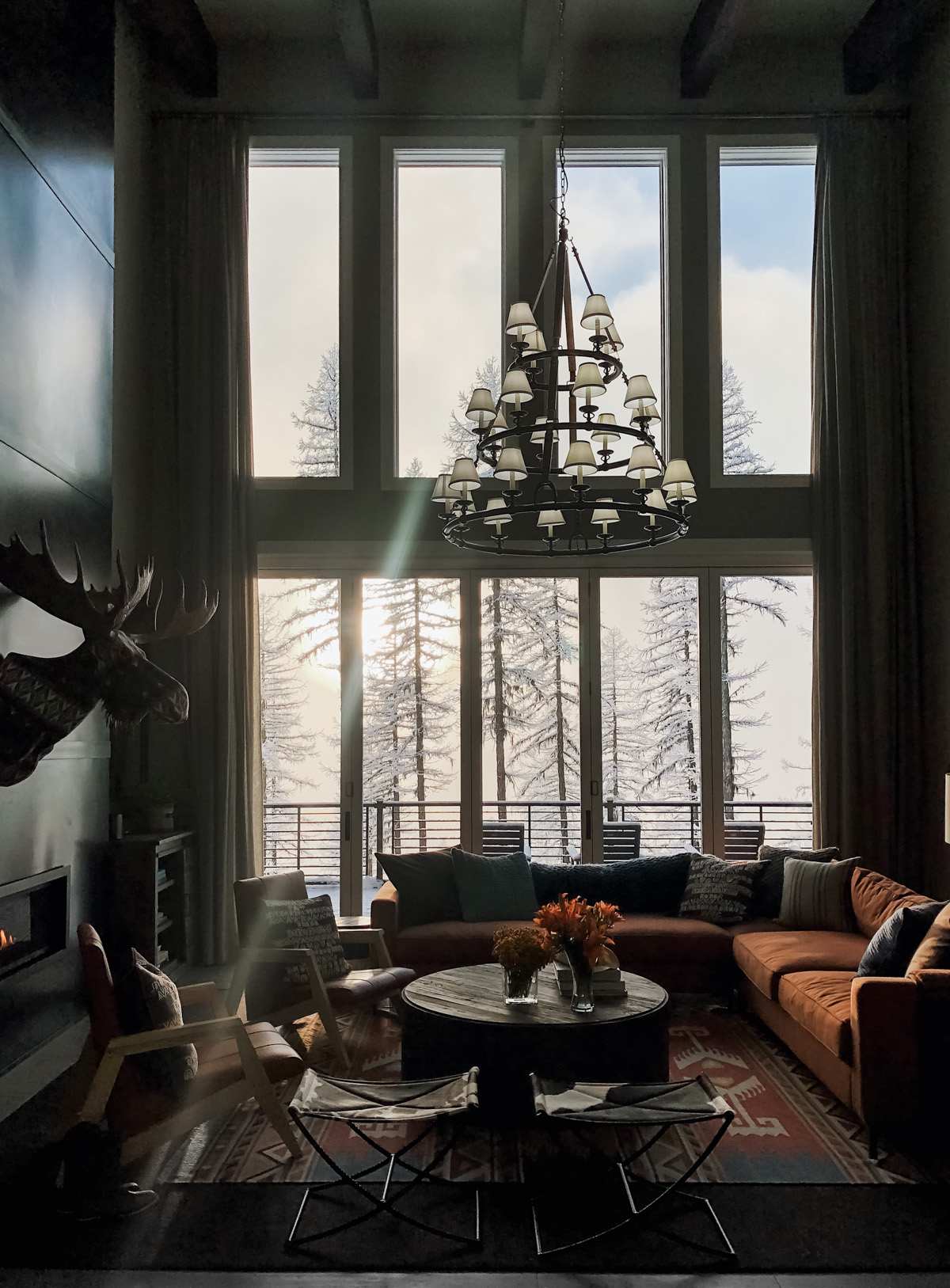 The first thing that greets you when you enter this home is this outrageous view. High ceilings, tall glass doors that open all the way up to the backyard deck, and lots of natural light. Of course it's much better when you go outside, and we'll see that later, but this is the kind of welcome worthy of a dream home.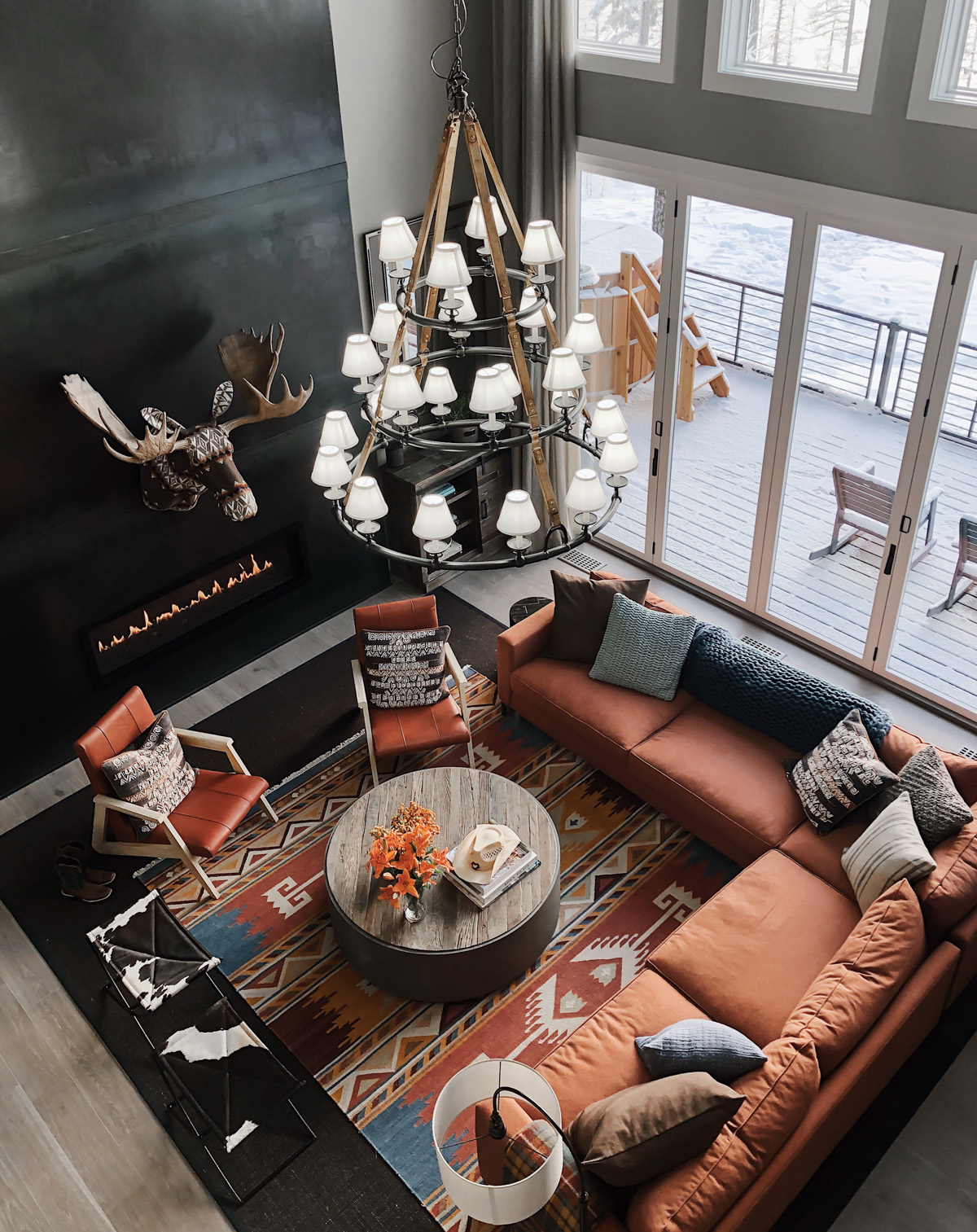 The boldest color theme in this home is rust/orange. From what I hear and can generally gather, it's controversial haha. Others who were touring the home that day talked about how orange is human kind's least favorite color. From personal experience it's the hardest color to work with and I can't get past thinking about Halloween when considering including it in my monochrome home. Though at first the color was a hard pass for me, it's grown on me a lot in the context of this home and its surroundings. It's undeniably warm, inviting, and cozy, and there's a lot of room for these things in a mountain home surrounded by trees covered in snow.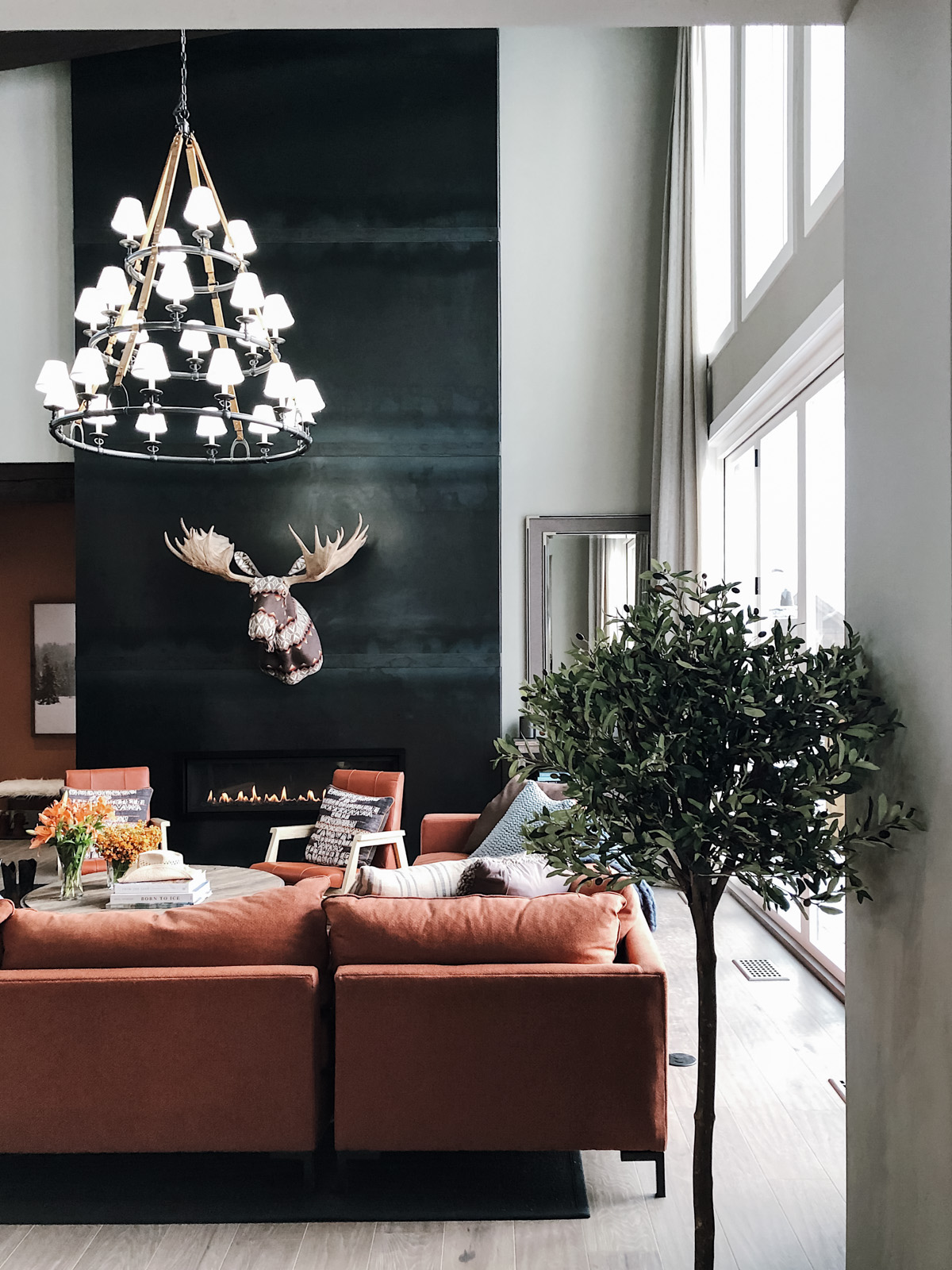 Taxidermy, faux or not, is something I'm just not into, but I find it fun that this faux moose head was locally made with a unique pattern of Pendleton fabric. The highlight for me is that fireplace and the dreamy dark panels surrounding it from floor to ceiling.
On the way to the master suite is this little nook displaying the home's themes of western inspired and rustic decor. That wall color in the corridor hints at what you'll see in the master suite.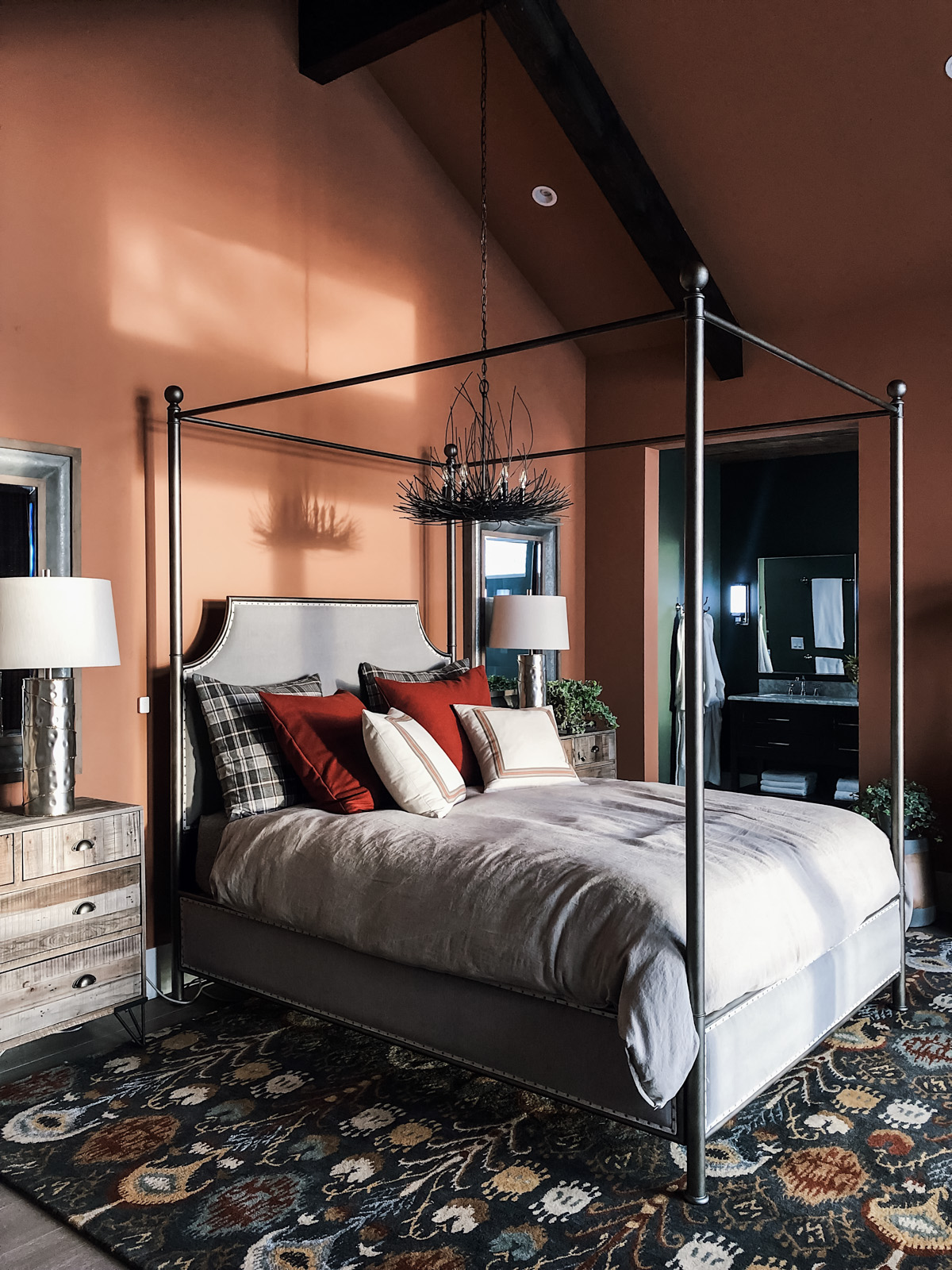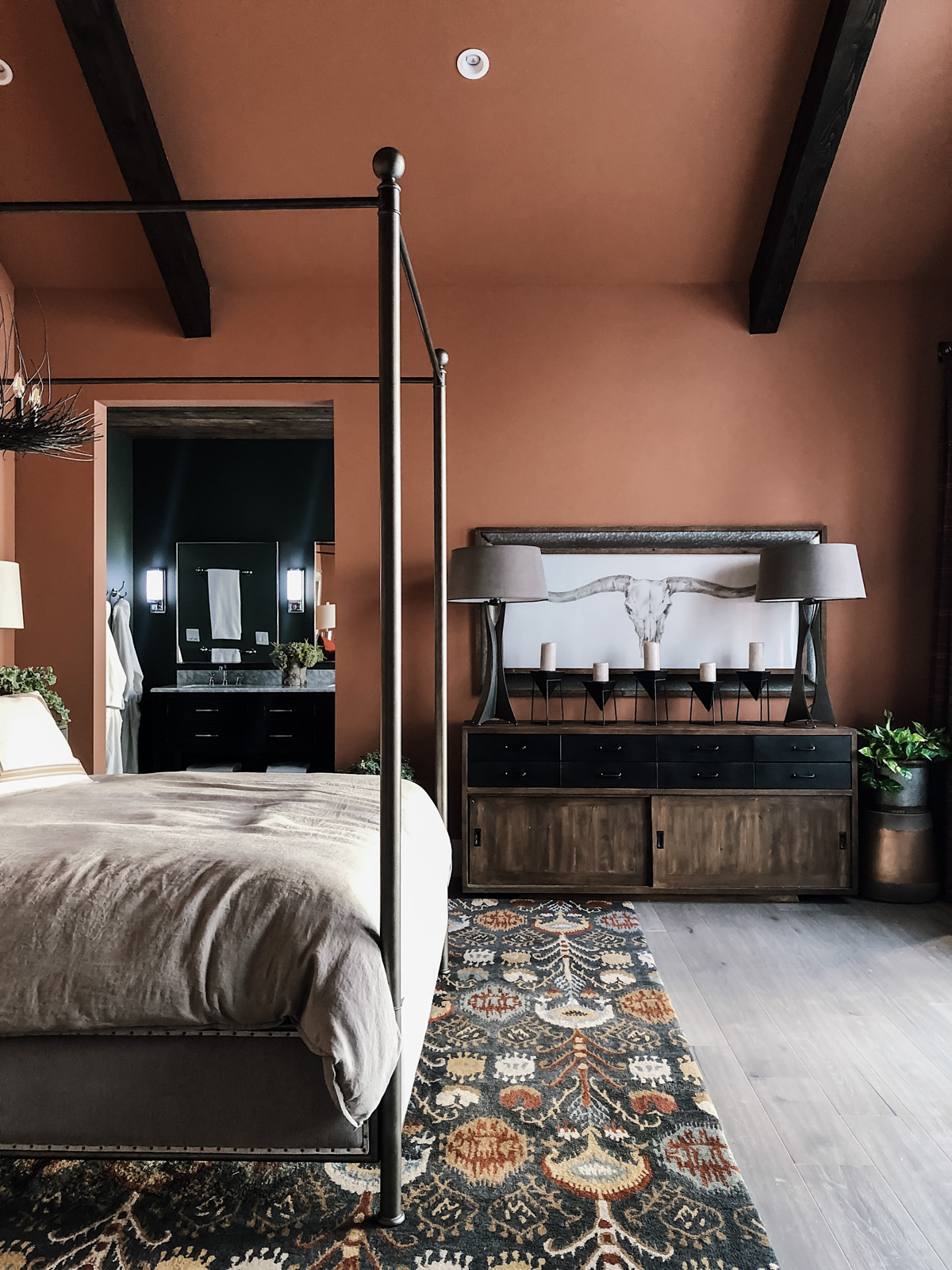 The rust colored walls are far beyond my level of adventurousness, but again the color has grown on me so much. That rug, something I wouldn't normally gravitate towards, now looks amazing to me against these walls.
Through that doorway on the left, we've already arrived at my favorite part of the home.
Delta® Cassidy™ Widespread Bathroom Faucet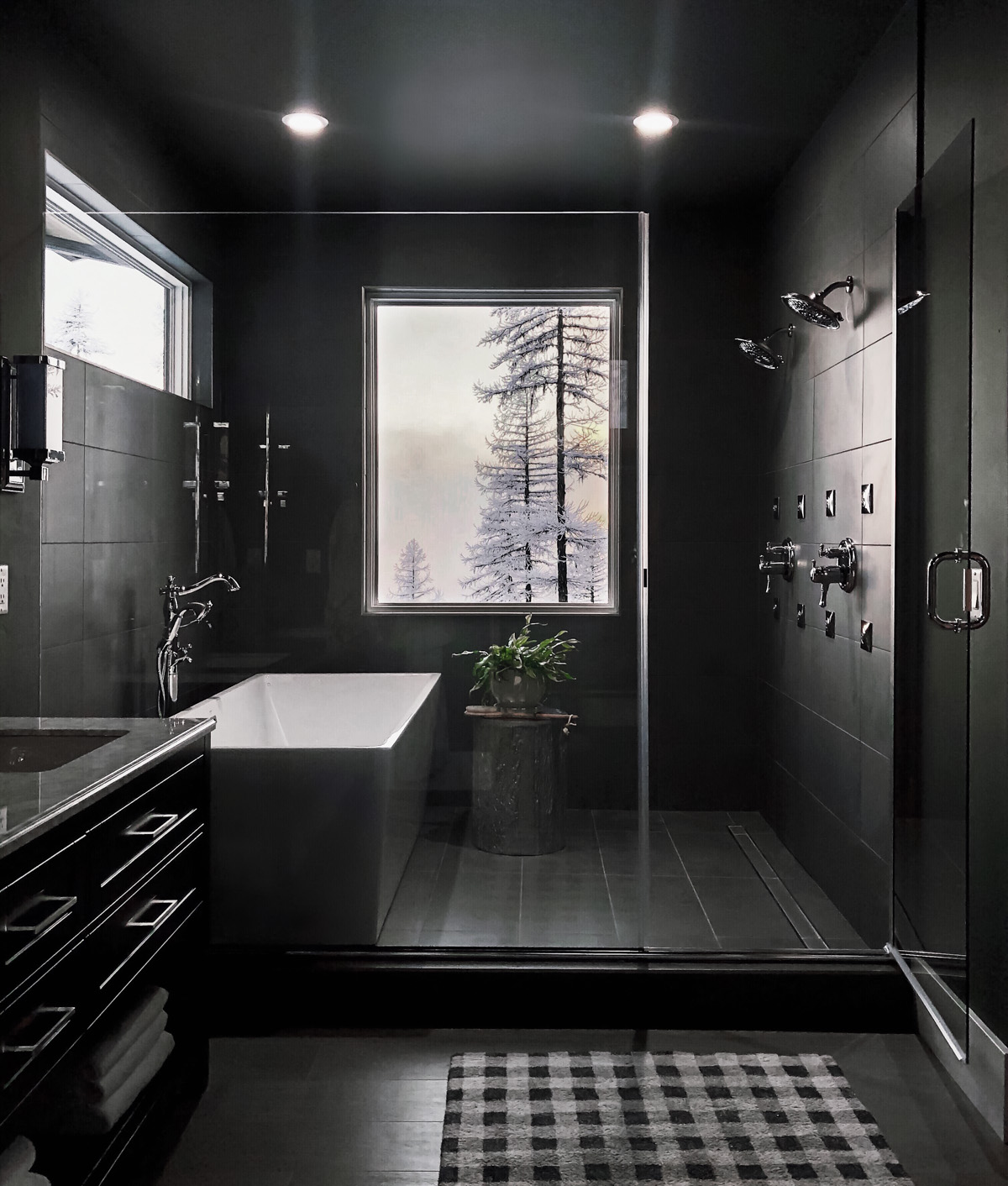 Delta® Cassidy Monitor® 17 Series H2Okinetic® Shower with Integrated Diverter; equipped with HydraChoice™ Body Sprays; Traditional Floor Mount Tub Filler Trim; Delta® branded Mirolin Slate Freestanding Tub
Is this not the dreamiest bathroom? Do you see that wintry view out the shower window? Are you imagining taking a bath in that tub and not caring at all if you're messy about it because that entire area is blocked off and meant for getting wet? Notice that there are two shower heads so that perhaps you and your significant other can simultaneously shower even though I think we'd all much prefer enjoying this space in private?? This is also where I felt that the pieces from Delta shined the most, in every sense. As a sponsor of the 2019 HGTV Dream Home, all the faucets and bathroom accessories in the home are from Delta, including that gorgeous tub.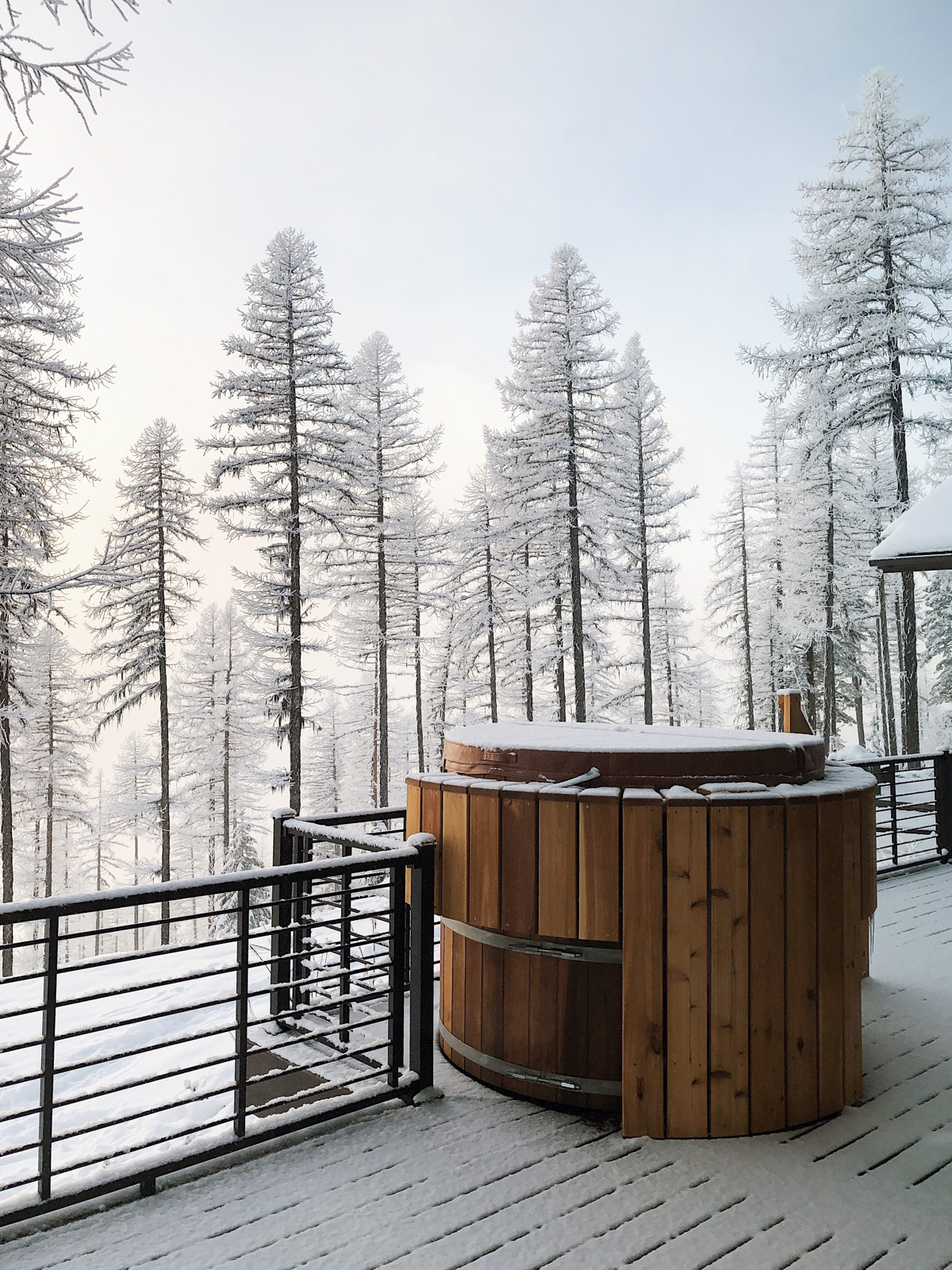 The tall glass doors in the master suite lead out to the back deck where you'll find this cozy hot tub, which has now been added to my mountain dream home checklist. While I was in Whitefish I sat in a hot tub at a lodge outside where it was 20F and it was then I decided that few things are better than sitting in a hot tub in cold weather. You're warm from the tub but the cold air cools you off and keeps you from getting too sweaty and gross. It's far more relaxing than any regular hot tub experience.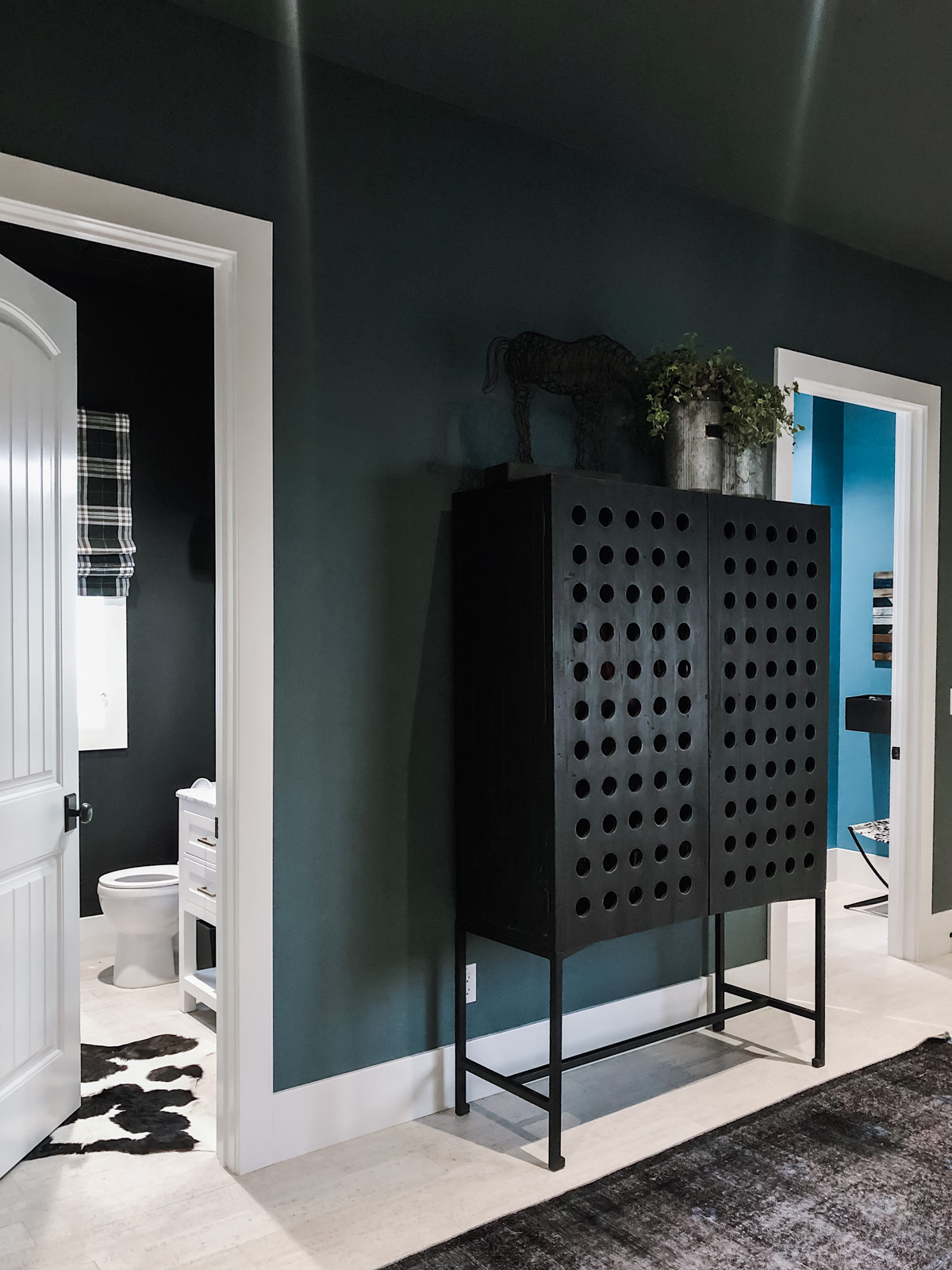 Something on my general list of dream home wishes is a mudroom and dedicated laundry room like seen here. Having never lived with in-house laundry machines besides when I was a child, I can't think of anything more luxurious than never having to worry about not being able to do laundry because we ran out of quarters- the tragedy! Side note: I adore this black cabinet.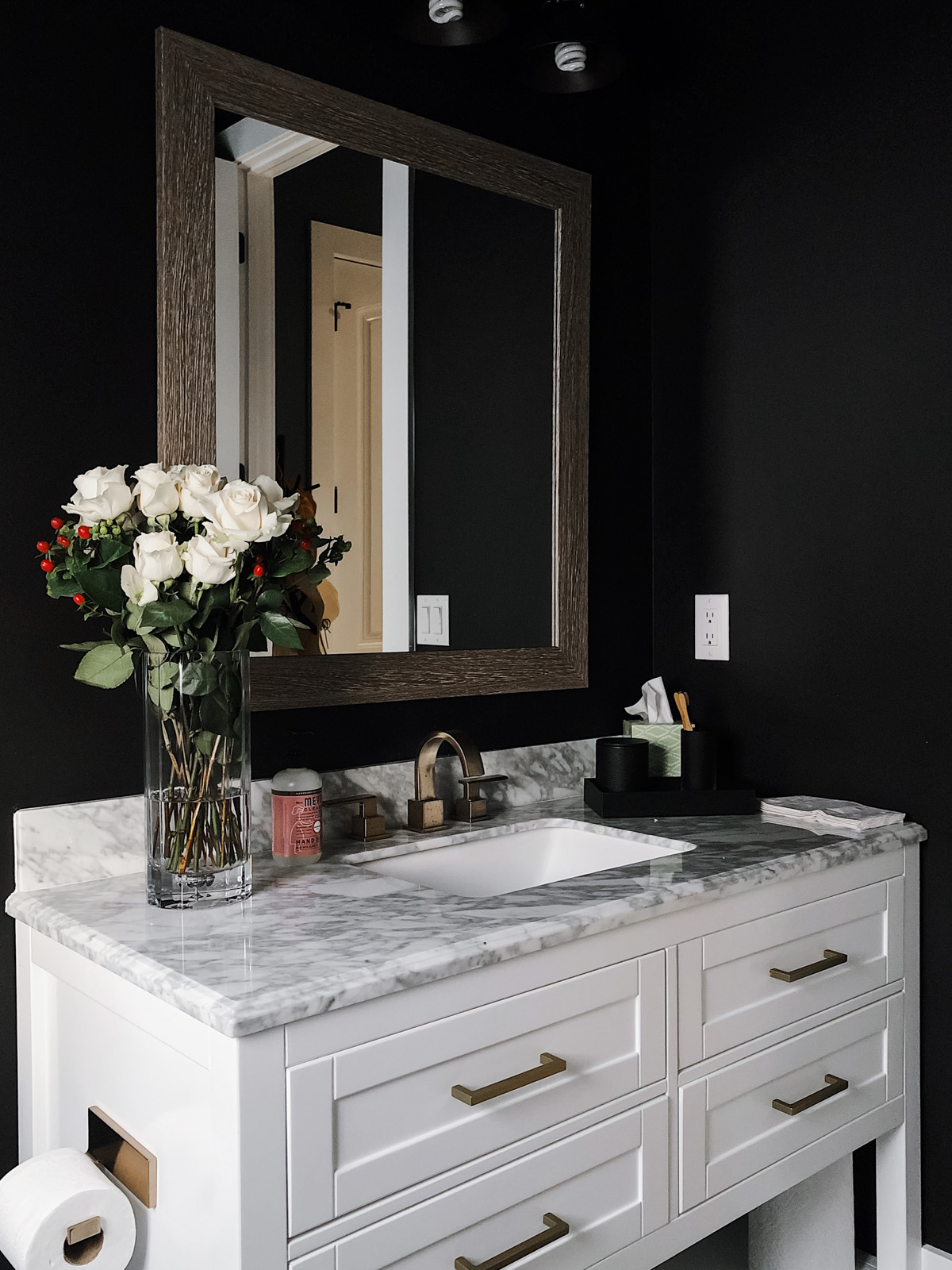 Delta® Vero® Widespread Bathroom Faucet
One of the doors in the mudroom leads to this powder room which is another favorite moment of mine in this home. I can't get enough of dark walls lately and love the way it looks here with the champagne bronze faucet and hardware.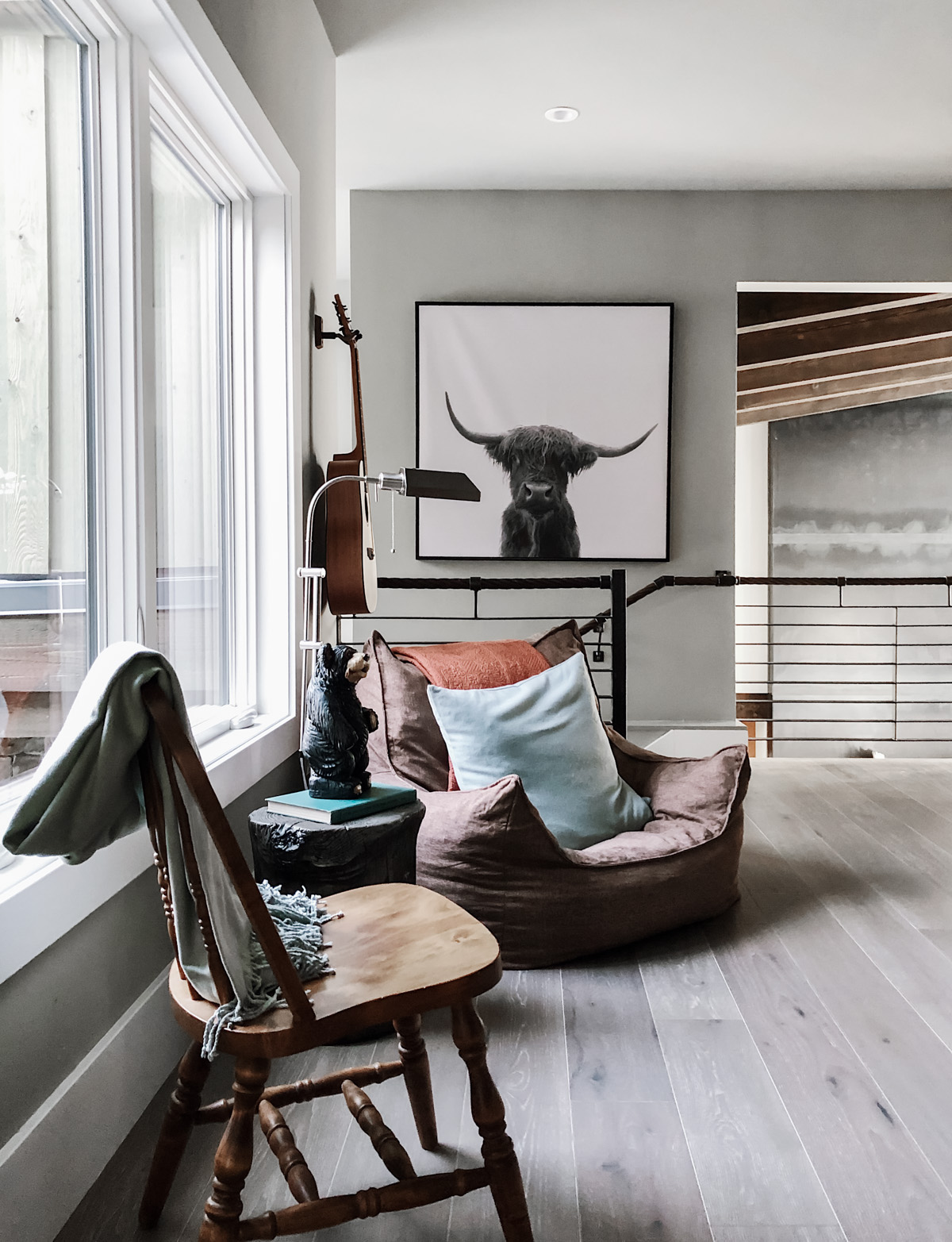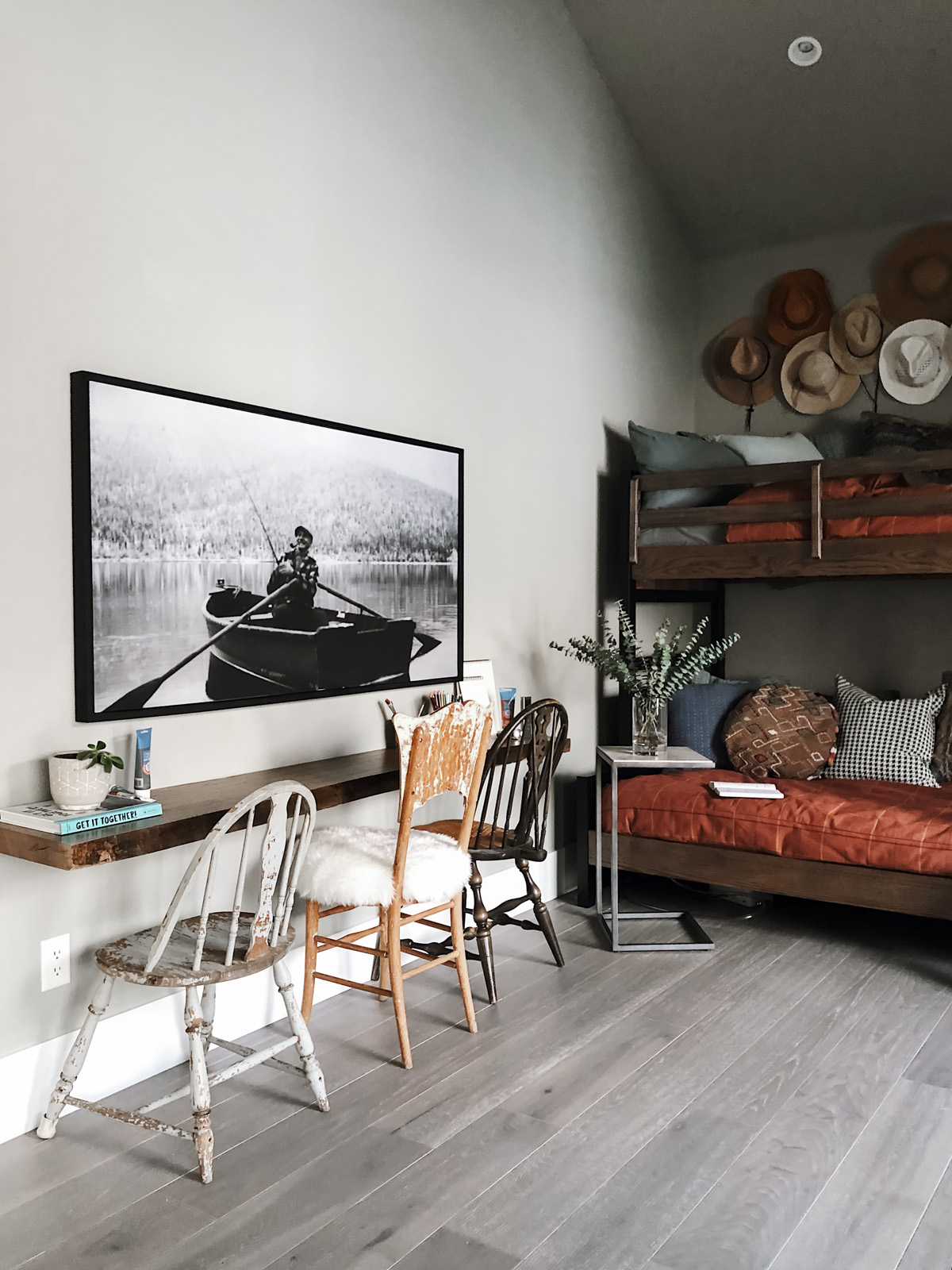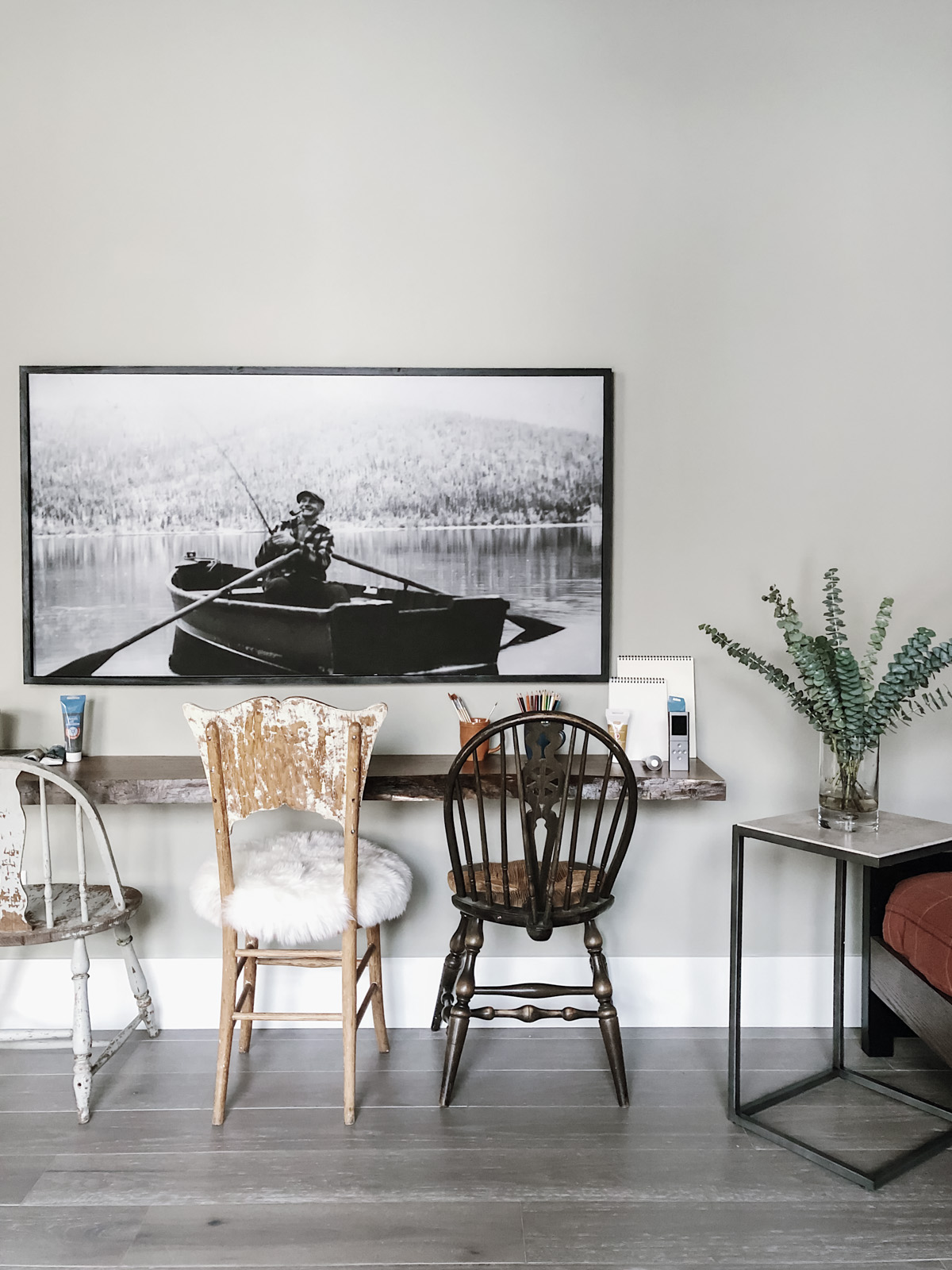 At the top of the stairs is this fun little loft area with bunk beds, a place to lounge, and a ledge for what seems to be suggesting a place to do arts and crafts which I'm completely down for. I'm also thoroughly charmed by this little collection of mismatched chairs.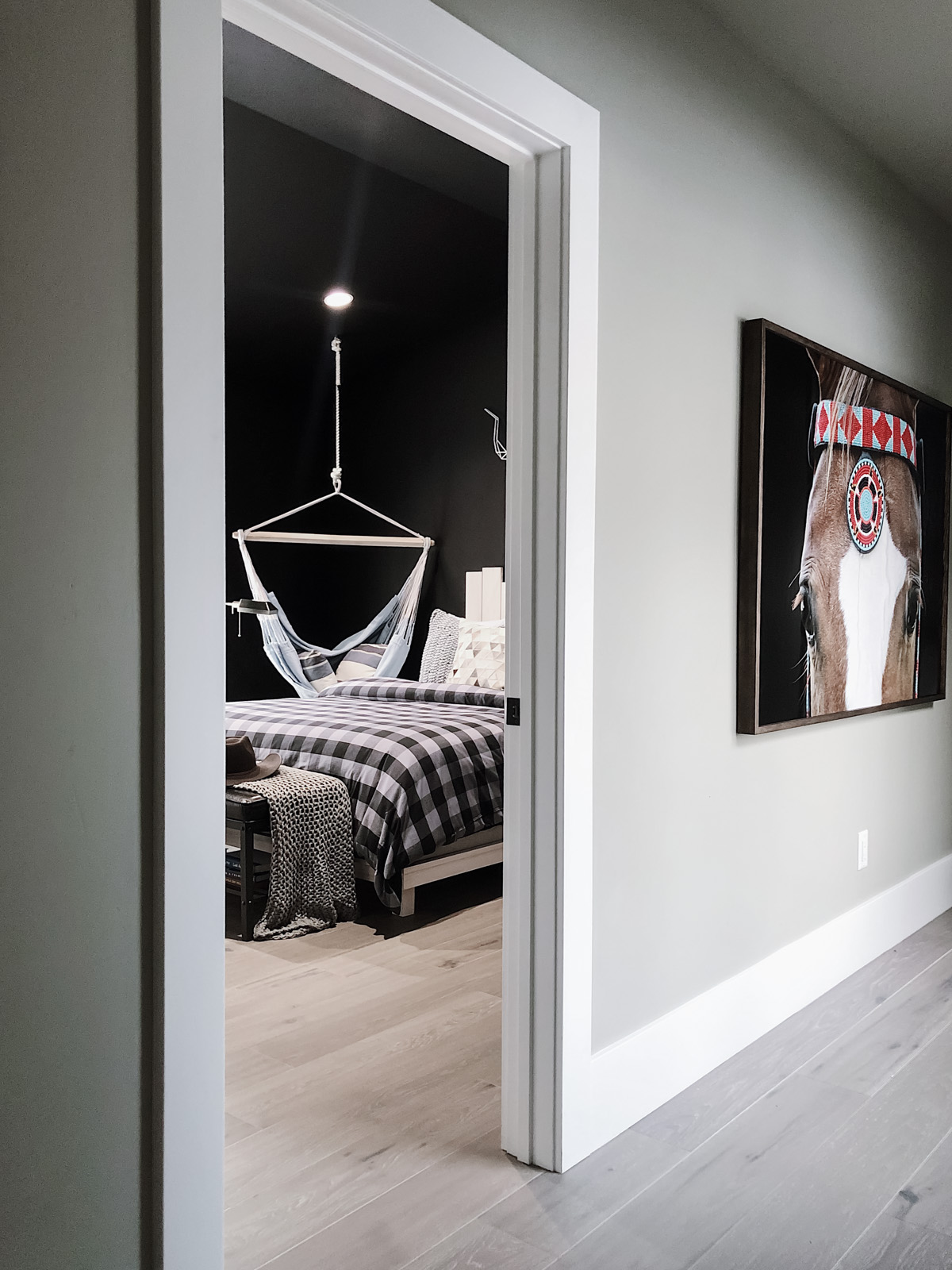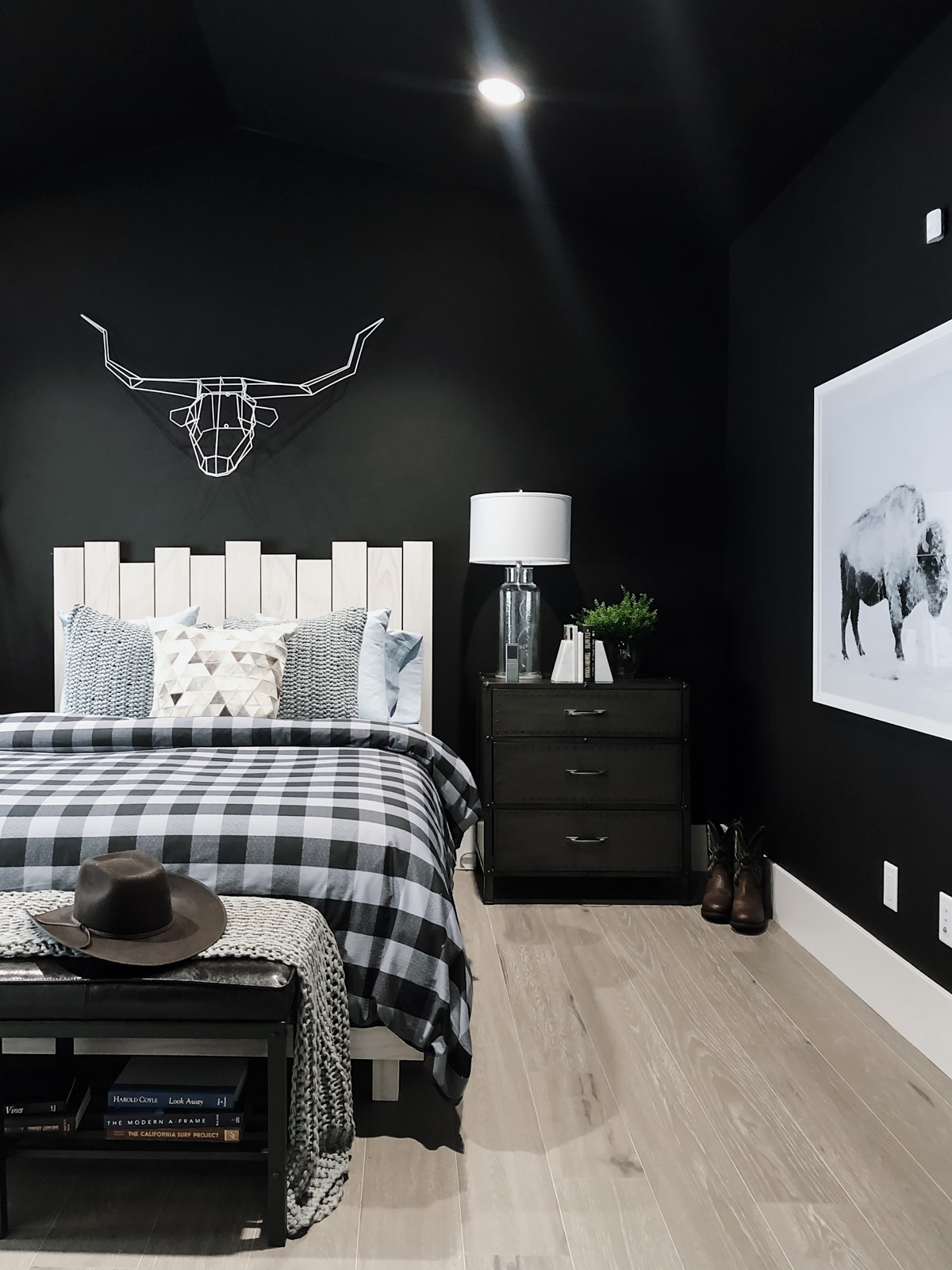 Was immediately drawn to this bedroom around the corner because of the peek at the hanging chair hammock and yup, dark walls. This room feels young, fun, and crisp with how all the white details pop against the walls.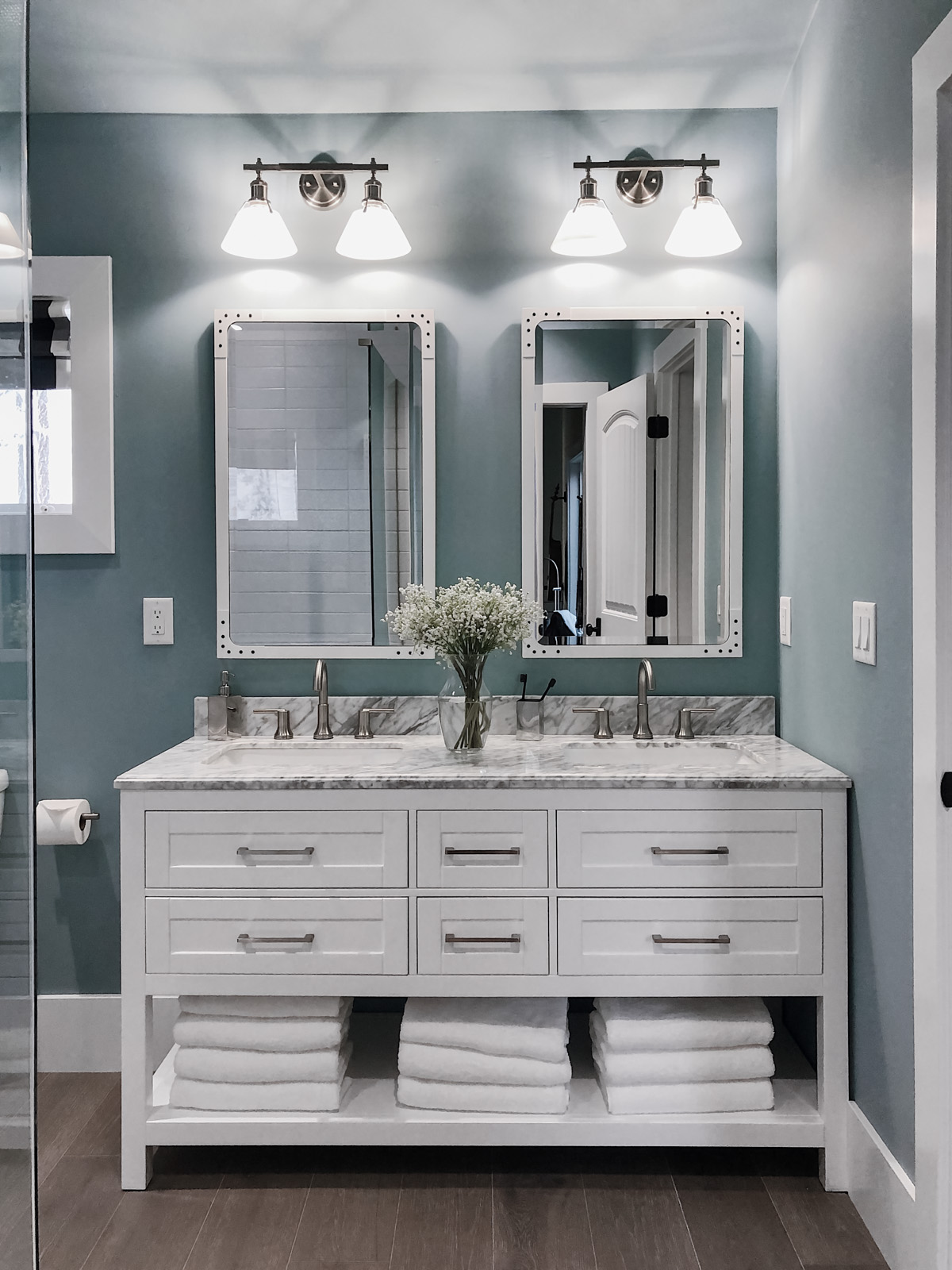 Delta® Trinsic® Widespread Bathroom Faucet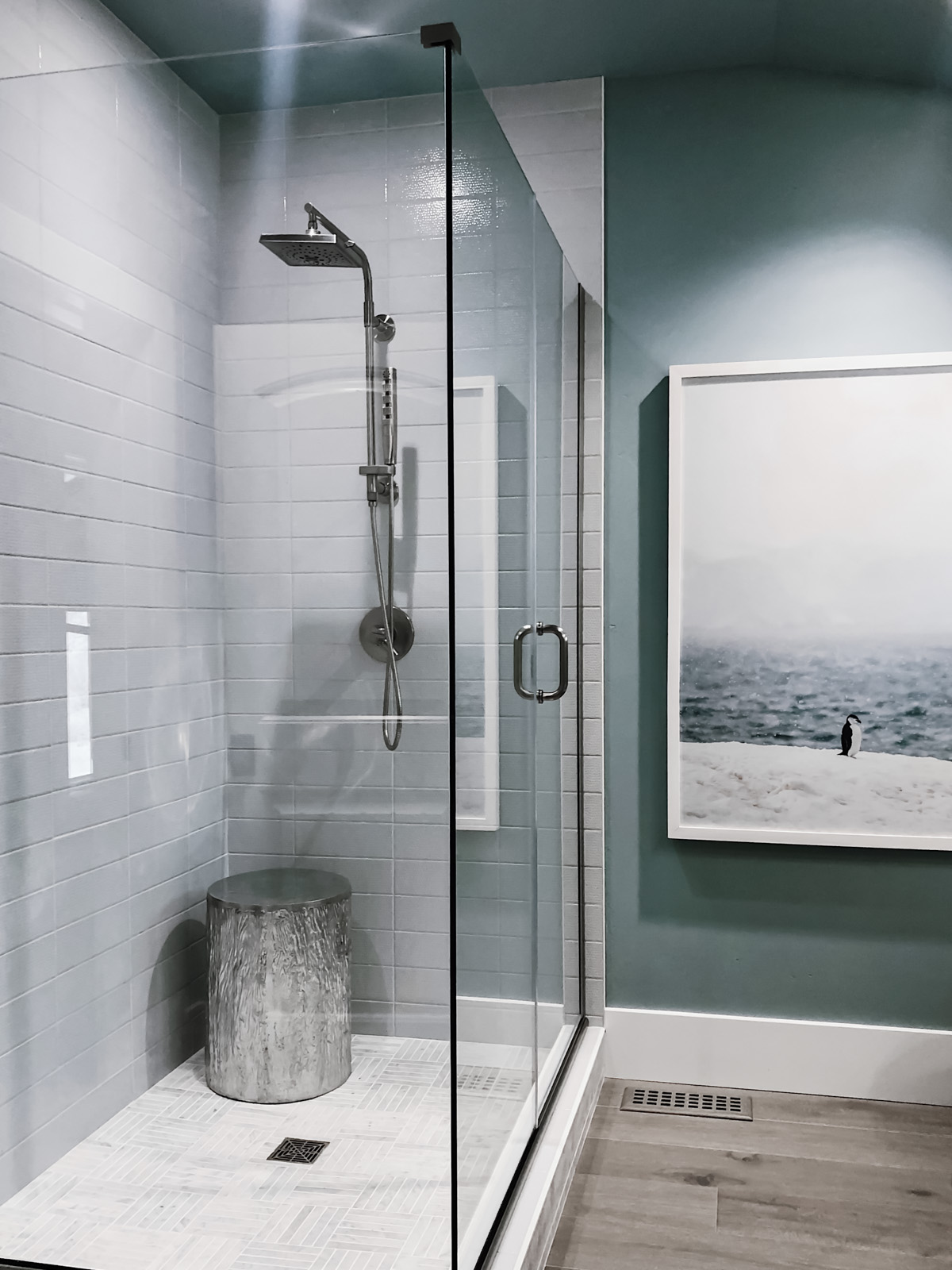 Delta® Emerge™ Shower Column 18" Angular; H2Okinetic® 3-Setting Raincan Shower Head
Attached to that bedroom is this bathroom that I like for how fresh and light it feels with its blues and cool-toned grays. That penguin art is a photo BPF took in Antarctica and makes me think about the countless amount of times I wanted to enlarge photos from my travels and hang them up in our home but never did. Adorable.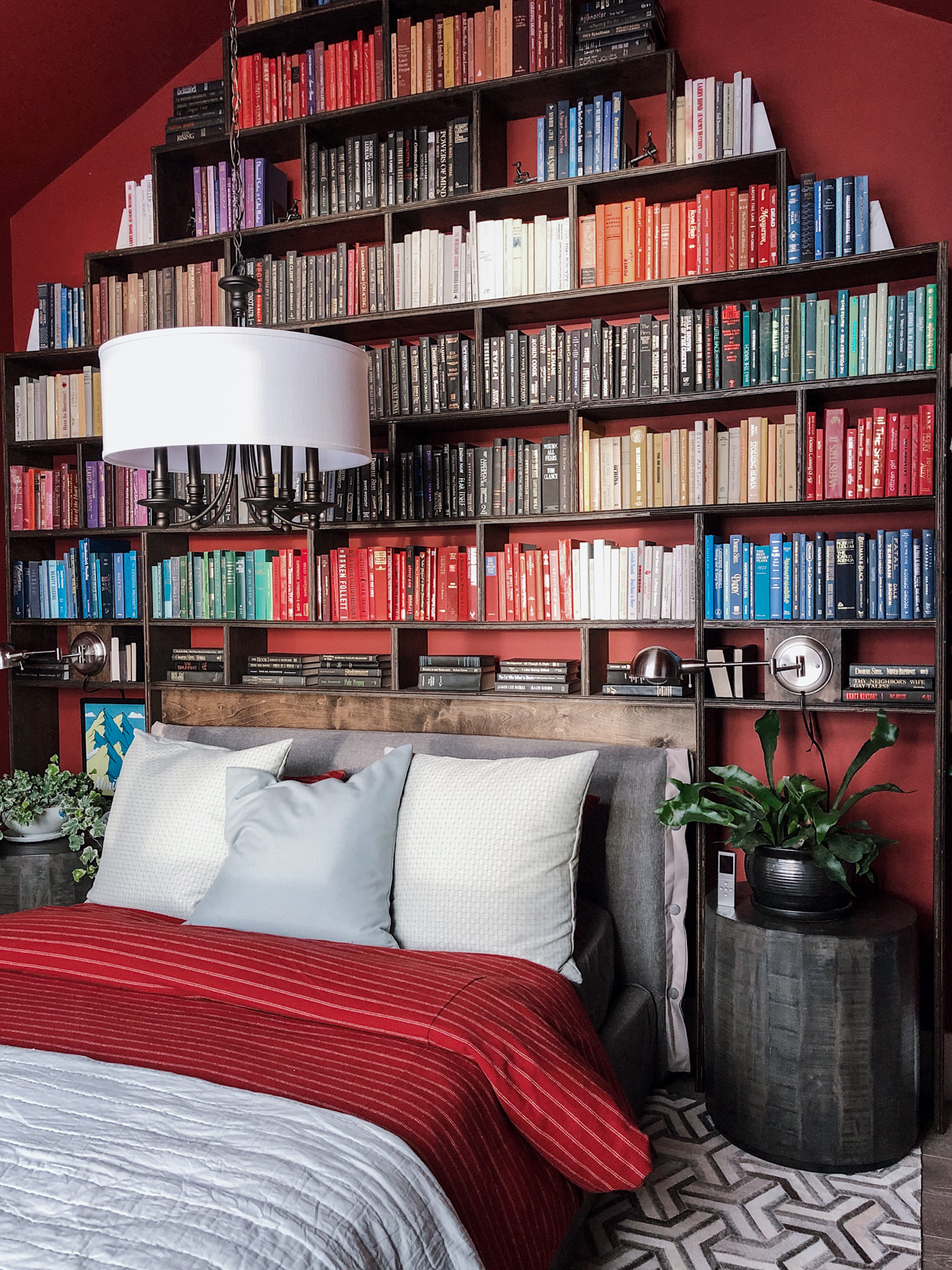 The final and most unforgettable bedroom. I stood here for a while just staring and thinking about how it's like Narnia for book lovers, an escape into a world of reading all day in bed. I dream of having a library this large with space to display it, though not above the bed like this in California since it's not earthquake-friendly (all Californians think about this). This room is so beautifully dramatic with the red and color-coded books. I saw right away what BPF meant by styling rooms with photography in mind. The light fixture in person feels like it's hung too low but in photos it looks perfect.
Out of my rampant excitement, I somehow forgot to photograph the bathroom attached to this bedroom #badblogger. If you'd like to see that you can find photos at HGTV.com.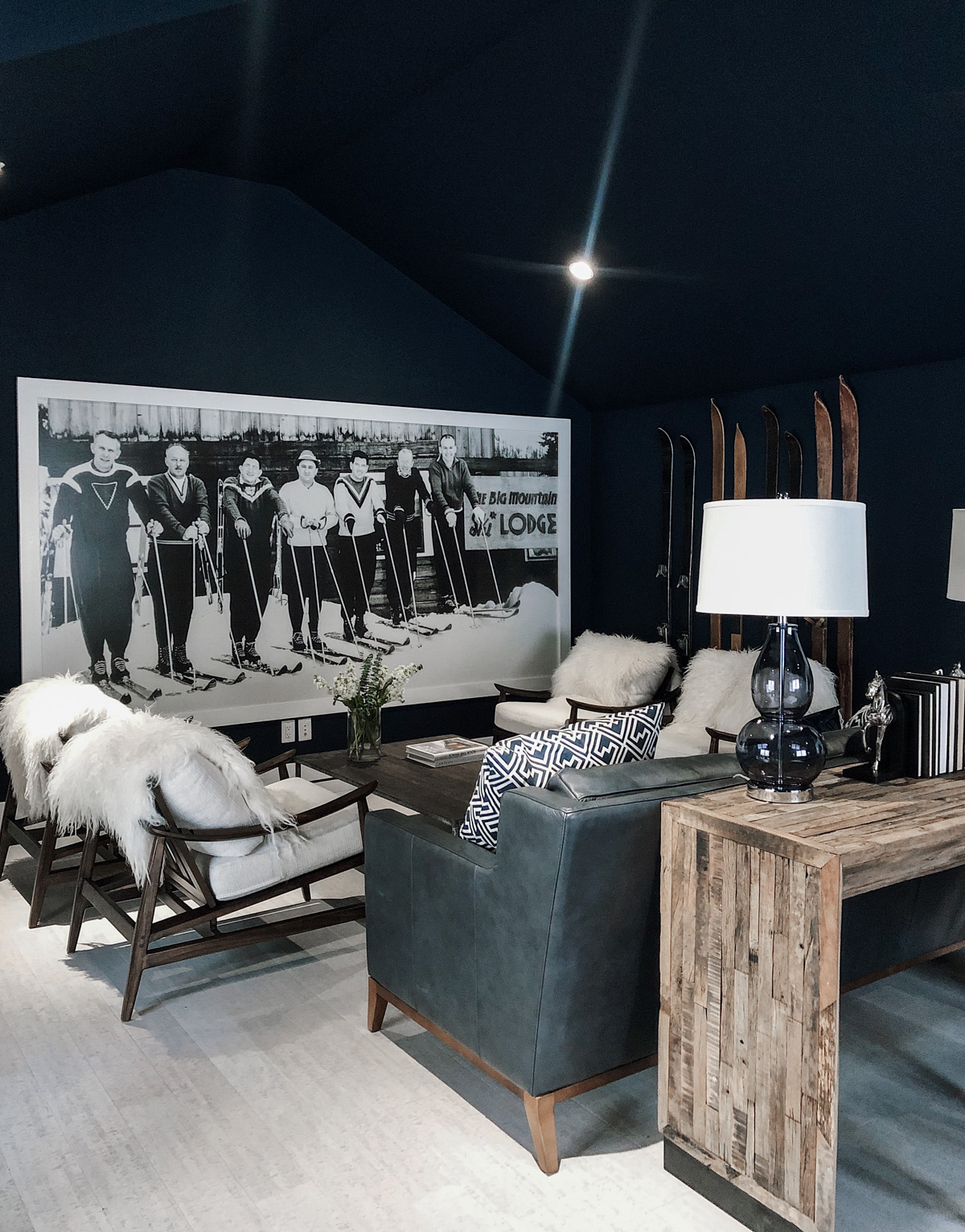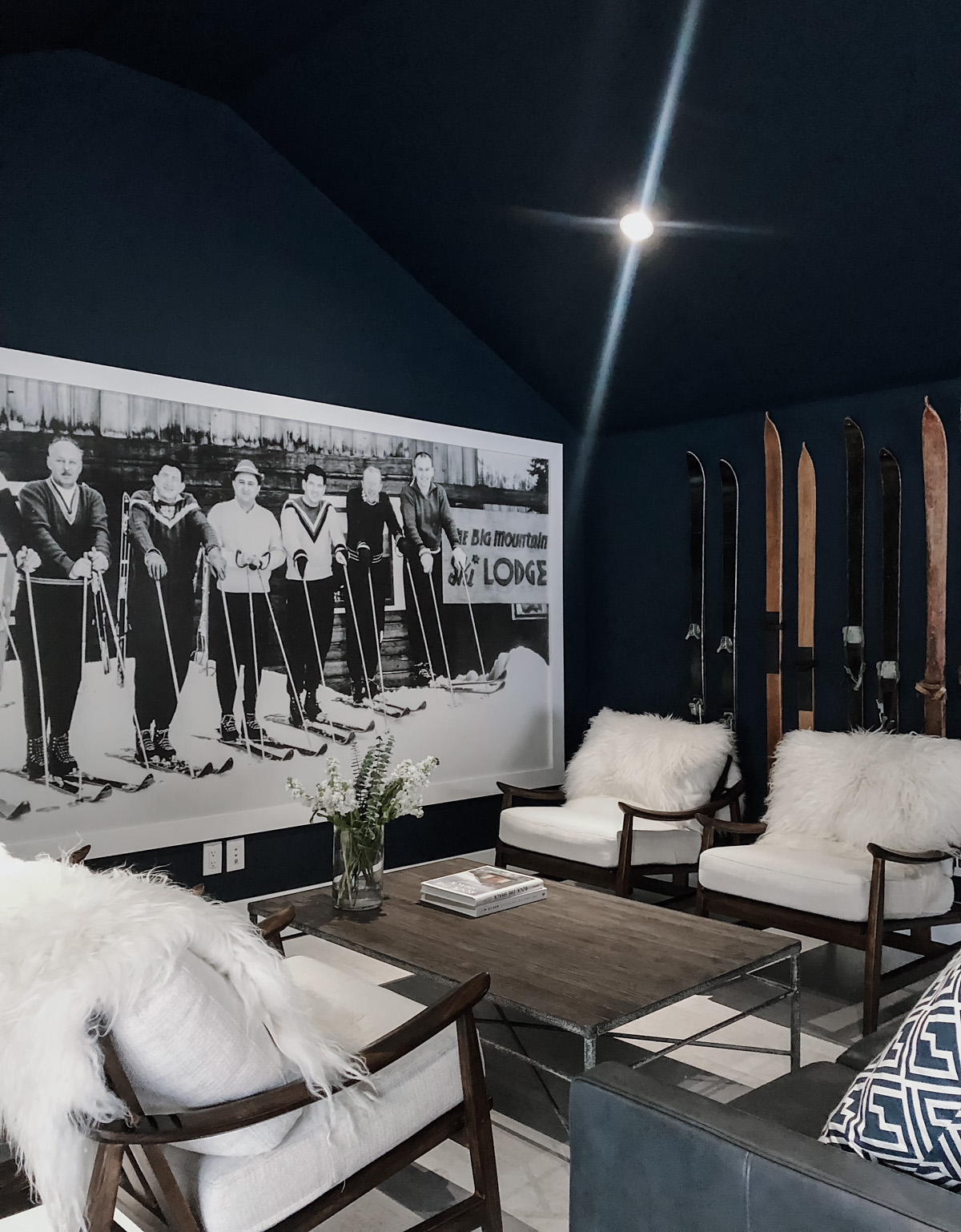 The bonus room on the second floor was turned into a lounge and gym (equipment is behind where I'm standing) and had some of my favorite pieces of decor in it. BPF thrifted locally for ski inspired art and decor, which is how he sourced the large photograph and vintage skis on the walls. The photo from the 50's includes founders of the ski resort in Whitefish, how cool is that? There's an adventurous feeling about it and it's simply fun to look at.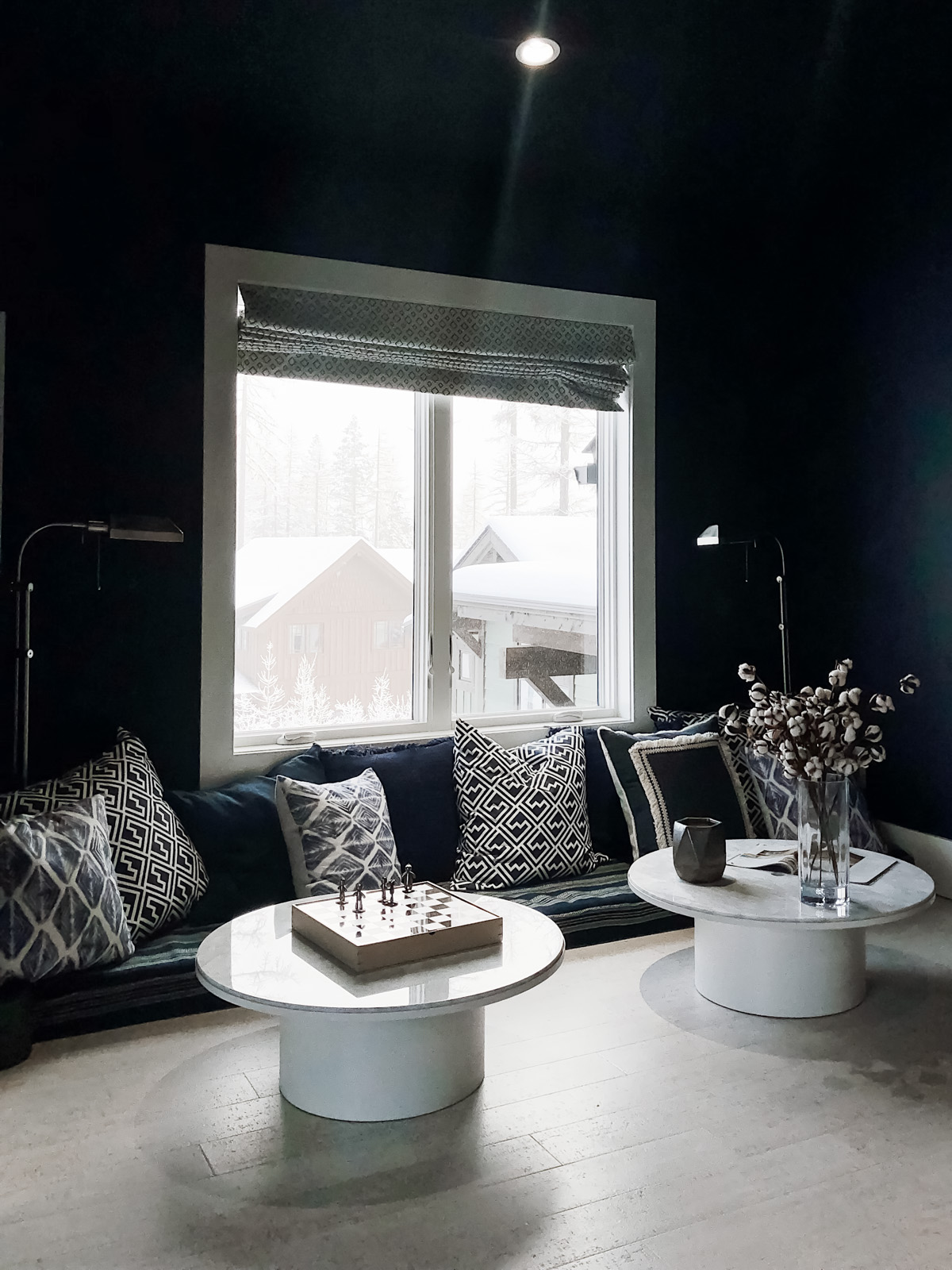 Also in the bonus room is this window nook area with floor seating. I love it for reminding me of tatami seating in Japan, the cozy excess of pillows, and (you can say it for me) the dark walls.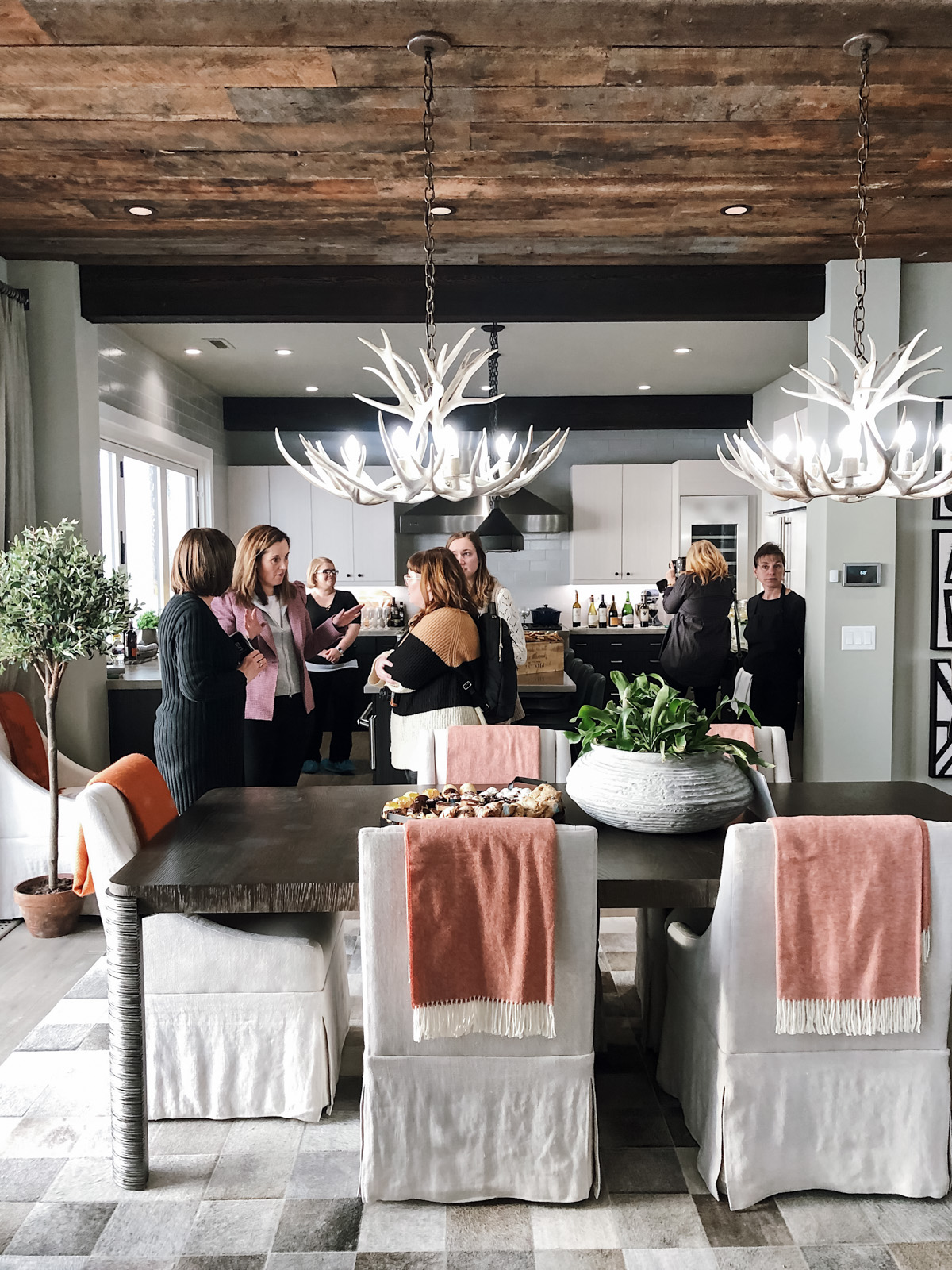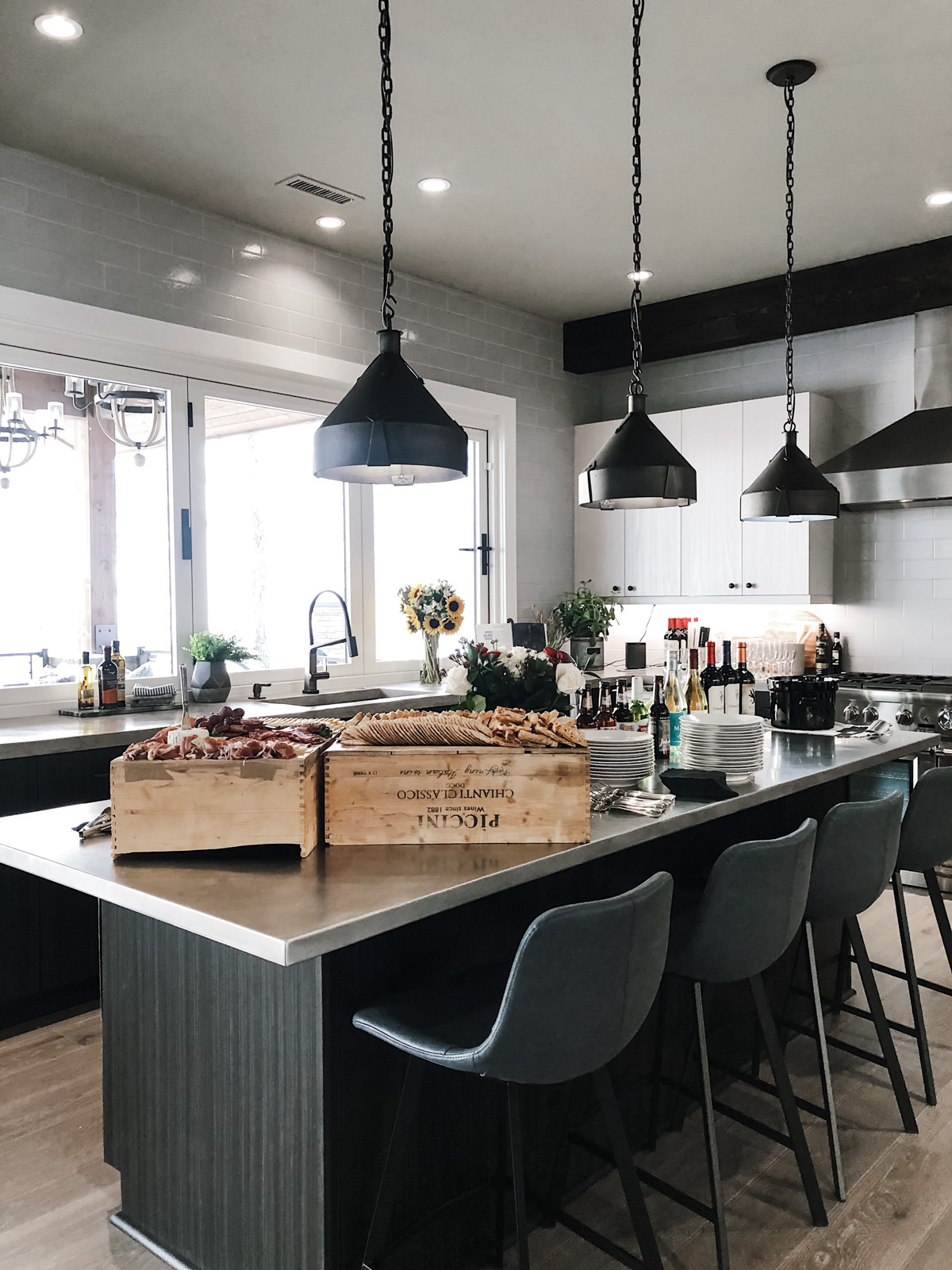 Delta® Pivotal™ Exposed Hose Kitchen Faucet with Touch2O® Technology
Moving back downstairs to the dining area and kitchen. These were the hardest to photograph since they had the most amount of people hanging out in them at all times, but you get the idea. They're beautiful spaces, continuous with each other in an open layout with the living room. You already know that the muted color palette and simplicity of the kitchen speaks to me, but what I loved most was fantasizing about how much more I'd maybe tolerate washing dishes with a window view like this one.
 I just about cried when I saw this view for the first time.  I had seen some teaser photos of the home during fall and it already looked so amazing then with the golden leaves on the trees, then I felt so incredibly lucky to be experiencing the home while it was in this impossibly more beautiful snowy dreamland mode.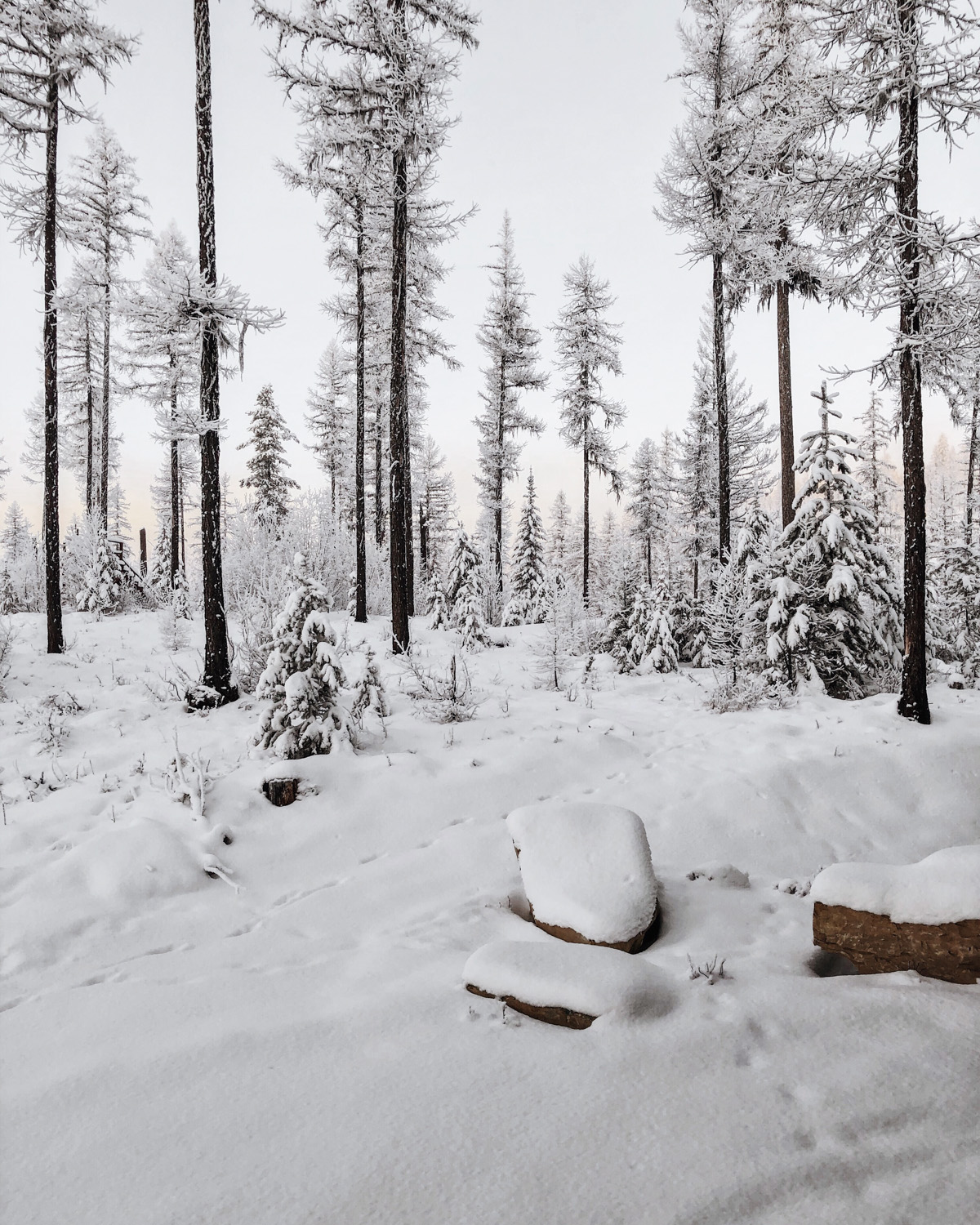 I know I've said "favorite" enough in this post but the view is without a doubt my favorite part about this home.  It took my breath away over and over again, and I'd imagine myself spending most of my time looking out over the back deck, drinking tea or coffee while pondering over doing absolutely nothing.  The dream!
So what do you think of the 2019 HGTV Dream Home, and what's your favorite part about it? Will you be entering to win it this year?
This post is sponsored by the Delta faucet brand. Thank you for supporting partners that help HOM continually bring you original content.
Other Posts You Might Like