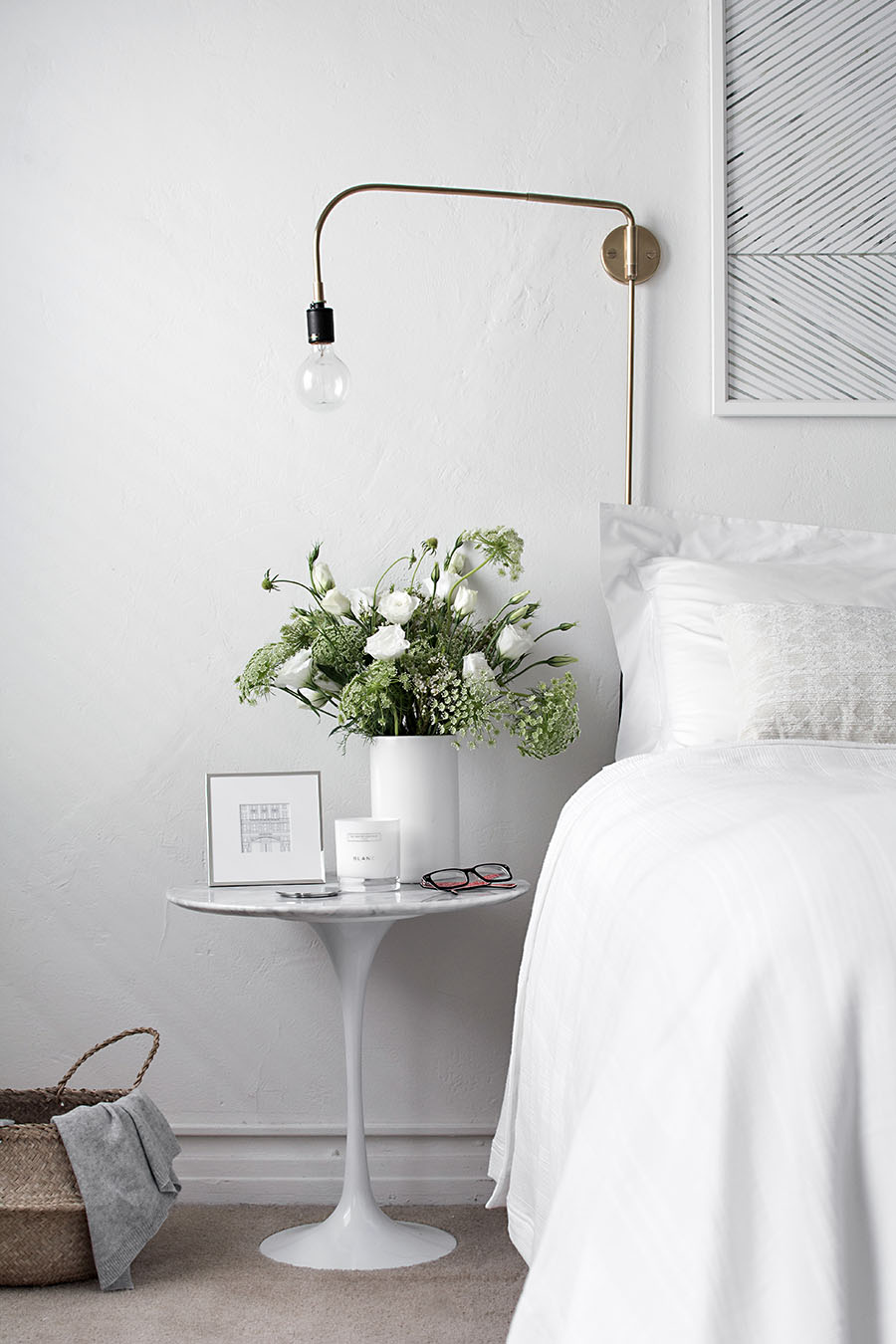 Establishing a healthy bedtime routine is one of the best things you can do for yourself because if there's one deeply beneficial way to celebrate the everyday and improve the quality of your life, it's getting good sleep.
I've struggled so much with prioritizing a bedtime routine because I'm prone to temptations like squeezing in more work, or watching that extra episode of TV, or continue scrolling through feeds.  On days I'm able to achieve a solid bedtime ritual though, I feel the greatest sense of well-being and perform better in every area of my life.  It is one of my greatest hopes that I (and you, too) can upkeep this important form of self-care.
In partnership with The White Company, here are 6 ways to unwind, relax, and get ready for what is the most important part of your day, featuring some of their iconic products to make it all even more enjoyable and beautiful.
Keep the bed made and Pretty
Yes, this should be a morning ritual which I'm sure a lot of you have mastered, but many times I miss the mark and have to make it part of my night time routine.  The point is that it's never too late to make the bed.  On days where I've rushed out the door and insisted I didn't have time to make the bed in the morning, it'll be the first thing I do when get back home.  There are few feelings happier than approaching a welcoming bed that's comfortable, pretty, and waiting for you to dive in, and it's worth creating that experience daily no matter when you can get to making the bed.
I dressed our bed with the Savoy pillowcases which are so soft and comfortable, and the Waffle Stripe bedspread that adds subtle but gorgeous texture.  On warmer nights, we'll use just the bedspread without the duvet.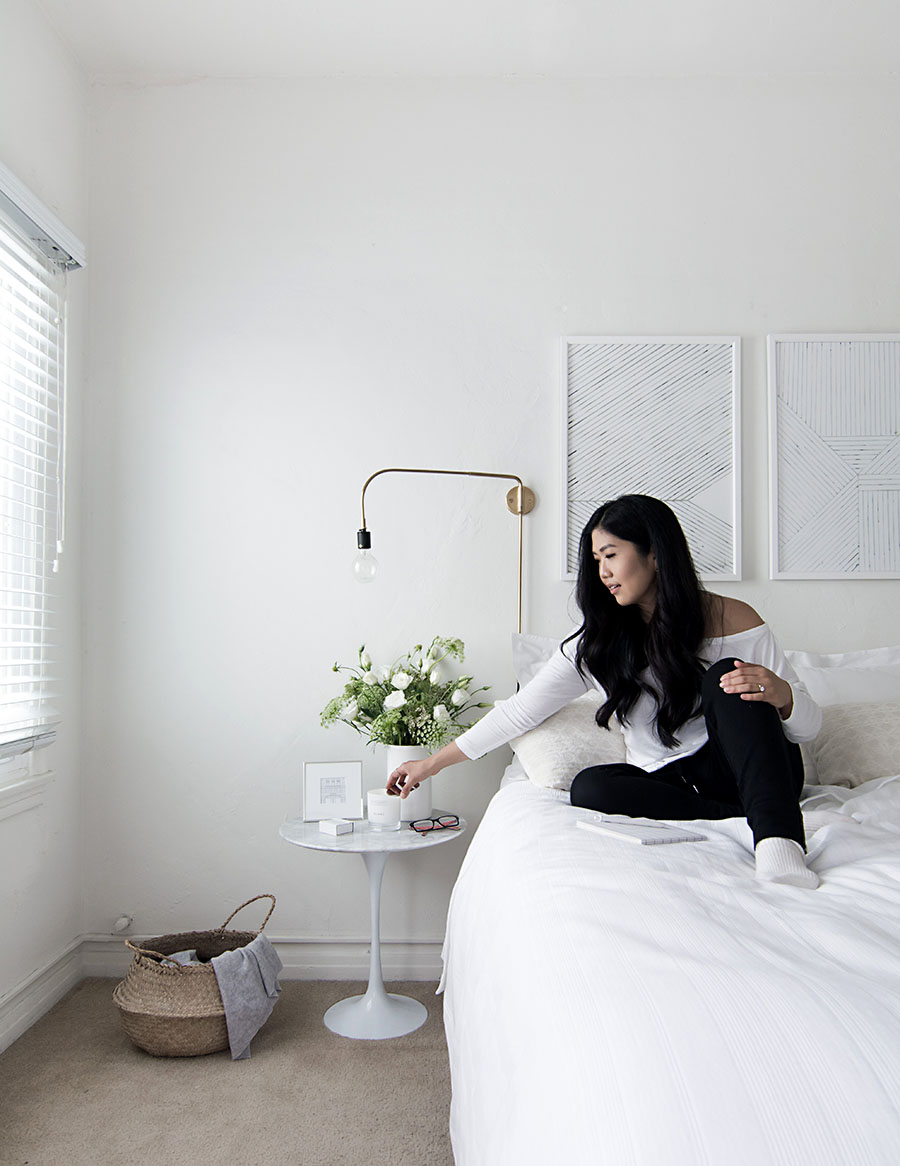 Wear comfortable clothing you feel good in
This begins the moment the day is over and you're at home, and I stress the part about feeling good in what you wear.  Much like how wearing workout clothes you feel good in can make you look forward to the workout more, the same applies for winding down at home.  My past "home clothes" have always been retired old clothing, which is fine if you feel good in it, but taking pride in uniform has a really big impact on our mindsets and the activities we engage in.  It's important!
Keep it comfortable and in your style.  I LOVE simple loungewear like this off the shoulder top and jersey joggers, and for a super luxurious treat these cashmere socks which are amazingly soft and comfortable- it's like wearing clouds on your feet.   A bonus for me if the clothing can double as a casual outfit for errands.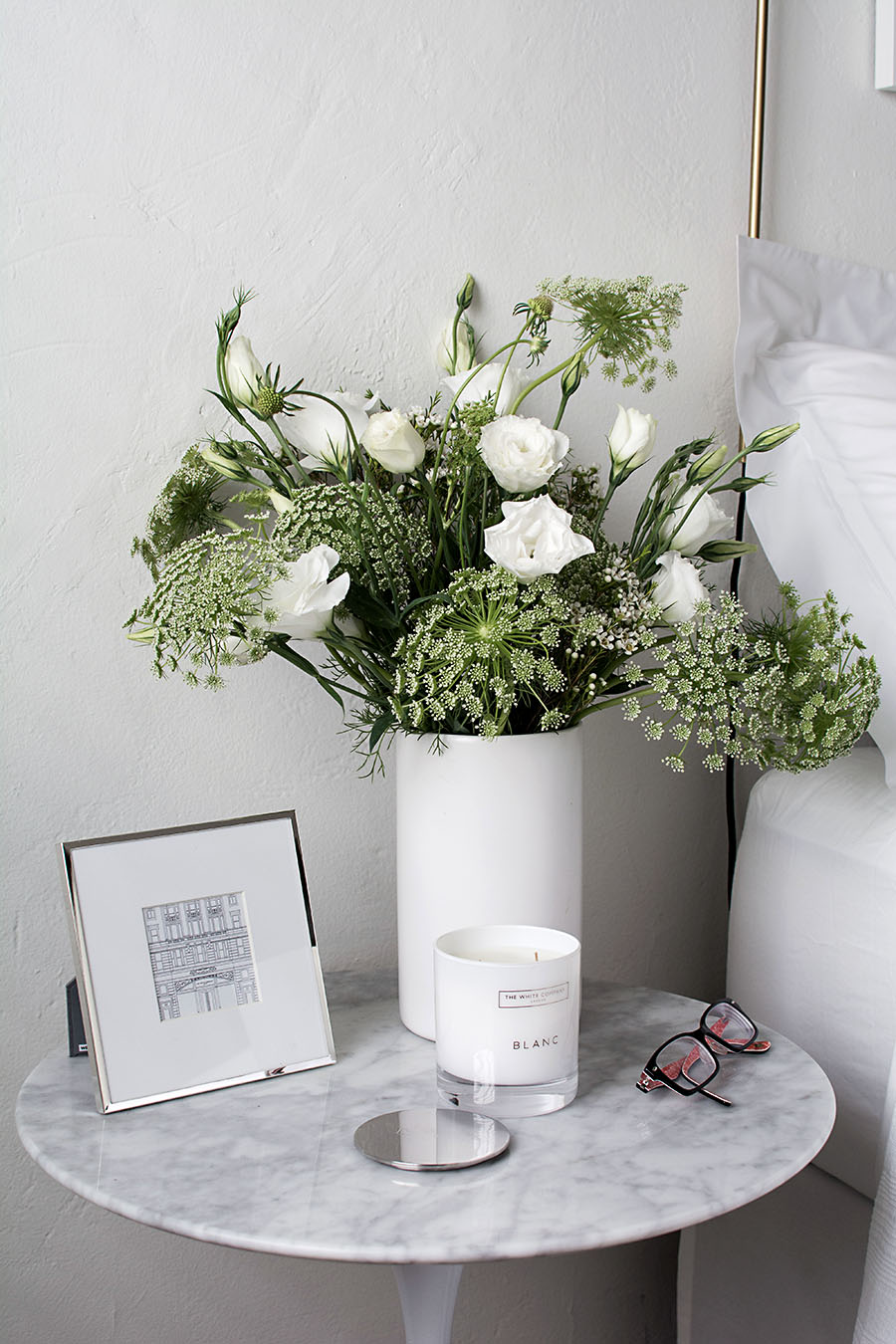 Unplug and read
We all knew this, but let's take it further and commit to keeping cell phones out of the bedroom, a challenge I've been afraid to take but now know is necessary for me.  You know when you go to set your alarm on your phone and it turns into a video binge?  There have been many nights where I got in bed on time but actually didn't sleep until much later because of getting distracted by my phone.  A much better activity to replace this with is reading.  I always sleep better after I've read a little, and for anyone else trying to commit to reading regularly, this is the perfect way to do it.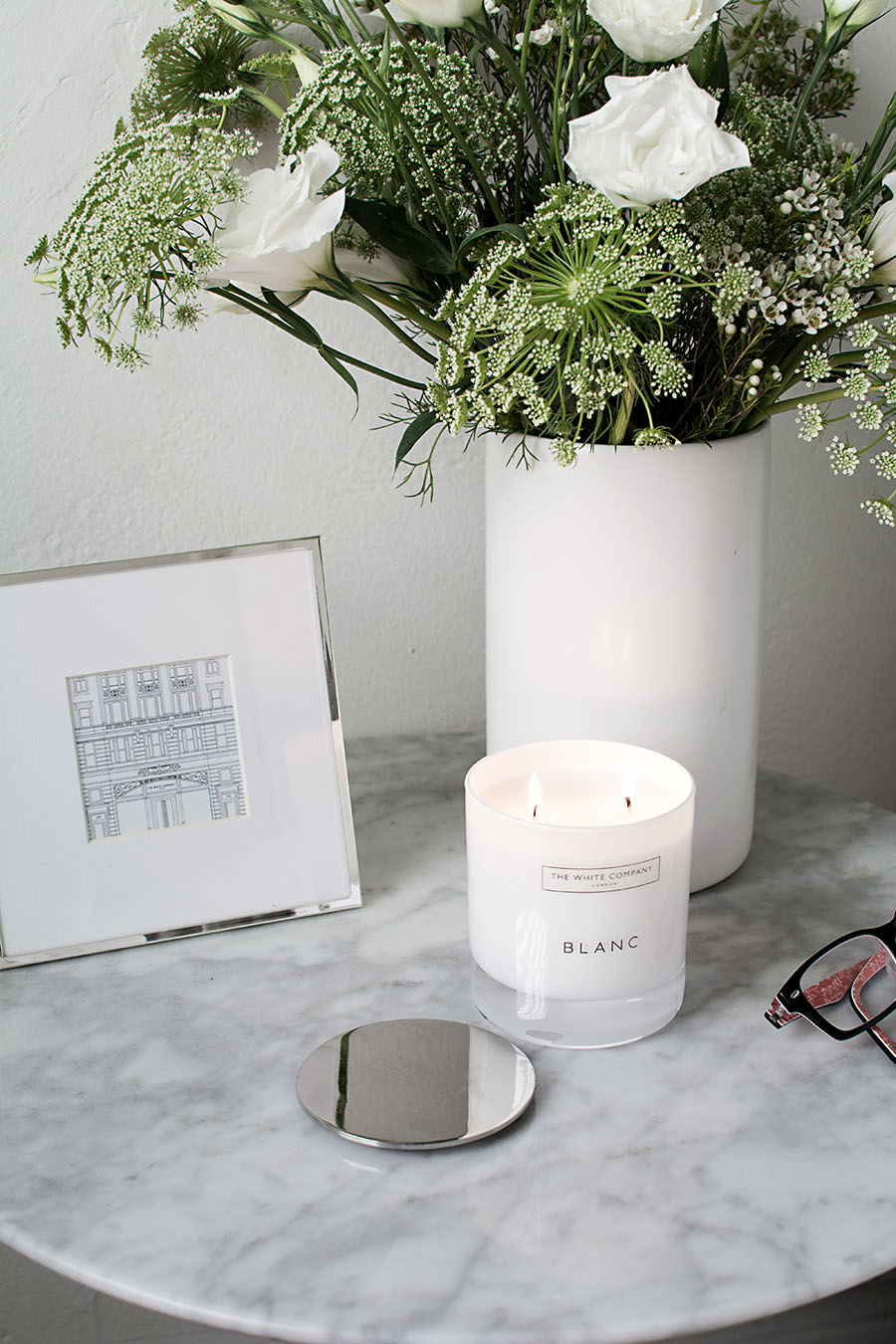 Surround yourself in a favorite scent
Pretty scents automatically bring on relaxation and good vibes.  My favorite way to enjoy this is with candles since there's the added bonus of the warm glow from the flame.  It's cozy, beautiful, and sets the right mood, especially for reading in bed.  In the bedroom particularly, I love a good floral scent like this Blanc candle.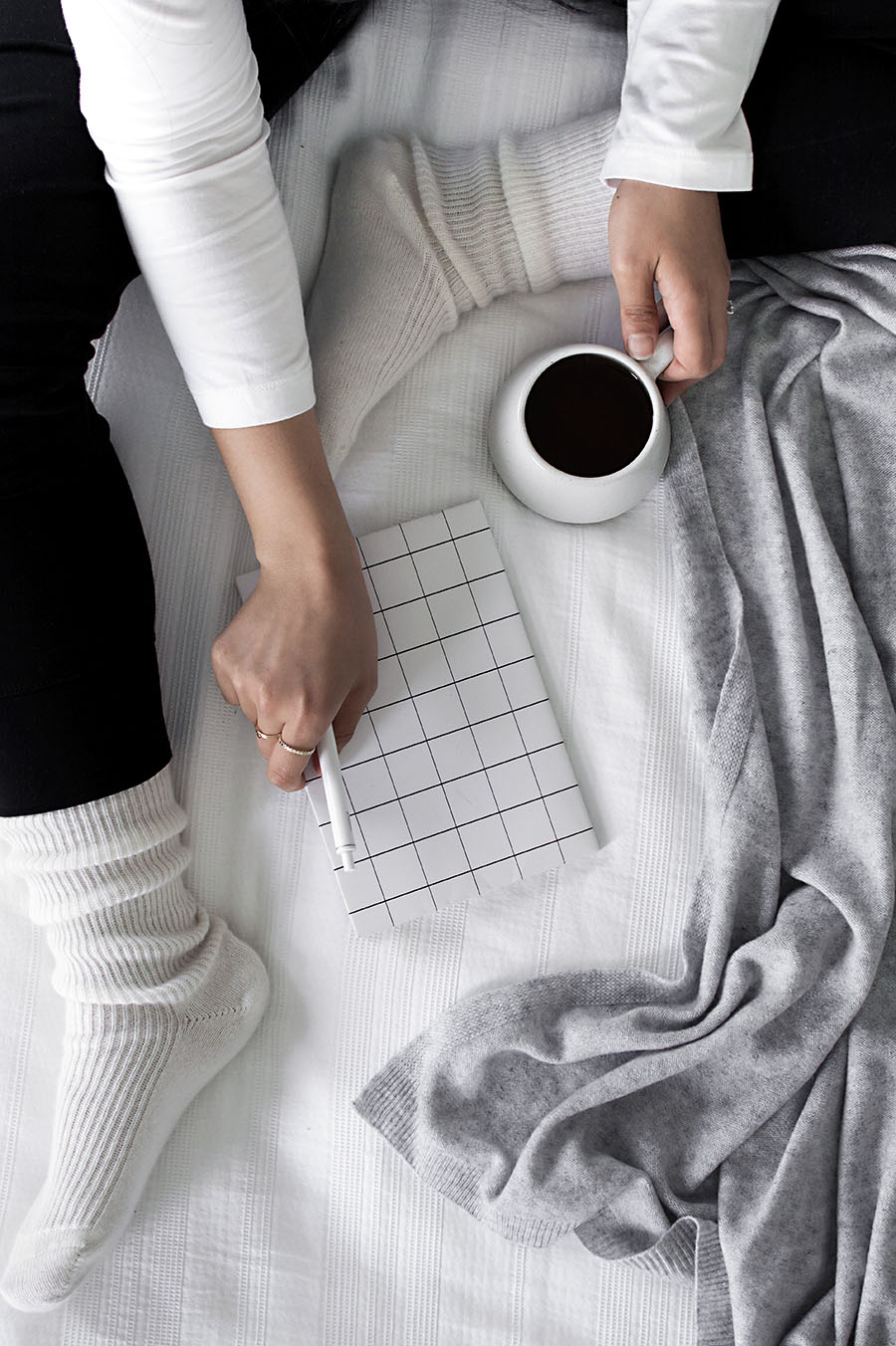 Practice daily gratitude
This is a fulfilling way to celebrate and remember your daily successes and happy moments.  You can also think of it like a mind dump to clear out your head at the end of the day through reflection and growing a positive outlook- all great things!  I picked up this habit from a friend and have used the same prompt questions ever since.  Each night, make yourself some tea (decaf) and write in a notebook your answers to the following:
 What are 3 things I'm grateful for and why?
 What am I excited for?
 What/who inspires me?
 What am I proud of?
 What can I laugh/smile about?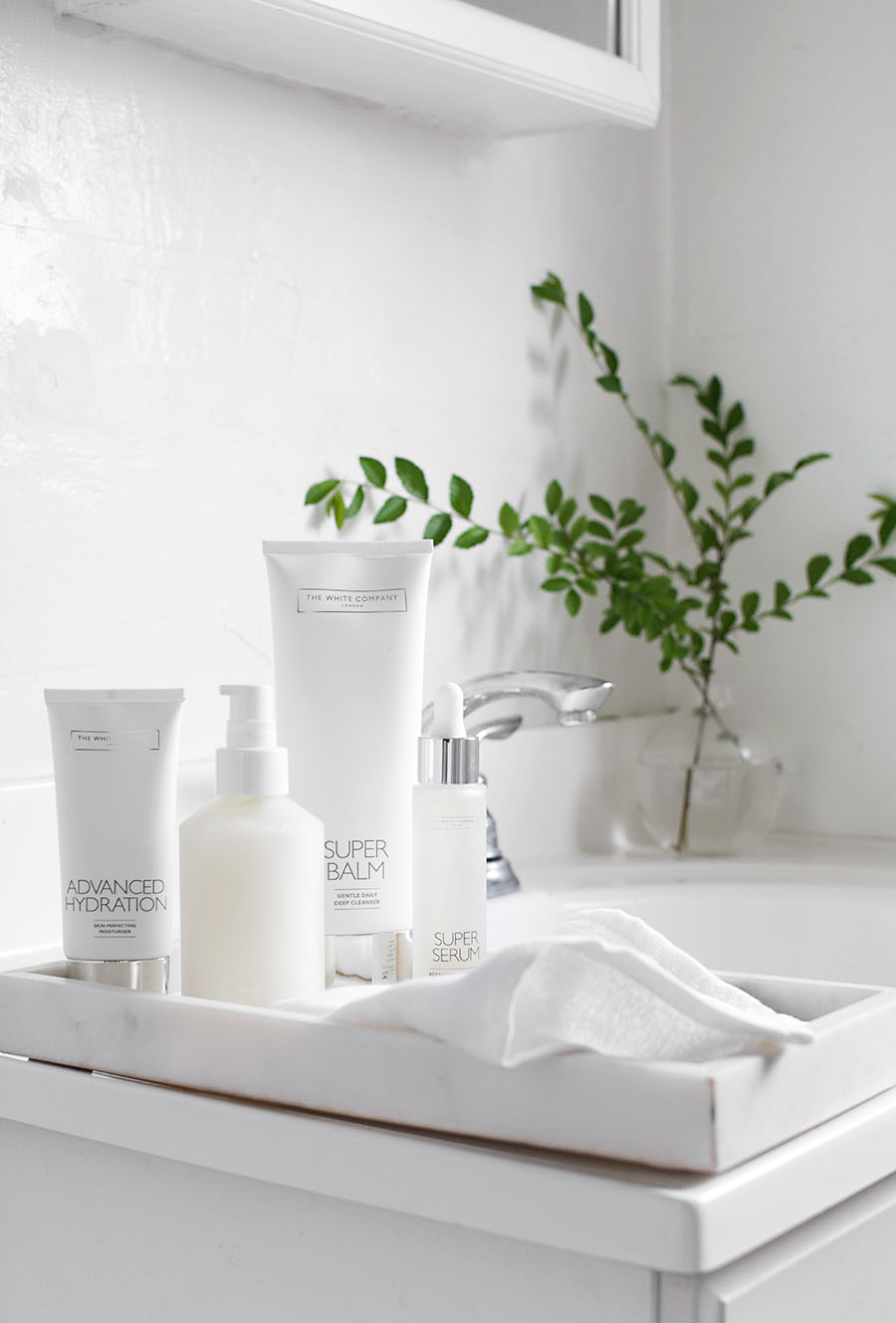 Take care of your skin.
Another way of saying this is pamper yourself.  This could mean a bath, or a long shower, but my favorite treat is skincare.  I don't see this as another chore or item on the list next to brushing my teeth.  This is undivided me time that I find extremely relaxing, with the added benefits of keeping my skin healthy and signaling to my body that it's time for bed.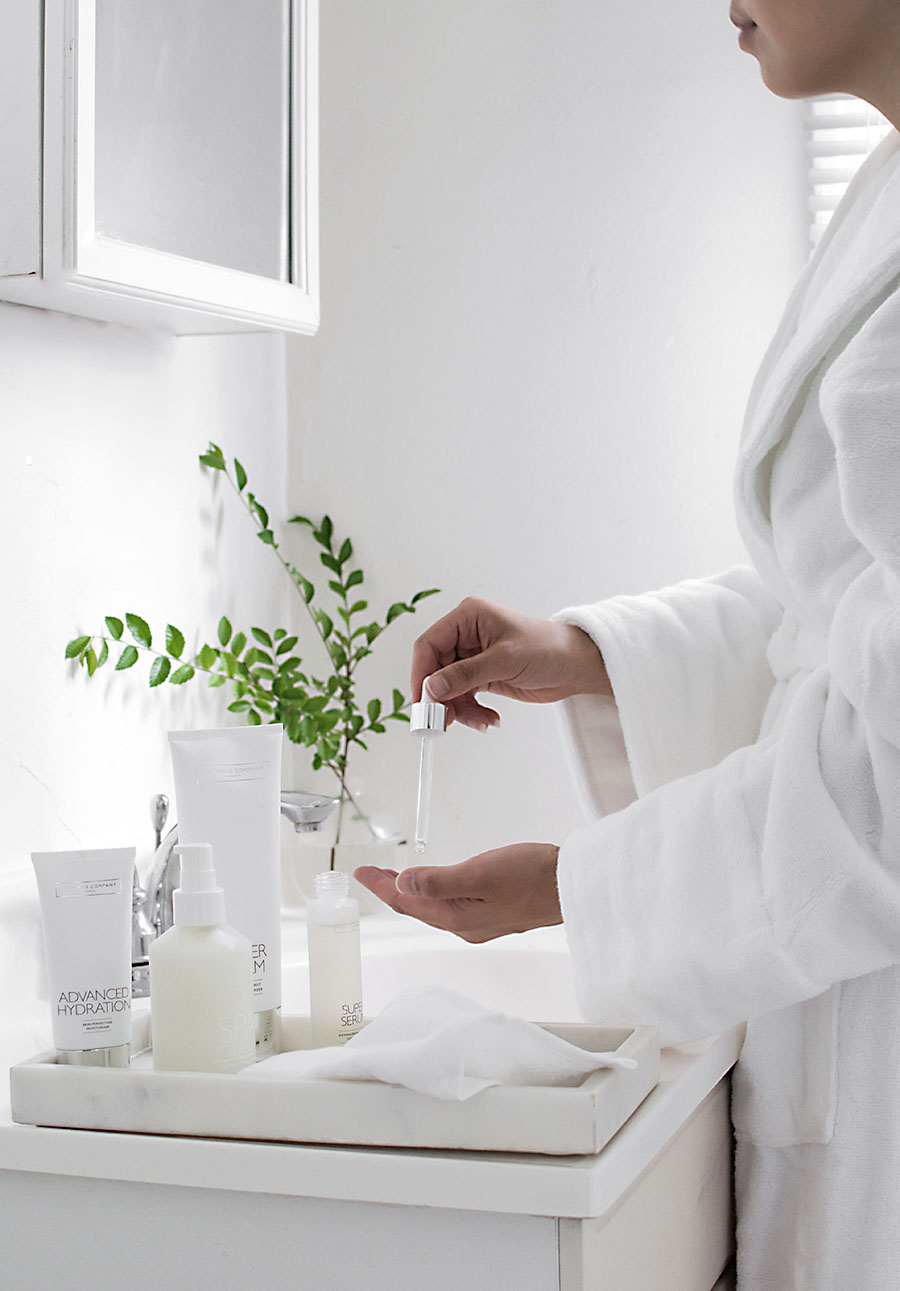 If it weren't for workouts in the morning, I'd much prefer showering at night.  It clears my head and feels like it washes away the day.  I like to take one before applying skincare and chill in this hydrocotton robe that's amazingly soft- I really didn't know that robes could be this soft.  Some skincare favorites from The White Company are the Super Balm Cleanser (removes makeup!), Super Serum, Advanced Hydration Skin Perfecting Moisturizer, and Spa Restore Super Hydrating Hydra gel (for all over the body).
Do you have a bedtime routine?  Practice any of the same night time rituals?
---
The White Company will be opening their first store in the US in New York on June 15th. Check out more information about the store opening.
This post is sponsored by The White Company.