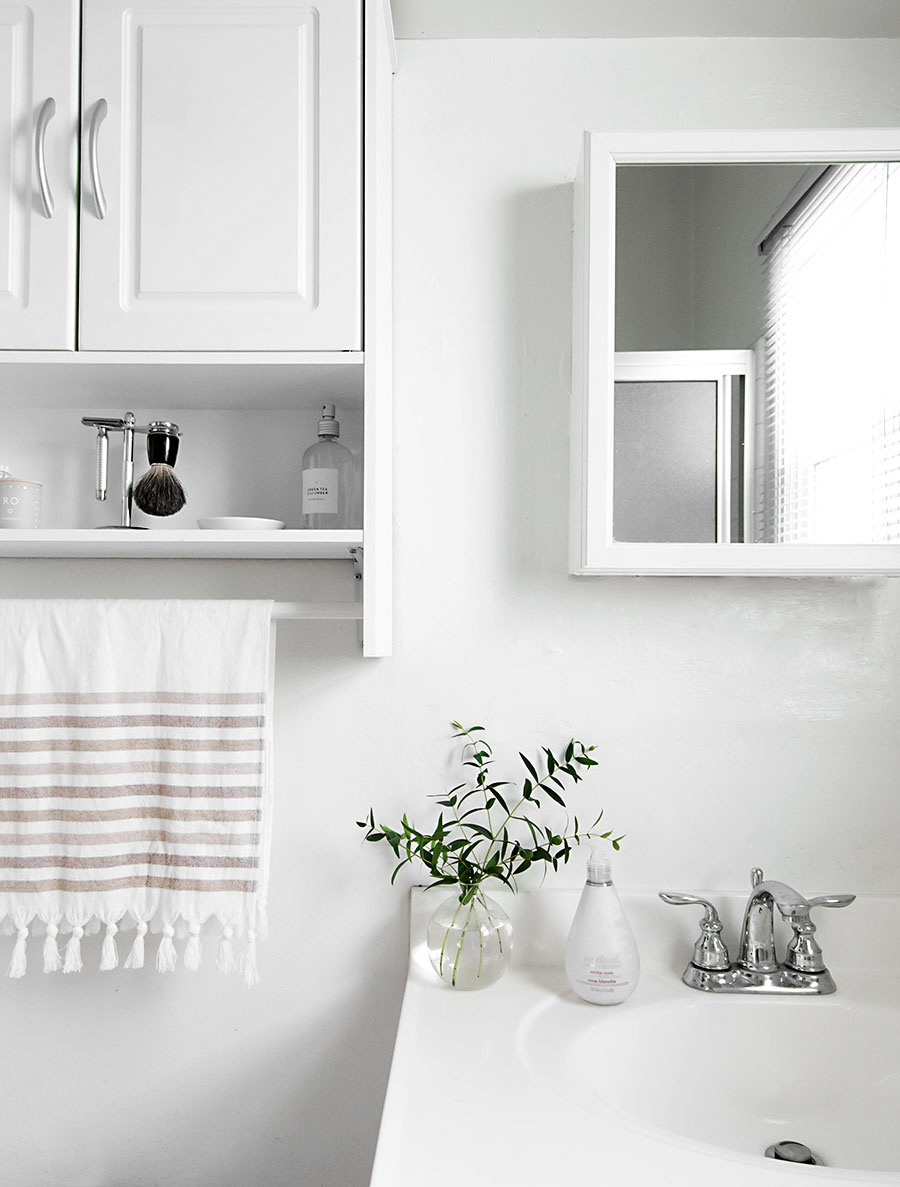 By far the most neglected area in our home is the bathroom.  Being apartment dwellers, we pretty much don't have any options for what we can do with the design of this tiny space, and it took me some time to recognize that there are still some really simple things we could do to enjoy and get more out of the space.  My black hardware and subway tile dreams will wait, but for now small changes are making some really good differences.
Like at the beginning of every year, I'm extra motivated to tackle areas in the home that need more order.  This is definitely a new year new everything moment, and method partnered with me to keep riding that train and bring more simplicity and mindfulness into the home.  With method's new Spring limited edition collection of soaps and cleaners inspired by minimalism and function, two very loved things around these parts, here are 5 simple ways we're refreshing our bathroom that anyone can try.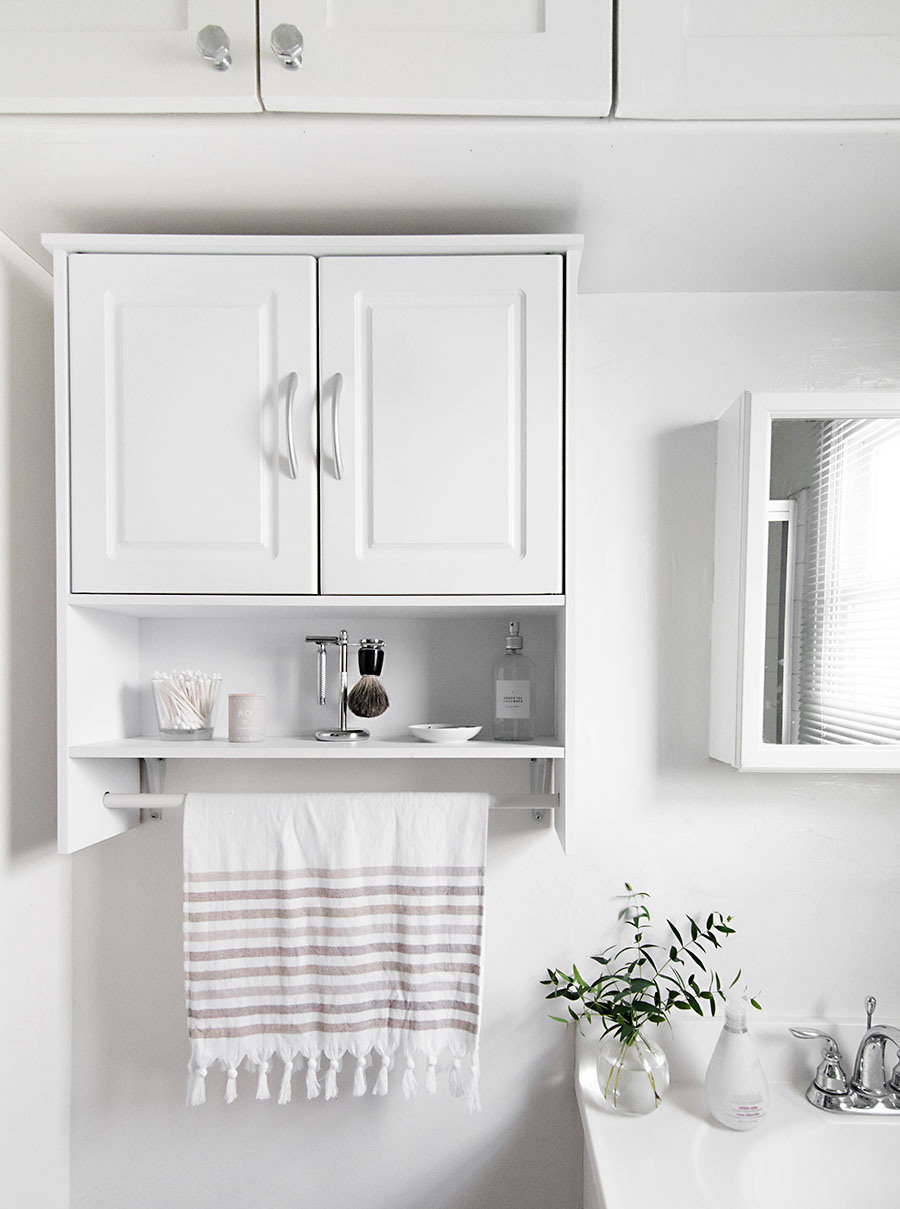 DECLUTTER
This is the very first step to detox and refresh any space.  Get rid of the following immediately:
-expired meds or first aid products
-expired toiletries or beauty items
-those makeup or skincare samples that are very old or you know you're never going to use (be honest)
-anything you aren't using or liking anymore
An important follow up to this is to not purchase multiples or new products before the old ones run out.  I'm notoriously bad at this, wanting to take advantage of sales or try many things all at once, but when space is so limited it really isn't worth the stress of figuring out where to put it all and then having it fall out every time you open a cabinet.  Keeping counters and drawers as clear and orderly as possible with only what's necessary is everything for keeping a space calm and serene.
REORGANIZE
Once you take stock of what you have and need, you can then come up with a system of organization based on how often you use different groups of items.  It's also at this point that you can pick and choose storage accessories that make the most sense for you.  You don't have to go buy them all new either.  See what you have around the home already that can be repurposed for bathroom storage.  I ended up using a few small containers from our kitchen!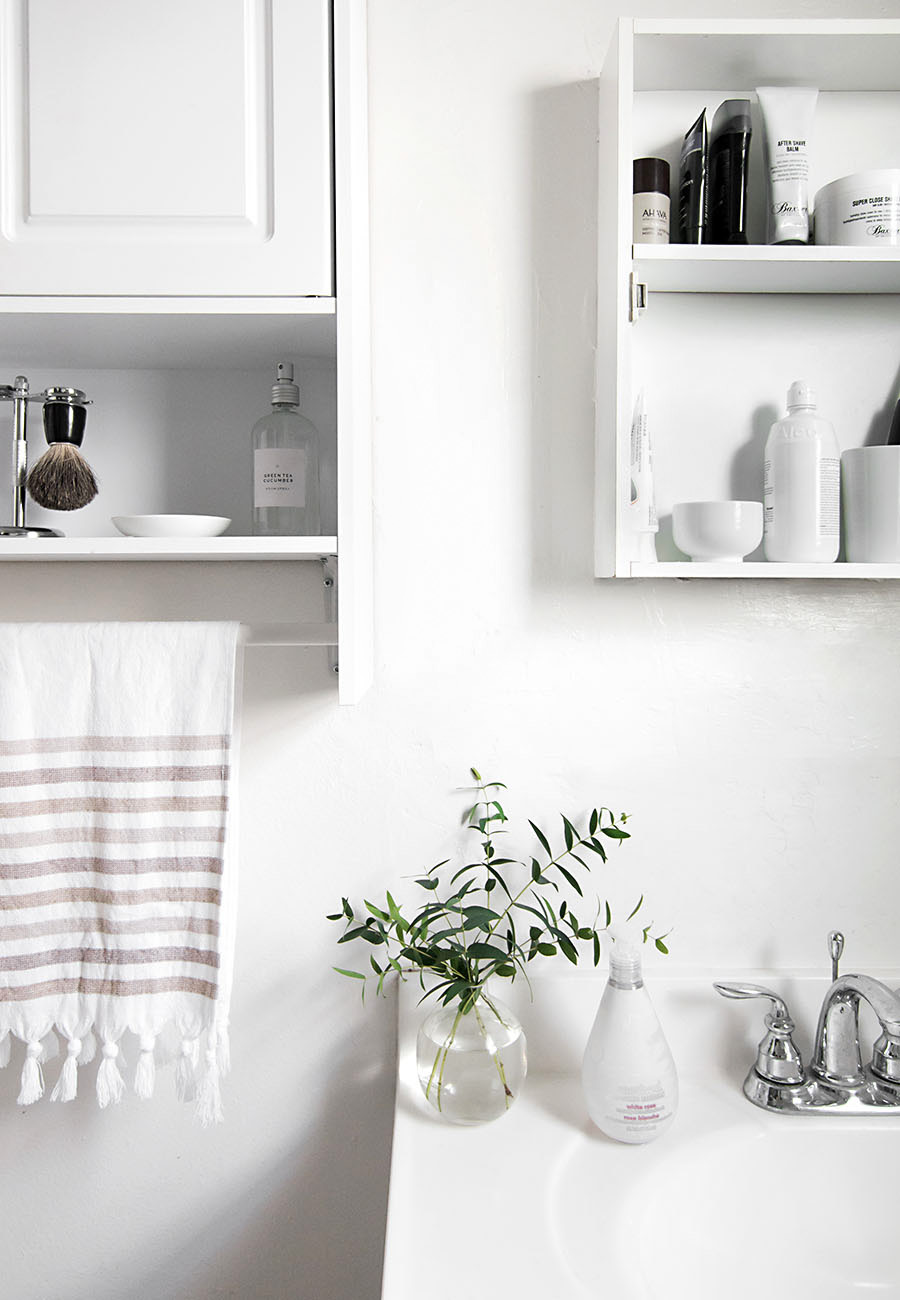 Keep items that you access most often at closest reach.  We keep our most daily used items in the mirrored cabinet above the sink, and while there isn't enough room for my skincare in there, I keep all of that close on the lower shelf of our other cabinet since I reach for them so frequently.   Again, take stock of what you have and how often you use them to help decide where everything should go.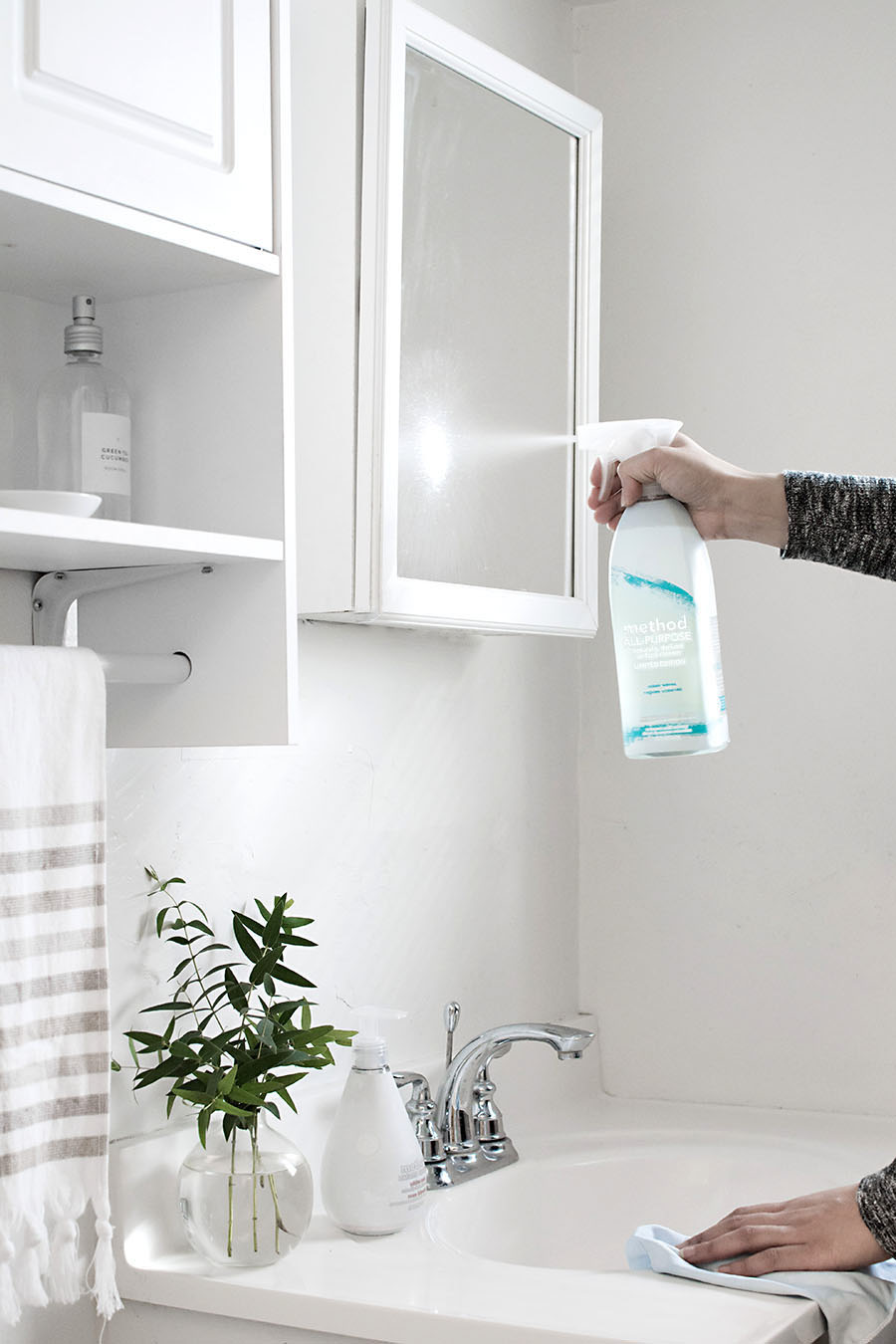 SPOT CLEAN IMMEDIATELY
For us, weekly clean ups aren't enough for taking care of the toothpaste splatters, product spills, and grime build-up, and waiting until we could really see it all made everything harder to keep up with.  We'd honestly go way too long before tending to those things and it would get pretty gunky and gross, so we're putting a new and better habit in place.  So far this has meant close to daily wipe downs of the mirror and counter, and it's been a lot more manageable (and cleaner!!) this way.  The idea is prevention and it only takes a couple minutes at most, and now that the space is decluttered and maintained, it lends itself much more easily to quick and regular wipe downs unlike before.
I've been using method's all-purpose cleaner in Ocean Waves and it's not only an addictively fresh scent, but it has been the best cleaner I've tried for achieving streak-free mirrors.  Together with a lint-free towel, it's amazing.  Super impressed with this and how it works great on the counter and sink too.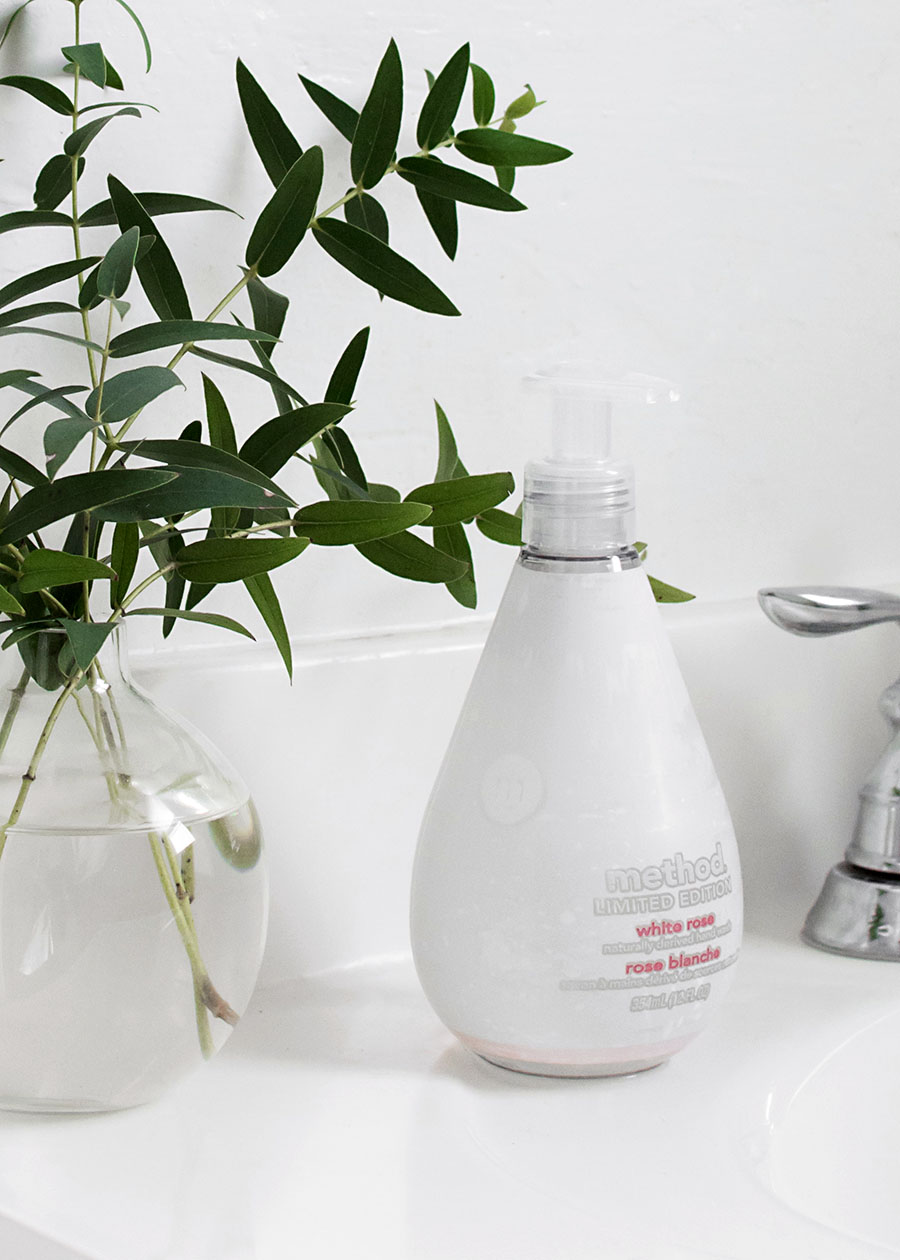 USE HAND SOAP IN A SCENT YOU LOVE
This is a relatively new thing I started doing last year that I feel strongly about.  Using a good hand soap in a scent you love can be a small but profound luxury that doesn't take much to maintain and gives even more function to a daily necessity.  It's like a mini aroma therapy session you have to take.  You don't need to plan ahead or make time for it, it just happens every time you wash your hands.  As I rub my hands together with the soap, I like to bring them up close to my face so I can inhale the fragrance better.  It's a brief moment of serenity that has become one of my most loved little comforts.  White Rose is my very favorite hand wash from the method's Spring limited edition collection.  It's such a soft and beautiful scent that fills the space whenever I use it.  You know I love the color of that bottle, too.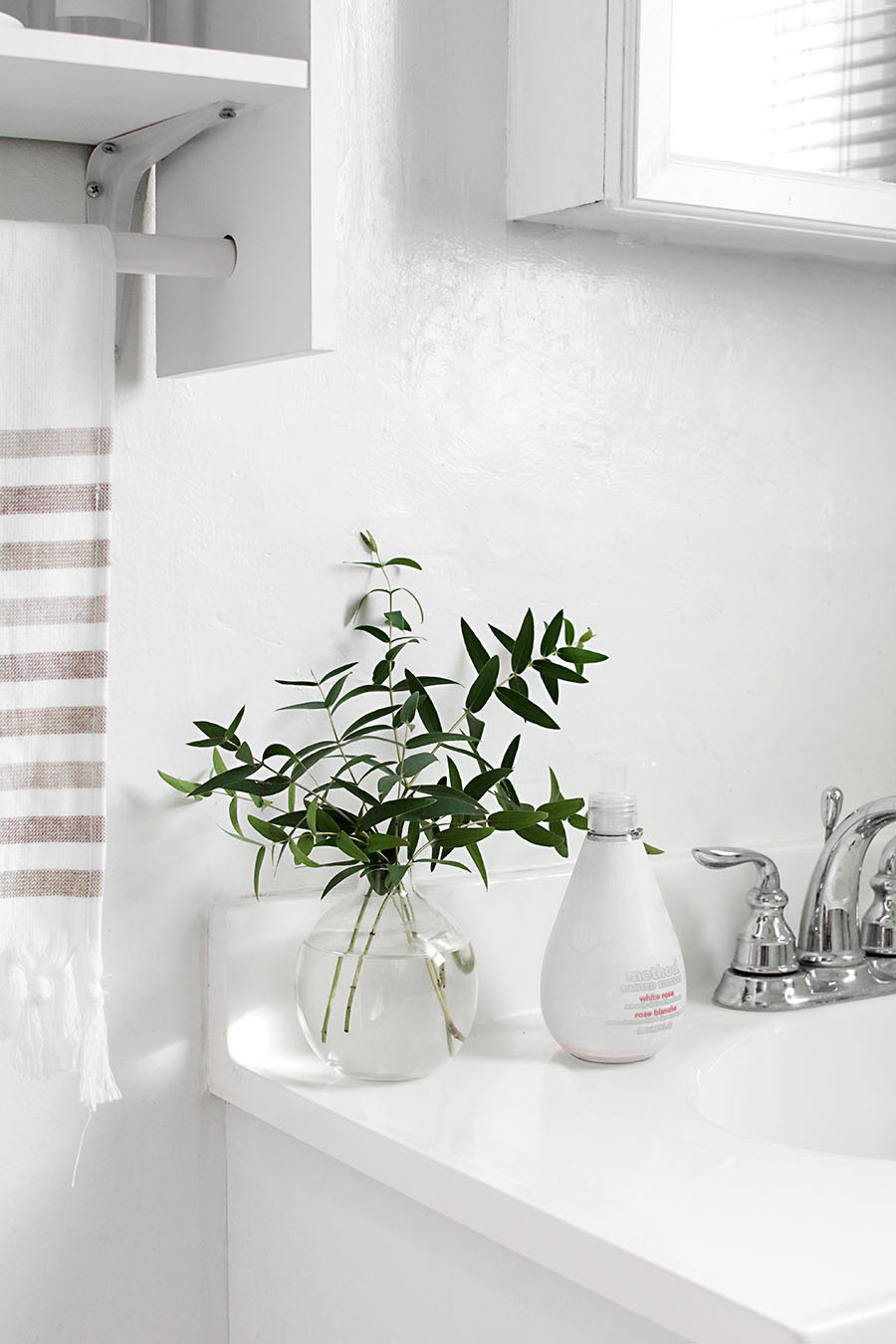 BRING IN SOMETHING LIVING
It's a well known fact that this is an instant space brightener and refresher and if nothing else, a mood booster.  I'd put in a plant except that our bathroom doesn't get enough light for it to survive, but this would be a really good thing to do especially with an air purifying plant.  Alternatively, I like to bring in flowers or greens which sometimes can be done easily from foraging outside.  Bringing the outdoors in always helps freshen a space, and for our simple little bathroom it does so much to make it all a little prettier.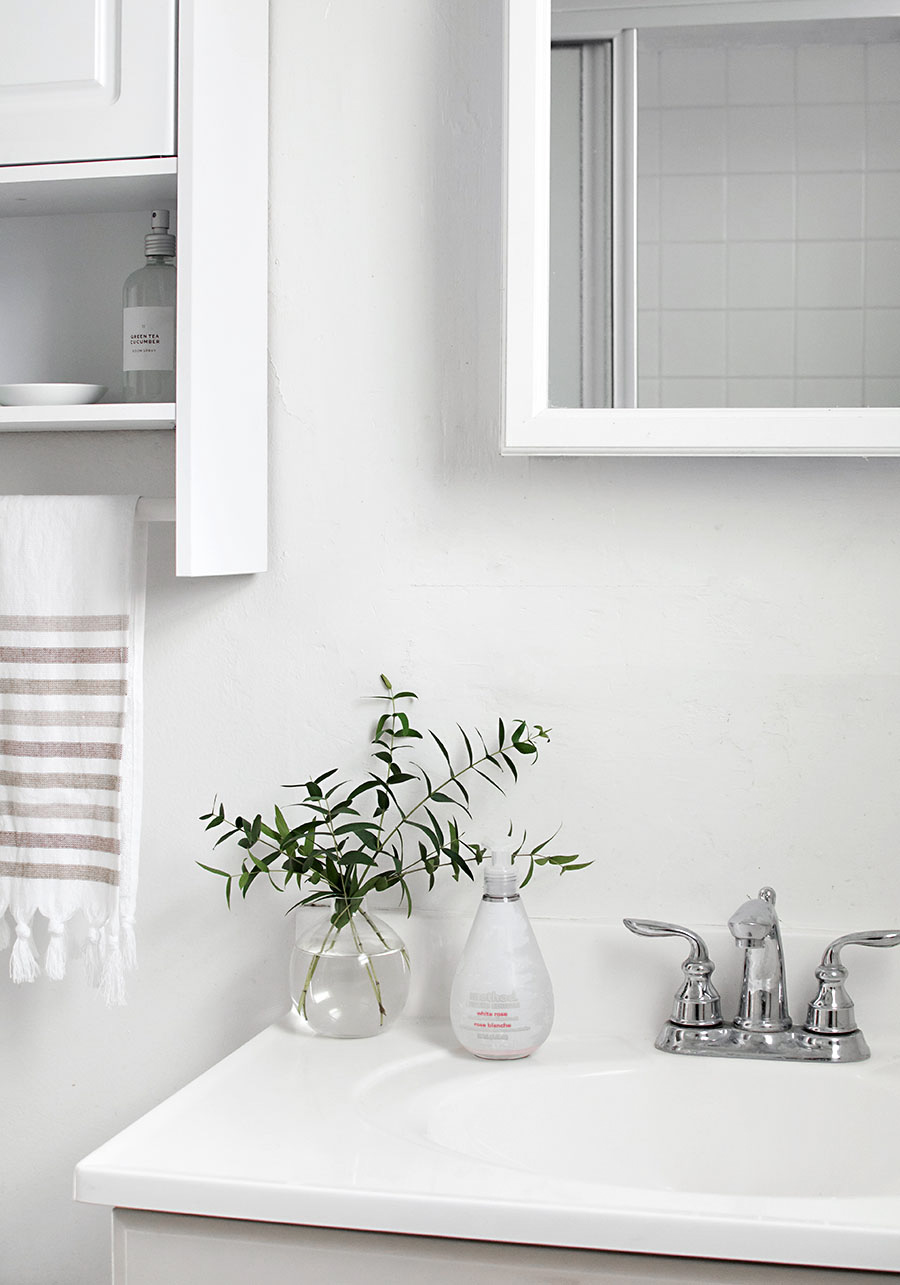 Are you instilling any of the same things to freshen your space?  Let me know if this is on your list of goals, and if you have a room like this that has gone ignored that you want to do something about!
This post is sponsored by method.  All content and opinions are always my own.  Thank you for supporting partners that help keep HOM going.
Other Posts You Might Like