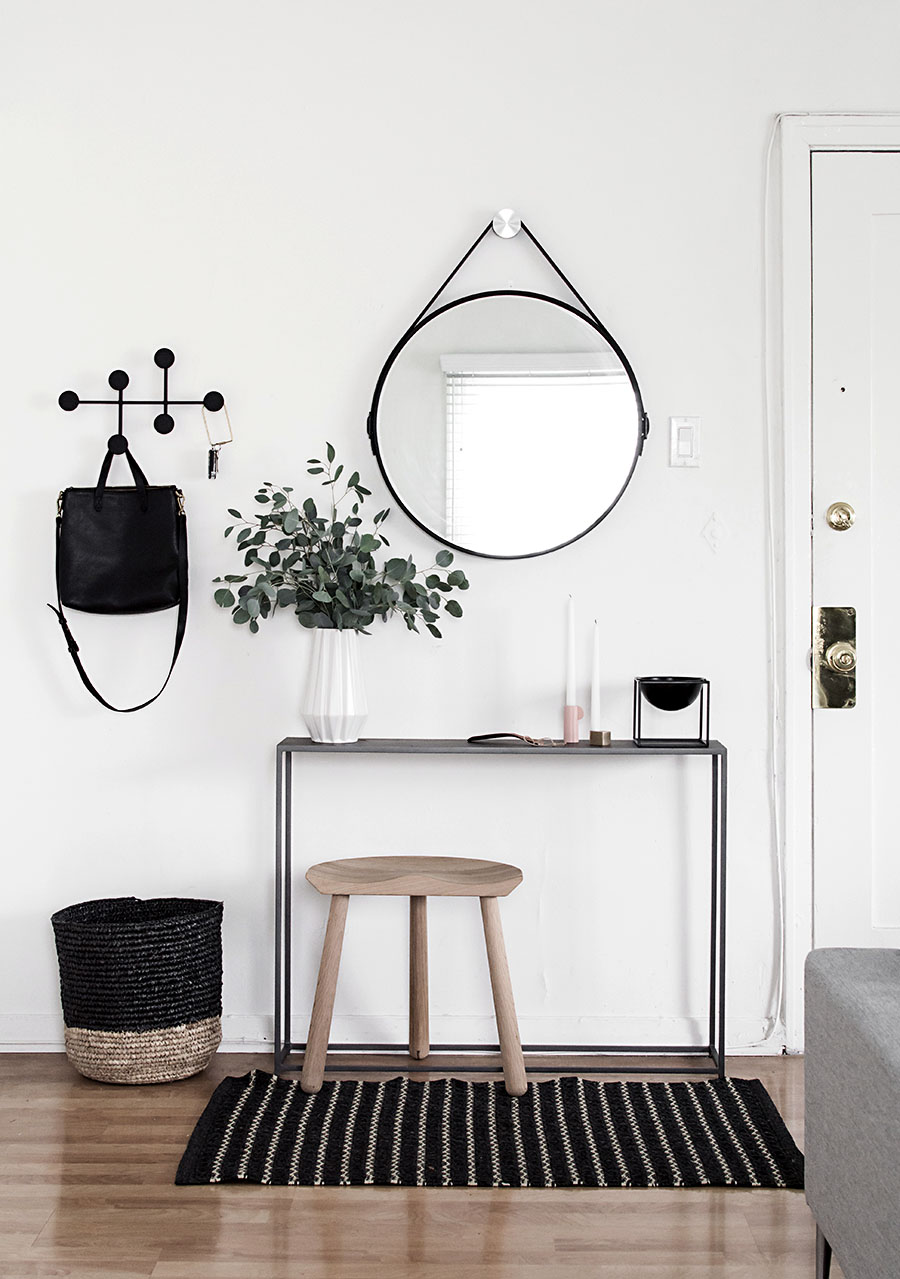 This little corner in our apartment has been tricky to figure out ever since we moved in, mostly because it's not really an entryway but a very small space next to our door that was hard to keep from feeling cramped while we tried to figure out how to make it as functional as possible.  Much of it ended up being about finding the right pieces and being very, very patient about finding them.  I've gone through maybe four edits of this corner over three years before finally ending up here, and I could not be HAPPIER with it because every single thing serves a purpose- it's perfectly minimal for us.  There isn't anything I'd add or take away (for now), and I partnered with All Modern to share with you the pieces that make our entryway both functional and beautiful.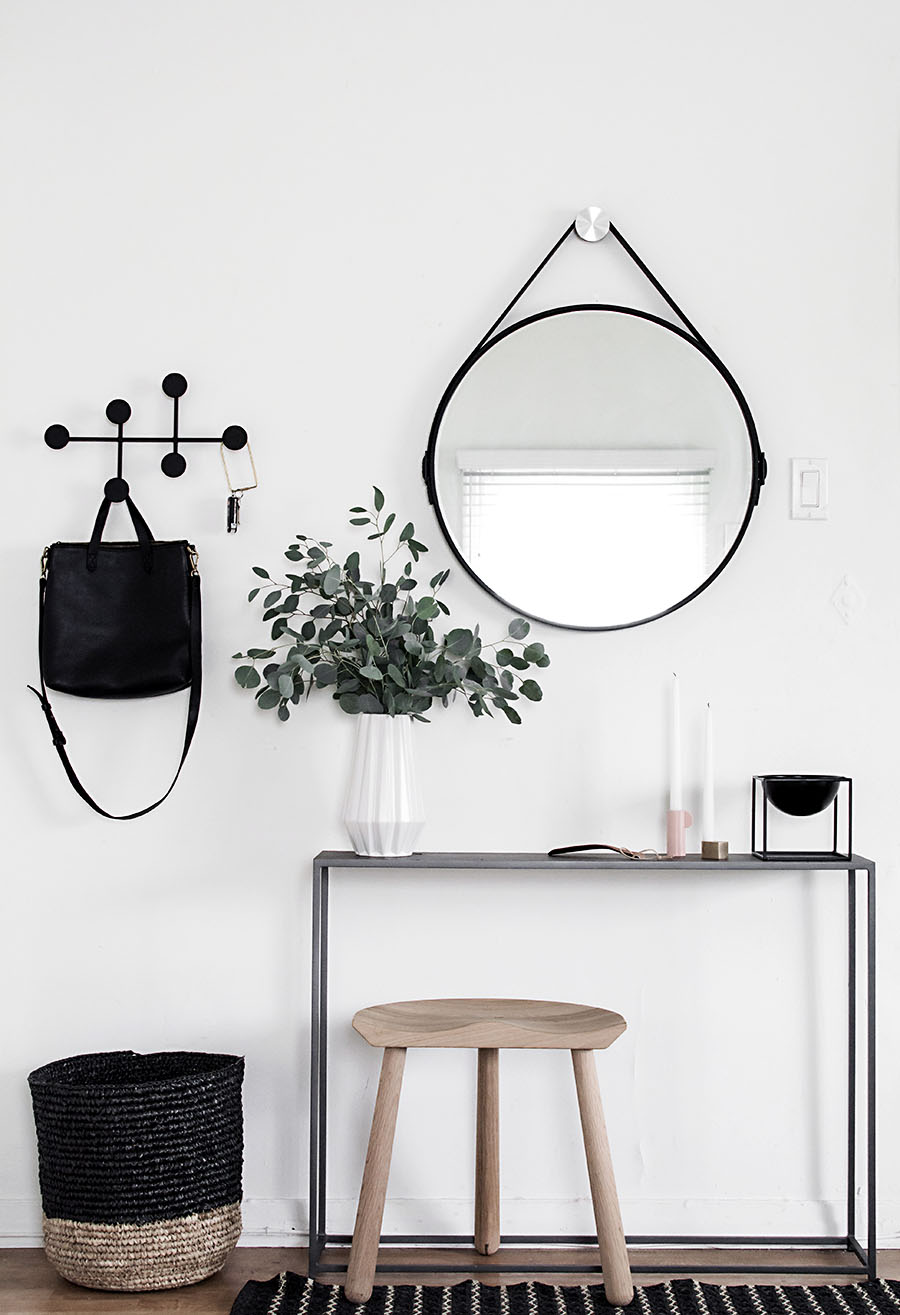 1| Console table– The first thing we need when we come home is a place to dump small items (keys, mail, annoying flyers jammed into our door), and a console table is a great place to do that.  Ours is from here and it's so perfectly slender for our small space but big enough to hold decorative items too, like the All Modern Ceramic Vase or All Modern Gold Candlestick and All Modern Metal Candlestick.  Also, don't have a mantel and feel left out of mantel decorating capabilities?  A console table can fill that void.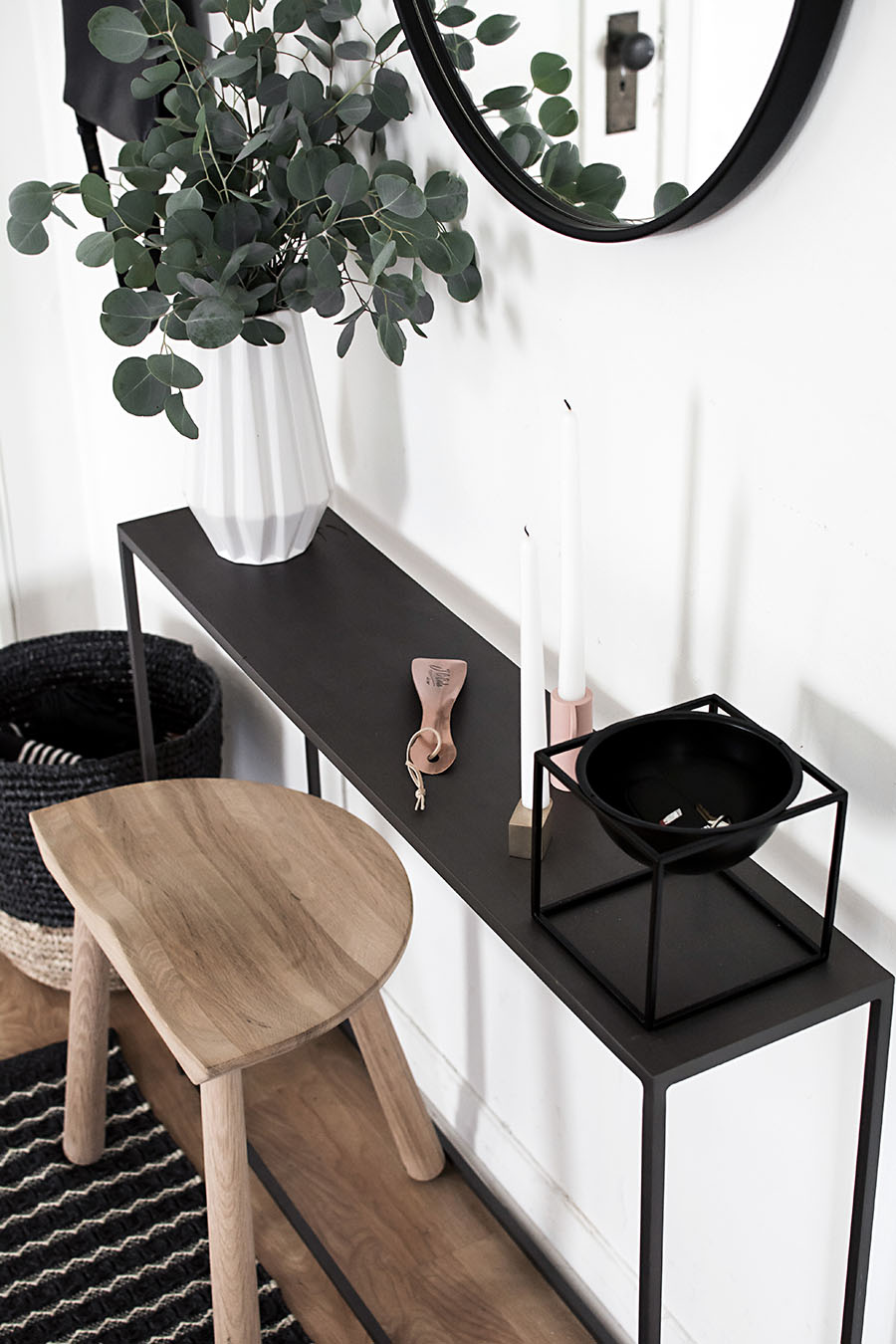 2| Storage– The most important piece of entryway storage for me is a catch-all tray, which I repurposed this All Modern Square Plant Stand to be.  In there you'll find mostly keys, a lot of times packs of gum, sometimes a mini flashlight, and anything we don't want to forget before we go out.  The other piece of storage here is the seagrass basket (no longer available) which so far has acted as an extension of storage for our living room.  Since our couch is very nearby, I find myself tossing extra throws or pillows into this basket, and lately with all the rain in LA, I've been keeping our umbrellas in the basket too when they're dry.  We have two umbrellas now!  Rare for the average LA household I'd say.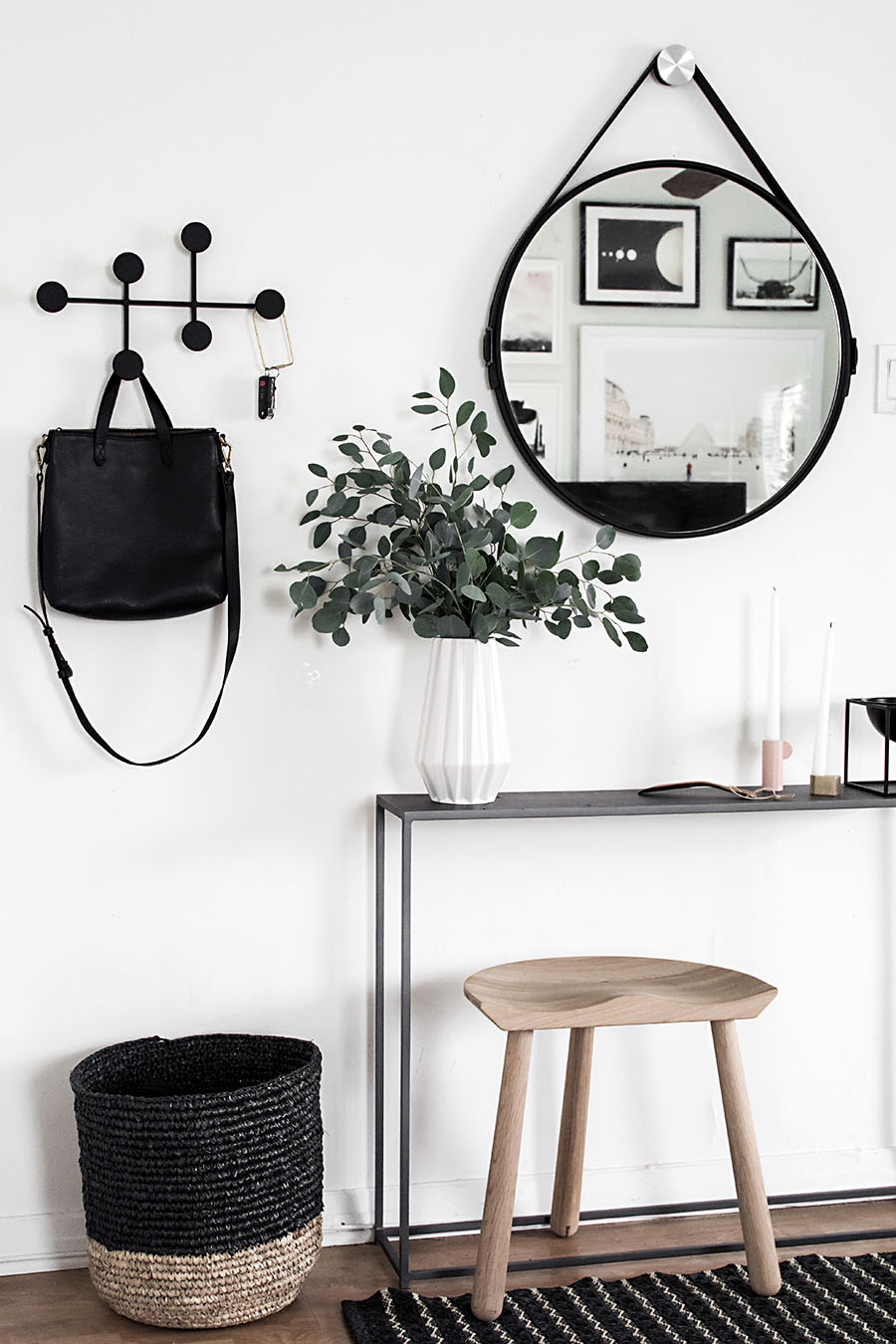 3| Seating– I wanted to do a bench that would also serve the same purposes as a console table, but the depth of one would've taken too much space and gotten bumped into a lot, so I went with this All Modern Cobbler Stool which was probably the single best improvement to this entryway.  It stays tucked under the console table until I slide it out to sit on while putting on shoes.  Way more comfortable putting shoes on this way.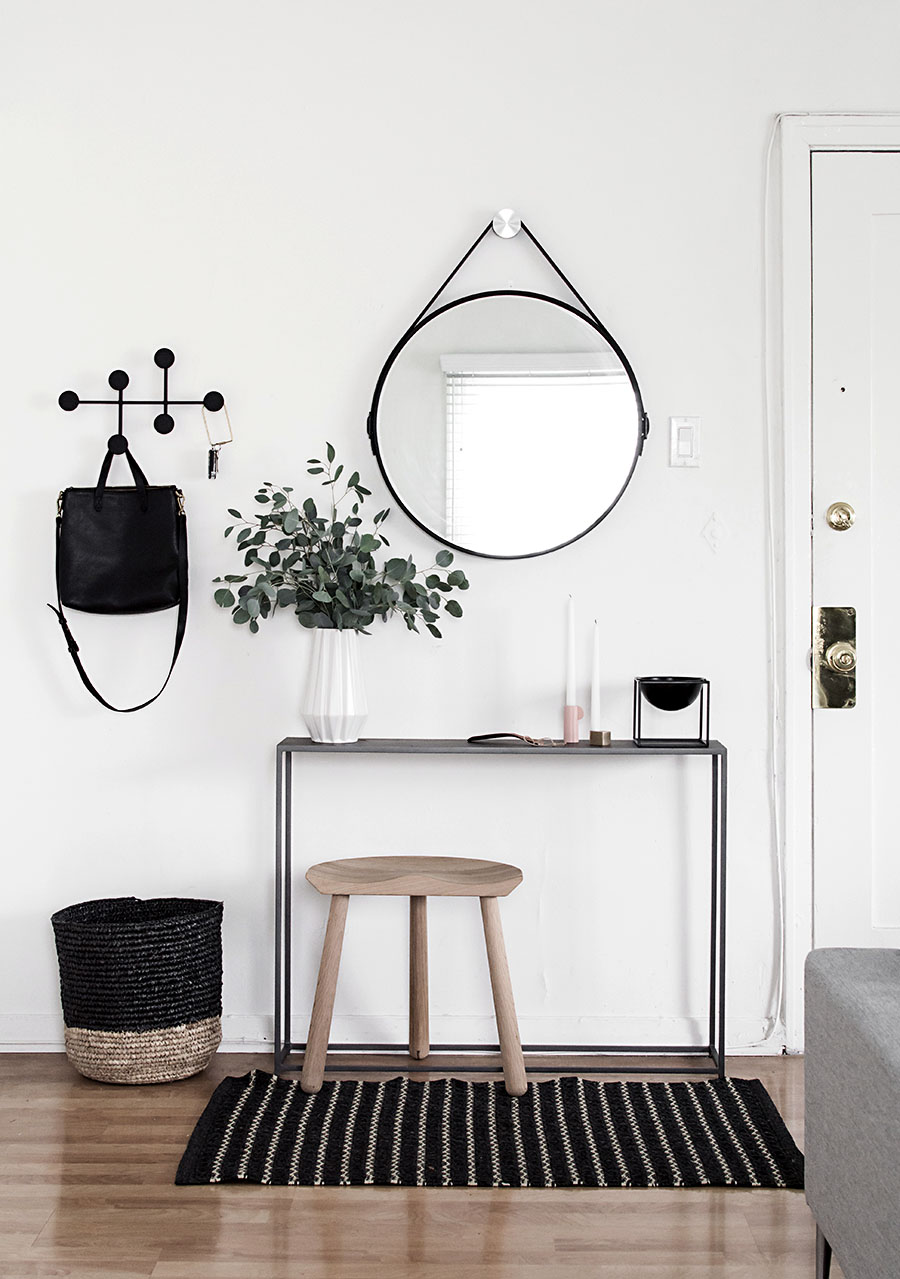 4| Rug– Not only is a rug essential for me to wipe my shoes on and for picking up debris, it also does a really good job of delineating the space, almost like putting a sign on it saying "hey, this is an entryway."  This one, which is the All Modern Terra Charcoal Rug, also adds a nice pop of pattern.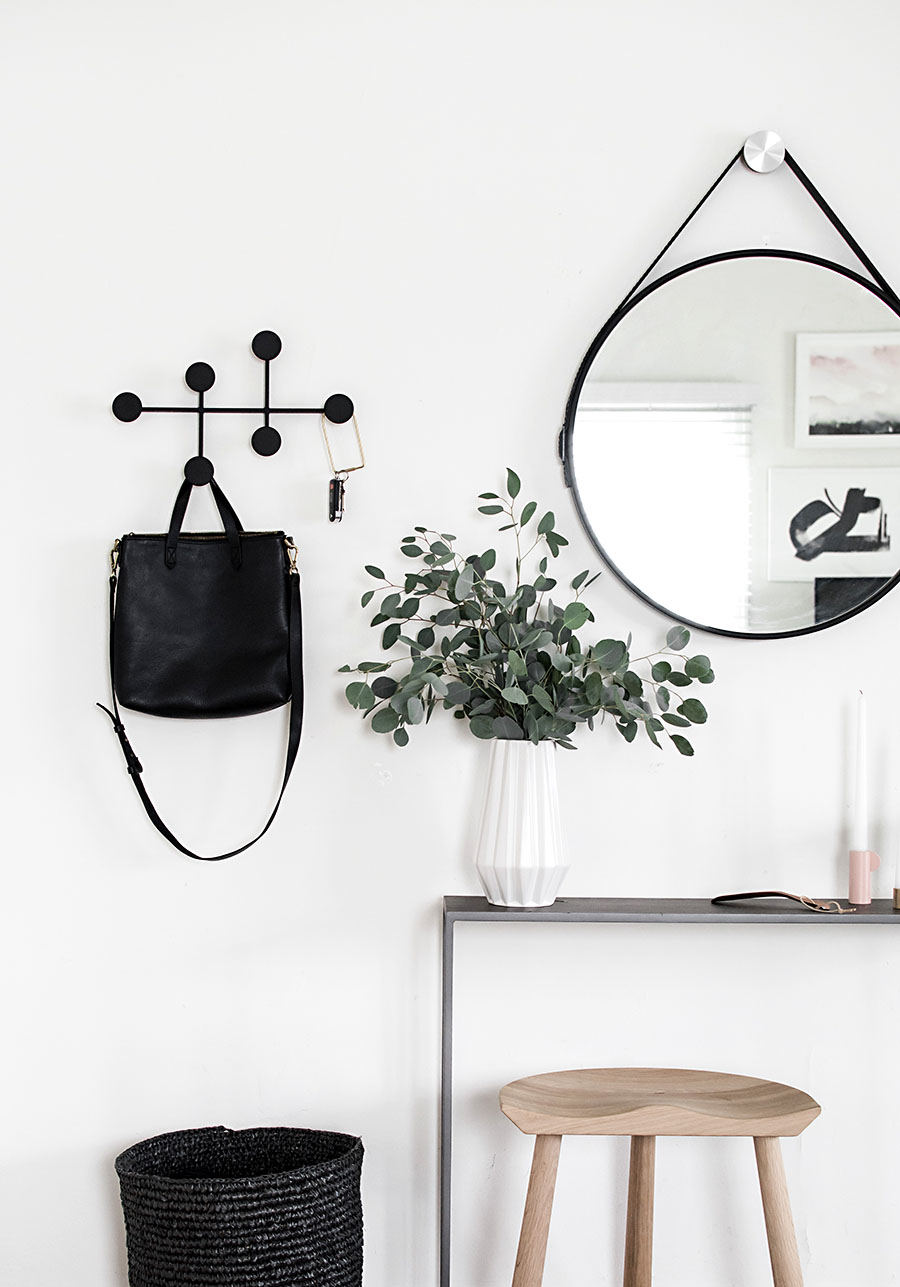 5| Coat Rack– This has been another super helpful new addition to the area that I've mostly used for hanging up my bag and then my keys once I noticed my keyring was large enough to fit around the knobs.  We have a coat closet nearby that we keep our coats in, but we'll keep the ones we've been wearing regularly out on the coat rack.  What I especially love about this All Modern Coat Rack is the design!!  It doubles as decorative wall decor and I'm always down with that.
6| Mirror– There was a period of months between when I sold our previous mirror on Craigslist and replaced it with this one, and it was enough time to know that having a mirror in the entryway is very useful.  It's the last check before I go out to make sure I don't have paint on my face or food in my hair.  This All Modern Wall Mirror is in my favorite shape and the knob and leather strap hanger kill me!  A dream mirror for sure.
Now that I think about it, this is the most regularly used part of our home by us both, and it makes sense that it needs to be as functional and helpful as possible.  Do you have an entryway?  Agree with this list or have anything to add or change?
This post is sponsored by All Modern.  All opinions and content are always my own.