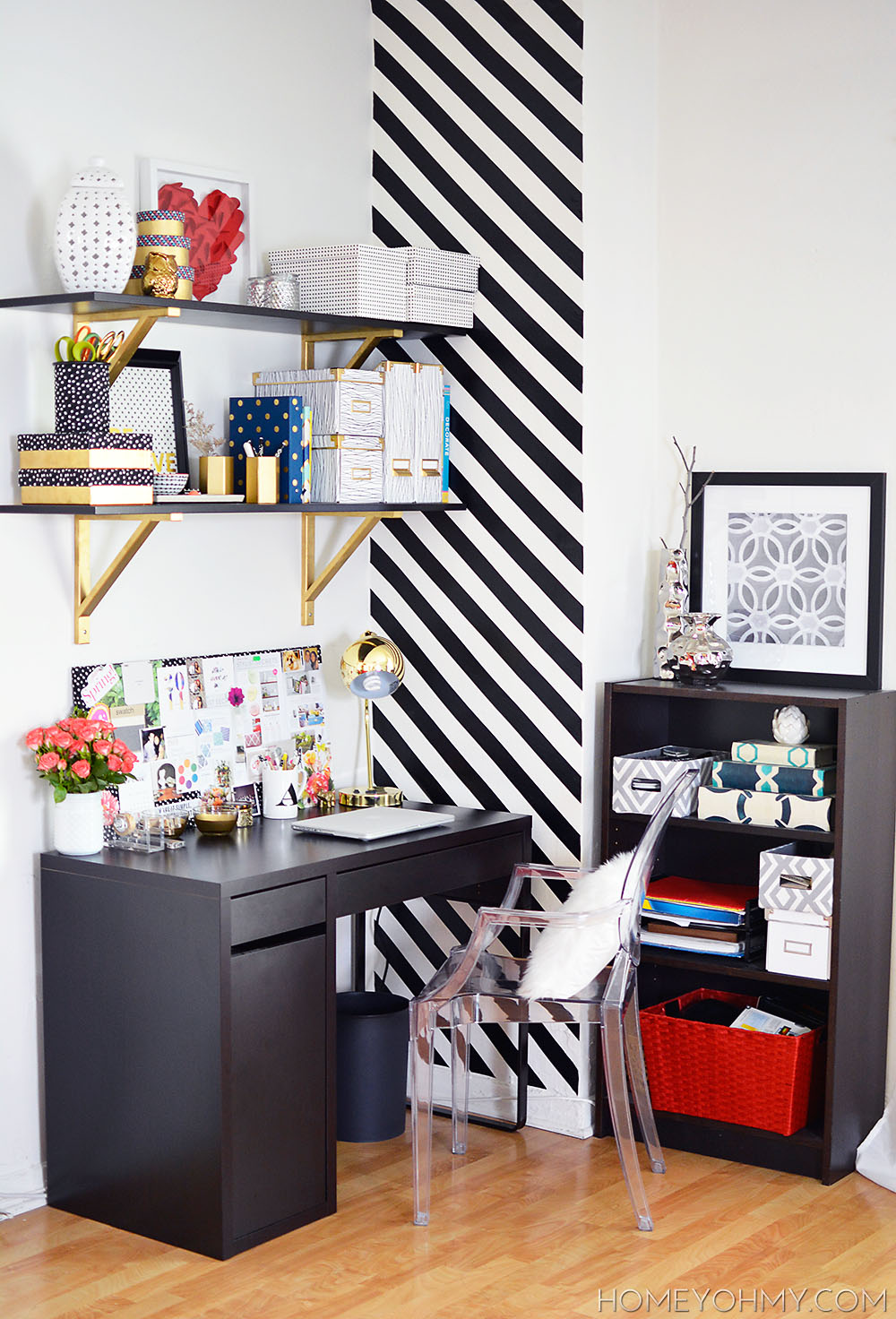 Guys, I'm so so so excited about this one!  A while back I had mentioned I was working on this area and shared a bunch of DIY projects related to it, and now I finally get to show you guys how it looks all together.  Before I walk you through the changes, let's take a look at how things were before…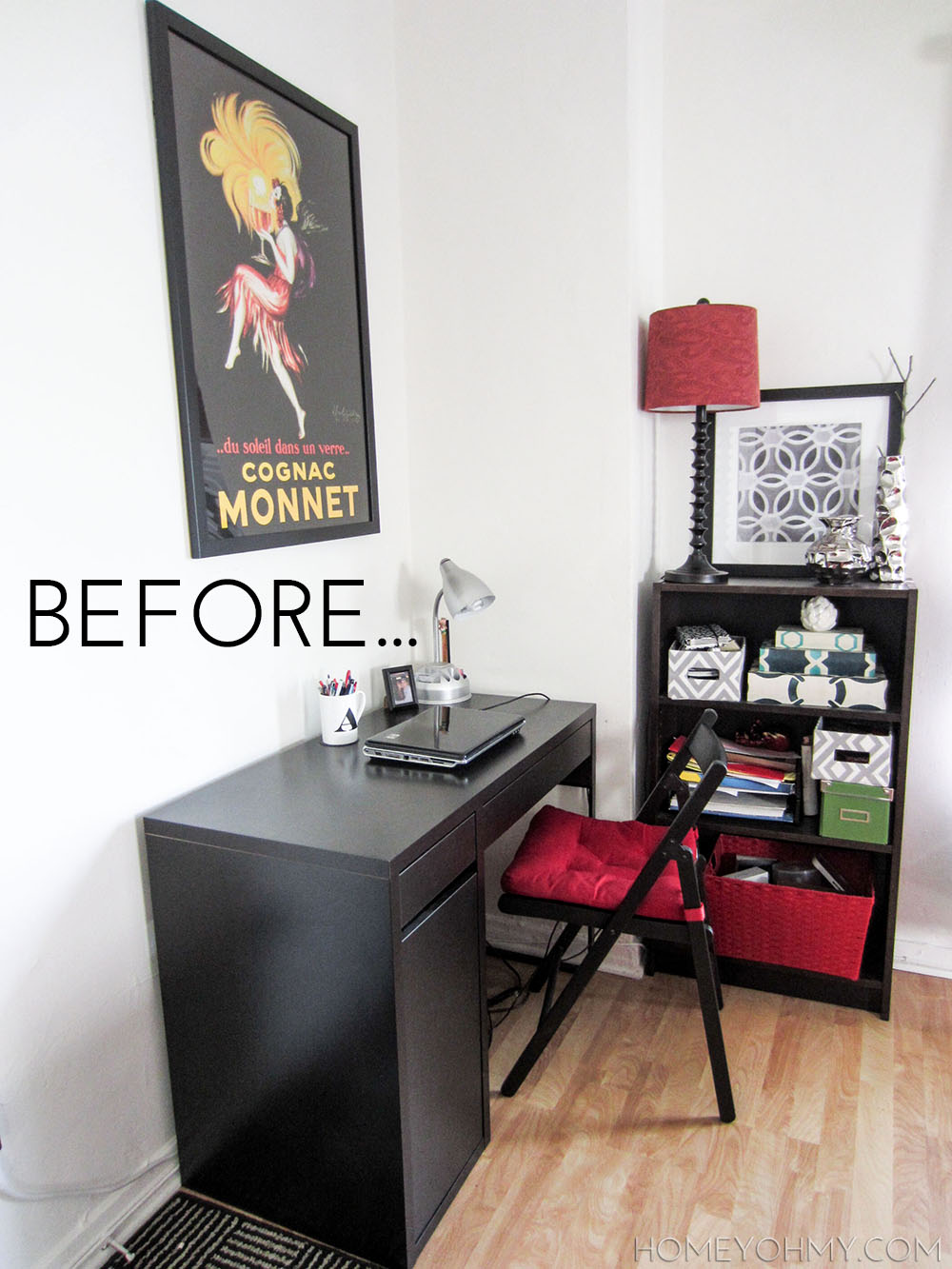 Not terrible, but definitely looks very temporary.  Because I'd be spending so much time here (hello, blog life!), it was important to me to make this space more inspiring and functional, and with that comes the necessity to increase storage, so I started by replacing the wall poster with a couple of shelves.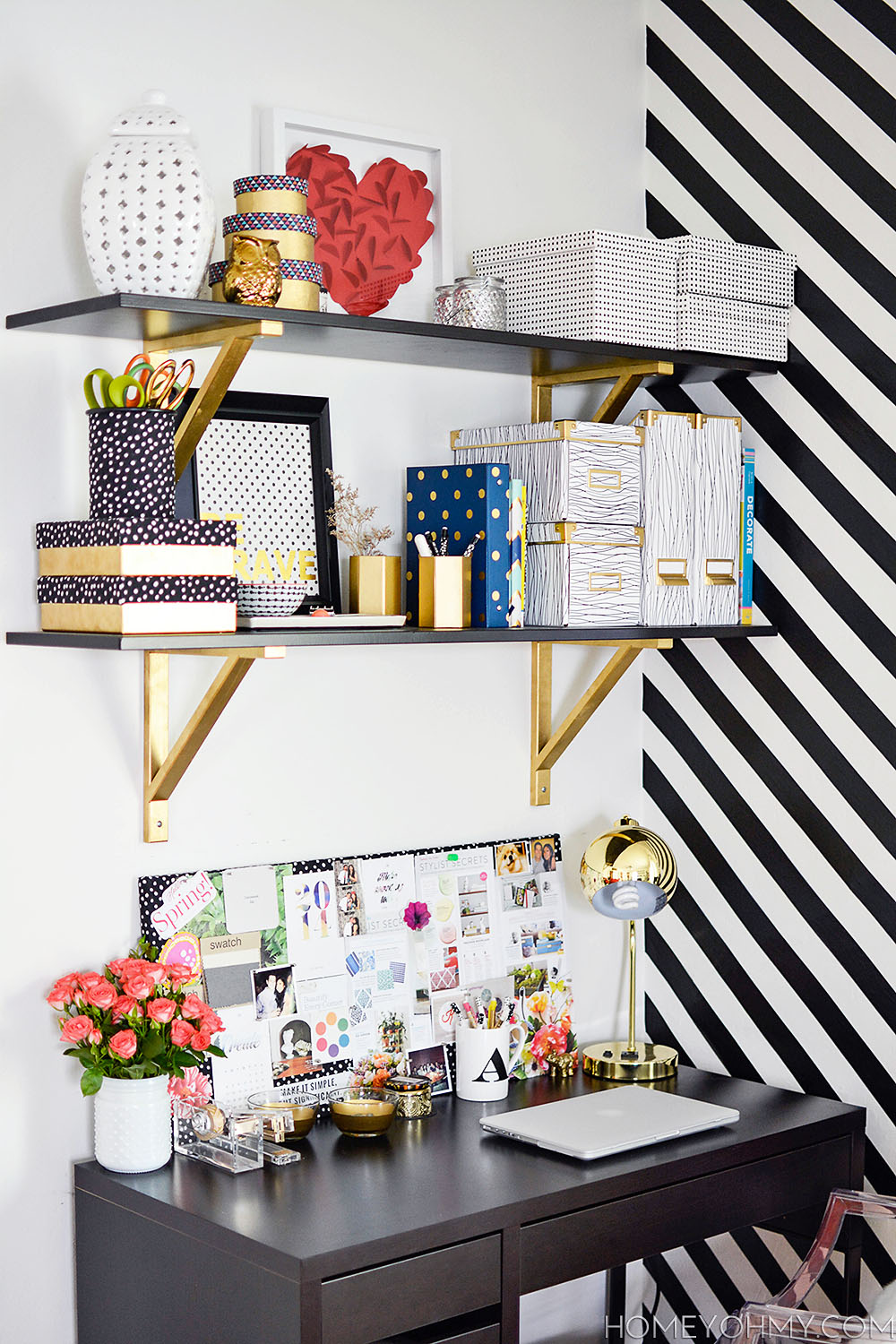 The shelves are the Ekby Hemnes shelves from IKEA.  Also from IKEA are the Ekby Valtar brackets, which I spray painted gold, of course!  On top of the shelves is where I express my love for boxes and tchotchkes.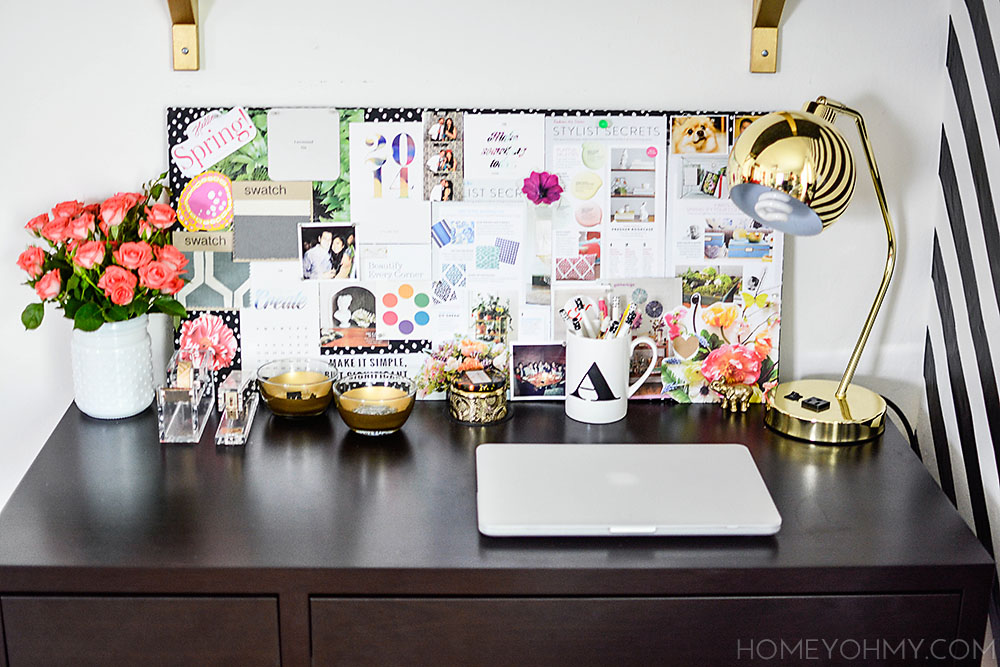 On my desk is my fabric covered magnet board that I use as a mood board, consisting of magazine clippings, photos, and anything else that's inspiring me at the moment.  It's been pretty fun posting things up on it  and I plan on updating it regularly.  Also, I'm sure you've noticed all the gold accessories galore, and I'll be including a DIY and source list for everything on my desk at the end of this post, so stay tuned!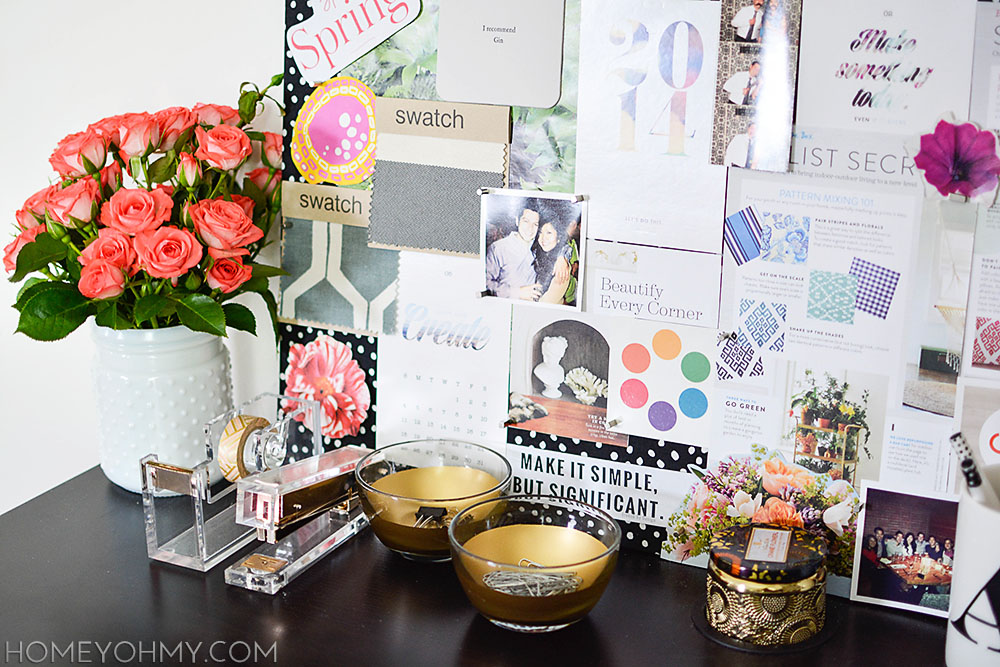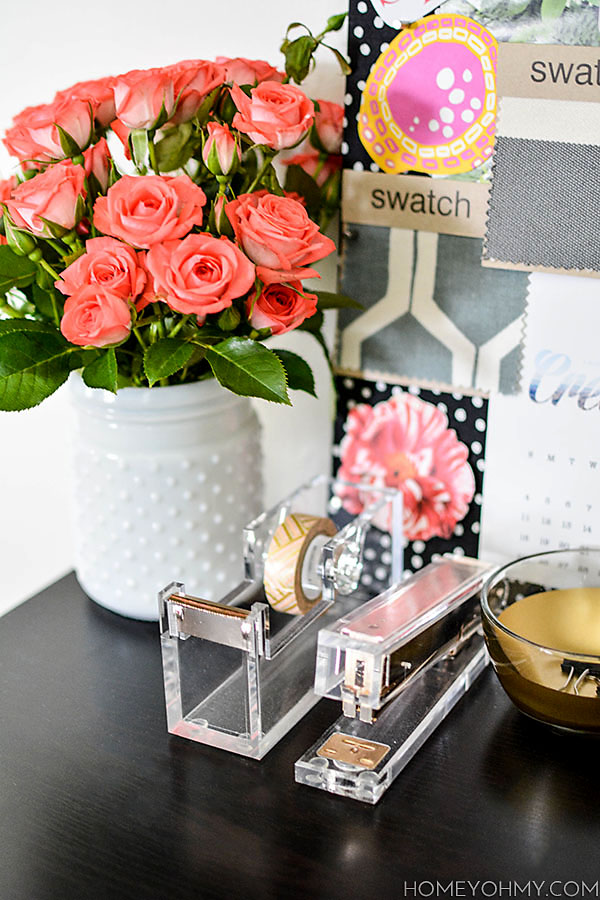 I shared the acryclic tape dispenser and stapler on Instagram a while ago and y'all went nuts for them!  I'm nuts about them, too ;).  And I also recently posted a little sneak peek with the African roses, which you guys loved as well.  Isn't it great how we can all love the same things together?  You guys are the best <3.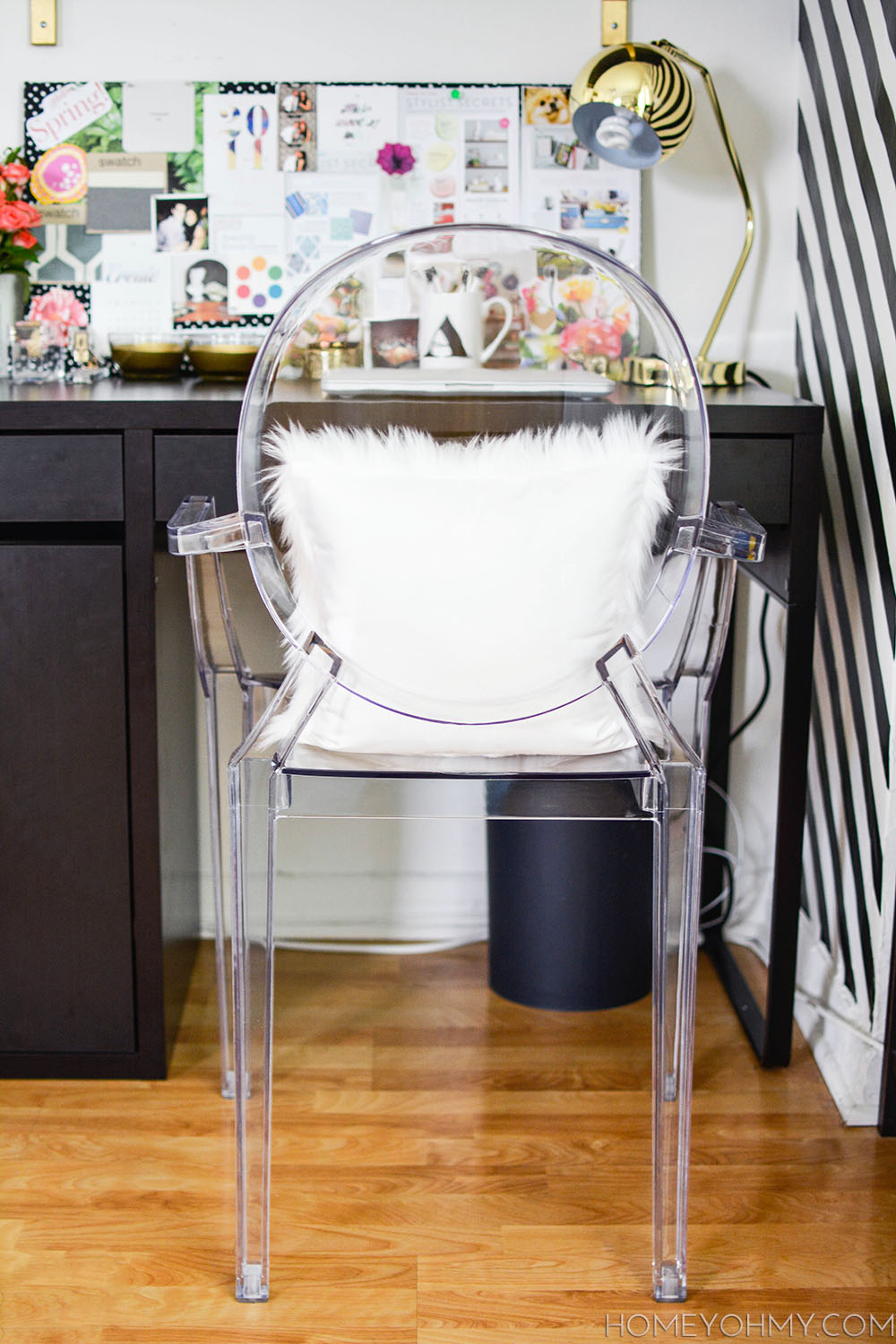 We've arrived at my favorite part.  I mentioned in my Ghost Chair Inspiration post that I got me one of these babies and I love her more than I ever could have imagined.   Surprisingly comfortable, and mega gorgeous.  The best chair splurge of my life, and it makes me look forward to sitting at my desk even more.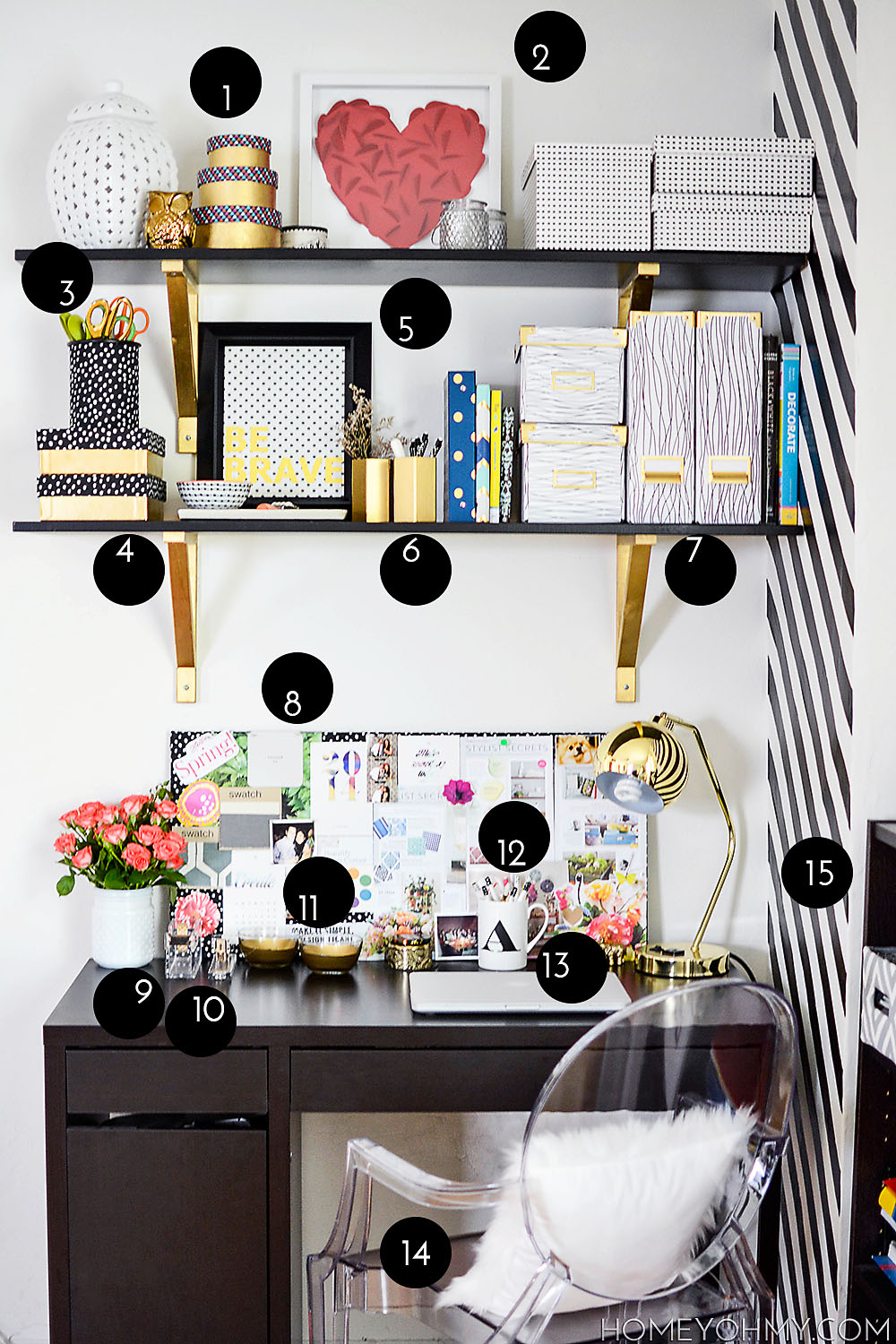 So here it all is.  Everything that's numbered is either a DIY I've shared on this blog or the source for the item, but mostly they're DIYs!  Check them all out here:
1) DIY Washi Tape Boxes
2) DIY Heart Wall Art
3) DIY Fabric Covered Pencil Cup
4) DIY Fabric Lid Boxes
5) DIY Typography Wall Art- Be Brave
6) DIY Gold Pencil Cups
7) DIY Custom Magazine Holders
8) DIY Fabric Covered Magnet Board
9) Acrylic Tape Dispenser
10) Acrylic Stapler
11) DIY Gold Desk Dishes
12) DIY Washi Tape Pens
13) DIY Monogrammed Cup
14) Ghost Chair
15) DIY Striped Accent Wall
*UPDATE* I've gotten a lot of questions about the gold lamp, so here's the link for it:  See it here.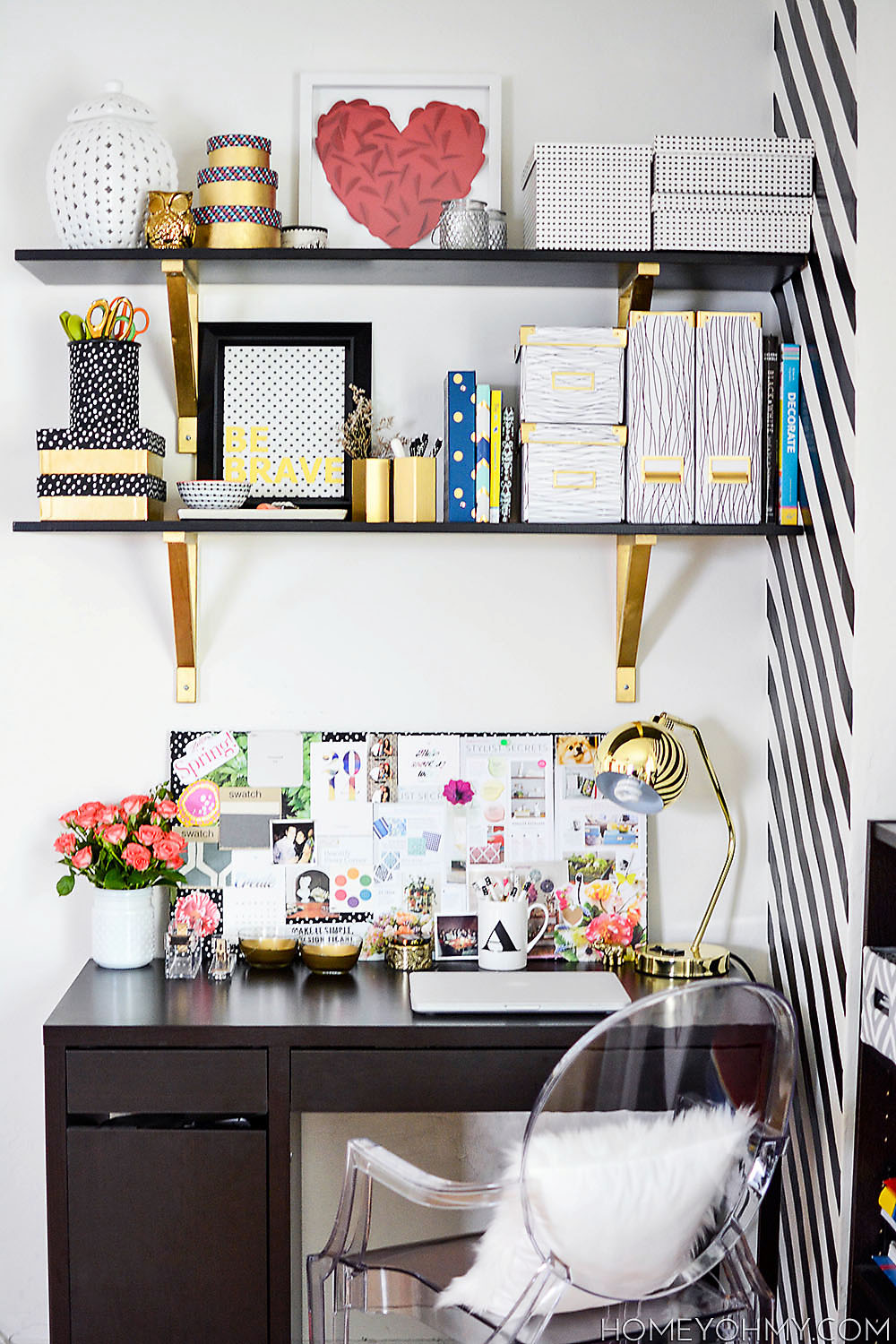 Did you notice everything is mostly gold, black, and white?  How appropriate, since they're my FAVS.  Red naturally made it's way in since my work space is in a corner of my living room, which has a lot of red accents.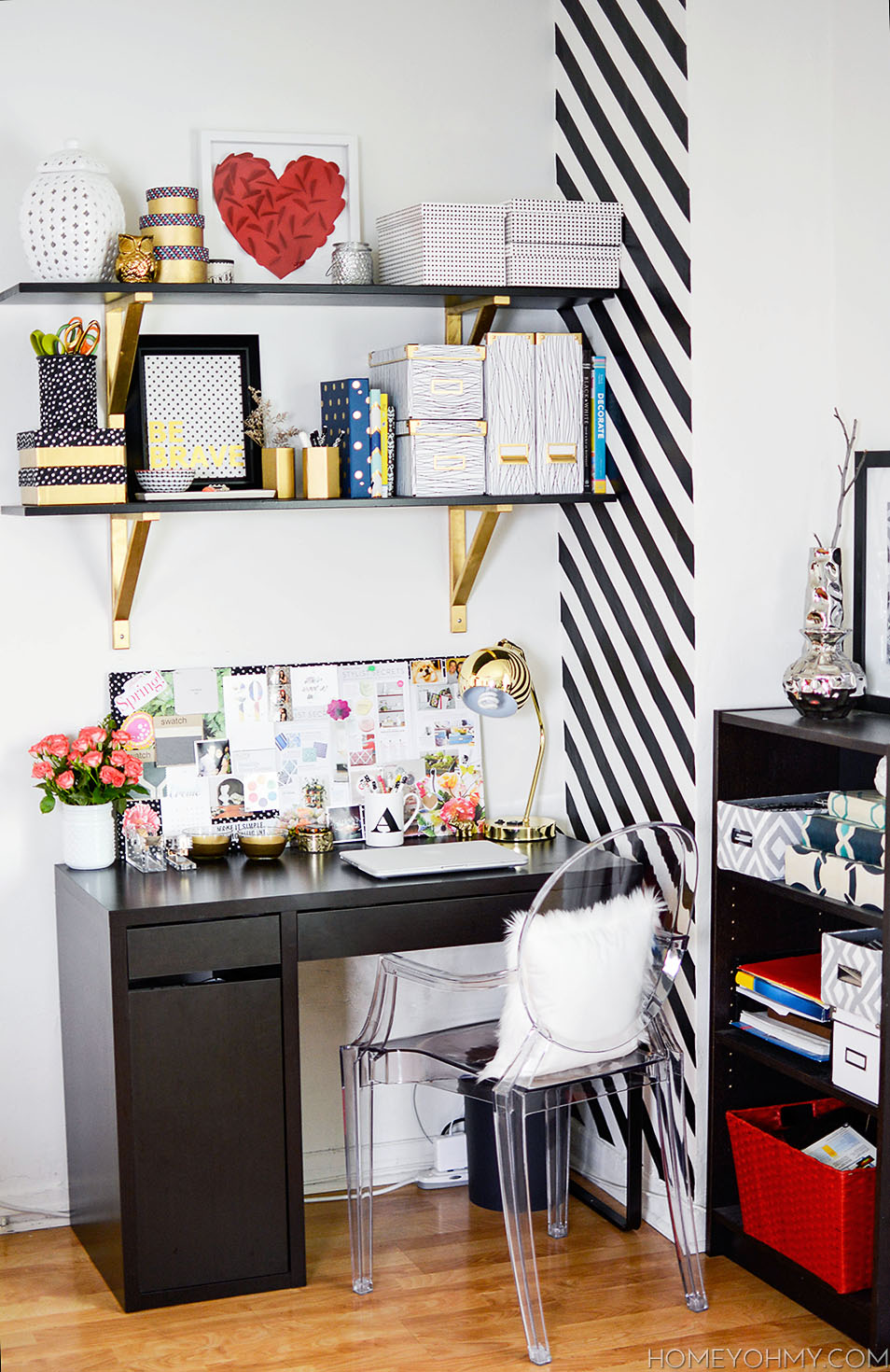 As already mentioned, the striped accent wall tutorial is yet to be posted up, so make sure to come back for that!  If you have any questions about anything else in my work space that I didn't cover, leave them in the comments below and I'll get back to you.  Or if you just want to say hi that's cool too :D.
Other Posts You Might Like