This probably won't be the last time I tell a story that starts like this.  I was walking by the trash  outside on the sidewalk and something caught my eye.  To clarify, it wasn't my intention to look around in the trash, but I just happened to catch a glimpse of this green treasure.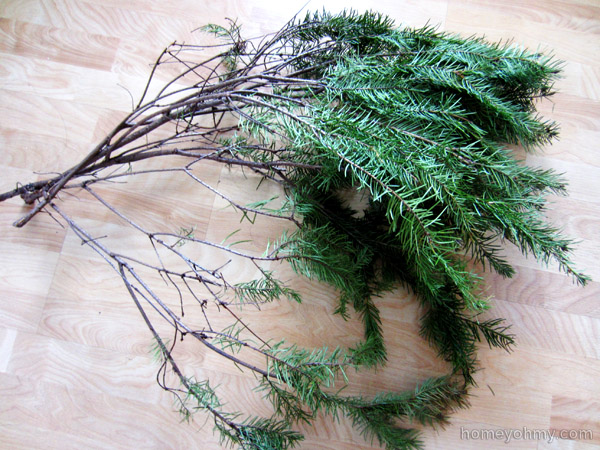 Someone had tossed out these branches from their Christmas tree.  Shame set in as I stood from a distance, my legs locked, unable to look away from the branches, thinking about what if someone was watching me at that moment and wondering why I was staring at the trash.  I acted fast and swiped the branches, making my getaway quick before I'd have one too many witnesses.
I'm here to report that my mission was successful and I regret nothing at all.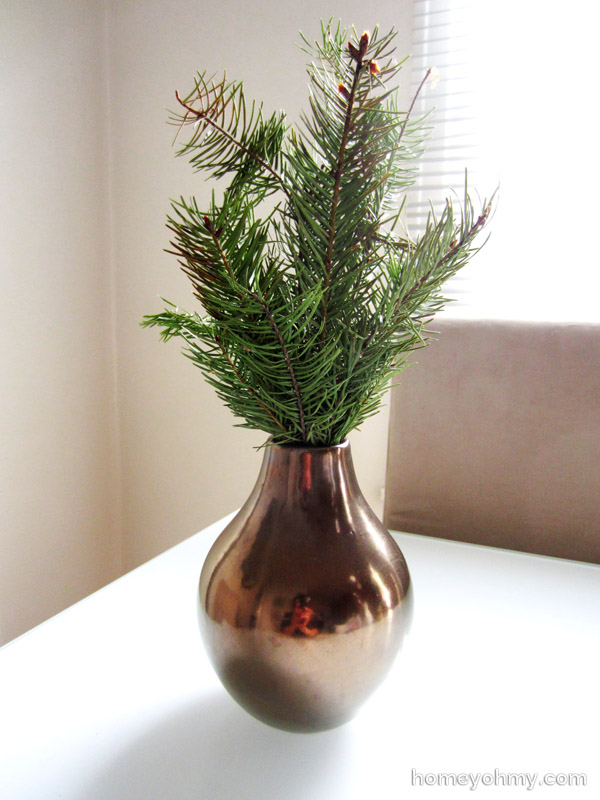 This bronze vase had been sitting empty since I got it and it was the first thing I thought of when I brought the branches home.  I cut off the smaller pieces and made this adorable mini arrangement.  That still left a lot more to be done with, so I took the rest and stuck them into a white pitcher.
They were screaming for some ornaments, so I hung up these gold and white ones from the dollar store that I never ended up using this year… until now!  I'm perfectly okay with ornaments after Christmas.  In fact, I will probably be keeping my Christmas decorations out through January because I'm not ready to let go of them.  This holiday season just went by too fast!
Are you keeping your Christmas decorations up or have you already started putting them away?  At what point is it considered keeping them out too long?  I'm hoping you can agree that at least January is ok :P.
Hope you all had a wonderful Christmas!
Like what you see? Stay connected with me:
Other Posts You Might Like