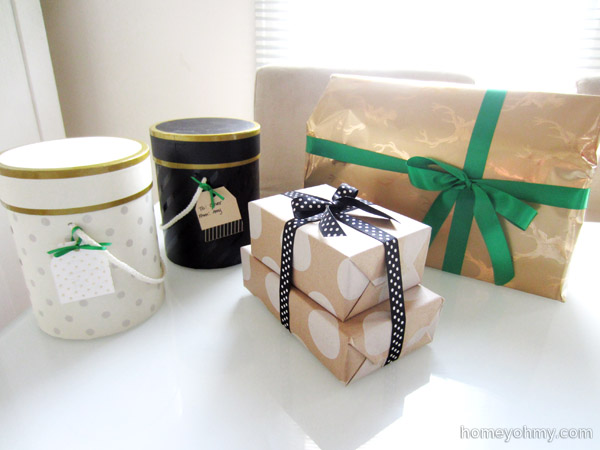 Wrapping gifts is probably the funnest part of gift giving for me, so I thought I'd share how I wrapped some gifts for Christmas.  I wanted to wait until after I gave these gifts before putting them up on here, so we're in the clear now ;).   At best, I hope it serves as some inspiration for your own, last minute gift wrapping.
You can see I kept my wrapping very simple this year.  Maybe it's because I generally love keeping things simple, and maybe it's because I didn't have a lot of time.  Which one was it?  A little bit of both, but regardless I'm really loving the way all the wrapping turned out.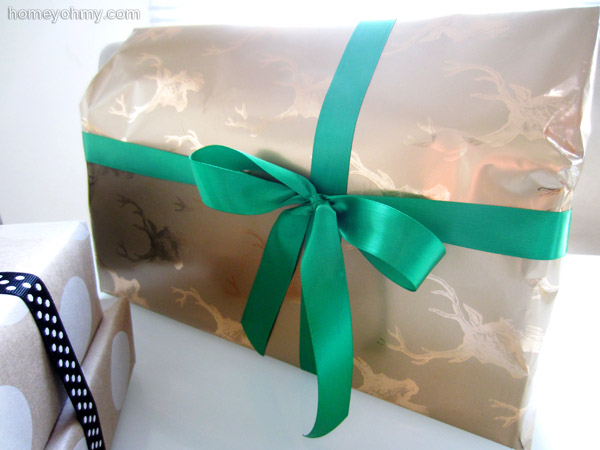 Ok, all except for this one.  I love the gold deer wrapping paper, but the oddly shaped object turned out to make for a really awkward and slightly sloppy wrapping job.  I struggled with this one and don't even remember how I did it.  Still, I love the combination of the gold with the green ribbon and will be wrapping some remaining gifts for family members this way.  Those gifts are in boxes, which will be much easier to wrap, thankfully.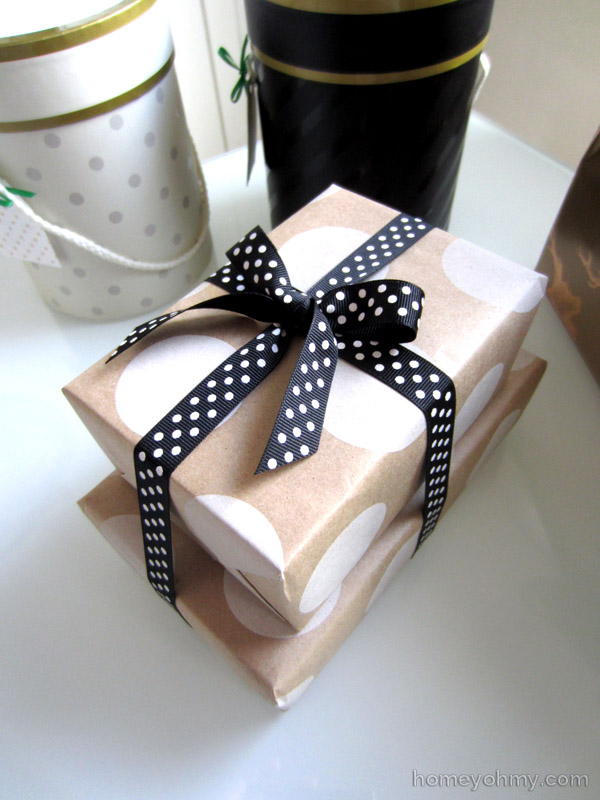 This I love.  It's my favorite and I have a feeling it might be your favorite, too.  The polka dot craft wrapping paper first made an appearance on my Thanksgiving table and I'm SO glad I got it, especially since I wasn't even thinking about using it for wrapping at that time.  The polka dot ribbon was a must and I love how it looks with the larger polka dots on the wrapping paper.
I came across these cylindrical boxes at Target and couldn't leave without them.  They are so cute and chic, and most of all, re-usable.  Me and decorative boxes, guys.  I love them.  I cut out the gift tags from some card stock I had and tied them on with green ribbon.  I didn't do anything to the gold polka dot tags, but for the other ones I applied a strip of black and white washi tape at the bottom.
I got a few of these boxes for my friends, the white ones for the girls and the black ones for the guys.  Want to see what I put inside?
For the girls, I monogrammed cups using the same method here but used silkscreen stencils this time around.  I filled each cup with shredded tissue paper and gold foil (a wonderful dollar store find, by the way) and on top of it put a bottle of nail polish tied with the same polka dot ribbon from before.
For the boys…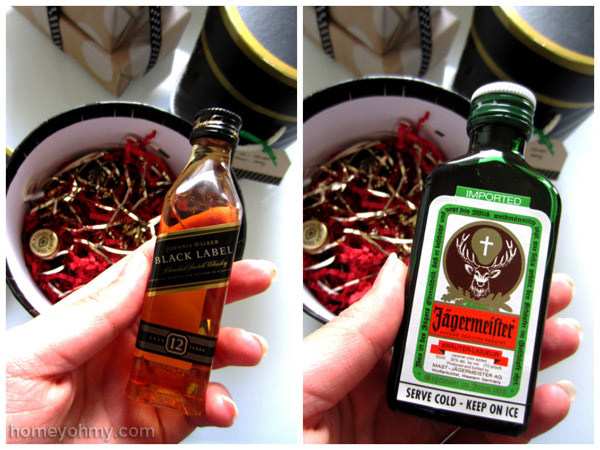 I filled their boxes with an assortment of mini "spirits".  Aren't they adorable??  I know y'all love that Jager.
Hope you guys enjoyed this.  I really enjoyed wrapping and gifting it all :).
Have a very Merry Christmas, everyone!
Like what you see? Stay connected with me: