A classic Korean rice dish that I love and wasn't planning to post on the blog until I shared it on IG stories a couple days ago and my DMs blew up from everyone asking for the recipe. Stories is where I've been sharing our quarantine cooking adventures since it's quick and off the cuff, plus video is always the best way to convey all the elements and techniques that go into a dish. So if you want to get a better idea of how this recipe is made, check it out towards the end of my "Recipes" highlights since I wasn't at all prepared for taking enough photos to portray it all in a blog post ha.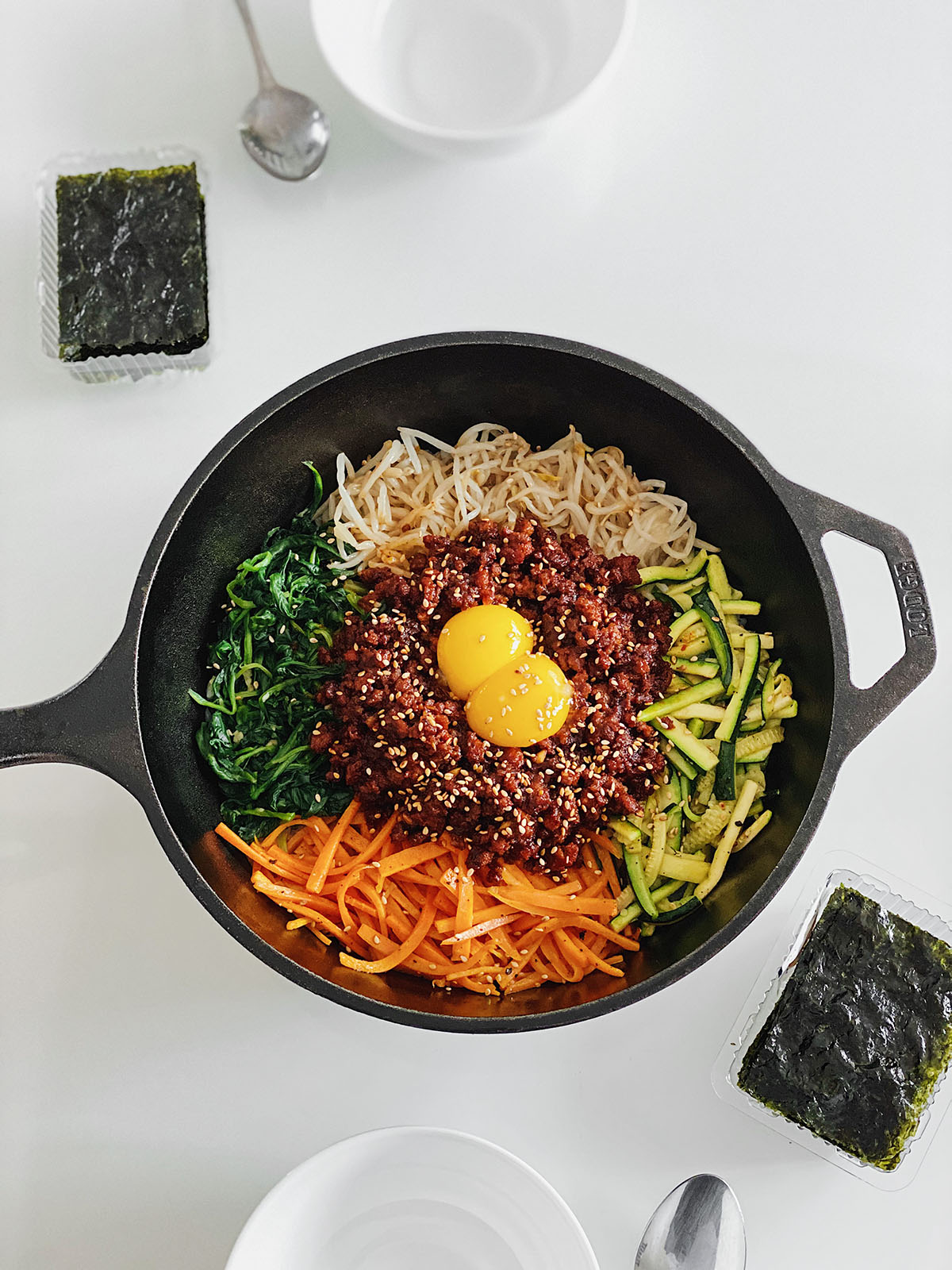 Bibimbap is traditionally made in a stone pot, but a skillet works just as well and luckily so because that's all we have. I use this Lodge Cast Iron Deep Skillet which has been in our kitchen for years and is very versatile. You want that retained heat to keep the rice hot and also crisp up the bottom so that when you mix it all together you get bits of crispy rice throughout the soft rice made creamier by the egg yolks that get mixed in and cooked from the heat of the rice and the skillet my mouth is watering. Keep the skillet on the table and scoop spoonfuls into your bowl so that each bite is hot.
Bulgogi is the ideal meat to put in here, which I would just add in on its own separately from the gochujang, but since we only had ground beef I mixed it with the gochujang to make a meaty gochujang paste. Meat is absolutely optional, in which case just add as much gochujang as you'd like and forget all the steps related with the meat.
The majority of the flavor comes from the gochujang, which is also spicy. If you're sensitive to spicy flavors, start small and add to taste. You can even just keep the gochujang on the side without mixing it in and add as needed as you eat the rice. This really goes for everything else in the recipe as well. Measurements are estimates from what I eyeball so I can't even say for sure they're exactly what I do. Taste as you go and adjust as you see fit!
The best rice to use is Calrose rice. It's a stickier rice that's used in most Korean cuisine. Of course, whatever rice you have will work, but this would be the authentic experience.
Later I remembered that the egg whites from the egg yolks were still around and I fried them real quick into an omelette, chopped it up, and threw it in the rice. You can do this with the entire egg too if you're not feeling the runny egg yolks.
Eat with a side of seaweed for a hearty, flavorful, and filling meal to share. Enjoy!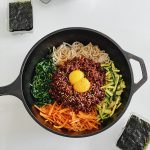 Print Recipe
Skillet Bibimbap
A classic spicy Korean rice dish with a generous serving of vegetables served hot in a cast iron skillet.
Ingredients
1

cup

uncooked white rice

(Calrose rice preferred)

2

tbsp

sesame oil

2

tbsp

vegetable oil

toasted sesame seeds to garnish

2

eggs, yolks separated
Vegetables
1.5

cup

julienned zucchini

1.5

cup

julienned carrots

1

large bunch of spinach

9

oz

mung bean sprouts

3

cloves

crushed garlic

salt

black pepper

2

tsp

soy sauce

2

tsp

sesame oil
Meat
12

oz

ground beef

black pepper

1/2

cup

gochujang

(Start small and add to taste if you don't want it too spicy)

1/4

cup

honey

1

clove

minced garlic

3

tbsp

soy sauce
Instructions
Cook rice in a rice cooker.

Set a pot of salted water to boil and move on to the next steps while you wait for the water to boil.
Vegetables
Julienne the carrots and zucchini.

Fry the carrots in vegetable oil and season with salt and pepper.

Blanch the mung beans- boil for 2 minutes, drain, and dump in an ice water bath.

Blanch the spinach in the same way.

Mix mung bean sprouts with 2 cloves of crushed garlic, 2 pinches of salt, 1 tsp soy sauce, and 1 tsp sesame oil.

Mix spinach with 1 clove crushed garlic, pinch of salt, 1 tsp soy sauce, and 1 tsp sesame oil.
Meat
Pan fry the ground beef and black pepper.

Mix in gochujang, garlic, honey, and soy sauce.
Assembly
Coat the bottom of the skillet with sesame oil and heat on medium high.

Place cooked rice in the skillet and flatten it out to cover the bottom. It should sizzle!

Place each veggie on top of the rice into 4 equal quadrants.

Heap the ground beef into the center and make a small well in the center.

Place two egg yolks into the well.

Top off with a sprinkling of toasted sesame seeds.

Transfer skillet to a trivet on the table. Check with your spoon to see if the bottom of the rice has gotten crispy. If not, heat the skillet a little longer.

Optional: cook the egg whites into an omelette, slice into small pieces, and add to the skillet.

Break the egg yolks and thoroughly mix everything in the skillet together. Serve yourself a few spoonfuls at a time in a bowl so that every bite is hot!