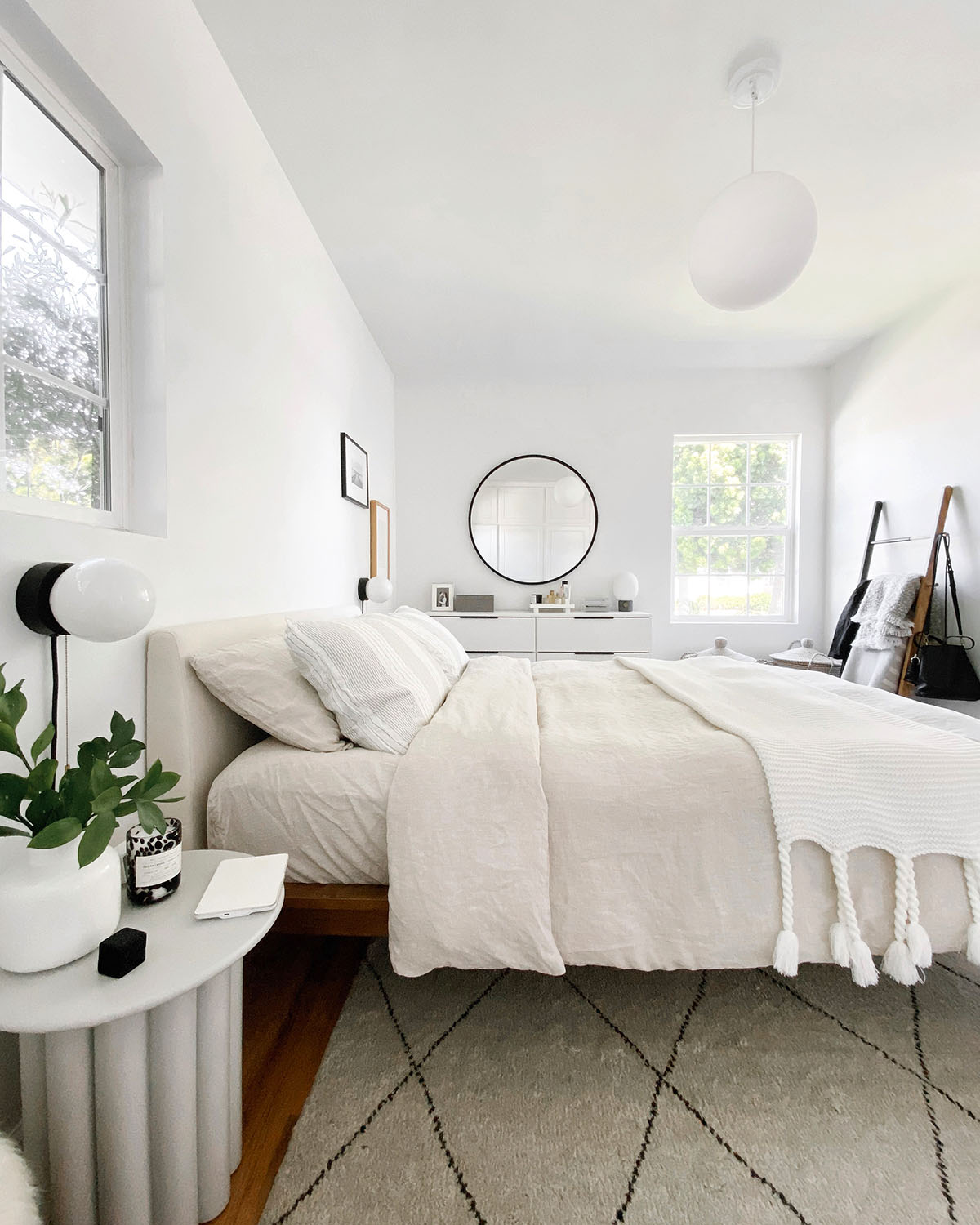 I know last month was challenging regarding the state of our world fighting against Covid-19. I'm sure we've spent enough time worrying about the repercussions of this mess, and while I don't want to come across as flippant, I also know that we need some more positivity, things to look forward to, and ideas on how to spend all this extra time at home. I will do my best continuing with what I regularly do but with some necessary adjustments due to how some original plans are on hold until this storm passes and how it's impossible not to acknowledge how much life has changed recently, starting with this quarantine edition of monthly favorites that has a heavy focus on recipes to make and things to do, and some other stuff. Let's have some fun at home!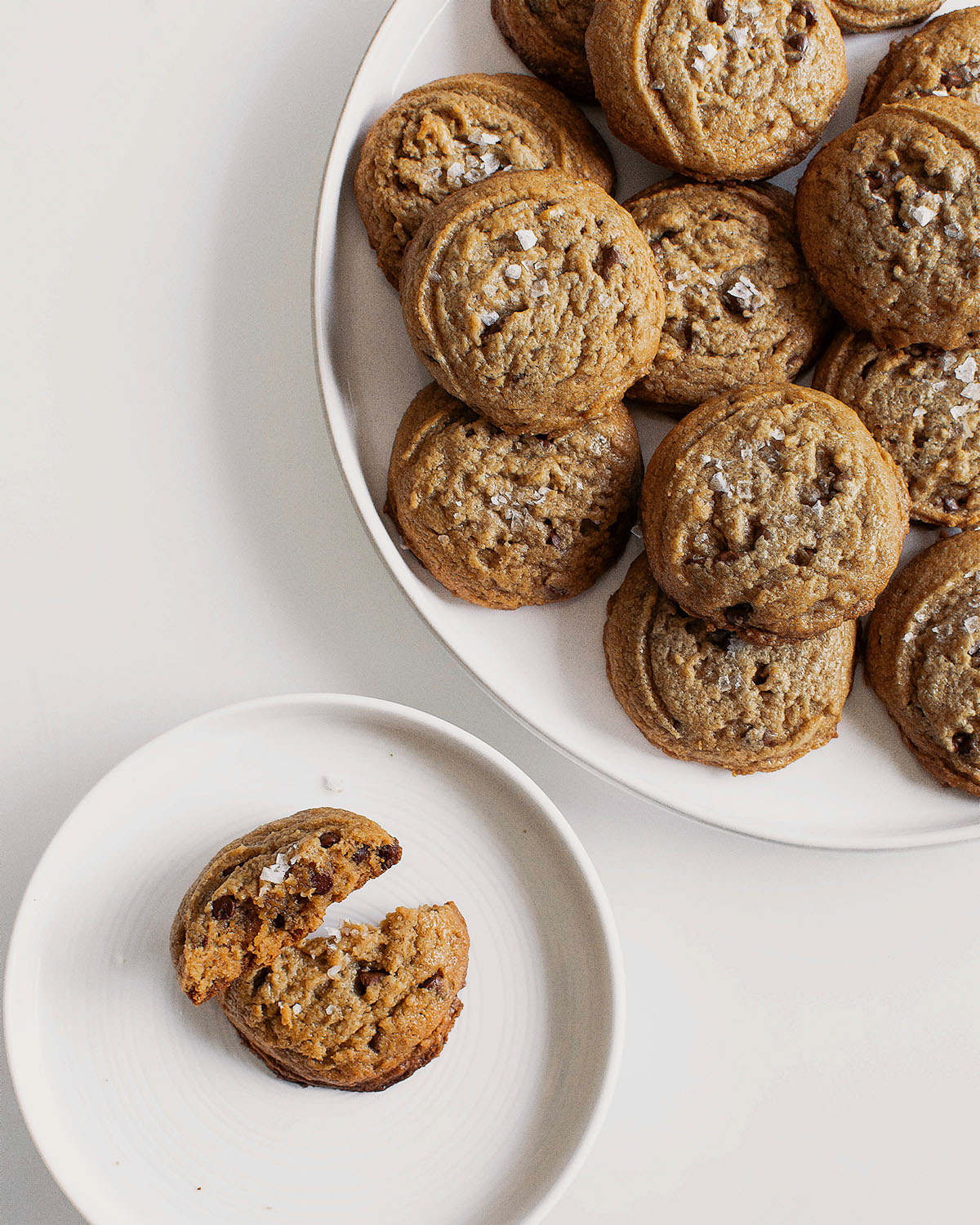 5 INGREDIENT COOKIES- Smitten Kitchen's Salted Peanut Butter Cookies

This is the easiest cookies recipe that is very timely to make right now considering they don't require flour or butter- baking ingredients are a bit limited right now in a lot of areas, I hear you! I'd describe these as more like peanut butter fudge cookies. I highly doubt this recipe will work without the peanut butter, so sorry if you're not a fan of the stuff or have an allergy. I've heard subbing other nut butters work, and of course you're encouraged to make and test your own tweaks to it- I added chocolate chips to mine! These are so good and impressive for how simple they are.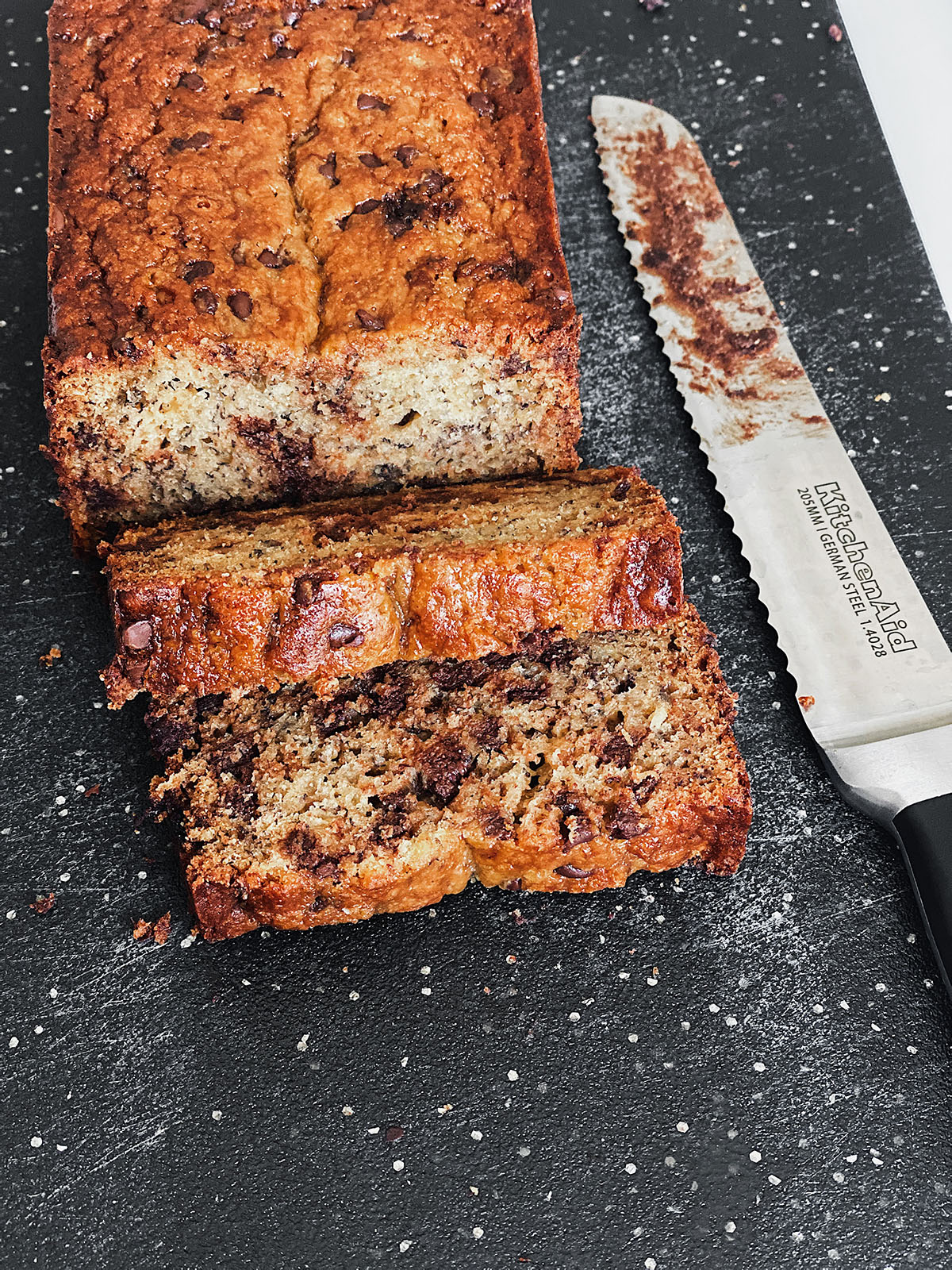 BANANA BREAD- Butternut Bakery Blog's Chocolate Chip Banana Bread
I always forget that because our bread pan is long and thin that it doesn't need to bake for as long as standard bread pan recipes call for. Thus, I ended up slightly over-baking this, but even still it was the moistest most delicious chocolate chip banana bread. We averaged eating about 3 slices a day each, it's hard to stop. Simple ingredients, straightforward steps, I'm making this again.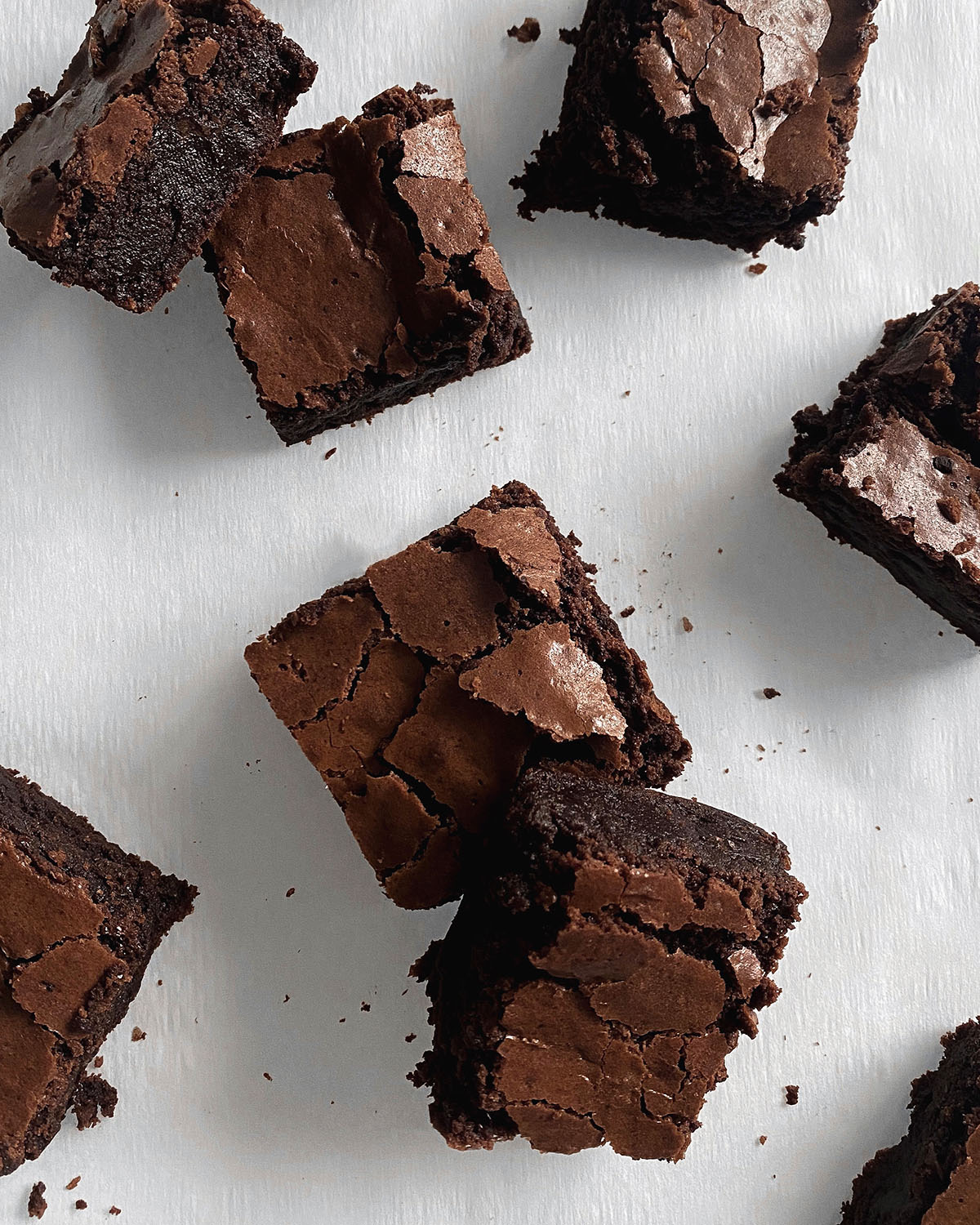 BROWNIES- Studio Baked's Fudgy Dark Chocolate Brownies with Crackly Crust
I decided from the recipe name that I was going to try it because that's everything I want from a brownie: dense and fudgy with a crackled top. The special thing about this recipe is that the eggs are whisked for 8-10 minutes, which results in a meringue-like top layer that cracks and gives a nice textural contrast to the fudgy brownie. Bonus is that we found these brownies get better with age.

COMFORT PANTRY FOOD- Spaghetti and meatballs

The meatballs obviously aren't the pantry part, but if you can make them, these are tasty. We've recently found ourselves like never before with a good amount of pasta in our pantry. We don't eat it often, which is why when we do we enjoy it immensely and it feels even more like comfort. This is a great simple recipe that fed us for days.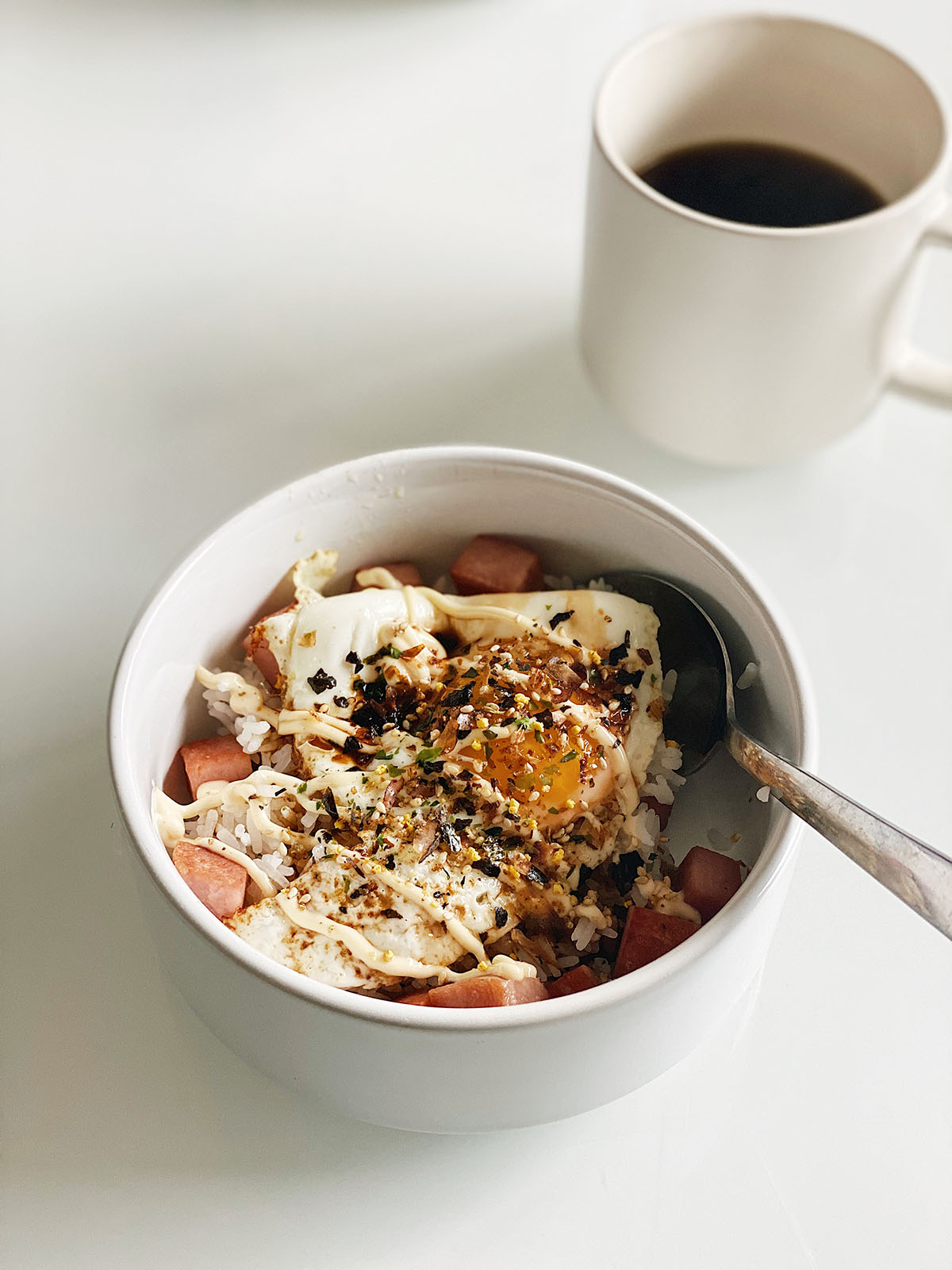 CHILDHOOD COMFORT FOOD- Spam, egg, and rice
This got a pretty big response when I shared it in IG stories. It brought back a lot of nostalgia for everyone that grew up on Spam too. Spam, egg, and rice was and still is one of my favorite breakfasts, and I updated it a little to bump up the flavor and make it more like a Spam musubi in a bowl. It consists of white rice, pan-fried spam, sunny side up egg, soy sauce, Japanese mayo, and furikake. The umami in this bowl is overwhelmingly good.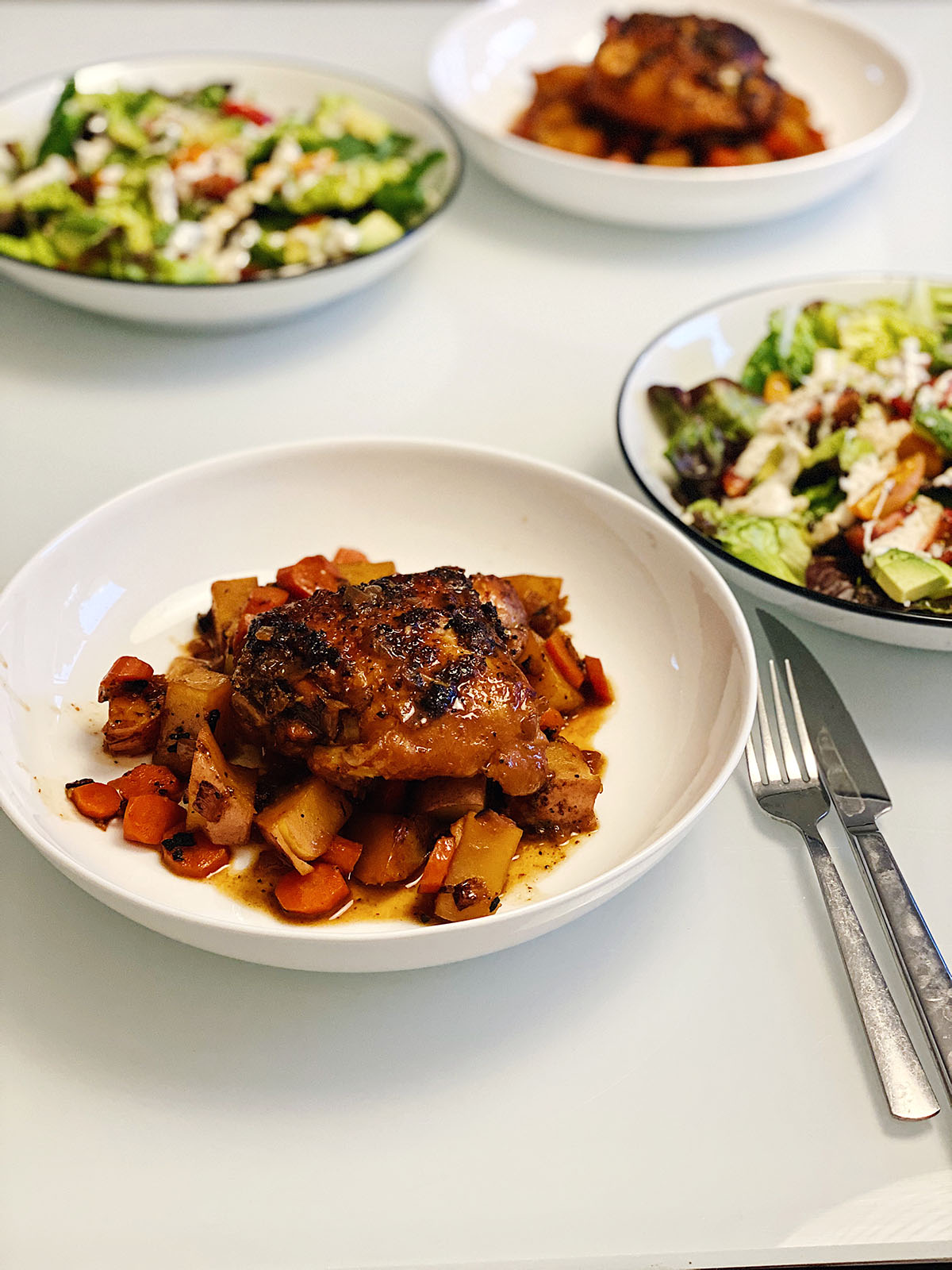 ONE SKILLET DISH- Chicken and pretty much whatever veggies you got

This dish has been in our dinner rotation for a while, originally made with artichokes, beets, and olives per the recipe, but since we didn't have those on hand we used what we had- carrots and potatoes. I like this version much more. It's rich and juicy, the potatoes suck up all that flavor, and it's all made in one skillet for easy cooking and cleaning.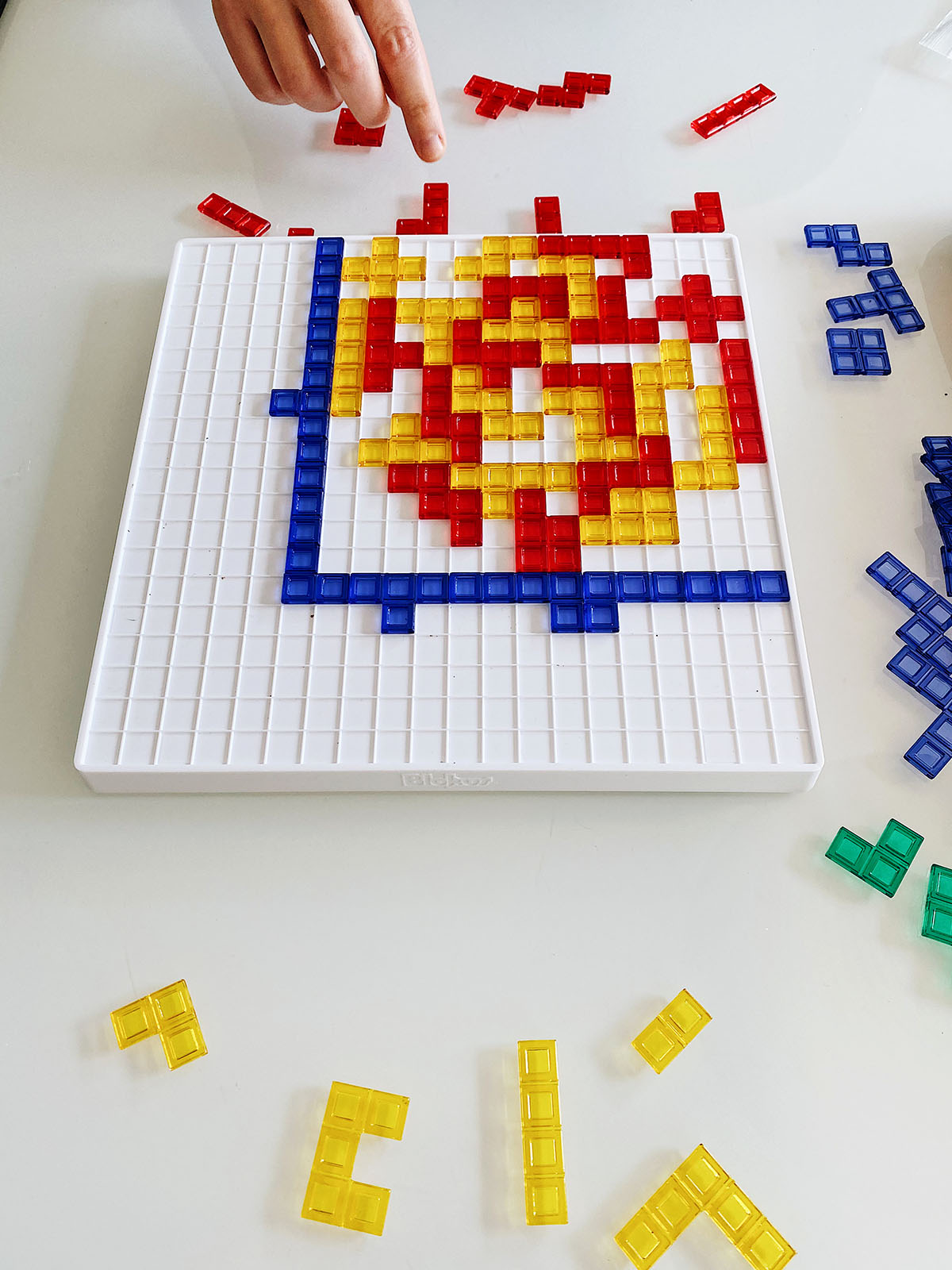 BOARD GAME- Blokus
Hours of fun, I'm telling you. It's meant for four players, but there's a way to adjust the board to make it work for two players which is how we've been playing. It's a strategy game to have all your pieces fill the board while blocking your opponent from achieving that same goal. At one point I was dreaming in my sleep about the shapes because we played it so much and got so competitive about it.

HOUSE UPDATE
We were ready to go with putting in new floors right when news of the severity of coronavirus came out. We decided it was best to hold off until things settle down, which means our other interior projects are on hold too since it makes the most sense to get the floors in first before making other changes. One thing I'm still considering to do soon is painting our bedroom, which I believe there is curbside pick up service for paint at Home Depot. I'm still wary though of making any trips outside of our home that aren't necessary. Oleg drove by Home Depot recently and said it was packed. A bit concerning, but also I get it, we were trying to go too to get more stuff to work on the house.

Other ideas for home projects have been reviving dead patches throughout our lawn, which we've started with this turf seed. We've been spending most of our outdoor time doing yard work in general, and I'm contemplating ordering a pressure washer to clean off the exterior brick and possibly limewash it, though I wanted to get the house painted first to get a better idea of what color limewash would be best. At the moment that feels a little ambitious to do during shelter in place, but at the very least I'm starting planning for it!

WHAT YOU'RE WATCHING AND READING
A couple weeks ago I asked you to share via IG questions what you're watching and reading lately, then I tried to compile most of the answers to share via stories, then either IG was glitching or I was doing something wrong but the list kept getting cut off, so I'm sharing that list here too.
BOOKS
-The Five Dysfunctions of a Team by Patrick Lencioni
-Know My Name by Chanel Miller
-How to Bake Pi by Eugenia Cheng
-The Body by Bill Bryson
-A Gesture Life by Chang-Rae Lee
-Trick Mirror by Jia Tolentino
-Dear Girls by Ali Wong
-Such a Fun Age by Kiley Reid
-A Man Called Ove by Fredrik Backman
-The End of the Ocean by Maja Lunde
-The Secret History by Donna Tartt
-Little Fires Everywhere by Celeste Ng
HBO
-Veep
-Big Little Lies
-Westworld
-The Righteous Gemstones (so good)

NETFLIX
-Next in Fashion
-Itaewon Class
-Good Girls
-The Office
-Grey's Anatomy
-Formula 1
-Pandemic
-Dirty Money
-Mad Men (I LOVED THIS SHOW SO MUCH)
-Narcos Mexico
-Gentefied
-Kingdom
-The Trial of Gabriel Fernandez
-Witcher
-Crash Landing On You
PRIME VIDEO
-The Boys
-Hunters
-Law and Order SVU

HULU
-Devs
-High Fidelity

SONGS ON REPEAT
The 1975- Somebody Else
Goldroom, Love, Alexa- I Can Feel It

LINKS

I shared this little timelapse on IG that basically sums up what quarantine at home has been like for us. The last half of it, that is.
Did you hear about Studio McGee's multi-year partnership with Threshold at Target? I'm so curious to check out the first collection on April 4th!
Martha Stewart put together this helpful resource on baking ingredient substitutions.
I have been swept into the Tiger King tornado. 27 Tiger King Tweets Now That We've Had More Time to Process It
Love the finishes in this kitchen.
A list of games to play online with your friends.
25% off sitewide at Everlane until Friday! I recently got this water-resistant anorak in light taupe that's very cute, casual, and oversized so I can throw it on top of anything I'm wearing.
Adding these fluffy vegan pancakes to our quarantine menu.
Not sure I'd consider this a "modern farmhouse" at first glance but I love it very much regardless.
In my search for a jigsaw puzzle, I came across Piecework Puzzles that make really collectible and very giftable jigsaw puzzles. Pricey, but very unique and special.
I just found out Porto's Bakery offers nationwide shipping of their "Bake at Home" items. It's their unbaked and frozen pastries that you can bake fresh at home. Potato balls! Guava cheese rolls!! I'm saving this for a rainy day.
Are you seeing ads everywhere for this nail polish company too? I'm eyeing the Coconut color, it looks perfect.
Other Posts You Might Like