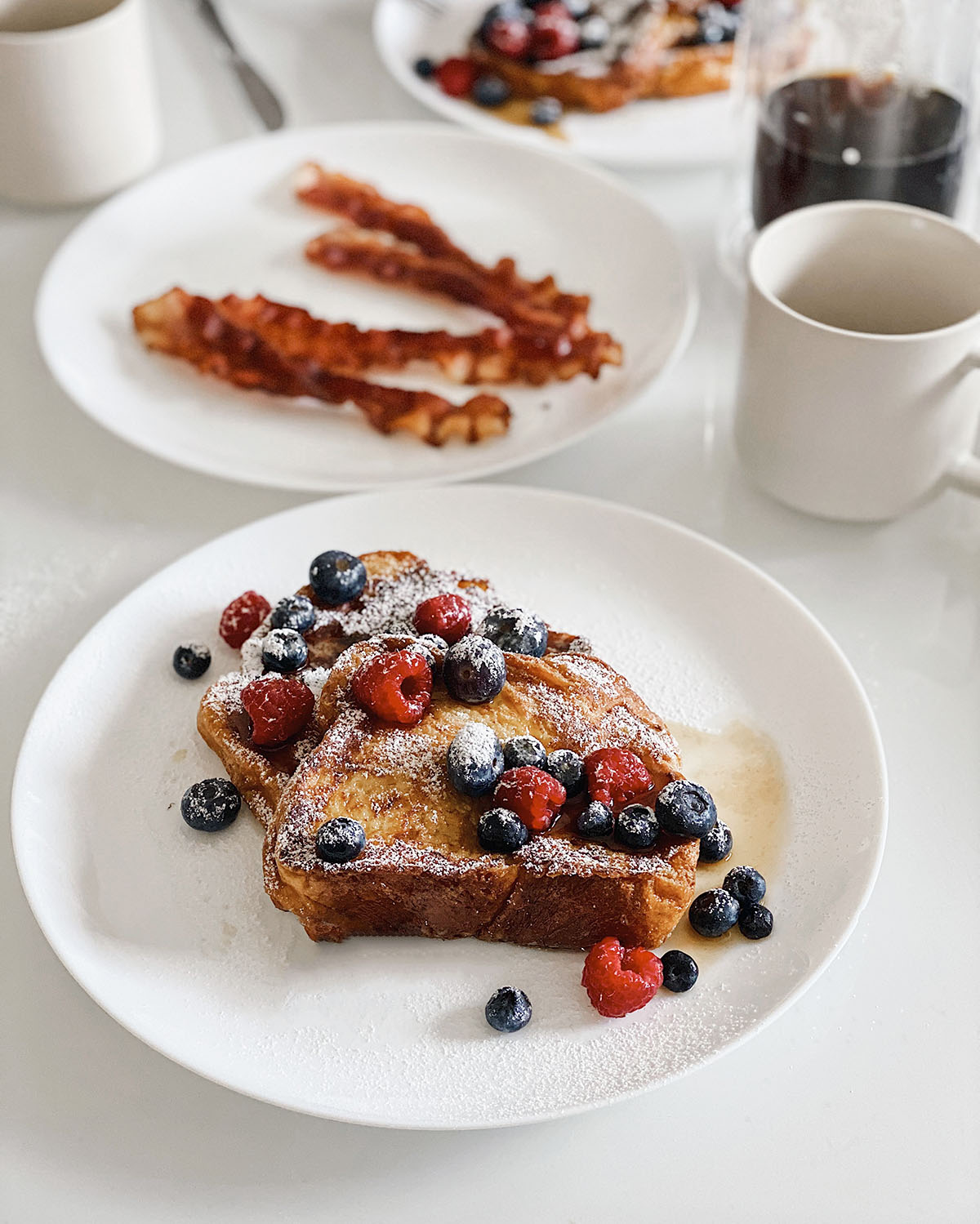 It could be because we rarely eat French toast and when we do, it'll be a special treat yourself moment at a brunch spot and we eat it while thinking yea it's good it's French toast, and then never think about it again until the next menu has it and we're so tempted to order it because we almost can't remember what it tastes like and need a refresher. Then we made it at home recently and for the first time ever thought oh my God THIS is French toast. Was it that we'd never had it this fresh before? Was it the brioche? Is it because we're in isolation and miss everything that once felt effortlessly accessible? How could it be this easy? I don't use this word lightly, so I really mean it when I say this is the best French toast we've ever had.
We weren't seeking to make French toast, rather I was searching for sliced bread on Amazon and found that Whole Foods had this brioche available for delivery. My intention was that we could make some decadent PB&J sandwiches with this, but Oleg's first thought was we gotta make French toast.
With a combination of learning about the basics of what goes into French toast and working with what we had in our kitchen to make this as easy as possible, this became what was unanimously decided by us both as the best thing we made at home during quarantine (and we've been making a LOT of things during this time). I feel so positively different about French toast now and don't know if I could ever order it again knowing how good and simple it is to have at home.
Print Recipe
Best and Easy French Toast
Thick slices of brioche with a custard-like center.
Ingredients
4

slices

brioche, each cut 1.5" thick

3

eggs

1/2

cup

whole milk

or cream is great too

1/2

tsp

vanilla

3

tbsp

sugar

1/4

tsp

cinnamon

1

tsp

kosher salt

1

tbsp

butter

berries

or any fruit

maple syrup

confectioners sugar
Instructions
In a bowl, whisk eggs, milk, vanilla, sugar, cinnamon, and salt

Transfer mixture to a shallow container, like a serving plate.

Place the slices of brioche in the mixture and let soak for 3 minutes.

Flip the slices of brioche and let the other side soak for 3 minutes.

Heat a pan over medium heat and add 1/2 tbsp of butter.

Lift each slice of bread and let any excess egg mixture drip off before frying in the pan.

Fry the slices until golden brown. Should approximately take about 3-5 minutes per side, but check before flipping to see that it's slightly crisp and golden brown. Add remaining butter to pan and swirl in between the slices of bread before flipping.

Plate the French toast and top with your favorite fruit, maple syrup, and confectioners sugar.
Other Posts You Might Like