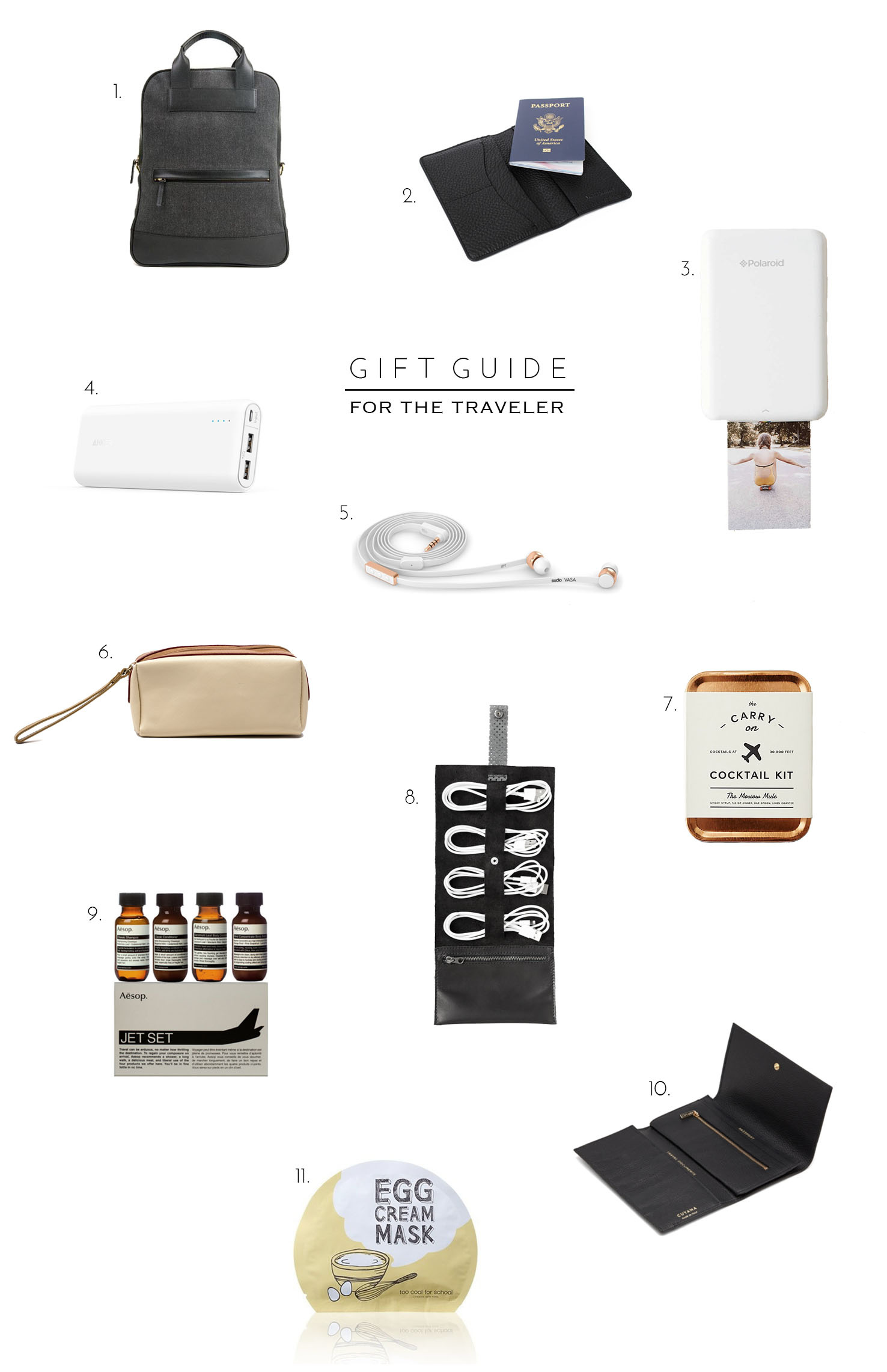 The traveler, on-the-go, or generally busy person, will appreciate a gift with function or one that provides simple joys for a quiet moment during transit or rest in their room.  Overall though, I find these gift ideas nifty and potentially enjoyed by most anyone.  Some really cool and useful stuff here that hopefully helps alleviate some of your stress for finding a great gift!
1. Backpack– This bag is seriously amazing.  It's so conveniently compartmentalized, including a pocket for a laptop, without being bulky.  I have the leather one but I love this grey one, too.
2. Passport wallet– Sleek and minimal, and has the option to fit an iPhone.  My guy travels regularly for work and said he wanted this, so that takes care of him!
3. Mobile printer– They'll probably be taking a lot of pictures on their phone, which they can print directly from this printer.  Especially great for someone that likes to scrapbook their travels.
4. Mobile charger– A portable phone charger is generally really useful, and this one has a ton of power for how compact it is.  For something less hardcore and even more compact to about the size of a lipstick, this one would be a good option.
5. Earphones– Rose gold and white: GORGEOUS.  Sudio sent me a pair to try out and they fit so comfortably (bye iPhone earphones) and have great sound. 15% off with code "homeyohmy15", free shipping worldwide.
6. Pouch– A simple pouch to act is a dopp kit or makeup bag.
7. Carry-on cocktail kit– So adorable and fun.  This one is a mini kit with all the materials to make a moscow mule up in the air.  It even includes a linen coaster- aah!
8. Cord organizer– Having cords neatly organized and untangled makes us all happy.
9. Toiletries– Super nice travel-sized toiletries for the traveler you want to pamper.
10. Travel wallet– Holds a passport and also has more room for regular wallet functions and can be carried as a clutch (one less thing to pack).
11. Face mask– On that previous note about pampering, face masks are something they maybe wouldn't get for themselves but would probably love and appreciate traveling with, or to use for refreshing the skin after they get back.
Other Posts You Might Like