This post is sponsored by Crate and Barrel.
A few exciting things going on here!!! First, this is the FIRST space in our house to be completely set up and to no longer be littered with cardboard boxes from the move. Second, our tree is up and it's kicking off all the touches of Christmas I've been so eagerly looking forward to incorporating into our home. Last and certainly the biggest, this is a dream partnership with a brand I've loved for so long, the store I can't resist roaming during every trip to the mall since my high school years while dreaming of what our future house would be like, and now in the present day knew would align with the vision I had for this room. I'm so excited to share with you about some of the beautiful pieces Crate and Barrel offers, not only in furniture but also Christmas decor, and to take you with me through the process of how I style and choose pieces for a space.
If you remember from the empty house tour, the living room and dining room are in a shared open space. Here's a photo from the paint and drywall post to refresh your memory.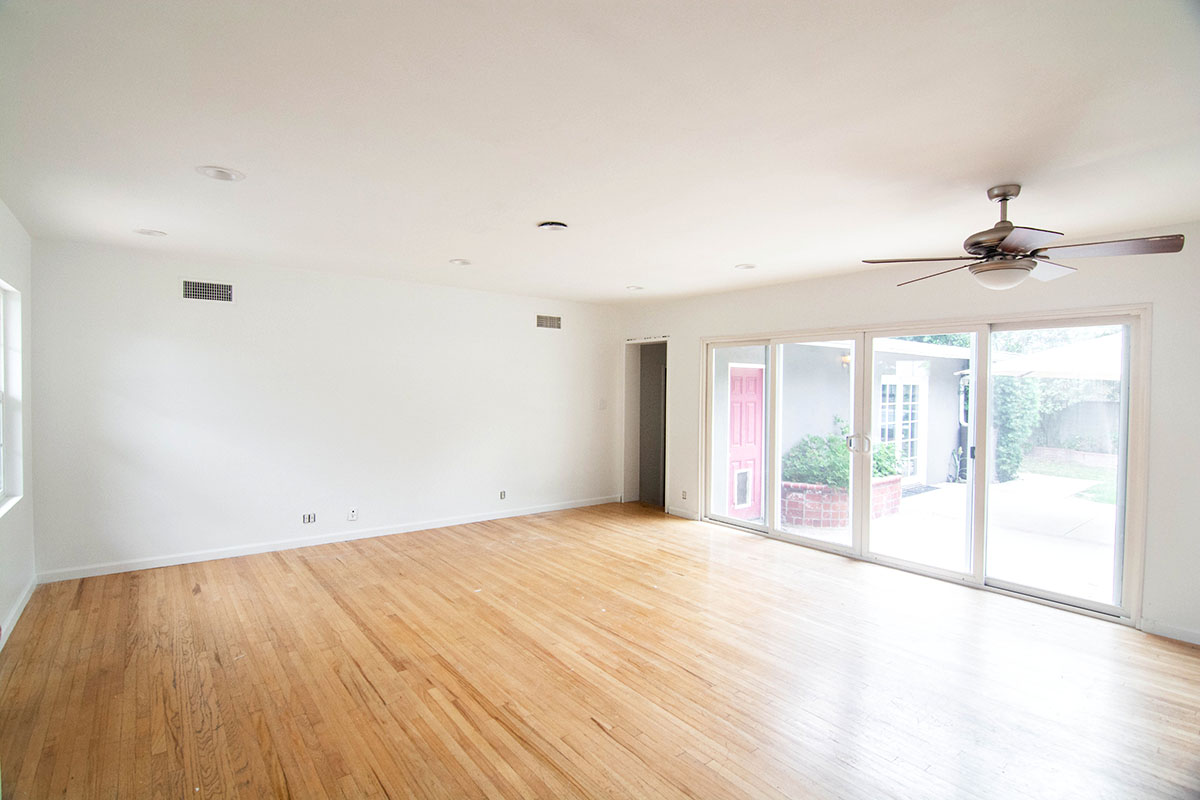 Part of the dilemma about not turning the huge master bedroom (red room) into a family/TV room had to do with the layout of this space. If we moved forward with making the master bedroom a family room, that would allow us to keep a much more open layout for the living/dining room with a couch against the wall instead of floating it in the middle of the room to face the wall where the TV would go (exactly like what we did in our apartment), which would then make it feel less cramped to keep a bigger dining table in here. Since we've decided to go ahead with this plan, the living room has now been dubbed the "sitting room", a very appropriate name since that is mostly what we do in here. We recently hosted Friendsgiving and it confirmed how much we prefer having the open flow in this space across the sitting area and dining area.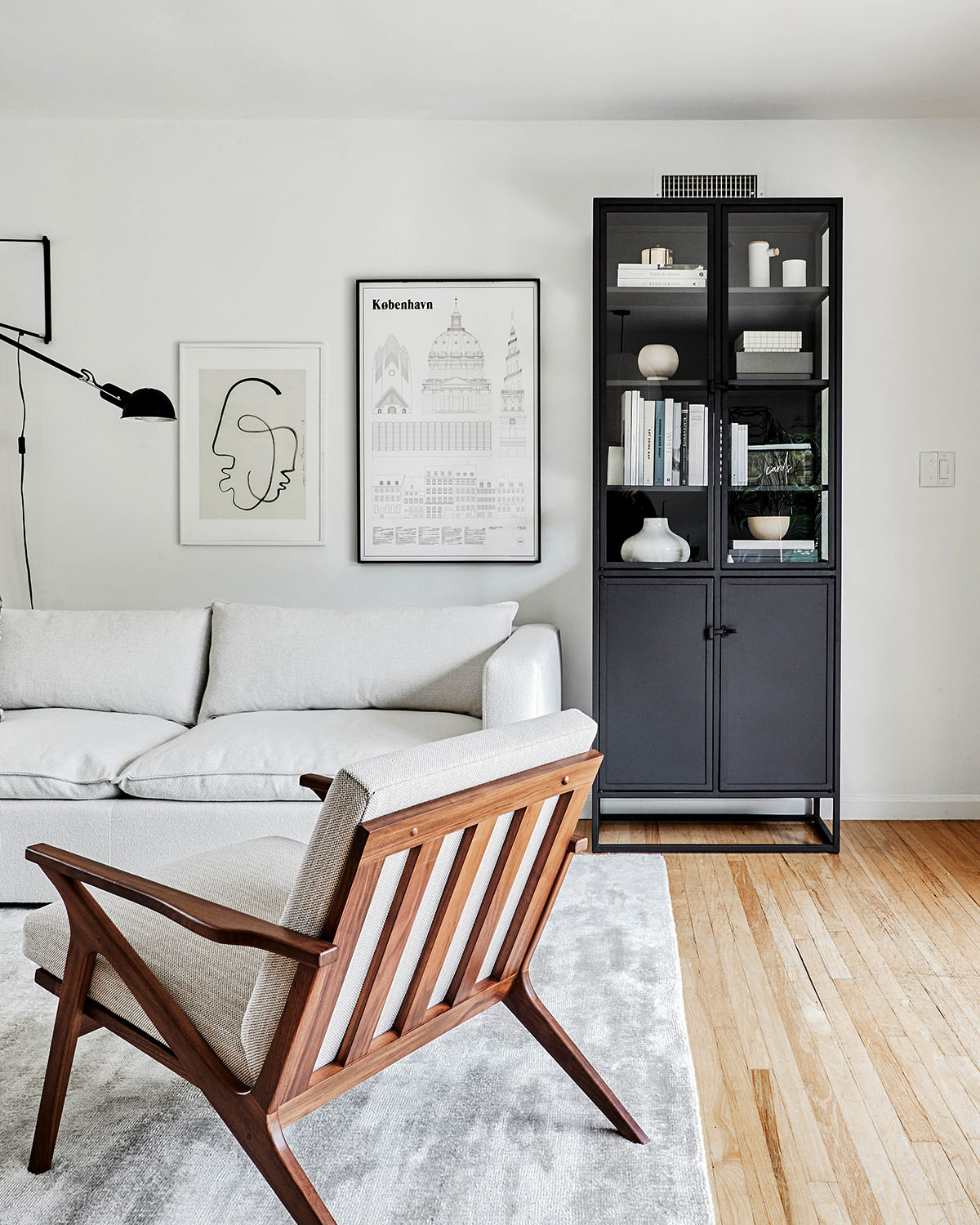 Every space I've designed started with one piece that I built the rest of the room off of, whether it was a rug, sofa, table, whatever it was that I knew was my soulmate. That piece for this room was the Casement Tall Black Cabinet. Clean lines, my favorite color, both revealed and concealed storage, the narrow footprint that saves space, the minimal modern style I want our entire home to have, it couldn't be more perfect. I know for sure I will love it for eternity. It can be a unique alternative to a bookcase that allows you to both display treasured items in the top half and tuck away less decorative things behind the doors at the bottom. From the disastrous experience we've been having with drywall work going on in the house, I have a renewed intolerance for any and all dust and greatly appreciate that the items displayed in this cabinet will be protected from it.
The Lotus Sofa was the next piece I fell in love with. It echos the clean lines of the cabinet but with plushy down blend packed cushions that are comfortable and inviting. I love the flange detail along the edges of the cushions that give it a more relaxed feel while looking crisp. It's a deep seated sofa that I can comfortably curl up my legs on. Initially I was concerned that the back looked low but it isn't at all. It's a low shelter frame with high arms that make the corners excellent for cocooning up into with your favorite pillow.

I'm clearly still very into white sofas and like everyone else have concerns about how they will hold up. Before deciding, I went to a Crate and Barrel store to get a fabric sample for this Nordic Frost color, which is the stock fabric. There are over 100 other colors to choose from but my gut said I'd love the Nordic Frost and I was really pleased to see it looks like a marled color with interwoven threads of white and cream. Not only is the weaved texture beautiful, but it looks like it will hold up to and hide stains well. Overall it's a creamier, softer white that still looks pretty white. It's basically the perfect white color for a sofa.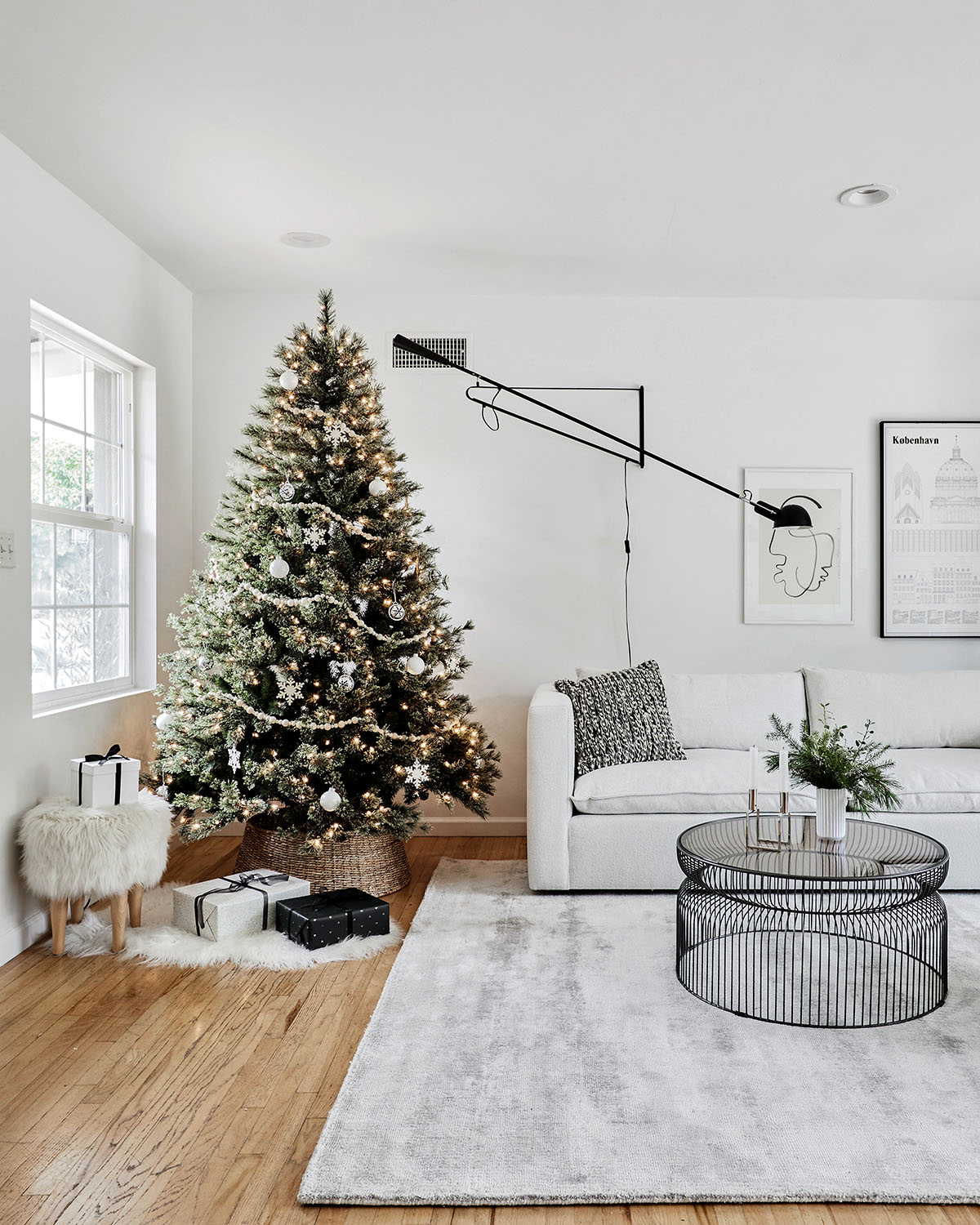 Rugs can be tough to tell online how they'll look and feel in person, but judging from the styled photos on the Crate and Barrel site I was hopeful this one would be like those lush, velvety rugs with a silvery sheen that you've maybe also noticed appearing in Scandinavian interiors everywhere. I've spent a good amount of time searching for a rug like this and the Vaughn Modern Grey Rug (8×10) luckily turned out to be exactly what I was looking for. It looks different from every angle and with every step you take on it, which makes it look textured but it's still really soft and comfortable. It's the ideal solid colored rug with an interesting detail that isn't a pattern, especially when going for a minimal look.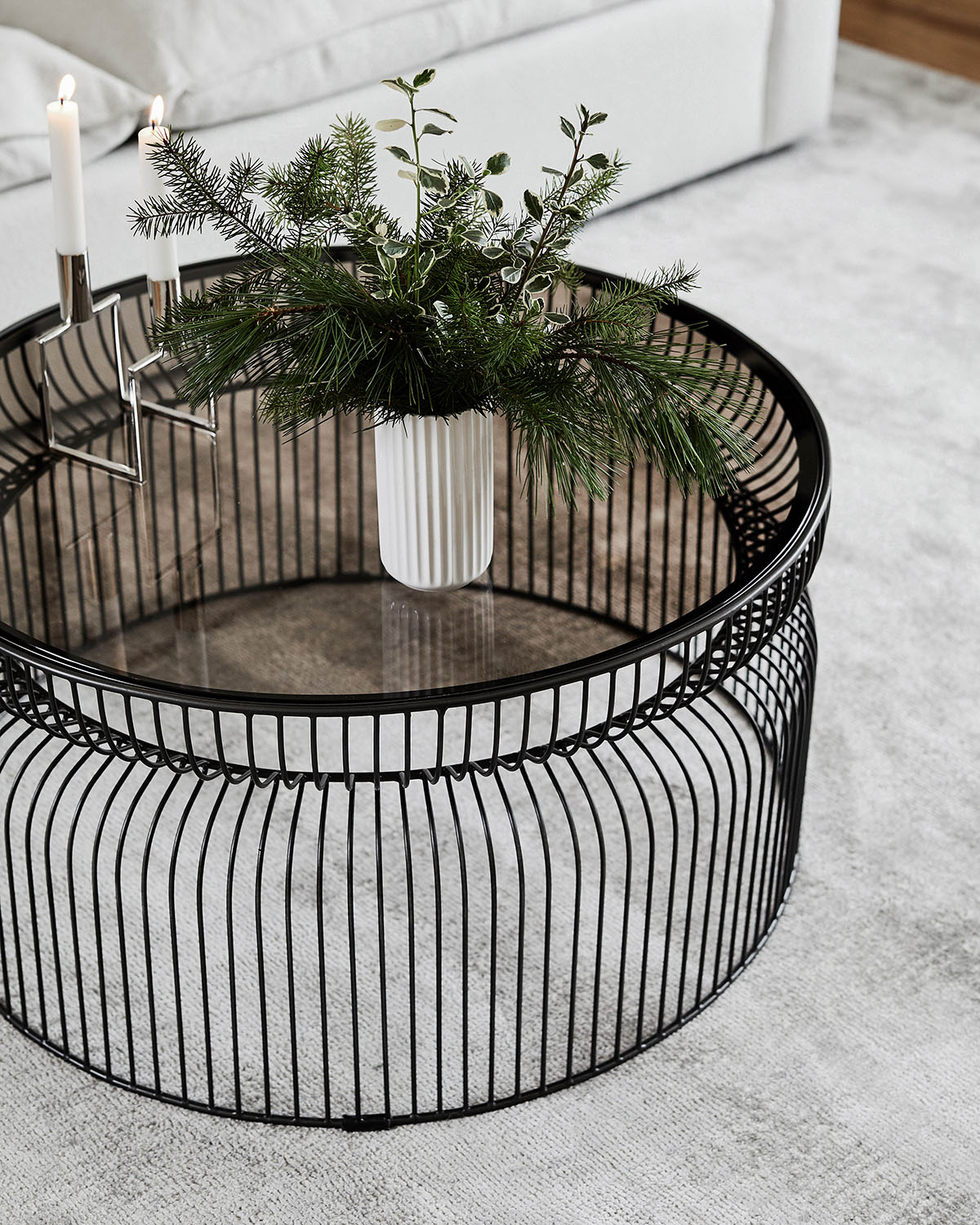 The Spoke Tea Glass Graphite Metal Coffee Table surprised me for being even more beautiful in person than I expected it to be, and it was an easy pick for how it breaks up the straight lines in this room with its curves. I was looking for something sculptural that wasn't huge and looked light and airy but still contrasted against the sofa and rug. I love how the iron wires of the base tie nicely with the black cabinet, and that tea-colored glass takes it beyond to make it unique and adds some much welcome warmth. A nice change of lifestyle from marble tops, too. Glass is much easier to clean and won't stain, I'm enjoying not worrying over it!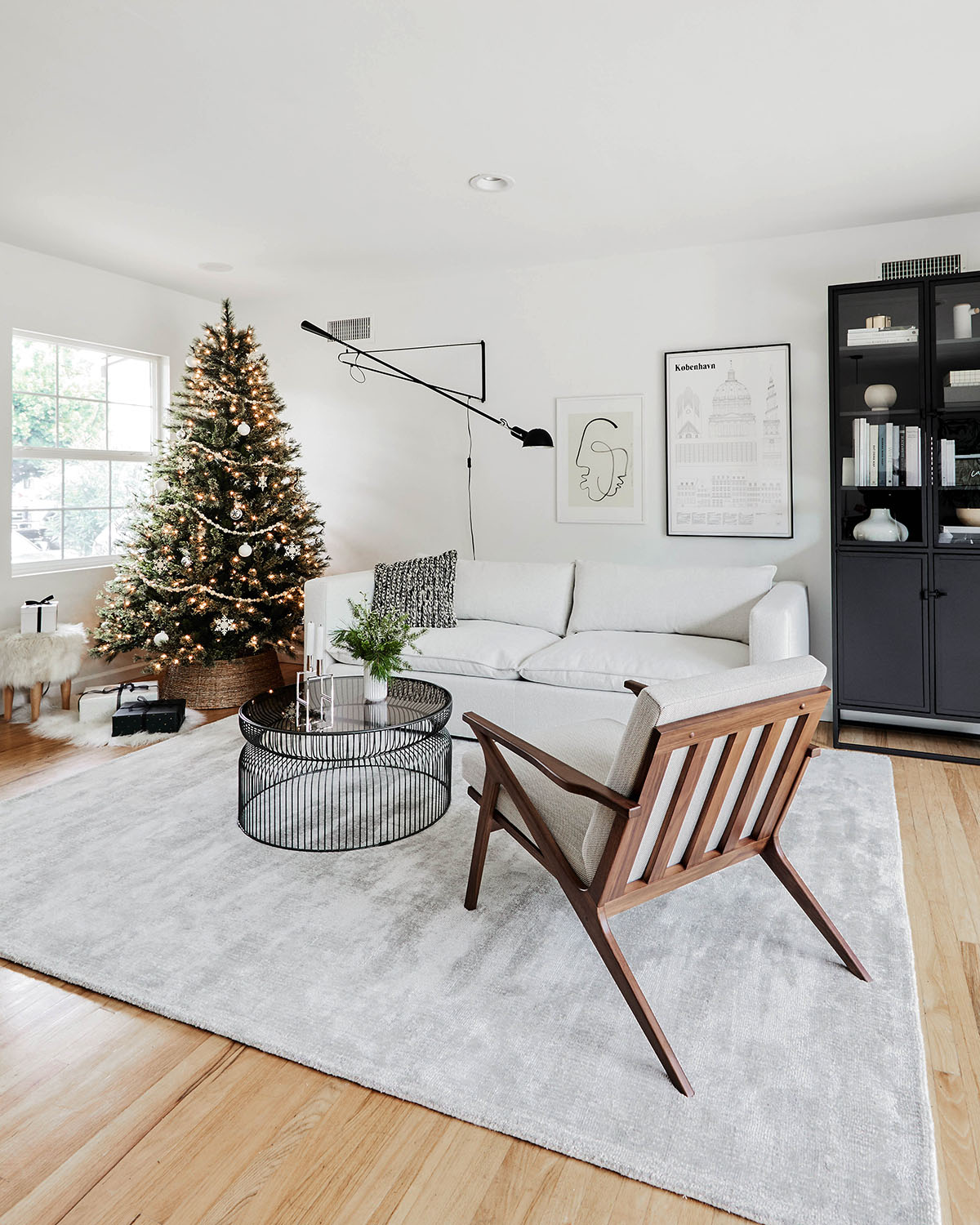 The Cavett Chair is the only wood piece in the room. It's my favorite way to add a warm detail to a space, to have the wood stand alone and be special against a neutral backdrop. The vertical slat back is my favorite part about it, knowing that it would be attractively visible with the layout of this room. It looks beautiful from every angle with its streamlined arms and legs, which made it the perfect chair to put near the center of the room. The Dandy Twine color of the fabric is warm but overall still pretty neutral and looks like it will hold up to stains well, plus it has a beautiful weaved texture. I've gravitated towards sitting on this chair more than anywhere else because it's so comfortable. I'm sitting on it now as I'm putting this post together!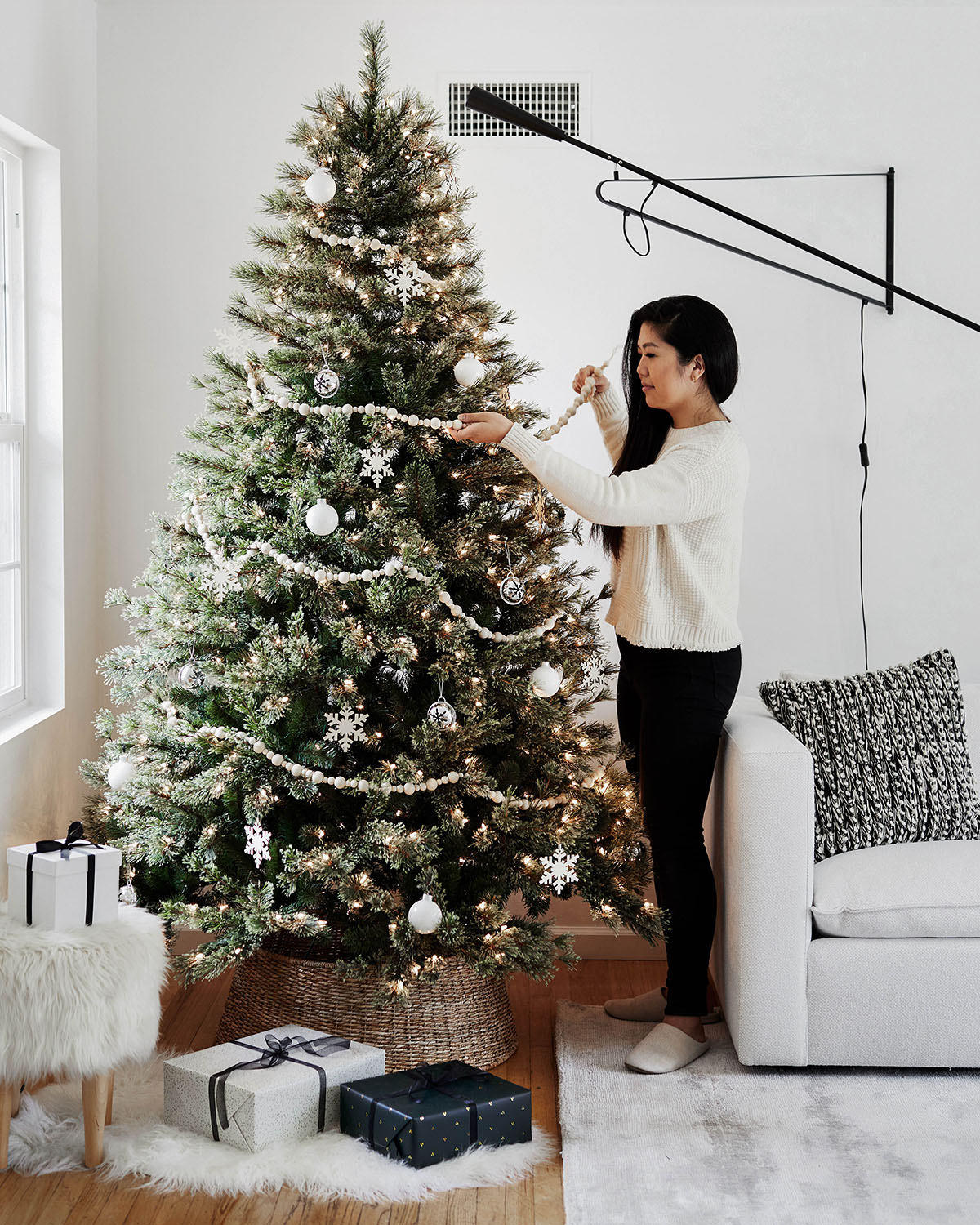 Last year I brought back out the felt ball garlands I made years ago to wrap around the tree and while I love them, they're guaranteed to get tangled every time they're stored and require an indecent amount of time to untangle. This is largely why I was excited to see that Crate and Barrel had these Wood Bead Garlands which are everything I wanted my felt ball garlands to look like and are much easier to store. They're made of pale pinewood beads in varying sizes. I considered having these be the only decoration on our tree since they're beautiful enough to be on their own. They'd be adorable wrapped around greenery garlands and wreaths, too.
If you've been around a while you know that I always put our tree in a large basket, over which I have to disappoint everyone who asks about it by answering that it's no longer available. The other question I'd always get is how I secured the tree inside of the basket, and the unsafe truth is that I plopped it in there to balance on the pole without the tree base because the tree base didn't fit in there. Well this year, the tree base has returned to provide stability to our tree for the first time in years because this Abaca Tree Collar fits great around it. It has the same woven charm that our basket did and maintains the modern look that I prefer over a tree skirt. I think I'm forever on team tree collar- which side are you on??
Directly across from the tree is this little area where I originally planned on putting the Casement Cabinet, but with the tree taking up the space we intended to be a makeshift entryway, that left this area as the only other place that made sense to put our entryway table. We're still figuring it all out! We'll probably play around with rearranging things after the holiday season passes. For now, I'm pumped about this opportunity to treat this table as a mantel alternative, another surface for me to exploit for Christmas decor. On it I draped the Cypress Garland and above it I hung the Cypress Wreath. Both are the most realistic faux Christmas greens I've seen that really don 't need much else to be decorated because they're so pretty on their own. I don't see how I can ever get real garlands again knowing that I can avoid experiencing the nightmare it is to clean it all up after they've dried out and shed everywhere. If you've been intimidated by the clean-up of real greenery garlands, you are right to feel that way and absolutely should go faux when they look this real!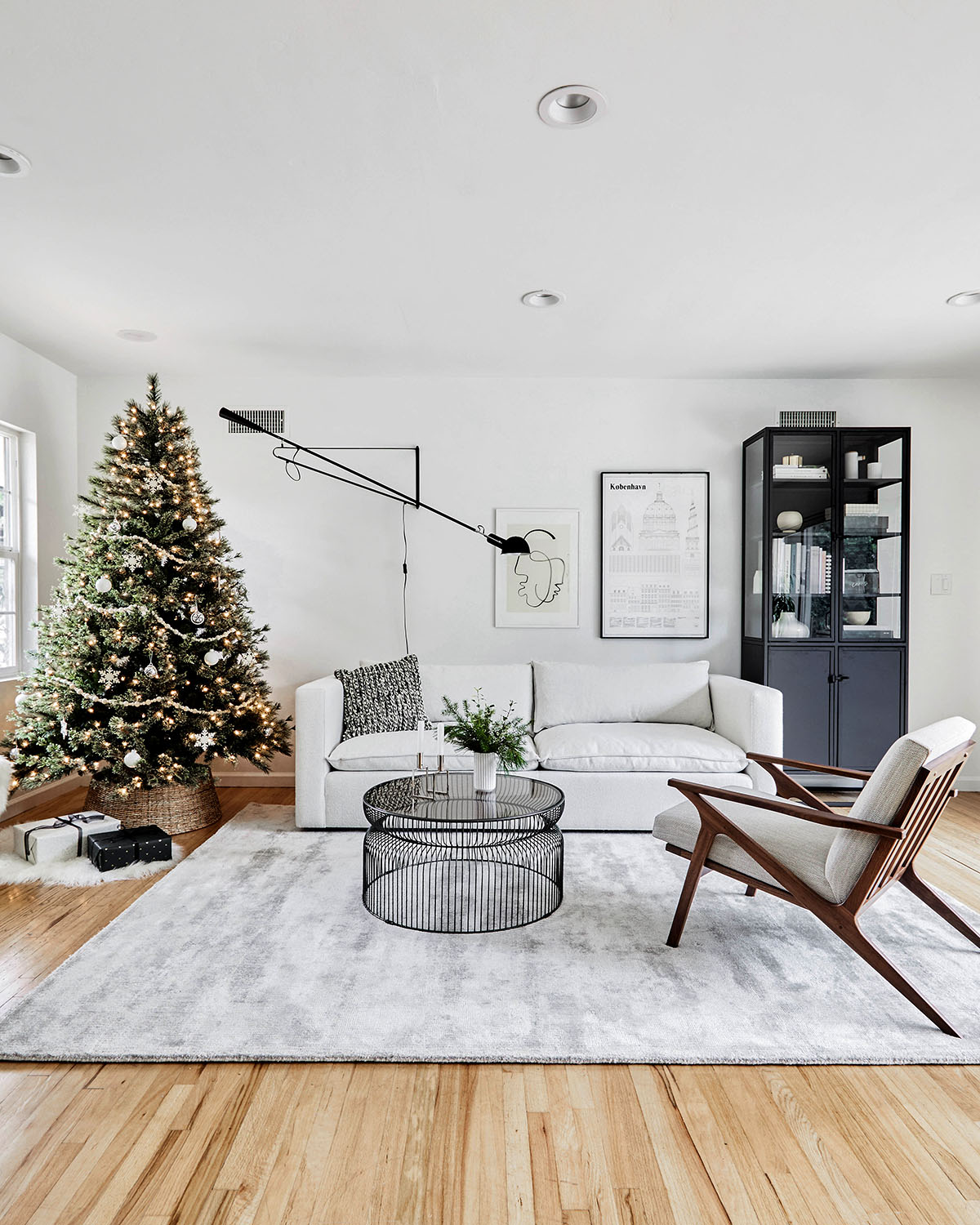 I didn't want to call this room "done" because that truly takes time, often years of making the space lived in and adjusting it to serve your needs as you and your family evolve, but for the time being this space has become a sanctuary from the state of disarray the other rooms are in. I feel so much less rushed about getting the rest of the house "done" because we now have this space to retreat to, though I'm still eager to get to those projects too. I'm most grateful about this room being set up in time to enjoy for Christmas, that it's comfortable and cozy for us and guests to hang out in, and that it's the first thing we see when we walk through the front door. The dust has cleared, we no longer have to wear shoes in the house to protect our feet from it, and it's finally starting to feel like home.
In case you missed any of them, all the Crate and Barrel items featured are linked below:
Casement Tall Black Cabinet | Lotus Sofa | Vaughn Modern Grey Rug
Spoke Tea Glass Graphite Metal Coffee Table | Cavett Chair
Wood Bead Garlands | Abaca Tree Collar | Cypress Garland | Cypress Wreath
Photography by Jennifer Chong.