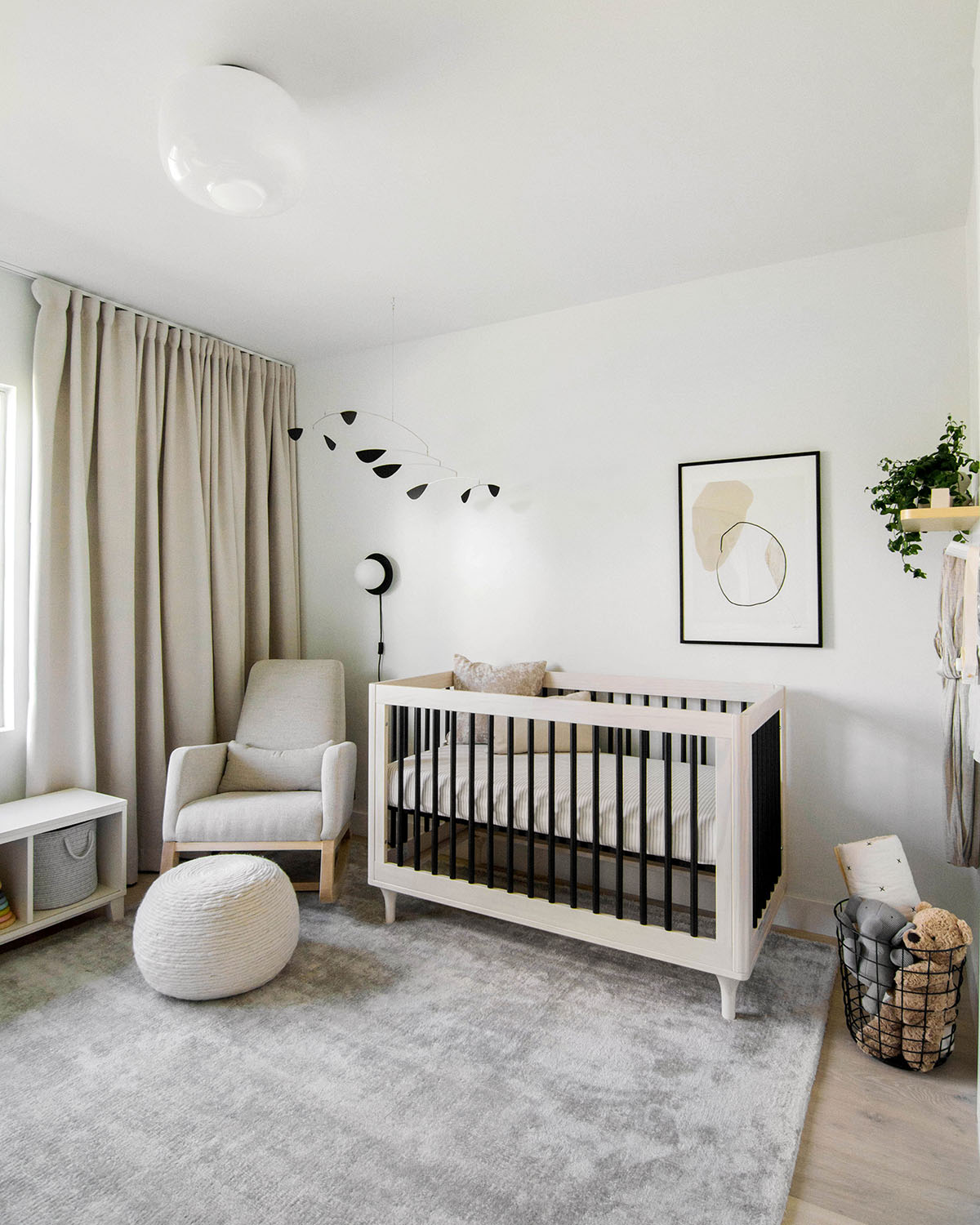 This post is sponsored by Crate and Kids.
I'd always hear from other moms that the nursery became their favorite room in the house and now I completely get it because I just joined that club. Many times a day I sit in that rocking chair looking around the room imagining our son in here, daydreaming about how he'll grow and be comfortable in this space, and how it will evolve with him as we discover who he is. I've already been so excited for his arrival and this room has now made it uncontainable. Knowing that I would also be spending a lot of my time in here, I certainly considered making this a space for the adults to enjoy too in a way that would feel continuous with the rest of our home. Crate and Kids was the perfect partner to design this room with to feel light and airy, keeping it gender neutral, with pieces that would grow with baby while matching our modern minimal style, and a sprinkling of a few sweet details.
Achieving a balance of the nursery both being a space for baby but staying true to my own style was the goal behind the design. I love an adorable nursery theme, but I also didn't want this room to go too far into feeling baby-ish, especially to begin with since really for around the first couple years this will be as much as my room too and it will be worth making it even more of a space I love spending so much time in. I wanted it to feel like a respite, so to me that was a themeless, gender-neutral, uncluttered, and visually calming foundation that leaves room in the future to naturally change and grow.
Something I always like to consider when putting any room together is for at least the larger items like furniture to last and have the potential to move around our home if needed, and therefore is consistent in style with the rest of our home. That's a little hard to fulfill with a crib, which will realistically only live in the nursery, but still I sought one that matched our interior style and has the ability to convert to a toddler crib for extra longevity of use. The Babyletto Lolly Washed Natural and Black 3-in-1 Convertible Crib fit the bill and is what I'd want my crib to look like if I had to sleep in one. The washed wood paired with the black spindles is such a sleek and unique combo, and it served as the inspiration for the muted modern design of the room that largely ended up combining neutral/cream, black, white, and grey details which are seen throughout our home too. Inside of the crib is the Classic 150 Organic Crib Mattress by Naturepedic that's firm and 100% waterproof and covering it is the Organic Pattern Play Grey Stripe Crib Fitted Sheet that brings in a subtle and sweet grey detail. (Note: the pillows in the crib are purely decoration and will be removed once baby starts sleeping in there).
Grey was largely incorporated in this room with the Vaughn Modern Grey Rug 8×10′ (you might remember it used to be in our living room) that I love for its organically worn look that shifts in color and sheen depending on the angle and light. It reminds me a lot of the type of finish you'd get with a plaster paint on walls, which was something I had considered doing in here, but the rug took the place of providing that texture and I ended up keeping the walls plain to let it shine.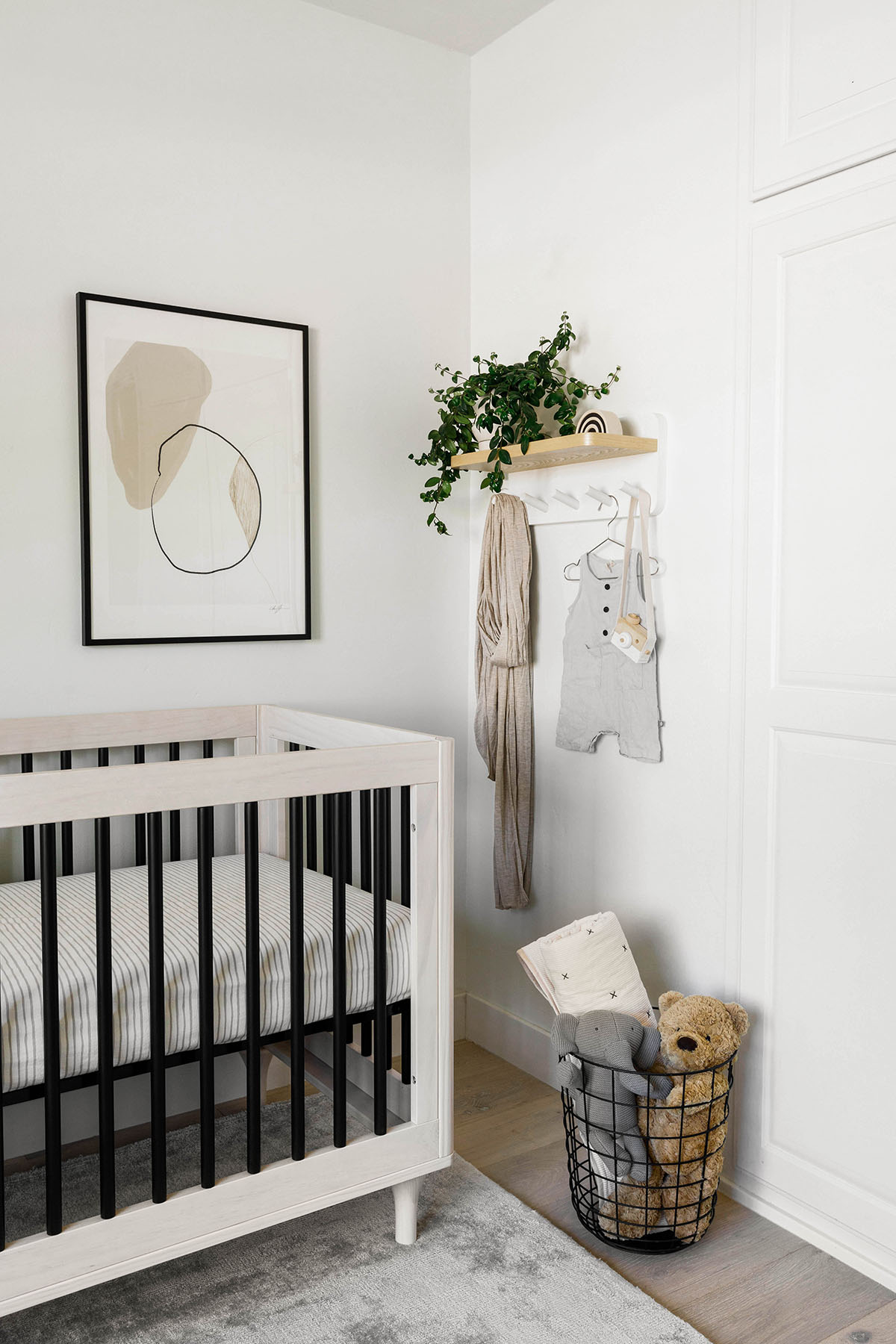 This little corner by the closet brings in both functional and cute details with the White and Natural Wood Shelf with Hooks. The shelf provides space for decor or toys to display, and the pegs I'll be using to hang up baby wraps/carriers and extra cute outfits for baby. A real bonus that it's all one piece so that it could be hung up and leveled at once.
In the basket below I stored the Beige Cotton Voile Crib Quilt that's patterned on both sides with those charming "x" stitches. I anticipate using it like a play mat or for tummy time in his earlier months. With it I stored the Jellycat Medium Brown Bear Stuffed Animal which you've maybe seen us use in stories as a practice baby for carriers, swaddling, and the car seat, ha! It's so soft and plush and I hope it will be comforting for baby to hold. Next to it is the Cotton Classic Knit Elephant, one of our very favorite animals, and I love its classic, knit design and option to be machine washed.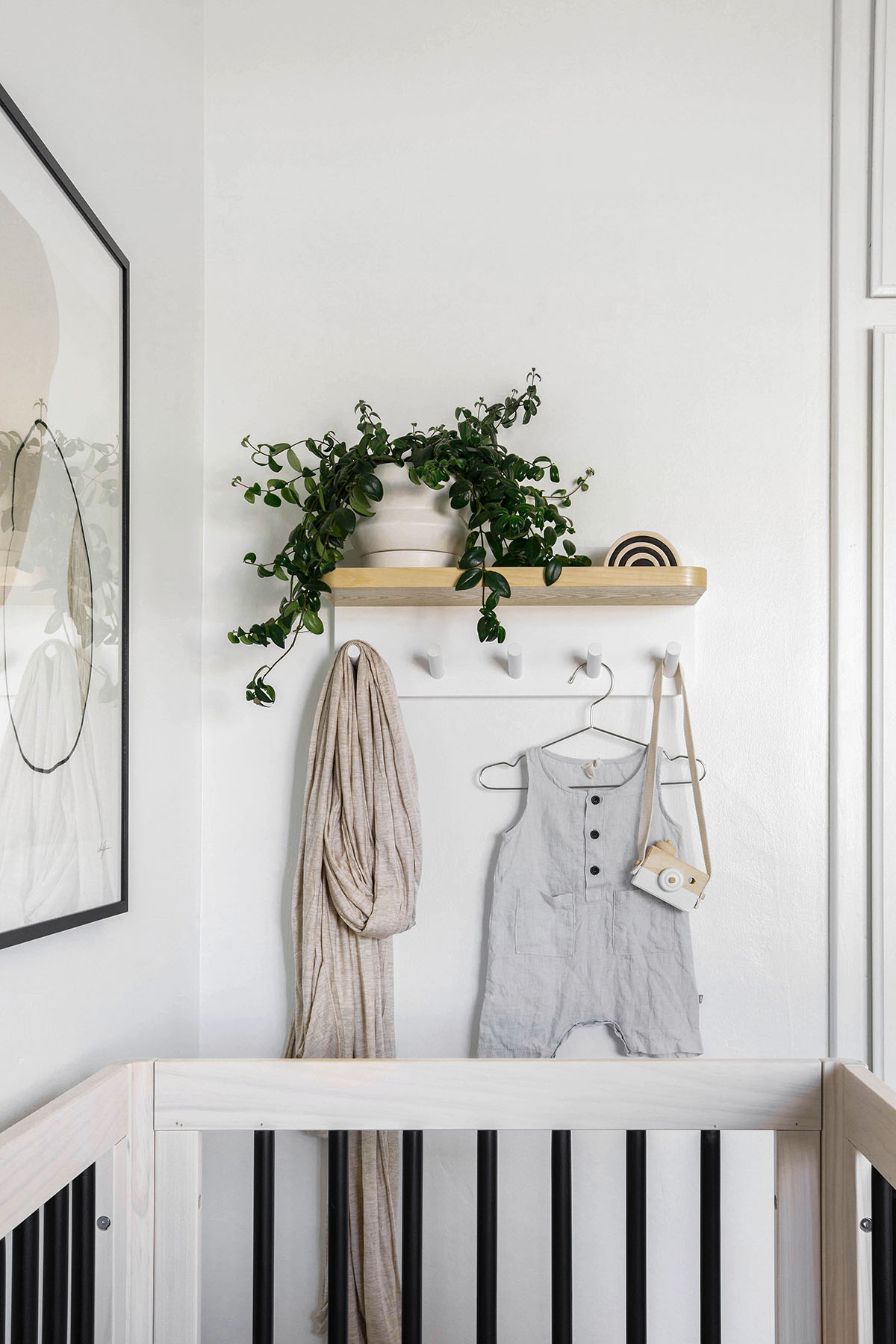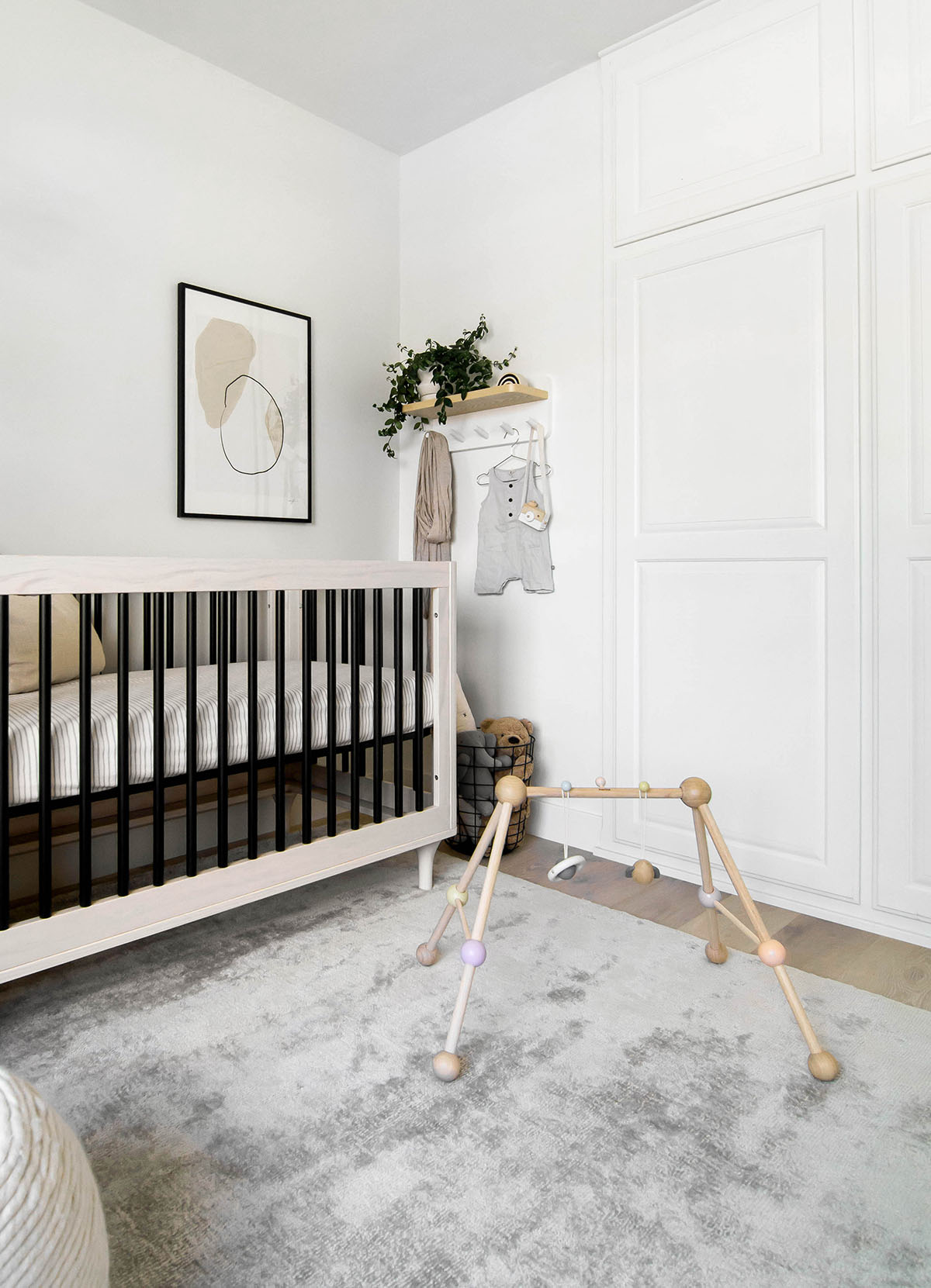 I don't think I ever showed what was over here on this side of the room back when it was the office, but it's a closet that now provides a good amount of storage for baby's stuff. For now we're mostly keeping larger items in there, gear that will come in handy when baby is older, and toys like this Plan Toys Play Gym that's suitable for all ages. The minimal design, small footprint, and option to add any hanging toys of our choice make it both a versatile and pretty accessory. I love the space themed toys it came with and the pastel colors that are both cheerful and gender neutral.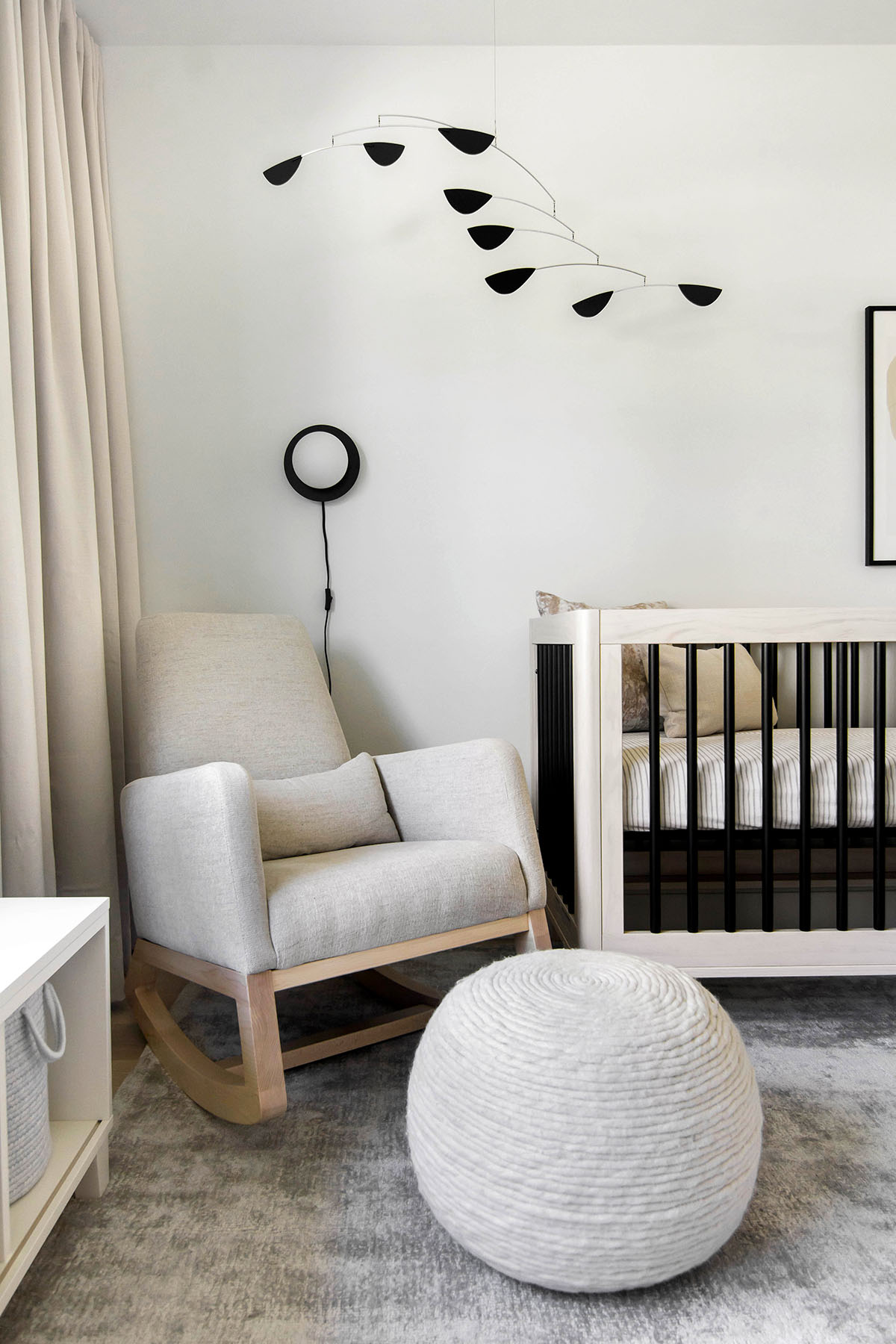 A theme you might be noticing is that this room is small so the scale of items in here was an important consideration. The Joya Rocking Chair is exactly what I hoped for in this room: smaller footprint, comfortable, and beautiful. I anticipate it will see many breastfeeding and reading sessions with baby, and again, I've already been rocking comfortably in it while relaxing in here.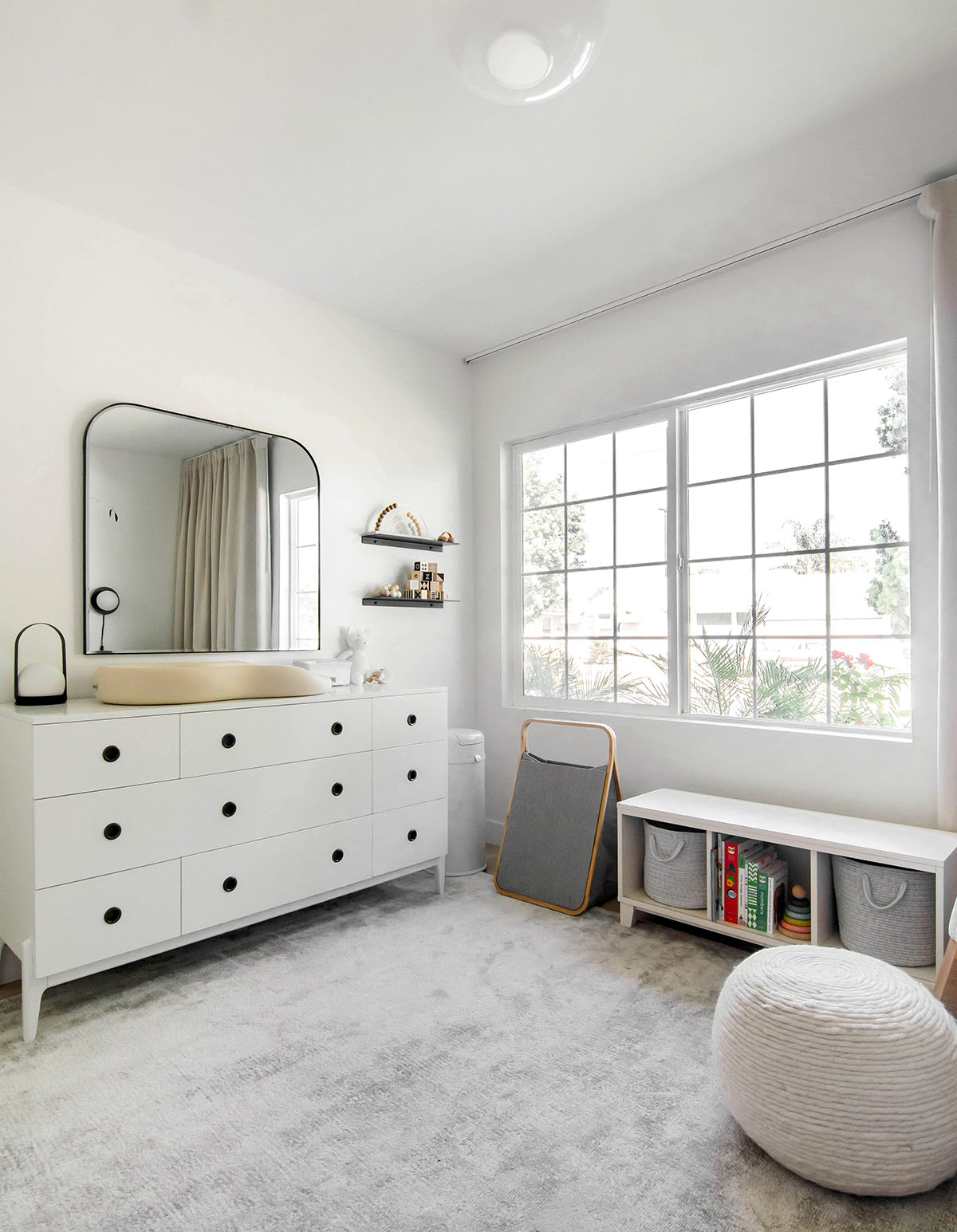 Next to the chair is the District 3-Cube Warm White Stackable Bookcase that will serve as a side table for whatever activity takes place in that chair, as well as providing toy and book storage conveniently at an accessible height that fits comfortably under the window. For now it has Melange Blue Toy Cube Bins for storing toys, some books to start off baby's library, and Small Baby Stacking Rings that I've given the secondary function here of acting as a bookend.
Eventually I plan on all three compartments of this bookcase being filled entirely with books but for now we have this small collection. The Touch Think Learn books were an easy pick since I've admired them before I was even pregnant. ABC Touch Think Learn and Numbers Touch Think Learn are so engaging even as an adult with their raised shaped elements to touch and beautiful illustrations. I've heard that the Press Here Book is very fun and interactive for when baby is a little older, and When I Am Big is a counting book based in a topic kids love to think about (growing up!) with whimsical drawings. This is How We Do It is one baby won't be able to read until much later, but Oleg and I can still read it to him and already we love the book for being a window into learning about different cultures.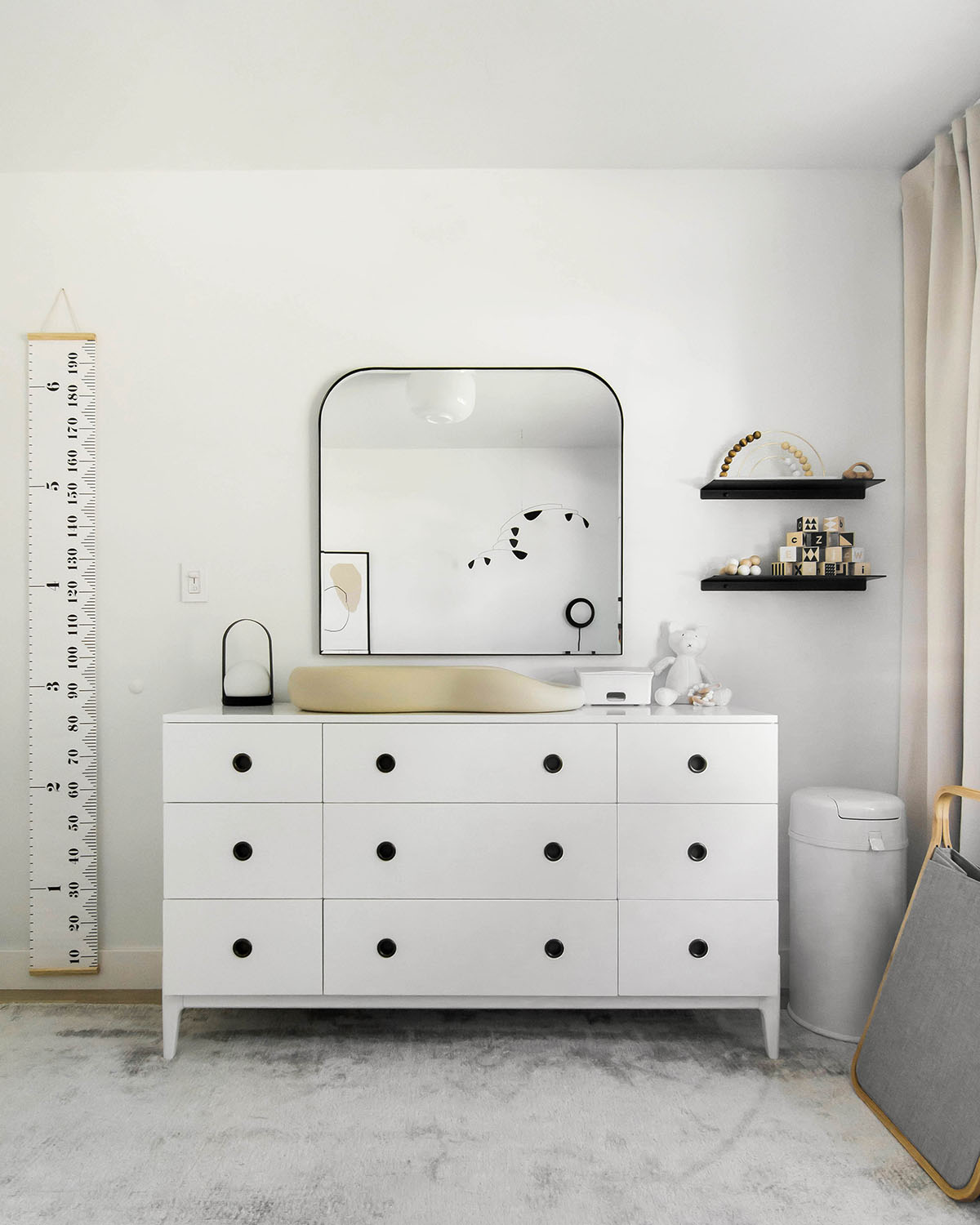 I always knew we'd be going with a dresser/changing table combo to save space. A dresser also has the potential to grow with baby into his tween years. I was drawn to the minimal circle drawer pulls and ample storage space of the Kids Wrightwood White 9-Drawer Dresser, plus there's plenty of room to put a changing pad on top with other accessories at a height that's comfortable. Beside it is the Bubula Diaper Pail and a Bamboo Floor Hamper to promote the organized flow of diaper and clothing changes.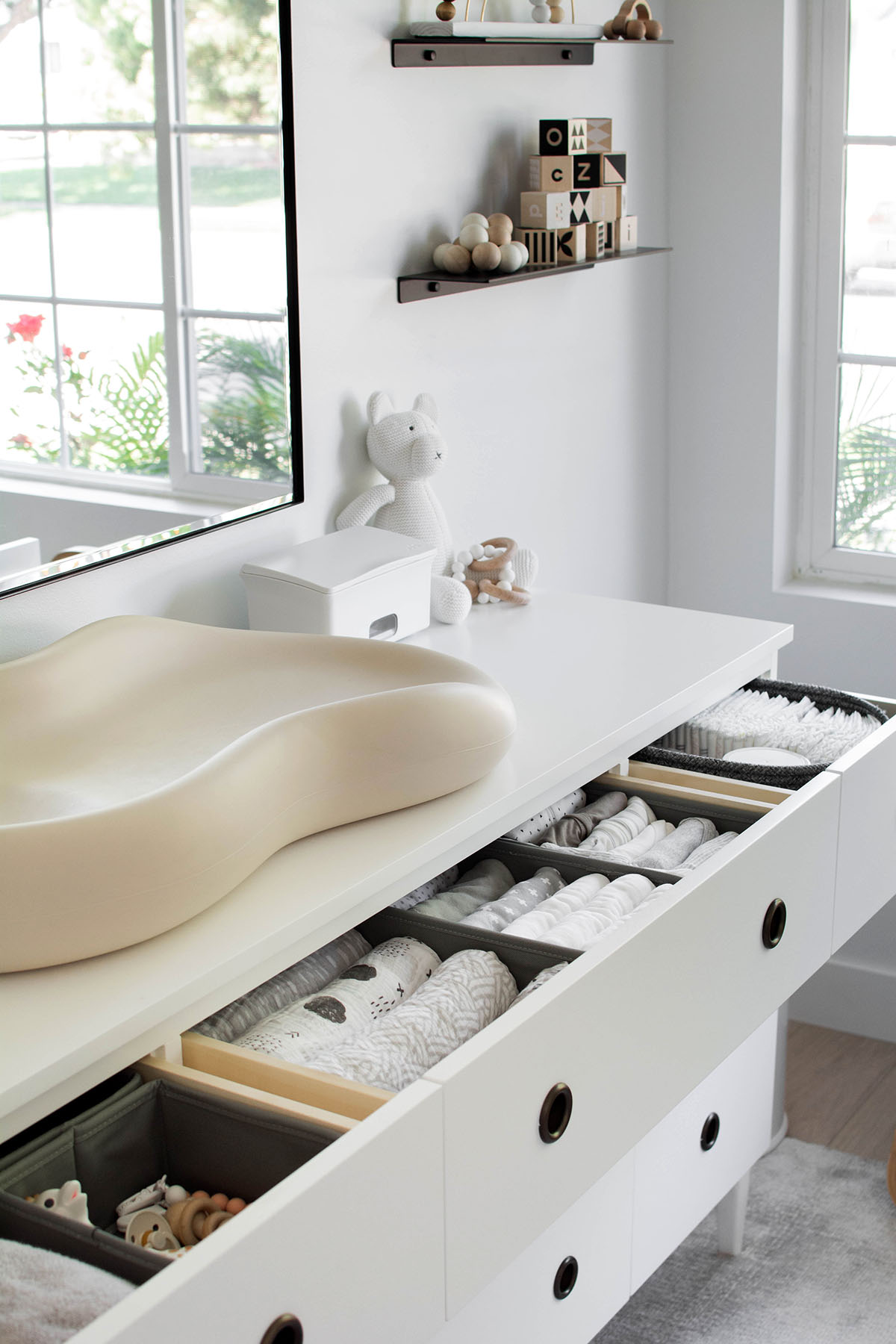 I'm already finding it convenient the way the drawers of this dresser are compartmentalized, aided by the Canvas Grey Rectangle Drawer and Canvas Grey Square Drawer inserts that have so far helped organize swaddles, onesies, burp cloths, and small items like teethers and pacifiers in the top drawers. In the furthest drawer is the Lupe Grey Small Braided Basket that's holding diapers and diapering related items. I have it tucked away in there for now but it can easily be taken out and act as a diaper caddy on this dresser or wherever in the house we end up changing baby.
Took advantage of this wall space near the dresser to display some cute toys like the Cotton Classic Knit Bear, Loulou Lollipop White Teether, and Natural Wooden Baby Beads. Big fan of natural wood toys for how they can double as decor and hopefully baby will be too. This might be my favorite vignette in the nursery since it's simply adorable.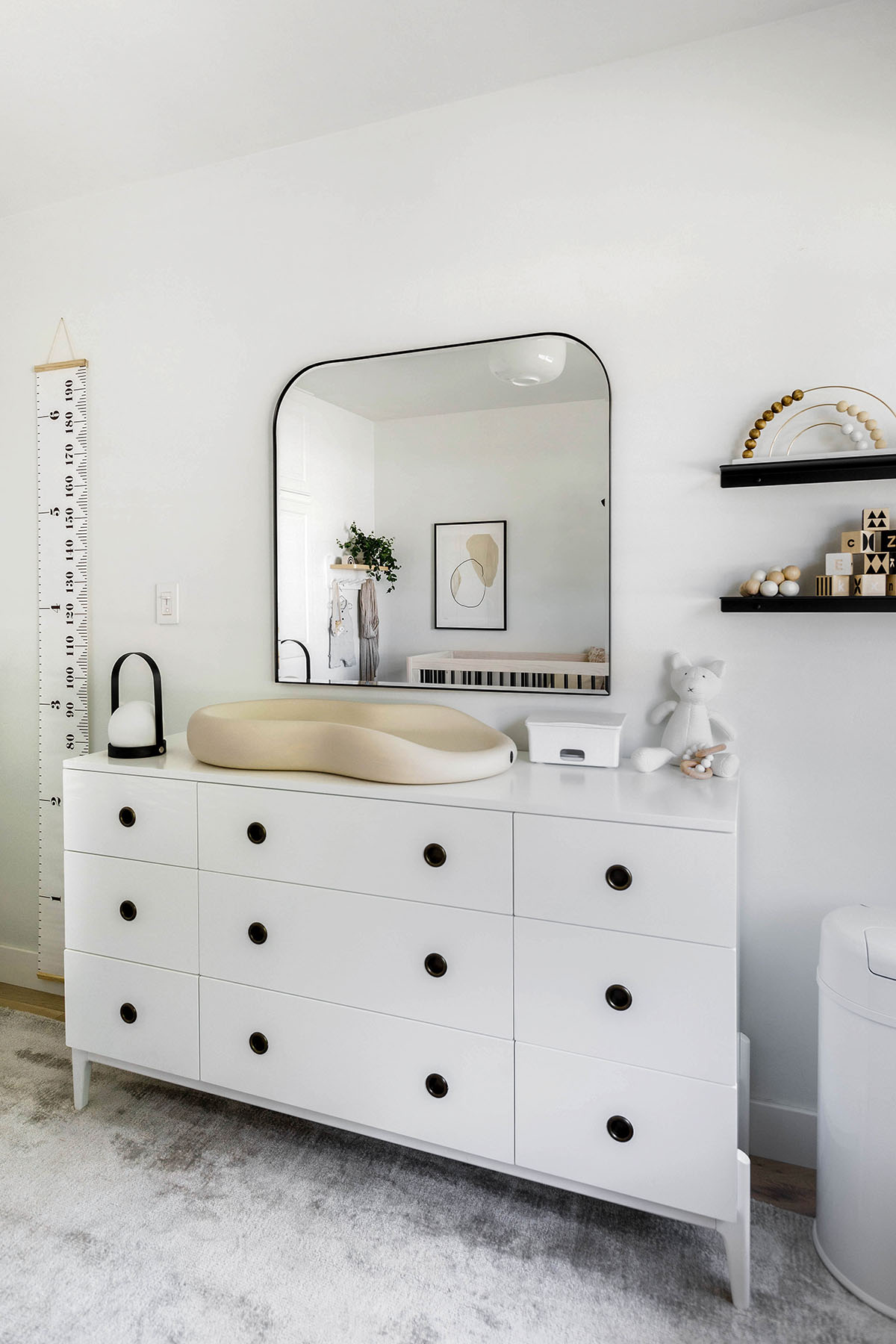 Above the dresser is the Edge Black Arch Mirror that I imagine will live in this room forever but it could easily find a place somewhere else if needed, which is a good sign of its versatility and longevity in our home. It also perfectly incorporates a black detail and modern shape that's consistent with the rest of the nursery. Those features are also echoed in the Carrie LED Portable Lamp that's both gorgeous and useful for how it charges via USB and doesn't need to be plugged in during use. It'll be really convenient to move around the room as needed without plugging it in, plus it's dimmable which will be great for late night diaper changes.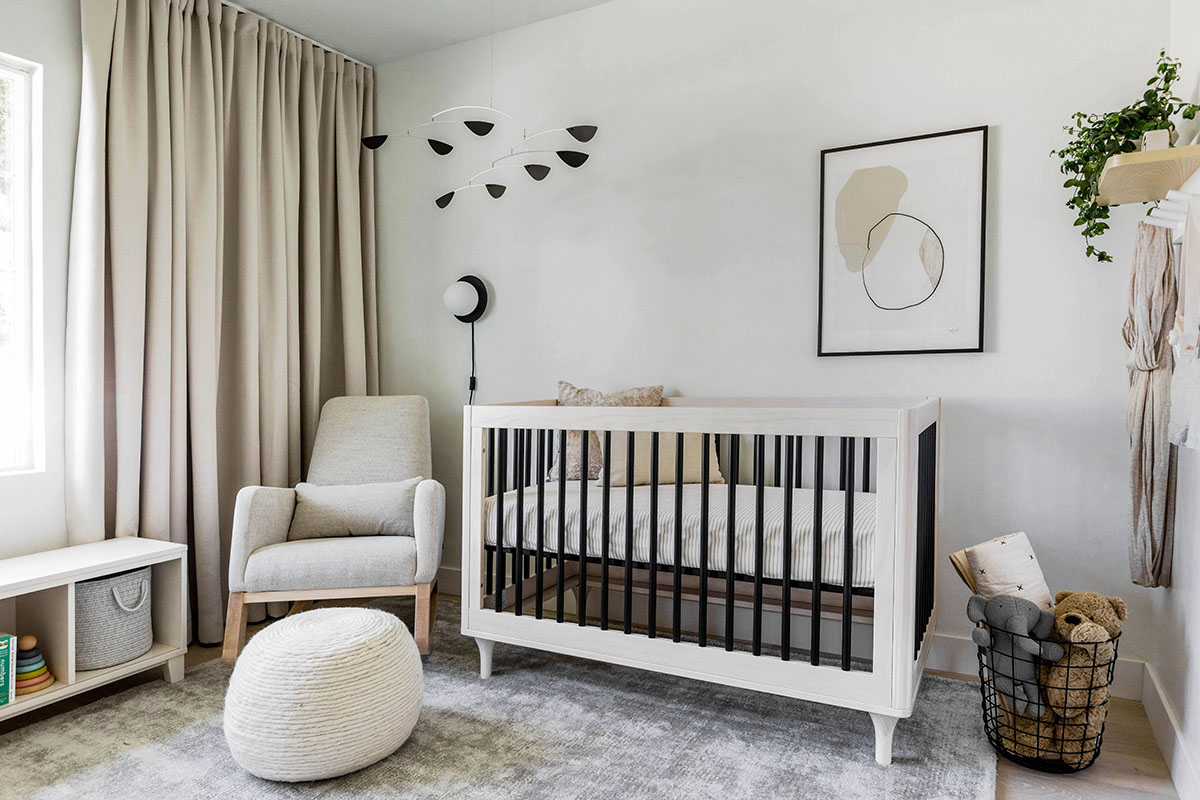 Baby is arriving any day now and though I feel like we are still far from prepared in general (is there such a thing as being fully prepared for a first time life-changing event??) having this room ready is one less big thing on our to-do list and that's both a huge relief and major source of excitement.

Hope this gave you ideas and inspiration for your nursery if you're working on one! I've linked the sources to everything in the nursery below if a link for it is available. Leave any other questions you have about this space in the comments.
SOURCES:
Furniture
Crib | Rocking Chair | Bookcase | Dresser
Decor
Rug | Wood Shelf with Hooks | Toy Bins | Mirror | Mobile (I spray painted it black) | Art | Pouf | Curtains (2 100×96″ panels in Birch) | Curtain Track | Black Shelves 20″ | Growth Chart | Velvet Pillow in Neutral
Storage/Gear
Diaper Pail (in grey) | Hamper | Rectangle Drawer | Square Drawer | Braided Basket | Wire Bin | Changing Pad | Wipes Dispenser | Baby Wrap
Accessories
Crib Mattress | Crib Fitted Sheet | Crib Quilt

Toys
Bear Stuffed Animal | Knit Elephant | Play Gym | Stacking Rings| Knit Bear | White Teether | Wooden Beads | Monochrome Rainbow | Rainbow Abacus | ABC Blocks | Wood Camera | Wood Car
Books
ABC Touch Think Learn | Numbers Touch Think Learn | Press Here | When I Am Big | This is How We Do It | You Matter | My First Book of Patterns | Brown Bear, Brown Bear, What Do You See?
Lighting
Portable Lamp | Wall Light | Ceiling Light (10″, spray painted canopy black)
Paint
SW Pure White

Photography by Jennifer Chong.
Other Posts You Might Like