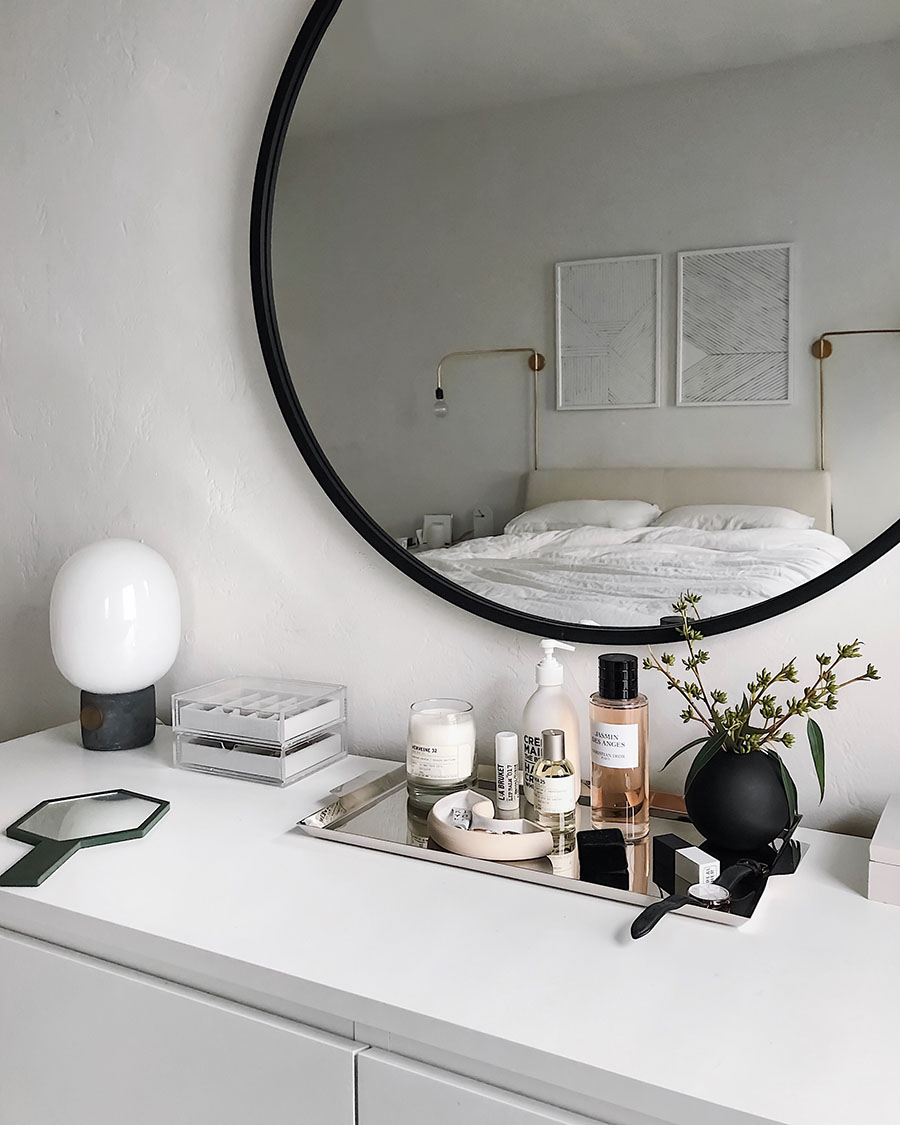 Some of my favorite things from the month of January.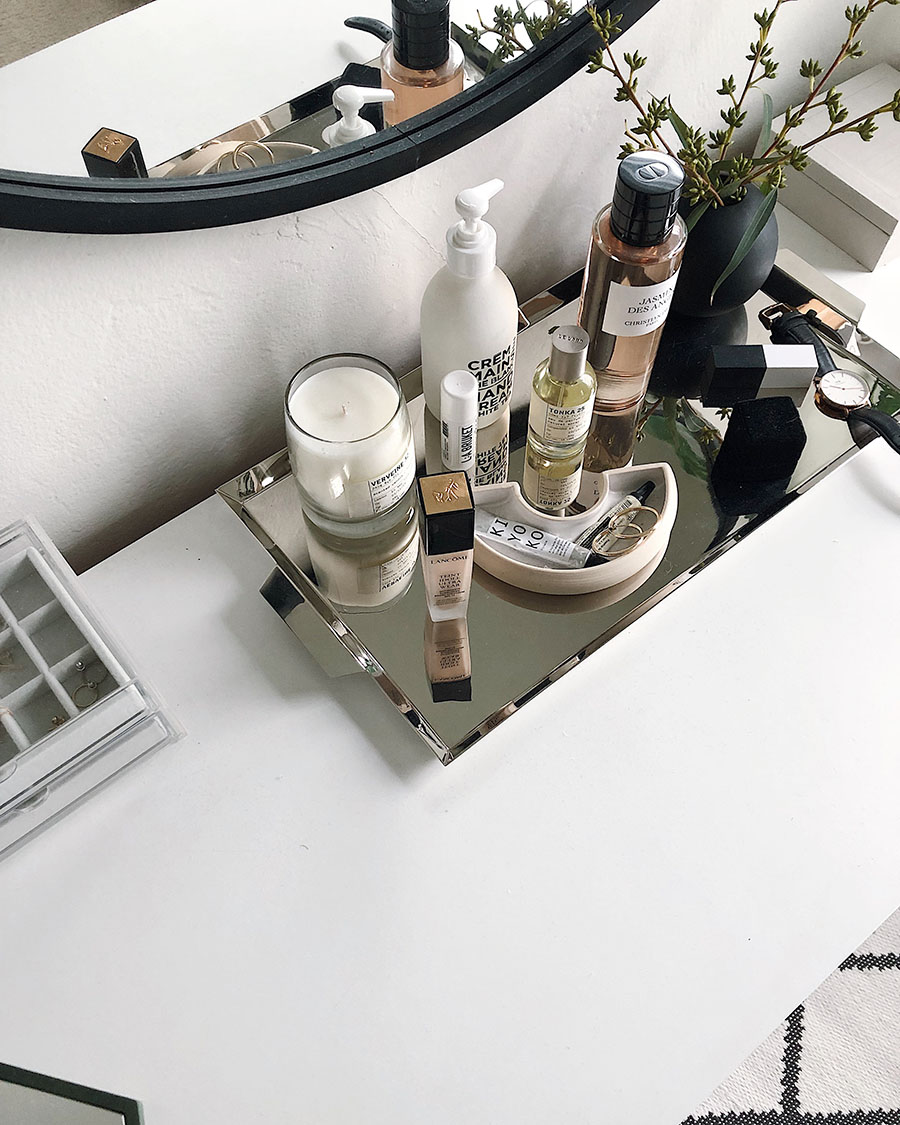 TRAY (find it here)
A little change on our dresser inspired by this tray being on sale haha. Been gravitating towards silver/chrome finishes as my preferred metallic over gold (in the home only, I will wear gold forever). Trays are maybe my most favorite decorative pieces for the home. The perfect size of this one and the simple clean lines make it versatile for a dresser, coffee table, serving drinks, anywhere you want to group items and make it look effortlessly chic. Now that it's been living here on the dresser for a bit, I'm not entirely sure I prefer it over the marble lazy susan it replaced, but seeing where else I can use it is the fun I look forward to.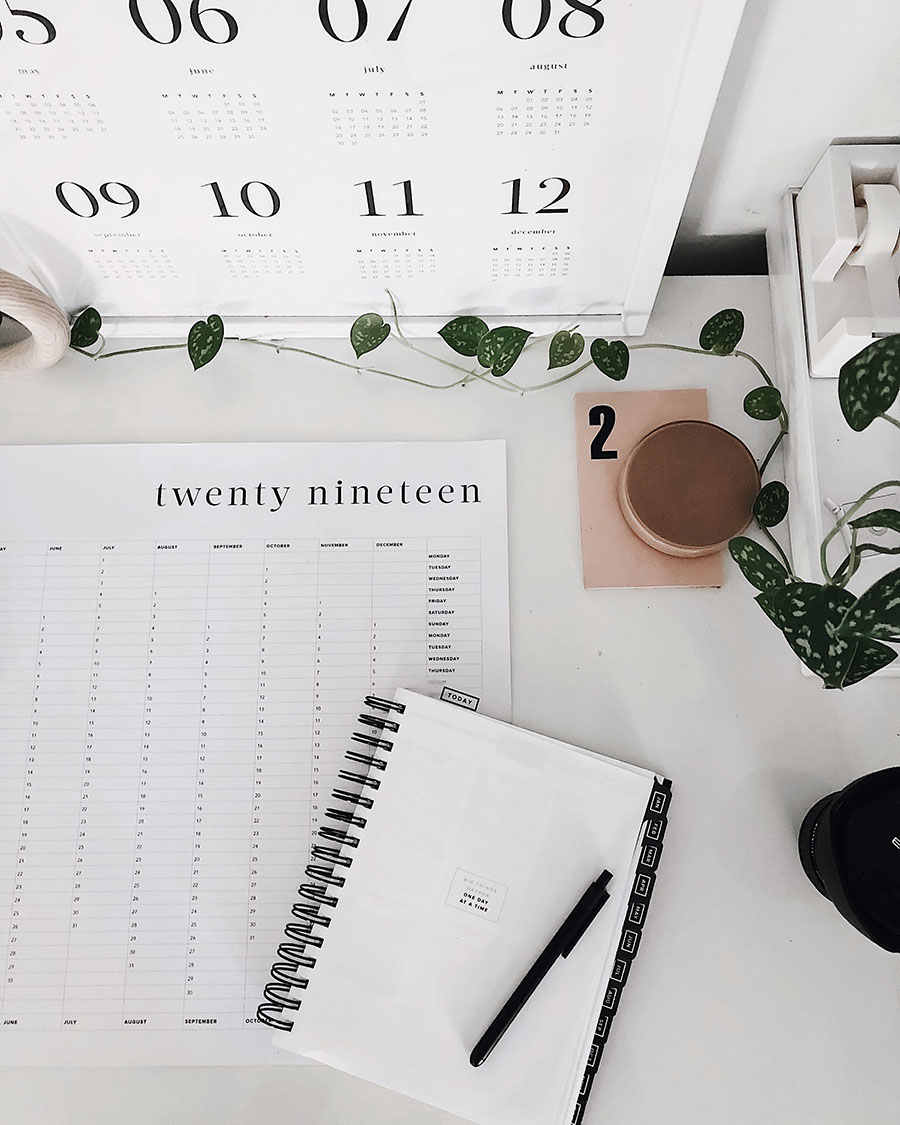 PLANNER (find it here) AND CALENDAR (find it here)
My third year of using the Get to Work Book and it's easily my favorite planner I've ever used. There's space to draw out ideas, make lists, and set goals, all in addition to writing out your plans and schedule in a format that's easy to customize. Something I started doing this year is writing in what I did each day, not just the things I planned to do. It's only a few words or sentences describing what happened or who I saw each day, however routine it was or wasn't. I often find myself blacking out on what's happening in my daily life and this is one way I want to try and remember what goes on each day. Should be fun to look back on at the end of the year.
The large year calendar was a lucky mistake. I order a different wall calendar every year from An Organised Life to display on my desk, and this year they accidentally sent me this one. They let me keep it and now I'm going to have to start ordering this one each year because I like it so much, so it worked out well for them too I guess! Having a year view like this all on one large sheet is something I didn't know was so awesome until now. We keep it on our fridge and have written in events, travels, important dates, and continue to fill it in as we make more plans. Space to write is pretty limited but manageable since it's meant to be a quick snapshot of the year. It's cool to see the whole year at once and not have to flip pages to see if our August is free. It's also a clear visual of both how much you can do in a year and how a year can go by so quickly. That might be getting too existential, but I'm into it.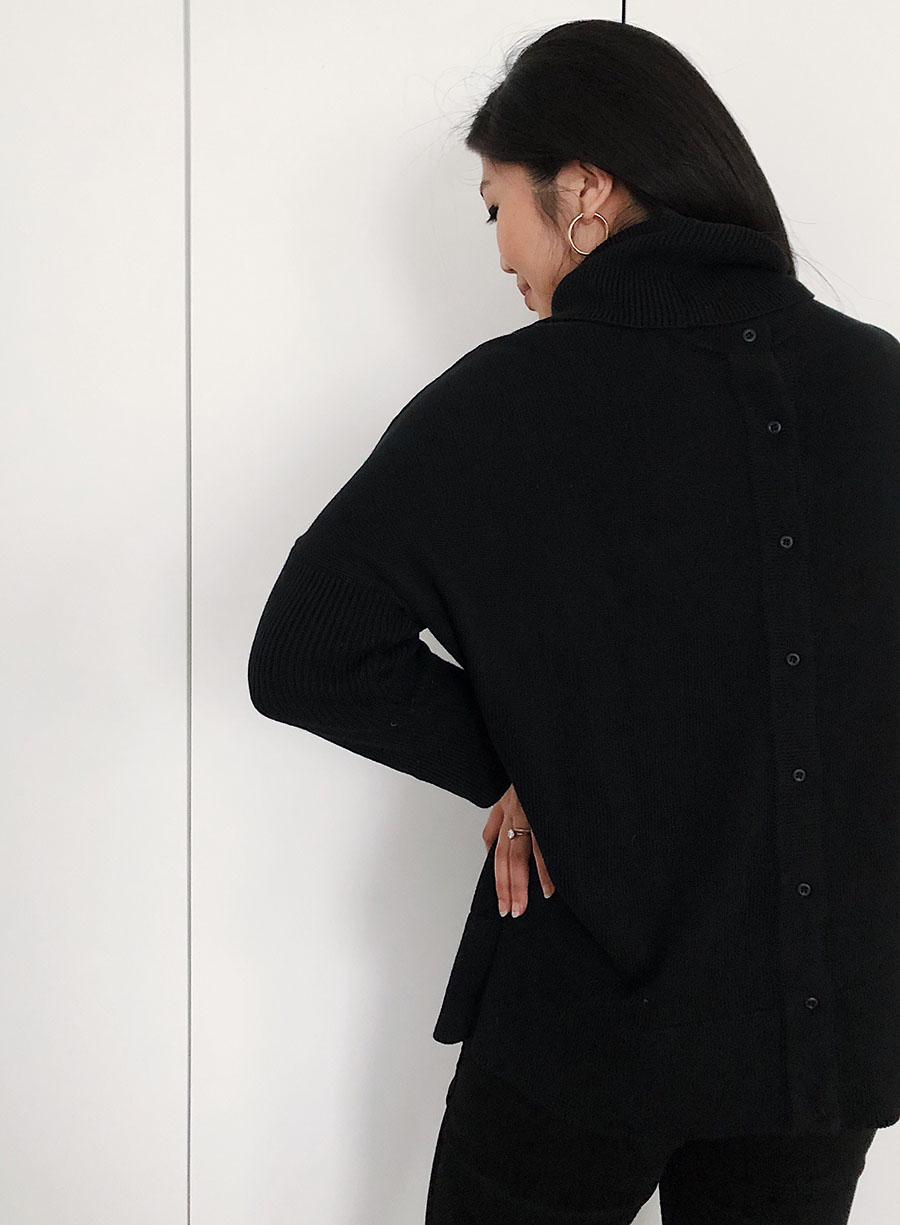 CONVERTIBLE SWEATER (find it here)
I've been a long time fan of Vetta for their simple and modern capsule wardrobe collections. All their pieces are versatile and lend themselves to easy mixing and matching, and this sweater has become a quick favorite because of that (gifted for editorial consideration and I'm sharing it here because I truly love it). It's an oversized sweater with a detachable turtleneck and buttons down the back so you can convert it into a cardigan. It wings out near the arms for a fit that's really comfortable and flattering for the way it drapes over the body. I normally wear a medium but went for a small on this and it's perfectly roomy. Very warm and I'm for sure bringing this with me to Stockholm (leaving in a couple days for Stockholm Design Week. It's going to snow!)
CANDLE HOLDER (find it here) AND EXTINGUISHER (find it here)
You know what I don't need more of? Candles. But candle holders? I'll never stop. This brass one from Ferm Living got a lot of love over the holiday season along with that brass extinguisher (last I checked, the site I got these from is having a 20% off sitewide promo FYI).
You know what I never knew I needed? An extinguisher. I learned this when I blew out a few candlesticks with my mouth particularly hard one time and ended up blowing a million splatters of hot wax onto our marble coffee table. No permanent damage was done, but cleaning it up was a pain in the ass. Now I use an extinguisher and will never have to scrape wax off of our coffee table while being extra careful not to leave behind scratches.
Was also going to link to all the other items on this shelf until I noticed most are no longer available or have no online source, but you can find the bookcase here, the wooden rectangular cube is a DIY I shared here, and the letter art is a free printable (in every letter) that I provided as free downloads here.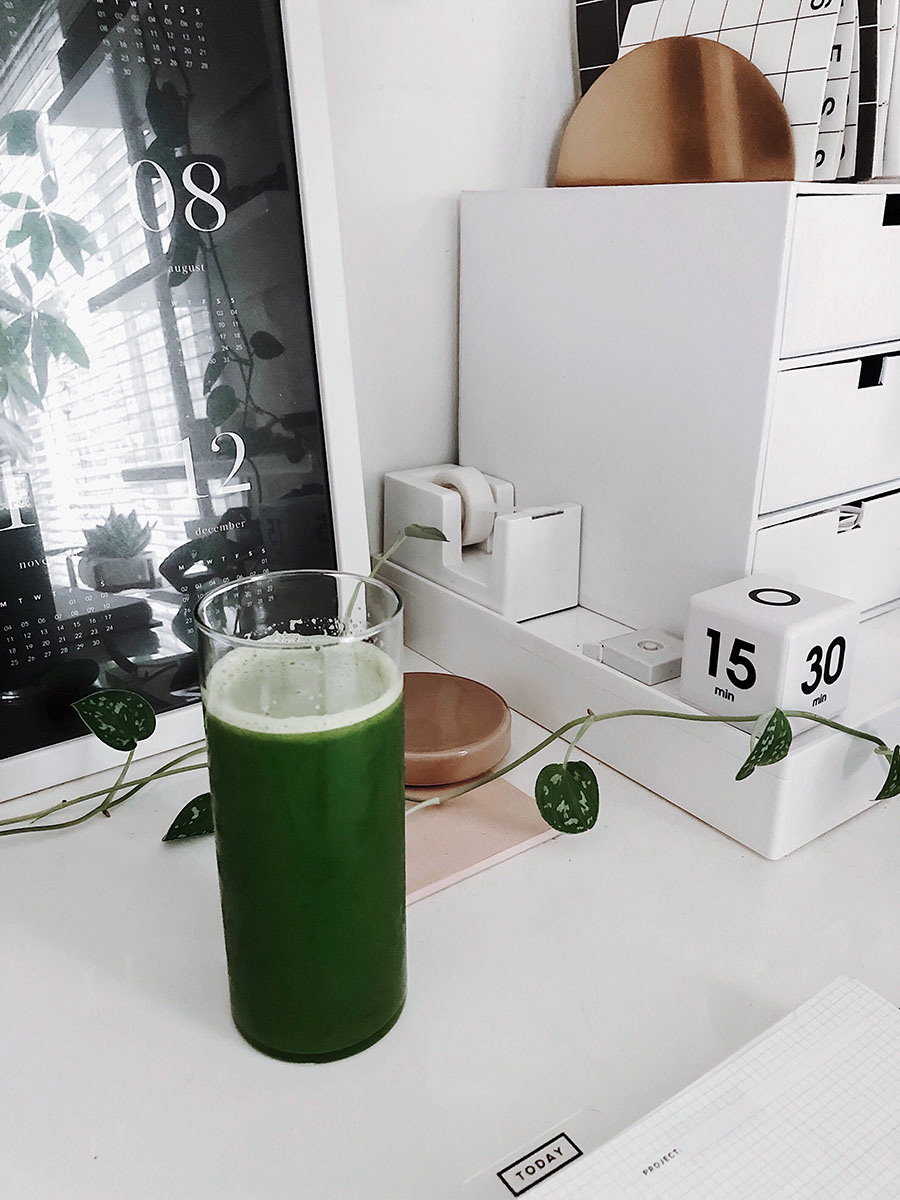 CELERY JUICING
At the time of this post going up it will have been 25 days of drinking celery juice every morning. Celery juice blew up and became a huge trend recently because of Medical Medium, which I haven't read the book nor follow any of Anthony William's work, but I kept hearing so much about the benefits of celery juicing and wanted to see what it would do for me. I'm obviously not a doctor and can't tell you the science behind what celery juice does for you, but I can share what I've noticed it doing for me.
Warning, this might be TMI, you have been warned, turn away while you can- this stuff flushes me out. It was around a week of juicing when I noticed this benefit, and it has continued to do this daily ever since. I'm talking about #2, guys. Bowels should be an important topic to us all. I normally go first thing in the morning, but after I drink this juice I go again shortly after only it's a lot more watery (sorry). It's like going through a juice cleanse only this is much easier because it's just celery and no starvation is involved.
The main things most people want to know is if it's helped me with bloating and weight loss. In short, not really. Bloating is hard to measure and is something that simply drinking more water can help with in my experience, so if bloating is the one thing you care about I'd maybe start with increasing water intake first. I lost a little bit of weight last month, but I'd owe it mostly to drinking more water, generally watching what I eat, and strength training. I'm skeptical when a food trend promotes weight loss because it can be misleading. Celery juice can help prime you for a healthier outlook like any health foods can, but adding celery juice to a diet of eating whatever you want with no other lifestyle considerations shouldn't warrant expectations of weight loss. I just don't believe in there being some miracle fat-burning vegetable juice.
I do follow the Medical Medium's recommendations for drinking celery juice: juice a large bunch of organic celery fresh every morning (12-16oz of juice), do not add anything else to it, drink immediately on an empty stomach, and do not eat or drink anything for at least 15 minutes after. The claim is that it has maximum benefits this way, though I've heard from others that they add lemon to help with the taste. I haven't needed to do this though and have gotten used to the taste to the point of craving this bitter grass water that's kind of salty but now tastes more sweet. I'm enjoying it a lot and feel good from it, and I encourage you to do your own research if you want to try it yourself.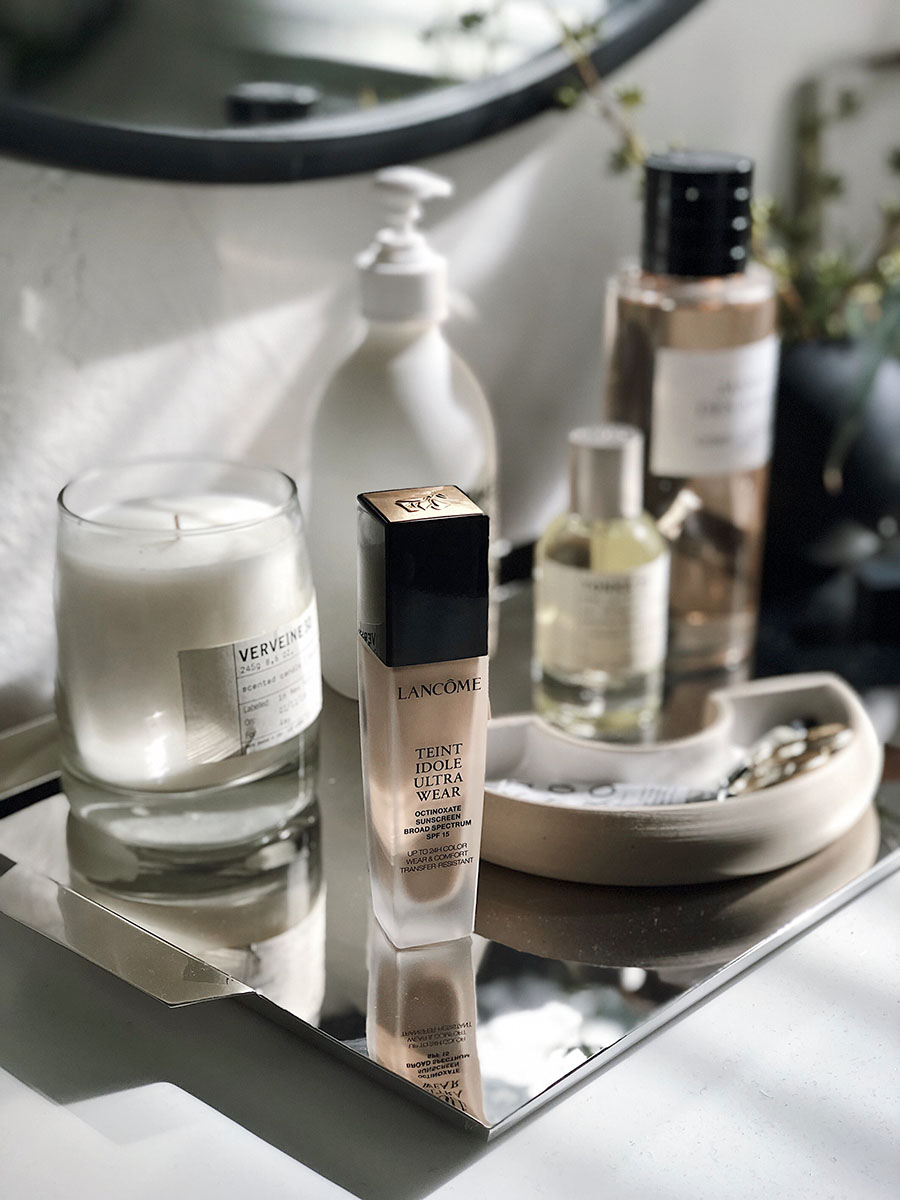 FOUNDATION (find it here)
I tried this foundation a long time ago, loved it, and when I ran out I moved on to other foundations because I'm into trying new ones, then came back to this one last month and am remembering why I love it so much. I think I departed from it because I sought after a more full coverage foundation, but it seems with time I prefer to look more "natural" vs the completely flawless and covered look I aspired for in my younger years.
This is a medium coverage foundation that builds well and has a matte finish while still looking like skin. Lightweight, doesn't break apart around my oily nose, and lasts long. Particularly impressed with how minimal the transfer is throughout the day (have you ever hugged someone and then noticed your face came off on their shoulder? Awkward.) One layer is enough to softly even out my skin and then I apply more only on areas that need it. I'm finally seeing that this is working out better than trying to mask my entire face with a high coverage foundation. It simply feels better too.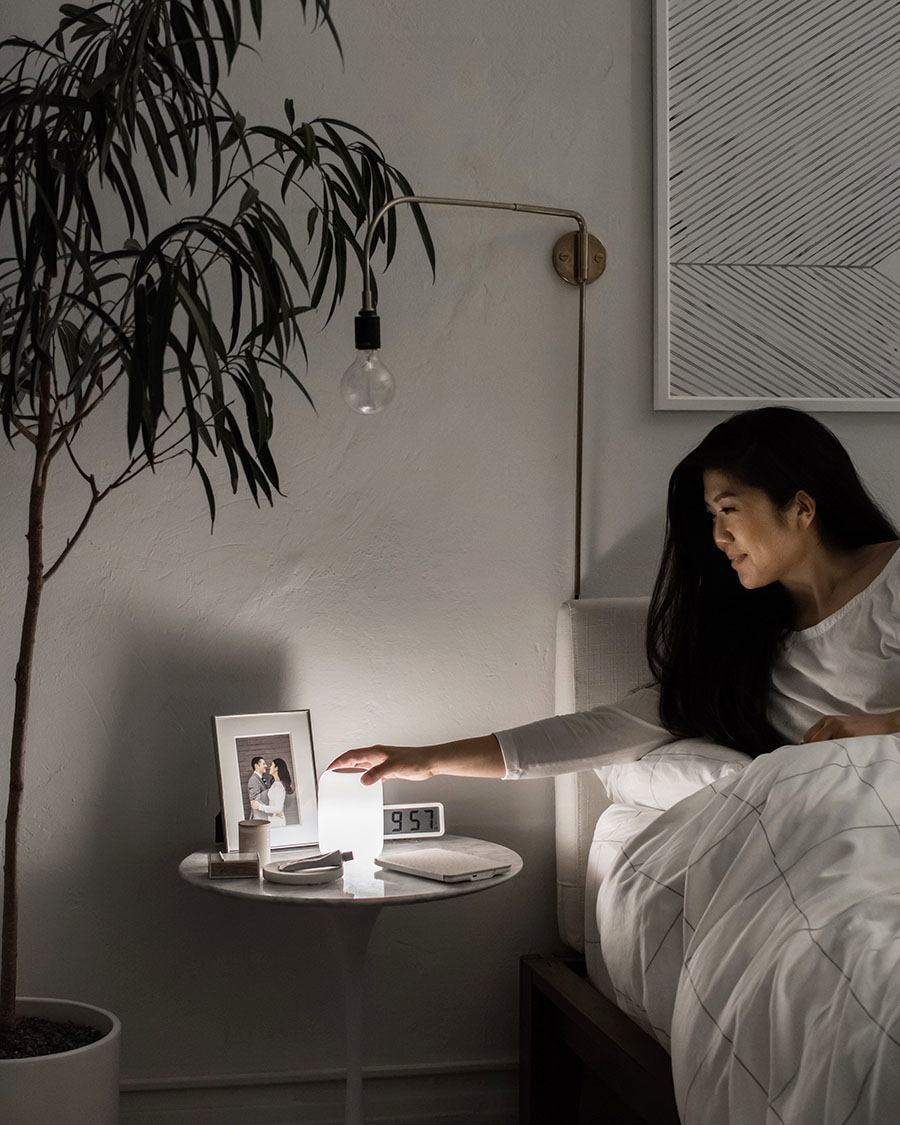 THE COOLEST NIGHT LIGHT (find it here)
I did an Instagram campaign with Casper to promote their new Glow lights and since many expressed interest, I thought I'd give an update on how these have been working out for us. To catch everyone up, Glow is a light that dims gradually to lull you to sleep and brightens in the morning to cue you to wake up in the morning. You can adjust the dimming duration and wake-up time via the Casper glow app, which can also sync multiple lights like I did with me and my husband's lights.
So first, are the claims true for us? Not for the aid in falling asleep. I've been having an unusually difficult time lately falling asleep and haven't noticed the auto-dimming feature of these lights helping me with that. The wake-up feature however, has been working consistently very well for me. I schedule the light to reach maximum brightness at the time I want to wake up and set my alarm five minutes later for back-up. My eyes open before the alarm every time so far, and each time I'm greeted by the Glow light near it's maximum brightness. It's been revelatory. Most of the time it doesn't work for Oleg though. Goes to show that like most things, it works differently depending on the person.
Regardless, it's an awesome night light/reading light. Flip it over to activate, twist clockwise to brighten or counter-clockwise to dim, press the button on top to pause the auto-dim feature, and if you need to get up in the middle of the night you can gently shake the Glow light to turn it on. Very intuitive and fun to use.
A PAGE FROM A BOOK
Oleg is currently reading The Daily Stoic by Ryan Holiday. The format of the book is to read a page daily on Stoic meditation. He makes me read the ones that resonate most, which has felt like most of them, but this is an especially good one: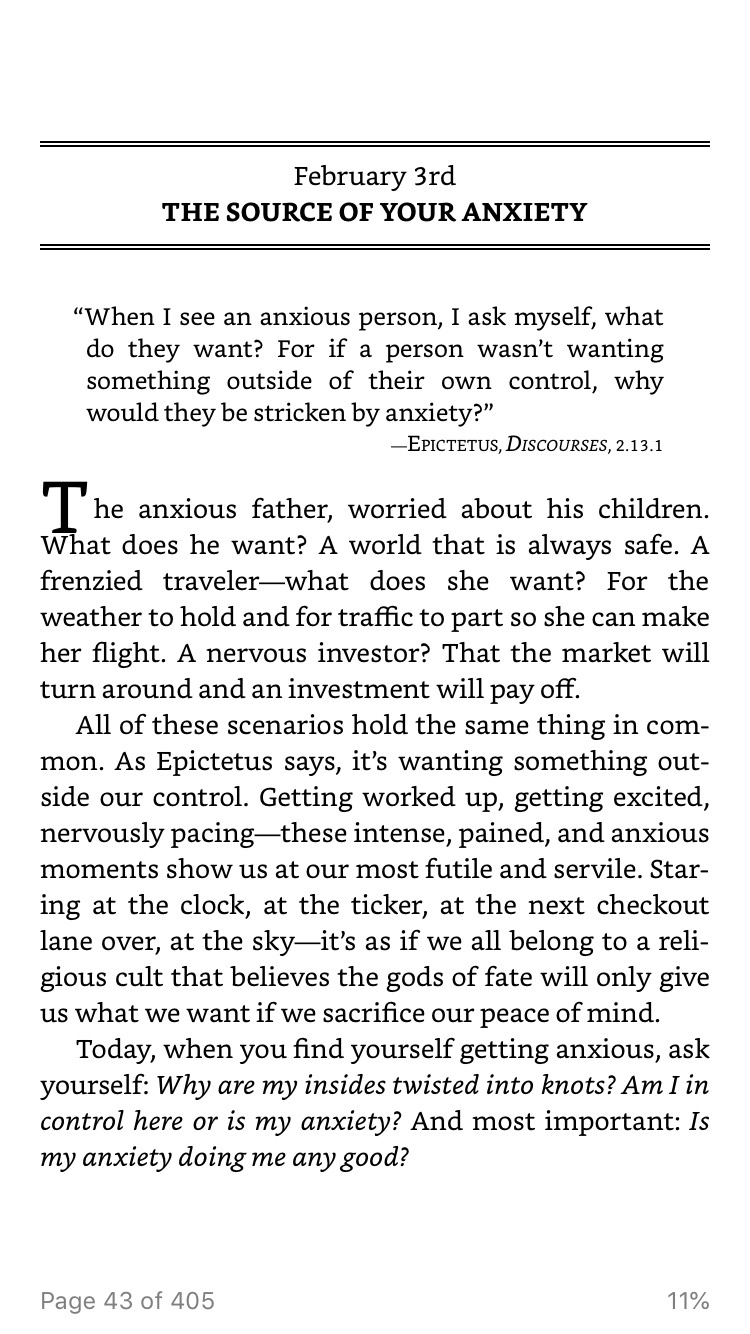 Other Posts You Might Like