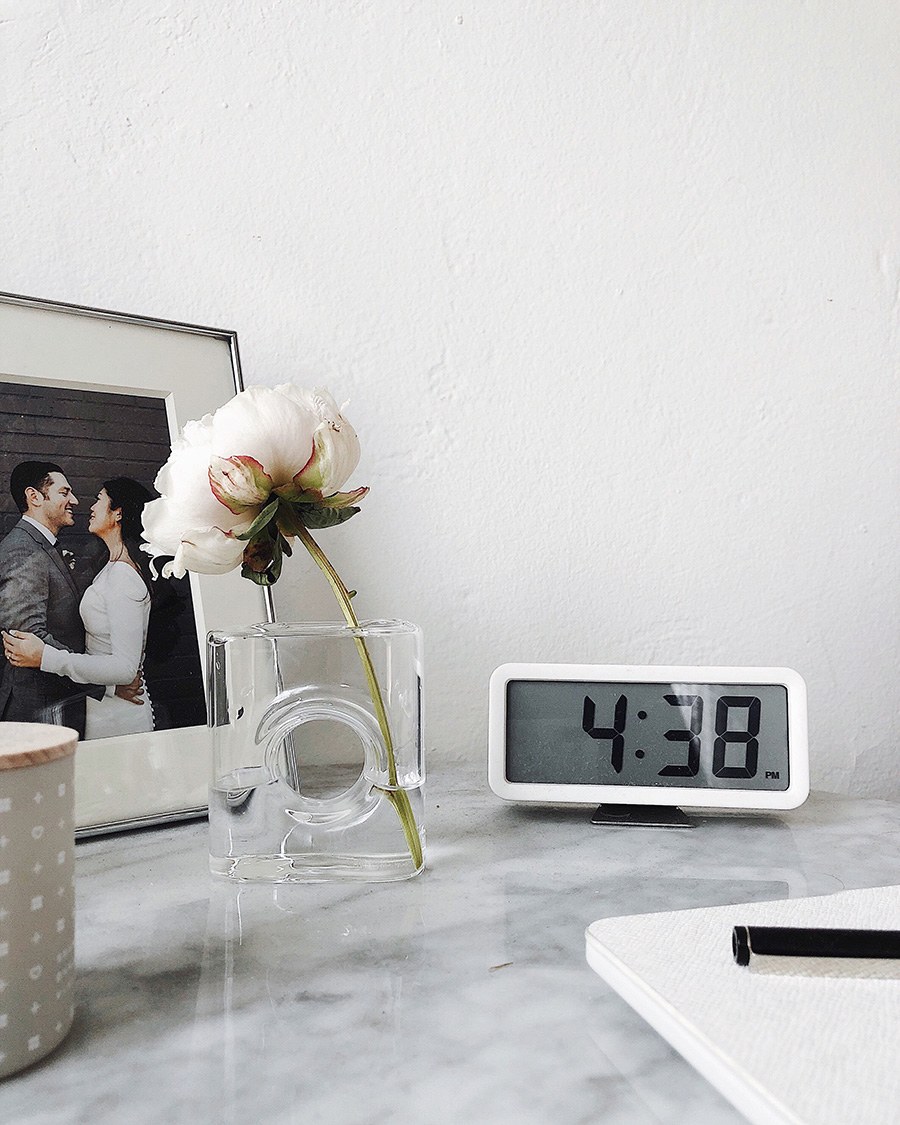 Some of my favorite things from the month of June!
VASE (find it here)
Probably the most unique bud vase or any type of vase I've found.  How beautiful is that center hole detail?  Along with the clear glass and the minimal one-stem opening, the simplicity of this vase is both subtle and WOW.  I had a hard time picking between the small and medium size, and now I'm thinking I'll want the medium one too for larger stems.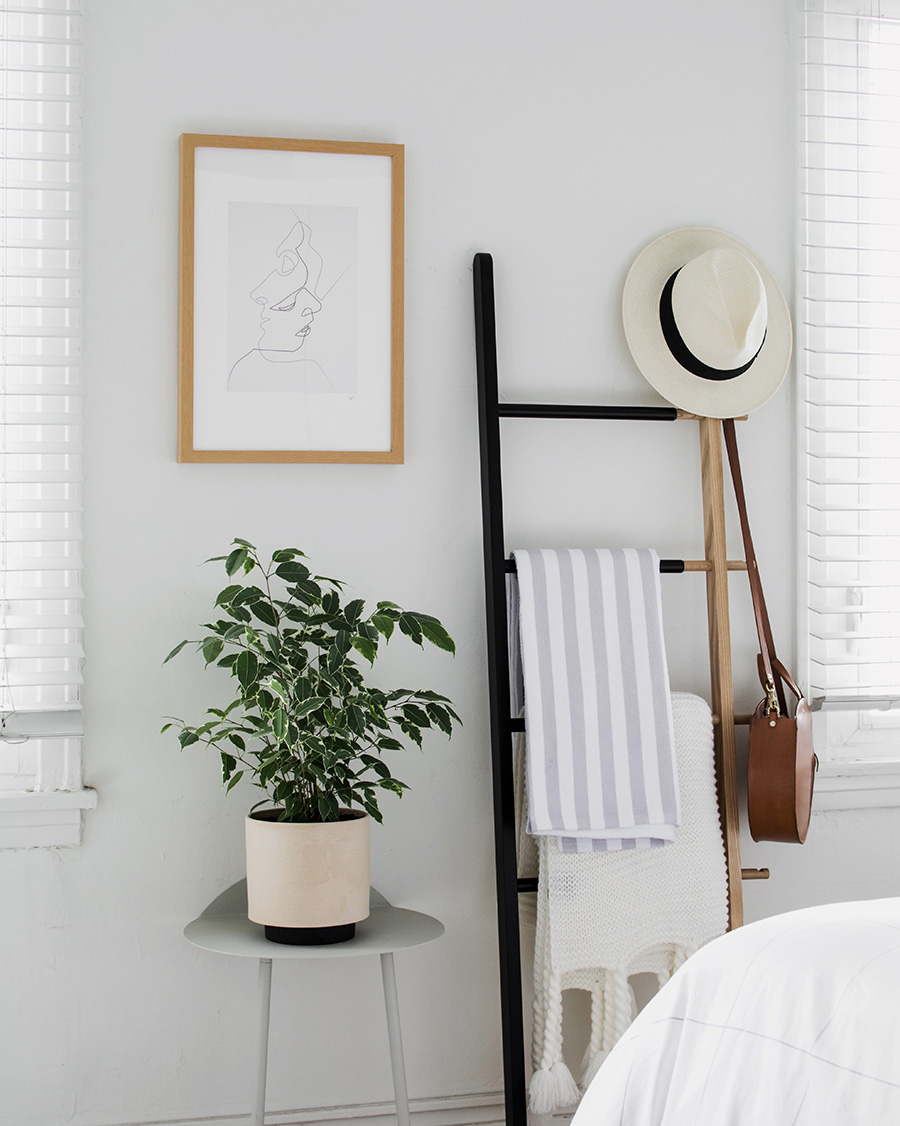 FRAMED ART- CLOSE BY QUIBE (find it here)
I partnered with Society6 to share on Instagram this framed art I picked out and wanted to mention here too how much I love it and have loved it for years before finally putting it on this wall.  I love the simplicity, how it draws you in and makes you look a little longer but just as easily blends in and doesn't scream for attention.  It's drawn with only two separate lines and depicts so much.
PS.  Hanging on the ladder is the striped beach towel that I'm excited to break in and use all summer.  Have yet to go on a 2018 beach day outing!  I will make that happen soon.
HALF DONUT DISH (find it here)
Just an adorable ceramic dish shaped like a half donut.  Thought it would make a very cute catch-all for small knick knacks but I'm also thinking this would be even more cute on a cheese board to hold nuts or olives or a dip/spread.  Eagerly waiting for the next occasion to use it that way.  I even went as far to think about making a mini ikebana floral arrangement in it.  That I can definitely try too.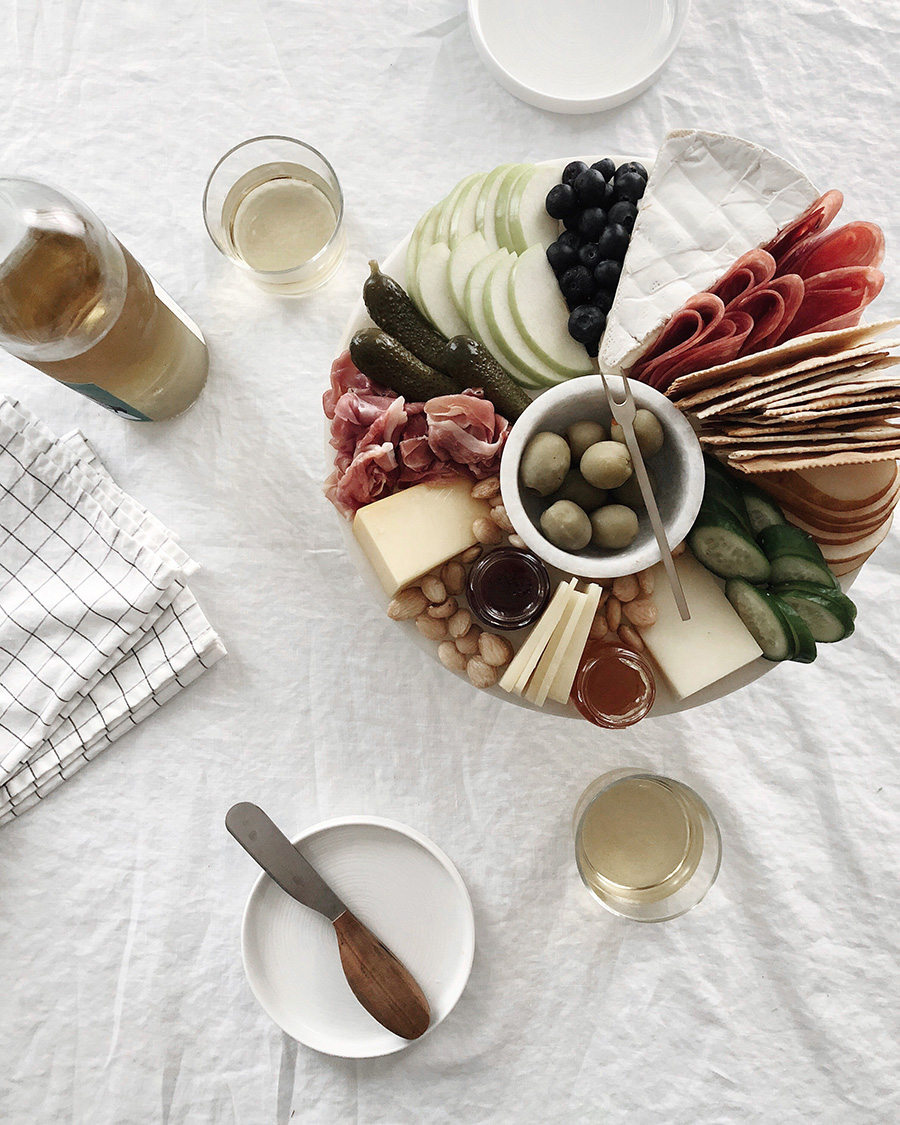 CHARCUTERIE
Speaking of cheeseboards, they're one of my favorite meals to eat not only for how they include my favorite food groups but for how they pack the most deliciousness per square inch of any meal that doesn't require cooking.  I love them all year round, but these tend to be more frequent during the summer because of ease (would love to avoid a hot kitchen in the summer as much as possible) and transportability to outdoor activities like picnics.  For your own cheeseboard inspiration, here's what I put on my cheeseboard above.  Everything is from Trader Joe's always forever.
-triple cream brie
-salami, prosciutto, and chorizo slices (comes in one pack at Trader Joe's)
-rosemary olive oil crackers
-sliced bosc pear
-sliced persian cucumber
-manchego
-truffle marcona almonds
-lilikoi and guava jam
-smoked gouda
-dill pickles
-sliced green apple
-blueberries
-olives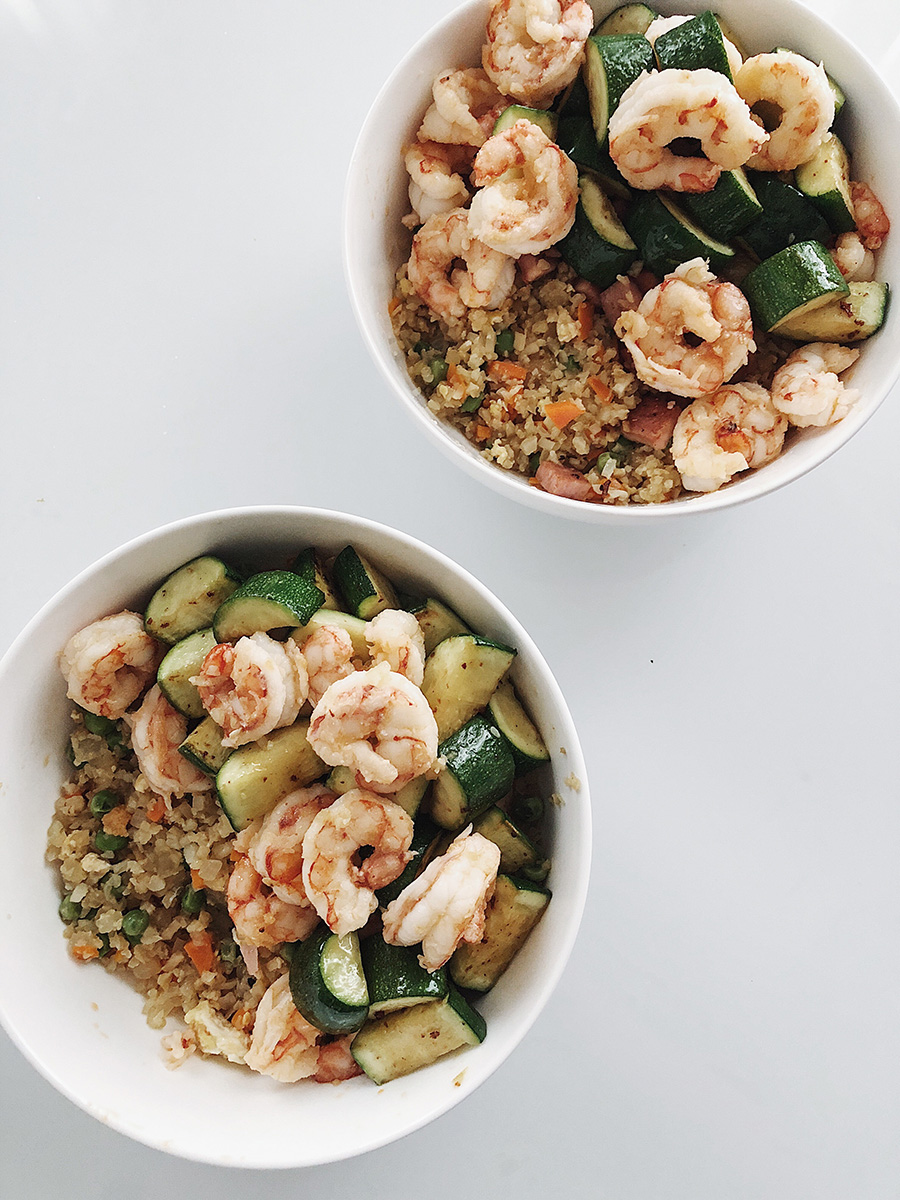 CAULIFLOWER FRIED RICE
I forget where I saw it, but I came across a meme talking about how all our favorite carbs have been replaced with cauliflower and I found it not only hilariously tragic but also that's me.  I wholeheartedly believe in indulging, but sometimes you just gotta get in those extra veggies and this has been one of the ways I've loved doing that.  I basically make it like I would a normal fried rice except I replace the rice with cauliflower rice, which I get from the produce section at Trader Joe's (in another life I'd write a blog completely dedicated to Trader Joe's finds and recipes using them.)  Thought I'd write out the simple recipe for you below in case you want to try it!  Please note measurements are rough and made up from what I can remember from eyeballing, please use your best eyeballing as well.  This makes a pretty big batch but my husband and I easily eat it all between us two.
Ingredients:
2 tbsp olive oil (vegetable oil is probably better but I never have that on hand and end up using olive oil)
1 large onion diced
1 carrot peeled and diced small
3 thinly sliced green onions
1/2 cup of peas (if frozen, boil ahead of time)
2 eggs beaten
1 bag of fresh riced cauliflower (from Trader Joe's)
3 tbsp soy sauce
salt to taste
1 tbsp sesame oil
1. Heat olive oil in a pan on medium-high heat and add onions.  Stir around for about a minute before adding in the carrot and continue stirring.
2. Once carrot has softened a bit, scoot the onions and carrots to one side of the pan and add the beaten eggs to the cleared side of the pan.  Let it spread out like an omelet and cook a little before mixing it around and breaking it up into little pieces
3. Add green onions and mix everything in the pan all together.
4. Mix in the bag of riced cauliflower and stir occasionally until the cauliflower starts to look a little translucent (takes me roughly 5 minutes).
5. Add peas, soy sauce to taste, salt to taste, and sesame oil.  Sesame oil is also to taste but be careful not to overdo it,  a little goes a long way.
I added shrimp and zucchini on top of the rice, each seasoned with salt, pepper, and garlic powder.  The shrimp is the frozen Argentinean shrimp from Trader Joe's (I LOVE TRADER JOE'S) which I like using because they're already deveined with tails removed and it makes everything easier.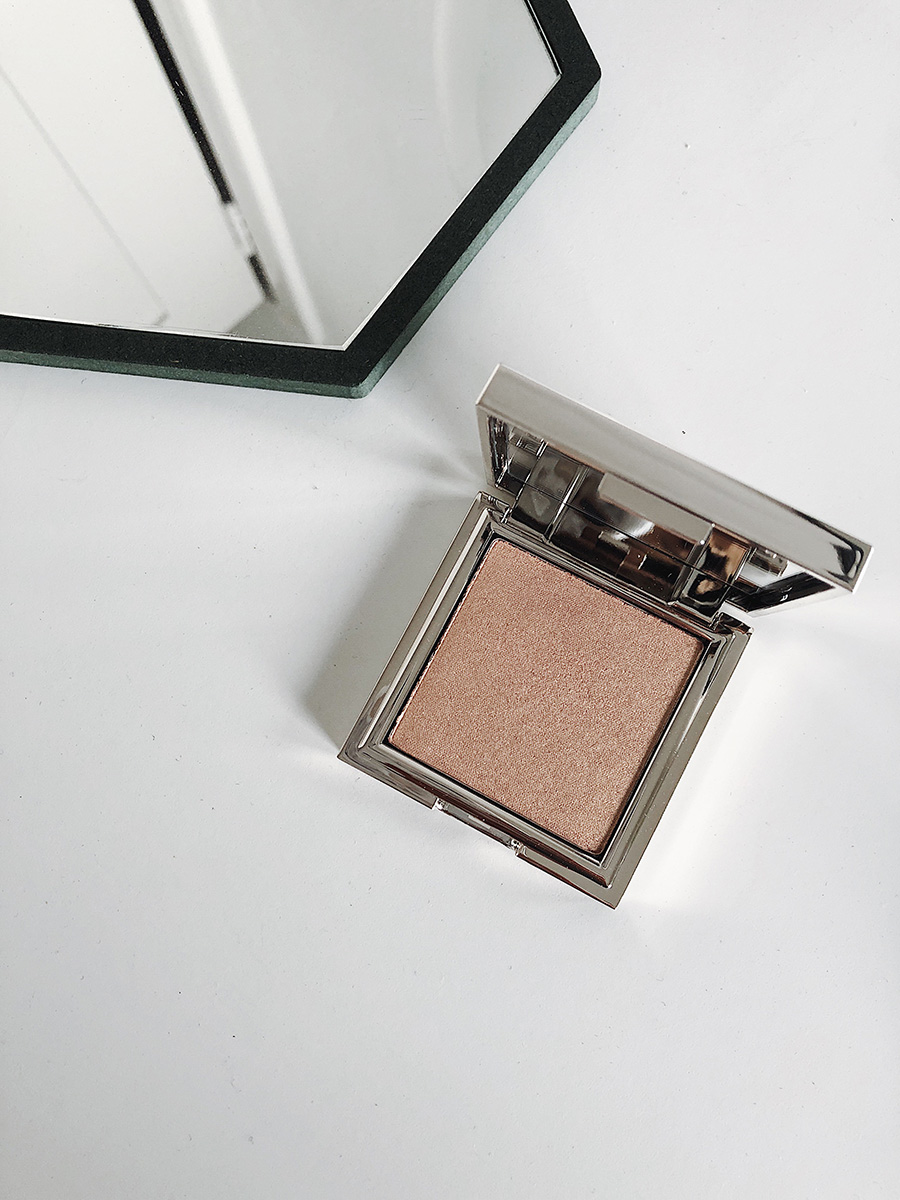 JOUER HIGHLIGHTER (find it here)
I've been testing out some makeup to make changes for the warmer months ahead and one of them has been this powder highlighter that's perfect for summer.  It's a peachy golden shimmer that looks surprisingly natural on warm skin tones like mine when used with a light hand.  Sometimes powder highlighter can look chalky or like it's sitting on top of the skin and this doesn't do that at all.   It blends in nicely and looks dewy instead of ashy like how some champagne colored ones can.  I use a flexible goat hair brush that's on the sparser side to help me not overdo it.  Just a little on the cheekbones and down my nose bridge does so much to make me look more alive with that "sun-kissed glow".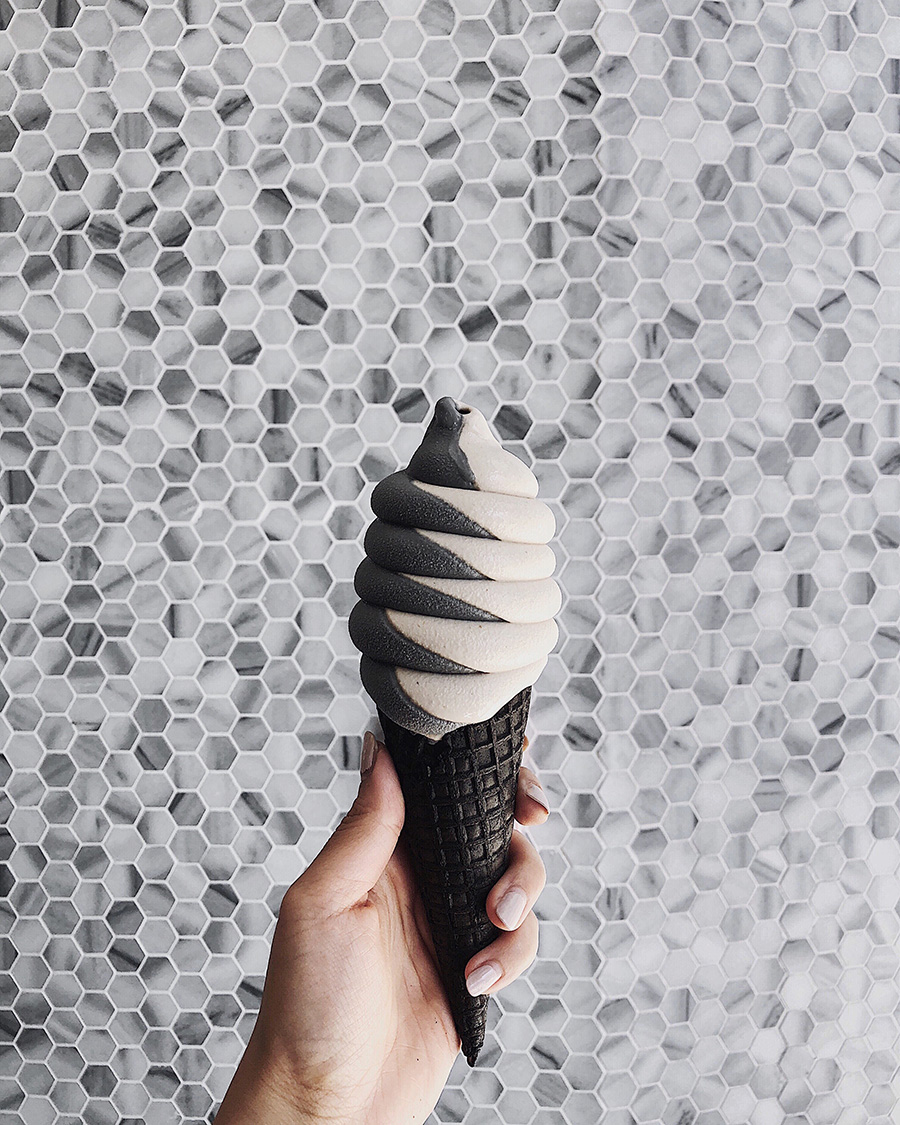 MONOCHROME CONE (shared it here)
Lots of food talk going on in this post.  Food is my love language.  Throwing this in here both for how it has been the best treat of summer so far and how it's so visually satisfying to me.  The flavors are Earl Grey and Coco Puff, which is easily my favorite ice cream combo of all time, and the cone I believe is a regular waffle cone with activated charcoal to make it black and probably healthy so the calories don't count or something like that.  I haven't stopped thinking about it since and is it not the most beautiful ice cream cone you've ever seen?  Could it be any more on brand for me??  Haha!  It's from a cafe in downtown LA called Bae which you should visit if you're around: 369 E 2nd St Los Angeles, CA 90012.
AND, if you're in the US I'd love to know if you have any plans for 4th of July?  Are you already out celebrating, in which case you probably won't see this?  Our friends are hosting their annual 4th of July bbq and I can't wait to stuff my face.  I'll be baking cookies from a recipe I've been dying to try and will probably share here how that went.  Happy Independence Day and hope you enjoy the holiday!
Other Posts You Might Like