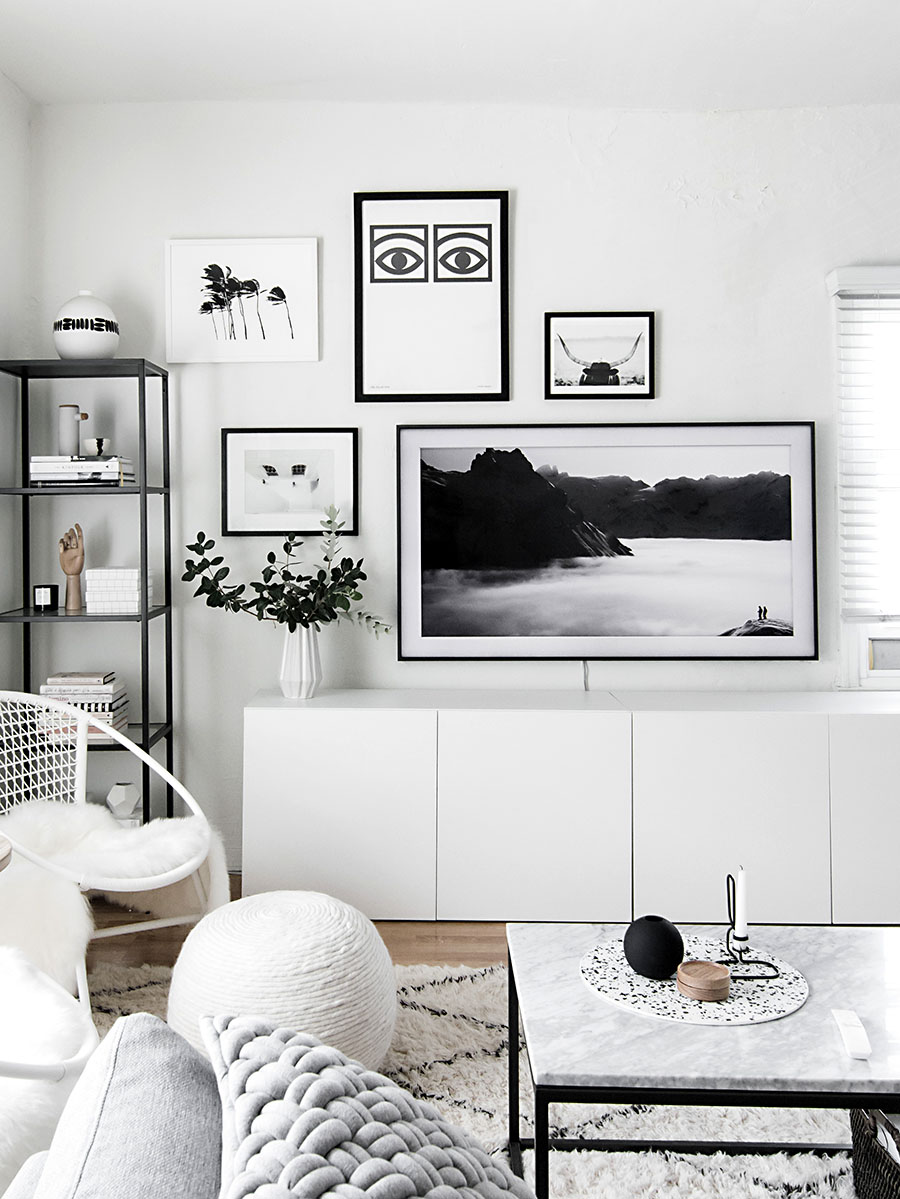 This is by far the most exciting thing to ever happen to our space, solving a problem that I know every design-conscious home has mourned over, and that is how to hide and minimize that big eye sore of a TV.  While that black screen at least fit in with the colors of our monochrome home, it felt like a dark void sucking the life out of the room.  I had put up a gallery wall of art around the TV in efforts to detract from it, but now with The Frame from Samsung, our TV is art.  It blows my mind daily that this thing exists.  We can now rejoice over not having to come up with ways to hide the TV, and I'm partnering with Samsung to share a bit more about it and what I've done to update this wall.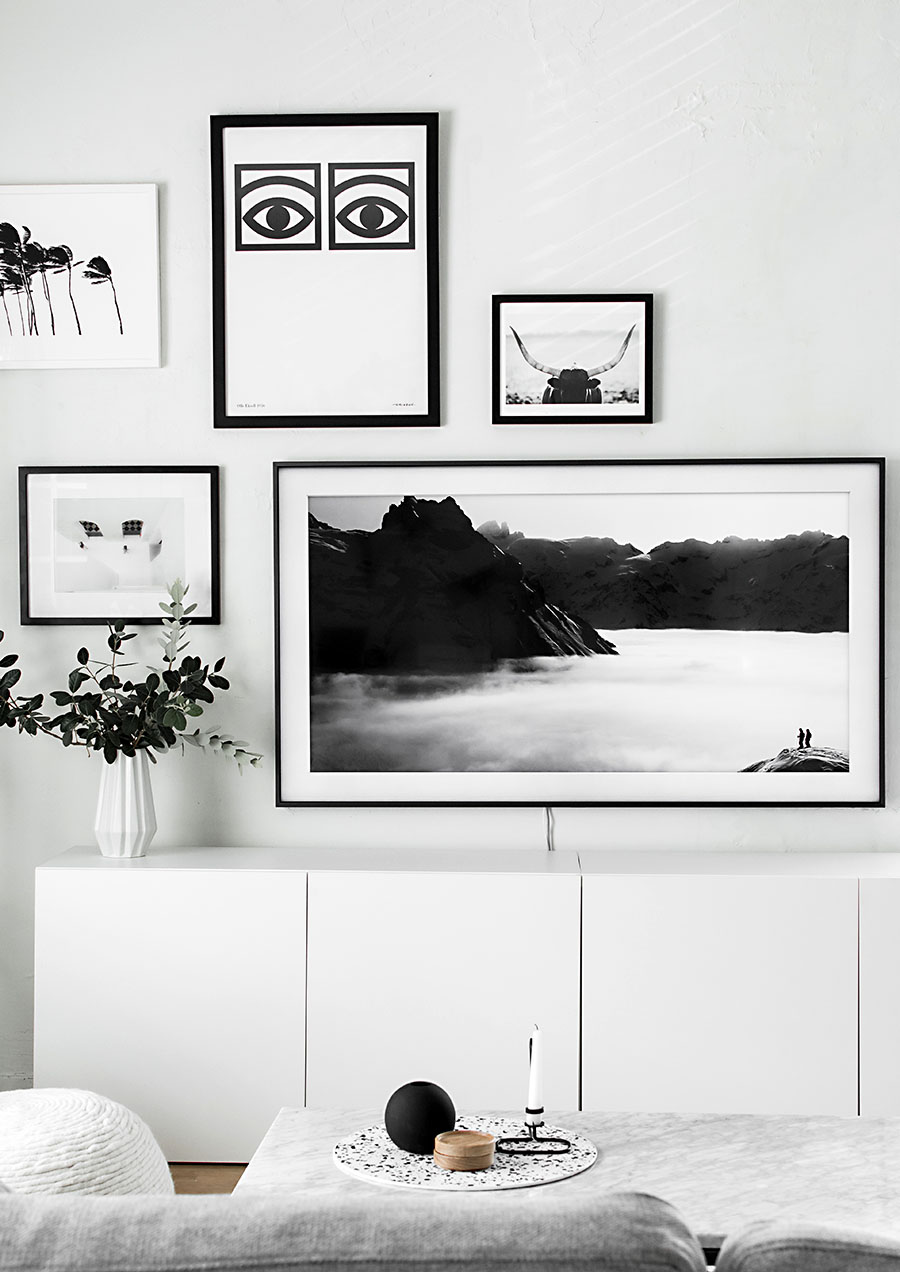 That giant framed landscape art is The Frame, the most beautiful TV that I never thought was possible.  When the TV isn't in use, it can flip to "Art Mode" and display one of 100 curated pieces of art, or you can upload your own photos for a truly personalized piece.  With the no gap wall-mount, The Frame hangs flush to the wall like a real piece of art which really seals the deal on it blending seamlessly into any decor.
It's also not just a pretty TV.  It's a 4K HDR pro with lifelike, crisp and amazing picture quality.  Just in time for Game of Thrones this weekend, I cannot WAIT.
When picking the art, there are options for different layouts and mattes that make it even more customizable.  I particularly like displaying the matte because I think it makes the art look that much more like a piece of art.  On top of that, The Frame has a Brightness Sensor that automatically adjusts the color and brightness with the room so that the art always looks natural.
A major bonus is that the remote is pretty and doesn't beg to be hidden.  This has replaced the previous two bulky remotes we had and I'm all for reducing clutter.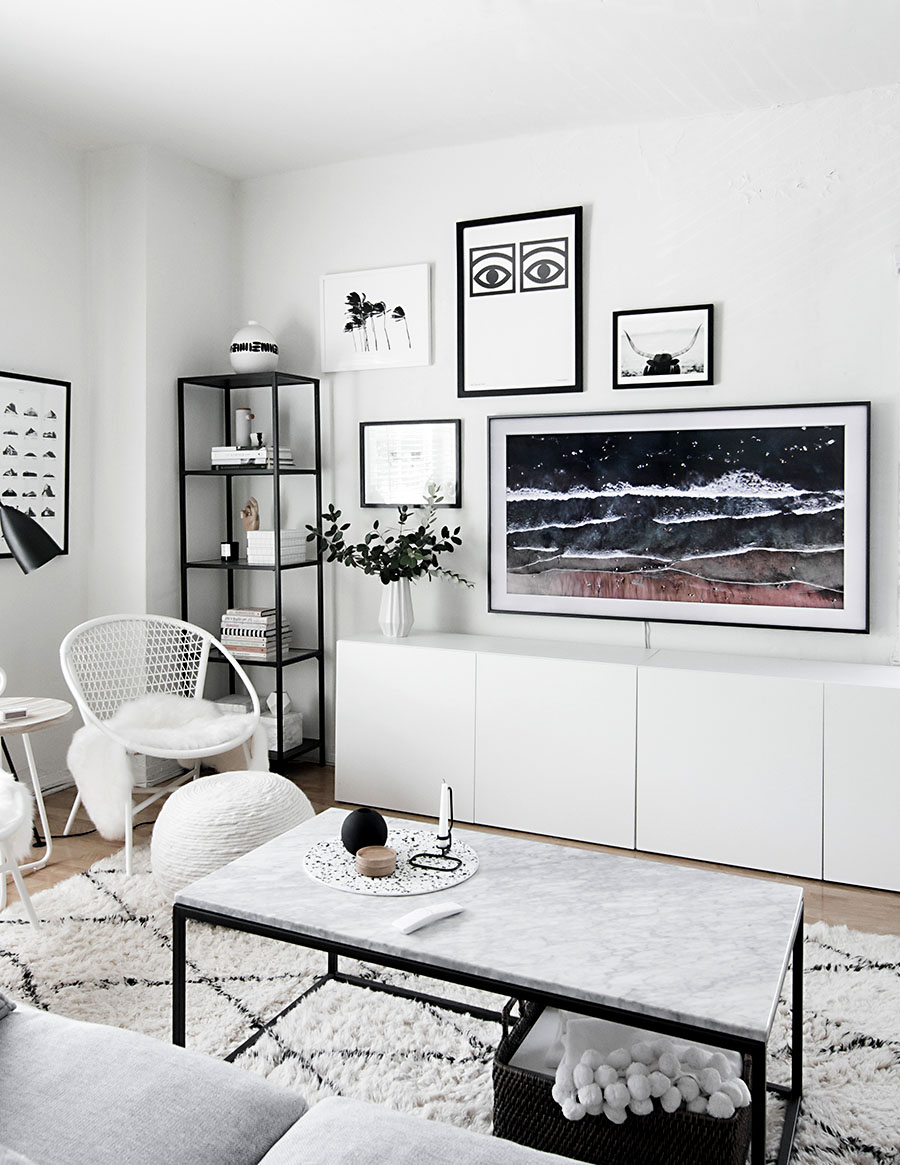 On that same note, that little cord sticking out the bottom of the TV is a miracle compared to the jumble of cords we had before.  To completely hide the power cord, it's ideal to have an outlet behind the TV and all that would be left hanging out is the incredibly thin Invisible Connection cord (also in the photo, but you can't see it!) that connects to the One Connect box.  I keep that box hidden in the cabinet below, which is still able to pick up reception from the remote and further minimizes clutter.
Did you notice as well that the art changed?  I love this art too and generally enjoy how easily I can change it depending on my mood or if I want to switch things up without the huge commitment of bringing more art home.  There really is something for every style in the gallery, though I am partial to the black and white ones as you know.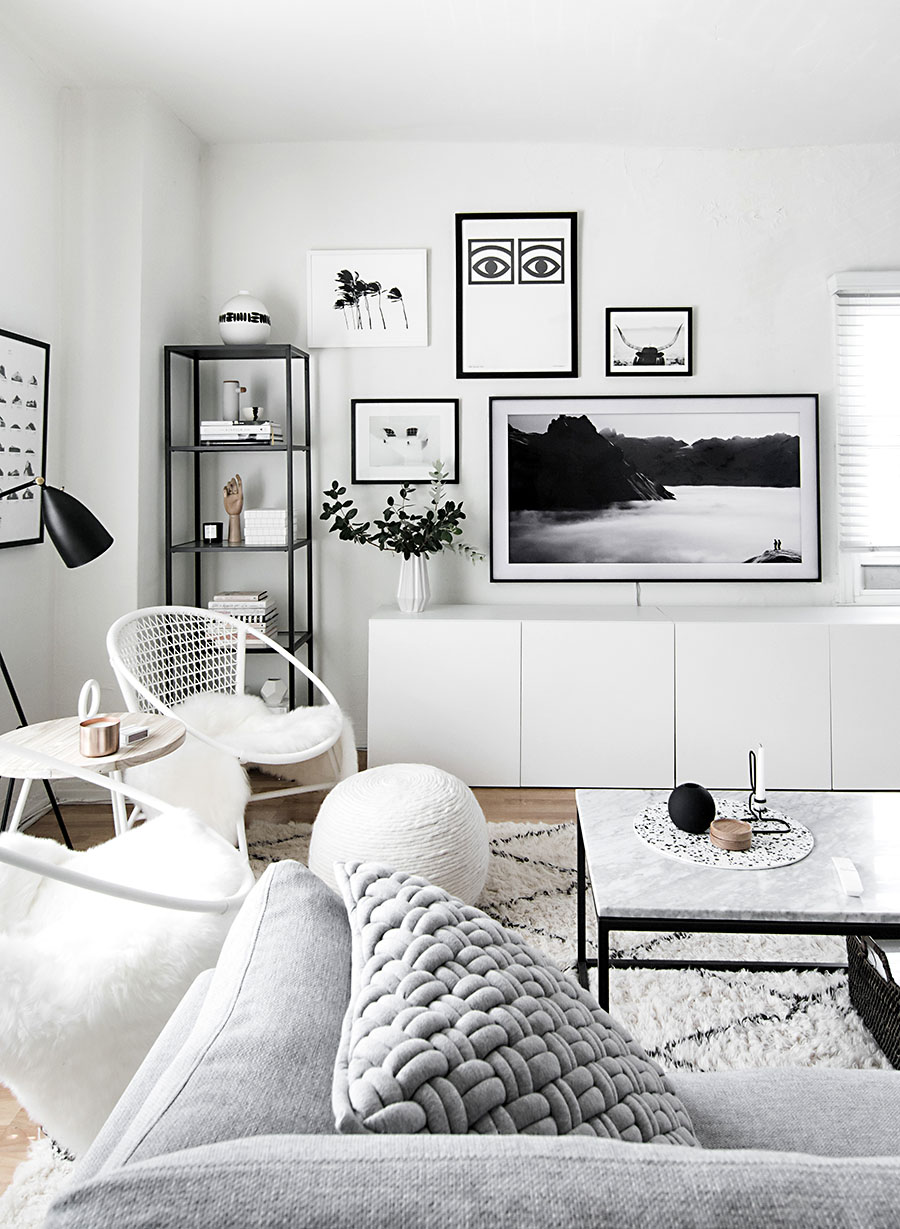 I always wanted to display a larger piece of art on this wall as the main focal point, but with our previous TV that wouldn't have worked out.  Now that The Frame has become that art (this one is 65″), I've also been able to reduce the amount of art hanging on the wall, another design change that I wanted to do all along.  It feels even less cluttered and more in tune with the minimal aesthetic of our home.  Seems dramatic to call it life-changing, but it is!  It's like I've been freed up to design this space exactly how I want it.
Have any of you had the same TV woes as I did?  Where would you put The Frame in your home?
This post is sponsored by Samsung.
Other Posts You Might Like