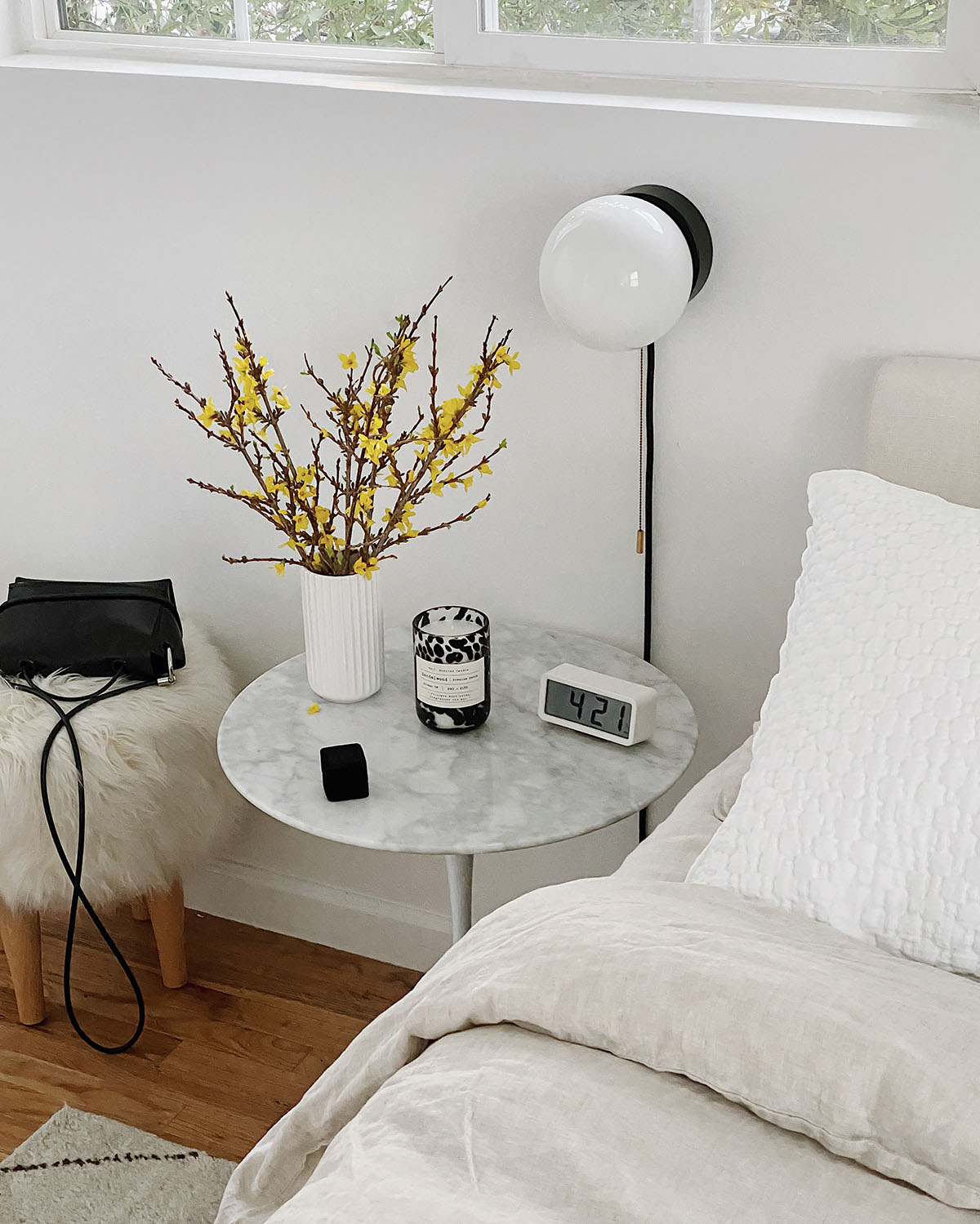 Some of my favorite things during the month of January.
LIGHTING- Human Home Hiline Sconce
I mentioned in our bedroom refresh post that I wished our previous swing arm sconces would've worked here, but I take that back. The small footprint, soft glow from the globe shade, the ease and prime placement of the pull chain, the streamlined look of the black cord that attaches to the wall with a brass anchor, so many good details went into the simplicity and function of this sconce. They do light up an area larger than something with a task lamp shade would, but it's what we needed for the placement of the sconces being beside the bed vs. above. I will always opt for sconces to save bedside table space!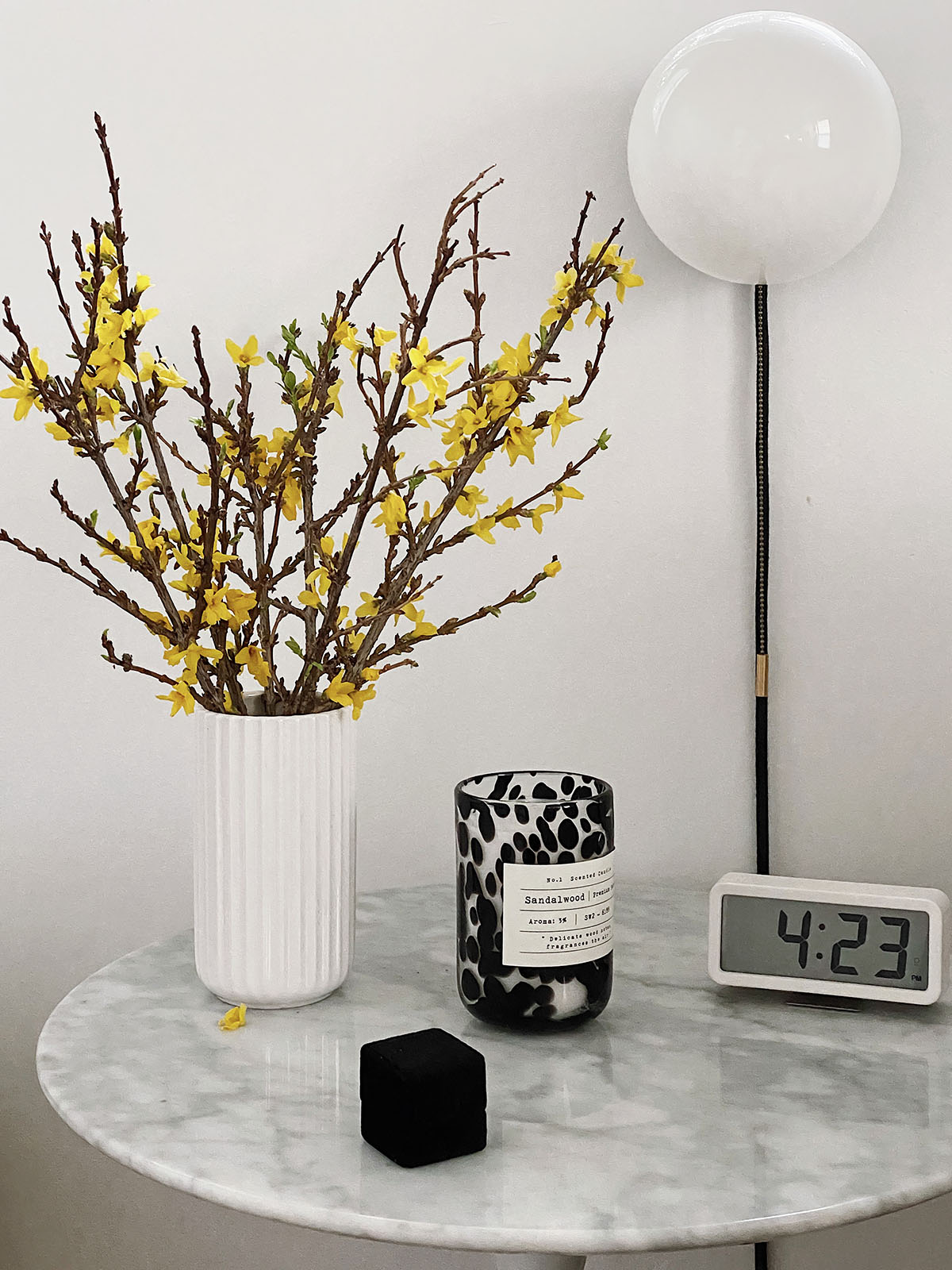 CANDLE- H&M Sandalwood Candle
I wouldn't have cared if this candle smelled terrible because 100% of the reason I got it was how gorgeous that black spotted jar is, but it luckily smells wonderful. It's a little tough to share about H&M Home products because they sell out so quick (I linked to the brown version which is still available) but whenever anyone asks about where to get modern decor on the cheap, I always direct them to H&M. Their designs are consistently very beautiful and affordable, and while they are constantly going out of stock, they are also constantly putting out new items. It's a great place to check for home trends, and maybe when you want to try something different for your home without the commitment of paying a high price tag.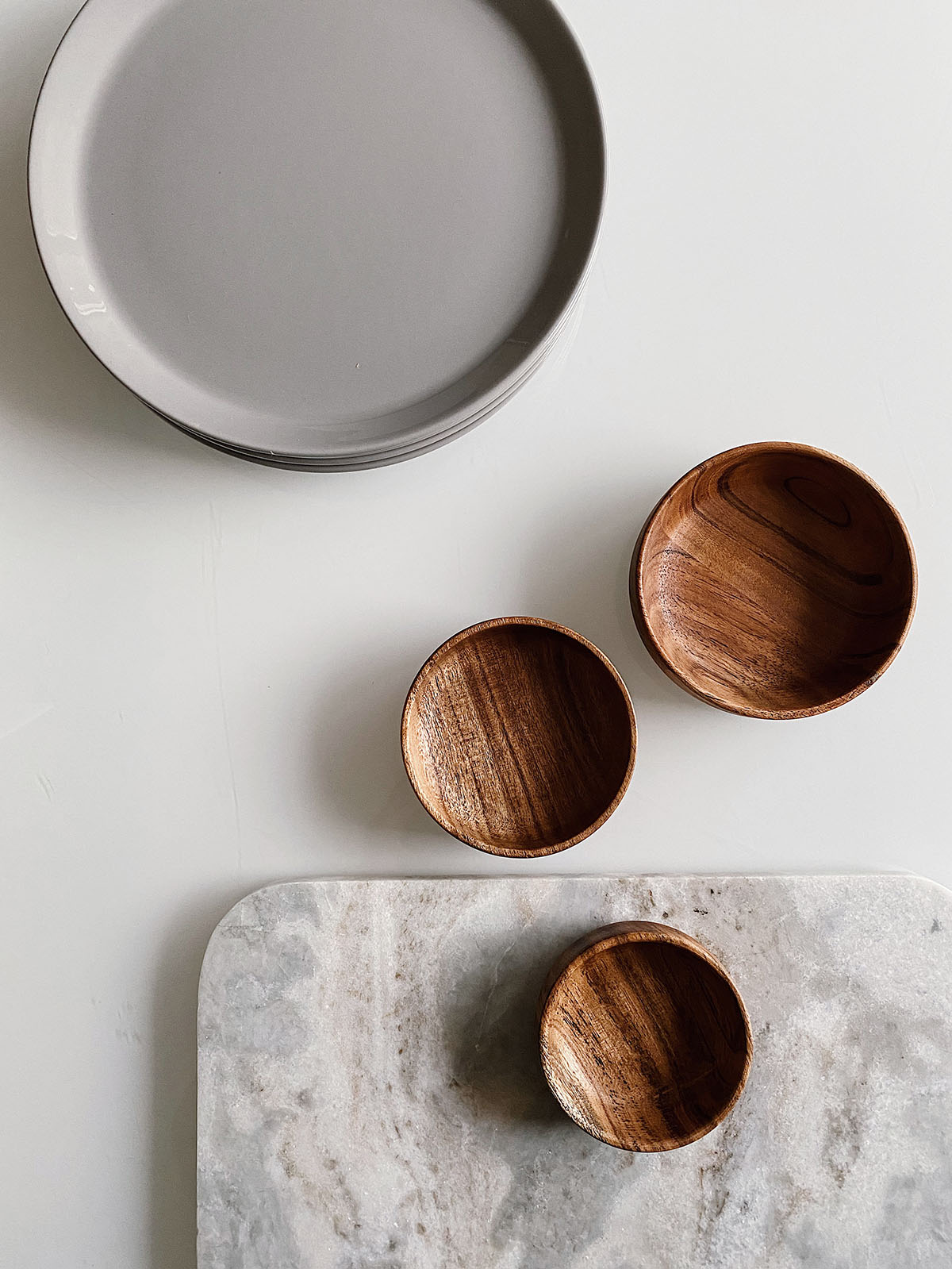 SERVEWARE- H&M plates, bowls, marble serving tray
More H&M favorites that are sold out except for the plates, sorry (linked alternatives for the bowls and marble tray). I love the style of the lip around the ceramic plates and the gray color is a nice change from our entirely white daily dinnerware. These bowls are smaller and came in a pack of three and I thought they'd be nice for holding smaller items on a platter or to be used decoratively around the house. The marble serving tray would also be really nice to display on a countertop, though I haven't decided yet exactly where. I love the warmer veins in this marble!

More H&M favorites that are currently not sold out:
waffled hand towel
marble container
round marble tray
small ceramic vase
bouclé throw


BED PILLOW INSERT- Fieldcrest Down SurRound Extra Firm Pillow
Over the holidays we had family staying and not enough pillows, so while we were at Target we grabbed a couple of these standard/queen pillow inserts since they seemed nice and very reasonably priced. Of course I also considered it as an opportunity to test them out since we've been searching for new bed pillow inserts for a while, and I've concluded these are my new favorite. My favorite detail is how the gusseted edges aren't too big. Gusseted pillows are considered best for side sleepers, which is me, but what I've never liked about them is how they can show through the pillow covers. These ones don't show through because they're more subtle, and the level of firmness is exactly what I like. Oleg says these are too firm for him, but he only uses it as his second pillow that he wraps his arms around while he sleeps (Anyone else sleep like this? I've always found it strange!)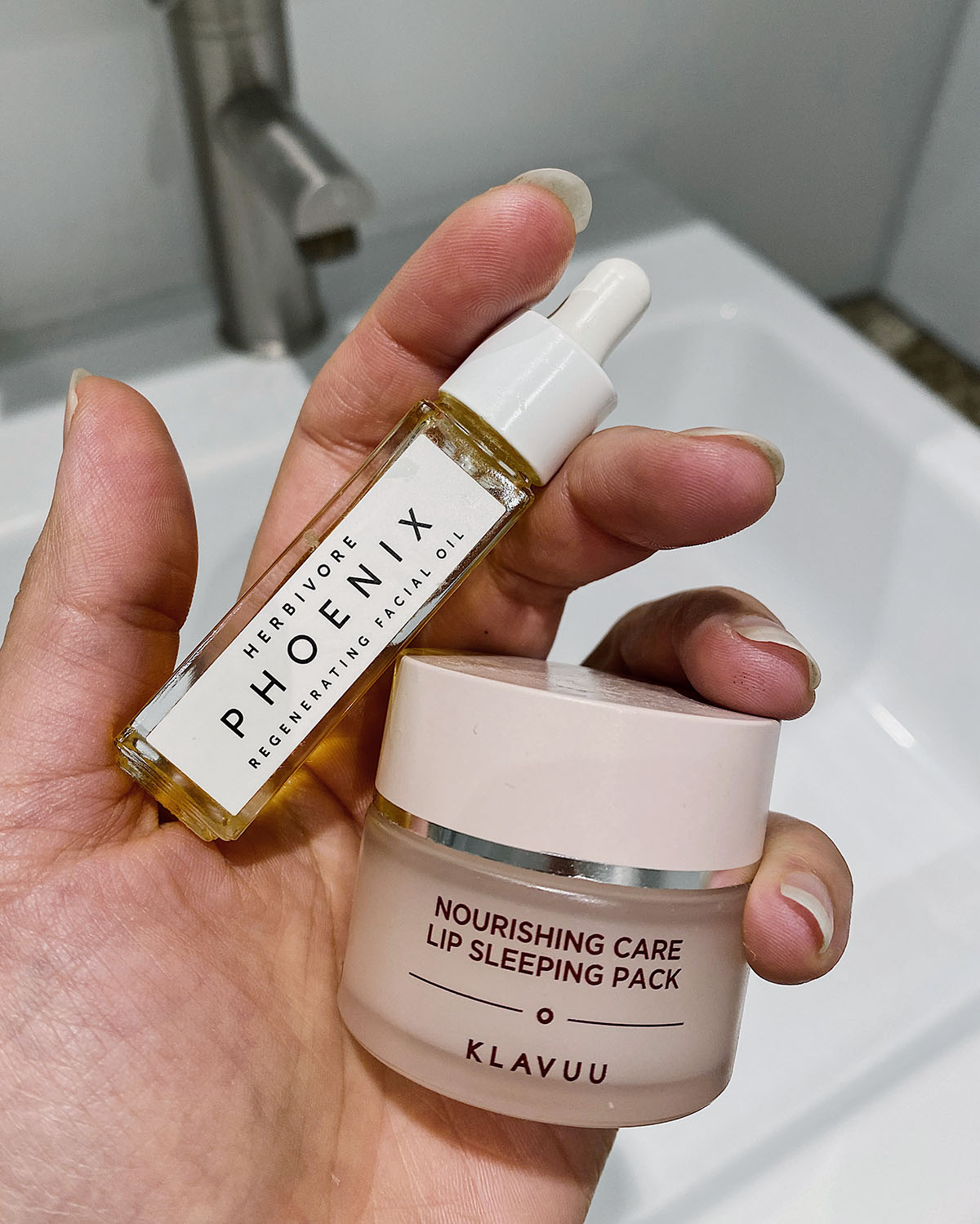 SKINCARE- Herbivore Phoenix Facial Oil and Klavuu Nourishing Care Lip Sleeping Pack
I got pretty sick over those precious days between Christmas and New Year's Day and as what happens when you're blowing your nose nonstop, my skin around that area got painfully tender and raw. I figured applying this facial oil and lip treatment that I already had on hand all over my nose would give me relief since they're meant to be deeply hydrating. Not only did I get that relief over night, I believe these products prevented my nose from peeling. All of this to say that I think these are great for dry skin. Herbivore's facial oils in general are awesome and I love using them all over my face (my favorite is the Lapis, geared more for combo/oily skin) and the Klavuu lip treatment I use nightly to keep my lips from getting flaky/dry.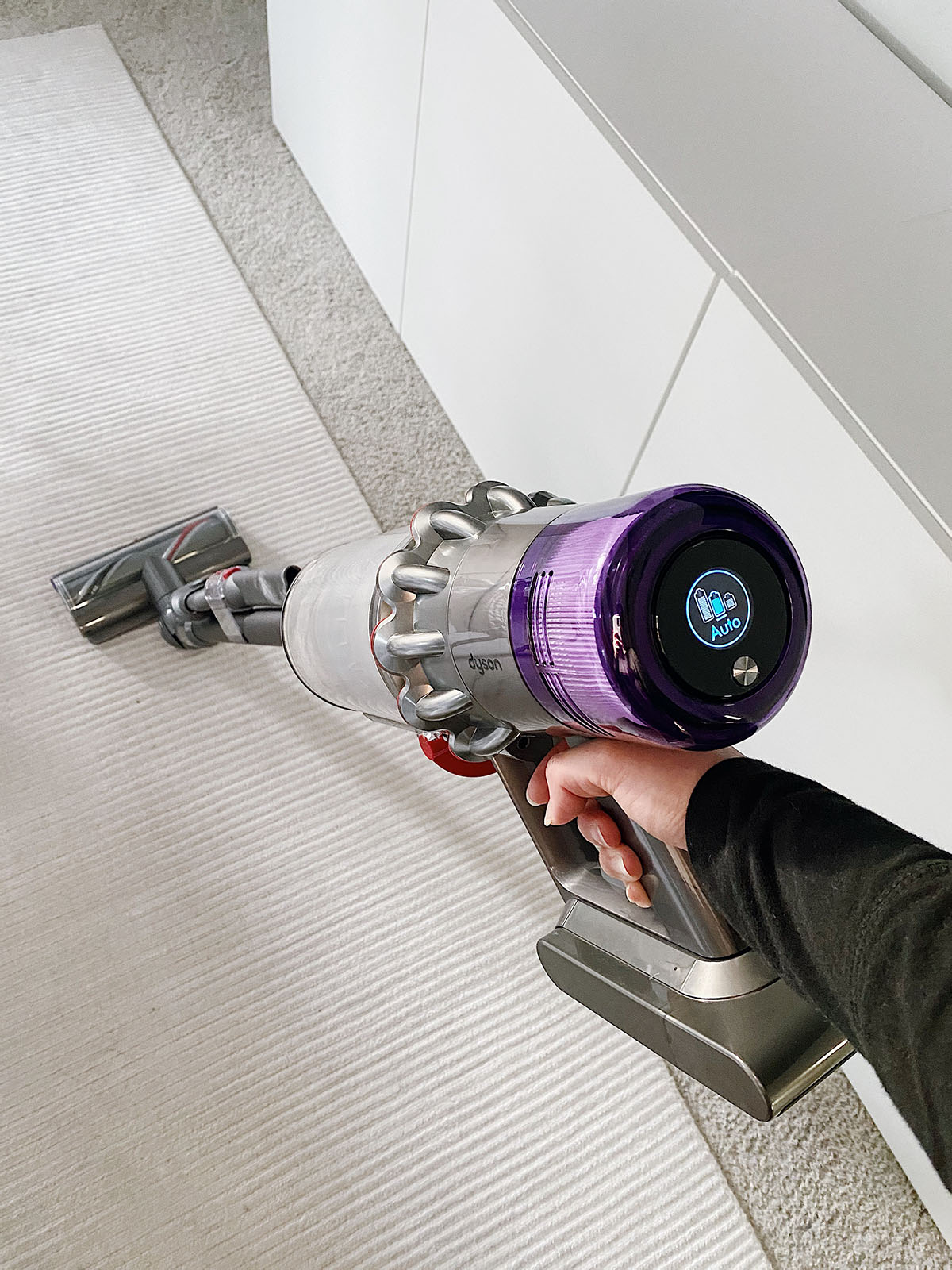 VACUUM- Dyson V11 Torque Drive
Vacuuming has always been my favorite chore, and that was with a corded vacuum, so imagine how much life has improved with this cordless Dyson vacuum. This thing is powerful, easy to maneuver, adjusts automatically to different surfaces, simple to empty, sleek, and has a convenient wall mounted auto charging station. I only wish that the dust container was larger so that having to empty it wouldn't interrupt longer vacuuming sessions. Still, I'm vacuuming almost daily because this thing is so fun and easy to use. Love using the shorter attachments for small messes. For sure my favorite purchase of the decade.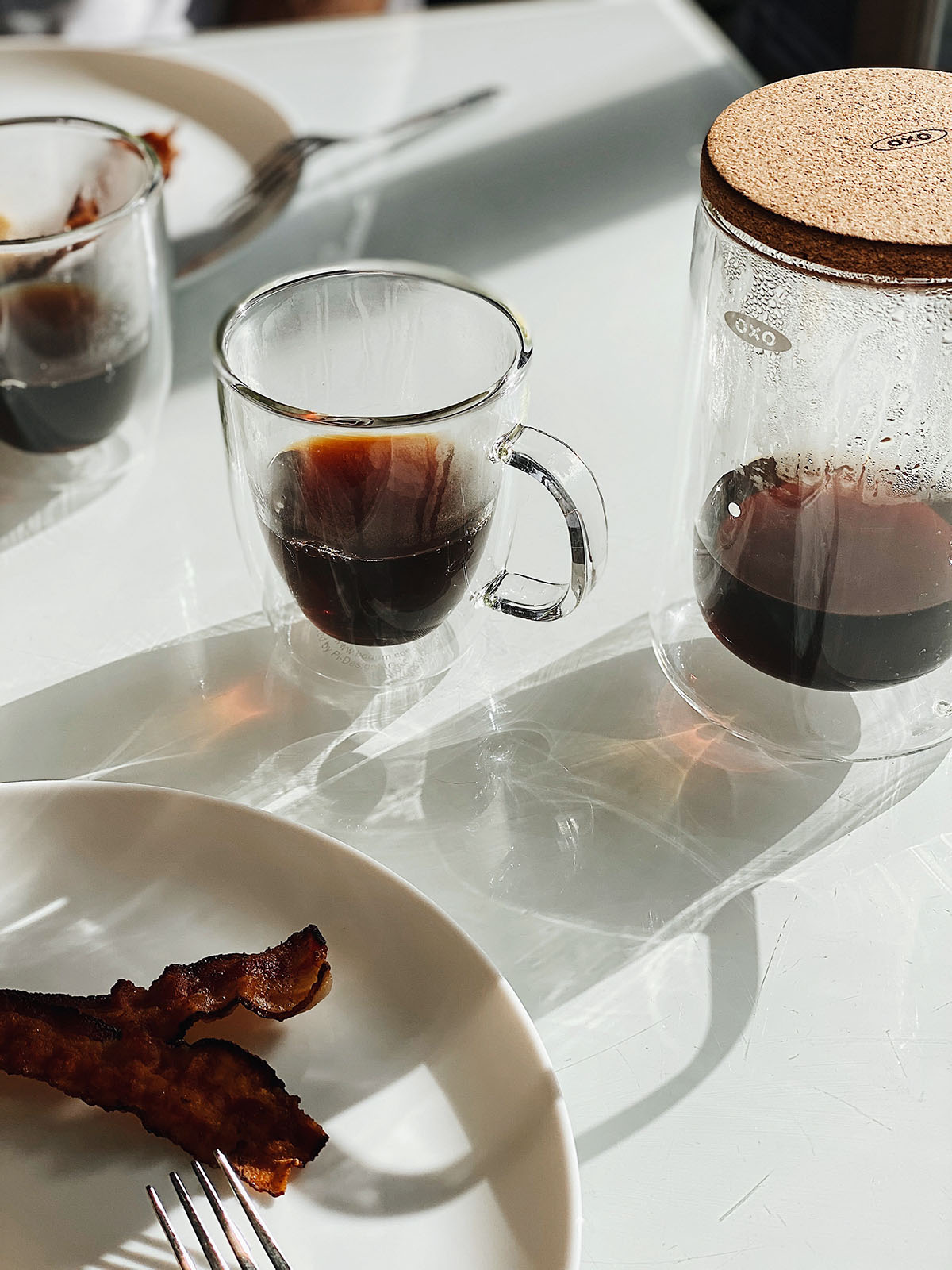 COFFEE GEAR- Bodum mugs and OXO Glass Pour-Over Set
You saw these in my Vietnamese Coffee Recipe post and they've been a part of our weekends since. The weekends are when Oleg and I can sit together for breakfast/brunch at home and coffee is always involved. Pour-over has become our preferred method of making coffee and this glass pour-over set not only makes it possible to brew a larger batch, it's also really pretty and convenient for keeping on the table for extra servings. I got the glass mugs to echo the double wall glass of the pitcher for the recipe photos and now they're my first pick for drinking coffee. They just hold so comfortably in the hand, look beautiful, and prevent condensation on the outer layer when drinking something cold.

SONGS ON REPEAT
BAYNK – go with u Louis La Roche Remix
Hayden James, NAATIONS- Nowhere to Go
Berhana- Health Food

LINKS
I keep coming back to this Rye, NY project by Studio McGee. To me it's a perfect example of a modern traditional style mix leaning more modern with some warm minimalism in there, which is what I've been into lately with the style of our house being more on the traditional side. If only we had these bones though ha, what a dream!! Check out the video tour too, it will take your breath away.
And then I see spaces like this gorgeous Australian home and I think ok, let's crank it to 100% modern monochrome style.

Love this studio in Greece too and the use of natural tones in a predominantly neutral space.

A warmer alternative to marble- how about travertine? In love with this coffee table.
Contemplating getting this floor lamp either for the office or the family room.

I would absolutely get these chairs for our beach house in Malibu (we don't have a beach house in Malibu).

I love this floor length mirror's modern minimal take on the arch.
Other Posts You Might Like