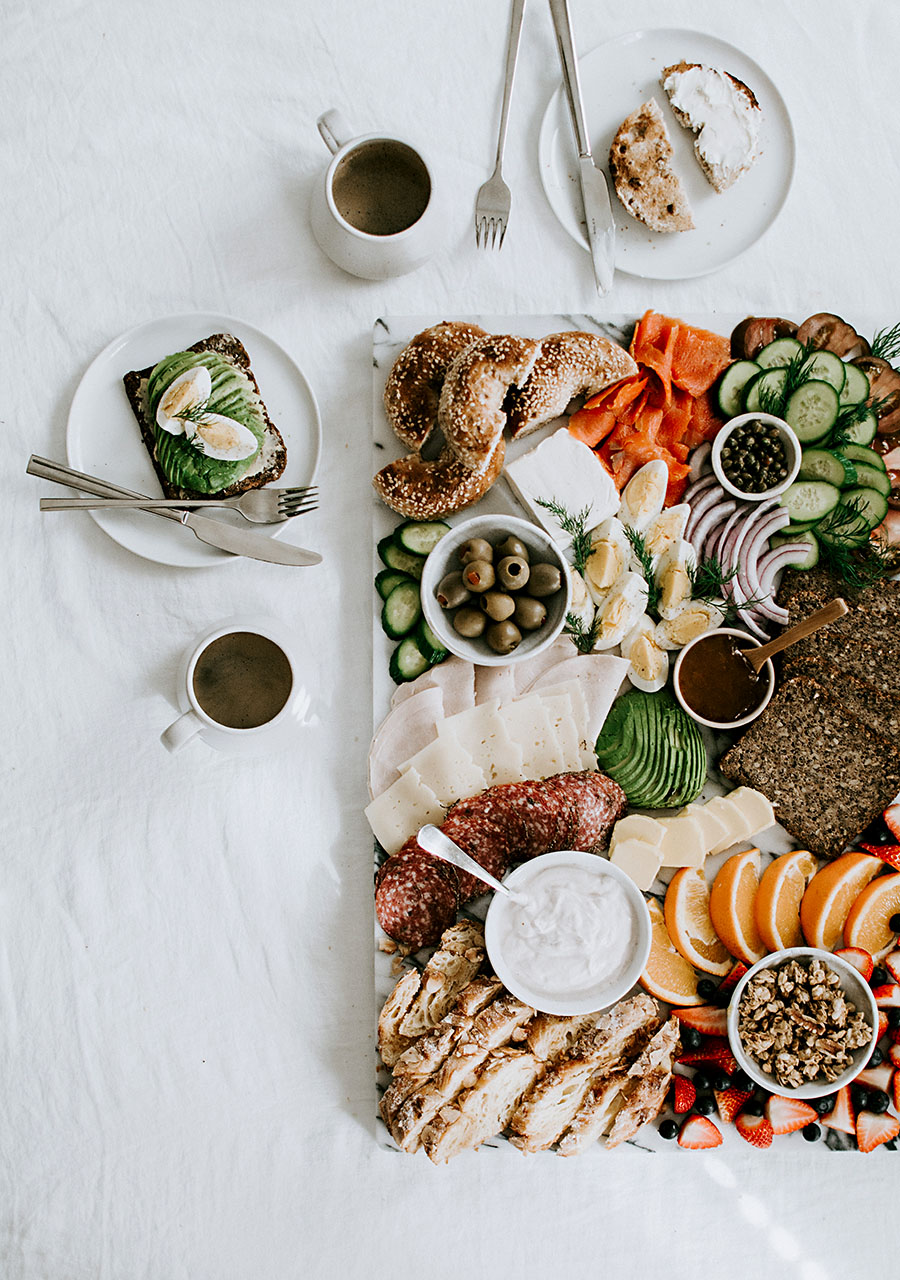 I recently traveled to Stockholm and of the many things I love and miss about being there, the breakfast bar at the hotel is one of them. Breads, cheeses, meats, butter, jam, hardboiled eggs, pastries, yogurt, fruit, it might sound similar enough to breakfast bars anywhere but it's so different and special from what I normally experience. I consider this a particularly feel-good and hearty spread, where I've observed specifically in Scandinavia that open-faced sandwiches on whole rye/grain bread are favored. I've learned quickly that those are my favorite, too. Wanting to bring that home, I put together this board that I like to call "Everything I like at European breakfast bars, plus sesame bagels" and made it easy to re-create by sourcing it all from our favorite place (Trader Joe's). Read on for the shopping list and some tips for putting together your own breakfast board.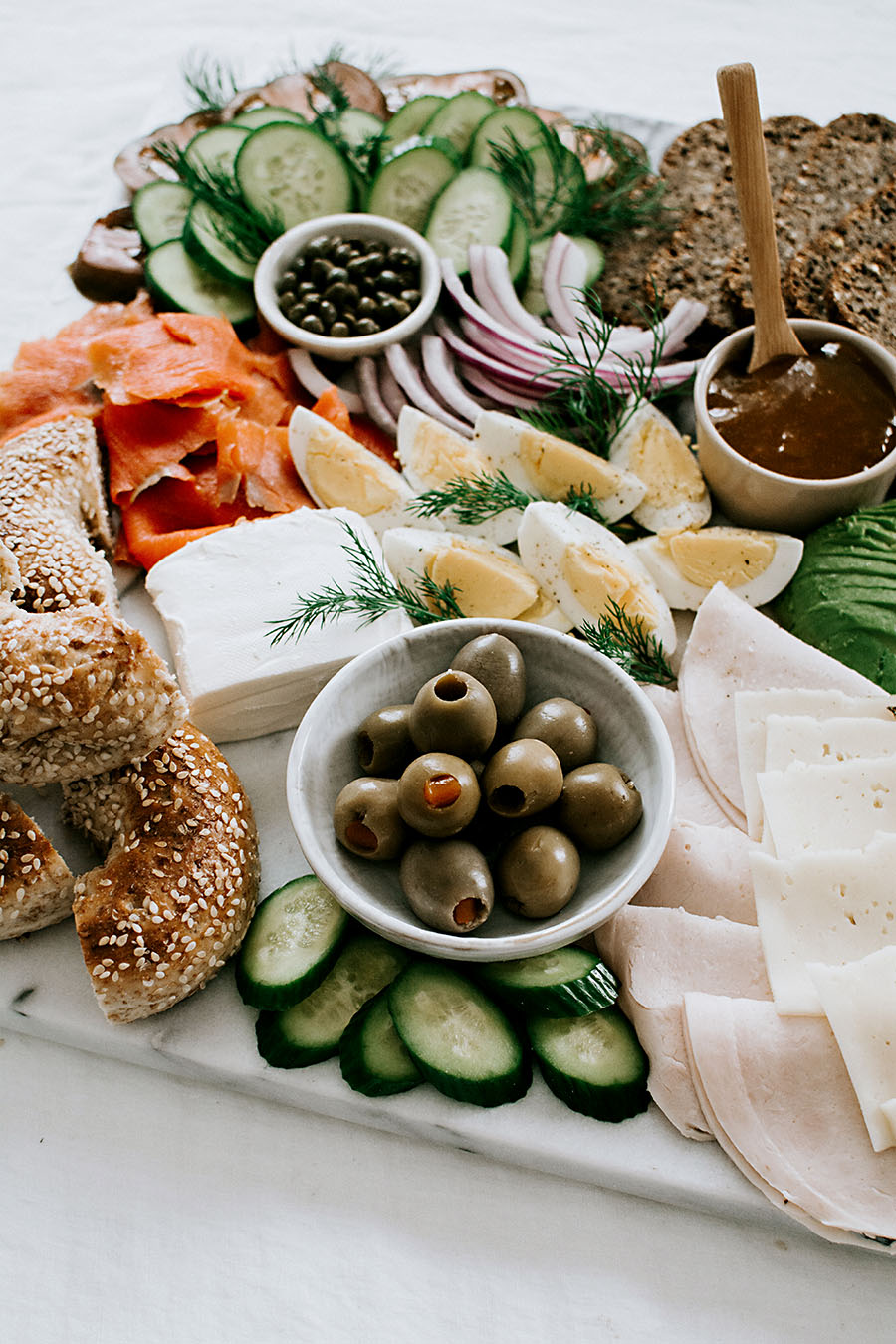 I prefer, by a hair, a savory over sweet breakfast but what's magical to me about these breakfast bars is that you can have both. You're getting a main course and dessert all in one meal without feeling like they're separated or spoiling each other. Still I set up this board so that you can move from savory on one side to sweet on the other.
We're not normally yogurt and granola people, in fact I considered not including them at all on this board, but this specific strawberry vanilla and pecan praline combo from Trader Joe's had my husband calling it "the break-out star of the board." It exceeded all yogurt and granola expectations, we continue to eat the combo just as a snack here and there on some days, and now I wouldn't ever think to skip it.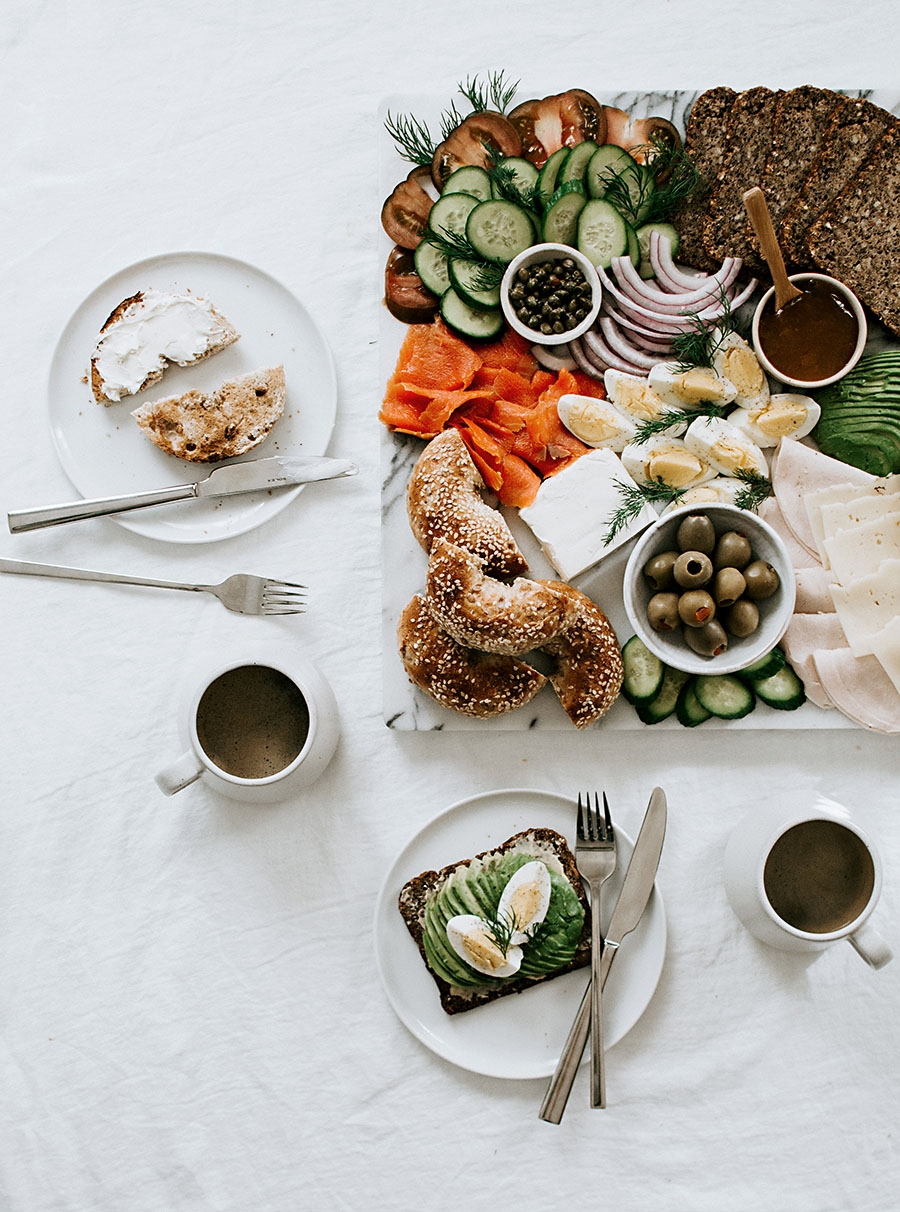 I very loosely follow a general formula to assembling boards, which is to start with laying down cheeses + anything that's in dishes or bowls (ex. olives, capers, jam, yogurt, granola), laying the larger or more structured items around those dishes and bowls, then filling in the blank spaces with everything else. Pre-cut anything that will make it easier for people to help themselves and make it all more sample sized to encourage trying a little bit of everything.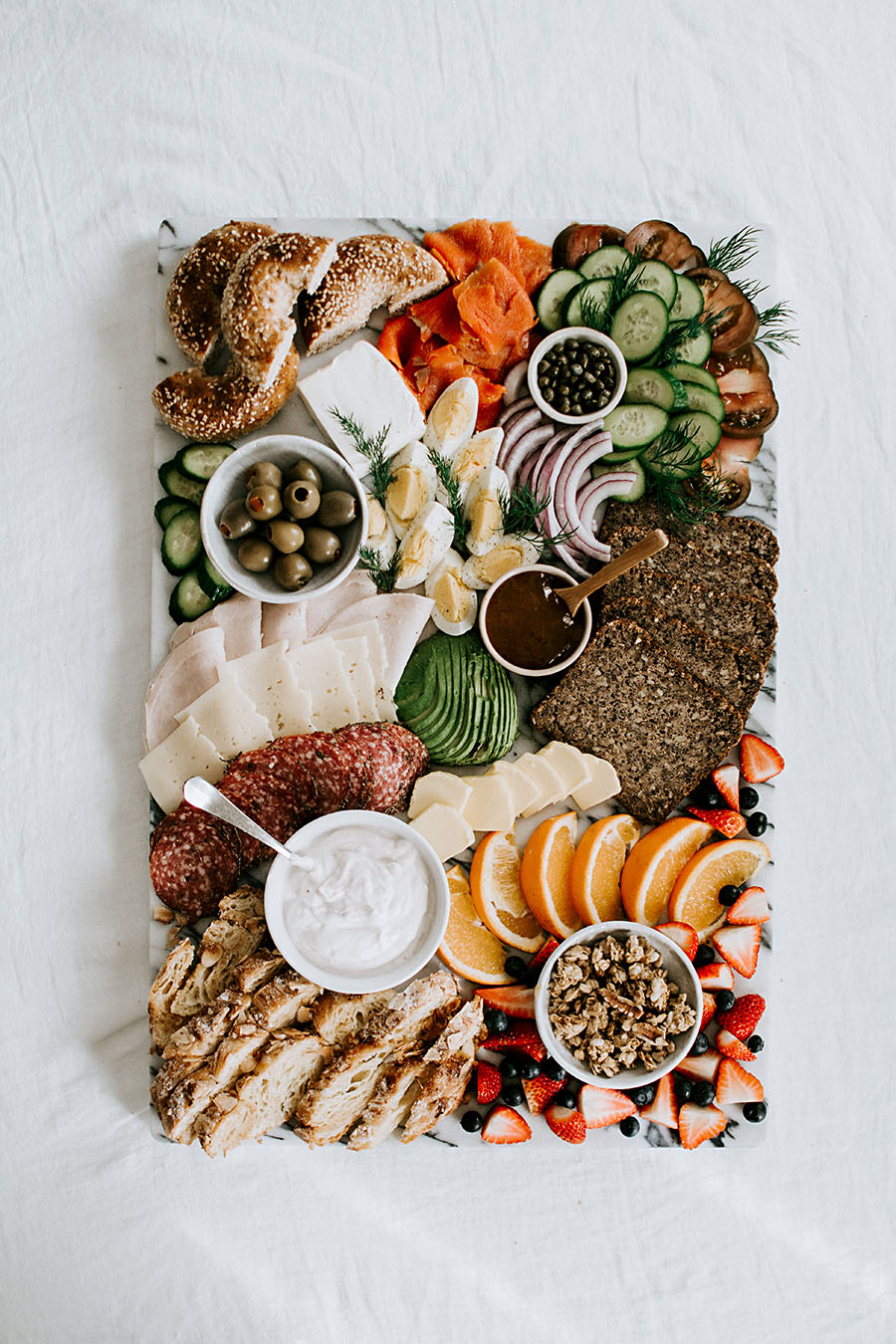 Trader Joe's Shopping List
SAVORY
-sesame bagels
-European style whole grain bread (side note- we found ourselves cutting these in half to maximize different topping experimentations, so I would cut these all in half ahead of time for a little less work during eating.)
*other good bread options: rye, sourdough, french rolls, croissants
-cream cheese
-sliced Havarti cheese
*other good cheese options: brie, log of herbed chèvre (goat cheese), swiss, gouda
-wild sockeye smoked salmon
-large eggs, hardboiled, cut into quarters and sprinkled with black pepper
-heirloom tomatoes
-persian cucumbers
-red onion
-stuffed queen sevillano olives
-dill
-capers
-oven roasted turkey breast slices
-peppered salami
*other good meat options: sliced ham, prosciutto, sausage
-avocado
-salted Kerrygold butter

SWEET
-apricot preserves
-strawberry vanilla greek yogurt
-pecan praline granola
-sliced orange
-strawberries
-blueberries
-almond danish ring, sliced

Not photographed but added later while we ate: flaky sea salt, Any sort of finishing salt is really nice to sprinkle over the veggies, eggs, or avocado if they're not being paired with other salty items like the salmon, capers, olives, or salami.
The amount shown on this board should roughly feed 4 people, and there was still more food that didn't fit on the board, so expect to feed more than 4 people if you serve everything from the Trader Joe's list.
This here is my favorite thing to assemble from the board- whole grain bread smeared with butter, avocado, hard boiled egg, dill, and sea salt. Inspired by avocado toasts that I had in Copenhagen and Stockholm, both of which were the best I've ever had and this one doesn't compare but is still really good.
Other combos we like are the classic bagel, cream cheese, and lox with capers and red onion, or turkey and havarti on buttered bread topped with jam, all with bites of tomatoes and cucumbers in between. It's the charcuterie of breakfast, the options and personalization are the biggest part of the fun!
Other Posts You Might Like