This is not the recipe to use when you want to eat cookies asap. In fact, these are pretty time consuming, where after I read the instructions for the first time and saw the minimum 24 hour resting period, I didn't even want to try the recipe because what's the point if I can't have cookies now? But after reading repeatedly about how those 24 hours are essential to deepening the flavor and creating the exceptionally chewy but firm texture for what is considered by many the best chocolate chip cookie recipe ever, I made an exception to my impatient "no waiting" rule. This is Jacques Torres' famous chocolate chip cookie recipe, a favorite as of late with a couple small changes I made and some tips for the best results.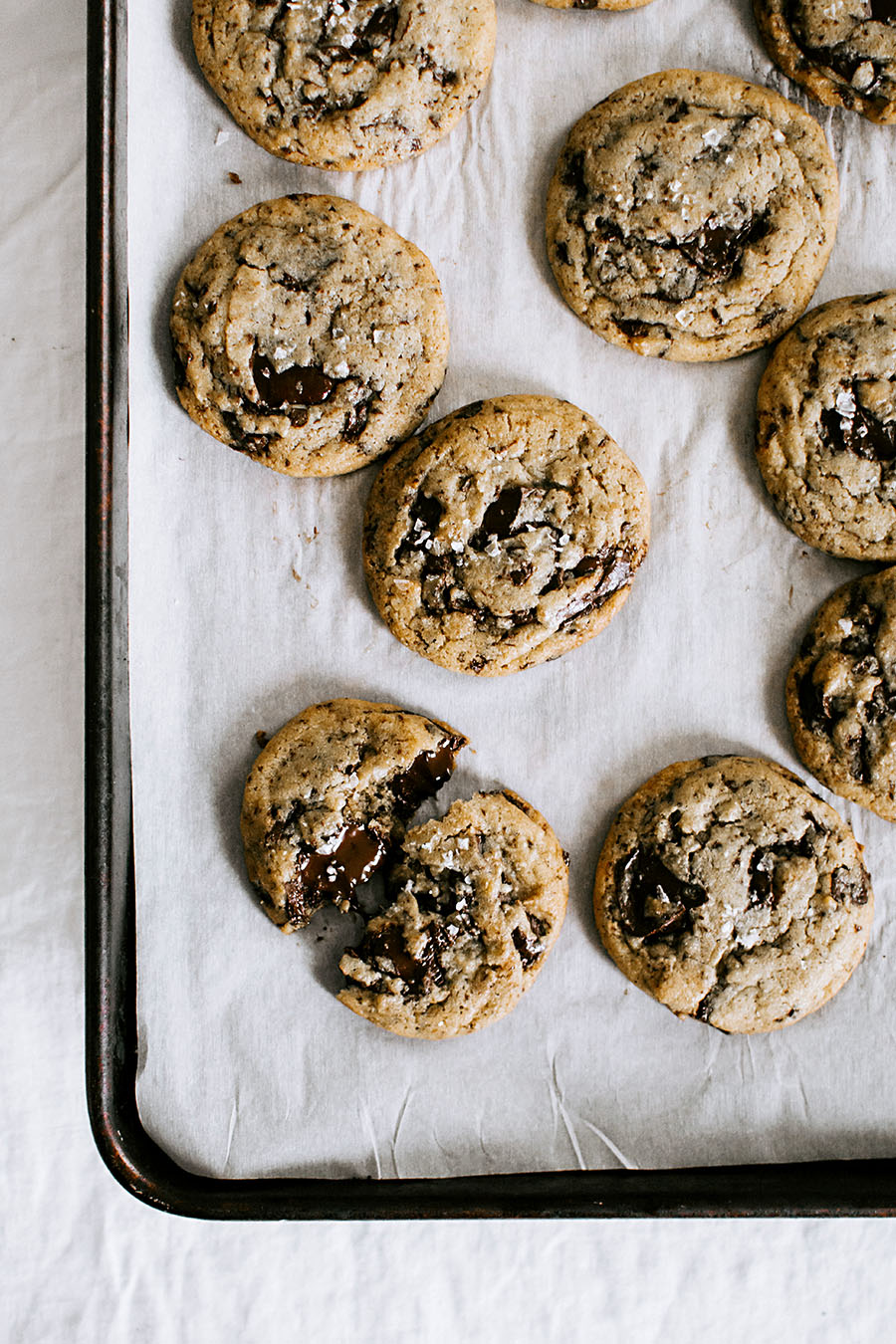 Of course the first thing I tried to see was if I could skip the rest period. They're still good when baked right away, but the flavor and texture become much richer after the minimum 24 hour rest since it allows the wet and dry ingredients to meld thoroughly. Don't skip it. And like I note in the instructions, I'd go a full 36 hours, let's go big.
Speaking of resting time, there's kind of more of that. The original recipe doesn't mention anything about letting the chilled dough sit out a bit at room temperature before scooping which confounds me because very chilled dough straight out of the fridge is rock solid and will break whatever you're trying to scoop it with. Before baking, I found it necessary to let the dough sit at room temperature until soft enough to scoop but still remains chilled.

Because of the long resting period, I'd avoid pre-scooping the dough before chilling since this increases the risk of drying out the dough, unless you're planning to wrap them to freeze. Leave it all in one mound in a bowl and do the best air-tight plastic wrap job you can.
The original recipe calls for chocolate discs from Jacques Torres himself, but I tried to see how less splurge-y options would work out and between chocolate chips and a roughly chopped giant chocolate bar, I much more prefer the roughly chopped chocolate for this. Not only does the cookie spread better, it looks a lot prettier with the speckling of chocolate shavings in between the larger chunks. This recipe has a pretty high ratio of chocolate to dough, which I love, but I could see some thinking it's too much. Keep that in mind if you want to adjust the amount of chocolate.
Freshly baked, soon after they've cooled and are still slightly warm, is when you'll best experience the other dimension of texture- the slightly crunchy exterior with the soft center and gooey puddles of chocolate. I personally think this is when these cookies are in their best form, though they're still amazing after they've completely cooled to a both chewy and firm texture.
Warm or cool, these are worth all the patience and bothering yourself to get two types of flour that aren't all purpose. I've mentioned enough things that sound like deterrents yet still I say you've got to try this recipe!
Jacques Torres' Chocolate Chip Cookies
Ingredients
2

cups

minus 2 tablespoons cake flour

(8 1/2 ounces)

1 2/3

cups

bread flour

(8 1/2 ounces)

1 1/4

tsp

baking soda

1 1/2

tsp

baking powder

1 1/2

tsp

coarse salt

1 1/4

cups

unsalted butter

(2 1/2 sticks)

1 1/4

cups

light brown sugar

(10 ounces)

1

cup

plus 2 tablespoons granulated sugar

(8 ounces)

2

large eggs

2

tsp

vanilla extract

20

ounces

chopped dark chocolate chunks

(at least 60% cacao)

flaky sea salt
Instructions
In a large bowl, whisk flours, baking soda, baking powder, and coarse salt. Set aside.

In the bowl of an electric mixer fitted with a paddle attachment, cream butter and sugars together until light and fluffy, about 5 minutes.

Add eggs one at a time, mixing well after each one.

Stir in the vanilla and mix thoroughly, scraping down the sides of the bowl as needed.

Reduce speed to low. Add the flour mixture and mix until just combined, 5- 10 seconds. Do not over mix!

Add chocolate to the dough and evenly incorporate with a spatula.

Press plastic wrap against the surface of the dough and refrigerate for 24-36 hours (I'd go for 36 hours), up to 72 hours.

After the resting period, allow chilled dough to sit out at room temperature for 30-60 minutes or until it's softened enough to scoop.

When ready to bake, preheat oven to 350°F.

Scoop 6 mounds of dough onto a parchment-lined baking sheet. I used a #20 scooper which is approximately 3 tbsp.

Sprinkle with flaky sea salt and bake 11-13 minutes. The middle should look soft and the edges should be golden brown.

Remove from oven and let cool for 5 minutes before transferring cookies onto a wire rack. Repeat with remaining dough, or reserve dough for baking next day.
Notes
Click here for the #20 scooper that I used.
Adapted from The New York Times.