The long term plan still is to make the garage my workspace/studio, but as we've seen over the months since the move, the garage for a while is going to be a holding area for all our extra stuff we aren't sure yet where to put, items from the initial work on our house that we still need to dump, and a few last boxes we have yet to open up and unpack. On top of that, organizing and designing that space to both provide the storage we need and look beautiful to be an environment I enjoy working in will understandably take time to make happen. So in the meantime, we have this bedroom that had also turned into a dumping ground for stuff we haven't designated homes for yet, and all of that got moved to (yup) the garage so I could make this a temporary office and man… I love it so so much and kind of wish this wasn't a temporary situation!
I say "kind of" because the challenge of changing the functions of the rooms in our home over time as our needs change and grow is something that excites me, though upfront seems like a lot of extra work. Still, I look forward to taking on new territories like making a garage space more livable for us, and there are small ways I can already start planning for that now with the decisions made for this room.
Knowing that this wasn't going to be a permanent situation was largely what drove the decisions I made for this space. It's a mix of what we already had and new pieces that I knew would work for the garage workspace in the future or would easily find places in other areas of our home.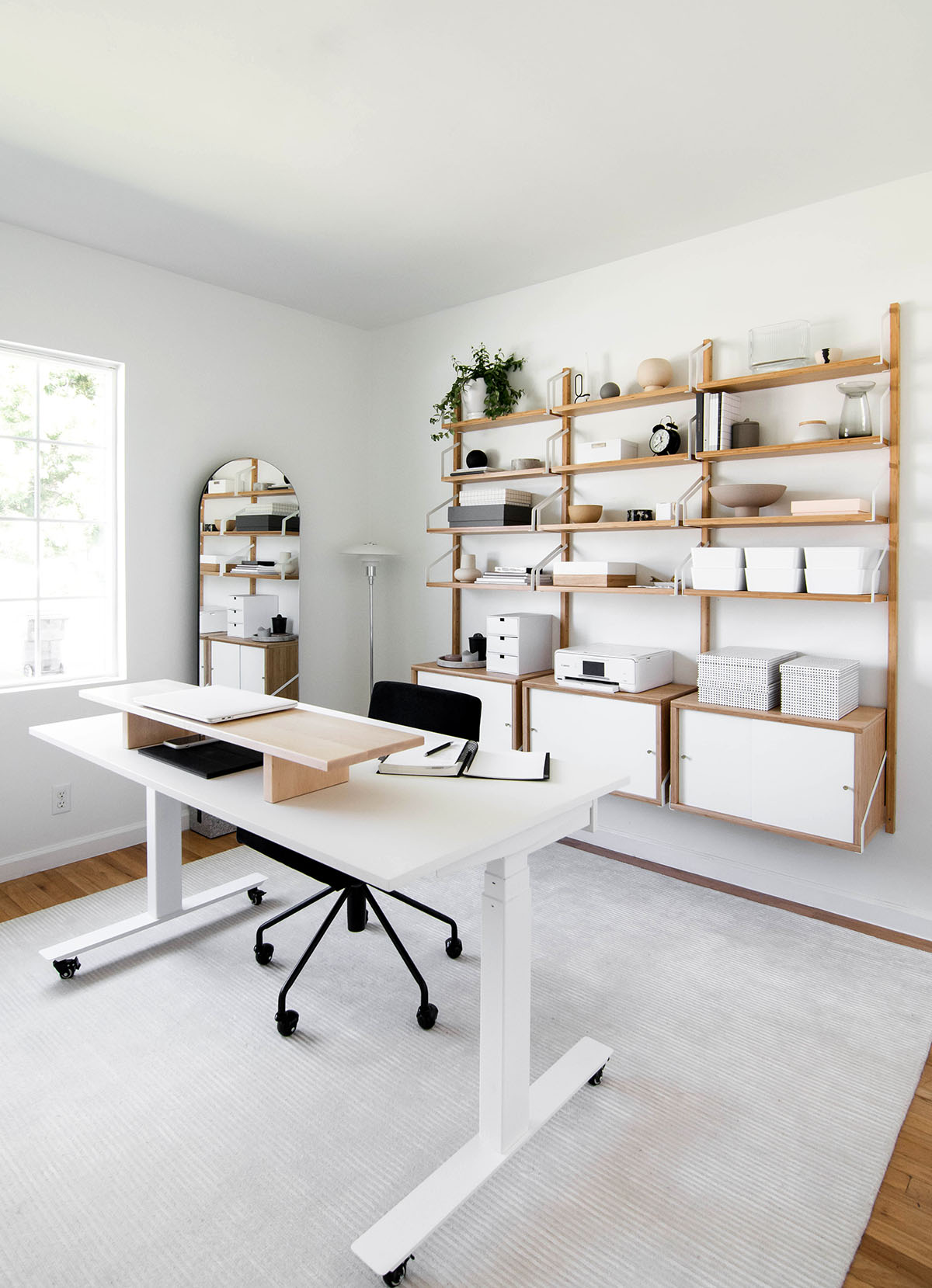 The first thing I was absolutely sure of was wanting to switch my old desk out for a sit-stand desk. The majority of my working days involve sitting and I've known for a long time how much my health would benefit from a standing desk. I just couldn't find one I loved the look of until ergonofis serendipitously reached out to me about trying out what I think are the most beautiful sit-stand desks out there.
This one is the Shift Desk (30″x60″) in all white. In addition to loving how sleek and minimal it is, I'm so impressed with how smoothly the motor transitions the desk through the varying heights. There are 4 pre-sets you can program with your desired heights so that you can adjust with one touch of a button. The entire thing was fairly simple to put together yet it's so substantial, like I can instantly feel how long of a life this desk will have with us because it's clearly made to last.
I love that there were add-on accessories to customize the desk, like the drawer that makes it possible to keep the surface cleared off. I imagine using the surface to sprawl out materials to plan out future projects in addition to things like shooting flat-lays and more stylized work. The drawer tucked underneath makes it really convenient to throw things that need to be quickly cleared away but still kept on hand (pens, paper, cords, etc.)
I also added casters to the bottom out of anticipation for how I plan on floating the desk in the center of the garage workspace so that it can be moved around depending on what's being worked on in there- that future plan ended up inspiring the layout for this room and how I floated the desk in the center. Now that it's in here, I'm extra into the casters because this desk is pretty heavy and they make it much easier to move!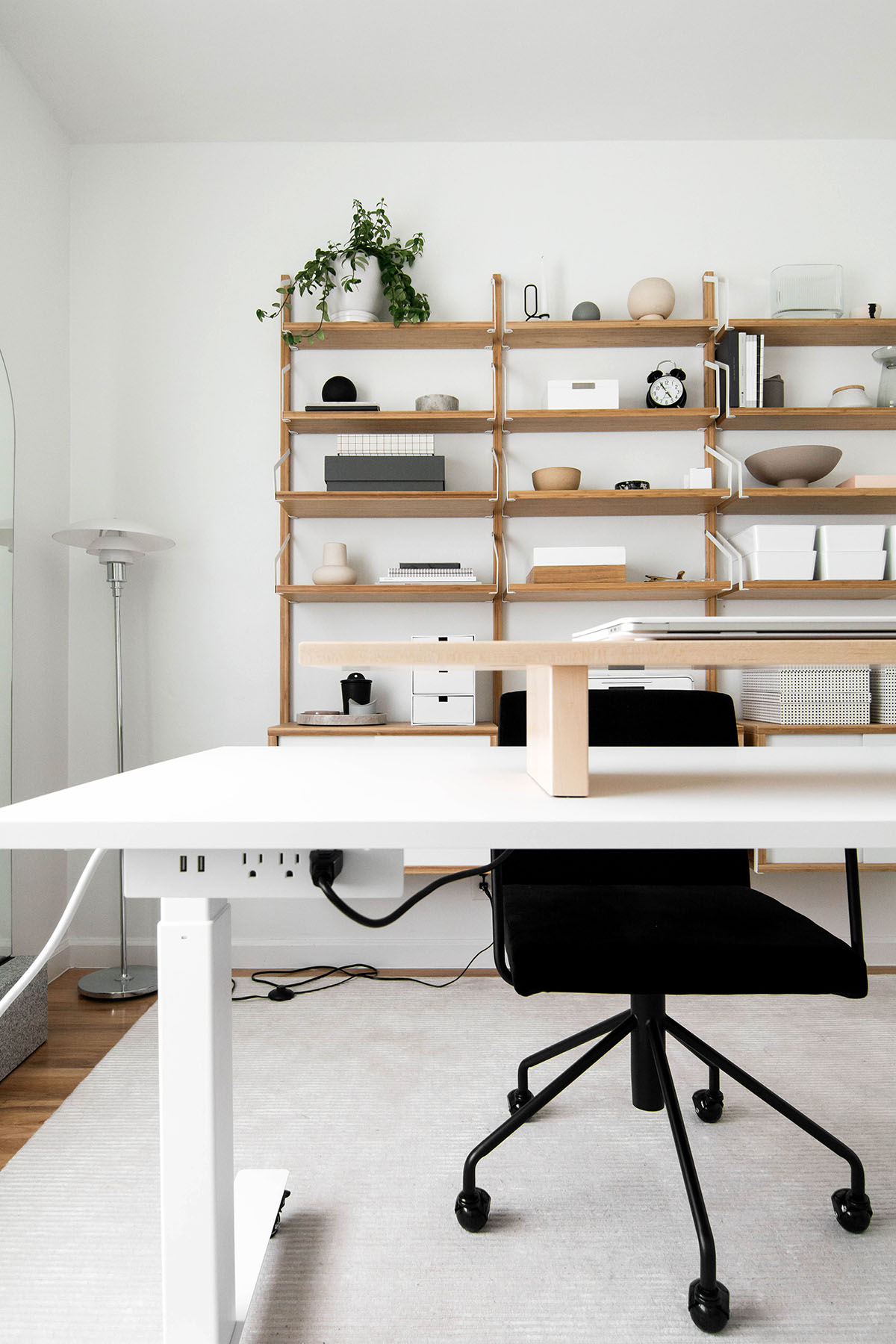 The last accessories I added are the desk shelf to put my laptop on to help keep my neck neutral (I've got a wireless keyboard to help with that too) and the under desk power bar outlet that solves the outlet shortage issue in this room. It has 2 very convenient USB charging ports and a surge protector, all tucked underneath the desk to help maintain the uncluttered look I'm always trying to achieve.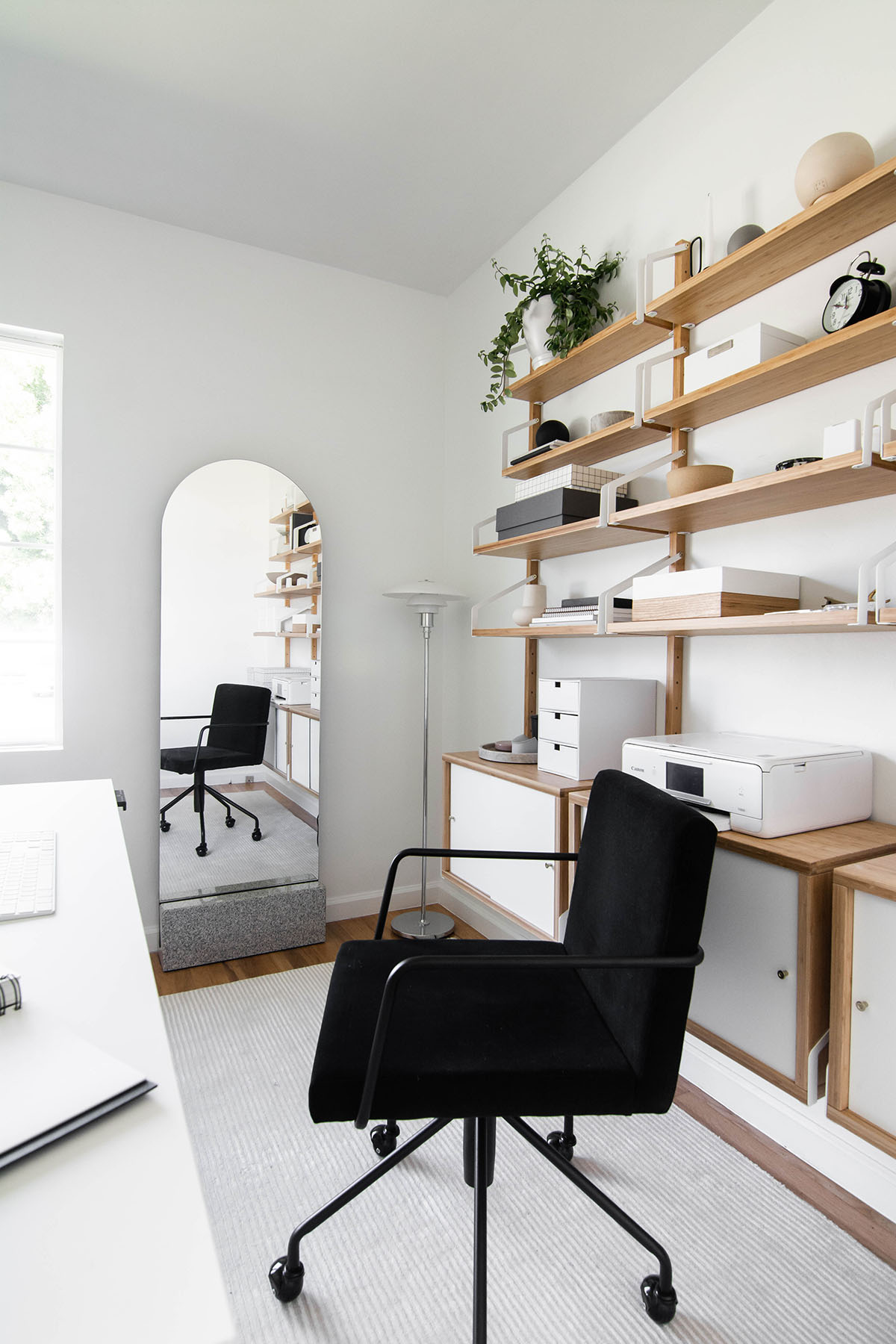 Something interesting to note about sit-stand desks is that they're not meant to completely replace sitting. In fact, there needs to be an adjustment period where you work up to increasing the amount of time you spend standing, but even your adapted peak standing times need to be balanced with sitting too. Hence, we have this office chair in here. I've always wanted a swiveling chair with wheels and as I already mention I think with every post I share about a space in our home, design must match function for me. The black velvet, though it's a dust and hair magnet, adds a subtle but very special texture to the room, and luckily it's simple to clean. Plus, I think the black color does everything to ground this light neutral space and was the only color I could pick, I'm sure of it.

I can see others thinking this chair is uncomfortable. I wanted something firm with a straight back vs. something that sunk in and hugged me, so I find it pretty comfortable while others might think it's too stiff. It's those clean lines after all that made me want with this chair, and luckily I ended up finding it comfortable. Bonus- those wheels are going to be great for rolling around in the future garage workspace.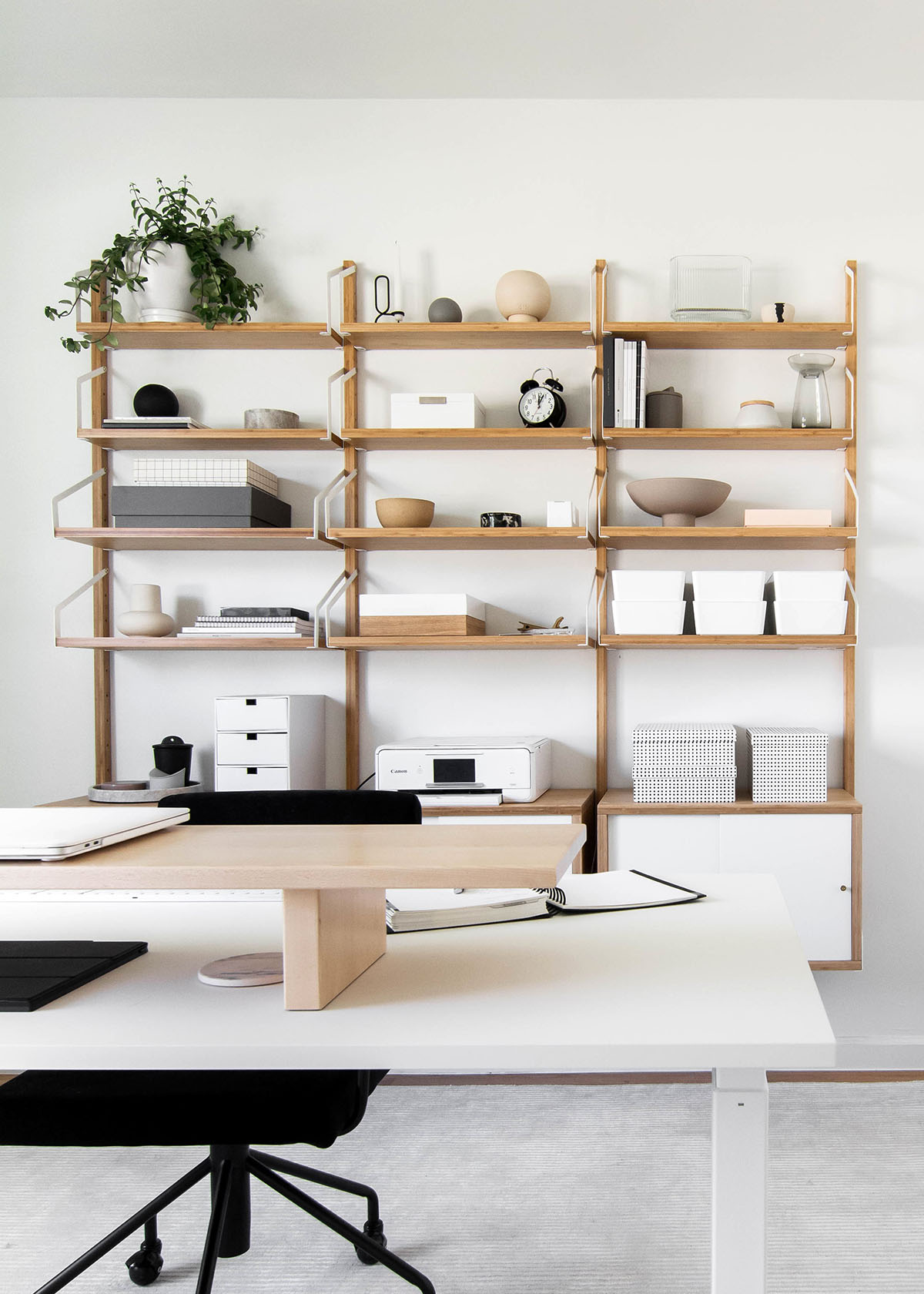 The biggest focal point in the room is this wall-mounted storage combo. We had these set up in the hallway storage closet in our apartment, so it's likely you've never seen it from me unless you caught my stories about how we mounted it. It's a pain to put together and mount, to the point where we highly considered not taking it with us for the move, but it ended up being worth it for how great it worked out for this room and kept me from having to source more storage accessories for this temporary space.

It's beautiful and has the very coveted pairing of both revealed and concealed storage, but what it truly does most for me is provide an outlet to style shelves with beloved dust collectors. So far this is the only room in the house that has shelves. I don't know where else we might be putting up shelves if it all, so this is really scratching that itch of mine to faff about and arrange shelfies.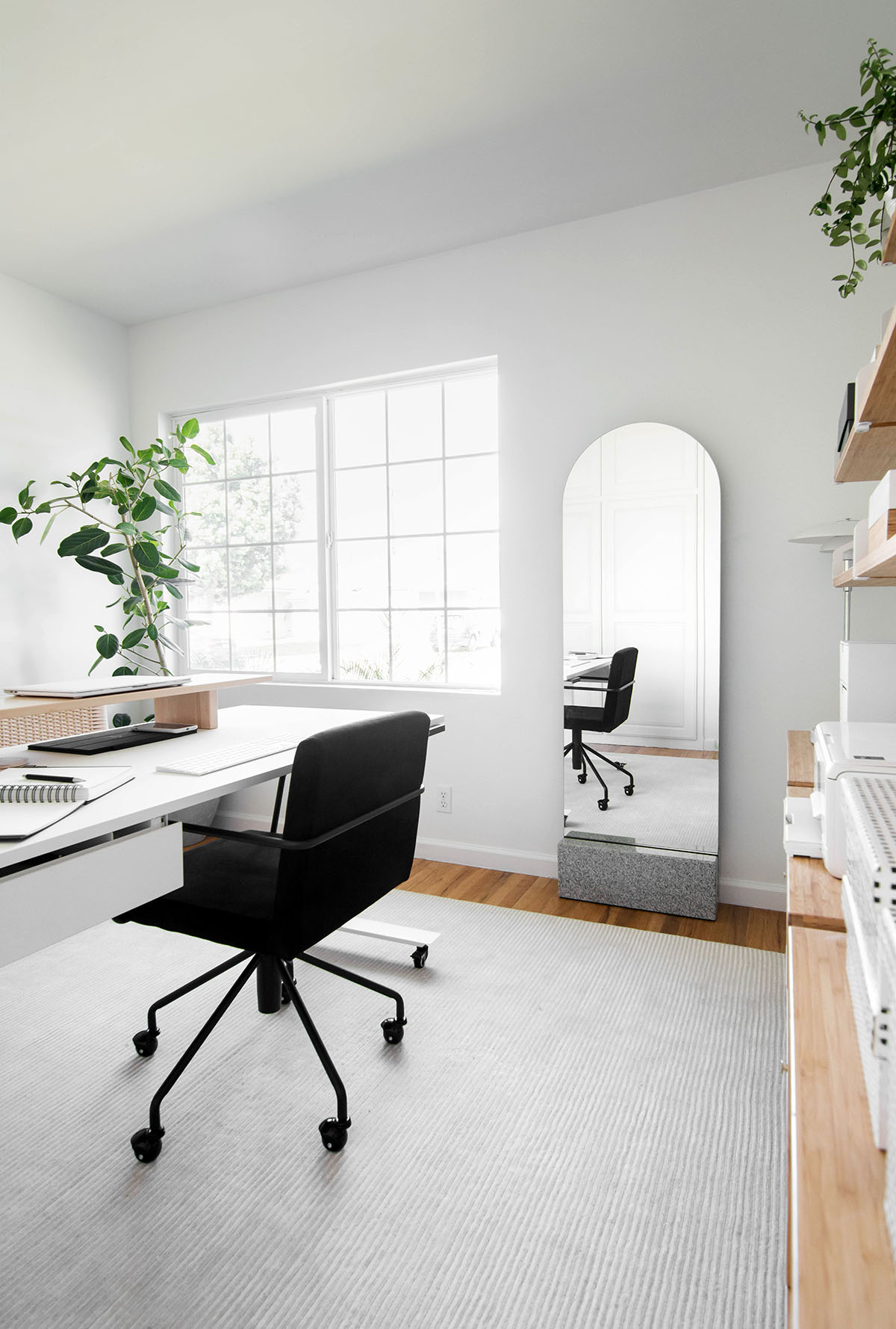 Something I was sure about early on for this room was that I wanted an arch floor mirror in this corner. That's kind of specific, but really the idea originally started as wanting an arch mirror somewhere in our home and quickly it made perfect sense to put it here.
My favorite detail about this Space Standing Mirror from Castlery is the marble base that not only looks luxe but makes it possible for this to be a free-standing mirror that isn't going to slide and fall. That also means it doesn't need to be mounted on the wall though it does have a wall attachment hook on the back for added safety and peace of mind, especially for those of us living in earthquake territory. It's minimal, sleek, and adds a sculptural element that I know without a doubt looks better than any piece of wall art I could've put up instead.

If it doesn't stay here in this room, I'm positive I'll have no problem finding it another spot in our home. I've already been thinking it would work beautifully in our bedroom, too.
I did think that a bench would be the best option to put against this wall, but again, using what we already had was a priority, and we don't have any kind of bench (yet??) I'm not only happy to have found a spot for this beautiful arm chair that saw its first life in our apartment living room, it's also much more comfortable than a bench would have been with its perfect lounging back angle. I treat it as a spot to retreat to within the office, like a temporary change of scenery while I'm still working. It's also just really comfortable, did I already say that? Way more comfortable than it looks, I promise.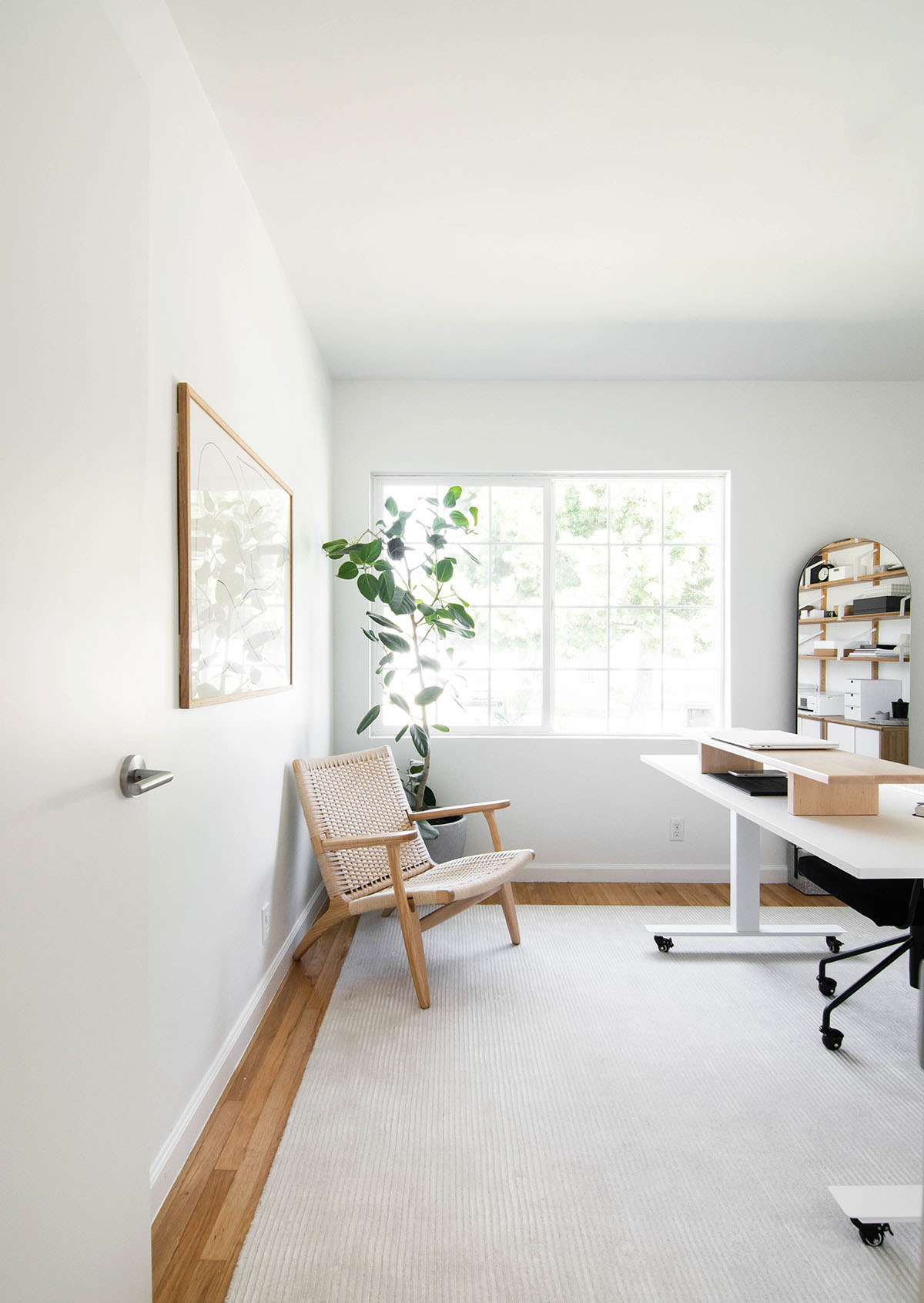 I feel excited everyday to come in here and get work done, which is really the goal of any creative work environment. Oleg clearly feels the same way since I catch him in here all the time with whatever work he brought home with him. I did think about how he's going to want to use this office too, which made that sit-stand desk even more of a perfect fit because there's enough room for both of us to work from it at the same time. That's another detail that needs to be considered for planning out the garage workspace- he'll probably be using it too!

SOURCES:
arm chair | art (70x100cm) | desk (30×60″) c/o ergonofis | desk chair
lamp | mirror c/o Castlery | rug | shelves
Other Posts You Might Like