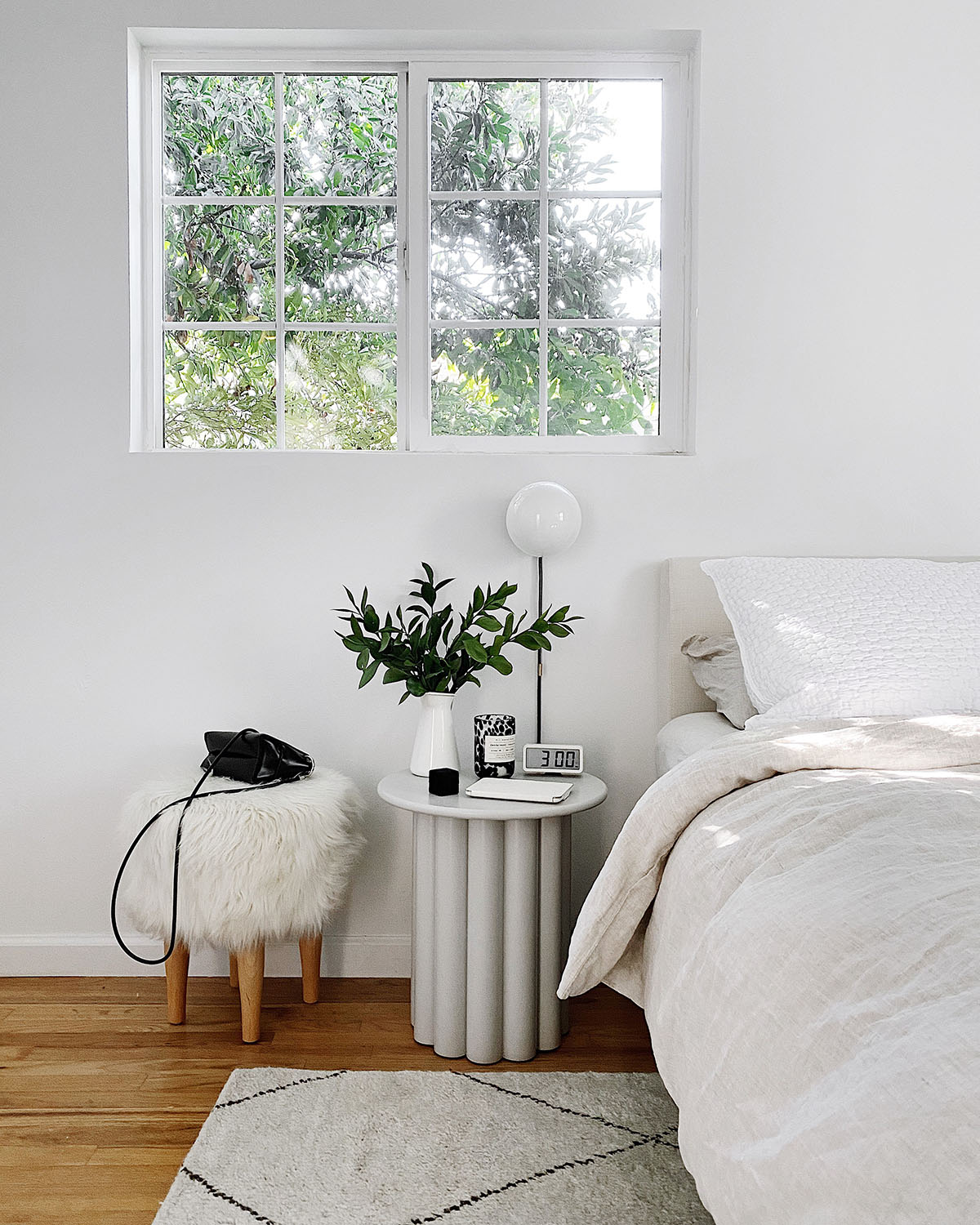 Some of my favorite things during the month of February.
NIGHTSTAND- Hera Side Table
I was in search of a shallow nightstand that had at least one drawer and that went out the window when I saw this side table. I love the scalloped form of the base and the soft gray color. It's both minimal and sculptural which is my favorite combo for anything. If it doesn't stay in this spot forever, I'm positive there will be another spot for it in our home, which is that versatility I like to look for when choosing some pieces for our home!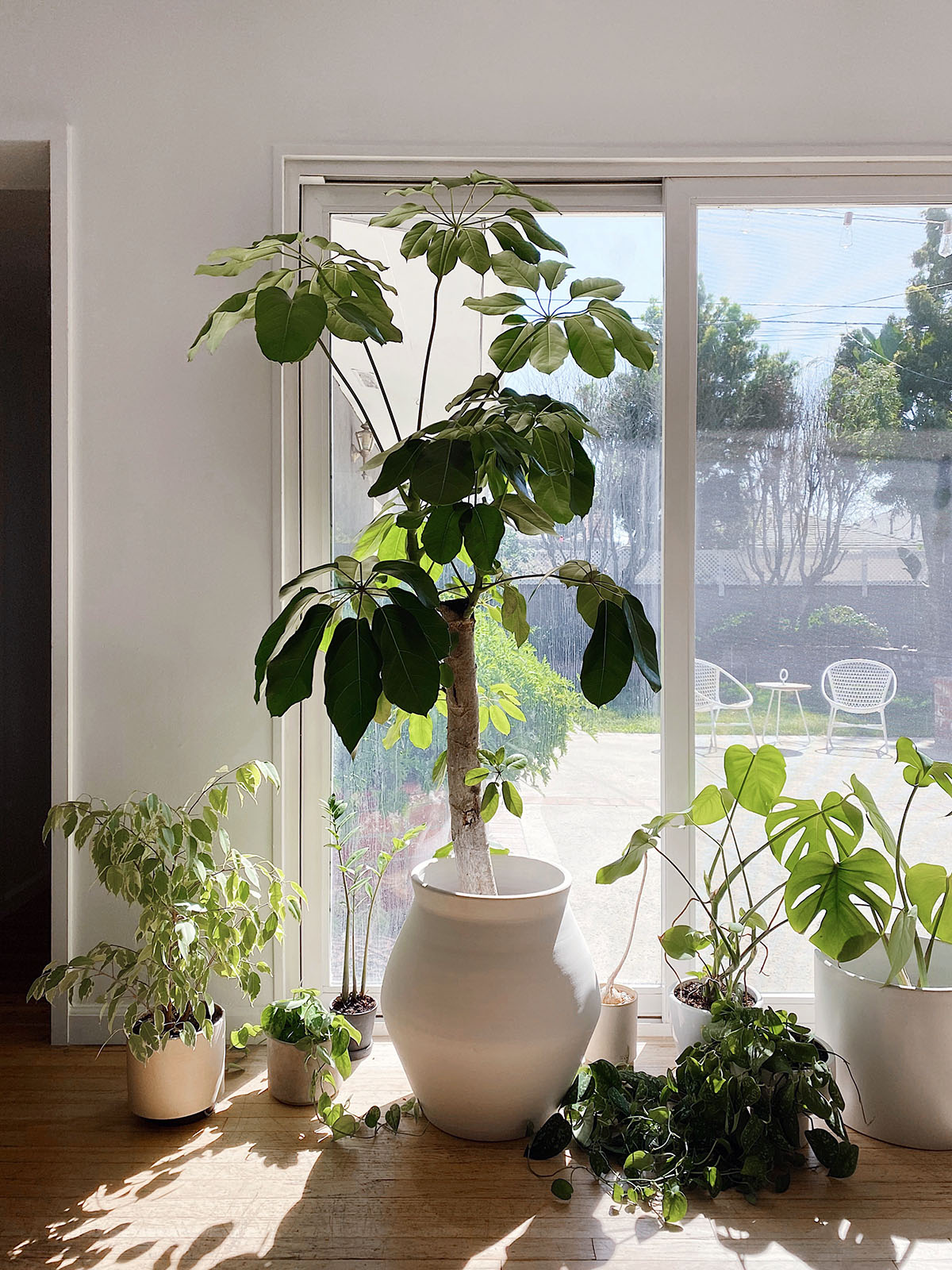 PLANTER- Wabi Floor Vase
The one in the middle! Large pretty pots can be so hard to find, and I knew from the stock photo it was perfect for our new plant (schefflera amate- it's been on my plant wishlist for a long time!) Looks like it was intended to be a decorative "vase" and not so much a planter, confirmed by how there's no drainage hole at the bottom or saucer but that's a widespread problem in the world of pretty plant pots. Again, it's sculptural and minimal, and it has a matte organic texture that makes it look expensive. I mean, it was expensive, but usually for something like this I've seen it go for much more. It's currently living in this plant corner in front of the sliding doors that was intended to be a temporary holding area for all the plants while I decide where I want to put them in the house and like everything else, this is taking a lot longer to roll out than I expected. Luckily, they all seem really happy here.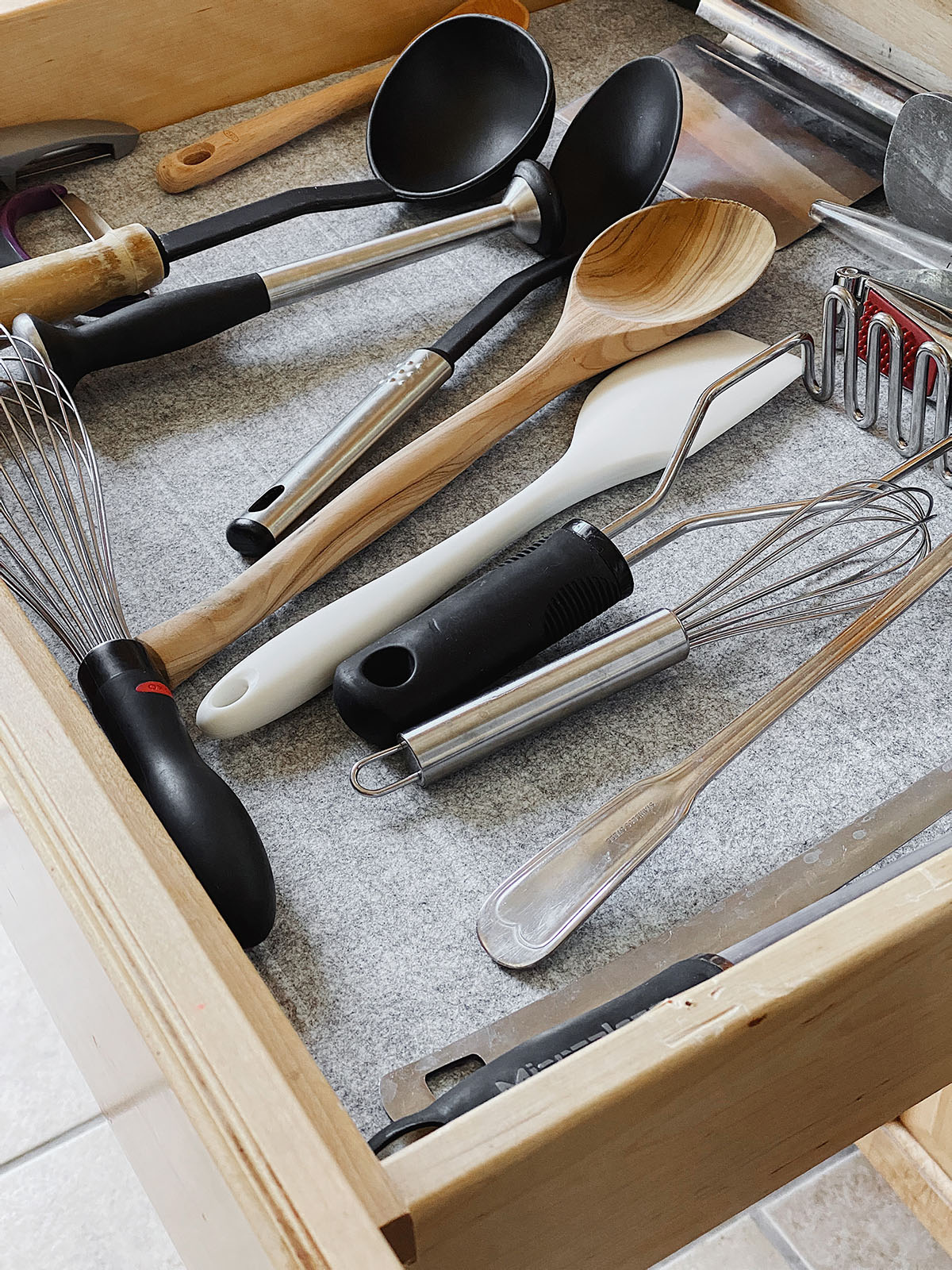 DRAWER MAT- PASSARP
Those drawer organizers for large kitchen utensils never made sense to me. They'd never properly fit our random hodgepodge of oddly shaped tools and fishing through the ones that are piled on top of each other made everything messy and unorganized every time I'd go through the drawer. It may not look as nice, but having everything laid out like this so I can see each individual item works a lot better for me. This is actually a lot neater here than it usually is. There's no order or designated spots for each tool, it's just all there in plain sight and I grab what I need, simple and easy. To keep everything from sliding around too much and to protect the inside of the drawer, I put in this drawer mat from IKEA that I cut to size and I'm surprised by how big of a difference it makes. The mat itself somehow makes it seem like maybe this drawer has some organization system (it doesn't) and it simply looks and feels really nice. Strange to say but it feels like I'm doing something nice for the utensils by having them lay on this mat. Channeling Kondo vibes to thank your belongings.

PODCASTS
I've mentioned Naval Ravikant a few times before in my monthly favorites. Oleg regularly sends me quotes, tweets, and podcast clips from Naval about his deeply insightful philosophies on wealth and happiness. What I find most intriguing about him is how he is able to effectively communicate his points in the most concise and direct ways. Naval's podcast consists of 1 minute episodes full of actionable advice with no filler. Two of our recent favorites are below. They are seriously only a minute each and you could listen to them over and over and feel like you are learning more each time:

Desire Is a Contract You Make to Be Unhappy
A Calm Mind, a Fit Body, a House Full of Love


I also get into slumps where I feel overloaded by the "self-help" content I mostly go for and crave indulging in the "for fun" stuff. I discovered the Crime Junkie Podcast through a friend who recommended we listen to it during a short road trip we were taking, and since then I've loved listening to the episodes during longer commutes. It does feel wrong to consider true crime stories as "fun" but the storytelling is compelling and eye-opening, like how we were all obsessed with Serial and Making a Murderer. It also gets dark and heavy, but it gets me thinking a lot more about being aware of my surroundings, listening to my gut, and taking notice of and advocating for the safety of others around me. I've always been paranoid and cautious about safety, I'm sure this podcast doesn't help, but I still would be like this anyway without it. Also, bringing perpetrators to justice- I LIVE to see that, and hearing stories of unsolved murders lights my fire to become a detective myself. You know what I mean.

LINKS
There's been a little update to the Shop page on the blog (access it from the main header menu)! I linked everything in our home so far, included a few of our past spaces from the apartment, and all of that will be continually updated as we make progress on the house. The pages within the "Shop" category in the blog menu are labeled by room so hopefully that makes it easier to find what you're looking for. There's also a page titled "Sources" under the Shop tab that lists some of my favorite online retailers for home decor and furniture that I frequent for sourcing and inspiration. Take a look and of course let me know if you have questions.
The Leanne Ford x Crate & Barrel collection is the best big box design collab I've ever seen!! Everything is both sculptural and minimal and very up to date while also being timeless. I only wish some of the things came in more upholstery options, but still it's all collectively in my favorite colors. After checking out the collection in store, it surprisingly changed my mind about what my most favorite items from the collection are. I'm most loving the Annie Storage Cabinet, Canyon Arched Canopy Bed, Soft Linen bedding, and Tom Three Legged Coffee Table. Favorites that I've purchased so far are the Wabi Floor Vase (mentioned that earlier in this post!) and the Clay Footed Bowl that you'll spot in the office reveal coming soon.

The chair I'm highly considering for our living room- just wish there was a way to sit in one first (wasn't on display at the LA showroom, but I got some fabric samples!)

This would truly be the dream sofa though.

Also in love with the look of this modular sectional (that corner curve!) but I wonder about the low back… I LOVE the look of a low back but can't help assuming it's uncomfortable and not great for extended lounging. Any personal anecdotes about this?
The shelving system I can't stop thinking about.

I can't even begin to count all the details I love about this Queensland Penthouse, both in terms of furnishings and architecture. I do say this a lot, but truly, this has a lot of the components of my dream home.
Other Posts You Might Like