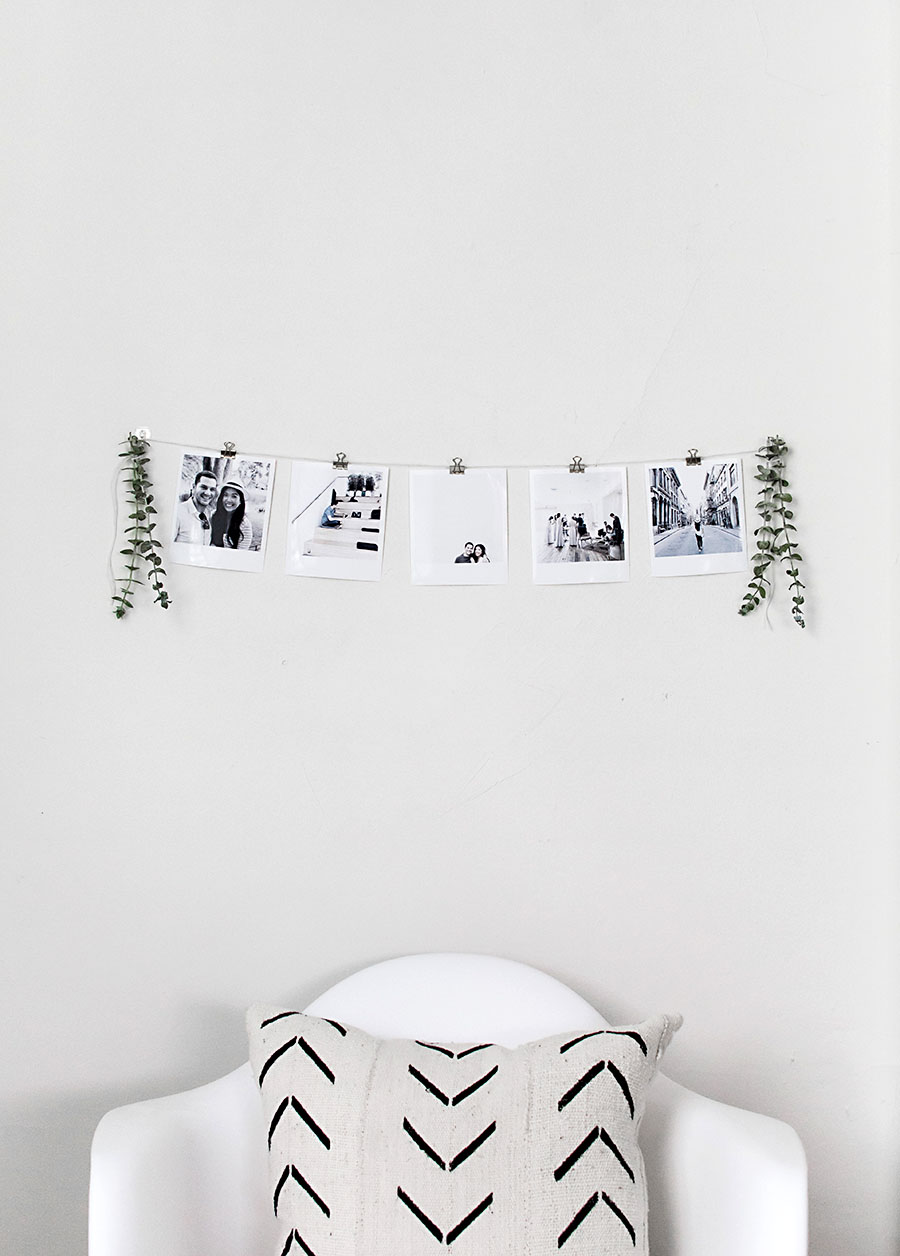 I love making photo garlands of some sort as part of my growing efforts to capture more moments that matter and have physical keepsakes of them, and I think most of us agree that we want to do this more, yea?   This one is so so simple, and I took style inspiration from instant film photos which have been extra popular lately.  I turned some of my Instagrams into these mini photos that look like they were taken on instant film, except I just printed them on photo paper with the help of my friends at Canon, who partnered with me to share this project with you!
I printed the photos with my PIXMA MG7720 Wireless Photo All-In-One Printer, which I'd call the single biggest motivator for printing out my photos because it's so dang easy and instant.  I used semi-gloss 4×6 photo paper similar to the shine that instant film has.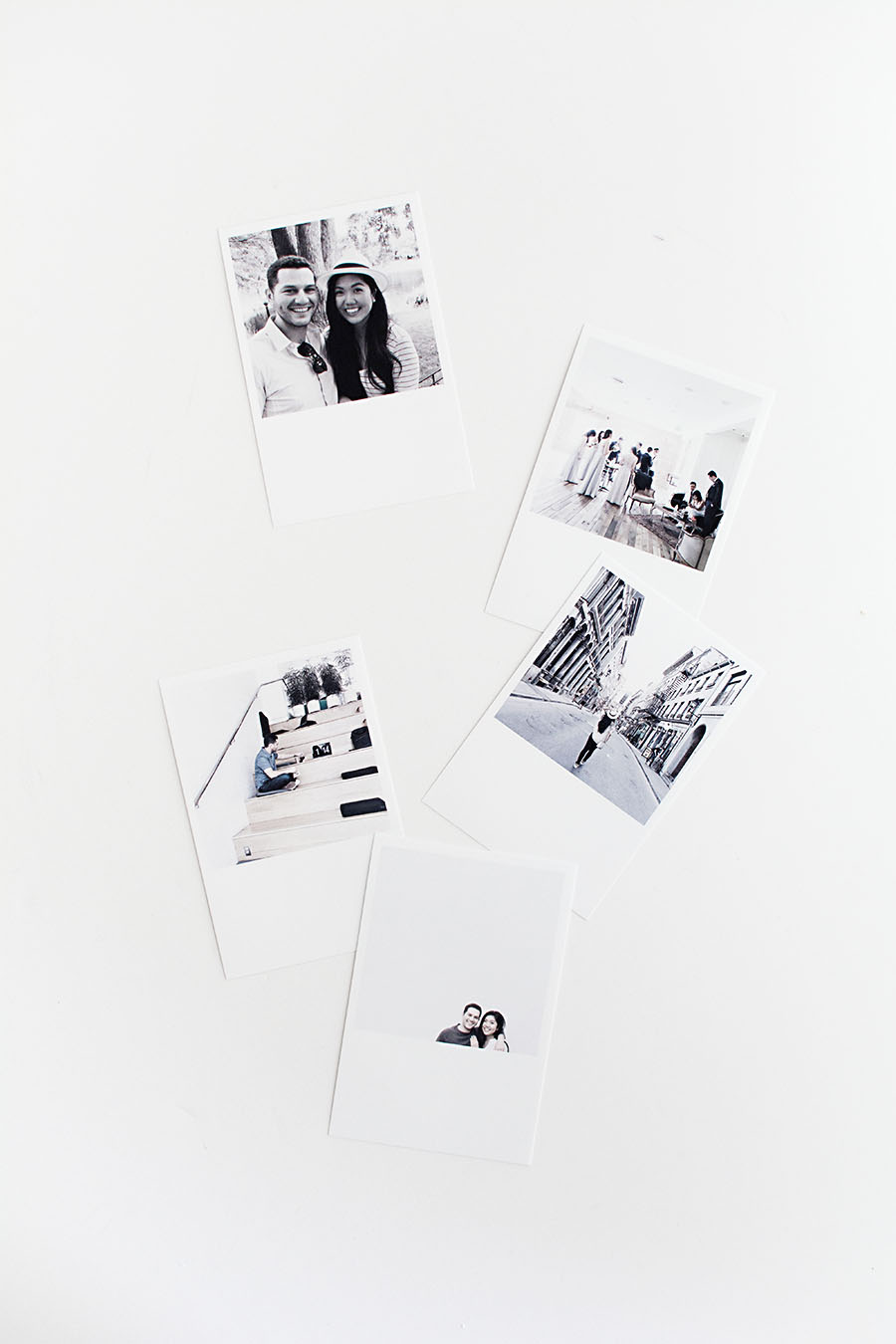 I used Photoshop to create a 4×6 canvas and I sized my photos down onto it as a square so that they'd have a 0.5 cm border around the edges (minus the bottom edge, we'll get to that next).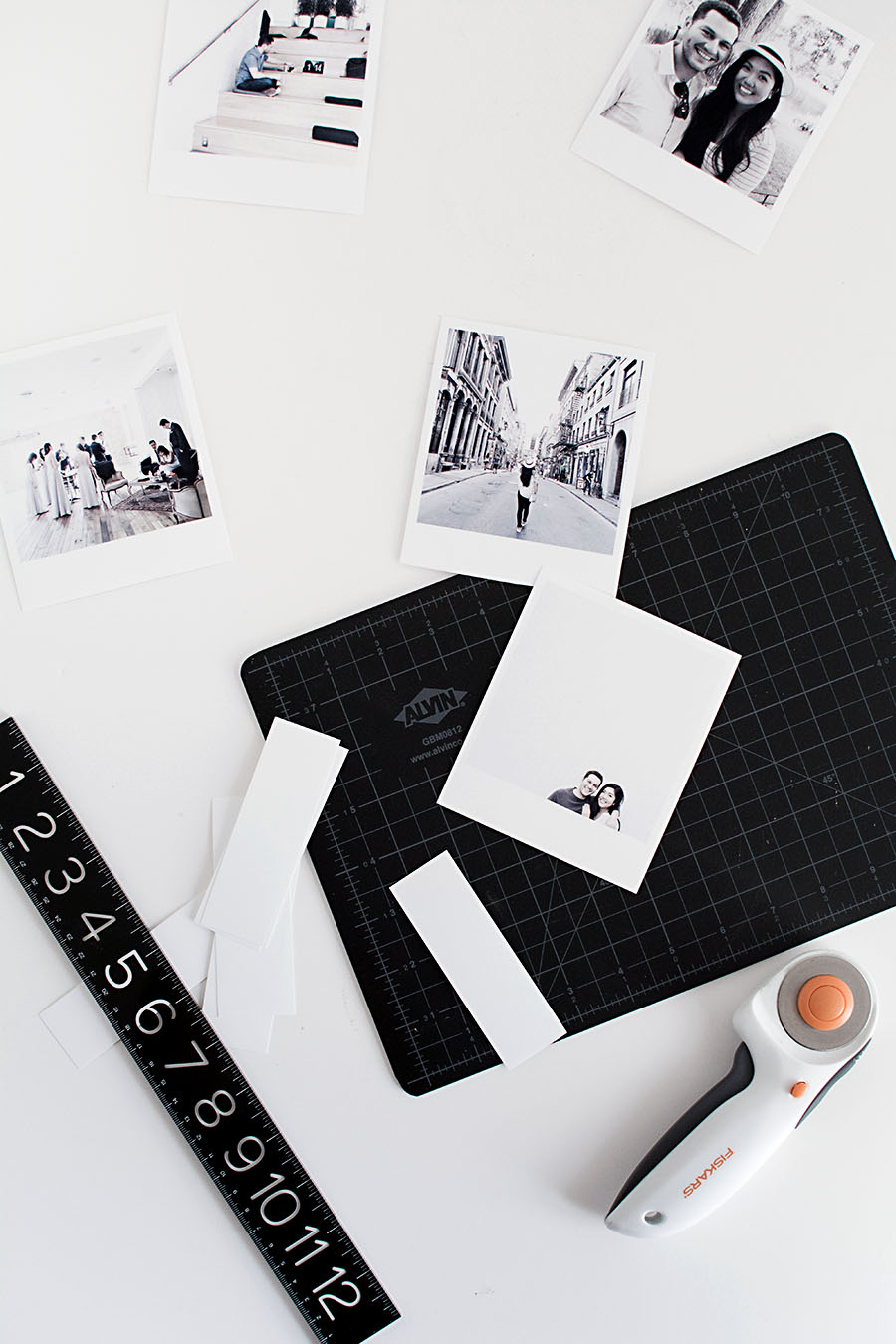 After printing, I cut off the bottom so that about 1 inch of the white paper remained below each photo, giving it that instant film style.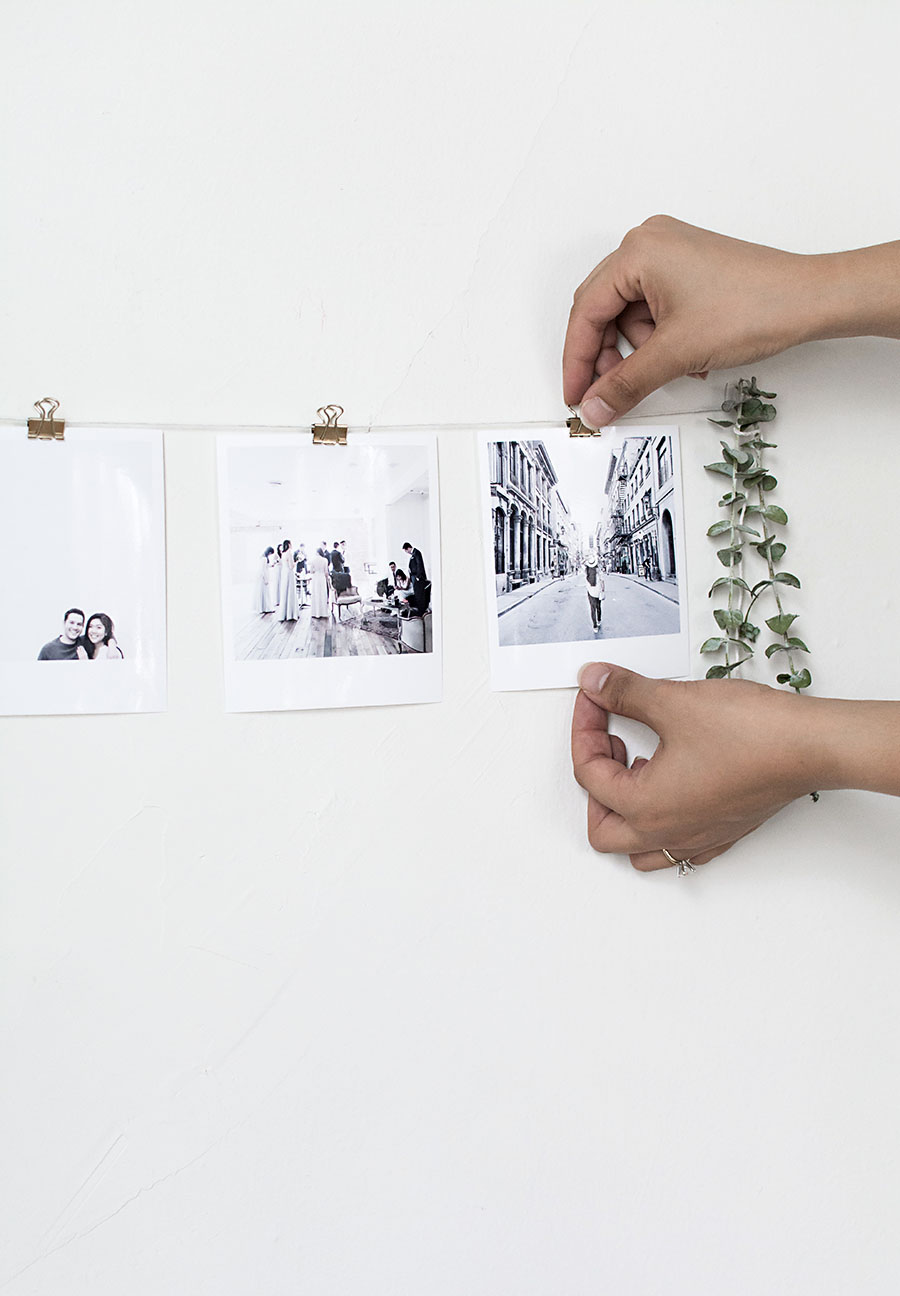 I hung up a piece of string as taut as possible with these small clear hooks, then hung up each photo with a gold clip.
Added a few stems to each end of the garland by wrapping the excess string around them because YES to fall touches.
Fun activity- what's going on in each photo?  From left to right:
1 | Photo of me and the Mr. which is super rare.  I'm usually so caught up in trying to take photos for the blog that I so easily forget to get a photo of us or the people I'm with.  This is something I've been trying to get better at.
2 | Photo of the Mr. at the coffee shop we posted up at on our first day of wedding planning.  Still haven't found a venue yet!
3 | Me and the Mr. a couple days after our engagement.  We used this photo to announce it, too.
4 | My friend's wedding, where pretty much our entire group of friends were in the bridal and groom party.  In this moment, everyone was on their phones trying to YouTube ideas for our ballroom entry dance moves.
5 | From our Montreal trip, which was one of my favorite trips ever and reminds me of how much I miss poutine.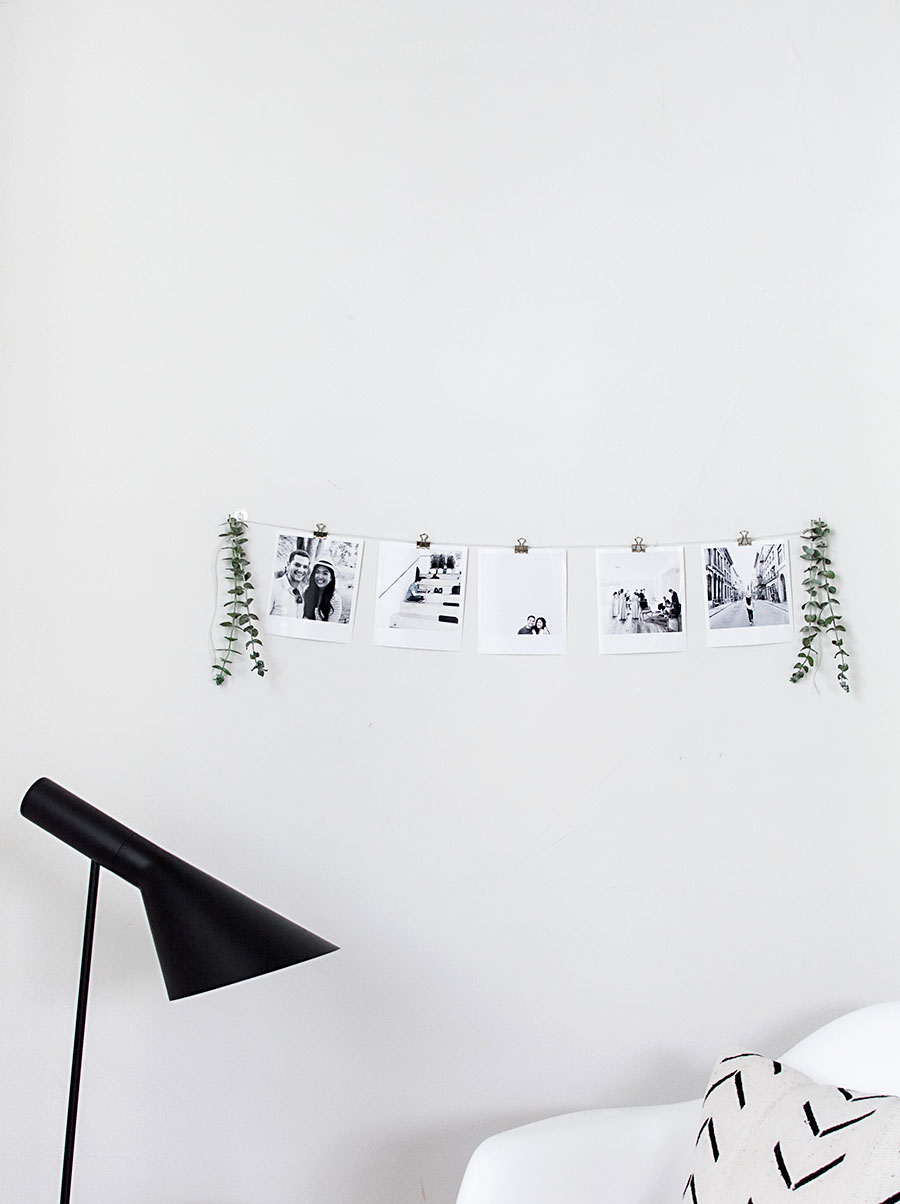 Hope this encourages you guys to get to printing your photos and displaying ones that make you smile.  Just a small tweak to formatting the photos with a border adds a lot of style to an already simple idea, and even more is you can hang whatever you want at the ends of the string, or something all across the string, or nothing at all, anything you want!

This post is in partnership with Canon.  Thank you for supporting brands that help bring fun ideas for you to discover and try!
Other Posts You Might Like