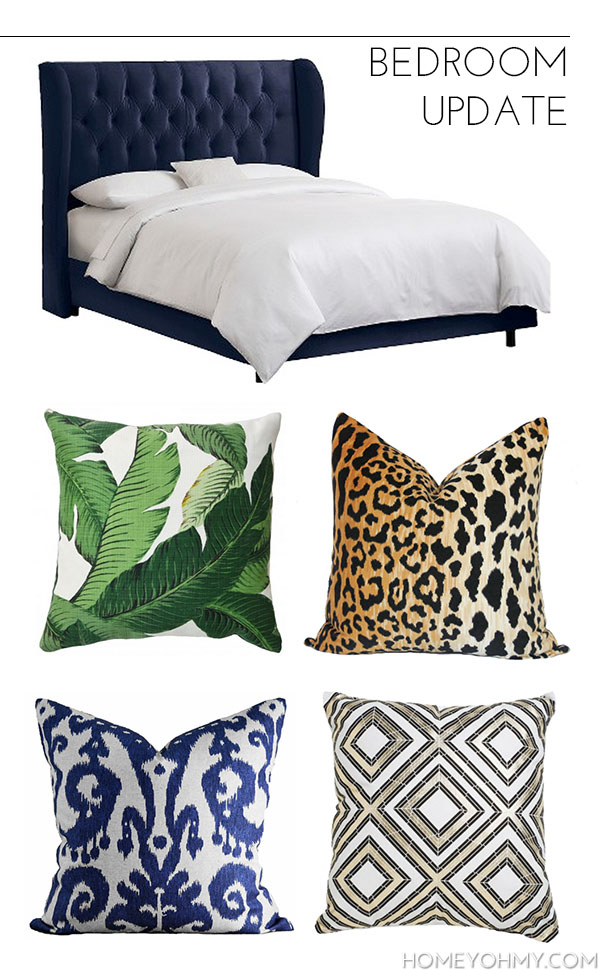 Guys.  This is a momentous occasion.  Last I talked about my bedroom I shared a tiny bit of my angst over there being no headboard.  I've tried to act cool about it, but the truth is that it bothered the hell out of me how unfinished the room looked without one.  So after almost two years of coming up with every argument possible to convince boyfriend that a headboard was necessary for our survival, he finally caved, and our new blue velvet baby is on. its. way!
My obsession with this headboard and frame started when I saw it in possibly my favorite bedroom makeover ever, then when I saw it in Aileen's beautiful bedroom, there was zero question that it was my soulmate.  You guys already know about my feelings for blue velvet, yes?
It helped that the set was on sale, had an extra discount (much like the promo that seems to be going on right now), and I've got a Target debit red card that knocked off 5% and the $60 handling fee.  I swear I'm not being sponsored to say this: it makes no damn sense not to have a red card given how frequently I shop Target.  I'm a Target monster.  It almost hurts to think about why I didn't get it sooner.  On top of that, I applied Ebates cash back, so I was going all out trying to get a good deal on this thing.  Is this at all helpful or really boring?  I was excited to tell you guys all that so hopefully it didn't make you run away screaming.
Ok so why am I here.  The shipping info says it's going to take a million years for the thing to get here, so while I wait, I've been contemplating new pillow options and wanted to share them.  I've already spent a lot of time thinking about this so I think I'm 99.8% sure about which one I'm going to go with, but I couldn't pass up how terribly interesting it would be to put it to a vote and see which one you guys think I should go with, or which one you think that I've pretty much decided on!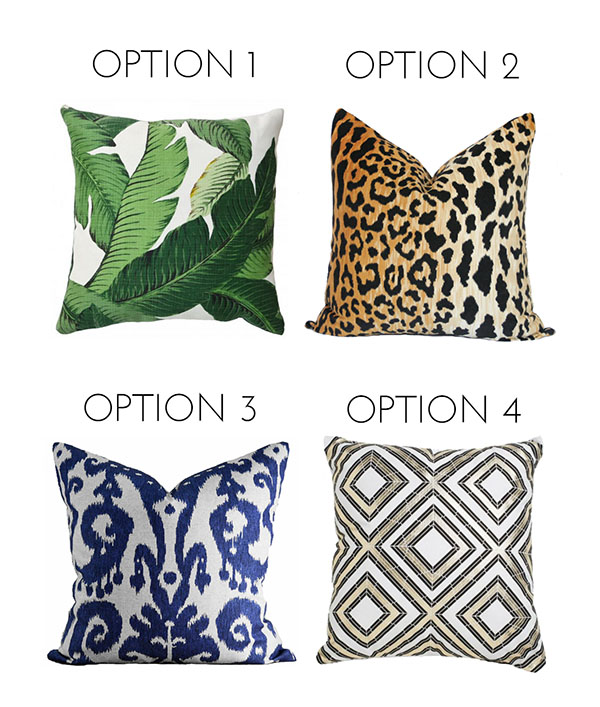 Option 1- Banana Leaf: I've wanted banana leaf anything for a long time now.  It's such a beautifully bold design.
Option 2- Leopard: You've never seen leopard on this blog before, but I have a secret to tell you… I like leopard. Not in every situation, but in this one heck yes.
Option 3- Blue Ikat: I'm always drawn to Ikat, and love the idea of a monochromatic look with the blue headboard.
Option 4- Geometric Black White and Gold: I mean, that sums me up in a nutshell.  If I were a pillow, this would be me.
Which one would you pick?  Or which one do you think I'd pick?  Brownie points: know of a pillow you think I should see that's not one of these?  Please share!!!
Other Posts You Might Like