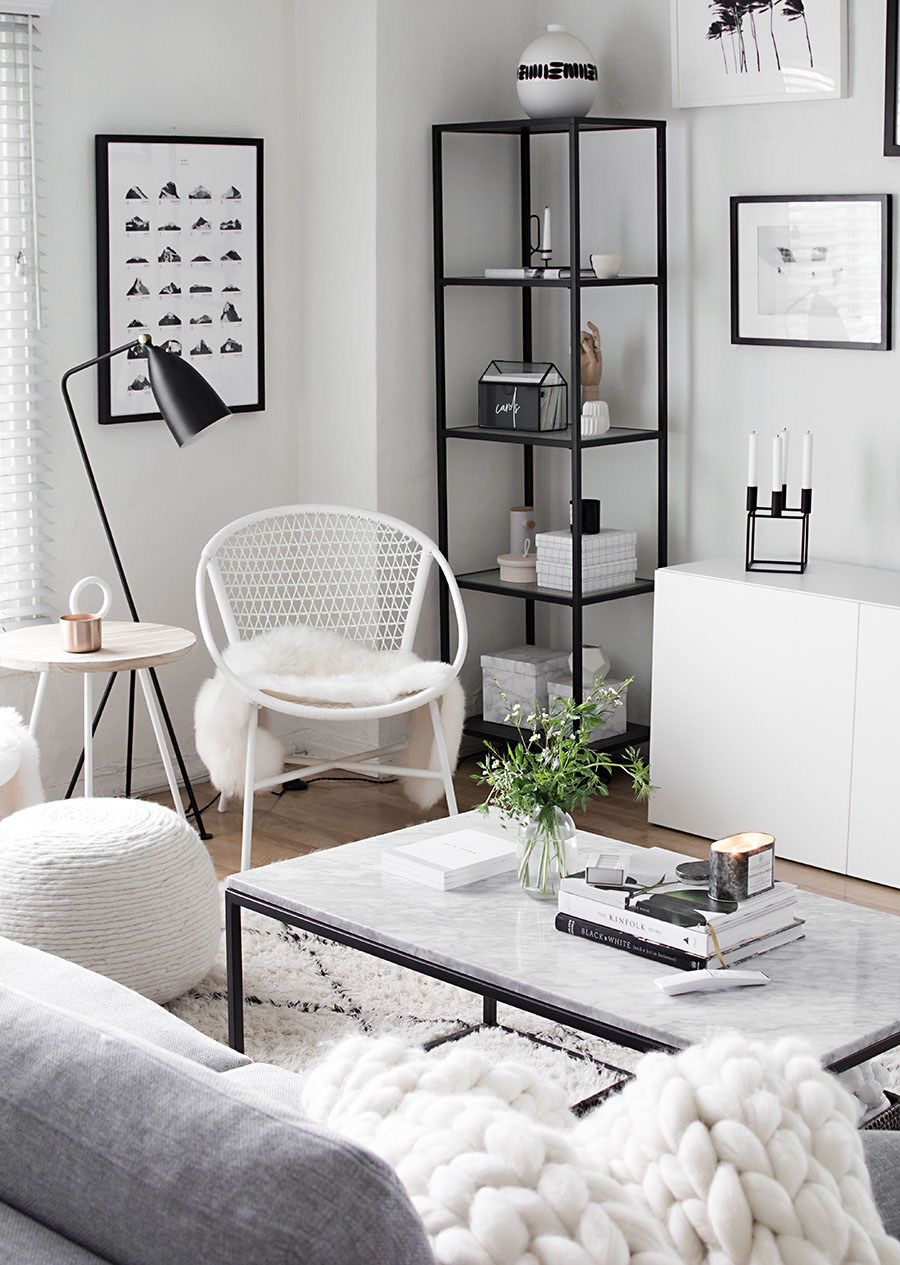 If there's one place you can practice your at-home styling skills regularly and display your personality while making your space feel functional, it's the coffee table.  Styling is often what's missing when a space feels unfinished and while there are endless ways to go about it, it can be very simple too.  In partnership with Chesapeake Bay Candle and featuring candles from their Heritage Collection, here are 4 easy ways to style a coffee table.
To start with some general tips: create levels, include something natural whenever possible (flowers, plants, maybe something else), and don't worry about being perfect.  That (nearly) effortless, lived-in feel should be exactly that and staying true to objects you really use and love.  Also, despite all the tips I'm about to share, a lot of this boils down to how much stuff you want on your coffee table.  I always take a more minimal style approach, but you can add more to it or combine these tips, or try these out all at once!

1. Store Items in a Decorative box
If you have a bunch of little items you want to keep at hand but also want to avoid the coffee table looking cluttered, a decorative box is a beautiful option for tucking those things away, especially if they can't double as decor.  Keep it on top of the table or put it underneath when you need more tabletop space, easy.
Break up the boxy straight lines with sculptural objects like these vases, or a rounded candle jar like this Cypress & Oak small jar candle.  I love the minimal design, wooden lid, and how it smells like you're walking through a forest.  I'd also say it smells like winter!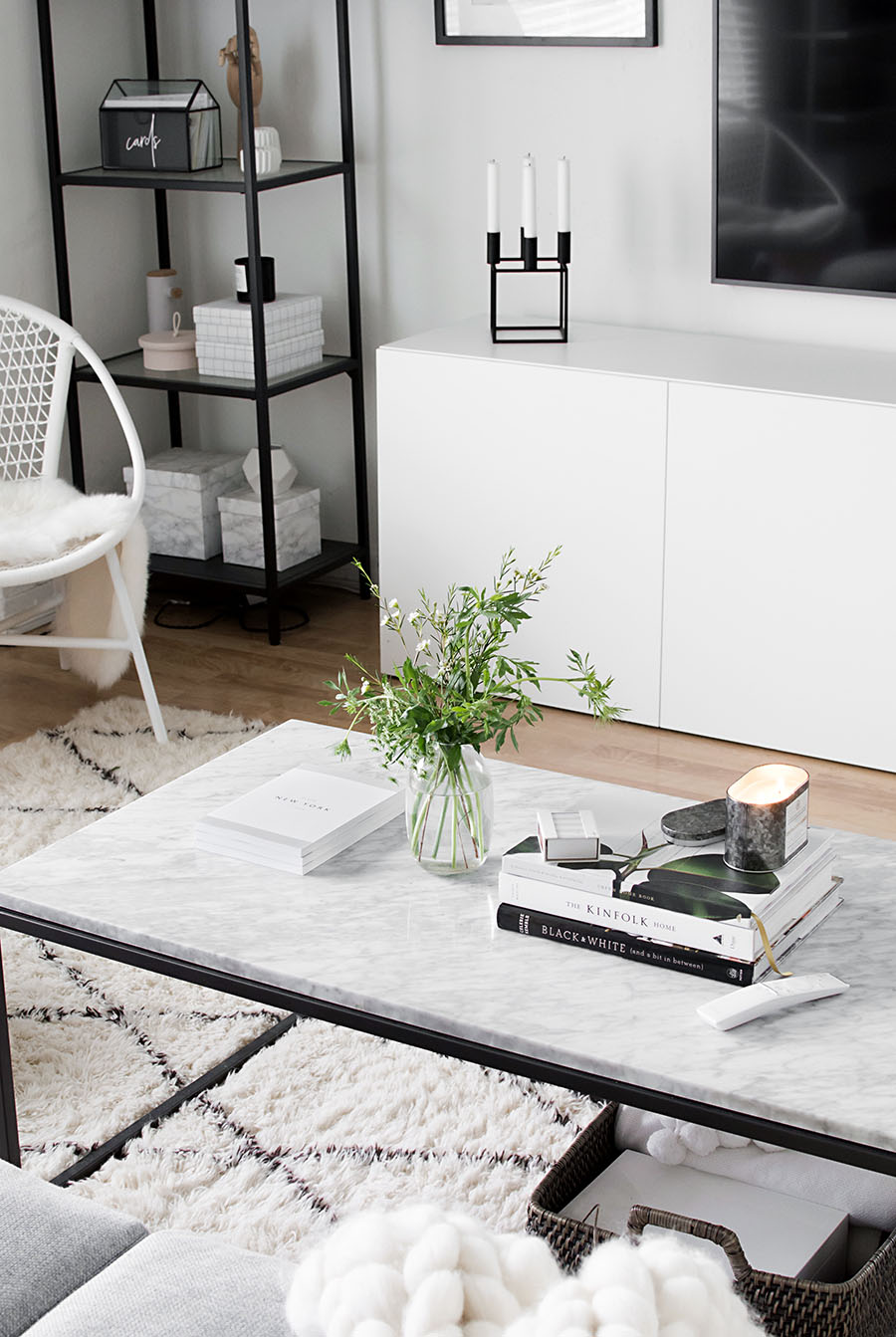 2. Arrange books
Books not only create those good looking levels, they also add so much personality while potentially offering casual reading material for guests as long as you don't have a ton of things on top of them.  Try facing the stacks in different directions, varying the stack heights, and playing around with arrangements like grid formations.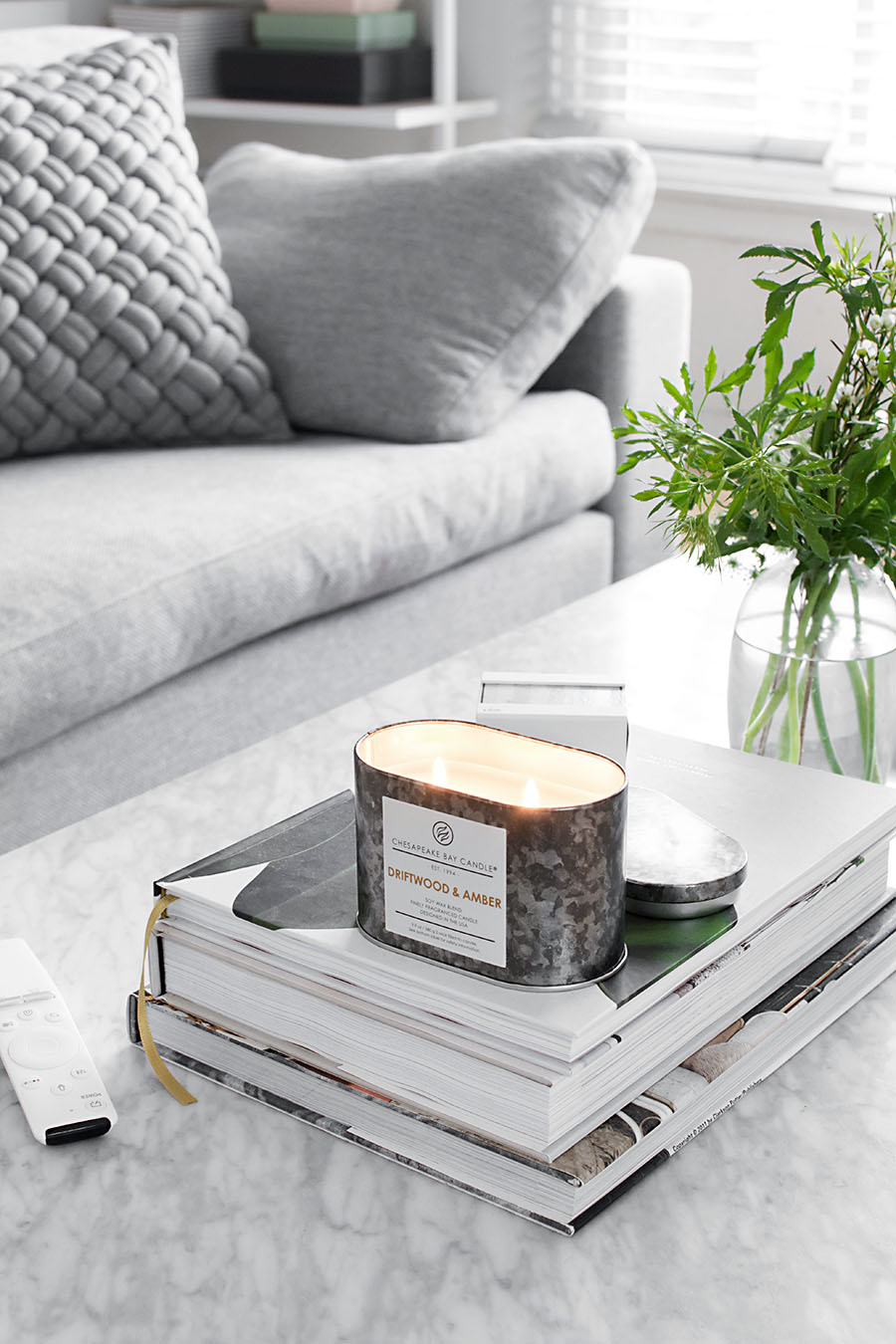 For the majority of the time when these books are simply acting as pedestals for your other stuff (a much more functional purpose than collecting dust on a shelf I must say), place a candle on top for what might be the most quintessentially cozy tabletop combinations there is.  This Driftwood & Amber double wick tin candle is another clean, crisp, and fresh scent- it's my favorite from the Heritage Collection.
3. HAVe a living centerpiece
I love this one for being both bold and very pared down.  Have a larger, more rounded floral arrangement or plant live in the center of your coffee table and add whatever else you need beside it.  To the sides I put a catchall tray and a large candle jar.  There really doesn't need to be more than that!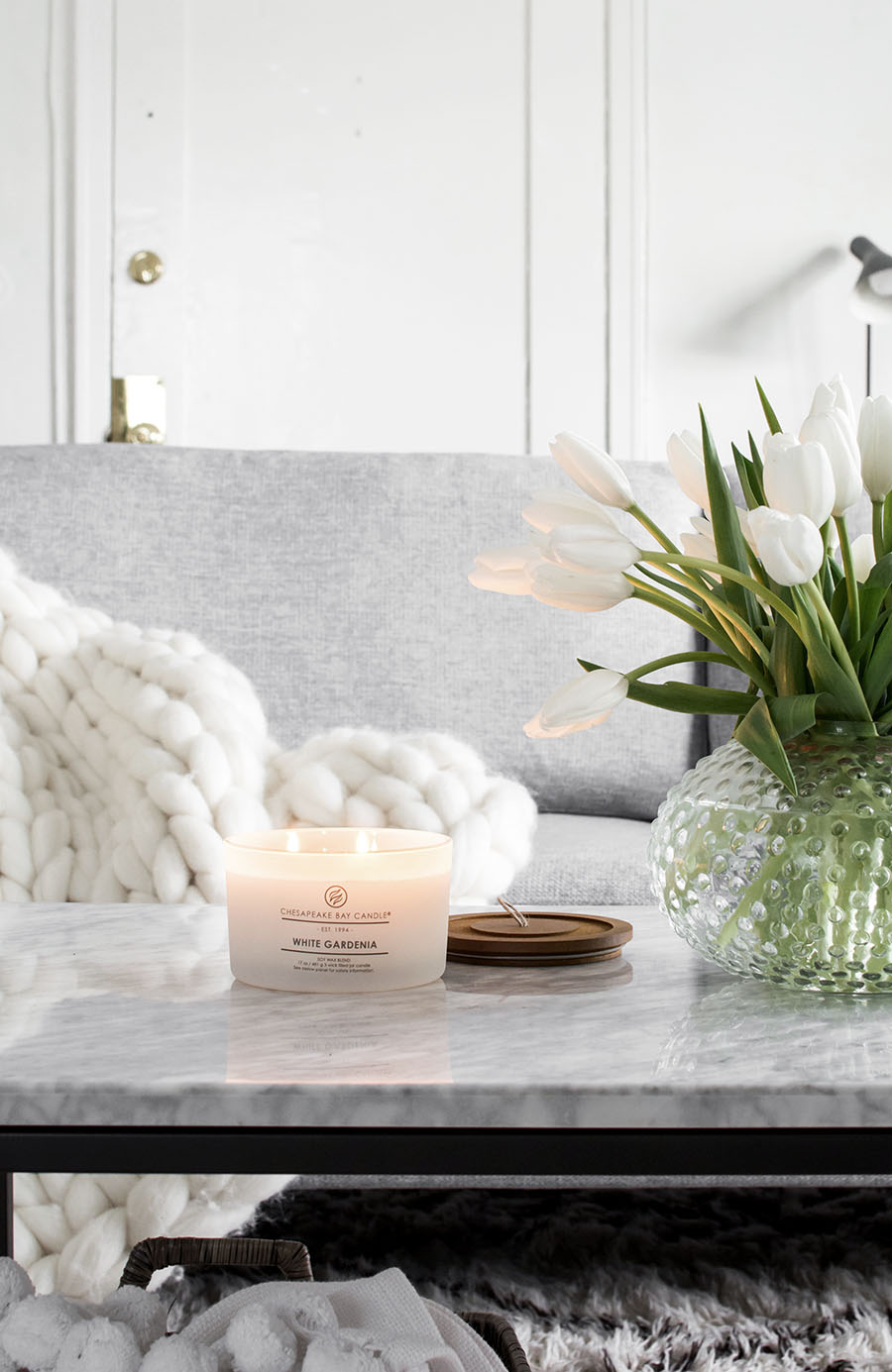 This White Gardenia coffee table jar is wonderfully big and bold and can stand on its own- the size really is perfect for a coffee table.  The scent is soft, fruity, and floral, and totally makes me think ahead to Spring.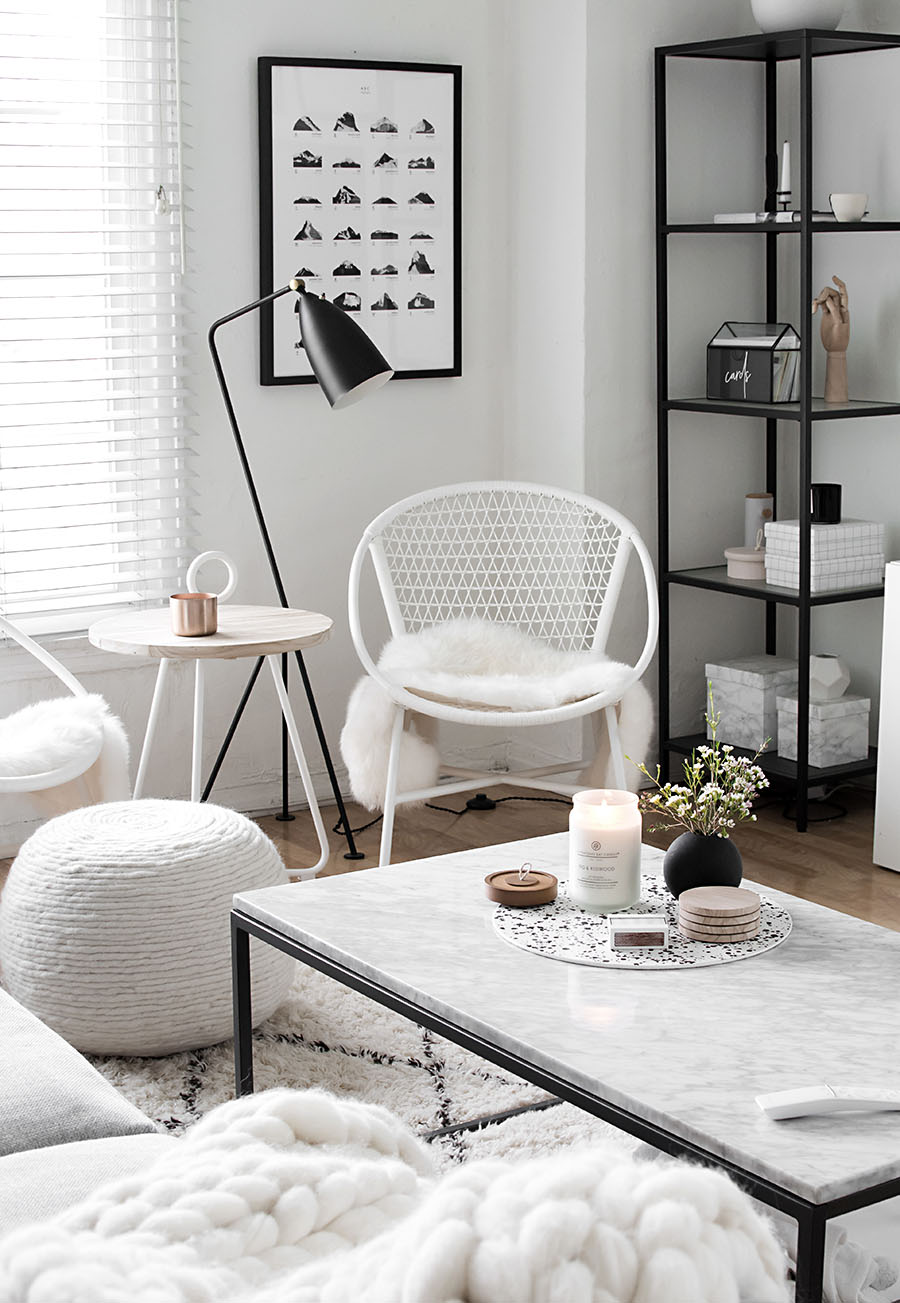 4. Use a tray
If you come over at any given time, this is most likely what our coffee table will look like.  A tray is perfect for keeping everything contained but still easily accessible.  It's also really good for maintaining a cleared tabletop while having something decorative displayed.
A round tray looks especially unique with a rectangular table, and since items are grouped so closely together it makes the most difference to have varying heights.  That's why I have the Fig & Redwood large candle jar sitting here to add both height and one of the most unique scents I've smelled. It smells both familiar and completely new, I haven't figured out yet why!
Above everything, play around and keep adjusting until something fits your lifestyle, then keep adjusting because if for nothing else, it's fun.  Would love to hear if you have a styling formula that works for you!
This post is sponsored by Chesapeake Bay Candle.  Thank you for reading and supporting partners that make it possible for HOM to continually bring you original content.  
Other Posts You Might Like