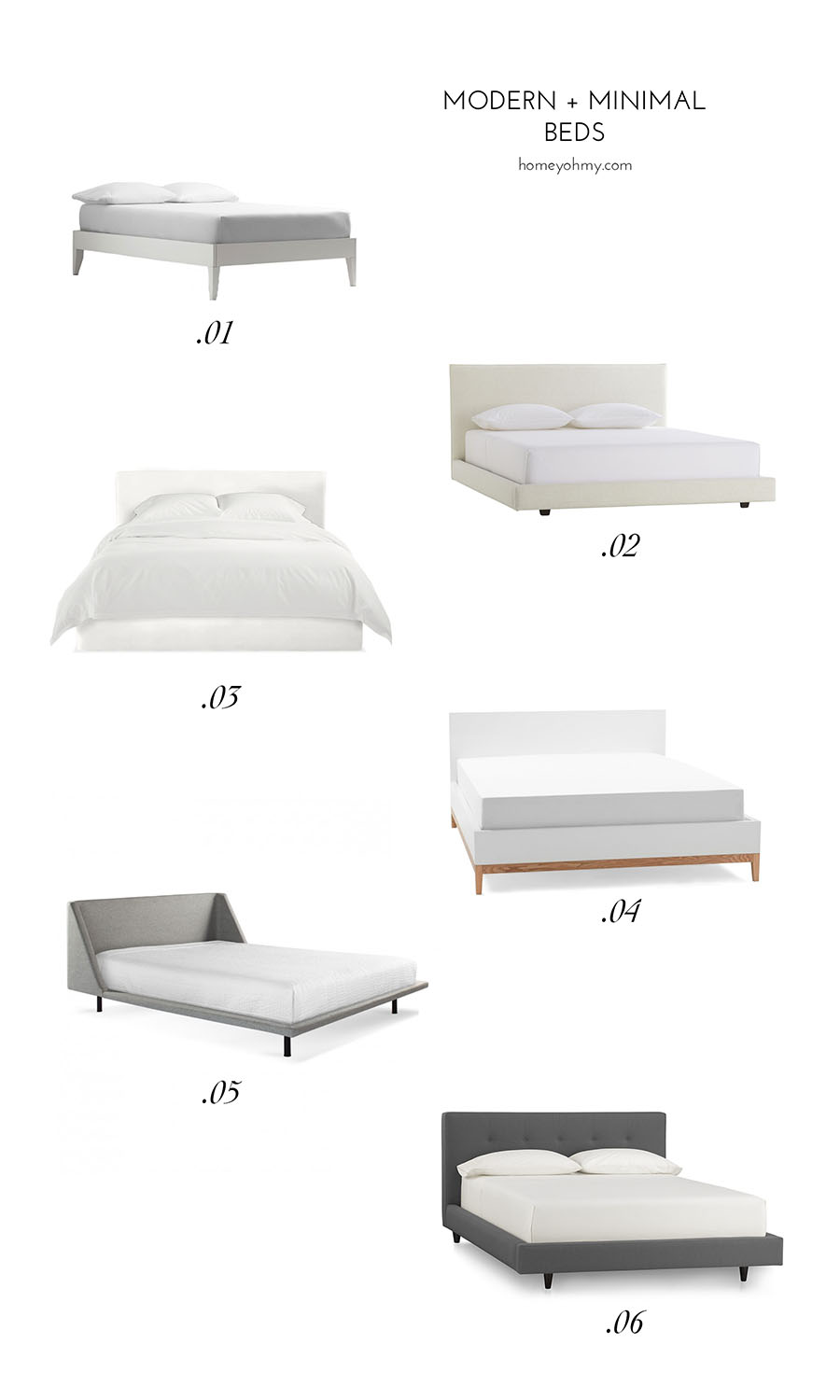 It was almost 2 years ago when I asked for your help on deciding between pillow options for my new bed at that time, now I'm still back at zero with no bed.  Progress!  Ha.  That bed of my past blue velvet dreams didn't end up working out for us and we tetris'ed those pieces back into the box and returned it, and since then I've redirected my plans towards a more minimal bedroom (I shared that progress here.)
We reverted back to our previous metal frame and box spring situation, which honestly has grown so much on me and I'm strongly considering to continue keeping, but I'm still searching for other options because that's just what I do. In general I'd love something light colored, low, and upholstered with clean, straight lines.  Still I made exceptions to this criteria with some of the favs I narrowed down to here, but in general these are all fine options for a modern minimal bedroom.
.01 / Narrow-leg Wood Bed Frame
The whole idea of wanting a bed started with how I wanted a headboard to sit up against, but no headboard is cool too. We've been without one forever and it ain't so bad! Plus I love the extra simplicity of this one with the details focused on the sleek legs.
.02 / Facade Bed
I've almost bought this bed many times starting since last year. I think what's holding me back is that it might be too low. Even just four inches higher would convince me I think… Otherwise the shape, fabric, color, everything is perfect.
.03 / Wyatt Bed
Currently my first choice. Pure white canvas, low profile but not too low, streamlined, I think this is it. Maybe.
.04 / Oliver bed
Has a beloved IKEA vibe and although I'd prefer upholstery, I still really love this option. It looks so good in the photo of the room, I definitely stared for a bit.
.05 / Nook Bed
So sleek and I love the feeling of enclosure the headboard sides give. This one also makes me contemplate going light gray. Or charcoal.
.06 / Tate Upholstered Bed
Speaking of charcoal, this color continues to tug at me. It wouldn't be in line with the light and bright feel I'm going for in the bedroom, but it would bring a dramatic contrast that I'm also a big fan of. I also was trying to stay away from tufting or buttons, but this one is subtle enough and would probably get covered up by the pillows anyway. The scale of this bed looks perfect as well.
Favs? Suggestions? Would love to get any of your thoughts or other recommendations you think I might like!
Other Posts You Might Like